---
Where to eat in old Phuket Town?
---
Enjoying local Thai food in the old Phuket town after a day of exploration is an experience no one should miss. Fortunately, there are plenty of restaurants in Phuket Town to choose from; some are fancy, some are cheap, and some are in amazingly beautiful heritage houses. Here, we only list the restaurants serving real Thai food. Some of them serve some excellent Phuket specialities you should try if you can eat spicy food, such as the very orange and pungent Gaeng Som Pla and Gaeng Tai Pla. The list below is sorted to mix great food and atmosphere, places you will share with locals.
---
Nice Thai restaurants in nice settings
---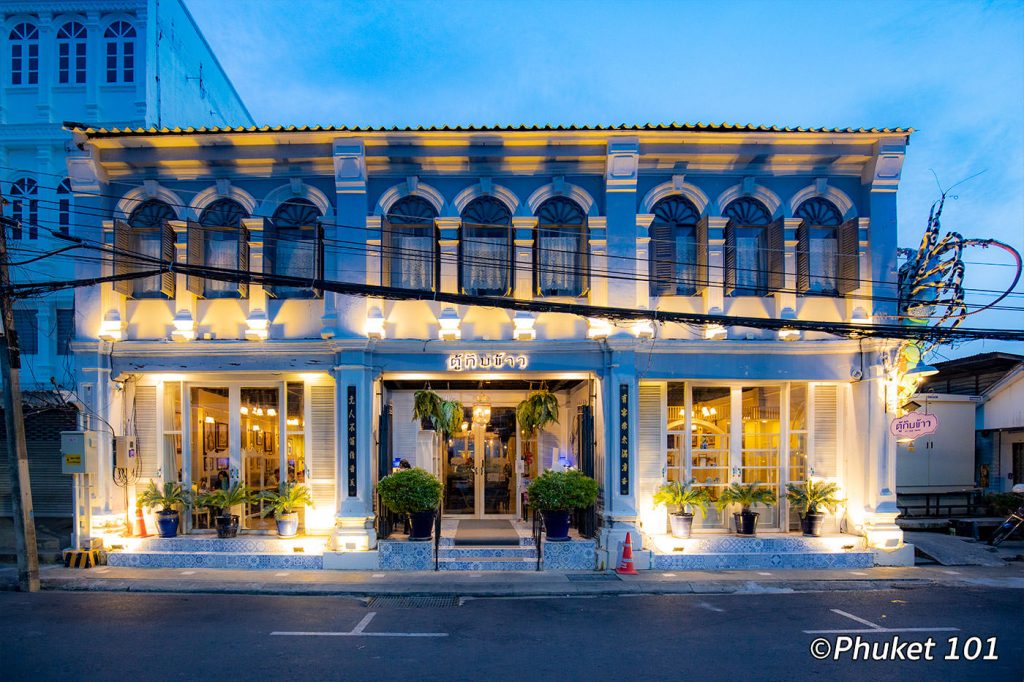 Tu Kab Khao is a beautiful and popular restaurant built in an old heritage building on Phang Nga Road, not far from the famous On On hotel. Tu Kabob's Khao serves excellent southern food without compromise, so if you are ready for it, expect spicy and pungent dishes. If you are a little shy, they also have plenty of dishes to fit beginners' tastes. You'll spot that beautiful building easily; a weird giant lobster is crawling up the outside right wall! Read more
Address: 8 Phang Nga Road, Phuket Town (the restaurant with a giant lobster hanging on the side)
Open: Daily 11 am – 12 midnight
Phone: 076 608 888
Price: Affordable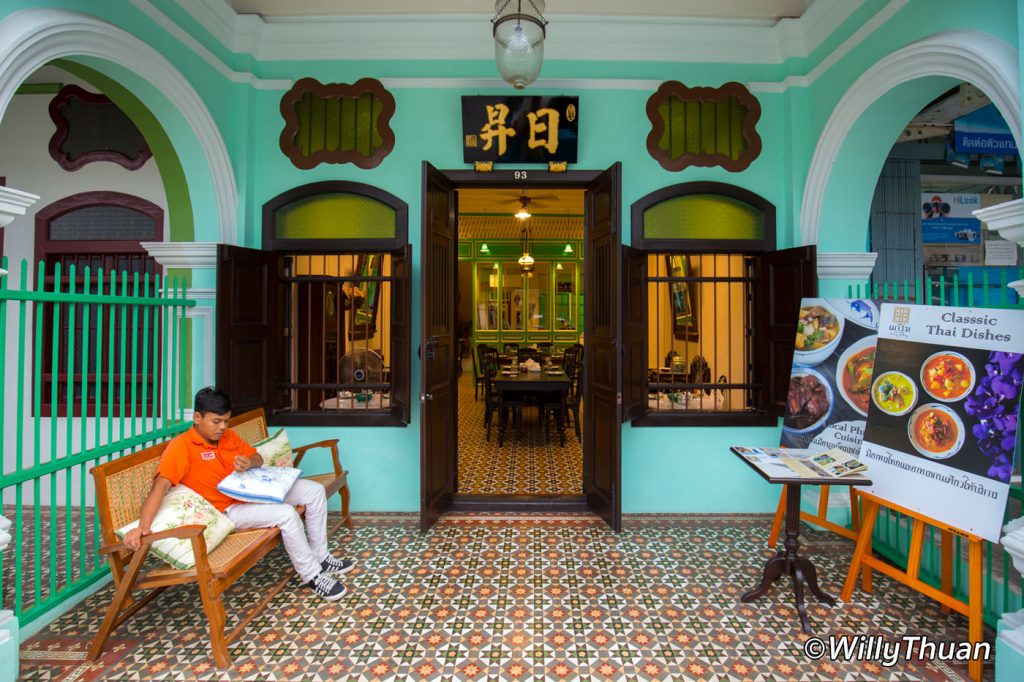 The Charm Phuket serves true Phuket Cuisine in a renovated shophouse of Dibuk Road, in the heart of Phuket Town. Wooden furniture, decor, and tiled floors make you feel like you are invited to a Thai family dinner in the old times. The food is truly excellent, and some dishes can be spicy. The service is friendly and welcoming. Read more
Location: Phuket Town
Address: 93 Dibuk Rd, Tambon Talat Nuea, Mueang Phuket District, Phuket 83000
Open: 11 am – 9 pm, Wednesday closed
Phone: 076 530 199
Price: a little high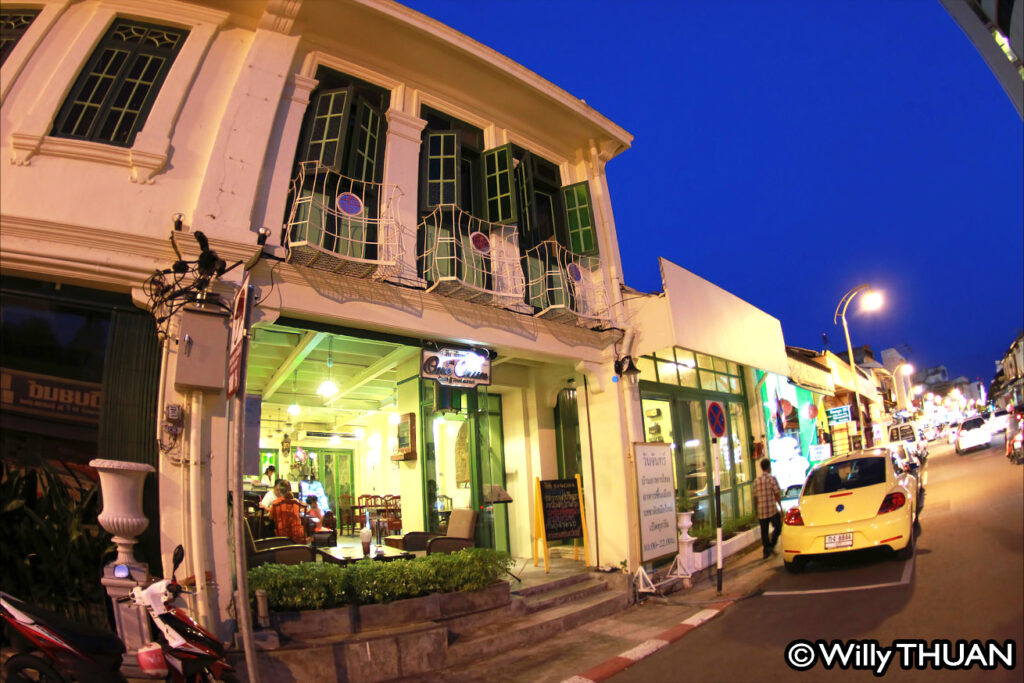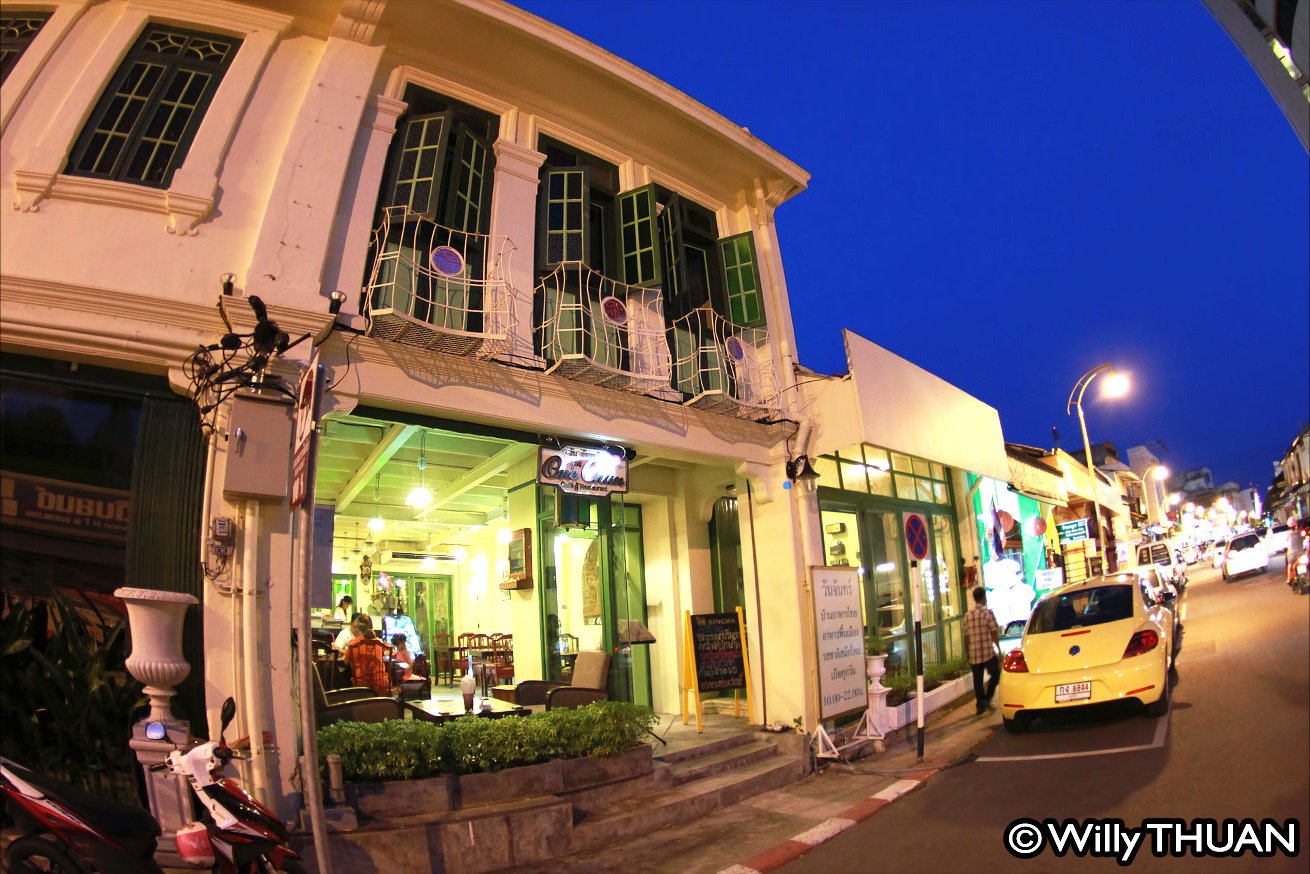 One Chun is a small restaurant next to the historical Thalang road and serves true Phuket food at affordable prices. The restaurant is easy to locate and is decorated with old radios and other vintage accessories. The place gets busy, but you can always get a table, except on Sunday night, as it attracts all the visitors from the Sunday Walking Street market. Read more
Address: 48/1 Thepkrasattri Rd., Talat Yai, Phuket Town, Phuket 83000
Open: 10 am – 10 pm daily
Tel: 076 355 909
Price: very affordable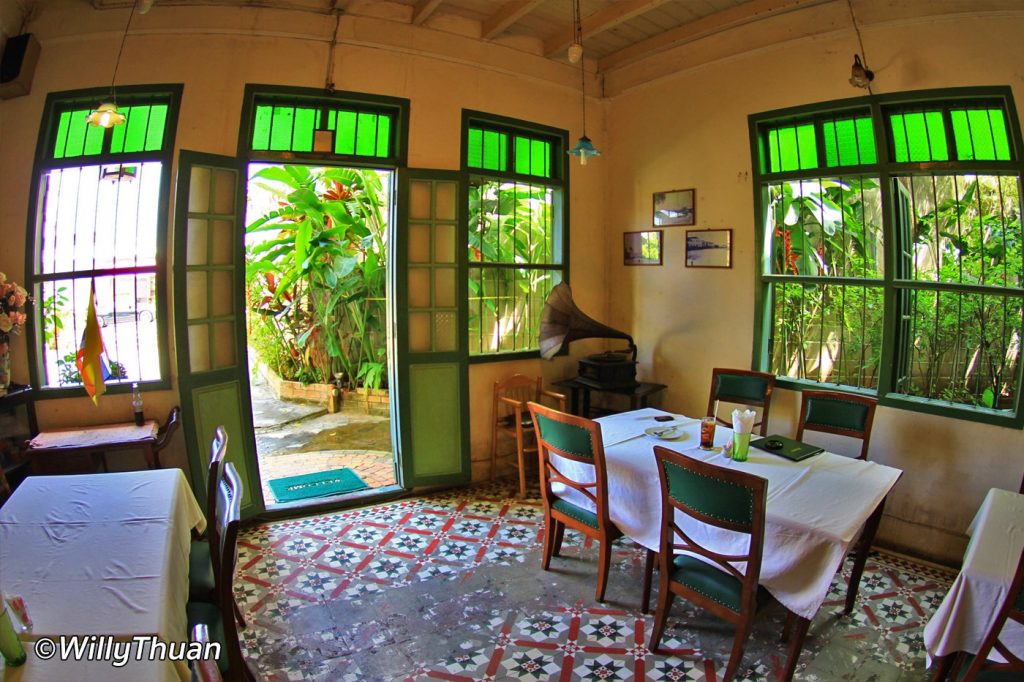 Raya House is one of the oldest and best-known Thai restaurants in Phuket Town. The house has never been renovated and has kept a nice heritage touch that is often lost when renovating an old house. The food is really good and the atmosphere unique. Thai people from Bangkok often stop here for a meal, and it is not unusual to spot a celebrity. Their most famous dish is crab curry with rice vermicelli. Read more
Address: Dibuk road, Mueang Phuket, Mueang Phuket District, Phuket 83000
Open: 10 am – 10 pm
Phone:076 218 155
Price: a little high
Blue Elephant is now famous in Thailand for being set in the most amazing heritage building in a very enviable location. Blue Elephant Phuket is set in the most amazing mansion in the middle of an immense park, very close to the old streets of Phuket Town. Blue Elephant, also a renowned cooking class, is expensive but unique; it is the kind of dinner travellers save for a special occasion. Their excellent cuisine is truly Thai and superbly presented, but not specifically Phuket style. The historical mansion itself is worth going to! Read more
Address: 96, Krabi, Tambon Talat Nuea, Amphoe Mueang Phuket, Phuket 83000
Open: 11.30 am – 10.30 pm
Phone: 076 354 355
Cuisine: Thai
Price: High

Night and Day of Phuket is a large restaurant with impressive architecture and attractive design on Dibuk Road, close to the heart of Old Phuket Town. The restaurant serves many creative Thai dishes, including some Phuket specialities prepared with local flavours and personal twists.
Address: Talat Yai, Mueang Phuket District, Phuket 83000
Open: 9 am – 12 am
Phone: 076 219 788
Price: a bit high
Address: 62/5 Phuthon, Bangkok Rd, Talat Nuea, Phuket 83000
Open: 10.30 am -11.30 pm
Tel: 076 214 037M
Price: Moderate
---
Truly local restaurants in Phuket Town
---
Address: 226/2 Phuket Road, Phuket Town, Phuket 83000 (on the way to Sapan Hin)
Open: 6 pm – 12 am
Phone: 076 221 460
Price: Moderate
Speciality: Phuket seafood and local Thai food
Address: 5 Kra Road, Mueang Phuket, Phuket 83000
Phone: 076 214 877
Price: cheap
Specialities: Khao Tom Pla (rice porridge with fish), Pu Phat Phong Ka Ri (seafood curry), Pla Tom Buay (fish with sour plum sauce)
Location: Phuket Town
Address: Krabi Rd, Talat Nuea, Mueang Phuket District, Phuket 83000
Open: 7 pm – 2 am
Phone: 084 060 7799
Price: Cheap
Specialities: Rice porridge and noodle soup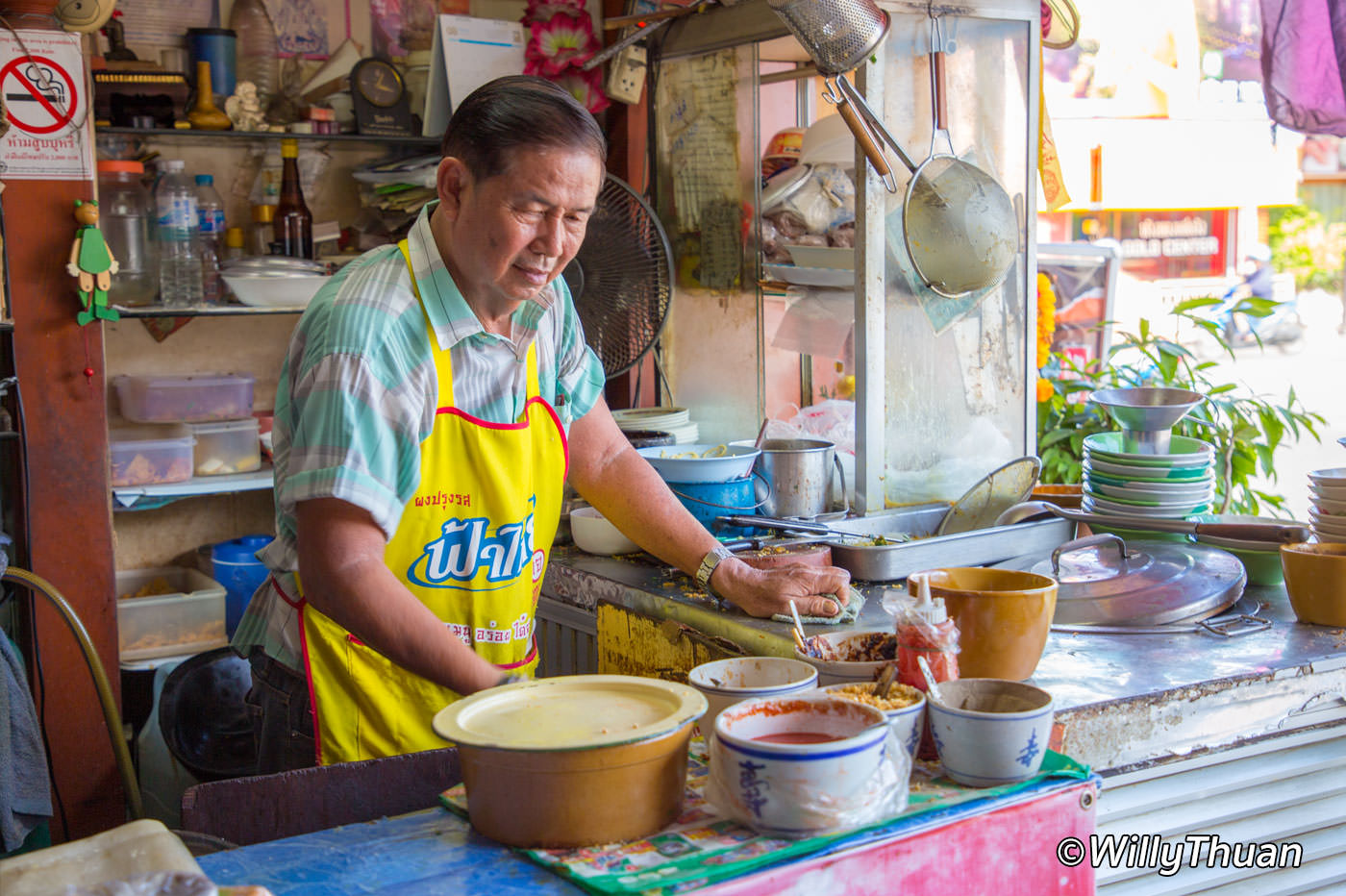 Location: Phuket Town
Address: Suriyadet fountain Circle, Phuket Town (near the local bus station)
Tel: 084 189 5432
Open: 9 am – 4 pm
Price: Cheap
Speciality: Hokkien noodle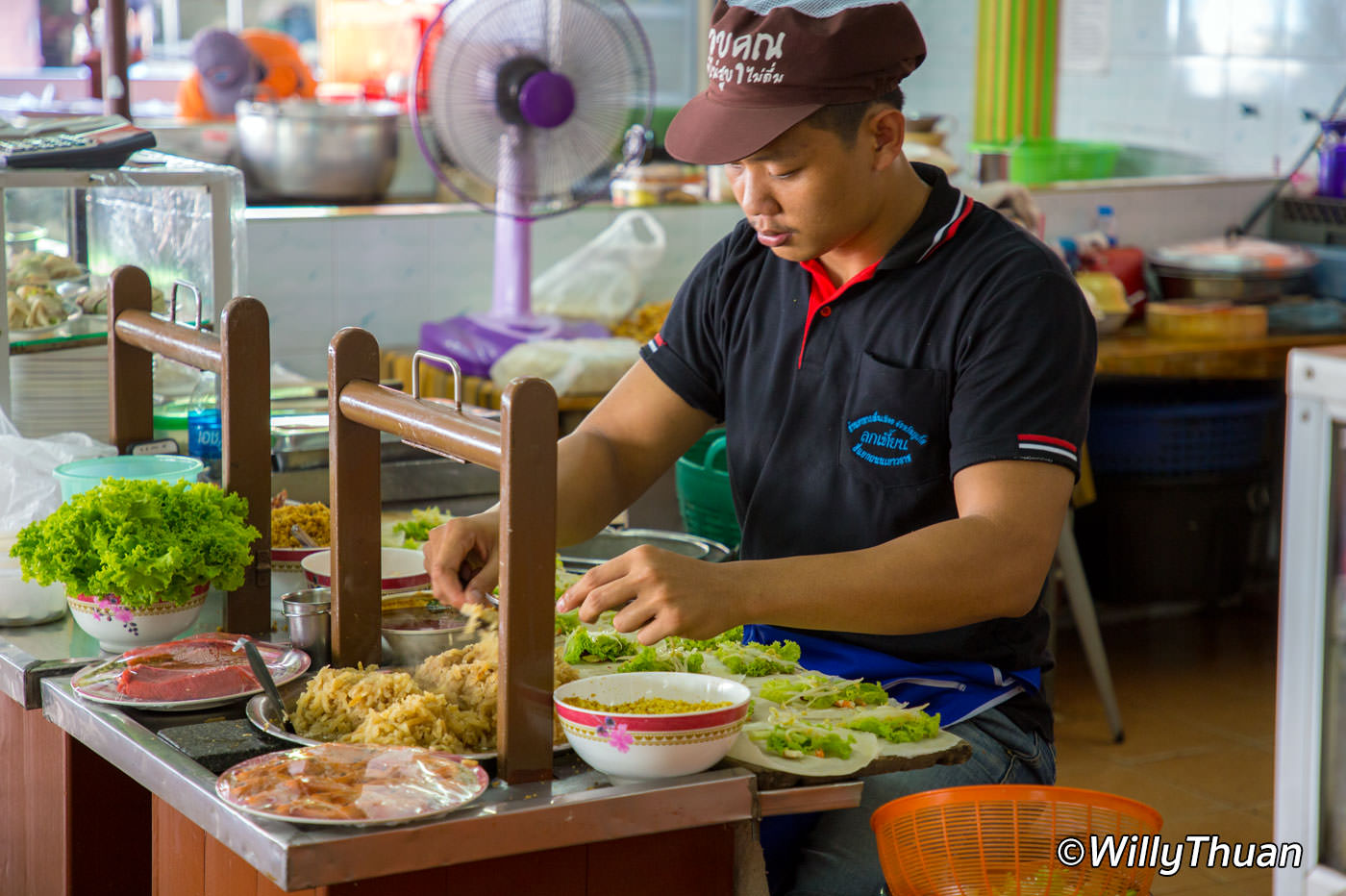 Location: Phuket Town
Address: 173 Yaowarat Rd, Talat Yai, Mueang Phuket District, Phuket 83000
Open: 9 am – 5 pm
Phone: 087 387 3703
Price: Cheap
Speciality: a food court serving many Phuket specialities
---
For the sweets
---
Location: Phuket Town
Address: 16 Soi Romanee, Tumbon Talad Yai, Mueang Phuket District, Phuket 83000
Open: 11 am – 6 pm, Saturday and Sunday 11 am – 9.30 pm
Phone: 076 510 888
Speciality: ice creams with a local touch
Price: a little high
Location: Phuket Town
Address: 95 6-7 Phuket Rd, Talat Yai, Mueang Phuket District, Phuket 83000
Open: 11 am – 11 pm
Phone: 092 673 1333
Price: cheap
Specialities: local and Thai sweets
Map of Thai Restaurants in Phuket Town
---
More reading