---
Go Benz Phuket
---
Go Benz Phuket (or Ko Benz) received a 'Bib Gourmand' rating in the Phuket Michelin Guide. 'Bib Gourmand' means 'friendly establishments that serve good food at moderate prices.'
Go Benz has been one of Phuket's most popular local restaurants for over 15 years. Go Benz served a relatively small choice of noodle soups and rice porridge, and by keeping it focused, they became very good at preparing them. The restaurant in Phuket Town is large and designed to be functional, so don't expect a fancy dining experience. This dining experience is all about a great bowl of soup at a low price, about 50 baht per plate. As we anticipated, Go Benz was mentioned in the upcoming Phuket Michelin Guide. Exciting times!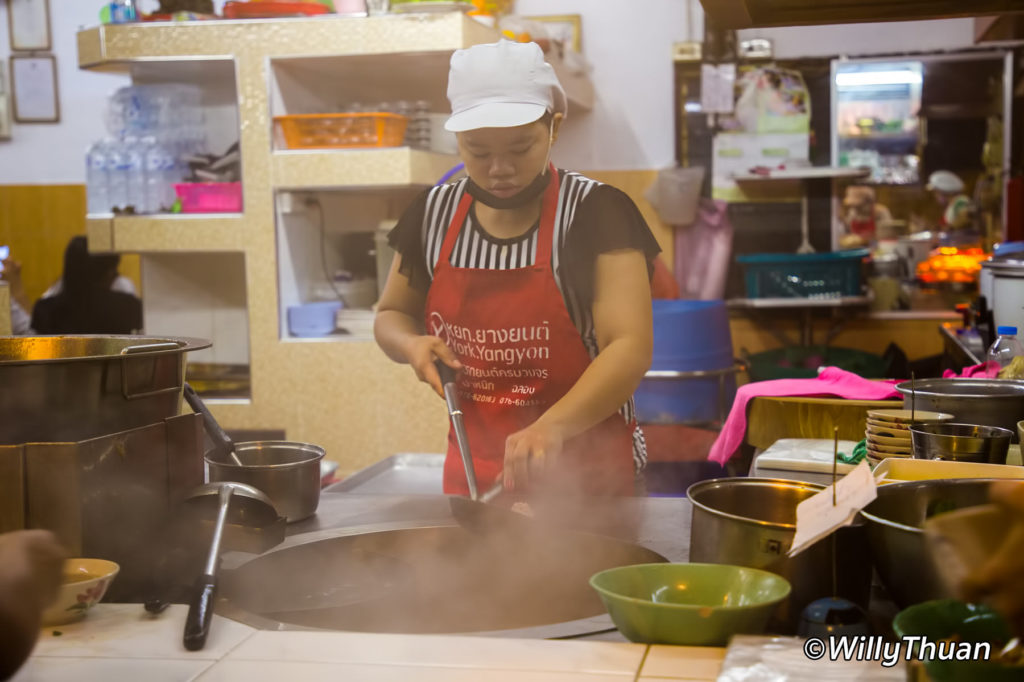 ---
What to Order at Go Benz Phuket?
The rice porridge (Kao Tom) is one of our favourites, but they have a variety of tasty noodle soups, as listed below. One big favourite is the 'Mama Moo Sap', a surprisingly good pork noodle soup. This soup is most unusual: the noodles and some of the condiments come straight from the famous 'Mama Instant Noodle' (see the photo below); you can buy this at 1-11 at 6 baht pack! Something you would never even consider in western countries! And guess what? It's delicious.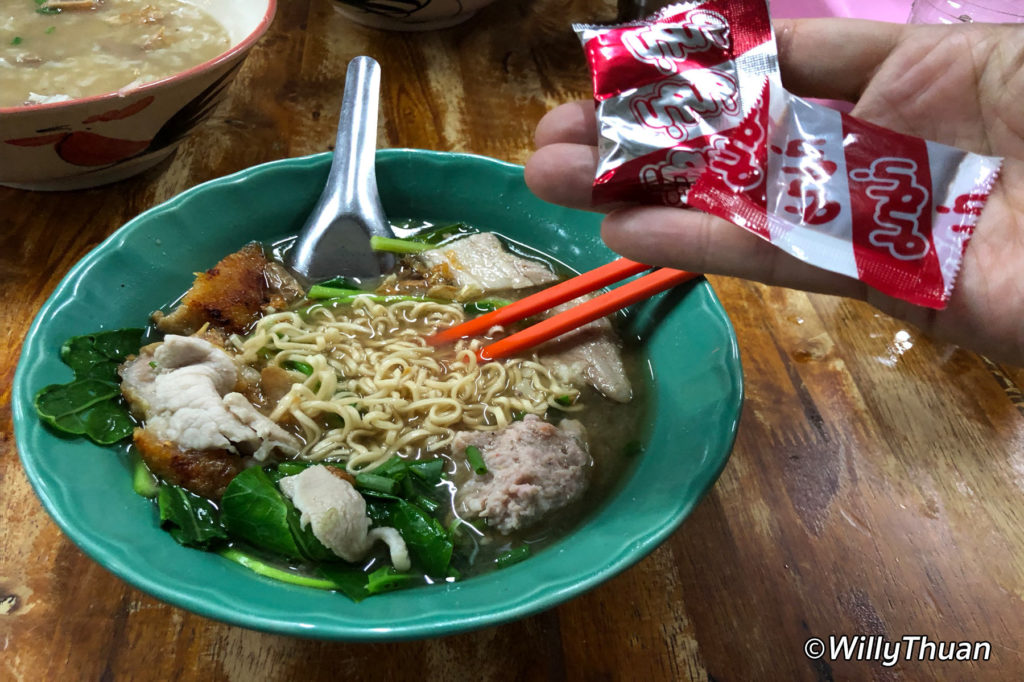 Popular dishes to try
Kuay Jab (ก๋วยจั๊บ) Rolled Rice Noodle in Soup (make sure you order "Mai Nai" if you don't eat entrails and stuff)
Kao Tom Hang (ข้าวต้มแห้ง): Rice with Pork and offal topped with a bit of soup. We usually order mai nai
Kao Lao Luad Moo (เกาเหลาเลือดหมู): Boiled Pork Blood in Clear Soup, served with offal and pork. You can order just blood and moo sab.
Kao Tom Kradook Moo (ข้าวต้มกระดูกหมู๗): Boiled Rice with Pork Ribs
Mookrob (หมูกรอบ): Crispy Pork
Like in most noodle shops, you will need to specify the type of noodles you want: rice vermicelli, medium-sized noodles, thick noodles, large flat noodles or egg noodles. Even though most noodles are rice bases, the size and shape of the noodles do change the taste of the soup.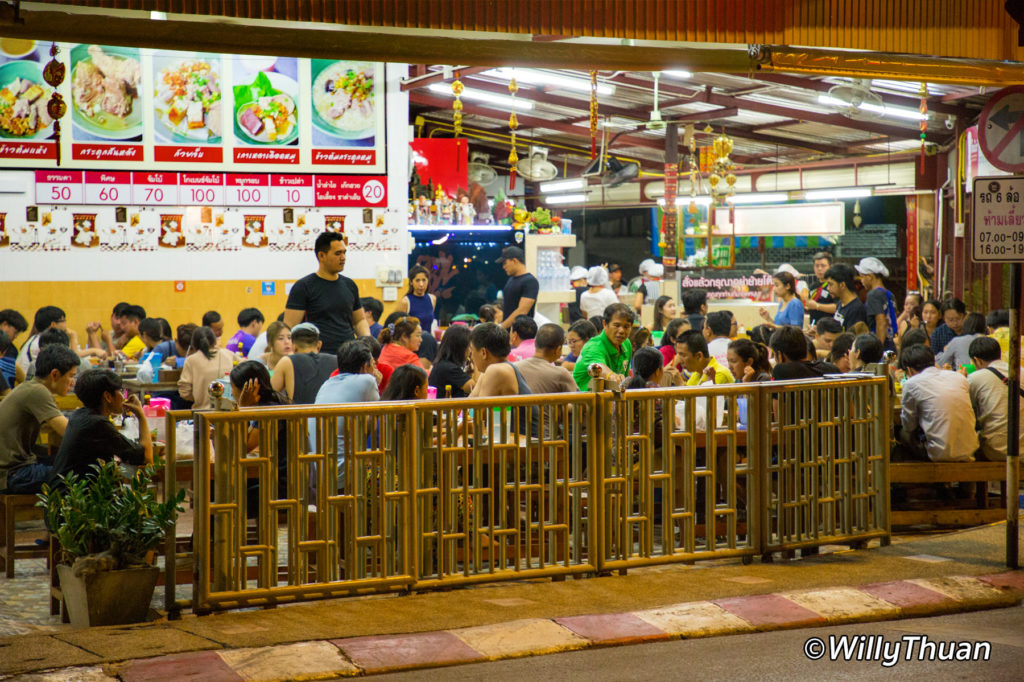 ---
Go Benz Phuket opens from 7 pm until very late, is full every single day from opening to closing time, and is incredibly busy between 7 to 9 pm; you can even see a queue waiting on the sidewalk. Even when every table is occupied and even when the restaurant is packed, the staff is efficient and polite, and your food arrives surprisingly fast. Go Benz is a great place to have a late-night bowl of soup after a party.
Note that Go Benz restaurant closes for every Buddhist day, which for most travellers seems very unpredictable!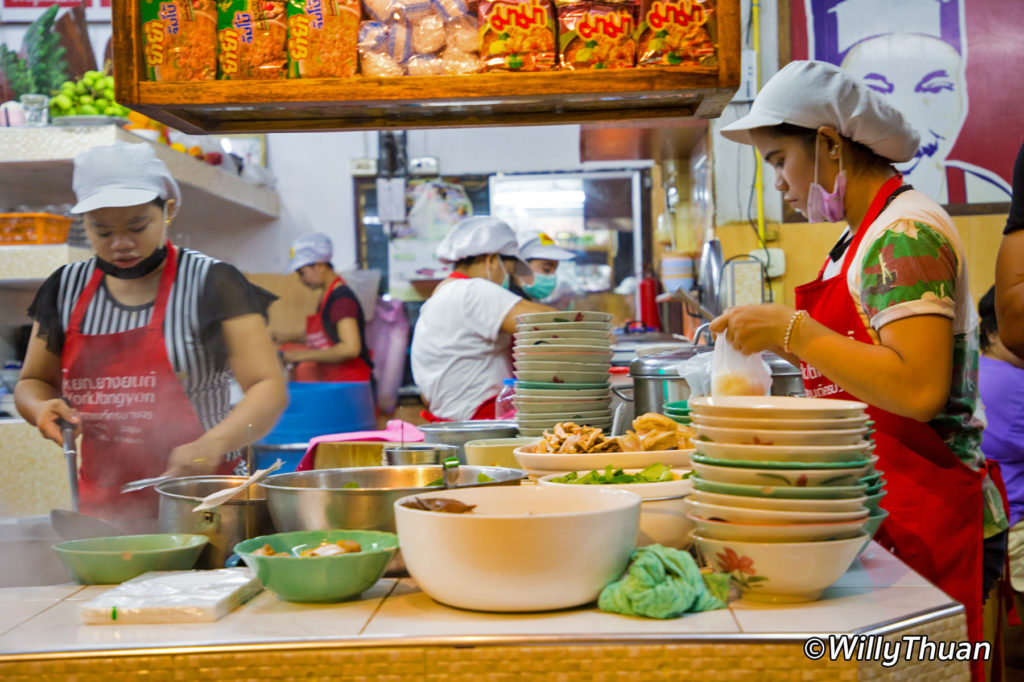 ---
More Photos of Go Benz Phuket
---
Go Benz Restaurant Info
Location: Phuket Town
Address: Krabi Road, Talat Nuea, Mueang Phuket District, Phuket 83000
Open: 7 pm – 2 am
Phone: 084 060 7799
Price: Cheap
---
Go Benz Phuket Map
---
More Restaurants in Phuket Town
---
Your Phuket Town Travel Guide