What to do in Phi Phi Islands?
In 2023, Phi Phi island is open again, blessed with beaches and nearby islands more beautiful than ever so many travellers wonder what the islands look like, how to get there, and how long should they stay. There are many ways to discover Phi Phi Island and fortunately, the island is back to life, shops, restaurants and hotels are open. There are a lot of visitors and you can eat, shop a bit and easily ride a longtail boat to the nearby islands and other beaches. In summary, the island is as beautiful, and nature is recovering nicely.
Phi Phi Islands (Koh Phi Phi) is a popular archipelago 40 km south of Phuket. If you were wondering, you would pronounce Phi Phi 'Pee-Pee', not 'Fee-Fee'! They don't need an introduction anymore since Leonardo DiCaprio took care of this in 2000 with the movie The Beach. Since then, the island has kept developing. The young crowd travelling to Phi Phi Island all year round seemed to love it so much that we decided to revisit it. The verdict? Yes, it's crowded, especially at night, but the islands are stunning and great places to party!
A Video of Phi Phi Islands
Popular Day Trips to and around Phi Phi Islands
If you come from Phuket, day trips usually include transfers from and to your hotel, lunch on Tonsai Bay and National Park fees to Maya Bay. If you are sleeping on the island, you can easily rent a long-tail boat. Expect to pay around 1,500 to 3,000 baht, depending on what you want to visit. If you want to enjoy super blue waters, don't go too early as the shadows of the cliffs can affect the colour rendering of the amazing blue water in Loh Dalum Bay. Maybe leave at 10.30 or 11 am.
Here are the usual places where boats will take you: Maya Bay (when open, which is not always predictable), Viking Cave, (Used to be open to the public, but it's now restricted), Loh Dalum Bay, Monkey Beach, Bamboo Island, and sometimes Mosquito island next to it.
Available tours to Phi Phi Island
There are two easy ways to get to Phi Phi Island: by ferry or speedboat. A Ferry costs around 400 baht and takes about 2 hours to reach Phi Phi from Phuket. A speedboat ride costs 900 baht per person but only takes 50 minutes. (A ferry from Krabi will take one hour and a half). Usually, the transfer includes pick up from your hotel and is a return ticket, but double-check anyway. Any hotel or street tour counter in Phuket will be able to arrange this for you. If you rented a car, you could also park at the Rassada pier in Phuket town and buy your ferry ticket directly there, but it's not really cheaper.
On the following page are some of the best places to see here. Of course, you can expect these places and islands to be busy. It may be a good idea to stay overnight and explore early morning to beat the crowds.
As we all sadly remember, a tsunami wiped out the island in 2004, and since then, despite the promises of keeping the island small and manageable, Phi Phi just grew busier but not always better. Nevertheless, Phi Phi is still the most popular of the many islands around Phuket.
Update 2023: Access to Maya Bay is once again closed until October 2023. Check with your tour agent or hotel. When it is open, boats can't enter the bay itself and therefore will drop you on a pier in the bay behind. It's quite a queue, but ultimately, it is a lot less crowded than before. Visitors can't swim in the bay, only walk knee-deep.
Pi Leh Lagoon
Pi Leh Lagoon is characterized by its emerald-green waters, surrounded by towering limestone cliffs covered in lush greenery. The lagoon is situated within a semi-circular bay, giving it a secluded atmosphere. Due to its popularity, Pi Leh Lagoon can sometimes become crowded with tourists, especially during peak seasons. To fully appreciate its natural beauty and tranquility, visiting during less crowded times or early in the morning is recommended.
Bamboo Island is a small, uninhabited island located 8 km northeast of the main Phi Phi island. It is known for its pristine white sand beaches, crystal clear waters, and abundant marine life, making it a popular destination for snorkelling and diving. The island is surrounded by coral reefs and offers breathtaking views of the Andaman Sea. It is also home to a small bamboo forest, which gives the island its name. This island is often part of the day trips travellers usually book in Phuket, or as a short boat ride from Phi Phi island itself.
Loh Dalum Bay
Loh Dalum is a stunningly beautiful shallow bay located on the southern side of Phi Phi Island. It is easily recognizable as the wide expanse of turquoise water that is visible on the right-hand side of the famous panoramic photo taken from the viewpoint. Despite its size, Loh Dalum is a relatively narrow stretch of beach, measuring only 160 meters in width. In fact, you can walk from the main town of Tonsai to Loh Dalum in just a minute or two.
Despite its small size, Loh Dalum is a popular destination for tourists visiting Phi Phi Island. There are several hotels, restaurants, and bars located along the beach, which makes it an ideal spot for travellers looking for a lively atmosphere. The party scene on Loh Dalum is legendary, with music and dancing continuing into the early hours of the morning.
Reaching Phi Phi Viewpoint is a bit challenging, but it's not too hard if you go at your own pace. Expect to sweat and maybe be bitten by local mosquitoes each time you stop breathing in a shade of a tree. Mosquitoes are smart as they ambush themselves in those strategic locations. At the end of the first long flight of stairs, you will reach Viewpoint Number 1 and the ticket counter. It costs 30 baht from that point on.
Situated on Phi Phi Don Island, PP Princess Resort offers direct access to Loh Dalum Bay's stunning beach. With a focus on warm tropical hospitality, the resort provides a safe and relaxing haven. It features deluxe rooms and pool villas, two picturesque swimming pools, diverse dining options, and beach bars serving international cuisine and fresh seafood. Guests can enjoy sophisticated design and beautiful views, making it an ideal destination for a dreamy getaway.
Phi Phi Princess Resort Info

Location: Tonsai Bay
Range: 4-star
Swimming pools: 1
Restaurants and bars: 2
Distance to the beach: across the garden, to reach the superb Loh Dalum Bay
Distance to Phi Phi centre: 500 m
| | | |
| --- | --- | --- |
| SAii Phi Phi Island Village is a luxury beachfront resort located in the north of Phi Phi Don. | Zeavola Resort is a luxurious beachfront resort on the northern tip of the island of Phi Phi. | Phi Phi CoCo Beach Resort is a beachfront hotel on the central area of phi phi, near town. |
---
View Phi Phi Hotels on Map
To see more great hotels all over the island of Phi Phi, click on the link below:
The Islands of Phi Phi Archipelago
In case you didn't know, Phi Phi consists of several islands, but you can only stay on one. You will notice that many islands' name starts with 'Koh, which means 'Island' in Thai. So you will sometimes hear 'Koh Phi Phi' or 'Phi Phi Island', but for an apparent reason, rarely 'Koh Phi Phi Island'.
Phi Phi Don
Phi Phi Don is where everything is: the main town, all the hotels, restaurants, shopping, bars and the party! The landing pier is on Tonsai Bay, and the opposite side is Loh Dalum Beach. Phi Phi Don has several beaches, and hotels are mostly around the narrow part of the island. However, hotels are also on remote beaches, but it requires a short longtail boat ride to reach them. So if you plan to enjoy the party, you should pick the right beach! Of course, those hotels provide a free shuttle boat, but a boat ride might not be fun if you party too hard.
Koh Phi Phi Leh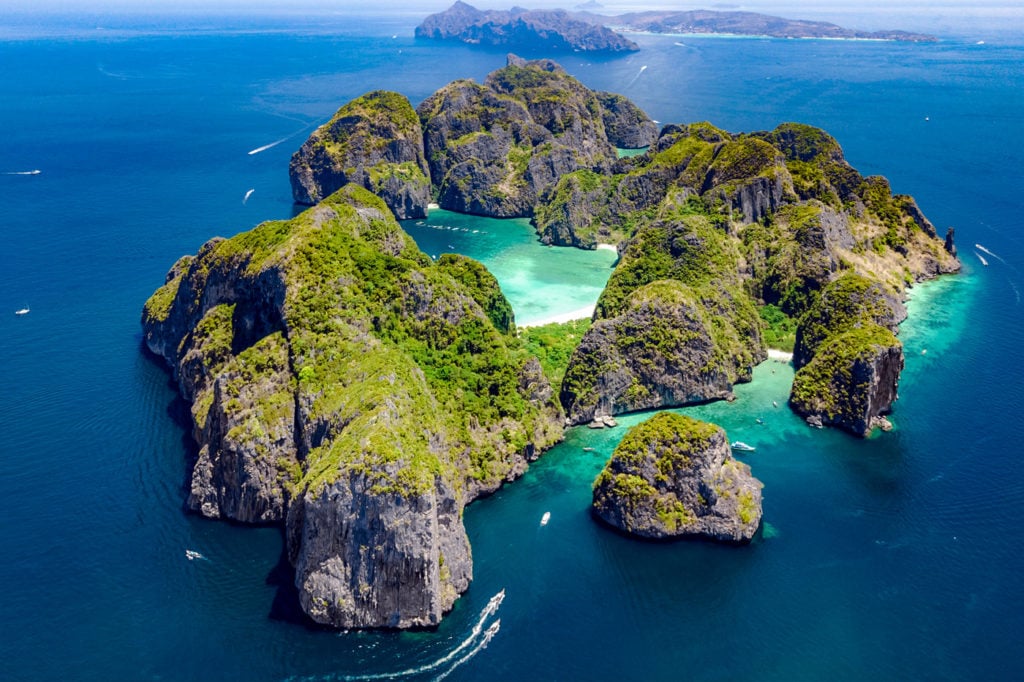 Phi Phi Leh is where you will find the famous Maya Bay, which closed for three years and has recently reopened. It's just a few kilometres south and about 30 minutes by long-tail boat. The main attractions are Maya Bay and Pi Leh Bay, a superb enclose lagoon with amazing blue waters. Popular activities on Phi Phi Leh include snorkelling, diving, and exploring the island's caves and lagoons.
The geography of Phi Phi Don – Main Island
Phi Phi Don is the largest and only inhabited island in the Phi Phi archipelago in Thailand. It is known for its 4 main beautiful beaches, crystal clear waters, and lively nightlife. Popular activities on Phi Phi Don include snorkelling, diving, hiking, and visiting the island's many bars and restaurants. Despite its popularity among tourists, the island has maintained much of its natural beauty and charm, mainly in the northern part.
Phi Phi Don looks like a mad maze between 2 bays: Tonsai Bay, where ferries drop you off, and Loh Dalum Bay, where the main beach is.
To imagine what walking down that maze feels like, picture the following: a T-Shirt shop, a tattoo parlour, a bar, a dive centre, a tattoo parlour, a fast food, a bar, a travel agency, a massage parlour; repeat again and again. I've never seen so many tattoo shops per meter square! I've never seen so many cats, either!
Most shops don't open in the morning but until late at night. It is probably because most of the island's population is away exploring the islands. Other visitors enjoy the soft sand and the beautiful scenery (if tides permit). The remaining tourists are probably still in bed trying to get over a massive hangover from one of these cheap 'buckets' that looked so cool the day before.
Long Beach
Long Beach is a superb sandy bay located just next to Tonsai Bay and easy to access by walking along the coast. The place is home to excellent hotels and bungalows like the Phi Phi Villa Resort.
Laem Thong Beach
Laem Thong Beach is a beautiful and secluded beach located on the northern tip of Phi Phi Island. The beach boasts clear turquoise waters and soft white sand, making it an ideal spot for swimming, sunbathing, and snorkelling. The area is less developed than other beaches on the island, providing a peaceful and serene atmosphere for visitors to enjoy. Some of the popular hotels in the area include Zeavola Resort, Holiday Inn Resort Phi Phi Island, and Phi Phi Island Village Beach Resort.
All around Phi Phi Don, there are other beaches of different sizes such as the beautiful Loh Bagao beach further down (see map at the end of the page).
Where to party at Night?
The beach party and the street party are easy to join. Walk from one bar to another and follow the music, the crowd, and the atmosphere.
Slinky
Slinky is a beach bar famous for its fire show and club music right on the beach.
Stones Bar
Stones Bar is on Loh Dalum Bay and has a fire show.
Reggae Bar
Reggae Bar, unlike a reggae bar, is somewhat famous for organising friendly Muay Thai fights between customers. As you wear head protection, it doesn't seem to hurt (much), but it depends on your opponent. Nevertheless, it seems to be a lot of fun.
Stockholm Syndrome
Stockholm Syndrome invites customers to drink games outside the bar; games involve a hose and a funnel and how fast you can drink from these.
---
Other popular places to party in Phi Phi
Dojo Bar
Breakers
Kong Siam Live Bar has a fantastic singer able to entertain the crowds with drinking songs.
Carlito's Bar is a waterfront bar on the other side of the bay. Als,o with club music and fire shows but with a better sitting area.
---
What's a 'Bucket'?
Buckets are extremely popular in Phi Phi, and you can find them everywhere after sunset. Usually, a cheap mix of local whiskey (Sang Som), a red bull (you know what), a mixer and ice in a small plastic bucket, and a couple of straws. You can take this around as you party. As it's sweet and cold and often uses cheap local alcohol, you don't feel you are drinking much, and the Red Bull boosts you. Most people get drunk much faster and much more than they think. Fun.
Where to get a tattoo in Phi Phi?
That's a tough one, they are everywhere, and they all claim the same thing: a sterile environment and a new needle for each customer, also Bamboo tattoos are available. So follow your instinct but let us know if you can recommend one shop. I looked at a couple of standard-size tattoos; they cost between 5,000 to 10,000 baht and take 3 to 6 hours to execute.
Where to eat
There are hundreds of places to choose from on Phi Phi Island. Walk along the few pedestrian walkways, and you can pick as you go. It's a lucky draw. It's more fun by the waterfront, but this is just us, so we tried the following: they were quite good.
Ciao Bella
Ciao Bella is an Italian restaurant right by the sea, on Loh Dalum Beach, just next to the party.
Tonsai Seafood
Tonsai Seafood serves seafood and Thai food on the Tonsai waterfront opposite Phi Phi Banyan Villa, where we stayed.
Shopping in Phi Phi
The famous expression "Same Same but Different" was probably coined here. 'Phi Phi island' tee shirts, short pants and light skirts, swimsuits, bags… everything you need for a holiday on a small island. Don't expect much originality, but browsing is always fun, especially when there is not much to do.
---
More Photos
Useful information about Phi Phi
| | |
| --- | --- |
| 📷 Main attraction: | Maya Bay |
| ⛱️ Main beach: | Loh Dalum Beach |
| 🏝️ Nearby island: | Bamboo Island |
| 🛎️ Best luxury hotel: | Zeavola Resort |
| 🧳 Best mid-range hotel: | SAii Phi Phi Resort |
| 🛌 Best budget hotel: | Phi Phi Banyan Villa |
| 🛥️ Time by speedboat: | 50 mn (900 baht) |
| ⛴️ Time by ferry: | 2 hours (400 baht) |
| ✈️ Distance from Phuket International Airport: | 40 km |
▷ There are many convenience stores, banks, ATMs, and pharmacies everywhere. There are a hospital and a large modern clinic, so you know you won't have to worry about these.
▷ There are no cars on Phi Phi, but you will hear "Peep-Peeeep!" dozen times as locals try to push carts loaded with all kinds of stuff.
▷ Phone signal coverage is surprisingly good from Phuket to Phi Phi! But Wi-Fi in hotels is useless.
Where is Phi Phi Island?
Phuket 101 is not a travel agency, but you can get in touch with a local tour agent to get better prices as well as local information or even custom tours by using this link: https://www.johnwelcometravel.com/
Your Phi Phi Travel Guide
FAQs about Phi Phi Island