---
What to do in Phi Phi Islands?
---
Update 2022: Access to Maya Bay is now possible but limited to a few daily visitors. Check with your tour agent or hotel.

In 2022, Phi Phi islands are open, and the beaches and other nearby islands are more beautiful than ever. The island looks quiet, and many shops, restaurants and hotels are still closed, but things start to look better. There are just a few visitors daily, locals and expats for most, but you still can eat well, shop a bit and easily ride a longtail boat to the nearby islands and other beaches. In summary, the island is as beautiful, and nature is recovering nicely. Like many pages on Phuket 101, the story on this page describes Phi Phi before COVID-19. We will update it once travel resumes.
A Video of Phi Phi Islands in 2021
---
What to do in Phi Phi Islands?
---
Phi Phi islands (Koh Phi Phi) are a popular archipelago 40 km south of Phuket. If you were wondering, you would pronounce Phi Phi 'Pee-Pee', not 'Fee-Fee'! They don't need an introduction anymore since Leonardo DiCaprio took care of this in 2000 with the movie The Beach. Since then, the island has kept developing.
As we all sadly remember, a tsunami wiped out the island in 2004, and since then, despite the promises of keeping the island small and manageable, Phi Phi just grew busier but not always better. Nevertheless, Phi Phi is still the most popular of the many islands around Phuket.
---
Update 2022: Access to Maya Bay is now possible but limited to a few daily visitors. Check with your tour agent or hotel.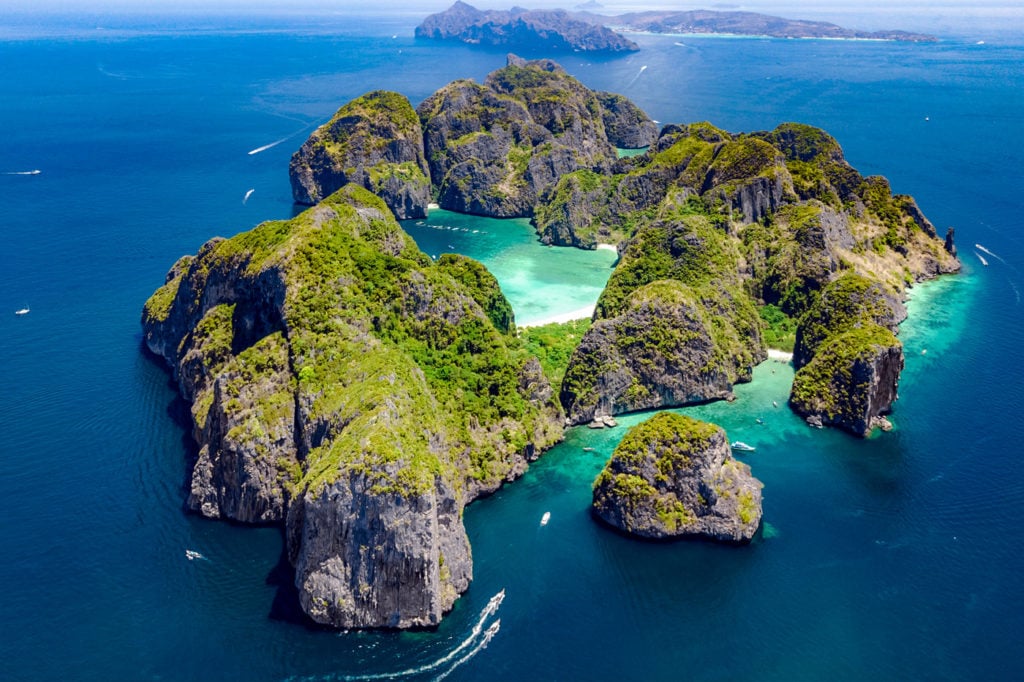 However, the young crowd travelling to Phi Phi Island all year round seemed to love it so much that we decided to revisit it. The verdict? Yes, it's crowded, especially at night, but the islands are stunning and great places to party!
---
The Islands of Phi Phi Archipelago
---
In case you didn't know, Phi Phi consists of several islands, but you can only stay on one. You will notice that many islands' name starts with 'Koh, which means 'Island' in Thai. So you will sometimes hear 'Koh Phi Phi' or 'Phi Phi Island', but for an apparent reason, rarely 'Koh Phi Phi Island'.
Koh Phi Phi Don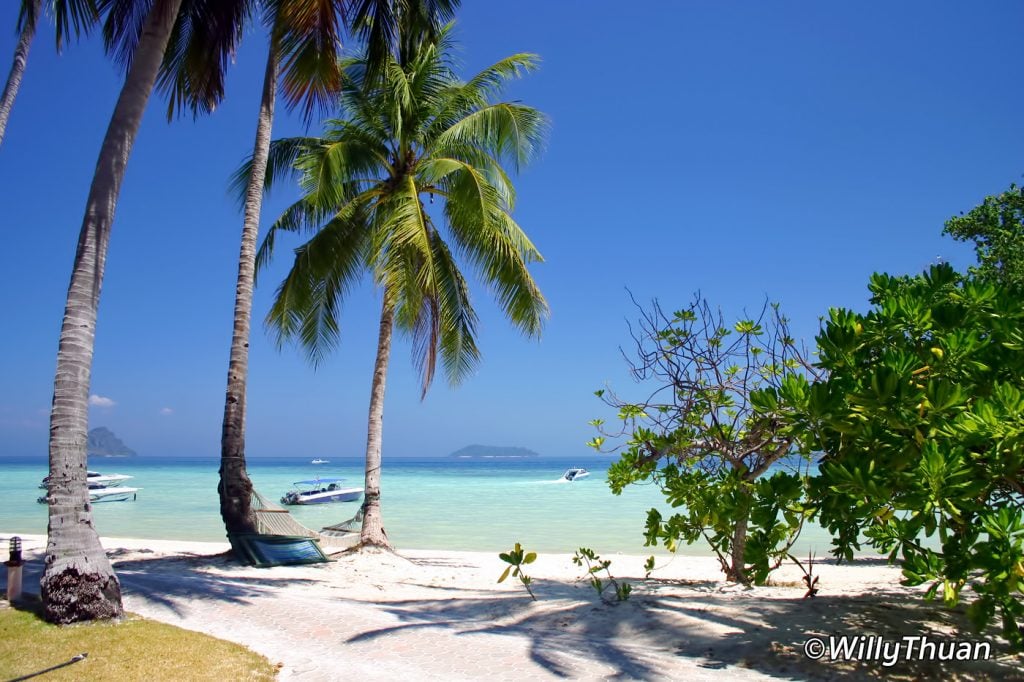 Phi Phi Don is where everything is: the main town, all the hotels and the party! The landing pier is on Tonsai Bay, and the opposite side is Loh Dalum Beach. Phi Phi Don has several beaches, and hotels are mostly around the narrow part of the island. However, hotels are also on remote beaches, but it requires a short longtail boat ride to reach them. So if you plan to enjoy the party, you should pick the right beach! Of course, those hotels provide a free shuttle boat, but a boat ride might not be fun if you party too hard.
Koh Phi Phi Leh
Phi Phi Leh is where you will find the famous Maya Bay, which closed for three years and has recently reopened. It's just a few kilometres south and about 30 minutes by long-tail boat.
---
Koh Bida islands are further South and are famous for diving.
Koh Yoong (Mosquito Island)
Tonsai – Phi Phi central area
Phi Phi Don looks like a mad maze between 2 bays: Tonsai Bay, where ferries drop you off, and Loh Dalum Bay, where the main beach is.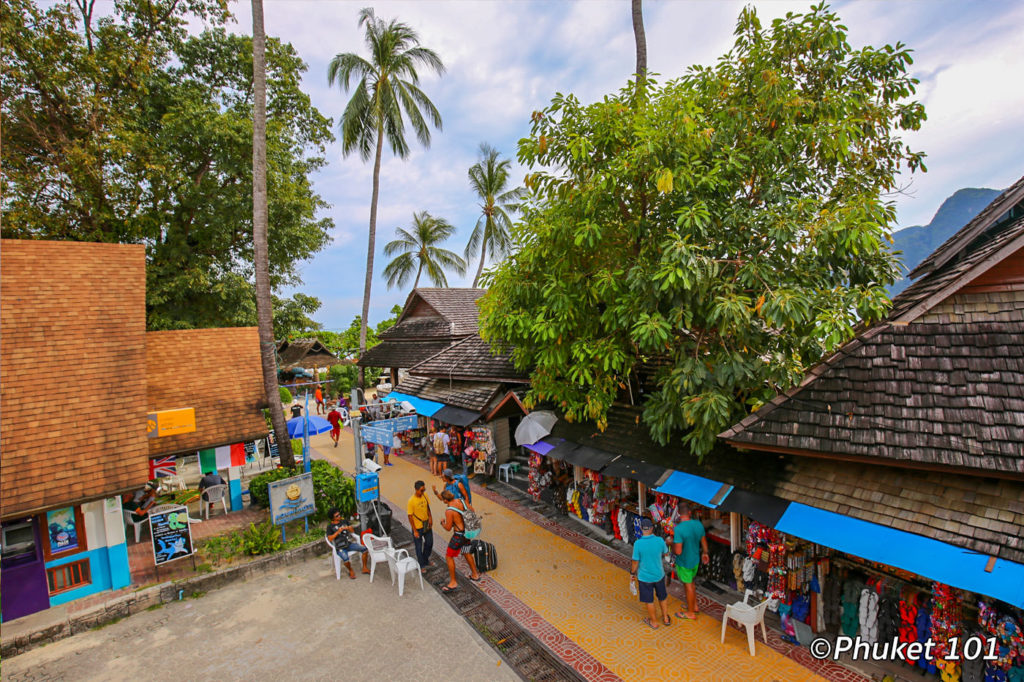 To imagine what walking down that maze feels like, picture the following: a T-Shirt shop, a tattoo parlour, a bar, a dive centre, a tattoo parlour, a fast food, a bar, a travel agency, a massage parlour; repeat again and again. I've never seen so many tattoo shops per meter square! I've never seen so many cats, either!
Most shops don't open in the morning but until late at night. It is probably because most of the island's population is away exploring the islands. Other visitors enjoy the soft sand and the beautiful scenery (if tides permit). The remaining tourists are probably still in bed trying to get over a massive hangover from one of these cheap 'buckets' that looked so cool the day before (read about it lower on the page)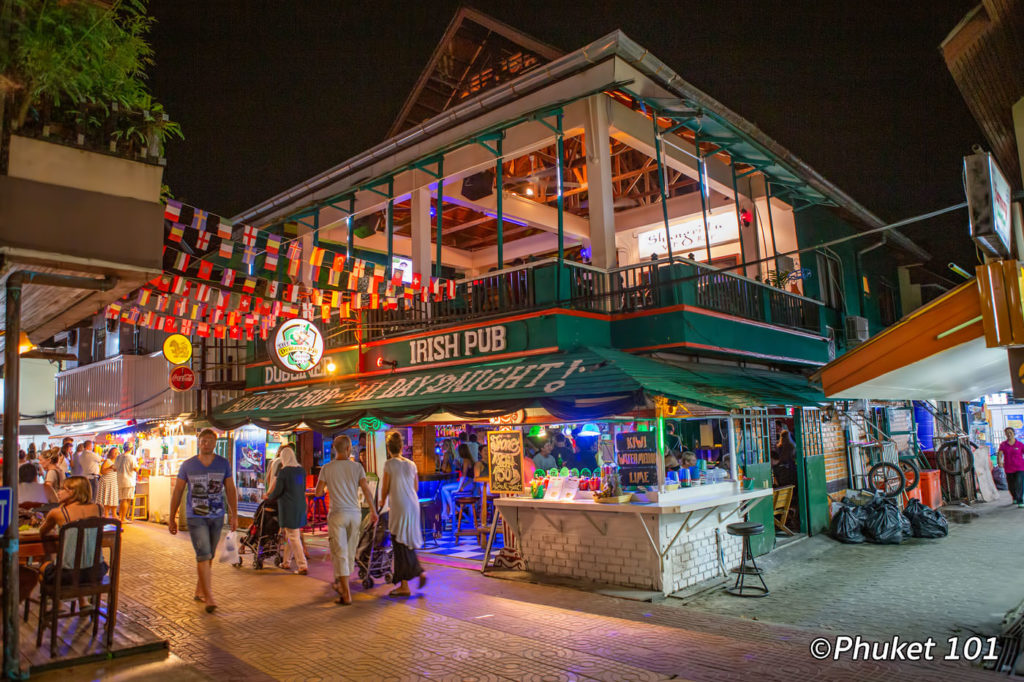 In the afternoon, the crowd emerges to hang in the streets: shopping, drinking too early or having a massage. Plenty of small restaurants for all tastes and budgets, but most look somewhat touristy. We tried a decent beachfront restaurant called 'Tonsai Seafood', which was quite good and 'The Point Restaurant', below average. However, our best dining experience was at 'Le Grand Bleu', a long-established French restaurant serving an excellent choice of French and Thai food at reasonable prices.
In normal years (before COVID), Phi Phi explodes with life from 9 pm as bars start fire shows, live bands and Muay Thai performances (Thai boxing). There are bars after bars after bars all along the main streets but for the best party, aim at Loh Dalum Bay, where fire shows take place. Young people buy a 'bucket' on their way there and sit on the beach before a makeshift stage to enjoy or even participate in small fire shows. The music is loud and pretty good, making people dance on the beach. Everyone seems to have the time of their life.
The general impression is that Phi Phi is not real Thailand apart from some fantastic cliffs and bays. It's a bit of the Khaosan of the south, with a permanent Full Moon Party. Anyone not selling something on Phi Phi is a Farang (a foreigner). You will never see or hear a Thai person saying: "I'm going to spend a weekend on Phi Phi Island". On the other hand, the young Thais working on the island are very smiling and helpful.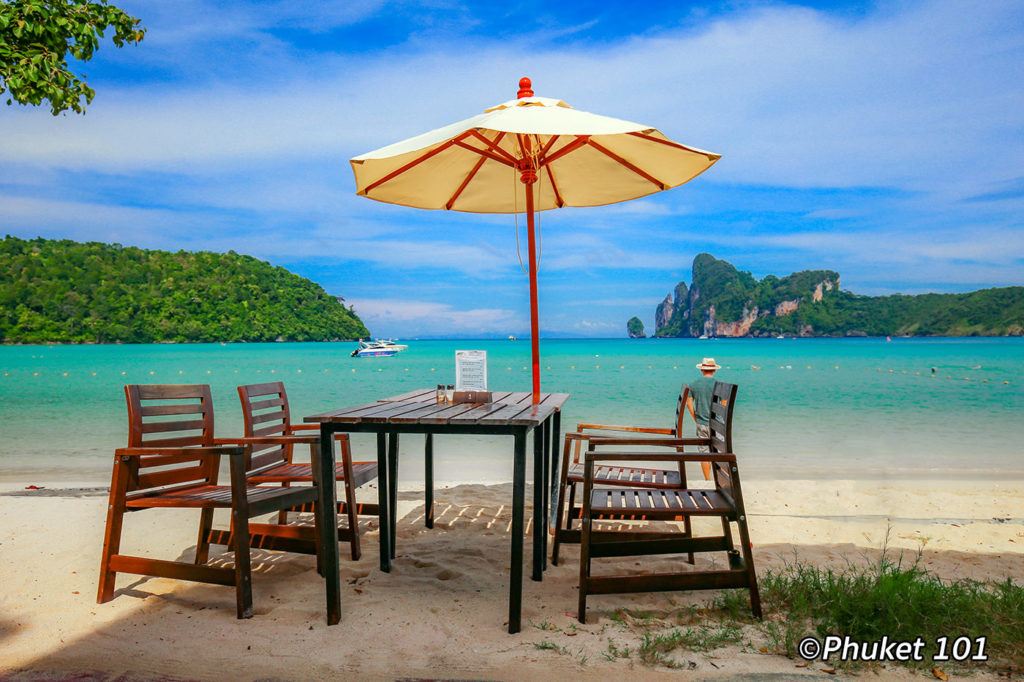 There are some mosquitoes, mostly once the sun has set, but many convenience stores and pharmacies are on Phi Phi island.
Long Beach
Long Beach is a superb sandy bay located just next to Tonsai Bay and easy to access by walking along the coast. The place is home to excellent hotels and bungalows like the Phi Phi Villa Resort.
Other Beaches
All around Phi Phi Don, there are other beaches of different sizes; the best-known one is Laem Tong beach, where Holiday Inn Phi Phi and Zeavola resort enjoy a peaceful but remote holiday and the beautiful Loh Bagao beach further down (see map at the end of the page).
---
---
There are two easy ways to get to Phi Phi island: by ferry or speedboat. A Ferry costs around 400 baht and takes about 2 hours to reach Phi Phi from Phuket. A speedboat ride costs 900 baht per person but only takes 50 minutes. (A ferry from Krabi will take one hour and a half). Usually, the transfer includes pick up from your hotel and is a return ticket, but double-check anyway.
Any hotel in Phuket will be able to arrange this for you. If you rent a car, you could also park at the Rassada pier in Phuket town and buy your ferry ticket, but it's not cheaper. You also can check this site for available discount tickets by Kohlife.
---
---
On the following page are some of the best places to see here. Of course, you can expect these places and islands to be busy. It may be a good idea to stay overnight and explore early morning to beat the crowds. Read more
Loh Dalum Bay
Loh Dalum is the immense shallow bay you always see on the right-hand side of the famous panoramic photo taken from the viewpoint. This part of the island is very narrow (160 metres), and you can walk from Tonsai to Loh Dalum in a minute. There are hotels, restaurants, and bars all along the beach where the party runs every night. You can rent kayaks or ride a longtail to nearby islands from here.
Reaching Phi Phi Viewpoint is a bit challenging, but it's not too hard if you go at your own pace. Expect to sweat and maybe be bitten by local mosquitoes each time you stop breathing in a shade of a tree. Mosquitoes are smart as they ambush themselves in those strategic locations. At the end of the first long flight of stairs, you will reach Viewpoint Number 1 and the ticket counter. It costs 30 baht from that point on.
Monkey Beach
Koh Mai Pai (Bamboo Island)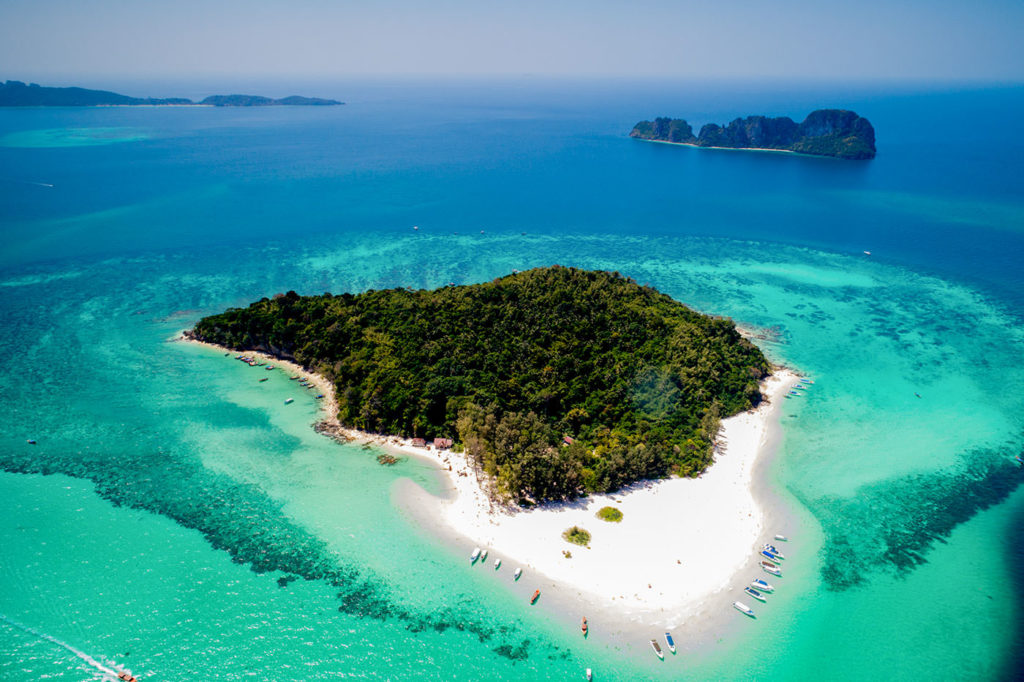 Buying a typical day trip around Phi Phi
If you wish to rent a boat, expect to pay around 1,500 to 3,000 baht, depending on what you want to visit. Here are the usual places where longtail boats will take you to.
To Phi Phi Leh and around
Maya Bay (currently closed)
Viking Cave (Used to be open to the public, but it's now restricted)
Loh Dalum Bay
Monkey Beach
Then to the north of Phi Phi Don
Mosquito Island
Bamboo Island
Diving around Phi Phi Island is a fantastic experience you shouldn't miss. Not many places in the world can offer such unique dive sites. If you have never experienced diving before, remember that a cool option called 'Discover Scuba Diving' doesn't require any training, just a briefing usually given on the boat deck on the way to the dive sites! I did it, and it was fantastic.
---
Where to stay on Koh Phi Phi
---
Phi Phi Banyan Villa
PP Princess Resort
Phi Phi Villa Resort
---
Where to party?
---
Note that in 2022, many venues are still closed
The beach party and the street party are easy to join. Walk from one bar to another and follow the music, the crowd, and the atmosphere.
Slinky
Slinky is a beach bar famous for its fire show and club music right on the beach.
Stones Bar
Stones Bar is on Loh Dalum Bay and has a fire show.
Reggae Bar
Reggae Bar, unlike a reggae bar, is somewhat famous for organising friendly Muay Thai fights between customers. As you wear head protection, it doesn't seem to hurt (much), but it depends on your opponent. Nevertheless, it seems to be a lot of fun.
Stockholm Syndrome
Stockholm Syndrome invites customers to drinking games outside the bar; games involve a hose and a funnel and how fast you can drink from these.
---
Other popular places to party in Phi Phi
Dojo Bar
Breakers
Kong Siam Live Bar has a fantastic singer able to entertain the crowds with drinking songs.
Carlito's Bar is a waterfront bar on the other side of the bay. Als,o with club music and fire shows but with a better sitting area.
---
What's a 'Bucket'?
Buckets are extremely popular in Phi Phi, and you can find them everywhere after sunset. Usually, a cheap mix of local whiskey (Sang Som), a red bull (you know what), a mixer and ice in a small plastic bucket, and a couple of straws. You can take this around as you party. As it's sweet, and cold and often uses cheap local alcohol, you don't feel you are drinking much, and the Red Bull boosts you. Most people get drunk much faster and much more than they think. Fun.
---
Where to eat
---
There are hundreds of places to choose from on Phi Phi island. Walk along the few pedestrian walkways, and you can pick as you go. It's a lucky draw. It's more fun by the waterfront, but this is just us, so we tried the following: they were quite good.
Le Grand Bleu
Le Grand Bleu is a great French restaurant that has been famous since 1992.
Ciao Bella
Ciao Bella is an Italian restaurant right by the sea, on Loh Dalum Beach, just next to the party.
Tonsai Seafood
Tonsai Seafood serves seafood and Thai food on the Tonsai waterfront opposite Phi Phi Banyan Villa, where we stayed.
---
Shopping in Phi Phi?
---
The famous expression "Same Same but Different" was probably coined here. 'Phi Phi island' tee shirts, short pants and light skirts, swimsuits, bags… everything you need for a holiday on a small island. Don't expect much originality, but browsing is always fun, especially when there is not much to do.
---
Where to get a tattoo?
That's a tough one, they are everywhere, and they all claim the same thing: a sterile environment and a new needle for each customer, also Bamboo tattoos are available. So follow your instinct but let us know if you can recommend one shop. I looked at a couple of standard-size tattoos; they cost between 5,000 to 10,000 baht and take 3 to 6 hours to execute.
---
More Photos
---
Useful information about Phi Phi
Thai name: เกาะพีพีดอน
Province: Krabi
Island Size: 12.25 km2 (4.73 sq mi)
Distance from Phuket: 40 kilometres (25 miles)
Number of islands: 6
▷ There are many convenience stores, banks, ATMs, and pharmacies everywhere. There are a hospital and a large modern clinic, so you know you won't have to worry about these.
▷ There are no cars on Phi Phi, but you will hear "Peep-Peeeep!" dozen times as locals try to push carts loaded with all kinds of stuff.
▷ Phone signal coverage is surprisingly good from Phuket to Phi Phi! But Wi-Fi in hotels is useless.
---
Where is Phi Phi Island?
---
---
More reading
15 Islands Near Phuket 🏝️ Phuket Island Hopping
---
FAQs about Phi Phi Island
Q. Is Phi Phi Island open?
a. Yes, Phi Phi Island is open as well as all the attractions and other islands around. Only the famous Maya Bay is closed until further notice.
Q. What are the best things to do on Phi Phi Island?
a. Explore the islands around and party on the beach are some of the many things to do in Phi Phi:
Relax on Loh Dalum Beach
Climb to the viewpoint
Take a longtail boat to
Monkey Beach
Bamboo Island
Try scuba diving
Q. How long does it take to go from Phuket to Phi Phi Island?
a. Phi Phi Island is 46 km southwest of Phuket Island, and 2 hours to reach by ferry from Rassada Pier in Phuket Town.
Q. How to get to Phi Phi Island?
a. Tours will send a van to our hotel and drive you to Rassada Pier in Phuket Town; then a ferry will take you to the island.
Q. How much does the ferry cost and where to book it?
a. Booking online is surprisingly cheaper than booking at the pier, expect to pay from 300 baht per person, 450 baht including transfer from the hotel.