---
What to Do in Phi Phi Islands?
---
Here are some of the best places to see and the best things to do in the Phi Phi islands. Of course, as they are so popular, those places can be bustling, so it is recommended to stay overnight in Phi Phi and try to reach them early morning to beat the crowds.
---
Note that Maya Bay is now open to a limited amount of visitors

---
There is no need to introduce Maya Bay as Leonardo DiCaprio did in the movie 'The Beach'. However, despite a 19% satisfaction on Rotten Tomatoes movie rating, the beach itself is probably a bigger hit than the film was. Just like at James Bond Island with the equally mediocre James Bond movie (45% on Rotten Tomatoes), crowds are pouring non-stop and all day in this once idyllic enclosed bay. Oh yes, it is superb and worth going to! But make sure you come early and get your photos before the crowds!
The Phi Phi Viewpoint is relatively easy to reach, and the view from up there is undoubtedly rewarding. The climb starts in the back of Phi Phi village and is well-paved. Take some water and maybe a hat. It's not so hard, but it can get hot since the wind doesn't get through. At the top of the hill you will be asked to pay a small fee to reach viewpoint 1, but don't stop and keep climbing to the better viewpoint 2!
3. Pileh Lagoon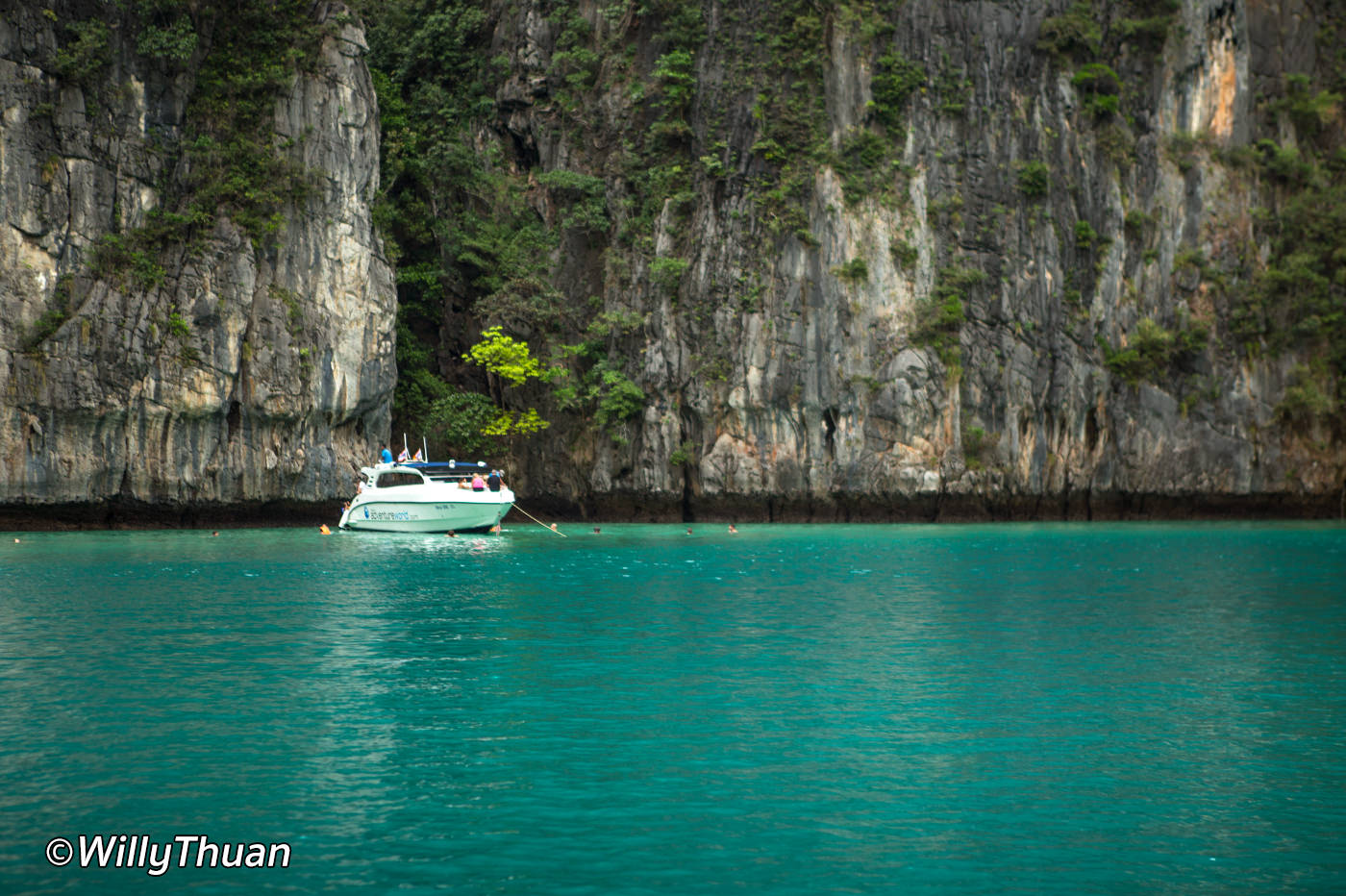 Located on the other side of the famous Maya Bay, the Pileh lagoon is a beautiful emerald-blue bay where people like to snorkel and dive. Just like Maya Bay, it is on the small island of Phi Phi Leh and can be full of longtail boats, diving boats and speedboats.
4. Monkey Beach
Monkey beach is a superb small white sand beach on the west coast of the main island of Phi Phi, not far from Tonsai Bay where the ferry dropped you. Of course, you can expect to meet some naughty monkeys, always ready to grab whatever food you carry (which is not recommended).
5. Bamboo Island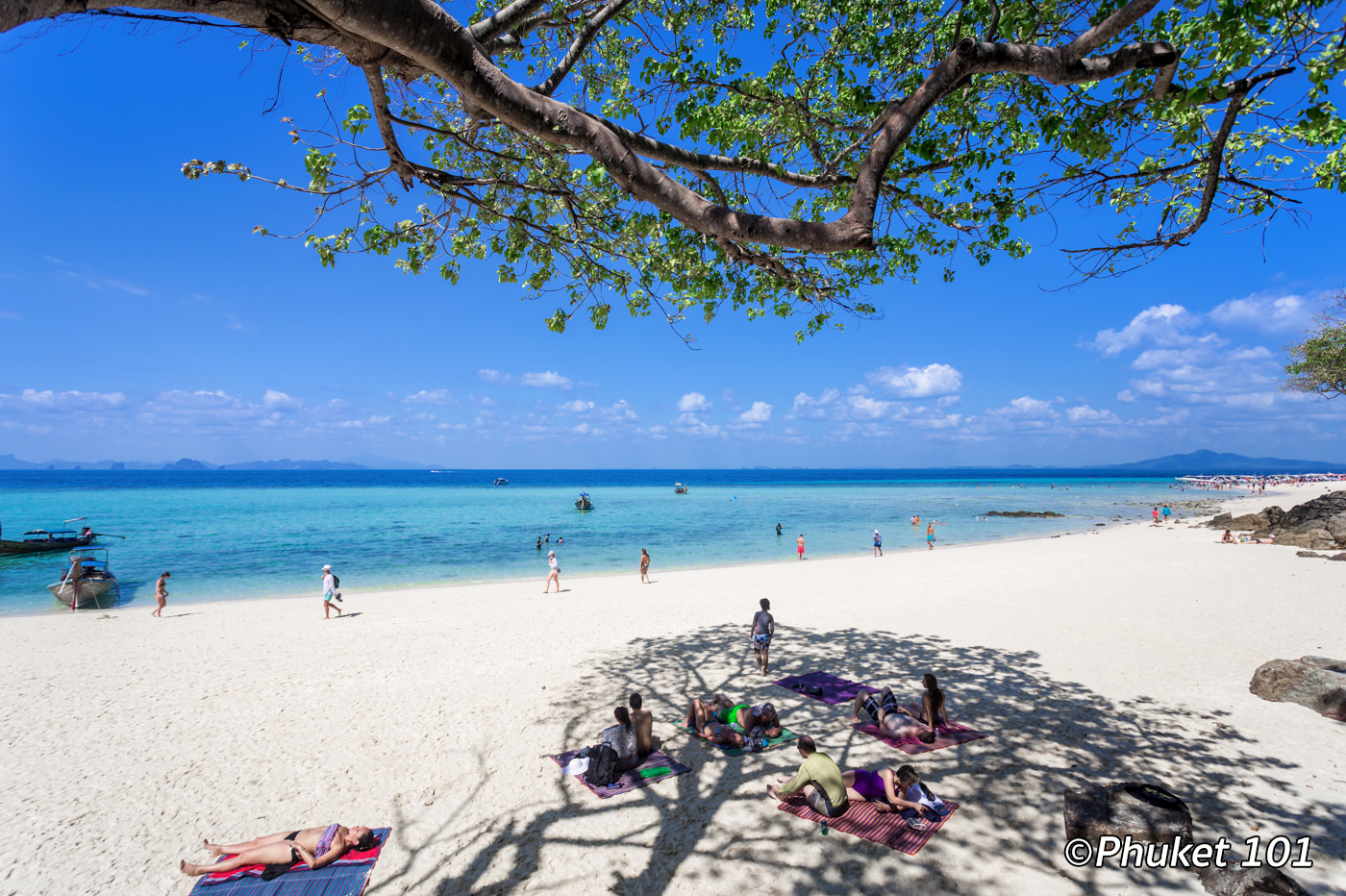 Bamboo island is a small island found 30 to 40 minutes north of Phi Phi Don. Even though it's not on the main island, you will have no problem finding a boat to take you there and enjoy the incredible white sand and blue waters.
6. Viking Cave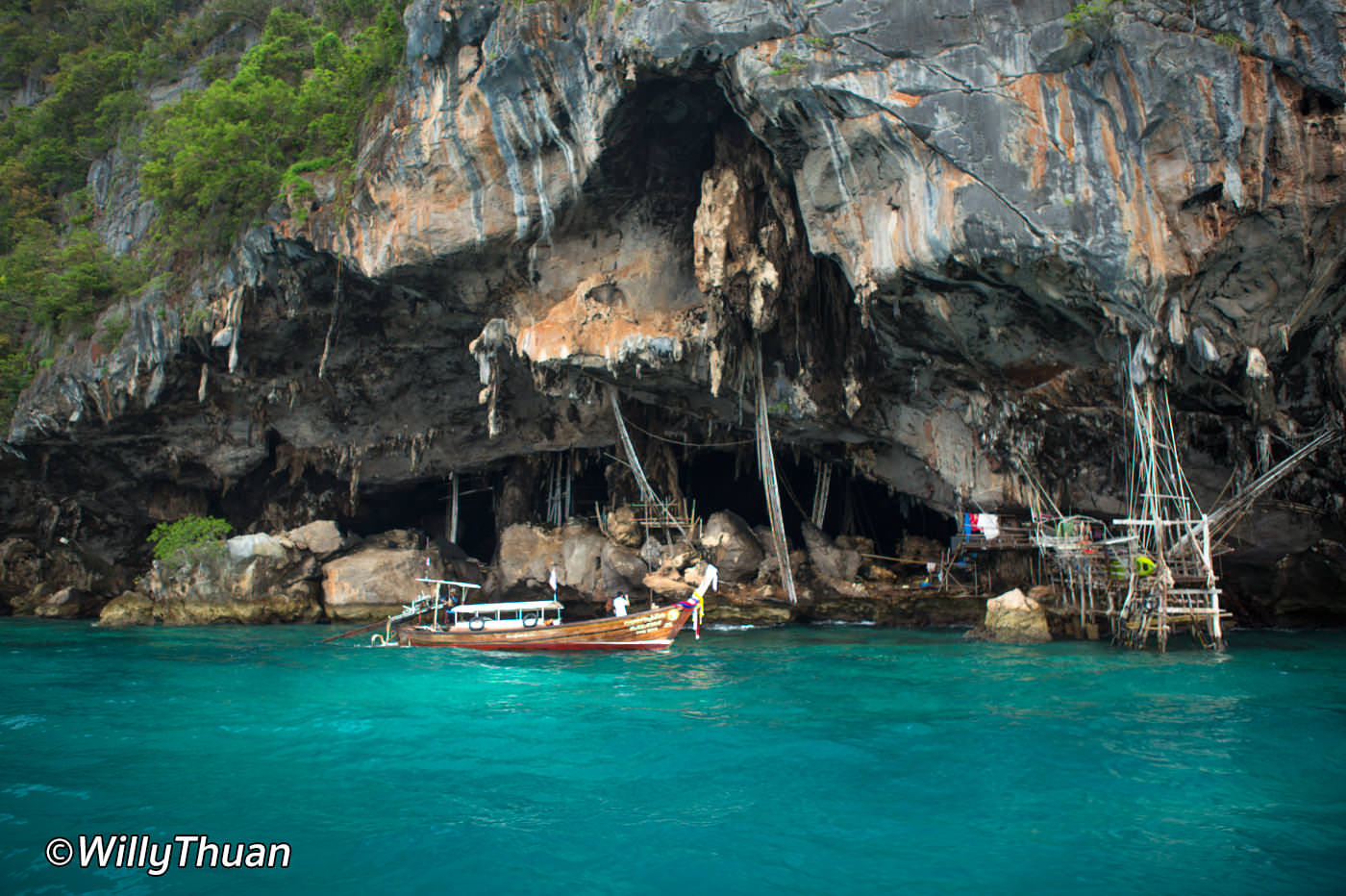 The Viking Cave, also known as Tham Phaya Nak and has no relation to Vikings, is also located in Phi Phi Leh. This cave is where long-time locals climb those impossible bamboo ladders to collect swallows' nests hanging inside a gigantic cave. Unfortunately, access to the cave has been closed to tourists. I don't know if tourists were disturbing the swallows or the collectors who could not disturb the swallows in peace. Anyway, don't eat swallow nests, they are made with the bird's saliva, and you can perfectly live without trying them.
---
Map of Popular Places in Phi Phi Islands
---
More reading