What to Do in Phi Phi Islands?
Here are some of the best places to see and the best things to do in Phi Phi islands. Of course, as they are so popular, those places can be bustling, so it is recommended to stay overnight in Phi Phi and try to reach them early morning to beat the crowds.
---
Note that Maya Bay is closed until October 2023

---
There is no need to introduce Maya Bay as Leonardo DiCaprio did in the movie 'The Beach'. However, despite a 19% satisfaction on Rotten Tomatoes movie rating, the beach itself is probably a bigger hit than the film was. Just like at James Bond Island with the equally mediocre James Bond movie (45% on Rotten Tomatoes), crowds are pouring non-stop and all day in this once idyllic enclosed bay. Oh yes, it is superb and worth going to! But make sure you come early and get your photos before the crowds!
Phuket 101 receives 250,000 monthly visitors on average (500,000 pageviews/month).
If you wish to advertise on this space or other options available on Phuket 101, just contact us.
2. Pi Leh Lagoon
Pi Leh Lagoon is characterized by its emerald-green waters, surrounded by towering limestone cliffs covered in lush greenery. The lagoon is situated within a semi-circular bay, giving it a secluded atmosphere. Due to its popularity, Pi Leh Lagoon can sometimes become crowded with tourists and boats, especially during peak seasons. To fully appreciate its natural beauty and tranquillity, visiting during less crowded times or early in the morning is recommended.
The Phi Phi Viewpoint is relatively easy to reach, and the view from up there is undoubtedly rewarding. The climb starts in the back of Phi Phi village and is well-paved. Take some water and maybe a hat. It's not so hard, but it can get hot since the wind doesn't get through. At the top of the hill you will be asked to pay a small fee to reach viewpoint 1, but don't stop and keep climbing to the better viewpoint 2!
4. Monkey Beach
Monkey Beach on Phi Phi Island is a stunning cove with white sand and clear blue waters, not far from Tonsai Bay where the ferry dropped you. The beach is surrounded by lush greenery, giving it a peaceful feel. Visitors often enjoy snorkelling in the clear waters off Monkey Beach, as the underwater world around Phi Phi Island is teeming with colourful marine life and vibrant coral reefs.
Of course, you can expect to meet some naughty monkeys, always ready to grab whatever food you carry (which is not recommended and feeding wildlife is generally discouraged to maintain their natural behaviour and health).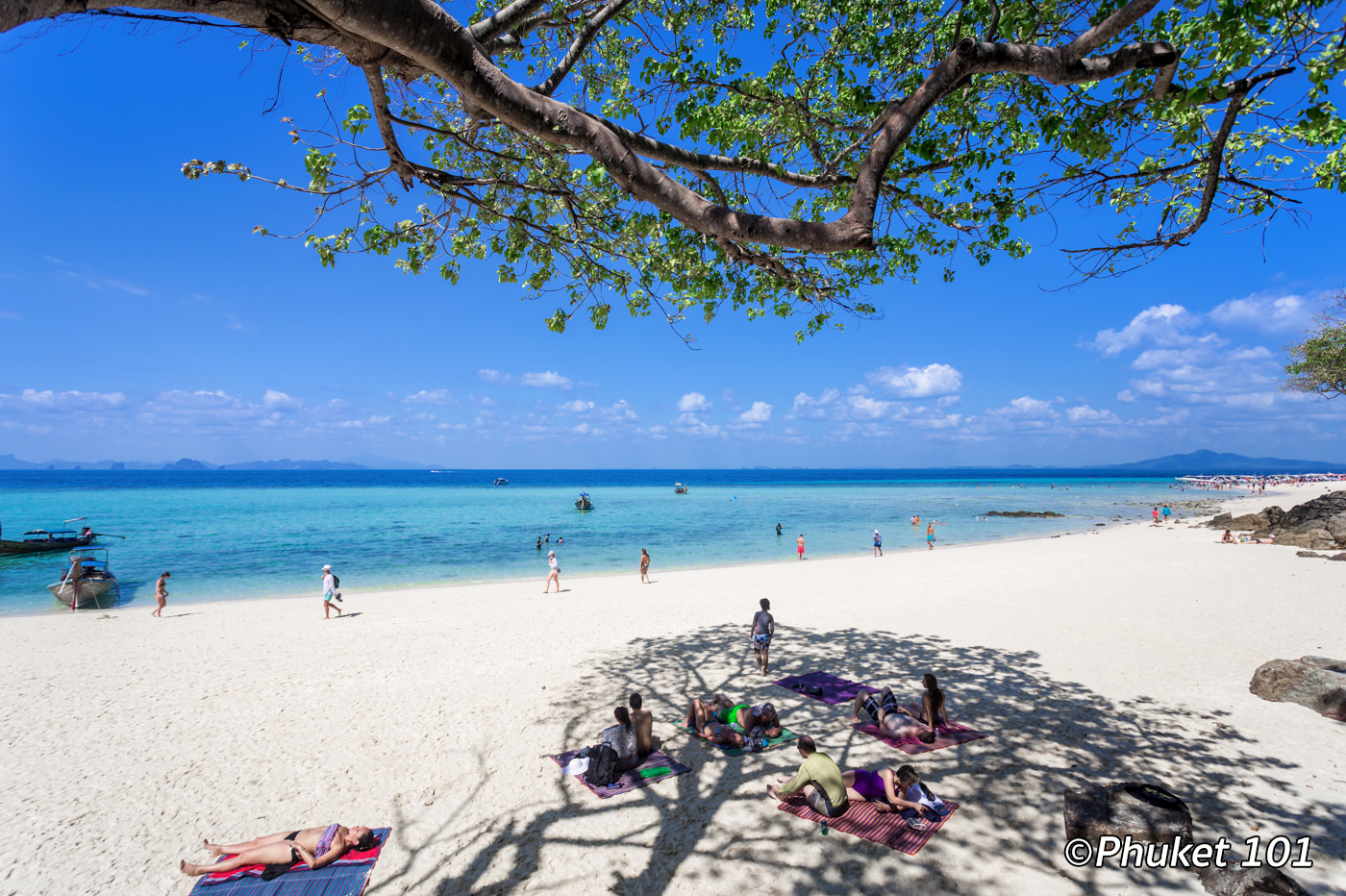 Bamboo Island is a small island found 30 to 40 minutes north of Phi Phi Don. Even though it's not on the main island, you will have no problem finding a boat to take you there and enjoy the incredible white sand and blue waters.
6. Mosquito Island (Koh Yung)
Mosquito Island, also known as Koh Yung, is a small island located just next to Bambo Island mentioned above Phi Phi in Thailand. The island is uninhabited and is known for its beautiful coral reefs and diverse marine life, making it a popular destination for snorkelling and diving. Despite its name, Mosquito Island is not known to have a significant mosquito population.
7. Viking Cave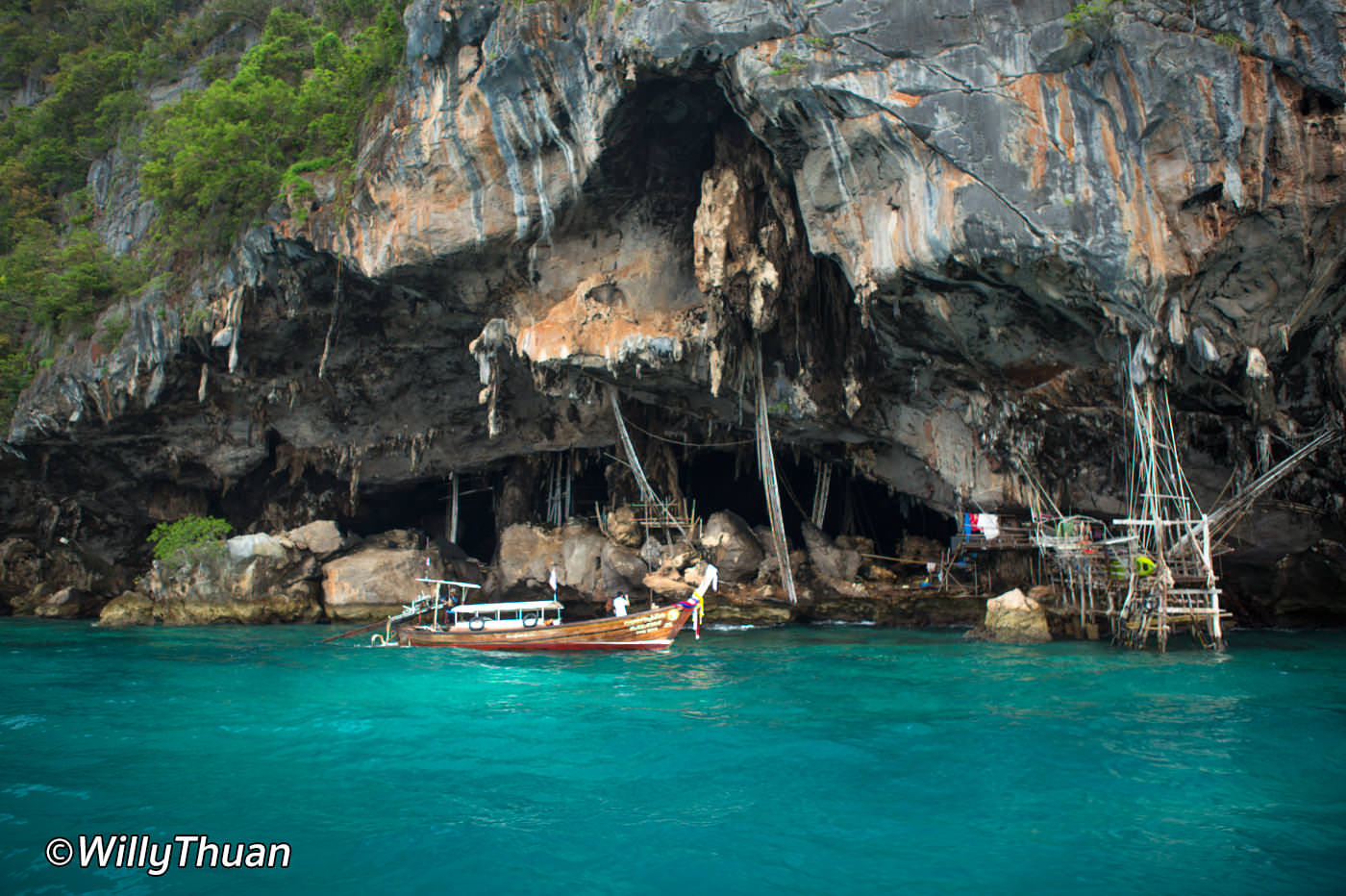 The Viking Cave, also known as Tham Phaya Nak and has no relation to Vikings, is also located in Phi Phi Leh. This cave is where long-time locals climb those impossible bamboo ladders to collect swallows' nests hanging inside a gigantic cave. Unfortunately, access to the cave has been closed to tourists. I don't know if tourists were disturbing the swallows or the collectors who could not disturb the swallows in peace. Anyway, don't eat swallow nests, they are made with the bird's saliva, and you can perfectly live without trying them.
Diving around Phi Phi Island is a fantastic experience you shouldn't miss. Not many places in the world can offer such unique dive sites. If you have never experienced diving before, remember that a cool option called 'Discover Scuba Diving' doesn't require any training, just a briefing usually given on the boat deck on the way to the dive sites! I did it, and it was fantastic.
---
Map of Popular Places in Phi Phi Islands
---
Your Phi Phi Travel Guide