What to Do in Kamala Beach?
Kamala Beach is a popular destination for families, a tranquil beach on the west coast of Phuket. Its popularity expanded with the new Pine Beach Bar opening at The Intercontinental Hotel or Cafe Del Mar beach club next to it. Kamala is still a beautiful long beach with clear waters during the high season. It features many beach restaurants and shopping options, including some excellent hotels, including direct beach access.
Kamala Beach Video 2021
The main road coming down from Patong Beach passes through Kamala, and you might keep on driving (fast) without noticing the small street right at the bottom of the hill. Kamala consists of two villages, the original Muslim town in the very back with not much happening around here, and Kamala's touristic part built all along the beach.
---
What to Do in Kamala?
Besides Fantasea Park, a modest temple, a local market and the beach itself, there are no real attractions to see or visit. A couple of small beaches (Rayee Beach and Hua Beach) to the south on a tiny long road leading to nowhere, nicknamed "The Millionaire Row", home of the beautiful Paresa Resort and a collection of incredible private villas. Almost at the very end, you can even enjoy a drink on a small bar built on top of rock boulders with amazing Patong Bay views.
The Main Beach
The beach has always been the main reason travellers prefered Kamala. The beach is long and wide with soft pale sand with casuarinas and coconut trees. The sea is very shallow and clear during the high season. The northern and central areas are the most attractive as a couple or dirty stream release some brown waters at the south end, where fishing boats are often parked.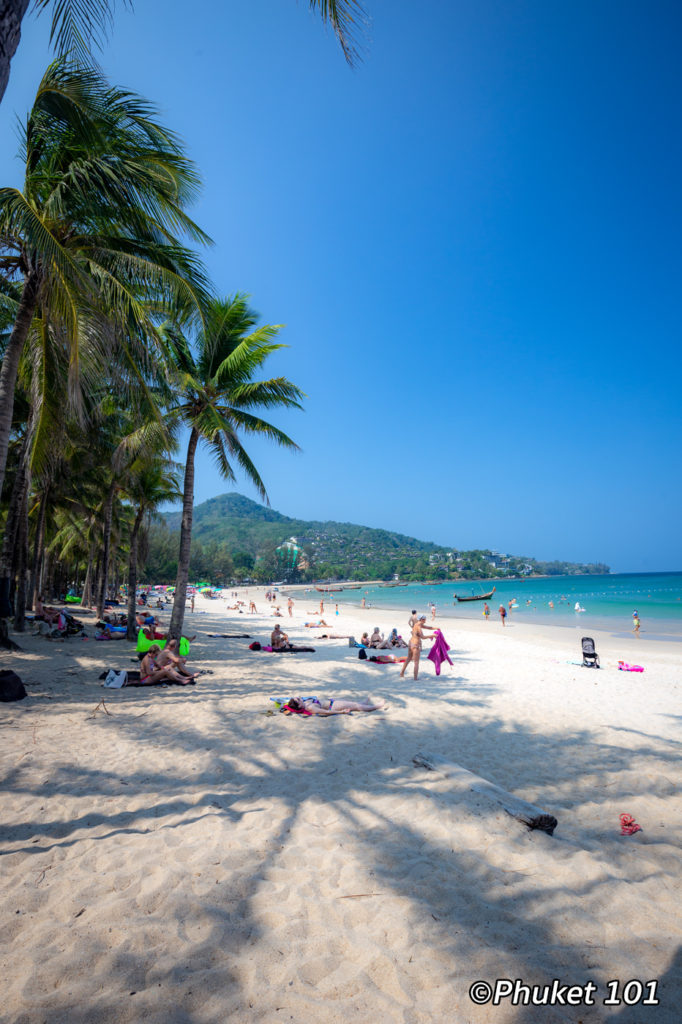 ---
Phuket Fantasea Park is a massive stage performance involving acrobats and adult elephants. Fantasea is a top-rated show in an immense park full of shops and games in the middle of a village.
---
Markets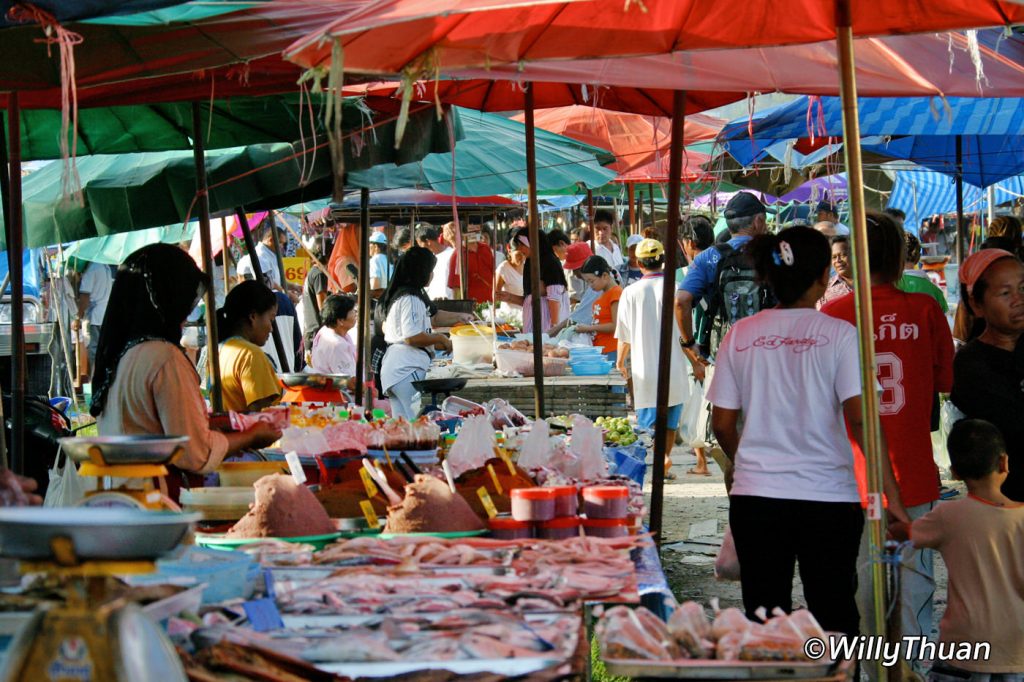 The main road also has a bit of nightlife, shops and restaurants and even a Big C Superstore but most interesting is the fresh local market held all day at the village entrance.
---
Night Market
The night market opens Mondays and Fridays from 3.30 pm to 10 pm on the main road. It's your chance to see fruits, vegetables like you haven't seen before and eat fun snacks you will never forget.
---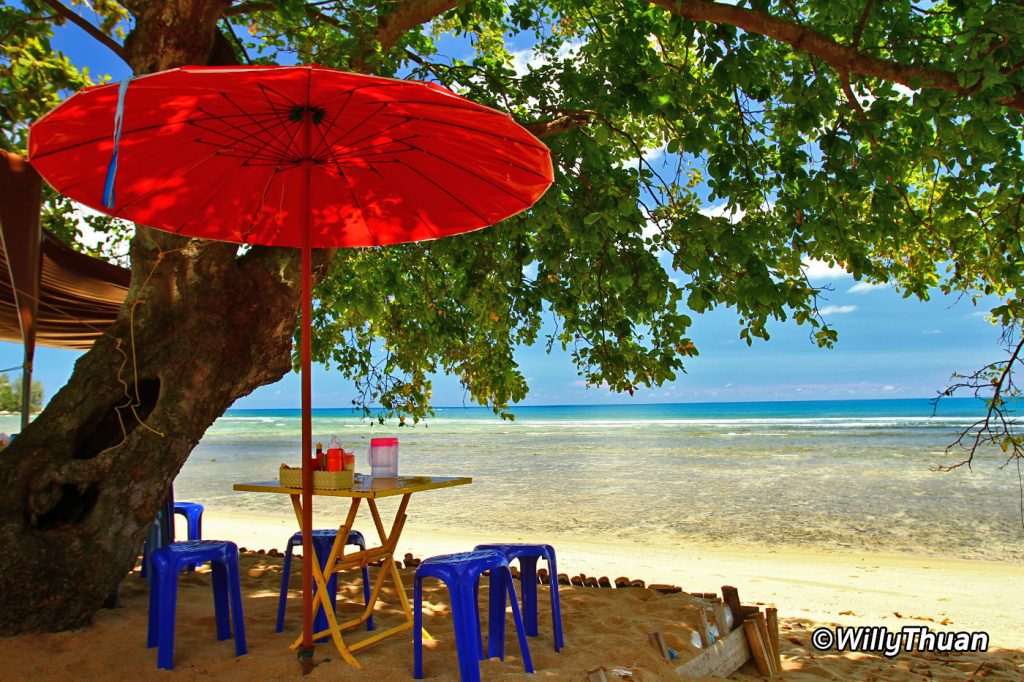 Rayee is just next to the main Kamala Beach and is home to several luxurious properties, including Hyatt Regency Phuket and, further down, Cape Sienna. While it is a beautiful spot, Rayee is not suitable for swimming because of the coral.
---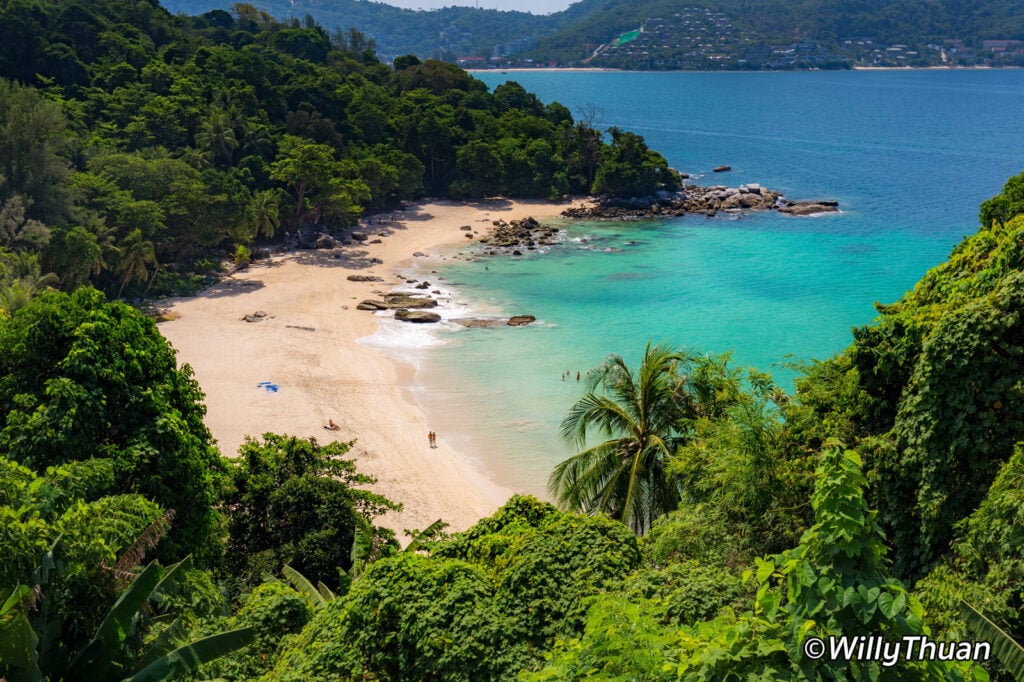 The elusive Laem Singh Beach is just a little further down the road, past Kamala. This was one of the most popular green coves on the island for many years, but the landowner decided to close it. It now seems impossible to access, but it still is. You have to find the way! We tell you how 🙂
---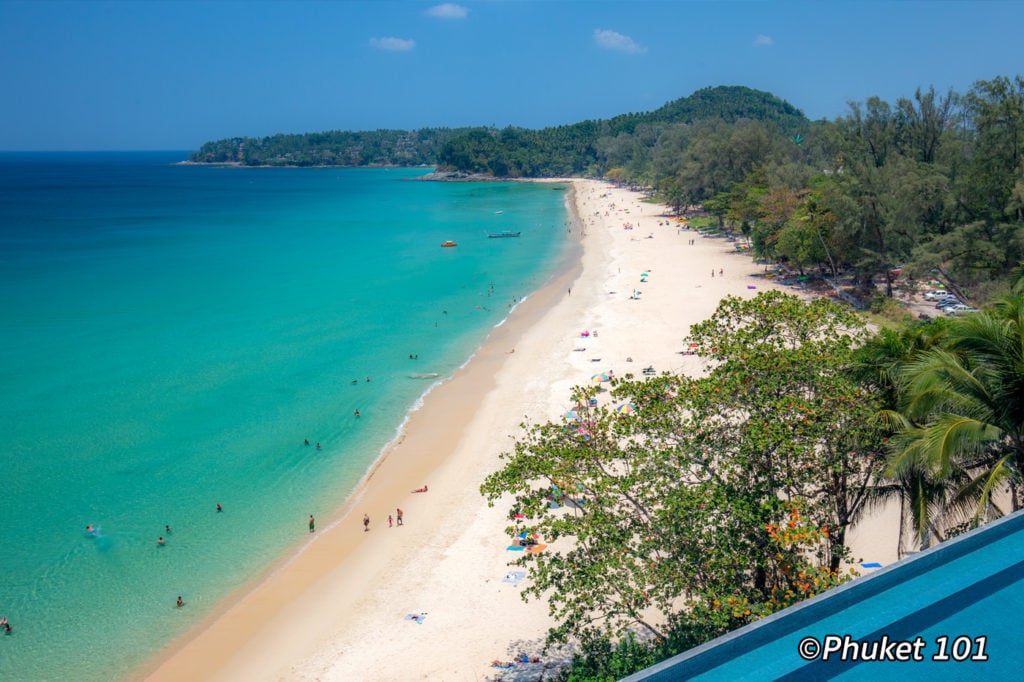 Further north, just a few kilometres away, is the superb Surin Beach and Pansea Beach. Surin is an immense natural beach with only one restaurant still available. Years ago, it used to be the place to dine and party at one of the many beach clubs, but all were declared illegally built and removed one day. Pansea Beach next to it is a beautiful but private beach only accessible to the guests of the two 5-star hotels sharing it: The Surin and Amanpuri.
---
Where to Eat?
The dining scene seems to be changing faster than the seasons. Kamala was famous for the many small restaurants and bars set all along the beach on a 1 km strip. These restaurants are not always legally built, so they tend to come and go, making it difficult to tell which is open or closed when you arrive. However, there are still a few of them to enjoy in the middle area. Those are nice for a slow and cheap continental breakfast by the sea. Recently Cafe Del Mar and HQ Beach Club opened at the northern part of the beach next to the Novotel.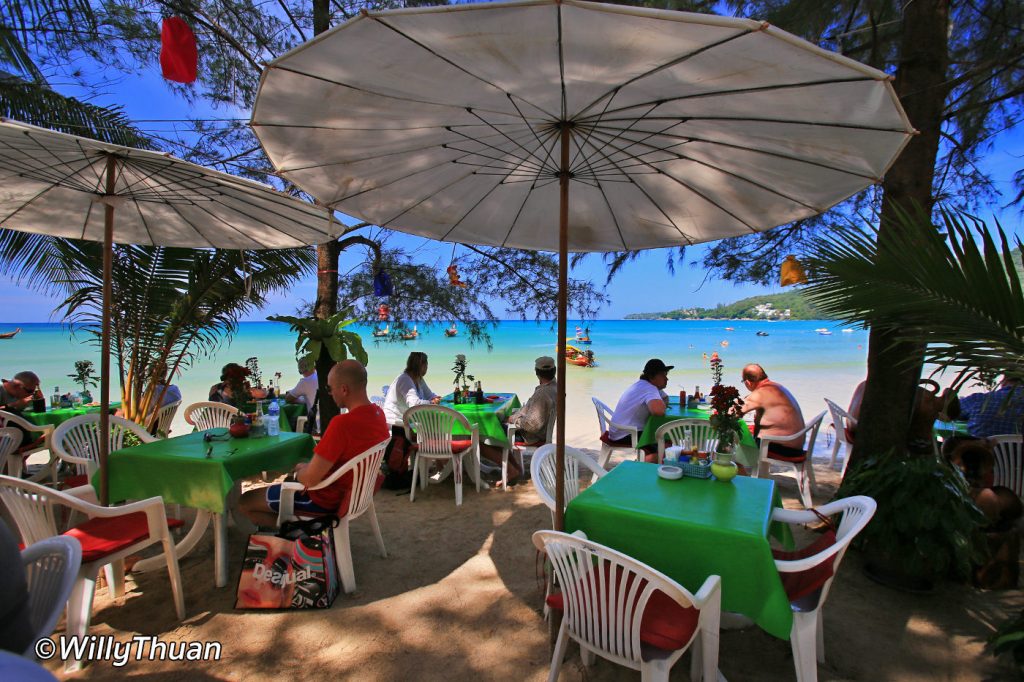 Parallel to the beach, but behind a line of buildings is the 'main street' where you will find the usual suspects: tailors, conveniences stores, travel agencies, dive shops, bars and restaurants, and even two small shopping alleys, one leading to the beach and one leading to a plaza in the back. Favourite Thai restaurants to eat on this street are Charoen Seafood at Kamala Dream, Blue Manao, and Sala Thai.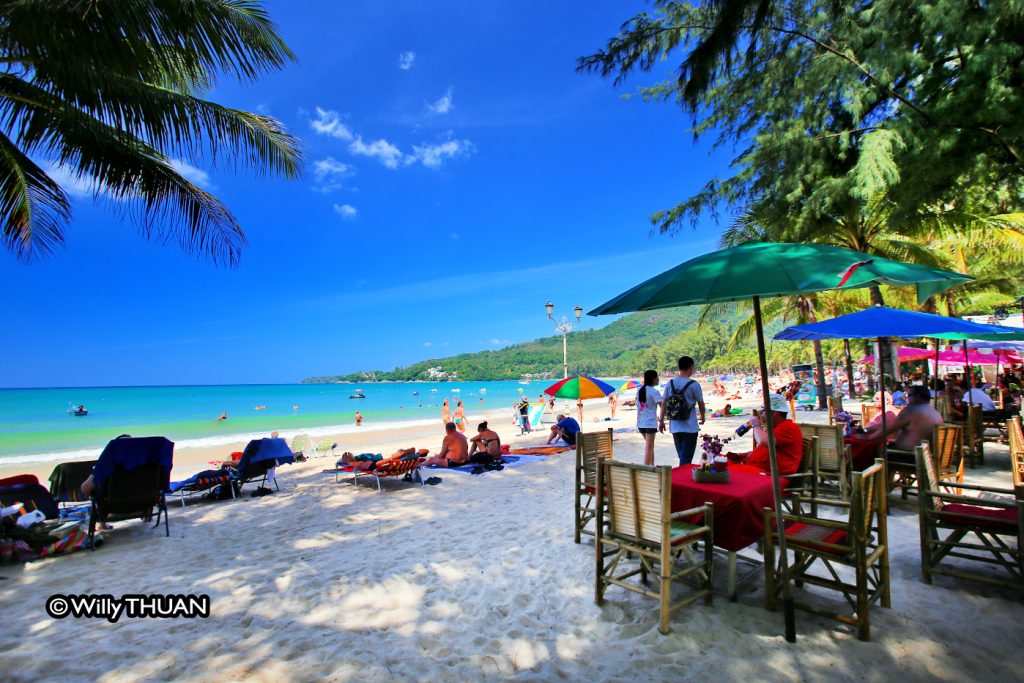 ---
Boat Bar Restaurant
Boat Bar is a simple but always popular restaurant right on the beach, and the staff very friendly. They serve a great range of Thai food and Pizza at an excellent price. Perfect for drinks at sunset too!
Speciality: Thai and International
Address: Kamala Road, Soi 16 Kamala, Kathu District, Phuket 83120
Open: 11 am – 10.30 pm
Phone: 083 175 7664
Price: Cheap
---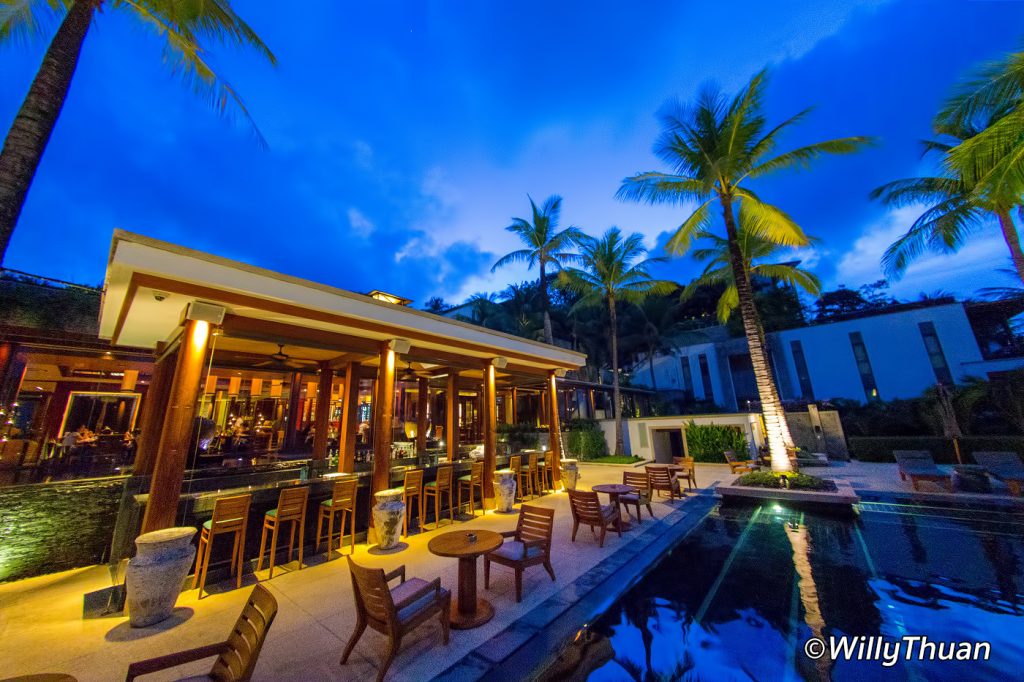 Silk is an upmarket restaurant in a 5-star resort, serving sophisticated Thai food by the pool.
---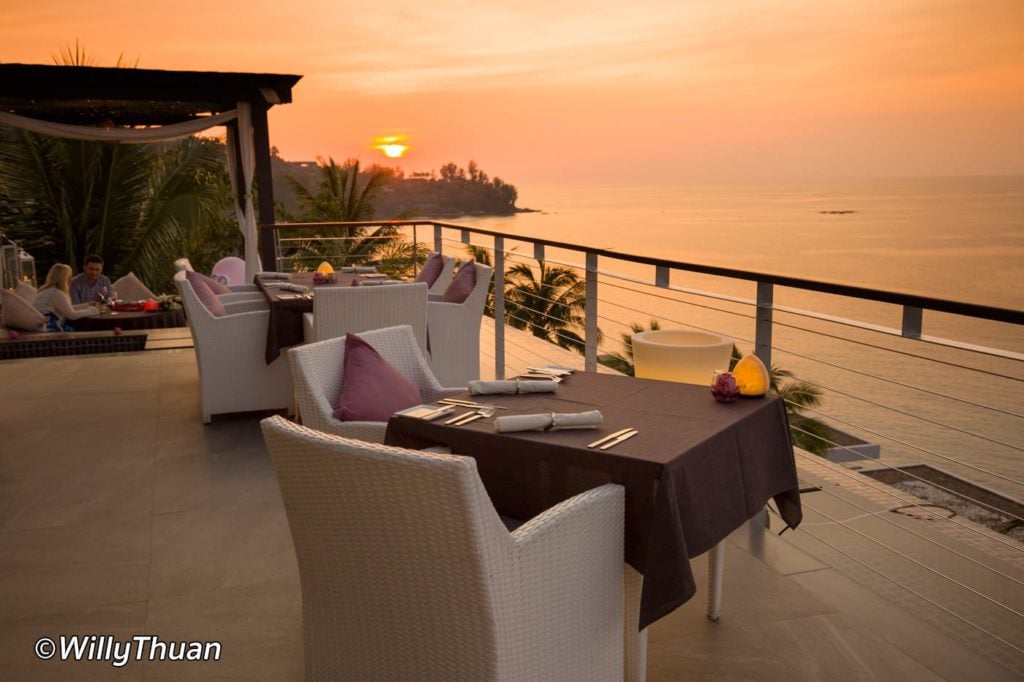 Plum and Vanilla Sky, its sister restaurant below, offer the Andaman Sea's superb panoramic views with a sunset if you stay in Kamala.
---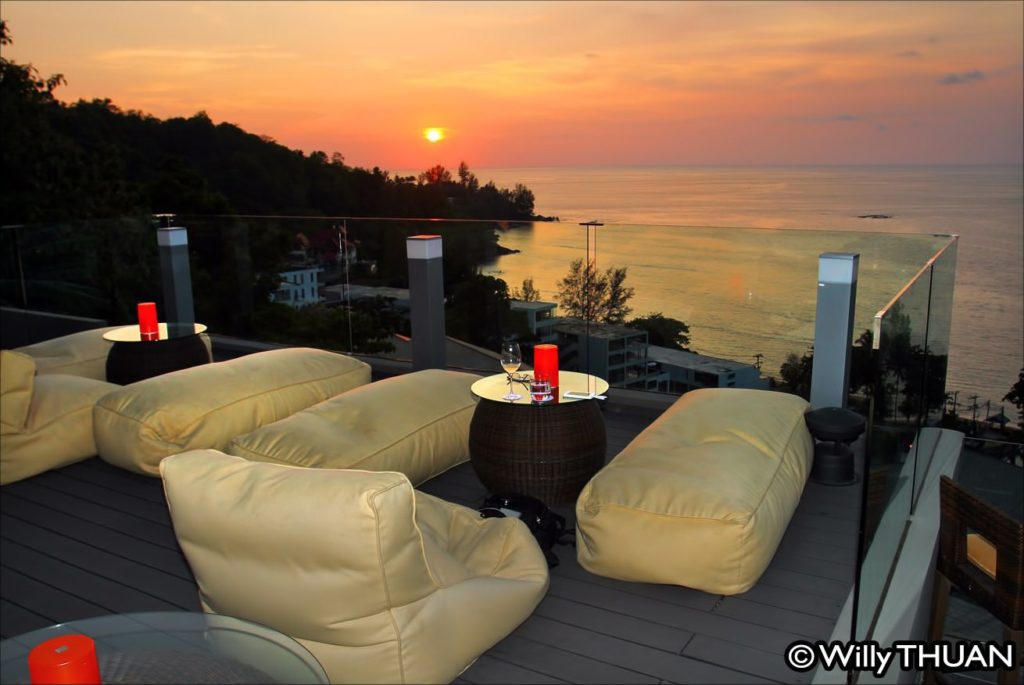 ---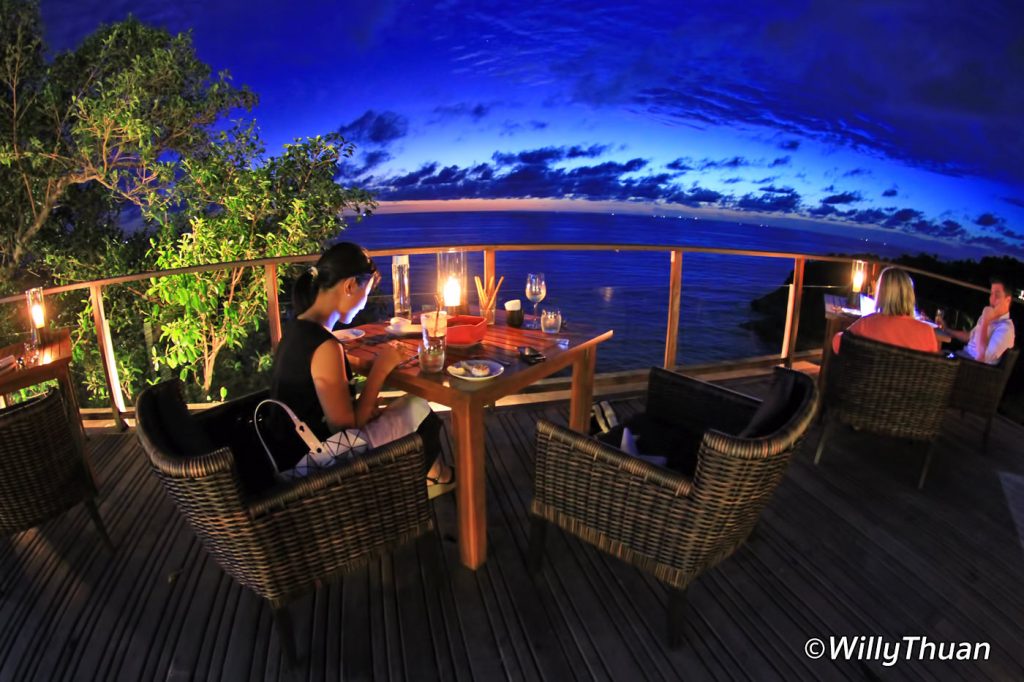 ---
---
Kamala Beach Nightlife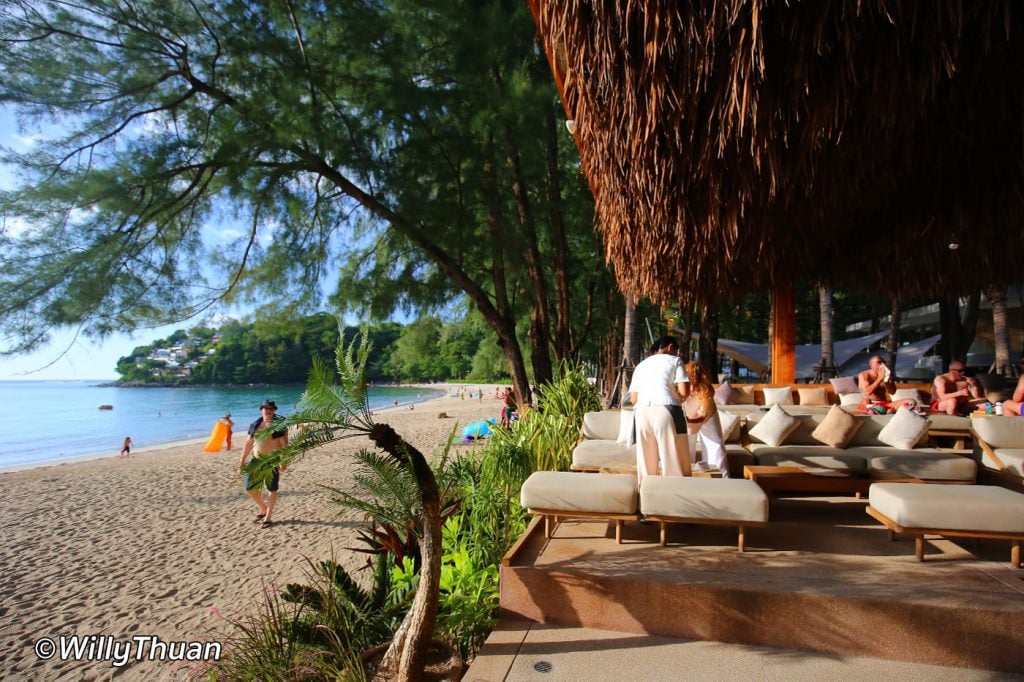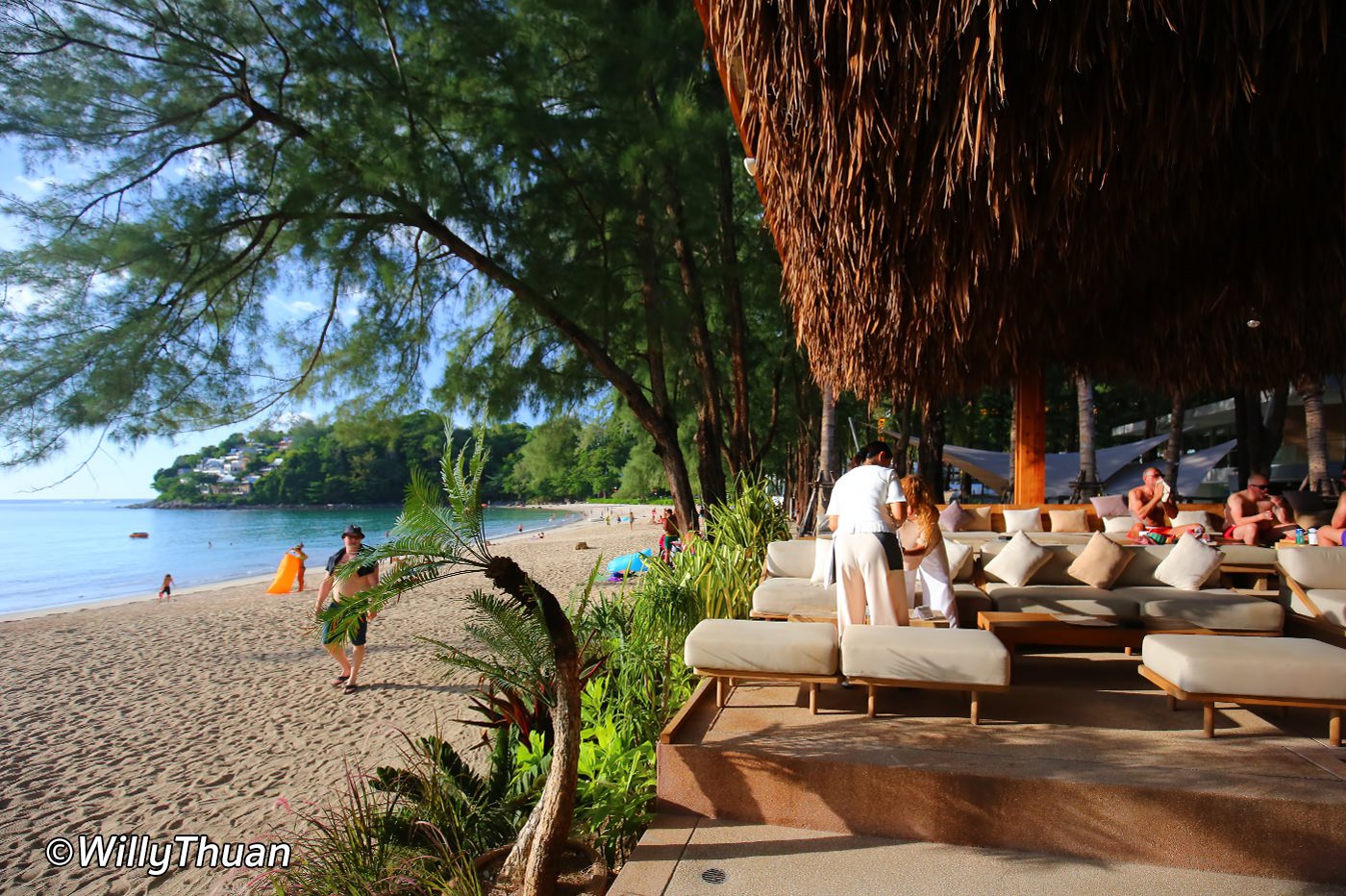 Kamala beach nightlife has evolved a lot since the arrival of Cafe Del Mar and HQ Beach Club. There is still a bit of old-fashioned nightlife, and you are still in Phuket, after all. Few ladies will probably call you by "Hellooooo welcome!" when you walk past their bars, and it is always more fun to have a drink in a smiling company than alone. It is nowhere like Bangla road, but it adds a bit of spice and colour to the street.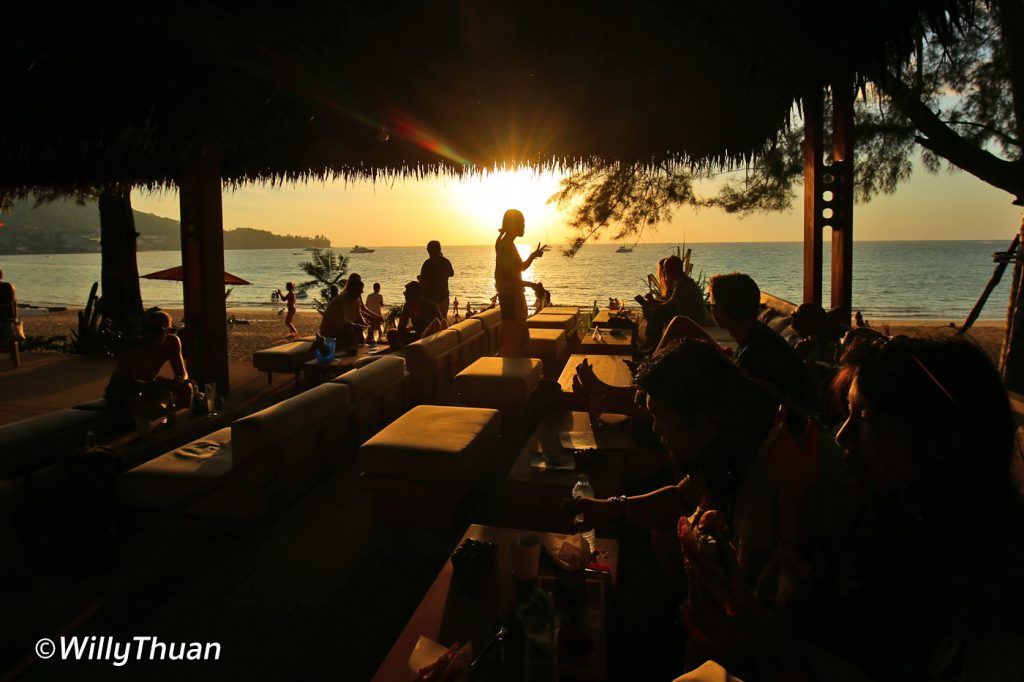 Café Del Mar Phuket is one of the best beach clubs on the island. This well-known Ibiza brand found out this island was the right place for a beach party beach club with good music, great drinks and most of all, notorious parties.
---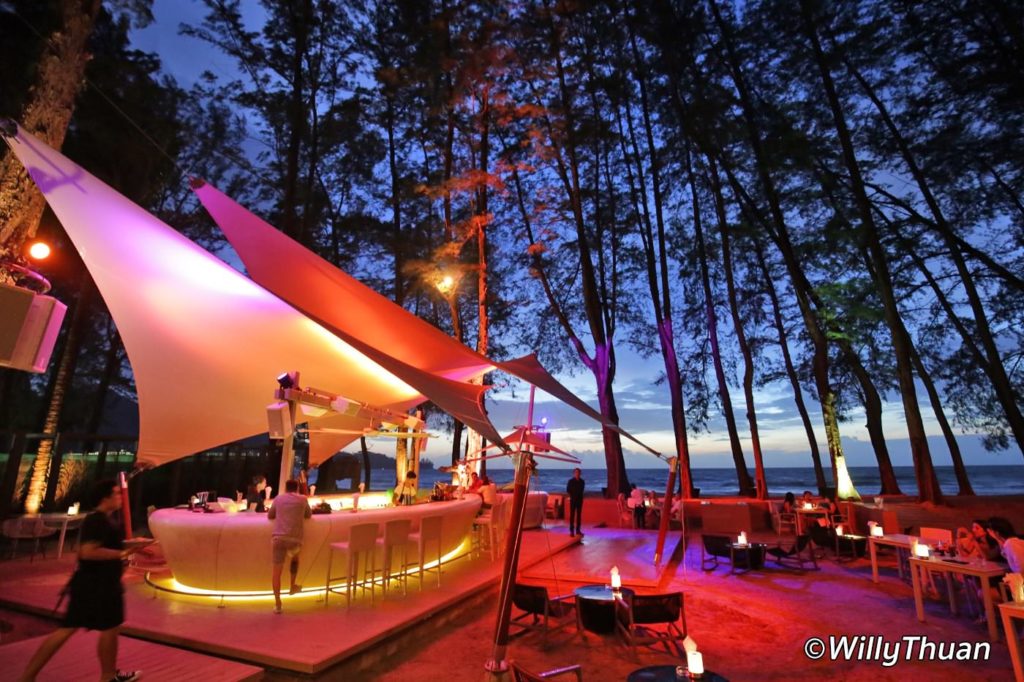 HQ Beach Club and Lounge, located in the northern part of the beach near the famous Cafe Del Mar and Novotel, is one of the few beach clubs still standing on Phuket Island.
---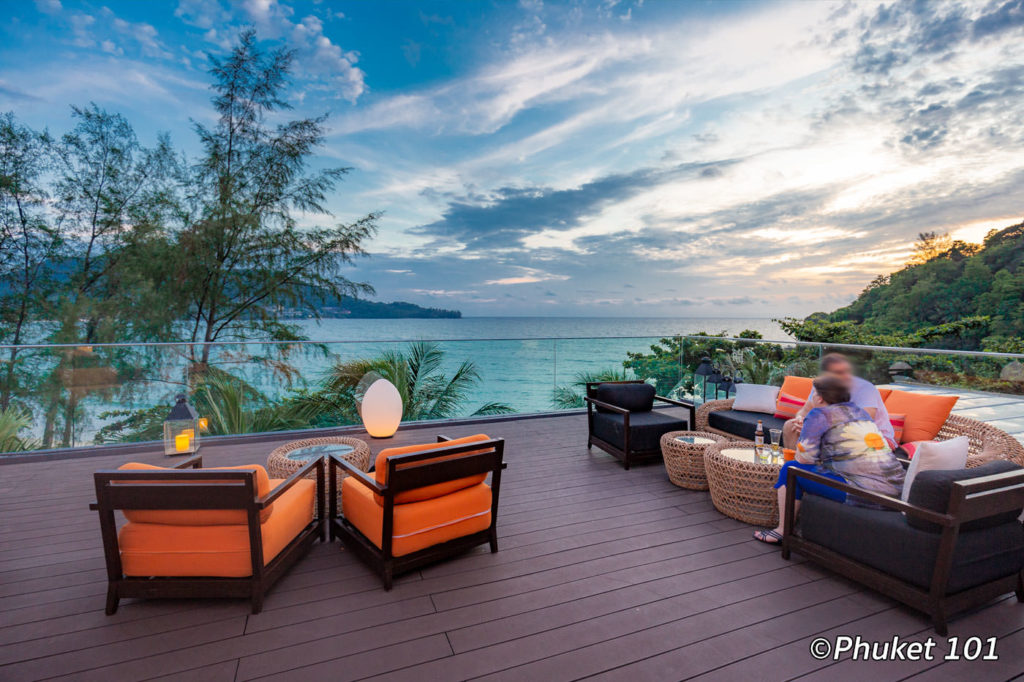 'On The Roof' is a vast and breezy rooftop with plenty of comfortable seating with the beach's views. This rooftop is a great place to end the day with a cocktail or even a dinner as music is not as loud as in nearby beach clubs. Don't miss the happy hour from 5.30 pm to 7.30 pm, two glasses for one's price.
---
Where to Stay in Kamala?
Kamala has a wide range of hotels, from budget to luxury. All along the south part of the main beach, you will find a row of guesthouses at excellent prices, but the sea isn't as attractive around this part. In the centre is the Kamala Beach Resort, and in the north end is the Novotel Phuket, which is an excellent value for money. Both have direct beach access. In the 5-star range, try the luxurious Paresa Resort or the Hyatt Regency.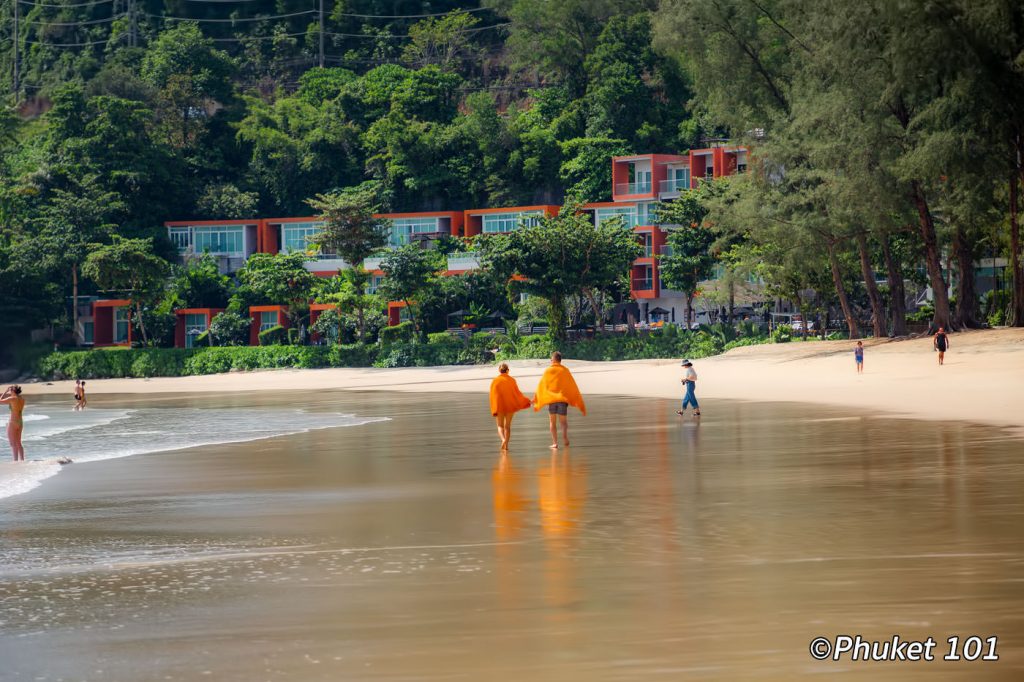 ---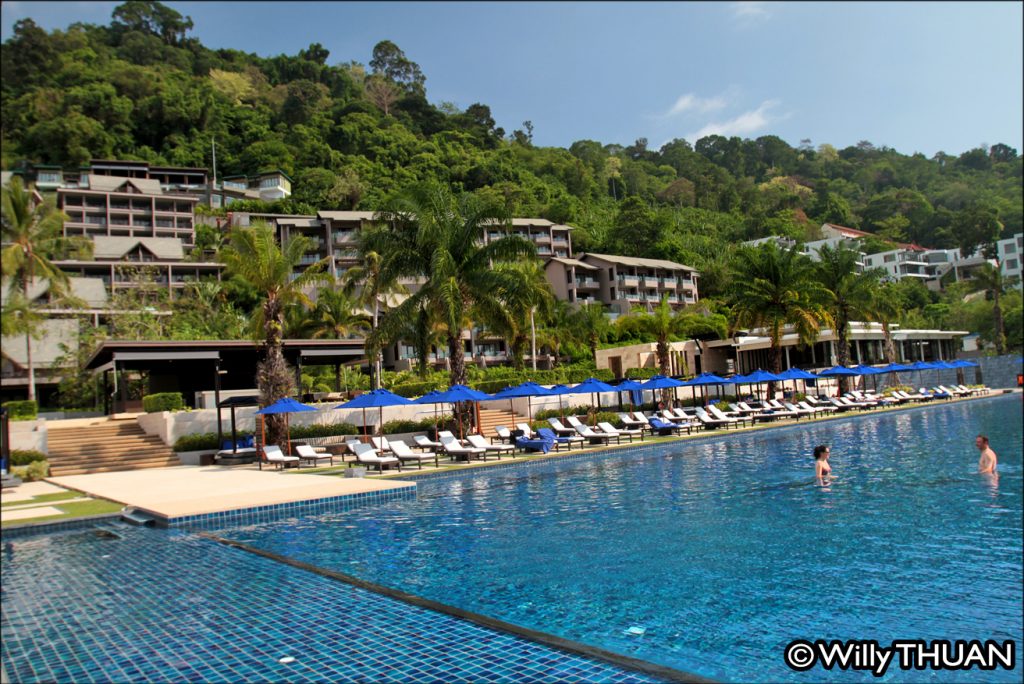 ---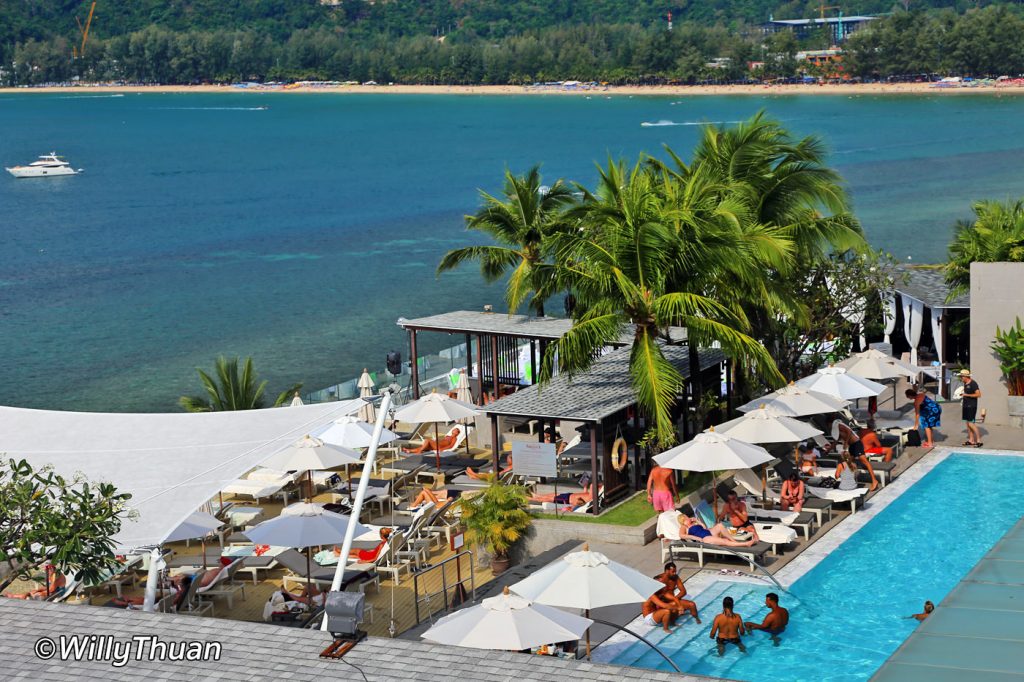 ---
Are There Beach Chairs in Kamala?
Beach chairs are back on 10% of the beach, so everyone should be happy, as shown in this picture taken from the same spot on the same day. On the left, there are beach loungers; on the right, there are none. Kamala is a beautiful but often underrated beach. It's probably why a lot of visitors are returning every year, knowing that the best way to keep your favourite beach to yourself is to keep it low profile!
---
More Photos
---
How to get to Kamala Beach?
You can easily go to Kamala Beach by tuk-tuk, taxi or self-driving:
From Patong Beach to Kamala: 10 km
From Phuket Airport to Kamala: 24 km
From Phuket Town to Kamala: 22 km
---
Kamala Beach Map
---
FAQs about Kamala beach