Kamala Beach
What to Do in Kamala Beach
Kamala Beach surprisingly shines by its lack of particular signs, if you don't take Phuket Fantasea Park and the new Cafe Del Mar into consideration of course. It is however a nice beach with clear waters during high season with a nice amount of beach dining and shopping options, several hotels, some directly with a beach access, but it just doesn't make much fuss in general.
A large road coming down from Patong Beach passes through Kamala, and you might just keep on driving (fast) without noticing the street right at the bottom of the hill. Kamala in fact consists of two villages, the original Muslim village in the very back with not much happening around there, and the touristic part of Kamala built along the beach.
Approach the beach, past the bridge and the school, you will find it difficult to park a car. Once there you will be surprised by the amount of small shops and restaurants set along a new walkway that follows most of that beach. This is the best side of Kamala Beach, plenty of nice little places very inviting for a lunch or a dinner, and definitely calls for a drink…. or more. Some bars even tried to add a touch of design and colors and it is surprisingly cozy to enjoy a sunset followed by a Thai or seafood dinner right in the sand. It always looks quiet though even during high season, and most places will just close down when low season arrives. Recently Cafe Del Mar and  HQ Beach club opened at the northern part of the beach next to Novotel Kamala.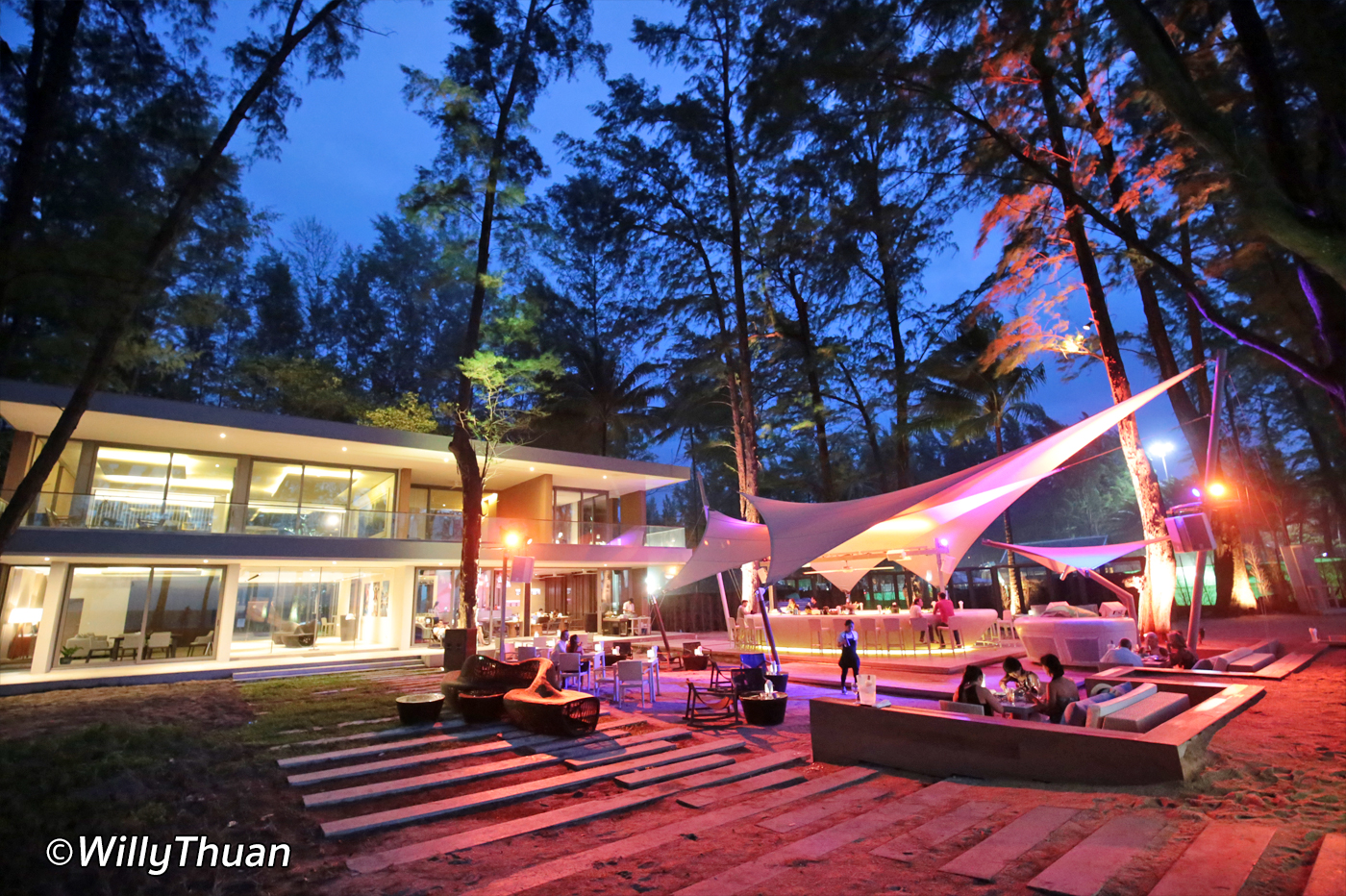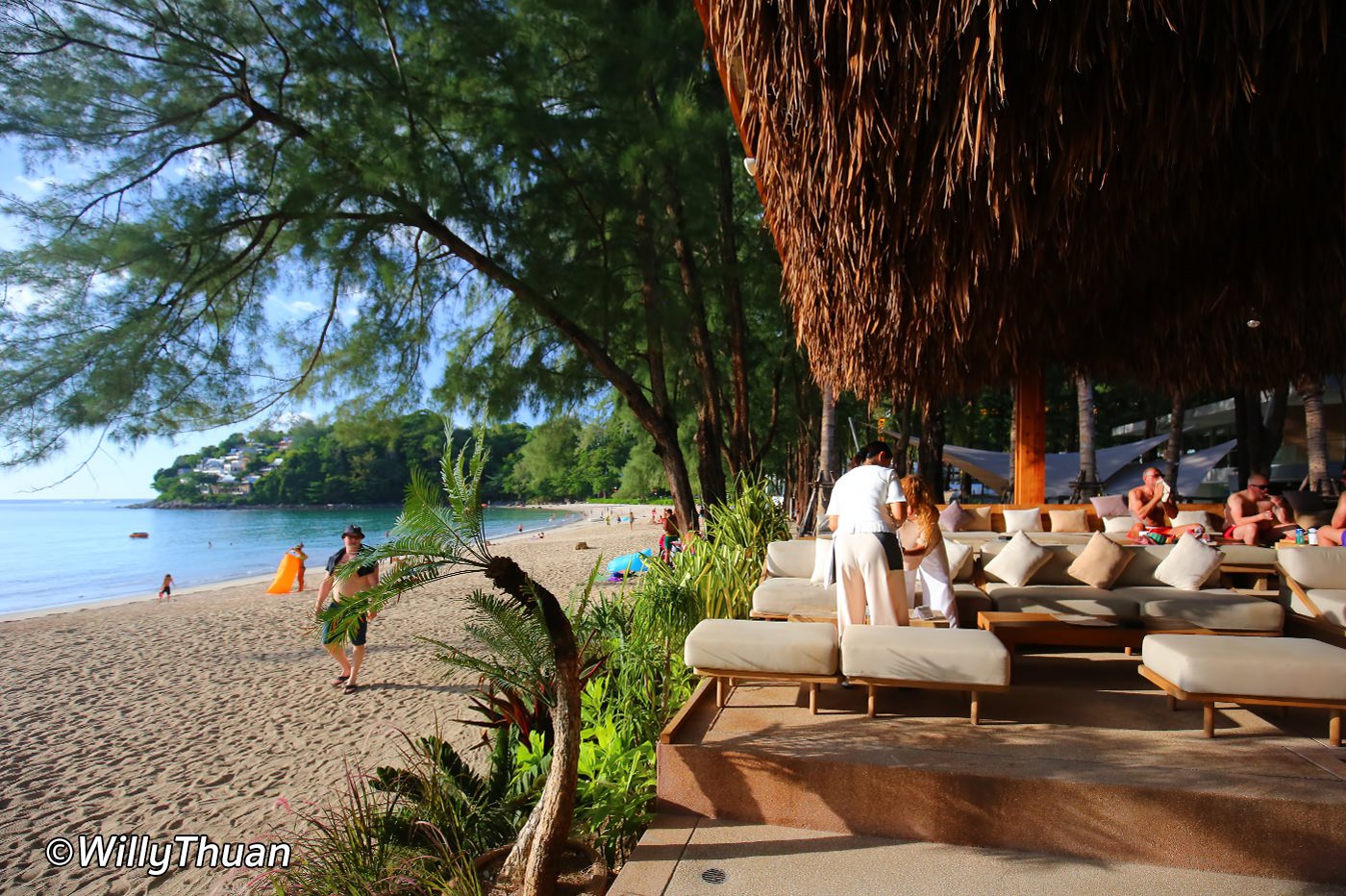 Then you have the 'street' itself where you will find find the usual suspects: tailors, conveniences stores, travel agencies, dive shops, few bars and restaurants, and even two small shopping alleys, one leading to the beach and one leading to a plaza in the back. Popular places to eat on this street are Charoen Seafood at Kamala Dream, Blue Manao, and Sala Thai.
There is a bit of semi-hot nightlife, you are still in Phuket after all! Few girls will most certainly call your name (hello – welcome) when you walk past their bars, and it is always more fun to have a drink in fun and smiling company than alone. It is no Soi Bangla, but it adds a bit of spice and color to the street.
Then of course when you talk about nightlife in Kamala there is the Phuket Fantasea Park, an amazing show involving acrobats and elephants located in a park populated by shops and small stands. It's a very popular show, but it sits there like an imported piece of Las Vegas in the middle of a small village.
The four lanes street in the back of Kamala also has a bit of nightlife too, shops and restaurants and even a biergarten but the most interesting part around here is the big fresh market held all day at the entrance of the village. This is your chance to see fruits, vegetables like you haven't seen before and sample some fun snacks you will never forget (mostly in a good way).
Besides Fantasea Park, this market and of course the beach itself, there are no real attractions nor places to see or visit, but you can drive just a bit. Kamala Beach is growing more actively to the south with a second tiny beach and a long road leading to… nowhere. This road was mean to reach Patong and you do see Patong from the end of it, but I suppose someone didn't agree to sale the last bit of land.
On this road you will find the beautiful Paresa Resort and a collection of incredible private villas and a great restaurant on the cliff called Diavolo. Almost at the very end, you can even enjoy a drink on a little bar built on top of rock boulders with amazing views on Patong Bay.
So in short, Kamala is a nice beach, but often overlooked. That is probably why it has a large amount of repeaters, these people know that the best way to keep you favourite beach to yourself is to keep it low profile!
Where to Stay in Kamala Beach
Kamala Beach Map