What to do in Phuket at night?
The list of the best things to do in Phuket at night is endless, and Phuket nightlife comes in many ways, not only on Patong beach but all around this island. There is a vast choice of places to hang out for couples, singles, groups of friends and families after dinner. Phuket nightlife is legendary, originally known to be bright and bold, colourful and loud, carefree, and sometimes provocative. This was primarily true of Bangla Walking Street in Patong Beach. Things have evolved a lot in recent years, turning the red light district of Phuket into a party zone for everyone to enjoy. However, Patong beach is still the heart of Phuket's nightlife, and you will find many beach clubs and rooftops to party, celebrate or relax in Phuket without ever stepping foot in Patong.
What goes better on a tropical island than a beach club? Phuket has quite a few, including famous names such as Cafe Del Mar and the local favourite Catch Beach Club. Luckily those beach clubs are all over the west coast, mainly on Bangtao and Maikhao beaches, so you should be able to find one near you.
Sponsored
Patong's finest Cannabis Shop with a huge variety of over 100 different Premium High-Grade Cannabis Strains, Exotic Imports, locally grown indoor Weed from Thailand, Sativa Strains, Indica Strains, Hybrid Weed and much more are available at our shop! Many Accessories and Smoking Equipment for Rolling such as Papers, Weed Crushers, Grinders, Rips, Cones, Bongs, Pipes, Nails, handmade Bamboo Pipes, Rolling Trays, Edibles, Cookies, Gummybears, Lollipops, Pancakes, Scales and much more. Come and check us out, we're happy to see you at our Store!
Location: Patong Beach Address: 90, 2 Nanai Rd, Patong Beach, Kathu District, Phuket 83150 Phone: 096 103 4981
There are many rooftop bars around the island and just a few in Patong Beach. However, only a handful are really at the top of a building since an old law forbade the construction of tall towers in Phuket (thankfully). So don't expect high-rise towers like the rooftop bars of Bangkok. Instead, many 'rooftops' are built high on hillsides, offering superb panoramic views of the ocean and fantastic sunset opportunities.
Bangla Walking Street, or 'Bangla Road' as we still call it here, is where Phuket nightlife truly happens. The small street lined with small bars that used to be Phuket's red-light district has become a concentration of massive international nightclubs, excellent live music bands, tattoo parlours, and bars. It's colourful and fun, open to everyone with an open mind. You will still see girls dancing on top of bar counters along the street but wearing dancing attires. Of course, you can also explore some of the legendary and more daring go-go bars, which are less raunchy than those in Pattaya.
Night markets in Phuket are always a popular way to end the day, probably because most of the time, night markets are not only for shoppers: at least half of the market is dedicated to local food, drinks and live entertainment. You can even select your seafood, and someone will cook it before you. You can then take it to the table of your choice, get some drinks at another stall, and enjoy a good and cheap dinner and the legendary street food experience.
Live music bars have always played a large role in Phuket's nightlife. Thirty years ago, you could already hear the sound of Hotel California coming out of every bar and even restaurant, not always well played. Still, nobody minded as it was somehow the island anthem. Things have evolved, and some bands got excellent sound and light systems. They are a bit everywhere, but Patong and Phuket town are the best. It's like going to a live concert for the price of a Coke or a beer!
Phuket nightlife would not be complete without dance clubs, and you will be surprised by the international level of Phuket Night Clubs as they welcome famous DJs. Sounds and light systems are state-of-the-art, and the stage dancers, music, and beat will take you away. Most clubs are on Bangla Walking Street in Patong, and each has its music style.
Carnival Magic is a brand new 40-acre nighttime Thai carnival theme park, known as the Magical Kingdom of Lights. It features numerous record-breaking attractions that cannot be found anywhere else in the world. Situated on Kamala Beach, Carnival Magic stands as an iconic destination that no visitor to Phuket should miss.
Location: Kamala Beach
Go Go Bars may not be to everyone's taste, but they are also legendary. In recent years, they switched to become party places, and everyone is welcome (as long as you are 18 years old, obviously). Men, couples, and ladies often want to see it at least once in a lifetime so they can talk about it back home. Scams are rare if you don't follow one of the many touts trying to lure you on Bangla Road. Go Go bars are so easy to find anyway.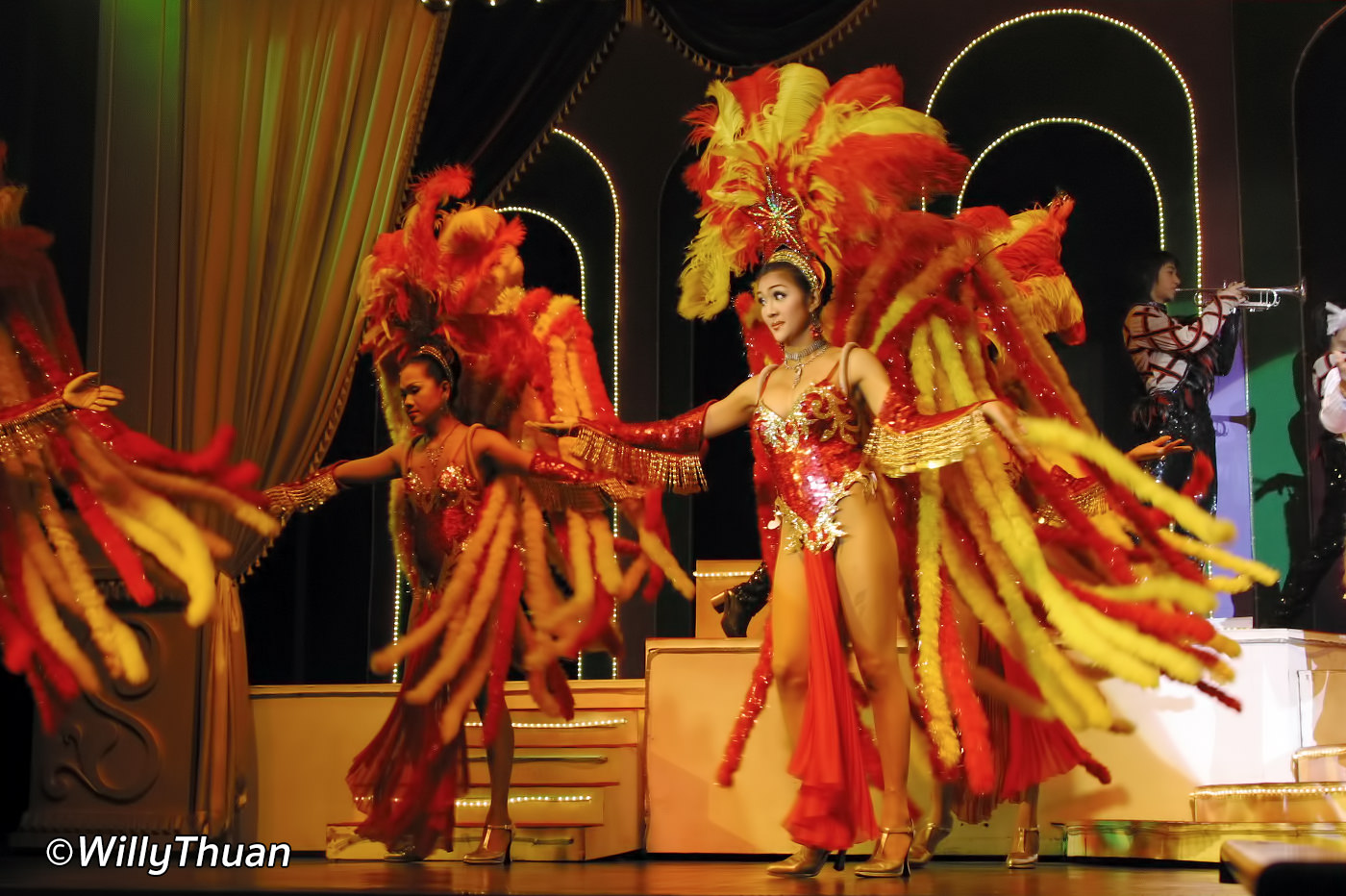 Phuket Simon Cabaret is another long-time stage performance with glitters, special effects, and excellent sound light systems, which have long been one of the famous Phuket nightlife experiences. The stage design, costumes and choreographies are beautifully executed. However, the main reason why the theatre is always full is that the pretty ladies on stage (and they are gorgeous) are all male!
Location: Patong Beach

Phuket Fantasea is another similar stage performance in a massive theatre in Kamala Beach, narrating Thai mythology, but their extensive use of elephants on stage or riding for entertainment made it controversial.
Location: Kamala Beach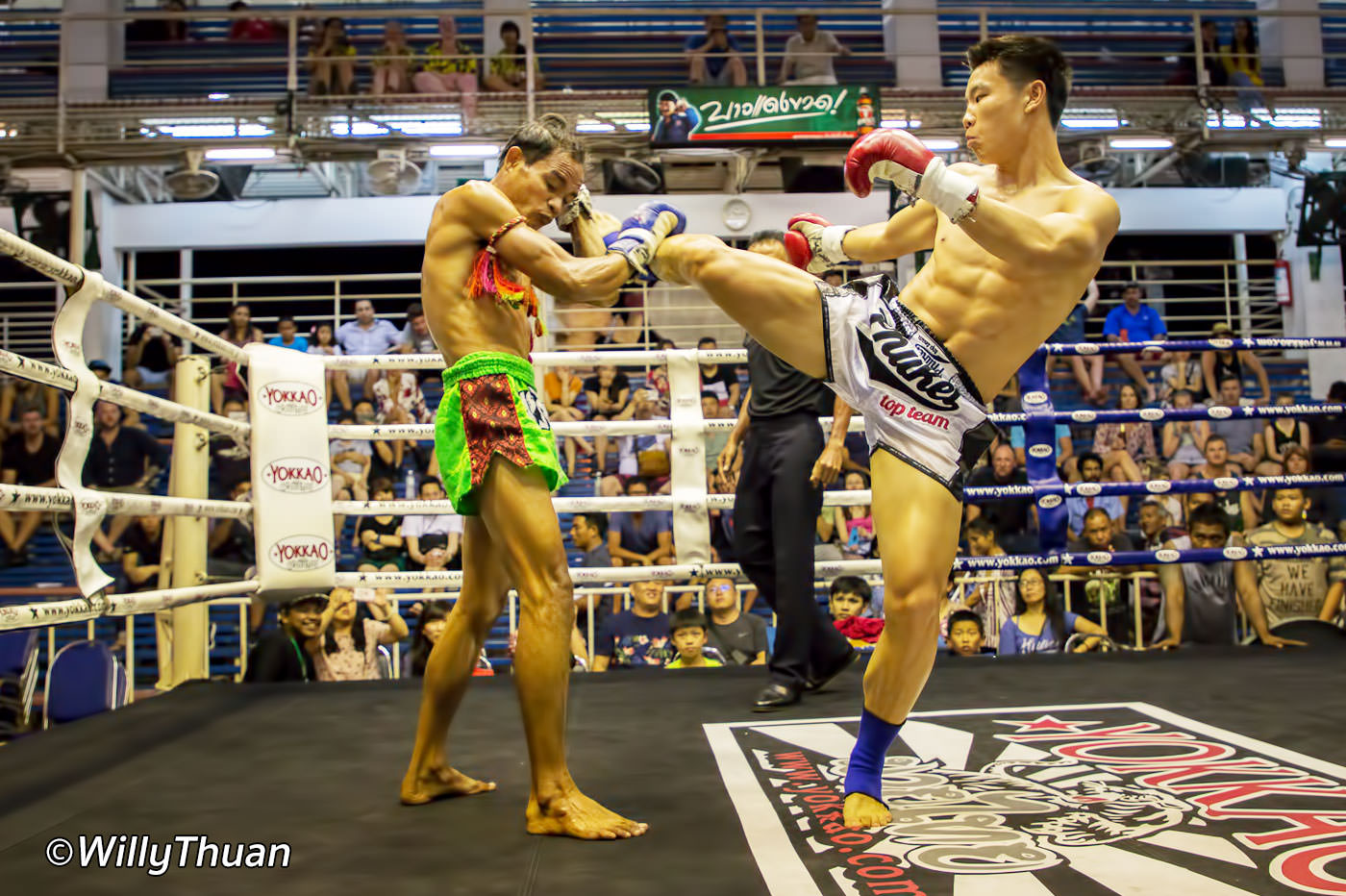 There are several places to watch Muay Thai fight in Phuket, and the two best-known are in Patong. Bangla Boxing Stadium (no longer in Bangla, but they kept the name) and Patong Boxing Stadium are somewhere in the back streets of Patong. Muay Thai is not for everyone as it can be violent and even a bit bloody, but it is part of Phuket Nightlife and is a trendy martial art in Phuket, judging by the amount of Muay Thai Camps in Phuket.
Location: Patong Beach
---
FAQs about Phuket Nightlife