Phuket Best Street Food
Phuket Street food is fun, cheap but also a great way to experience basic but real Thai food. It is definitely more real than in tourist restaurants you find in Patong Beach. It's also fast and a lot cleaner than you might think. If you have a sensitive digestive system or if you have allergies you might want to skip this, but I think it's as safe as eating in some restaurants I've seen in Patong. Of course we also know there are a lot more street food  you can find and we only listed 10 most classic items you can eat in the street of Patong and around.
Along the beach you might get some grilled seafood and more in the center you can expect to find a few types of noodle soups. Som Tum with grilled catfish is easy to find and you can expect your Som Tum to be spicier than at the tourist Thai restaurant you tried last night.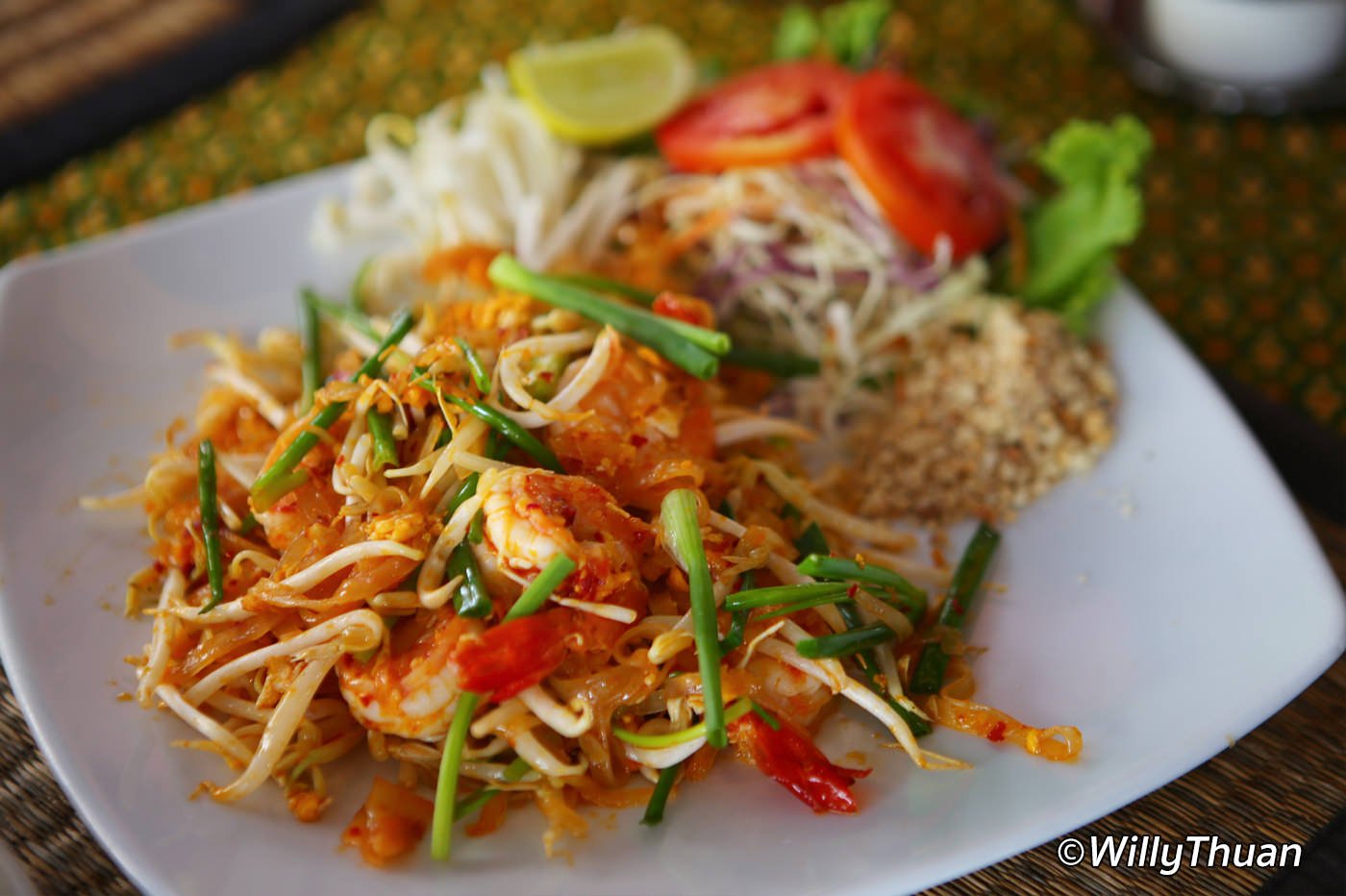 Those fried rice noodles don't need to be introduced anymore… ironically it originated in China and is mostly loved by tourist and not so much by Thai. Pad Thai is a stir-fried rice noodle dish made of rice noodles, eggs, tofu, fish sauce, dried shrimp, garlic or shallots, red chili pepper and palm sugar, served with lime wedges and often peanuts. It often come with bean sprouts, garlic chives and sometimes banana leaves on the side. Read more
---
2. Pancake (Roti)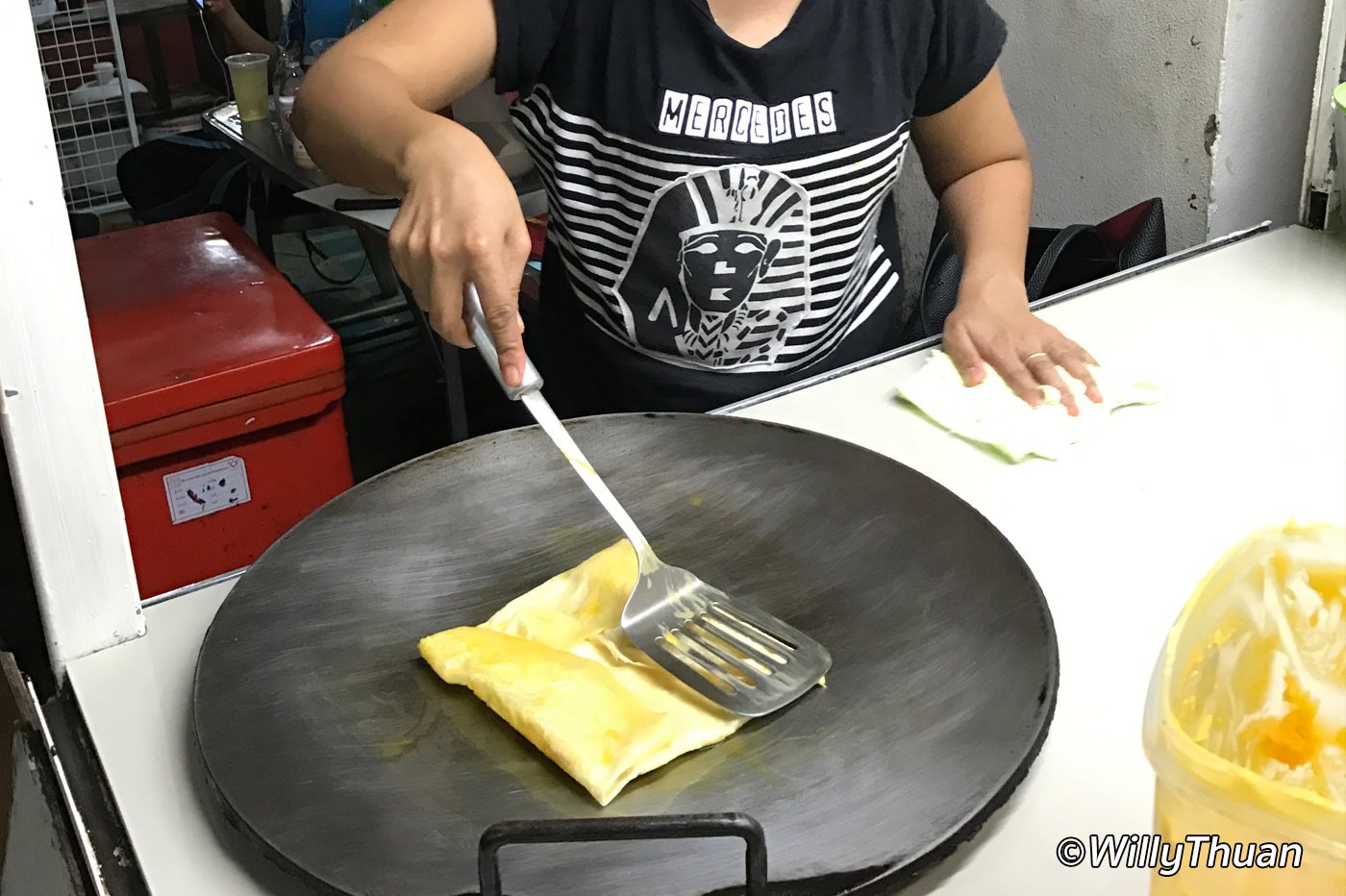 This is the number one snack or dessert and almost everyone loves it, whether it uses banana, chocolate, condensed milk , Nutella. Yes we know It's actually called roti but it sells a lot better when it's called Pancake so every carts now advertises these as Pancakes.
---
3. Noodle Soups (Kuey Teow)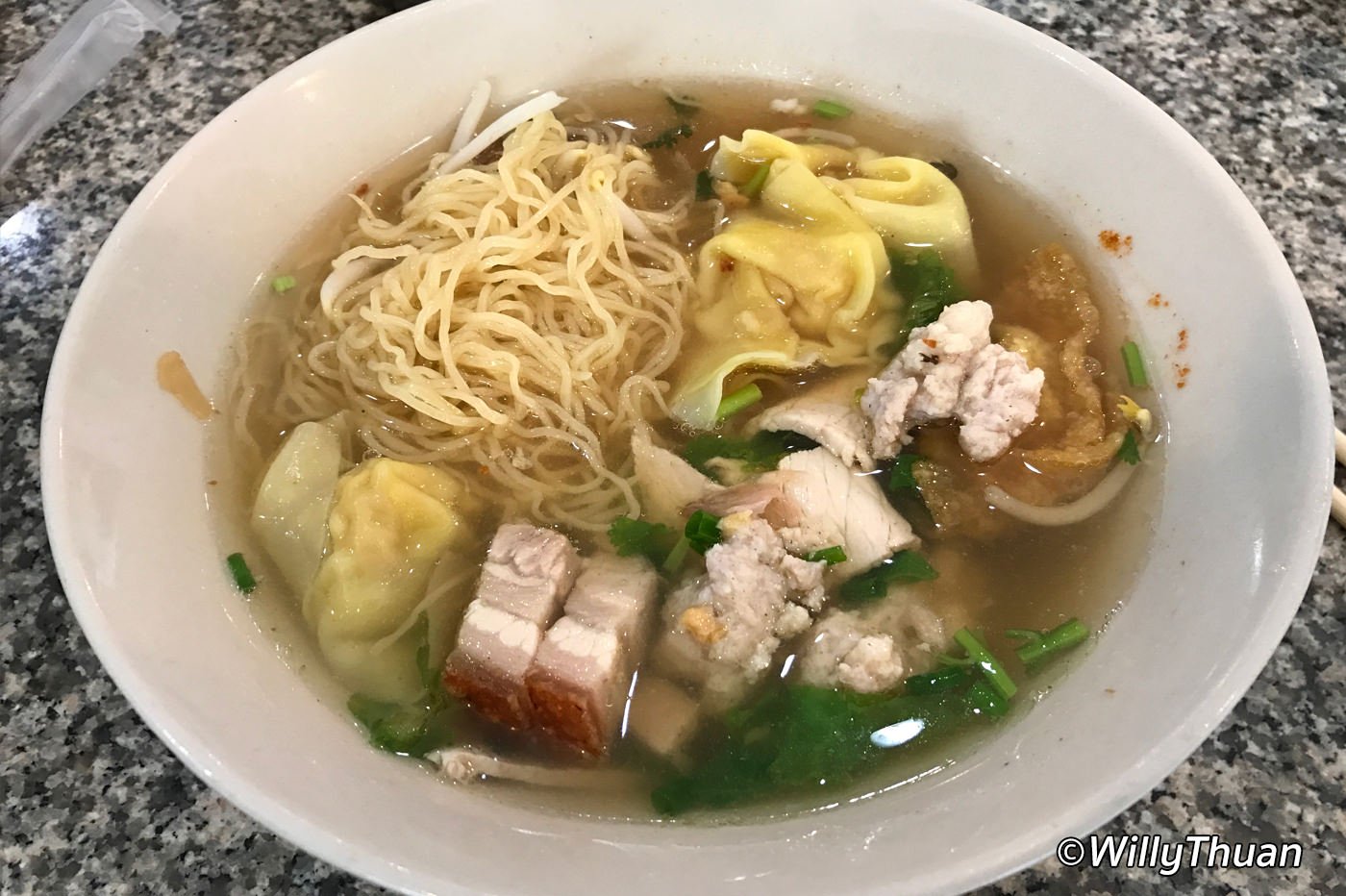 Definitely the most popular dish as it comes in so many ways: pork, beef, chicken or seafood, then thick, big rice noodles or yellow noodles. To pick your ingredients you can point at things usually on display on the carts. 2 words you might want to remember: 'Mai Nai' meaning 'no entrails' since not everybody likes to find pieces of intestines in their soup.
---
A timeless dish in Thailand found almost everywhere. Som tum comes in few variation with some extremes such as Som Tum Poo Pala (Papaya salad with fermented crab, super pungent) but the safest option is Som Tum Thai, which usually only uses papaya, tomatoes, green beans and a variable amount of chilies. Most of the time, if you don't specify how spicy you want your Som Tum to be, the cook will look at you and guess how much chilies you can take. You are farang (foreigner) and can't speak Thai? You'll get 1 chili, if any! So, if you like it spicy (because that's how it's best) you can learn those words: Pet Mak (very spicy, but he will only half believe you anyway). Now if you worry about spice levels, say 'Mai Pet' (not spicy). Som Tum is often best with grilles catfish, grilled chicken or pork. Read more
---
5. Fried rice (Khao Pad)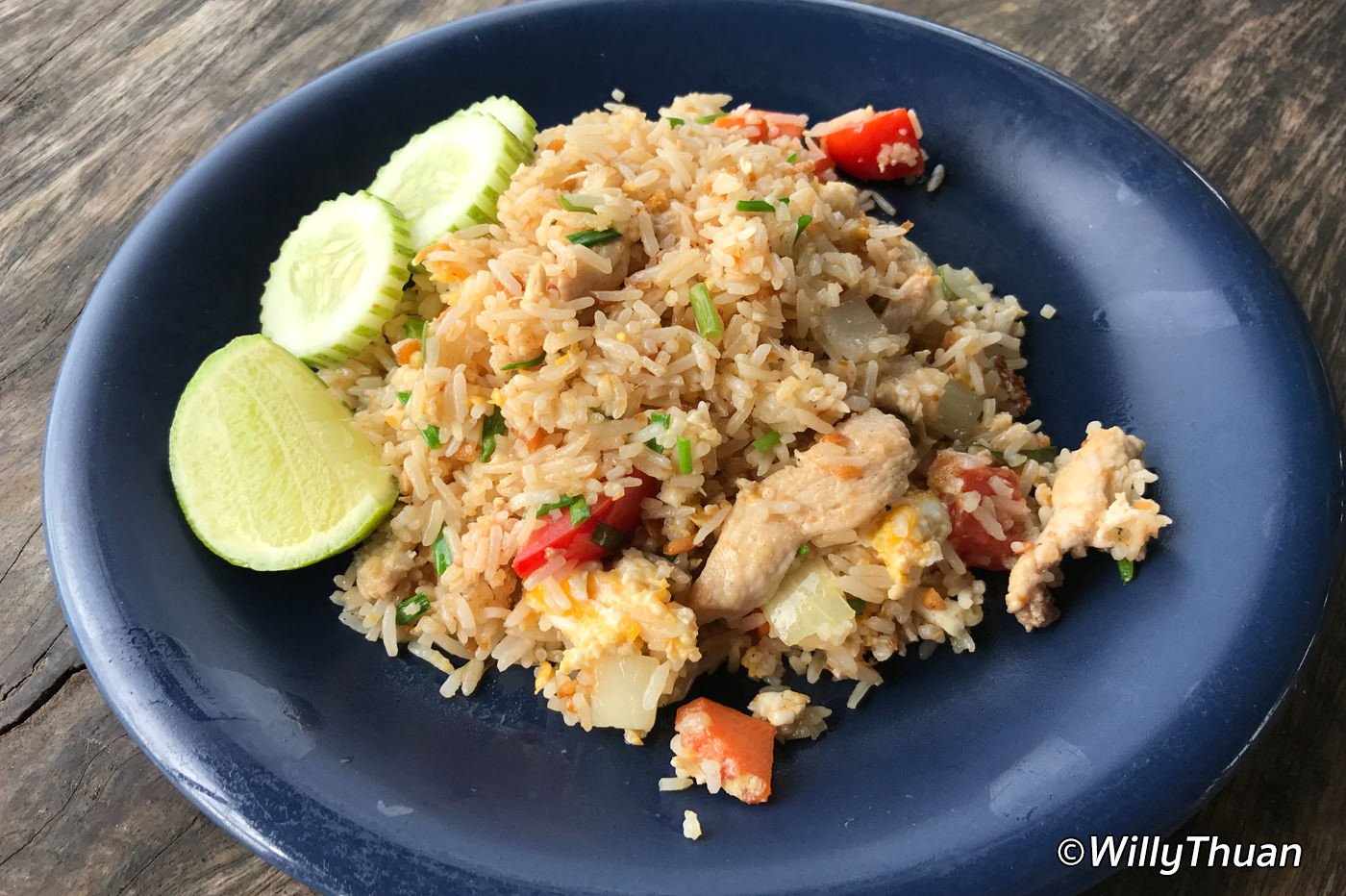 Another super classic dish. Can be cooked with pork or chicken or seafood and always served with exactly 3 slices of cucumber. Don't know why always 3. It's even better if you ask for Plik Nam Pla, a bit of fish sauce with chopped chilies in it, gives a nice extra salty punch.
---
6. Grilled Chicken (Kai Yang)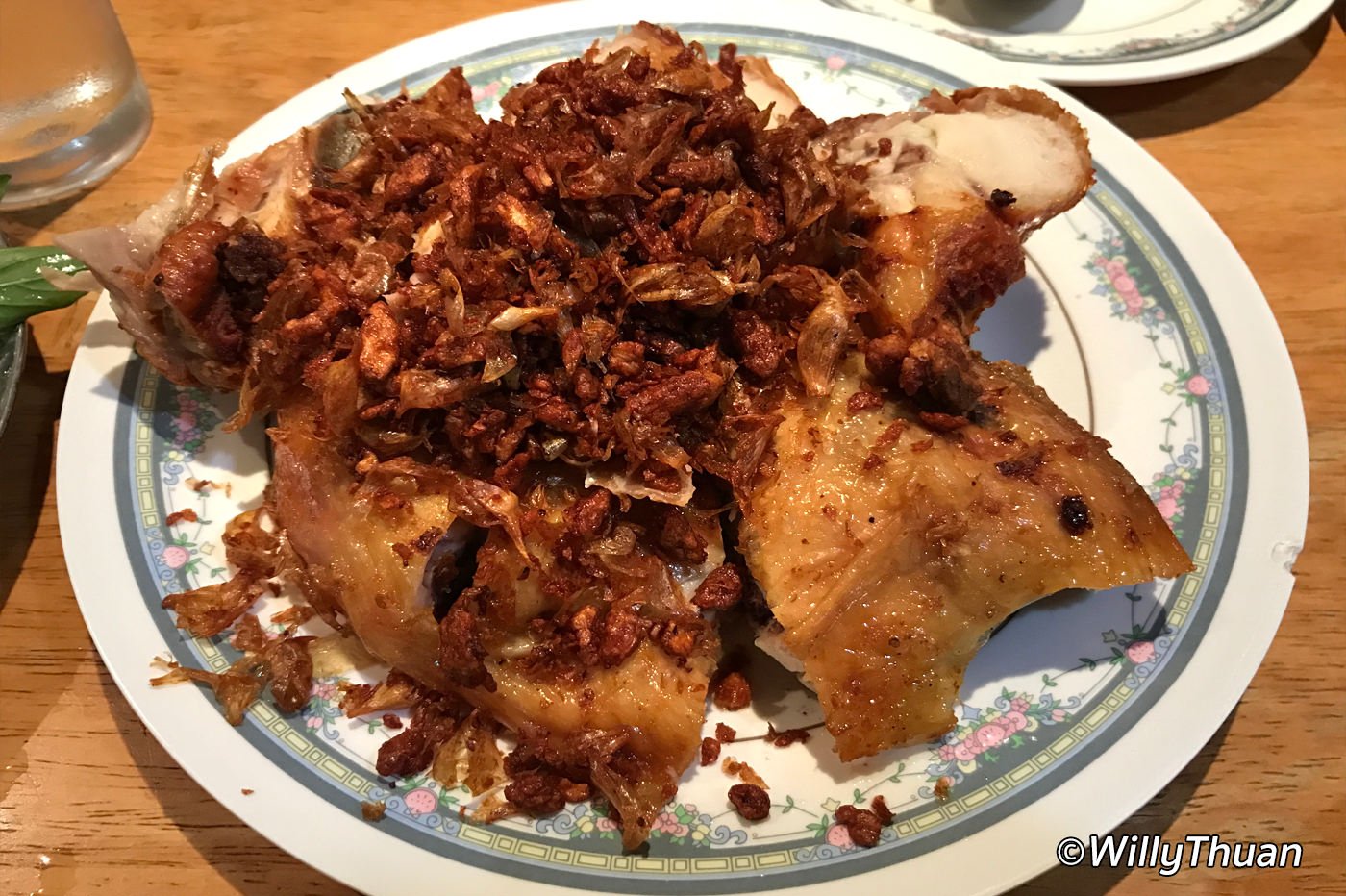 Grilled chicken is everywhere and you just have to follow your nose to spot them. Grilled on a tiny cart and more often as a take away than a seated meal, grilled is best eaten with sticky rice (Khao Niaow). Delicious and so cheap!
---
7. Moo Ping (Pork Satay)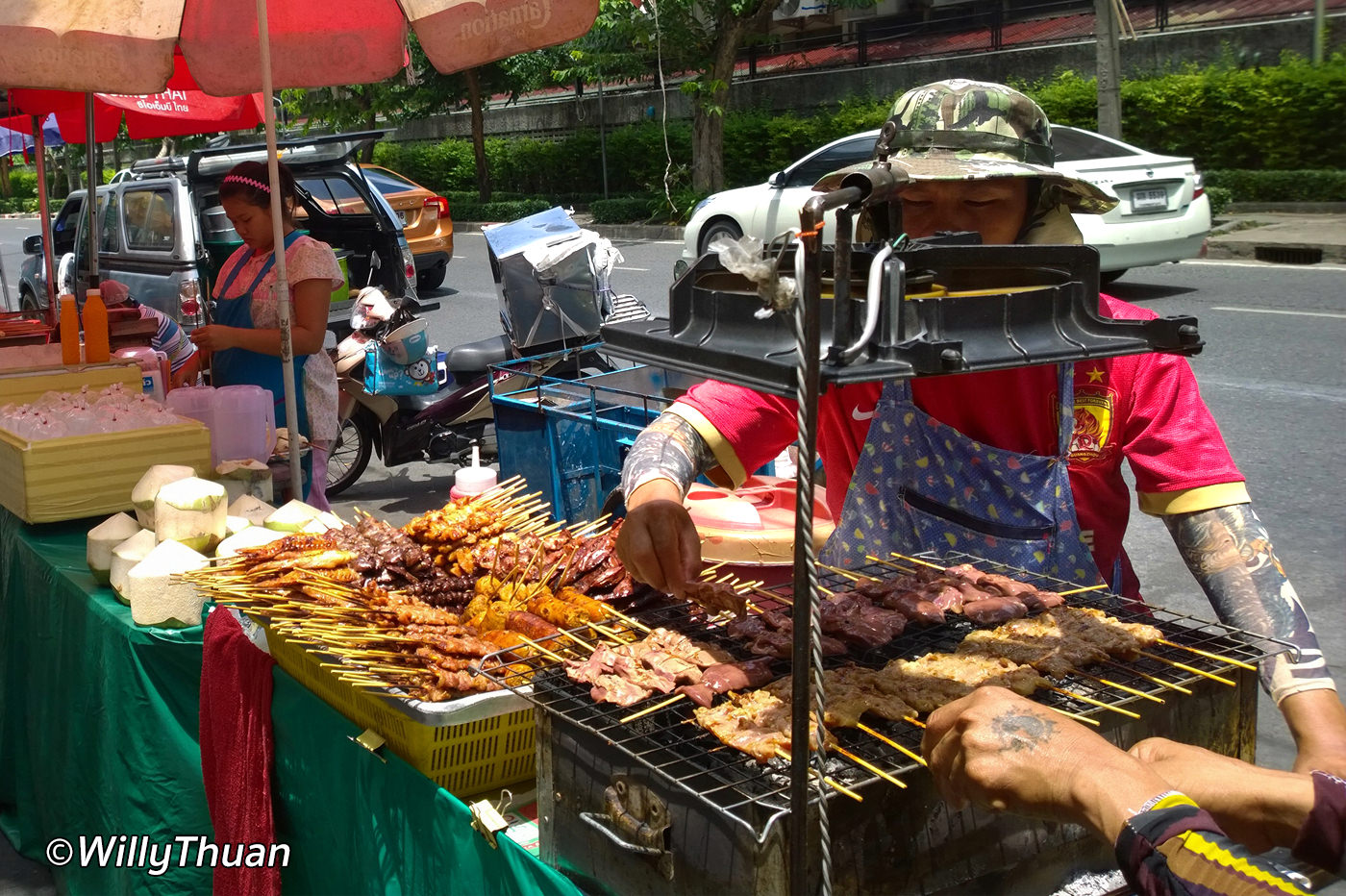 Similar to grilled chicken, Moo Ping is even easier to spot in the streets. Before you can smell is, you will see a vertical column of smoke rushing into the sky. That's the Moo Ping guy. They used to grill those skewers on tiny barbecue and use a tiny bamboo fan until one guy started to use a recycle electric fan to create a powerful stream of air. Double benefit: the fire is always ventilated and the cook is not in the smoke anymore! Just remember that if you stand next to a Moo Ping cart for more than 5 minutes you will smell like a Moo Ping yourself for a good hour.
---
8. Stewed Pork Leg with Rice (Khao Ka Moo)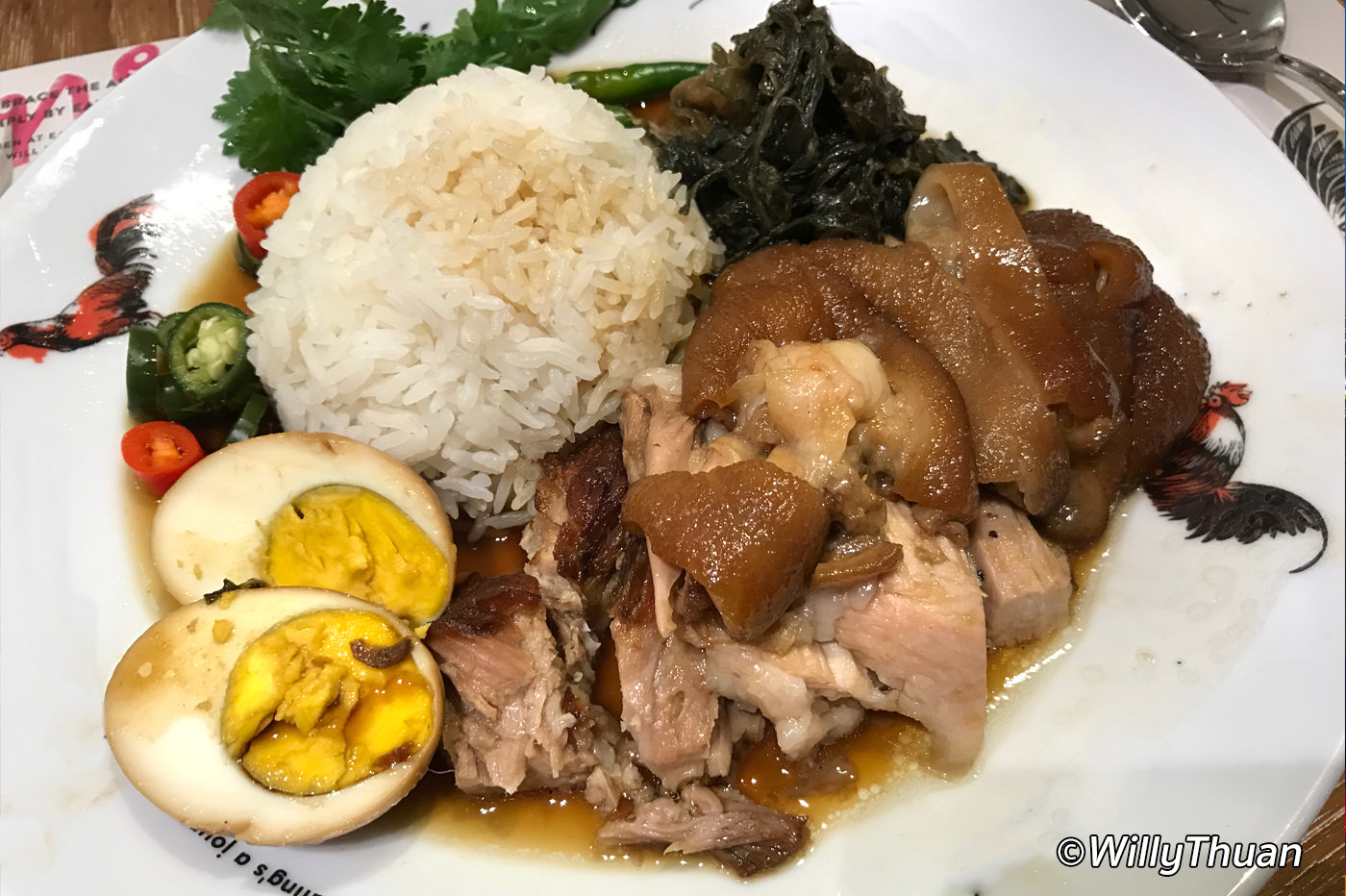 One of my favorites dishes, it's quite close to some stew we cook in Europe. Here it is a big fat leg of pork stewed and served on rice. Usually served with fat and skin, which not everyone likes.
---
9. Fried Yellow Noodles with chicken, shrimps or vegetables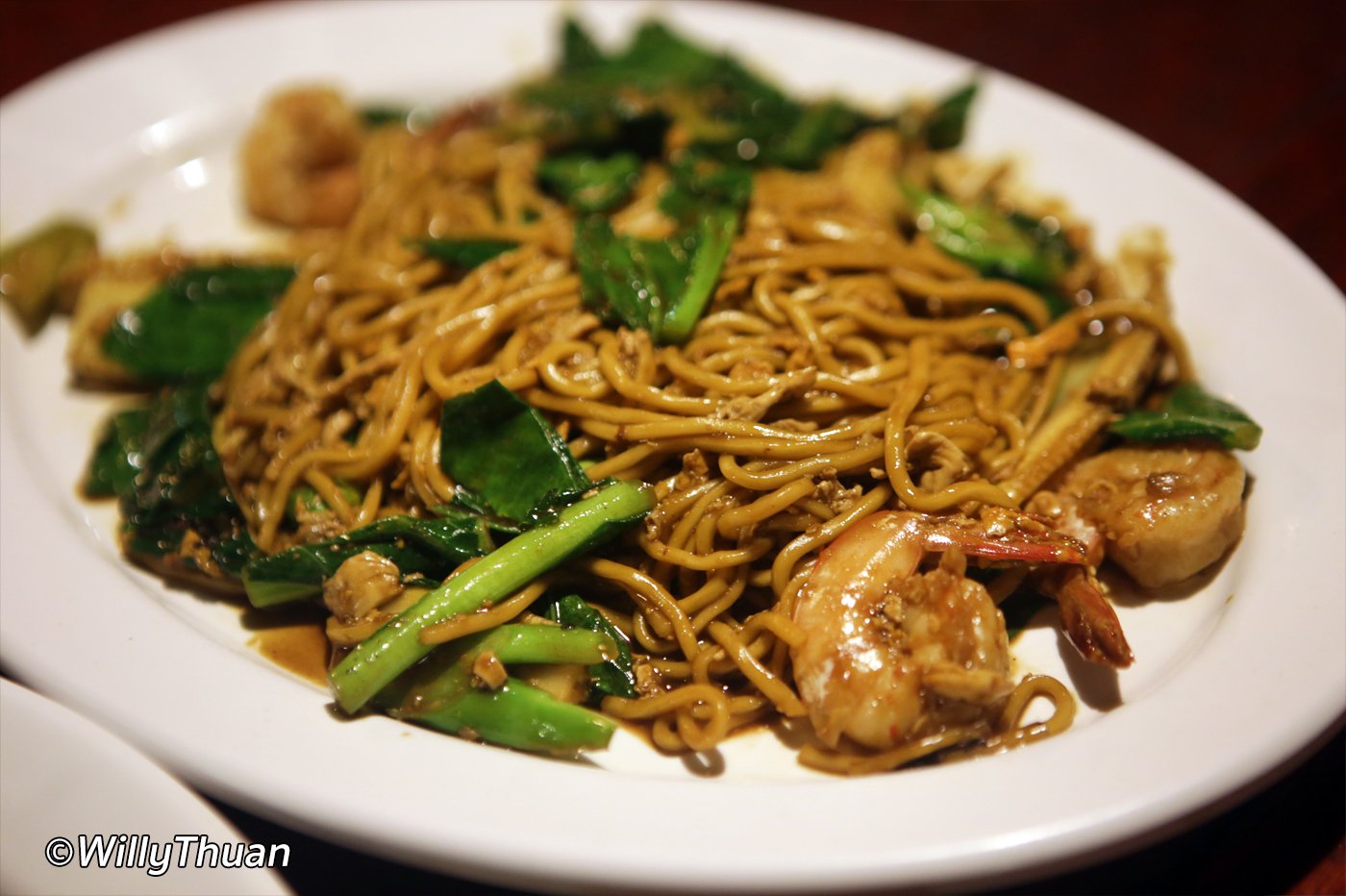 Not the same as Pad Thai since it uses yellow noodles and no eggs. It's a popular dish if you don't eat spicy. Like fried rice it can be cooked with chicken, pork or seafood.
---
10.Thai Steamed Dumplings (Kanom Jeeb)
Small and colourful little steamed dumpling are usually made with pork and served with a soy sauce. Great as a Thai breakfast
---
Where:
Technically street food is everywhere but you can find some on the beach front near Graceland resort, here and there near convenience store and a lot near fresh market like Banzaan market behind Jungceylon.
Prices are fixed and cheap so don't try to bargain, they might not have a menu so look around the cart and if you don't see something you can ask for, point at what you see on other customers' tables. Of course, there are tons of variations but go with basic stuff.
Read also about Phuket Best Local Restaurants and Phuket Best Local Seafood Restaurants, 10 Classic Thai Dishes