Our Old Phuket Town and Old Street Walking Guide will save you time and effort! The historical part of Phuket is not huge but is rich and exciting enough to explore in half a day. On this page, we break it down by streets and describe the main points of interest and significant landmarks. It's easy and fun to explore, even on a rainy day, plus there are plenty of little cafes and restaurants to take a break and enjoy lunch or even dinner.
Phuket Town Video 2021
---
What to see in Phuket Town?
Expect to see a lot of Sino-Portuguese style shophouses on each side of the streets, small and colourful shops, some excellent local Thai restaurants, and lately a lot of young coffee shops. Walking around town will also be a chance for you to visit both Thai temples and colourful Chinese shrines, as well as a couple of Museums and some beautiful old mansions.
Lately, you also can enjoy a lot of beautiful mural painting and street art ornating the walls of old buildings. It looks even better since Phuket municipality buried all electric cable underground on Thalang and Dibuk roads.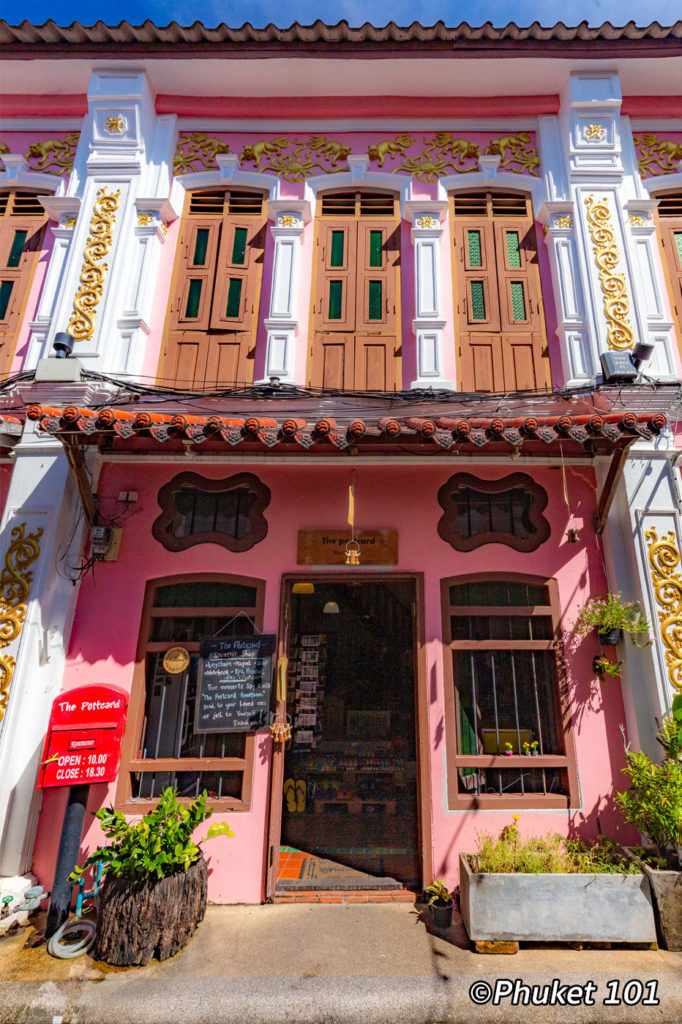 ---
Phuket Town Historical Centre
The city centre and the famous Thalang road are the most exciting part of Phuket Town, but other streets are full of things to discover
Street names you need to remember:
| Street Name | Landmarks |
| --- | --- |
| Thalang Road | China Inn, Sunday Walking Street Market |
| Soi Romanee | used to be the red-light district of town! |
| Phang Nga Road | Shrine of the Serene Light, The Memory at On On Hotel |
| Dibuk Road | The Charm Phuket, Lock Tien Food Court, Kanom Jin Restaurant, Phuket Indy Market, Raya House |
| Yaowarat Road | Old Limpanon House, Endless Summer Mansion |
| Krabi Road | Thai Hua Museum, Blue Elephant Mansion, Baan Chinpracha Mansion |
| Ratsada Road | Thavorn Museum, Old Mansion |
| Ranong Road | Phuket city market, Thai Airways heritage house |
---
Our suggested walking map, starting from the famous Thalang Road:
---
---
Thalang Road (east) is where you probably will start and spend a lot of time. It's charming and a popular Instagram playground, especially if you happen to visit during the Sunday Walking Street Market.
Don't miss the little coffee shop right at the intersection called Chino Cafe Gallery (L). Not only they serve a good coffee with sweet Phuket round cakes, but you also can admire some excellent photographs hanging on the wall, all taken by Phuket photographers (apparently, there will be a gallery soon on the second floor).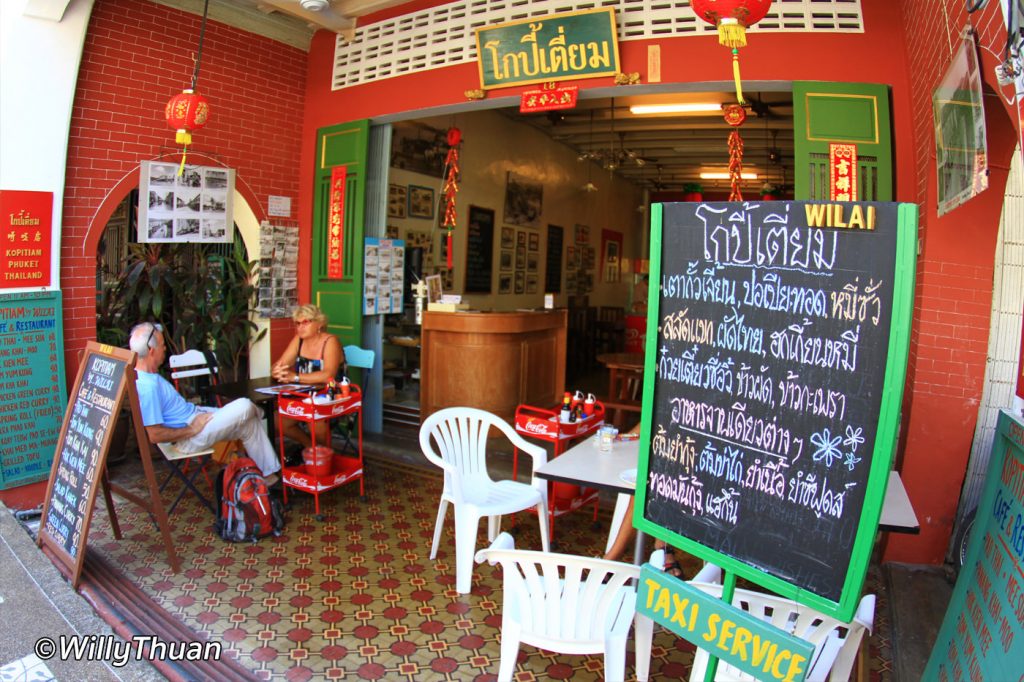 Walk further to find three famous restaurants, Wilai and Kopitiam (M) are two small local and affordable restaurants serving excellent Thai food. The famous China Inn Cafe (N) has a more elaborated but more expensive meal in a superbly renovated Chinese style shophouse, which also happens to be a handicraft shop.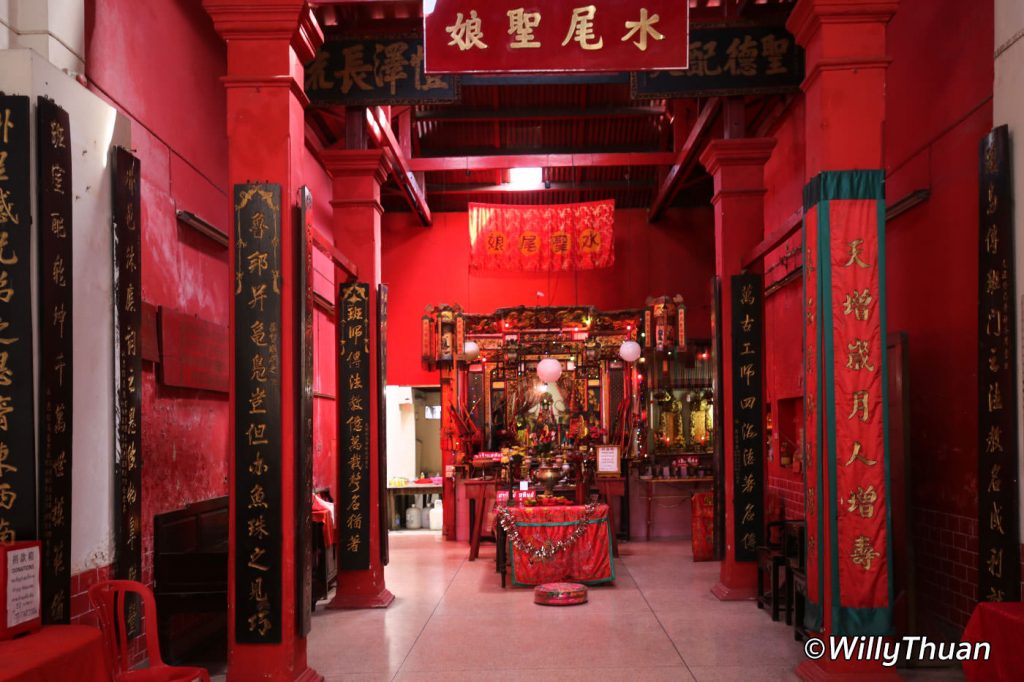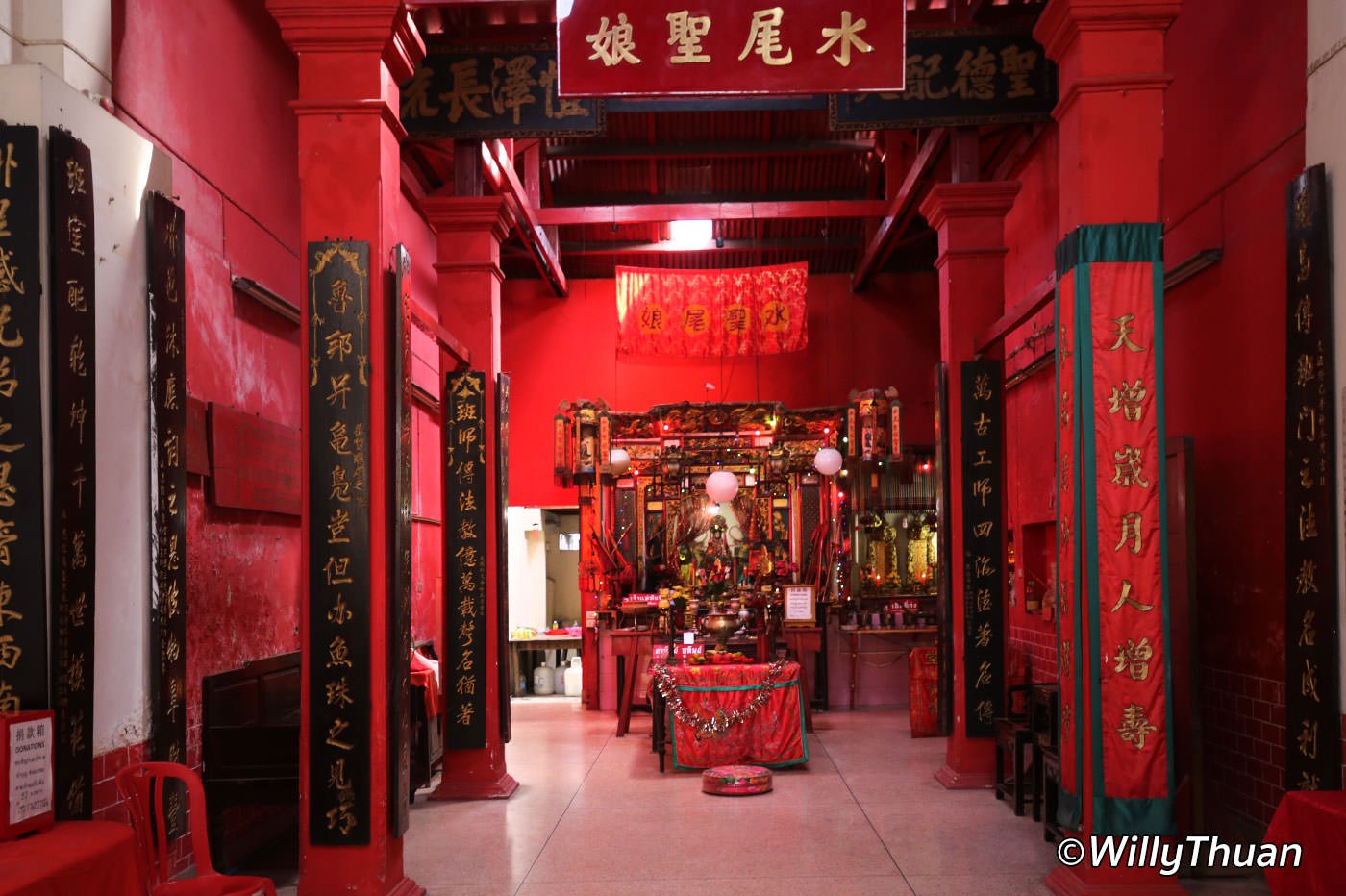 Not far past China Inn Cafe (N) is a little Chinese shrine hidden inside an unassuming entrance. From there you will walk past a lot of Muslim fabric shops and tool shops whose owners are trying to continue their trade just like if nothing ever happened in Phuket. Look around for all the charming little guesthouses, bookshops, lovely small boutiques and plenty of little coffee shops.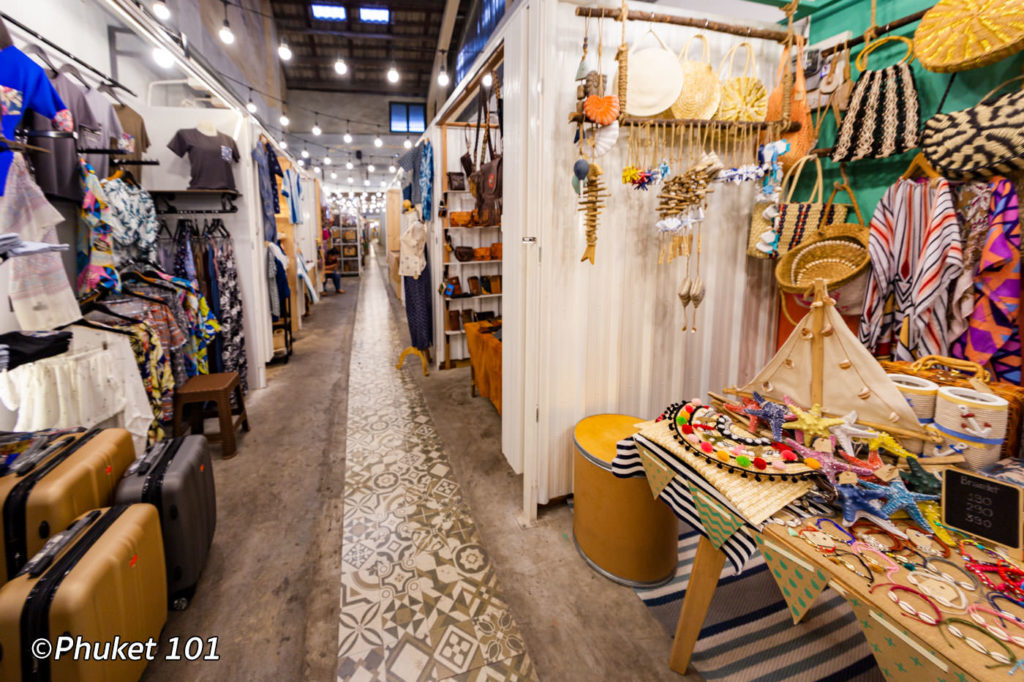 Don't miss the new ChimJae Walking Street (Vanich Walking Street), a very long and very narrow passage that opened between Thalang and Phang Nga Road! It's full of stalls selling original souvenirs and local snacks. Read more about Thalang road.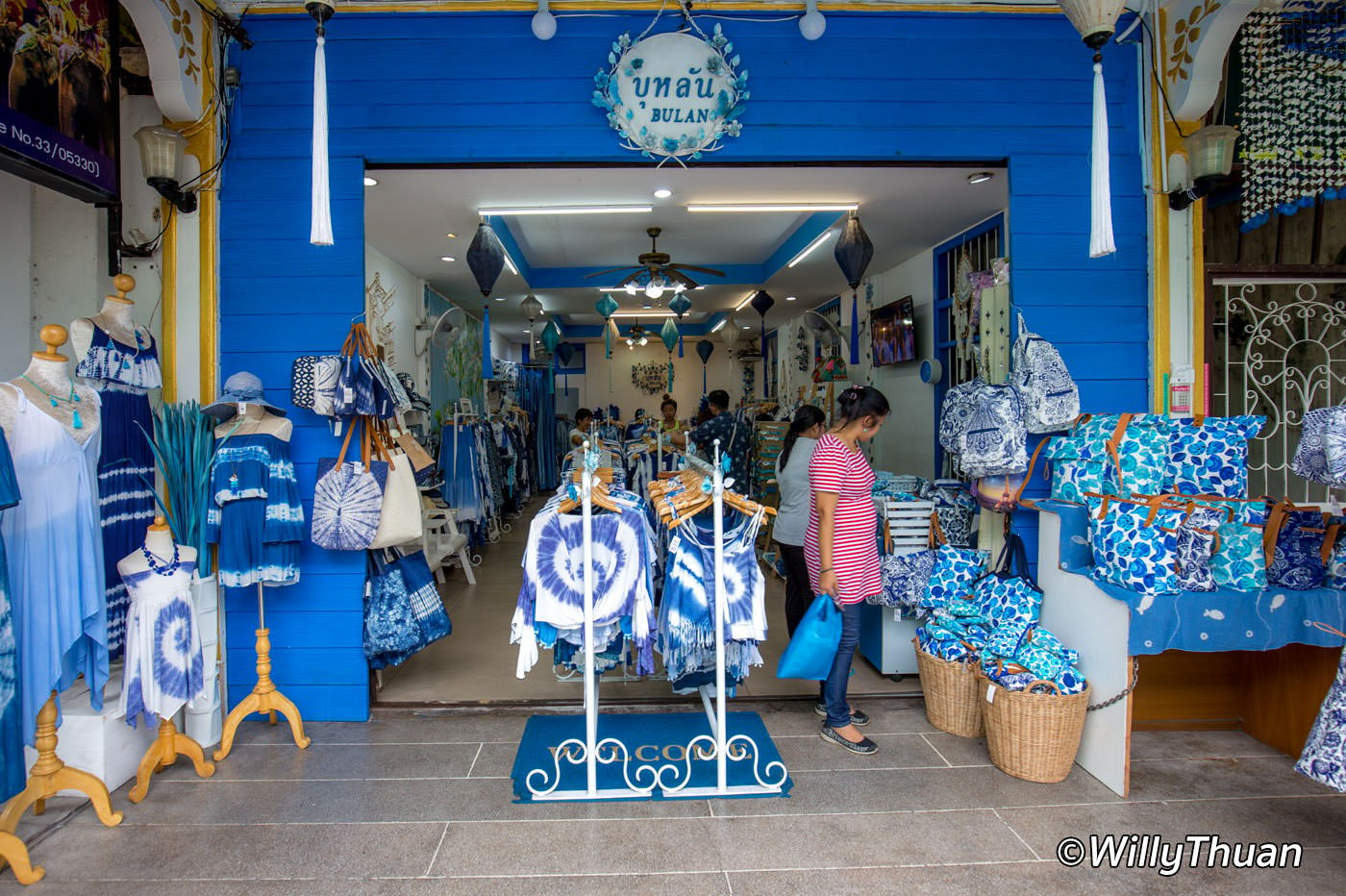 ---
---
Just off the famous Thalang road is Soi Romanee (P), with all the colourful buildings that make it the most photographed street of Phuket. However, the most beautiful part of Phuket Town was the red light street and the gambling area. You can now stay at one of the small guesthouses or have a drink at a cafe while watching the permanent Instagram competition going on here.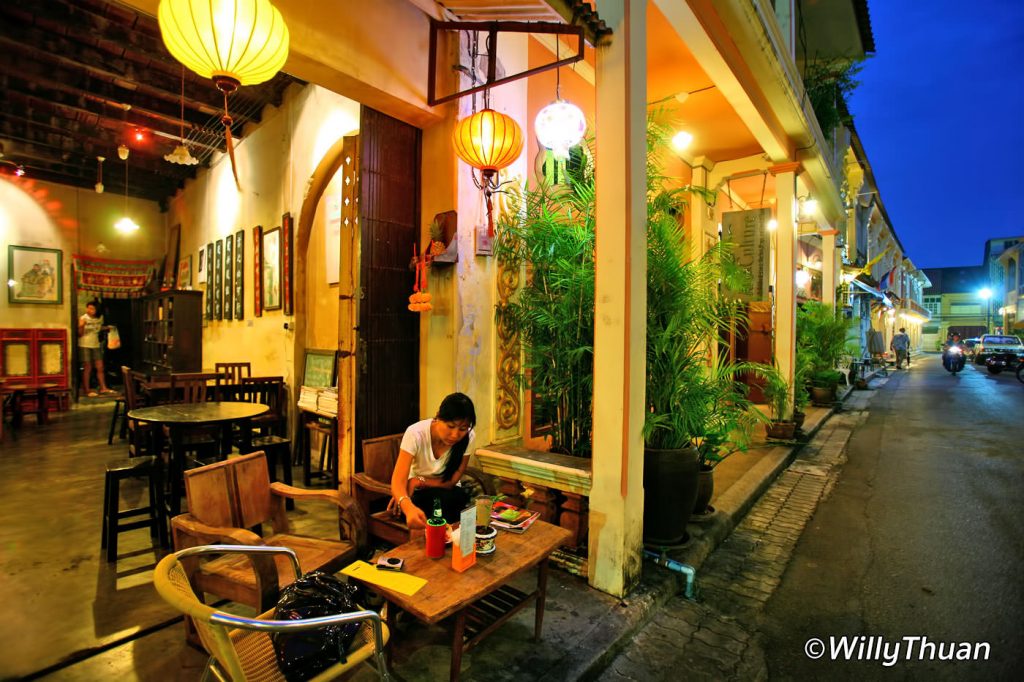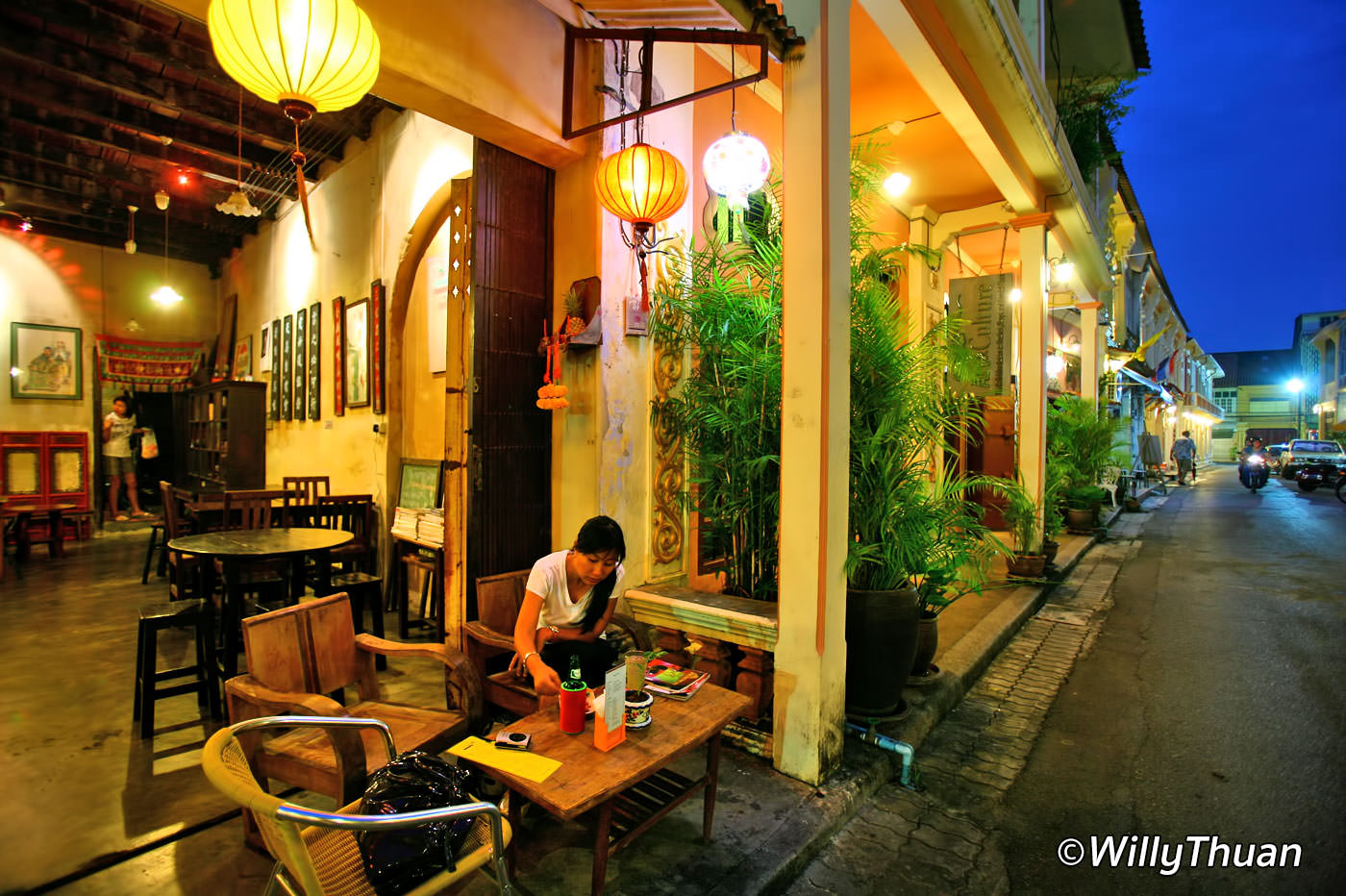 Don't miss a chance to visit some temples: at the end of Soi Romanee (P) is Wat Mongkol Nimit (Q), a significant place for Phuket people, where locals frequently hold ceremonies. It's a beautiful temple with a golden Chedi (stupa) in the back and some beautiful heritage houses monks use as a dormitory.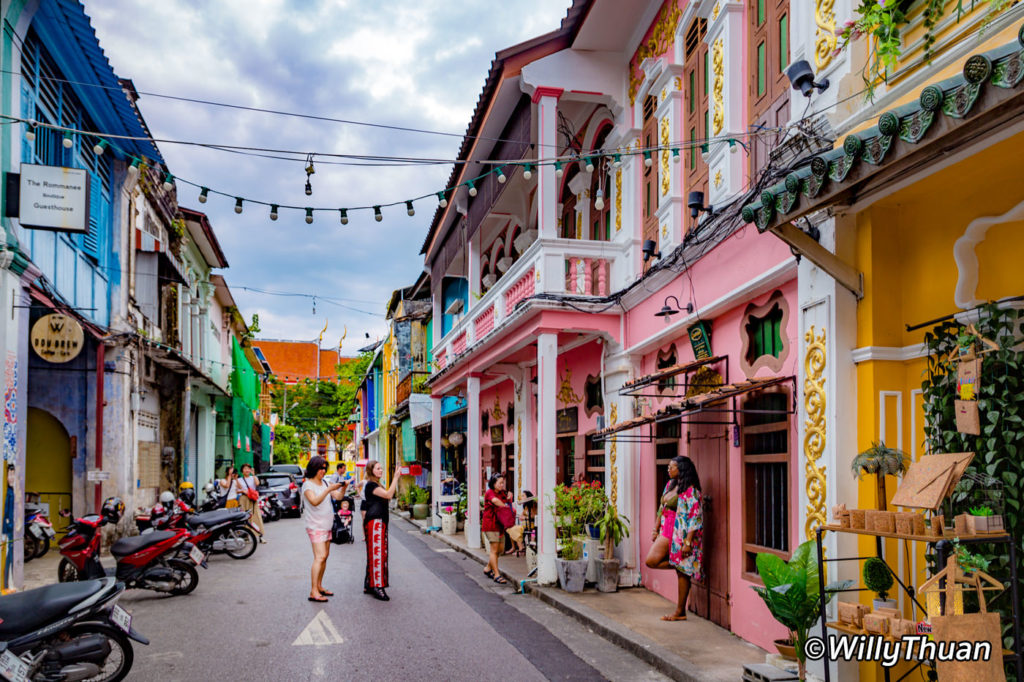 Go back through Soi Romanee (P) and turn left again into Thalang road, where you can admire a few more renovated shophouses, especially the Honda motorbike showroom combined with a new coffee shop.
---
---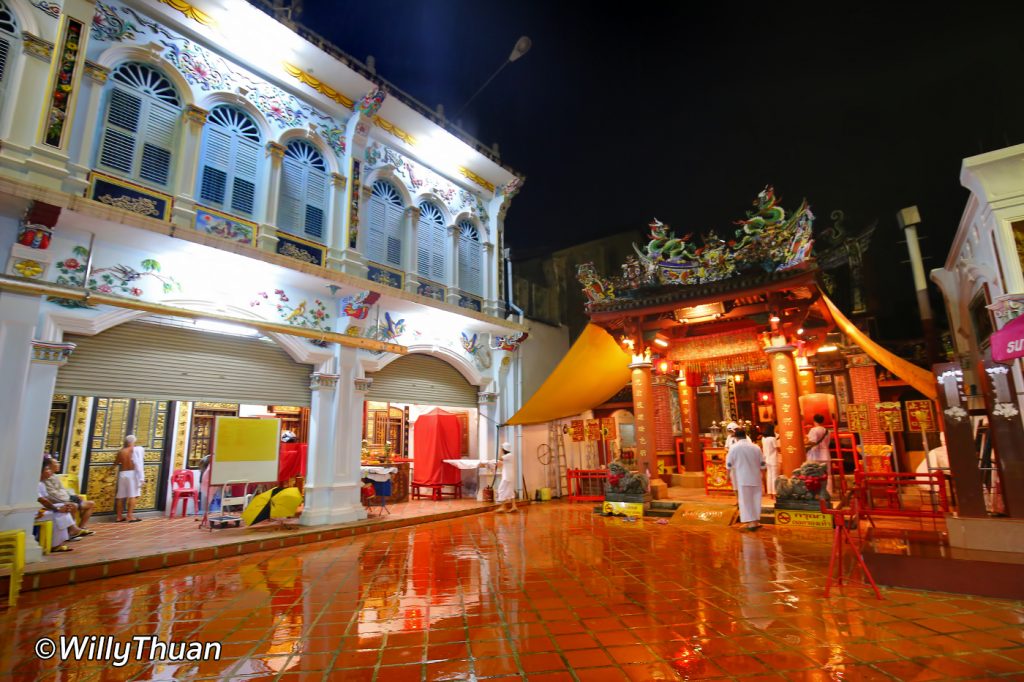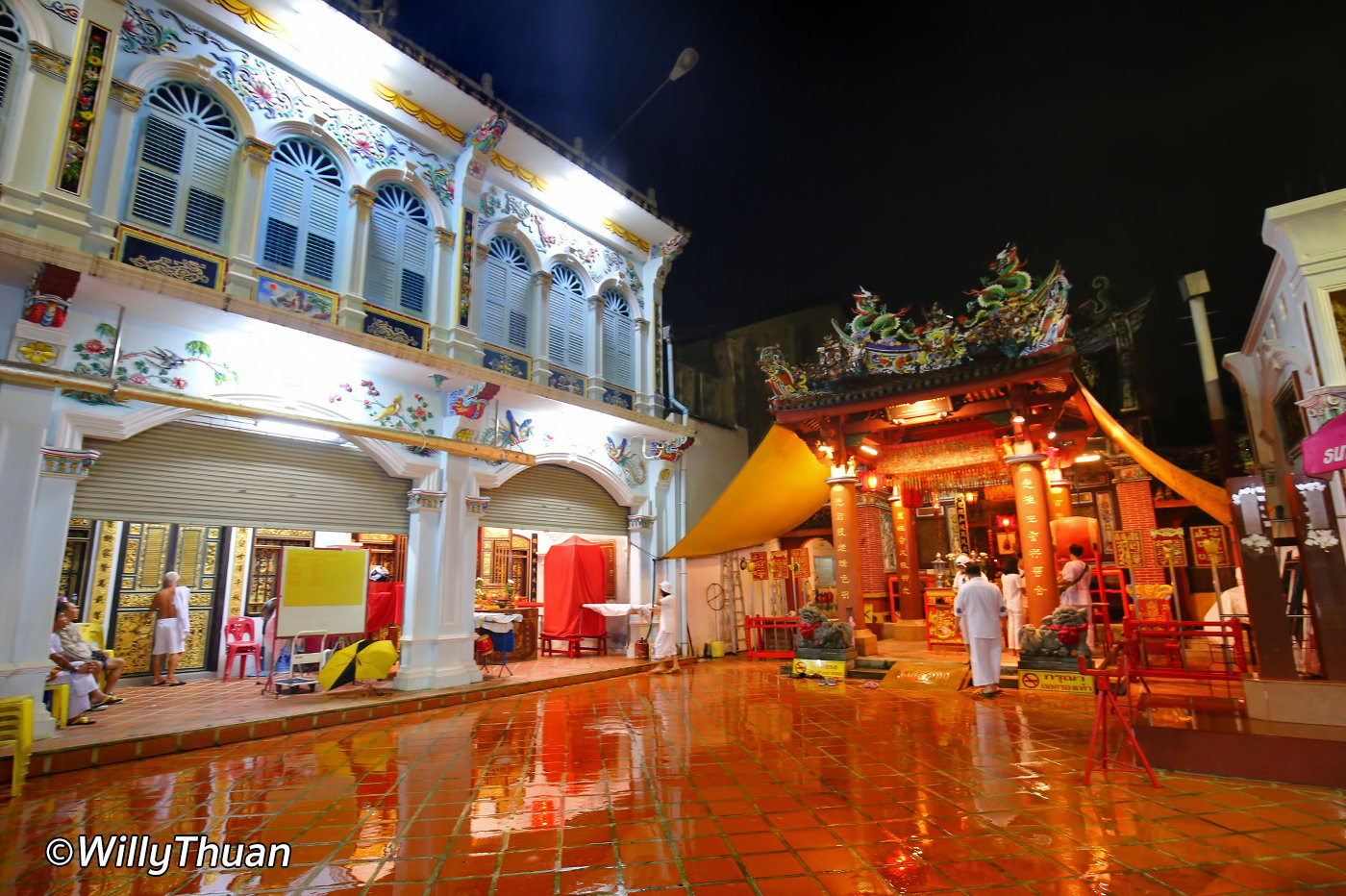 The three highlights of Phang Nga road are the Shrine of the Serene Light (W), the amulet market and the On On Hotel (V). On On Hotel (V) has an exciting story, and almost everyone saw it in the movie 'The Beach', but not many people know that the hotel is not in Bangkok as shown in the film, but right here in Phuket Town. Until recently, On On hotel was almost as bad as in the movie and only cost 200 baht a night! In 2013 it was entirely renovated with great skill and sense, keeping the hotel's spirit and still relatively cheap, but it is not a beautiful budget hotel.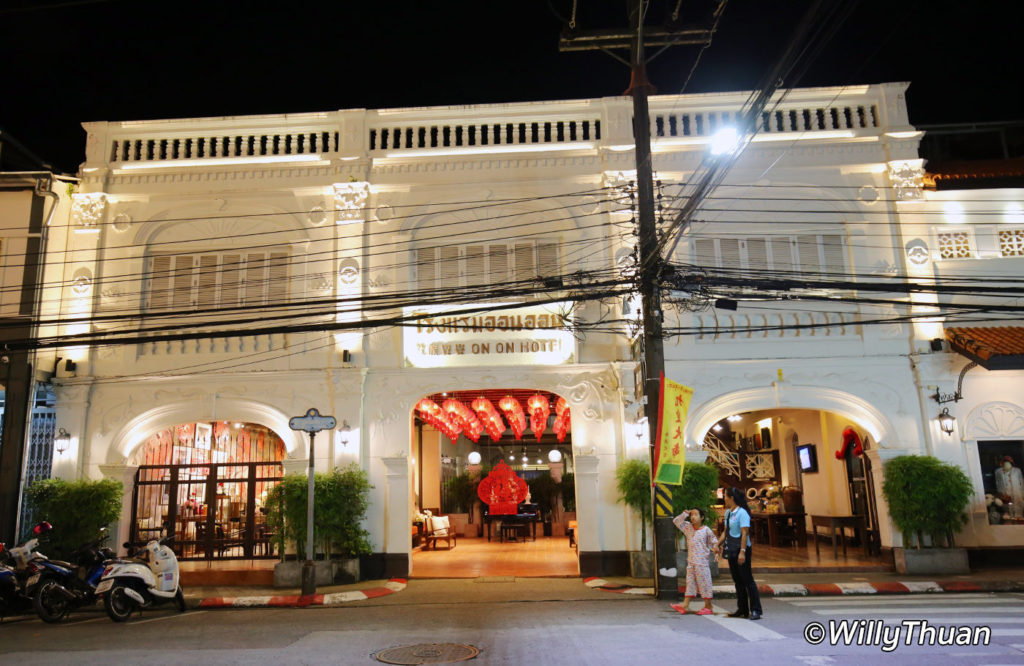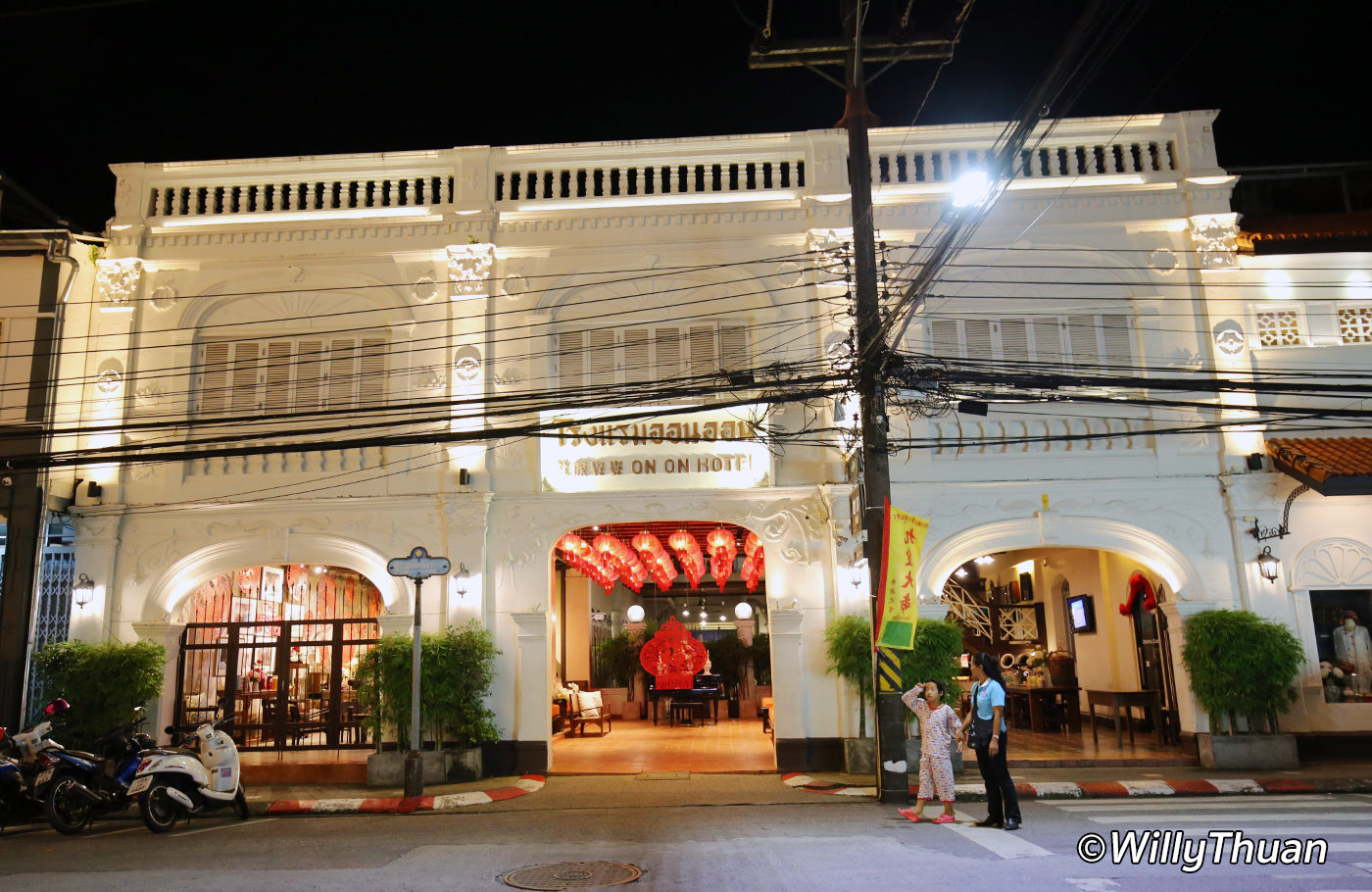 Adjacent to On On Hotel, the Shrine of the Serene Light (W) also has an anecdote. For a very long time, the shrine hid in the back of a building, and only locals knew about it. It was a secret no one wanted to share. Finally, they did a great job renovating and widening the ornamented gate, and the shrine itself was left mostly untouched, and it is now a famous landmark.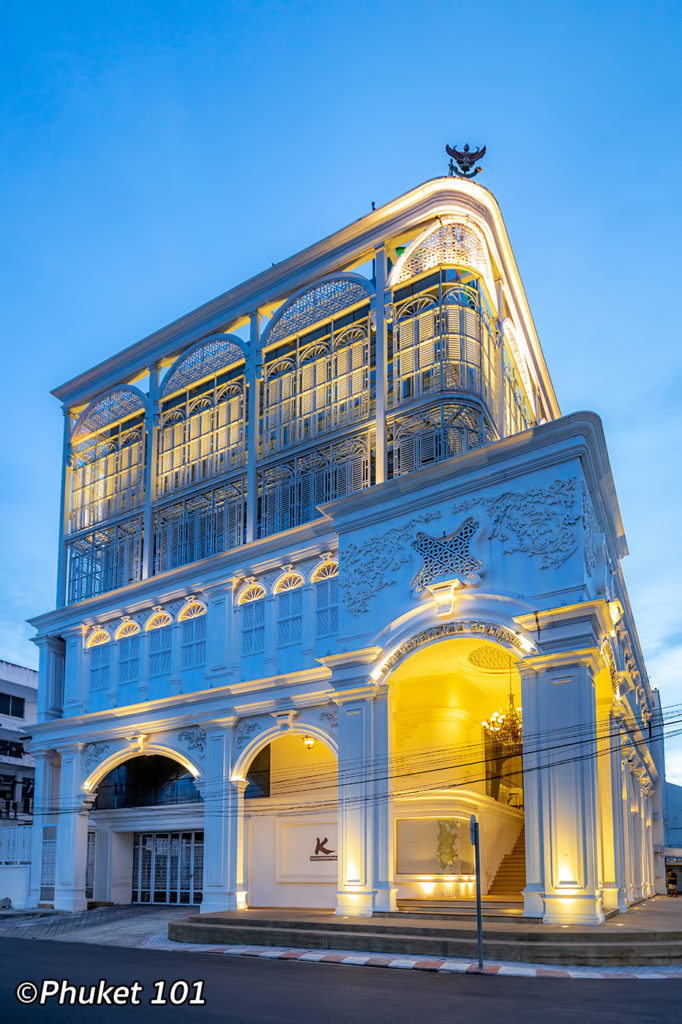 Opposite on the same street is the amulet market (X), an extended covered alley where amulet aficionados come mostly on weekends to exchange and discuss amulets. For us, it is a mysterious topic, but some rare charms have very high value depending on their age, origins and the monk who gave them.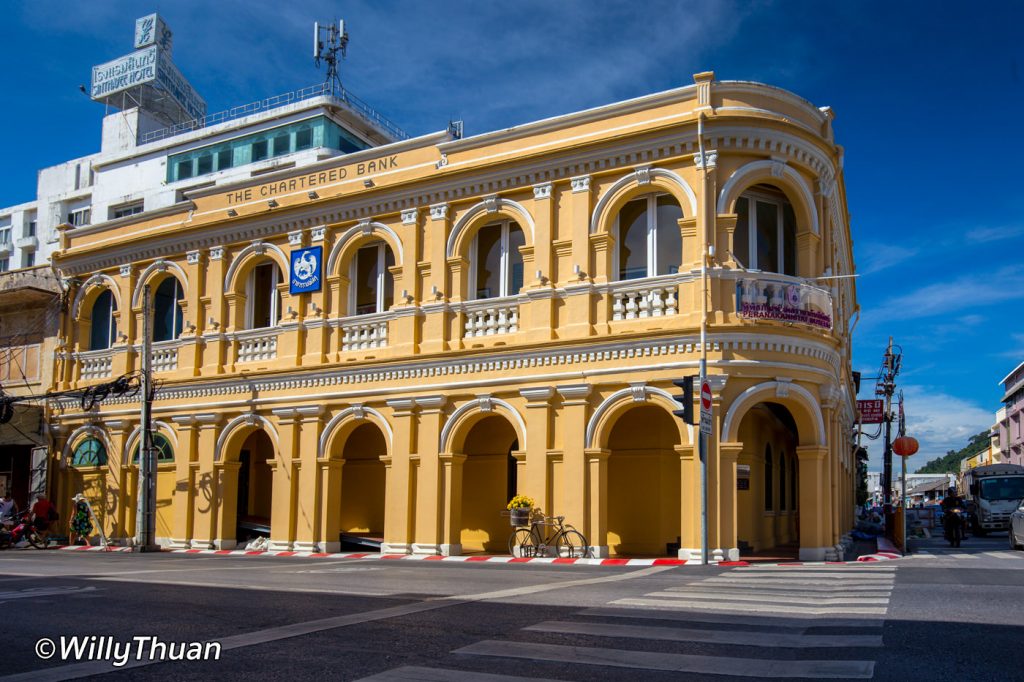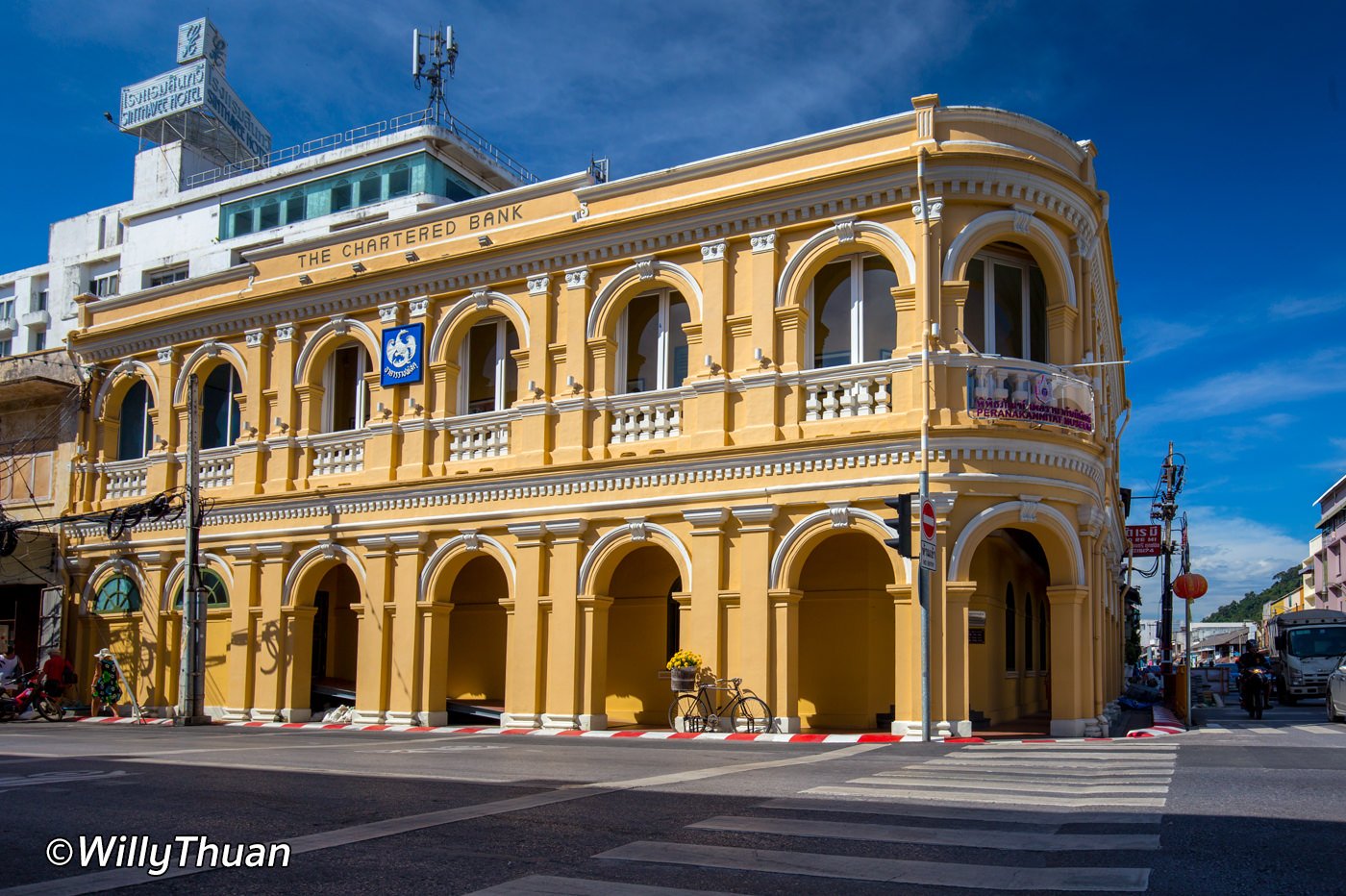 Keep walking until the end of Phang Nga Road until you reach The Clocktower building (S), which I think used to be a police station and is now a the Peranakanittat Museum. Across the street is the old Standard Chartered Bank (R) which is also a museum.
---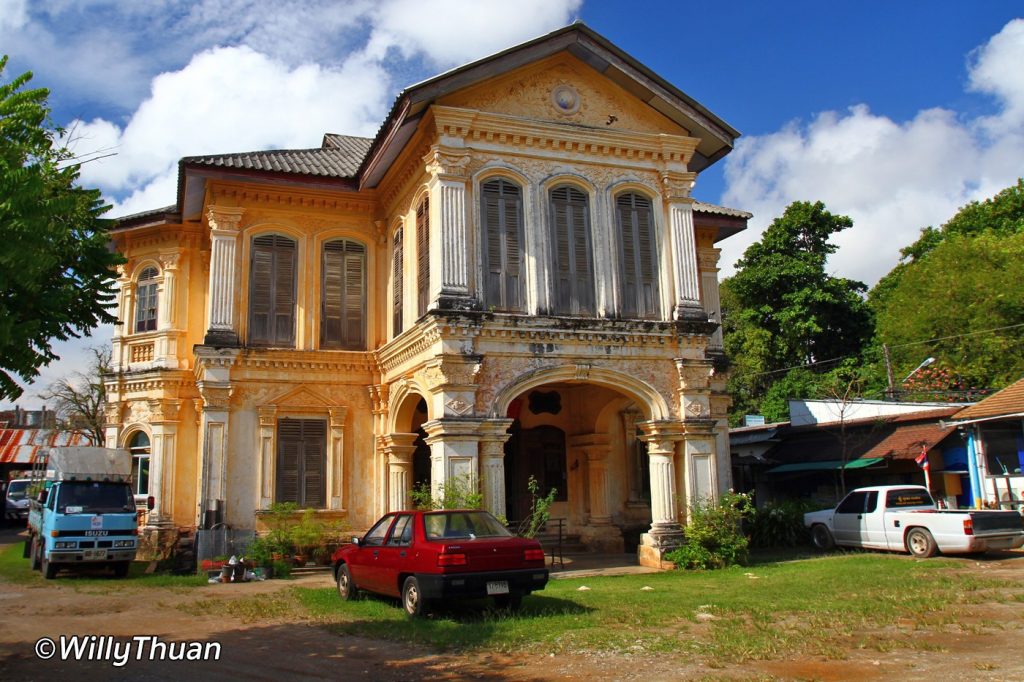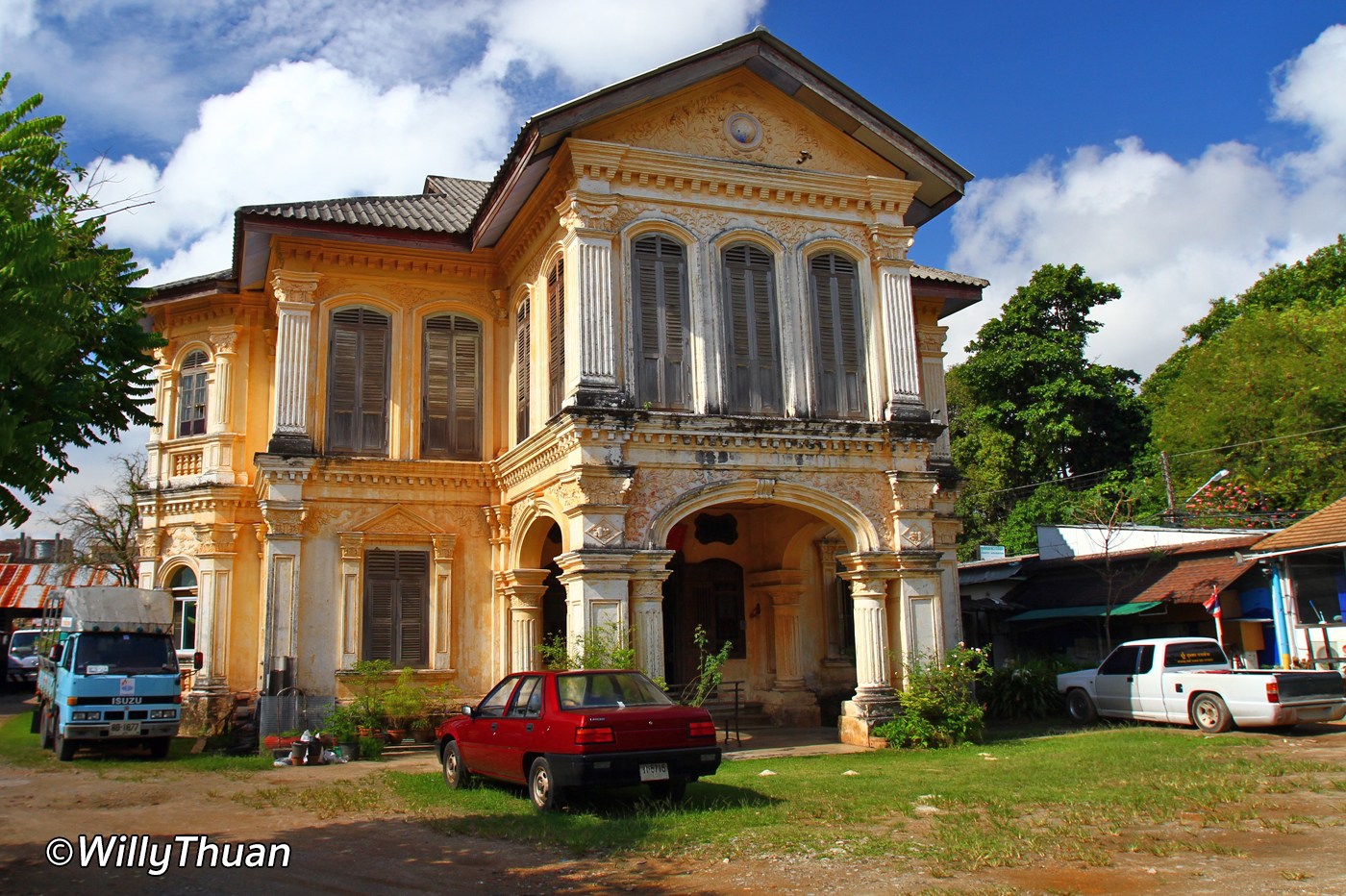 Continue on Dibuk road to enjoy more shophouse architecture with their typical archways, designed to keep walkers sheltered from sun and rain. Keep your eyes open and look for the shops selling some typical Phuket sweets and bread. If you happen to be on this part of Dibuk road at dinner time, don't miss a chance to try excellent Phuket food at the newly renovated 'The Charm Phuket.'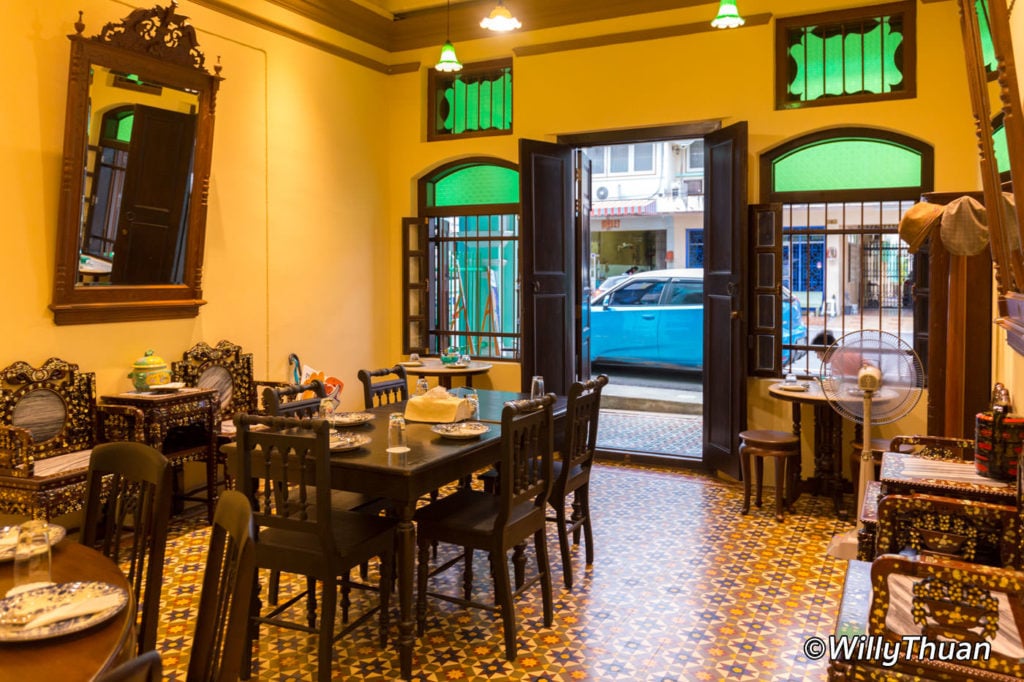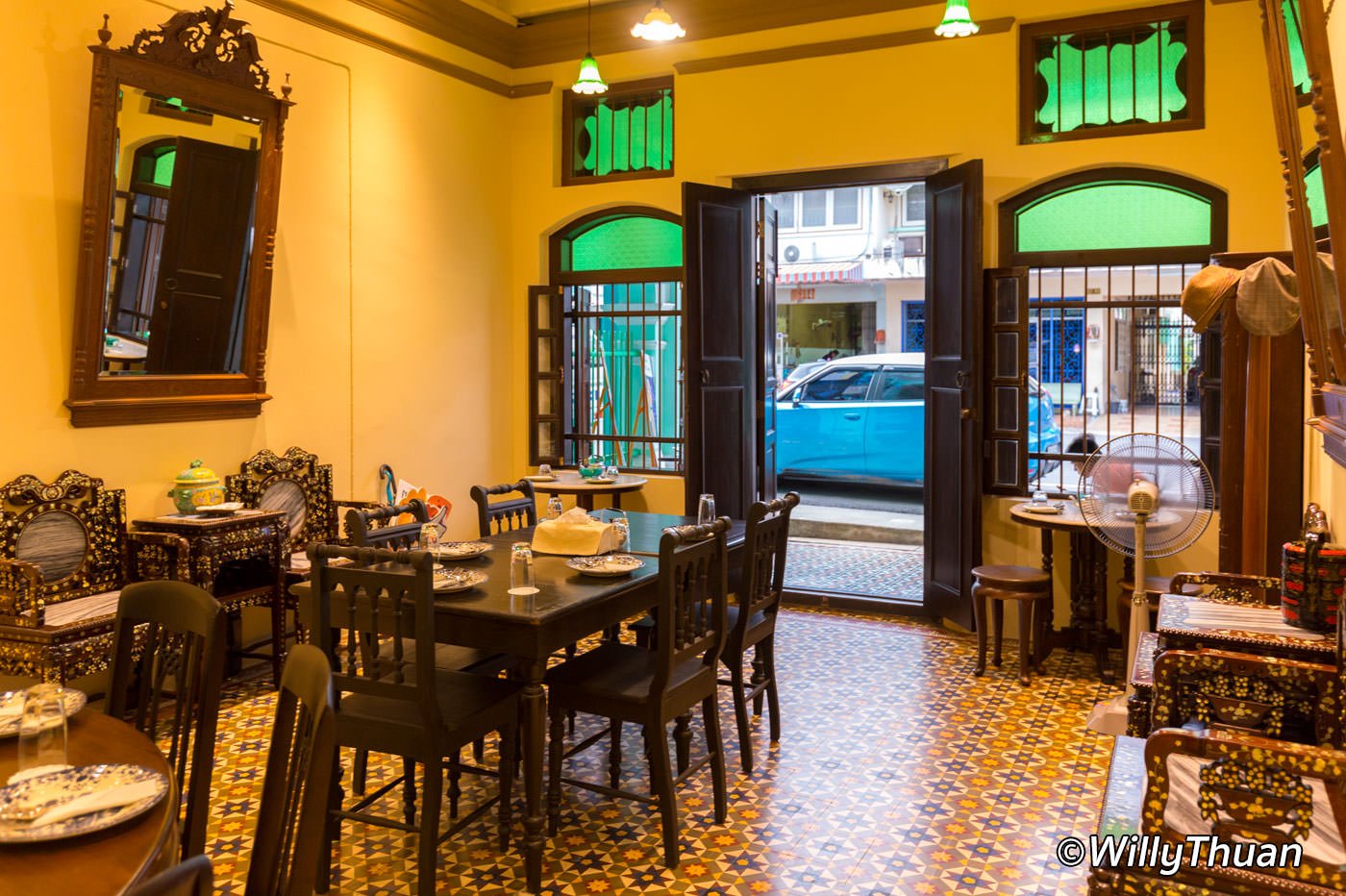 Then at the intersection of Dibuk and Yaowarat, you will find a trendy local food court called Lock Tien Restaurant (I), serving some unique Phuket specialities. Opposite of Lock Tien, have a beautiful shop called Pink Flamingo Cafe (J) found inside an old corner shop that was initially the former headquarter of the Kian Nguan Mining Company when tin mining was Phuket primary industry. Read more about Dibuk Road (a lot more!)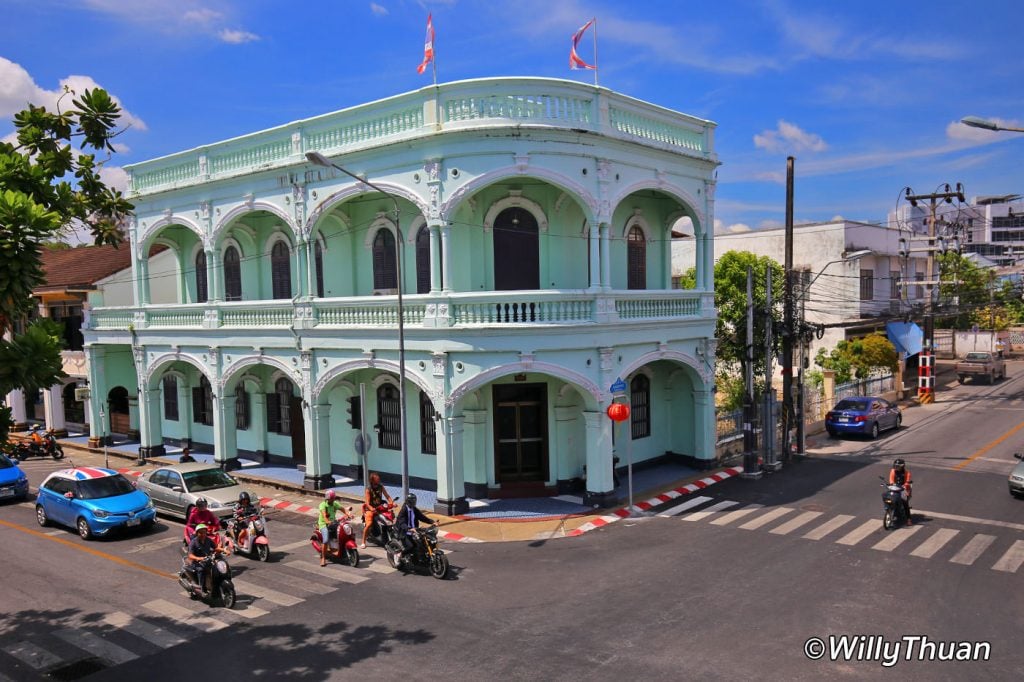 ---
5. Yaowarat Road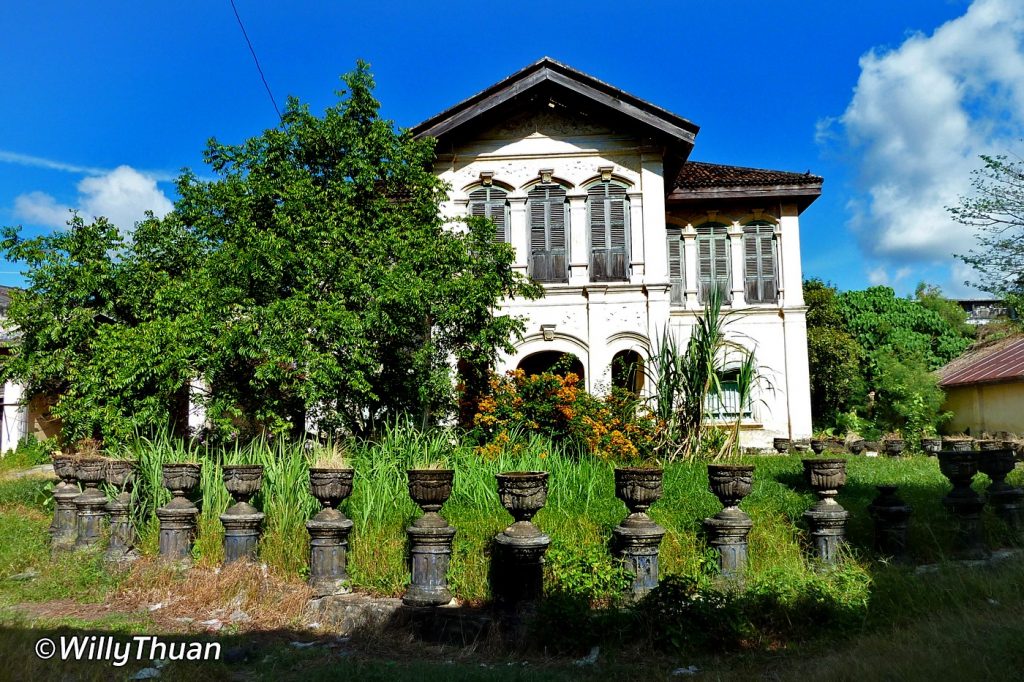 To reach Yaowarat from the bus station, walk against the traffic flow toward the fountain circle (C) and turn left. If you are lucky, on the left, you will find a dark passage leading to the mysterious Limpanon House (D), a fantastic abandoned mansion. Unfortunately, lately, the gate appears to be more often closed than opened.
Opposite to it is antique shops worth stopping at. One is an old Kanom Jeen shop (Y) run by a young guy who was smart enough to keep the shop in its original condition, making it an exciting photo opportunity. Next to it is also an ancient pharmacy (Y) with surprising dry roots and ingredient kept in a hundred wooden drawers. If you plan to take photos in there, know that the owner can but grumpy as he probably gets more photographers than shoppers in a day, so buy something if you plan to take photos! 😀
Continue straight until you reach the Thalang intersection. If you don't have much time, turn right into the famous Thalang Road and jump to #6. If you continue straight, things get a little less exciting, but you will be able to admire a few more heritage mansions.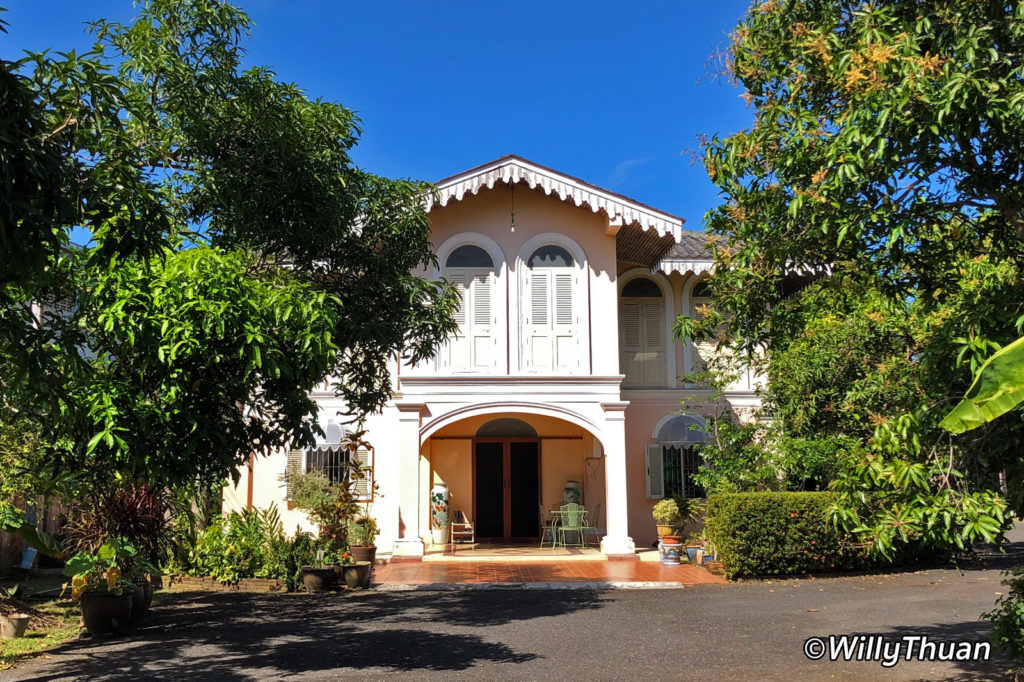 Next to Flamingo Shop (J) are several other shops worth mentioning where some elderly ladies sit all day, selling some delicious Phuket speciality cakes and pastries. Try the famous Ice Kachang, shaved ice with syrup on top and red beans inside, a perfect way to cool down from the heat and long walks. On the opposite side is the ancient Lock Tien food court, a place worth stopping at for a light local lunch.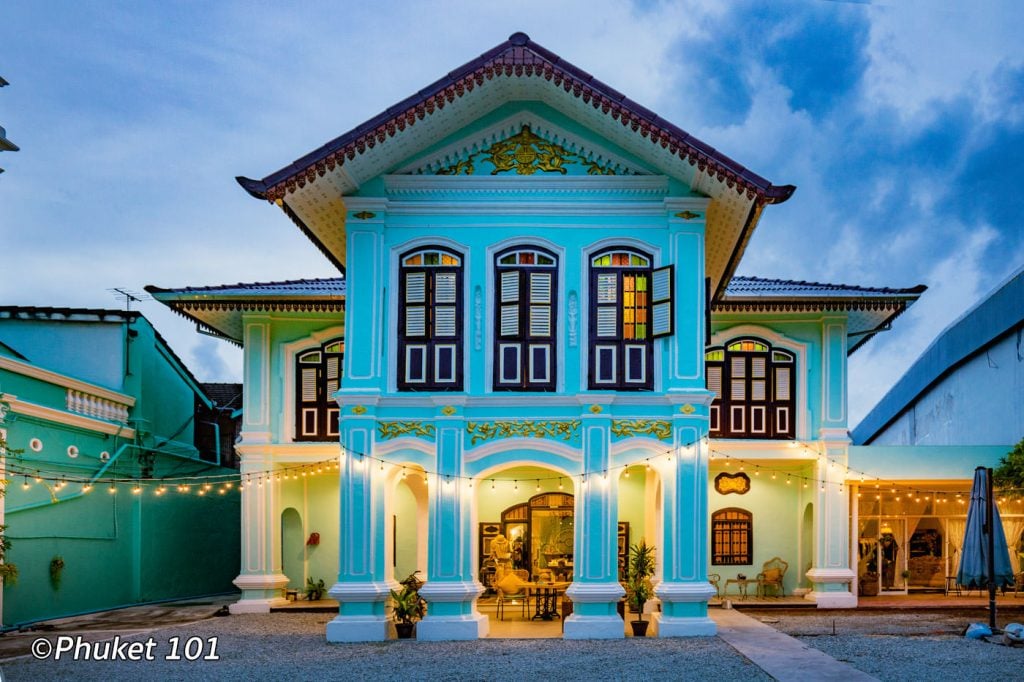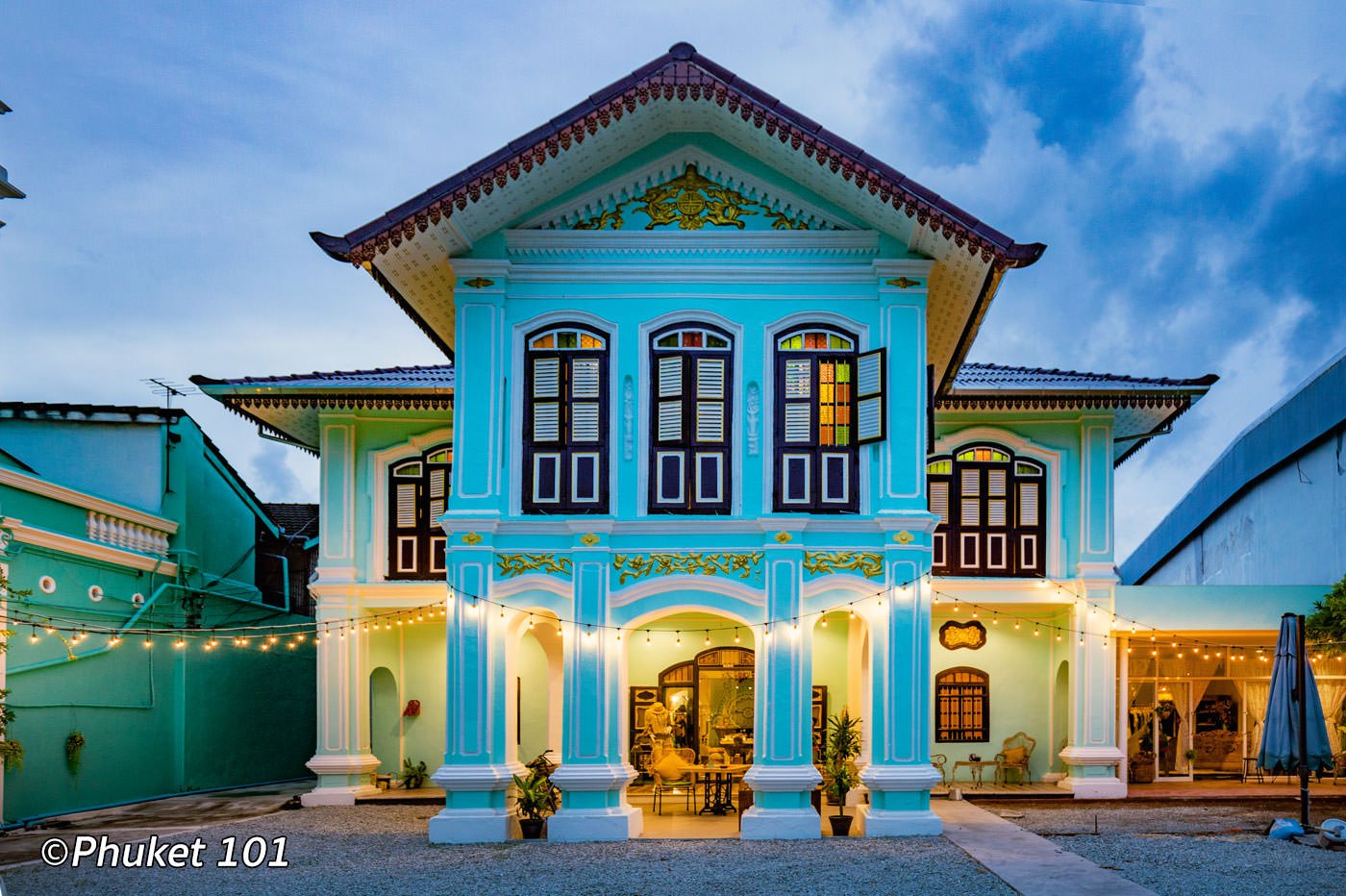 If you cross the intersection and continue on the other side of Yaowarat road, you will find three small mansions well maintained. One of them is the lovely Endless Summer coffee shop and boutique (K).
---
6. Krabi Road
Turn left to enjoy the many superb shop houses all along Krabi road, notably the surprising Thai Hua Museum (E). You should stop and visit it; it tells you what made Phuket what it is today. Several of them became coffee shops, heritage hotels and guesthouses.
Continue further until you reach the Satun road intersection, where you will find two major Phuket landmarks:
The Blue Elephant Restaurant (F) is a magnificent mansion built in a vast park that used to be the governor's residence. It is now a fancy Thai restaurant and an upmarket cooking class. The price for a meal is relatively high, but you are welcome to drink at the bar or even browse the souvenir shop for free.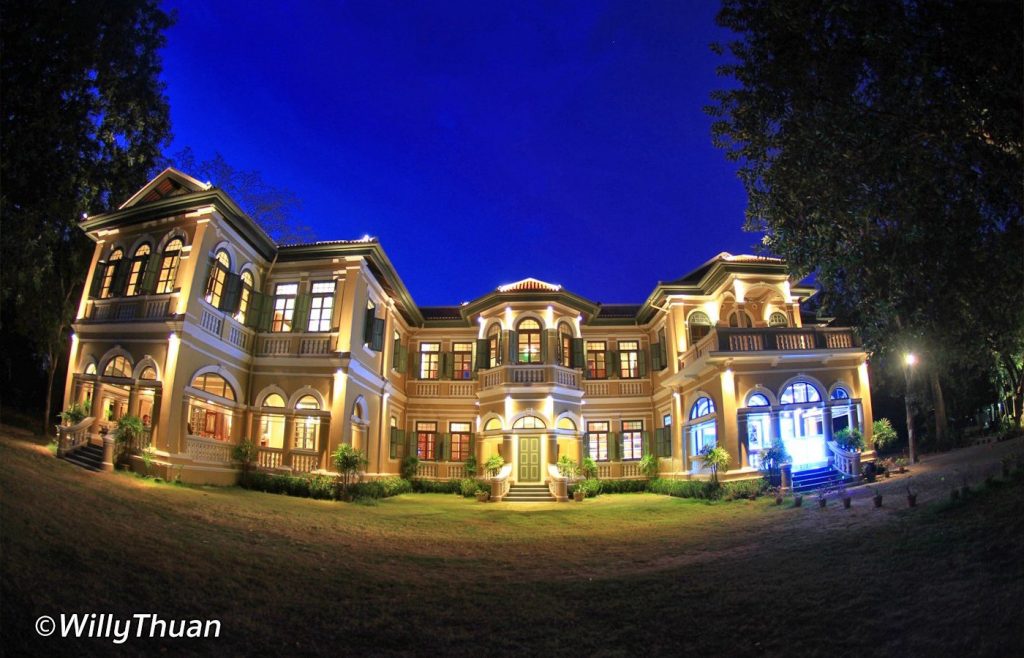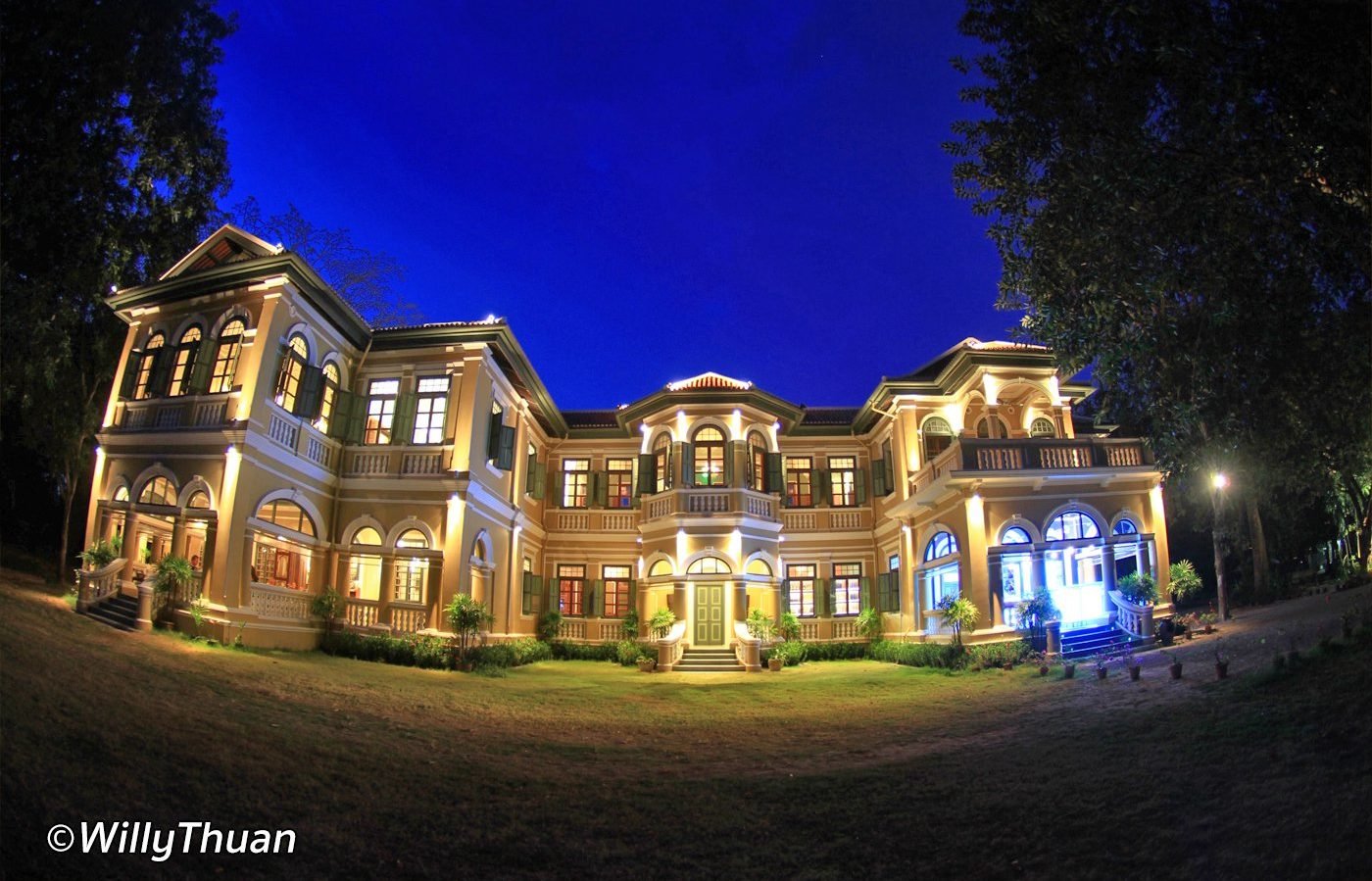 Just next to it, the Chinpracha mansion (G) is a privately owned museum that appeared in several famous movies. It is relatively modest, but you should visit it as it might disappear anytime as the owner passed away not long ago.
To go back, turn left at Blue Elephant (F) into Satun road. From there, please take the next right into Dibuk Road, where you will find Luang Amnart Nararak Mansion (H), another beautiful Sino Portuguese that still stands in its original condition.
---
7. Ratsada Road
If you choose to walk back through Phuket road, you will step back two buildings impressive in an unusual way. The first one is the quirky Thavorn museum (T), hidden inside the Thavorn hotel, probably the first hotel on the island. The museum consists mostly of a weird collection of old toys, photos and a mountain of objects from a vague past time of Phuket, most of which are the old apparatus used and the hotel history. It's rather fun and very dusty!
Behind the Thavorn Museum, don't miss the next U shape street on your left as a fantastic old mansion (U) still stands proudly beyond a wall. Most of the time, the villa's gate is open, so if you are not shy, walk in and act normal, just as I did countless times to get my photos. After this mansion, you will be pretty much on your way back to the fountain circle (C).
---
8. Phuket Road
Phuket road doesn't have many significant landmarks, but it connects Thalang Raod to Ratsada road. It is mostly known for Casa Blanca hotel, Quip rooftop bar and the excellent One Chun local restaurant mentioned in the Phuket Michelin Guide.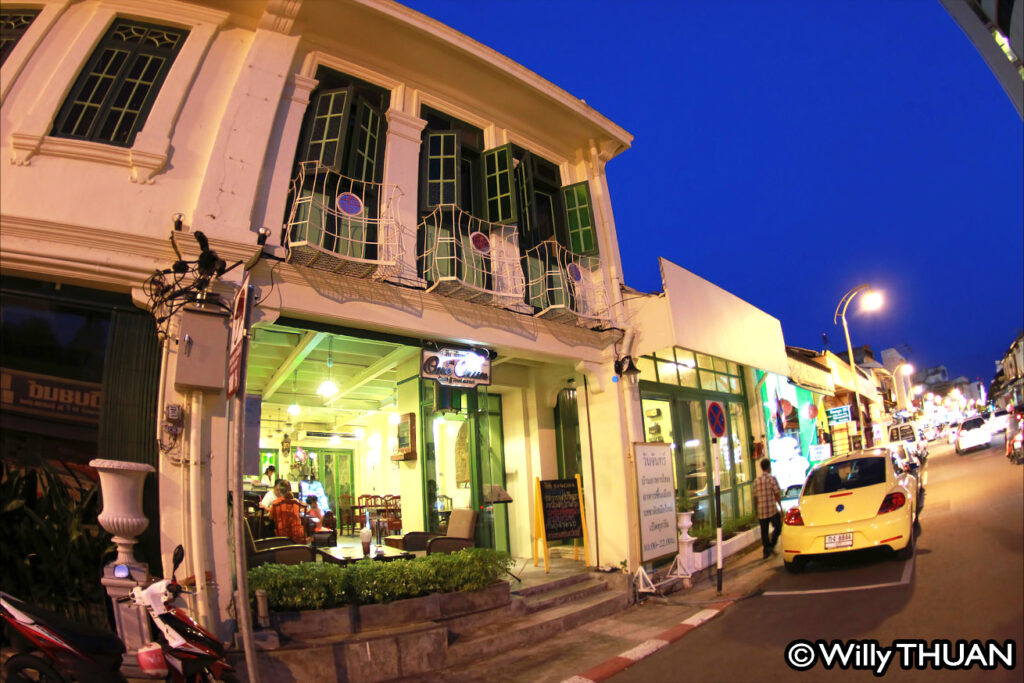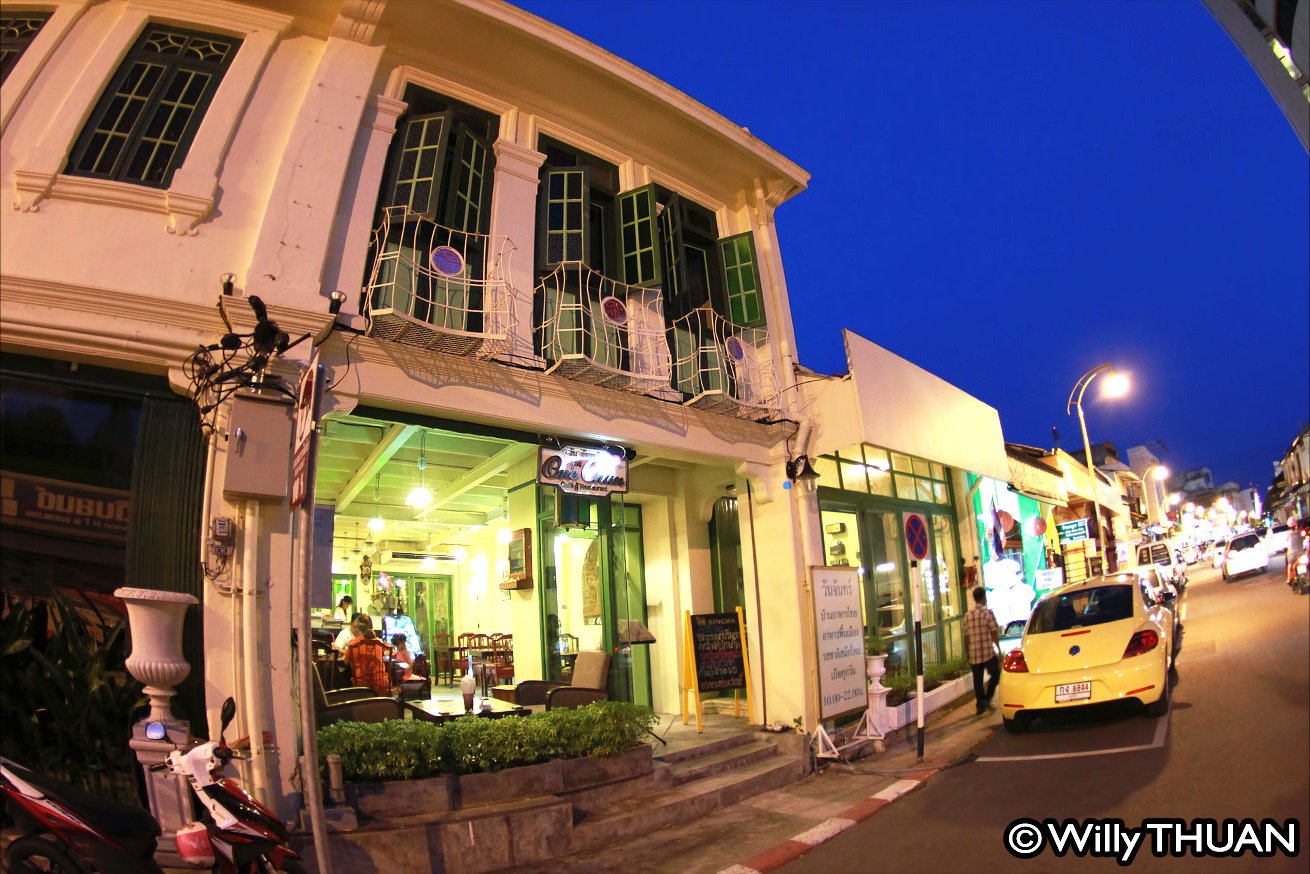 ---
9. Ranong Road
If you came to town on a local blue bus, you will arrive on Ranong road, next to the Phuket City Market (A), which could be the first or last item on your list. The market consists of the main building where the buses stop and the old open-air market just across the street. Both are fun to explore as you will see veggies, fruits and spices you might never have seen before.
Don't miss the Thai Airways office (B) in the same area, a superbly renovated white Sino-Portuguese house. Unfortunately, you can only take exterior photos from the parking, as the building is not open to the public.
If you continue walking following the traffic flow, you will reach the Jui Tui shrine (Z), a significant Chinese temple during the Phuket Vegetarian Festival. Further, the unique Lor Rong market (a) selling very typical Phuket foods and confectioneries.
Note that our story highlights the prominent landmarks and points of interest, but there is a lot more to enjoy, so keep your eyes open!
---
Walking Map of Phuket Town
---
Video of Driving Through Phuket Town
---
---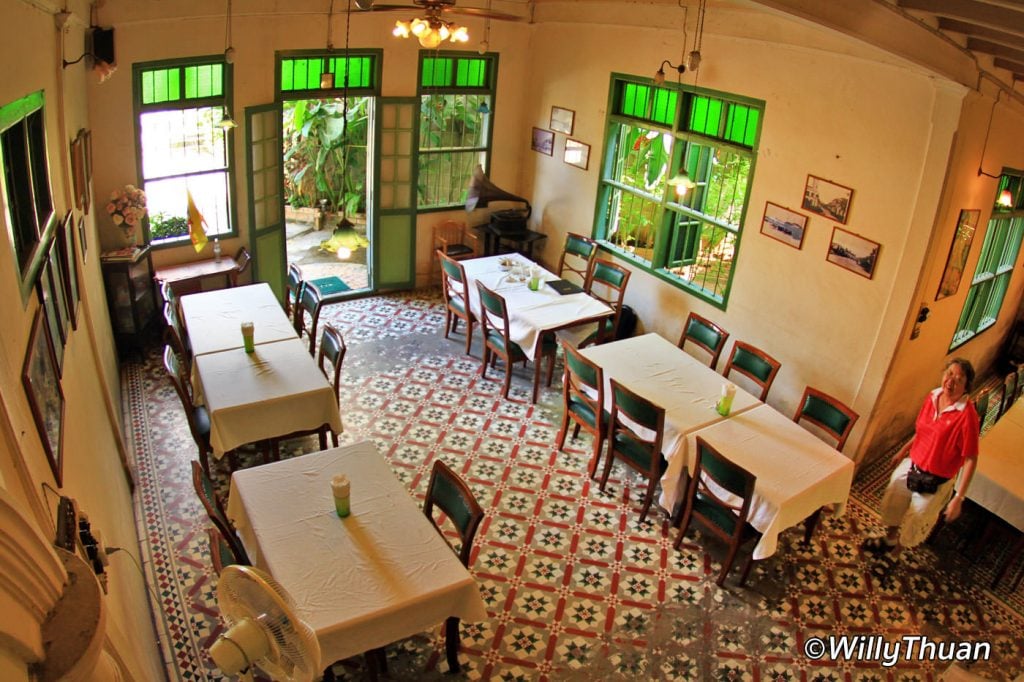 ---
Rate this page:
---
FAQs about Phuket Town