---
Try real Phuket food at Lock Tien Food Court
---
Lock Tien food court in Phuket Town is a place every person living in Phuket long enough knows. It doesn't look like much but with 50 years old history, it's probably the oldest food court on the island. What really matters is that Lock Tien serves some real Phuket specialities.
The location at the intersection of Dibuk and Yaowarat roads makes it a perfect stop for a light lunch. The staff is friendly and the prices are too. It's cheap, very fast and they have plenty of seats so you won't feel cramped.
---
Hokkien fried noodle
You can even take a short break at any time of the day as part of your Phuket discovery. Try their Hokkien fried noodle, good satay and the very popular Po Pia Sot (fresh spring rolls).
Po Pia Sot (fresh spring rolls).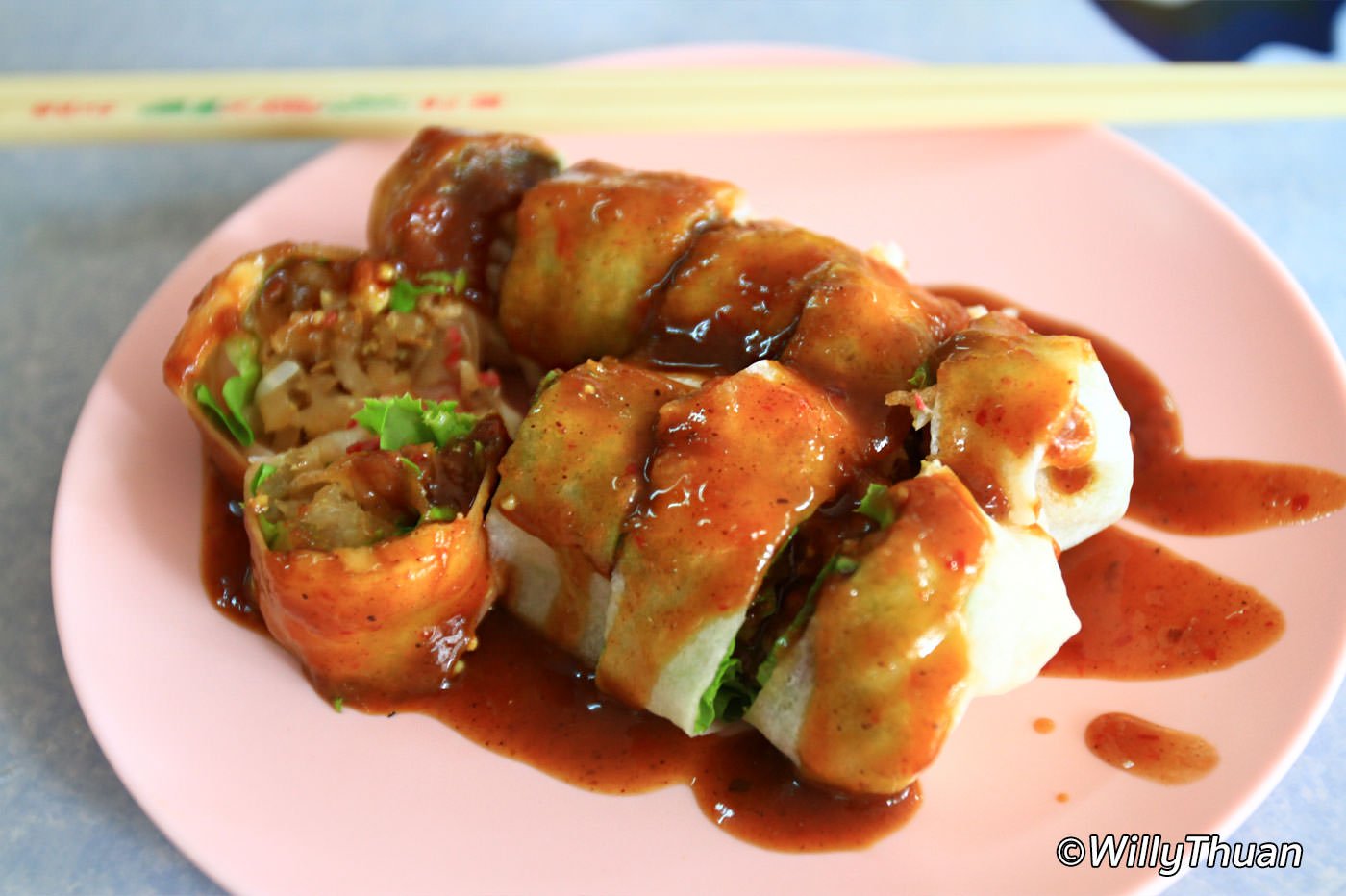 Po Pia Sot is a type of Thai spring roll that is made with a mixture of vegetables and sometimes meat, wrapped in a thin wheat flour skin and deep-fried until crispy. It is often served as an appetizer or snack and is a popular dish in Thai cuisine.
---
Lo Ba
Lo Ba is deep-fried pork giblets: intestines, ears and fat belly, pork skin, basically all the least appetizing parts of the pork, served with sweet brown sauce.
---
Mee Hoom Pa Chang
---
Oh Aew
We love to stop over for their Oh Aew, which is a Phuket speciality. This is a great way to cool down with what locals love: simply shaved ice with red sweet syrup, red beans and Oh Aew seeds jelly, which is a Chinese herb. It might sound a little strange to westerners but it actually makes a lot of sense in a hot country where having ice cream can be too heavy.
---
More Photos
---
Lock Tien Food Court Info
Location: Phuket Town – Intersection of Dibuk and Yaowarat roads
Address: 173 Yaowarat Rd, Talat Yai, Mueang Phuket District, Phuket 83000
Open: 9 am – 5 pm
Phone: 087 387 3703
Price: Cheap
---
Lock Tien Food Court Map
Get the directions on your phone: https://goo.gl/maps/cxzdH5ZEZu1RAY6s6
---
More Restaurants in Phuket Town
---
Your Phuket Town Travel Guide