What to do in Koh Yao Noi?
Koh Yao Noi is a small island just 20 kilometres away by boat from the east coast of Phuket. Koh Yao consists of two distinct islands: the smallest and most populated is Koh Yao Noi (Noi stands for small), and the largest but mostly uninhabited is Koh Yao Yai (Yai stands for large). Koh Yao Noi is where most people spend long weekends in one of the many hotels along the coast.
Koh Yao has a unique charm that doesn't address everyone because there are no wide sandy beaches as you see them on the west coast of Phuket or in Koh Phi Phi and Coral Island. Instead, the island is small and naturally beautiful, very green and covered with dense tropical vegetation. A few well-paved roads allow you to drive all around the island in less than two hours by motorbike.
Visitors can admire the famous limestone rocks and cliffs of the nearby Phang Nga Bay all around the island. It is very a very unique and fascinating destination, no matter the weather. It's not an island with wide sandy beaches, but the atmosphere is fantastic. It is so close to Phuket and yet, feels like a whole different part of Thailand.
What to do on and from Koh Yao
What to do in Koh Yao Noi?
Save a day to drive around the island and take the time to see how the local seems to be still as it was forever (almost). The east coast is where you will enjoy small beaches and most hotels, and the west coast is covered with mangroves.
As you drive around, don't miss the vast area dedicated to rice fields. If you come at the right time, which should be July, the fields have this unique, intense green colour that is so beautiful in photos. If you are looking for a great spot to take a rice field photo, aim for the fancy Rong Na Cafe, they have superb views from the second floor.
Life here goes slow and is a good reminder of what we may have lost in the new century. Fishing people sell their catch by the road, weave baskets, and grow and harvest rice. On your way around, you will drive through small villages where locals mostly go on with their life the way it seems always to have been.
Phuket 101 receives 250,000 monthly visitors on average (500,000 pageviews/month).
If you wish to advertise on this space or other options available on Phuket 101, just contact us.
Cruising around Koh Yao Noi
Lam Haed Beach
Lam Haed Beach is a scenic little beach forming a peninsula at the very north of Koh Yao Yai (the largest of the two Yao islands), covered with white powdery and photogenic coconut trees. You can see the beach from the main pier of Koh Yao Noi, and longtail boats can easily take you there.
Koh Hong is a small and very popular island located halfway between Koh Yao Noi and Krabi, about 7 km from each and technically 30 km east of the closest port of Phuket Island. The island is superb and consists of two enclosed beaches and a bay that reminds a lot of the famous Maya Bay on Phi Phi island.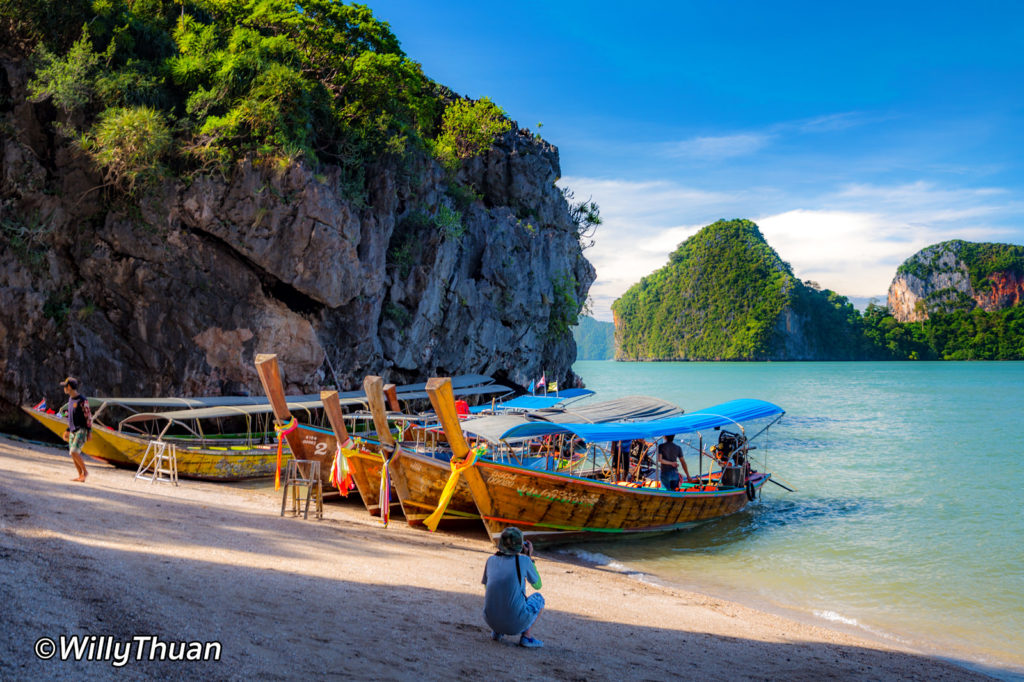 Koh Yao is all about relaxation, exploration and local Thai food. The hotels on the island are designed to be fully enjoyed rather than just a base to sleep, as often is the case in Phuket Island. So save at least one day for a cruise around the fantastic Phang Nga. There are so many stunning islands to stop at, and hundreds of photo opportunities you won't find anywhere else: unique vegetation, cliff climbing, James Bond Island, Koh Panyi village on stilts and even lunch on tiny hidden sandy beaches on a deserted island.
How much better can a weekend in Thailand be? Just ask your hotel what option they can offer. Of course, the best way to spend such a fantastic day is aboard the luxury of a private speedboat, but a longtail boat ride feels a lot more Thai, not to mention a lot cheaper.
Where to stay in Koh Yao Noi?
There are dozens of hotels and bungalows for you to choose from on the island. As usual, the range goes from cheap but charming cottages near the sea to luxurious private pool villas. It is effortless to find and book.
Remember that you will probably spend more time in your hotel than in Phuket or anywhere else. Over the years, we tried 3 hotels in Koh Yao Noi: Koyao Island Resort, Six Sense Yao Noi, and recently 9Hornbills tented camp.
---
Six Senses is the most luxurious resort on the island. The villas are superbly designed with a sustainable mindset, mostly built from wood and natural materials. Each villa is large and well-designed, with a private pool, and most offer a fantastic view of the Phang Nga landscape. The spa is also excellent and a luxury touch to your tropical escape. Six Sense Yao Noi is probably the ultimate way to enjoy a relaxing stay in Koh Yao with your loved one. Read more
Address: 56 Ko Yao Noi, Ko Yao District, Phang-nga 82160
Phone: 076 418 500
Bookings: see the rates
---
Koyao Island Resort is a set of lovely villas spread across a vast manicured land near the seaside, peppered with immense coconut trees. The beautiful thatched roofs of the villas add a unique tropical touch. The design is unique and cosy, with vast sofas in a vast open-air sitting area facing the garden and the sea beyond. Not that each villa is entirely open and therefore offers very little privacy.
Address: 24/2 Moo 5, Tambon Koh Yao, Ko Yao Noi, Ko Yao District, Phang-nga 82160
Hours: Open 24 hours
Phone: 065 640 0064
Bookings: check the rates
---
9 Hornbills is a set of spacious luxury tents built high on the hillside above Six Sense Yao Noi and part of Koyao Island Resort. Each tent has a vast land, a large and warm private pool and jaw-dropping views of Phang Nga cliffs. The tent is superbly designed with many sitting areas, an open-air shower and a beautiful bathtub with open ocean views. The experience is truly relaxing and unique with such a view and setting. Read more
Address: 54/9, Moo 5, Ko Yao Noi, Ko Yao District, Phang-nga 82160
Hours: Open 24 hours
Phone: 065 640 0064
Bookings: see the rates
Where to eat in Koh Yao Noi?
You will find a good choice of restaurants along the coast and inland. Most of them serve Thai food, and some are run by expats, serving Western and Italian food. The island is tiny, and you will always find a good place to eat nearby. For those who prefer not to drive out in the evening, hotels usually serve great Thai food, often served in beautiful settings, a perfect way to end a day by the ocean.
Tha Ton Do Seafood
Tha Ton Do Seafood is a lovely local restaurant entirely made of wood and built on stilts in the middle of the mangrove. The chef is a very friendly and outgoing lady. She is passionate about the food she prepares for her guests, often celebrities travelling from Bangkok. She can recommend some of her dishes and is proud to use only ingredients grown or found on the island, including the local rice grown nearby. You can even purchase bags of dry rice to take home.
The menu is long and well-illustrated, making it easy for non-Thai-speaking guests to choose. The food and atmosphere at Tha Ton Do restaurant are so good that we enjoyed two lunches there.
Address: 46/16 Ko Yao Noi, Ko Yao District, Phang-nga 82160, Thailand
Phone: 080 536 4997
Open: 9 am – 10 pm
Pradu Seafood
Pradu Seafood is another excellent local Thai restaurant next to Tha Ton Do Seafood. The restaurant is divided into two open-air rooms, and the setting is casual and easygoing. The food is delicious and inexpensive, but keep in mind that the restaurant is Muslim, so no alcohol is sold; however, you are allowed to bring your own, which is great once you know it.
Address: Ko Yao Noi, Ko Yao District, Phang-nga 82160
Hours: 9 am – 9 pm
Phone: 095 590 7867
Cafe Kantary
Café Kantary from Cape Kantary Hotel is a small and cosy coffee shop near the sea. As you explore the island, you can stop for a sweet treat with tea, coffee or a smoothie and cool down in the air-conditioned room.
Address: Phang-Nga Rd, Talat Yai, Mueang Phuket District, Phuket 83000, Thailand
Open: 9 am – 9 pm
Phone: 076 592 600
---
Rong Na Cafe and Restaurant
Address: 10/3 Moo 2, Koh Yao Noi Subdistrict, Ban Ko Yao Noi, Phangnga, Thailand 82160
Open 9 am – 9 pm, closed on Wednesday
Phone: 081 892 4123
Where to go at night?
The Sunset Bar is a lovely little gem on the west coast of the south peninsula of the low-key Koh Yao Noi. The bar opens at 4 pm and is very popular at sunset for the beautiful view over the coconut trees. The team is super friendly and skilfully prepares a long list of cocktails at a very good price.
Address: 44, 18 M.5, Koh Yao Noi, Ko Yao District, Phang-nga 82160
Hours: 4 pm – 11 pm
Facebook: https://www.facebook.com/SunsetBarKohYaoNoi/
Sundowner Pirate Bar
The Sundown Pirate Bar is a fun place to end the day in Koh Yao Noi. There are few lively places to have a drink after dinner, and the colourful Sundown Pirate Bar is a welcome haven for music and life. The team is super friendly, and the list of cocktails is long and very well prepared. The bar is also attached to a serious Muay Thai training camp called KYN Phoenix Muay Thai.
Address: 34/8 Moo 5, Lam Sai, Ko Yao Noi, Ko Yao District, Phang-nga 82160
Hours: 4:30 pm – 11 pm
Phone: 091 850 2403
Facebook: https://www.facebook.com/piratesundowner/
How to get to Koh Yao Noi
To travel from Phuket Island to Koh Yao Noi, you can take a speedboat or public ferry from Bang Rong Pier. Speedboats offer a quicker journey of around 30 minutes, while the public ferry takes around 1 to 1.5 hours.
Alternatively, you can hire a private longtail boat for a more personalized experience. Ensure to check the schedules and availability in advance, as they may vary. Consider weather conditions, especially during the monsoon season, as they can impact boat services. It's recommended to gather the latest information from local operators to plan your trip effectively.
Several hotels provide private transfers from Phuket to Koh Yao Noi, but it can be rather costly (9 Hornbills charge 12,300 baht for a one-way private speedboat from Phuket airport to the hotel in Koh Yao (1 hour 15 mn), or 5,300 baht for a one-way longtail boat (1 hour 45 mn). Note that the hotels are located in the northeast part of the island, and the ride takes longer than the Koh Yao main pier, which is in the south.
Getting around the island
The island is small, but you will need wheels to explore it. Driving around is easy, and the traffic is light, so even without too much experience, it is much easier than in Phuket. Contact your hotel to rent a small 150 cc motorbike.
More photos of Koh Yao Noi
---
Koh Yao Noi Map
More Islands Near Phuket
Plan your trip