What to Do at Phuket Sunday Walking Street Market?
Phuket Sunday Walking Street Market is called 'Lard Yai Market' by locals and is now the most popular attraction in Phuket Town. This street market was an instant success, adding a much-needed event to the historical part of town. Every Sunday from 4 pm to 9 pm (and often beyond) the once quiet Thalang Road turns itself into a busy street.
Night markets are not new to Phuket. The original Phuket Weekend Market (Talad Tai Rod) located on the outskirt of town near Central Festival has always been a trendy weekend destination. But what is on sale over there is not as fun nor creative as the Phuket Walking Street (The weekend market sells a lot of copy tee shirts and cheap jeans).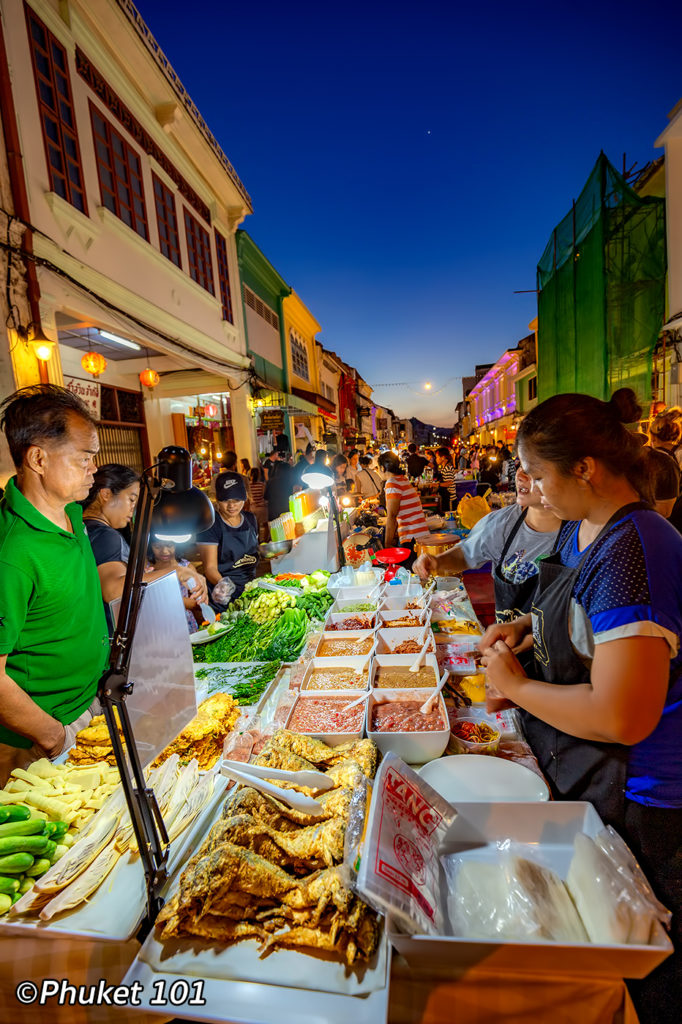 Downtown Phuket town you also have the 'Indy Market', adjacent to a modest shopping mall. Indy Market paved the way for this much larger street market located in the heart of the historical street of Phuket town. Teens are gathering for street performances, Thai people sell their creations and designs, all kinds of personal items, and many local sweets and cakes.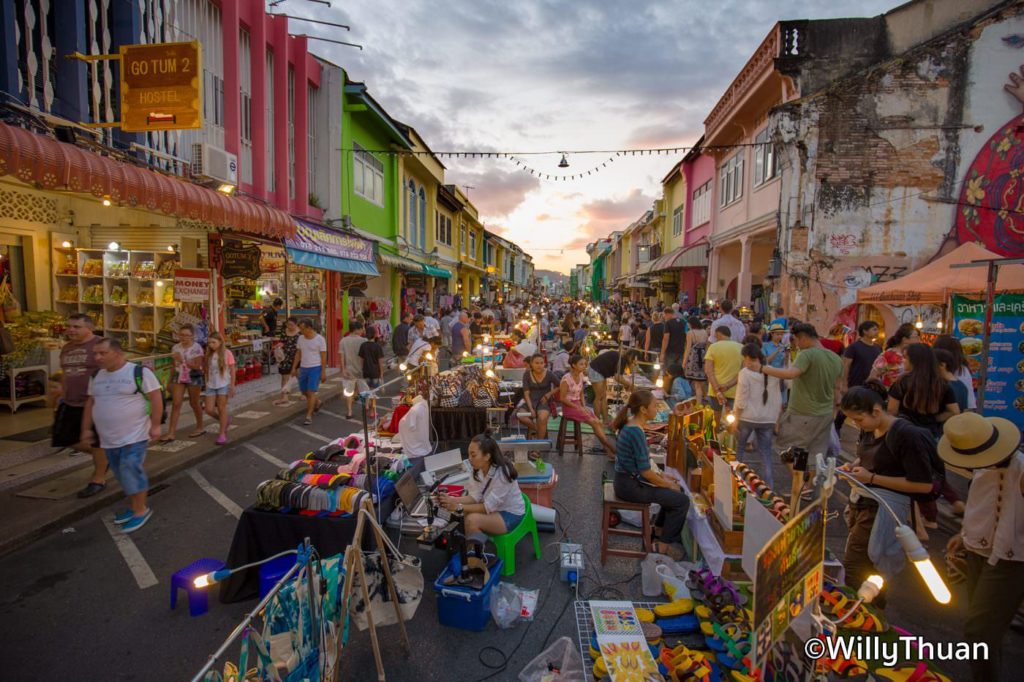 The Phuket Street Market brings the Indy Market concept to a whole new level in Thalang road. This beautiful old street is very proud to be the first road on the entire island free of any of those ugly electric cables usually hanging like a giant inextricable mess.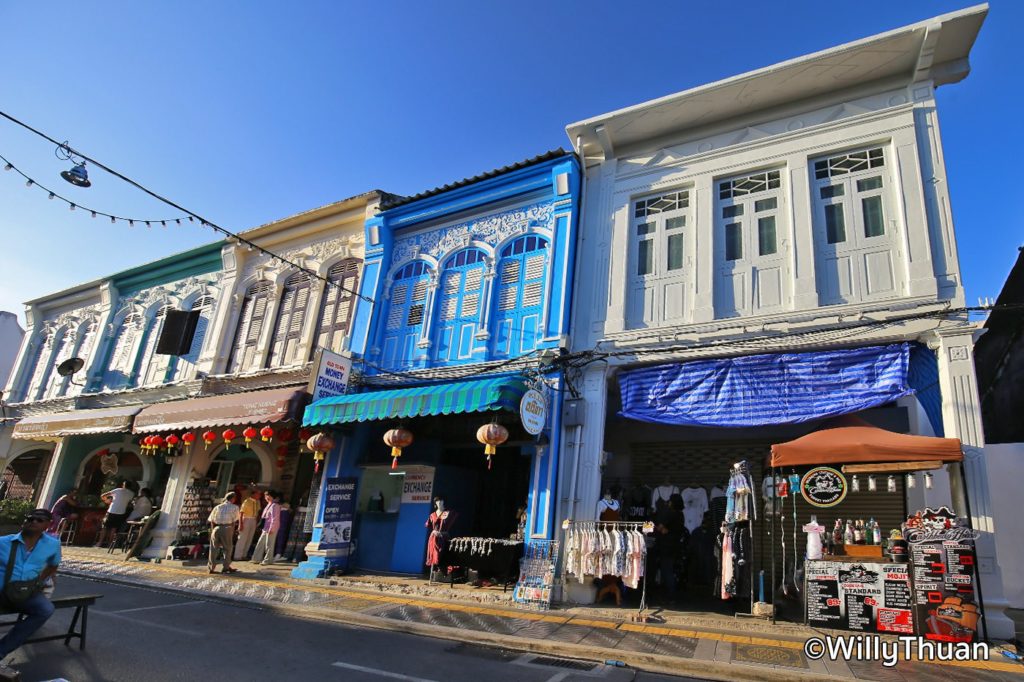 ---
What to Eat at the Market?
Stretching from Thepkasattri Road Phuket Road, all the Sino-Portuguese houses along Thalang Road wear ever-changing colour lights that add a touch to the festive mood. On each side and in the middle of this now busy street you'll find food, ice creams, drinks.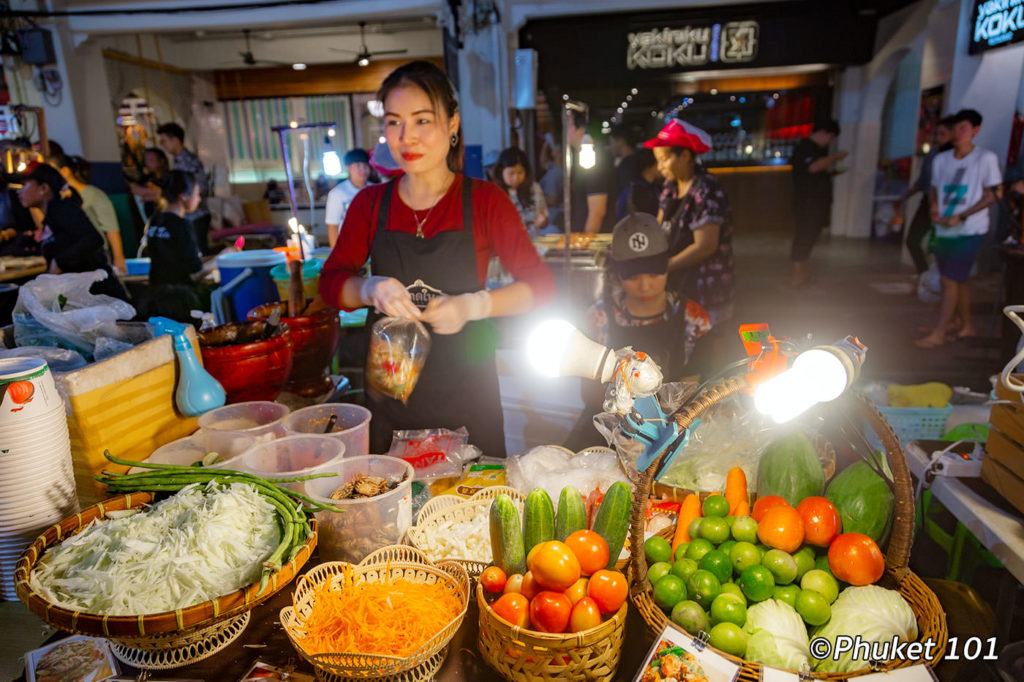 The market is a chance for you to try one of the Phuket specialities. There are so many; it may be a little overwhelming, so following your instinct if you are not sure. You'll find an excellent mix of sweets and snacks and everyone seems to find something to nibble as they walk. Locals also buy some food to take home, which is something people do a lot here. The weirdest thing was a horseshoe crab salad, something for the brave. It's good but can have a fishy taste.)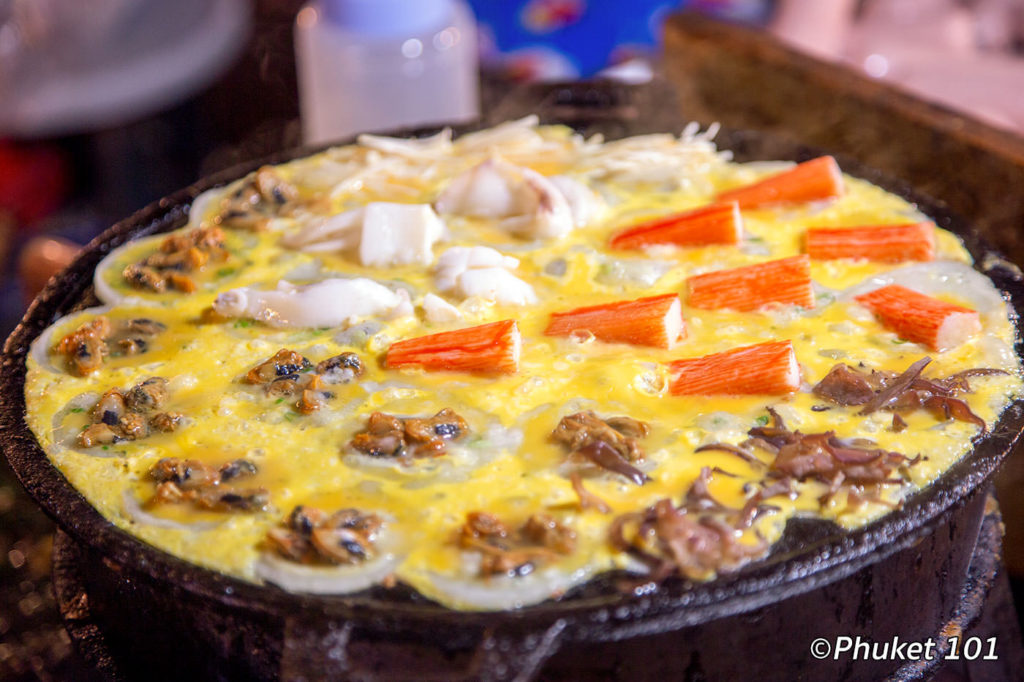 ---
What to Buy?
The amount of goods on sale is staggering, and most of the shops along the street continue their daily trade on Sunday, enjoying a regain of popularity in this street usually dead quiet on weekends. You will find tons of tee shirts, mostly saying something about Phuket, stuffed animals and printed fabrics and accessories. Indigo casual wear is trendy at the moment.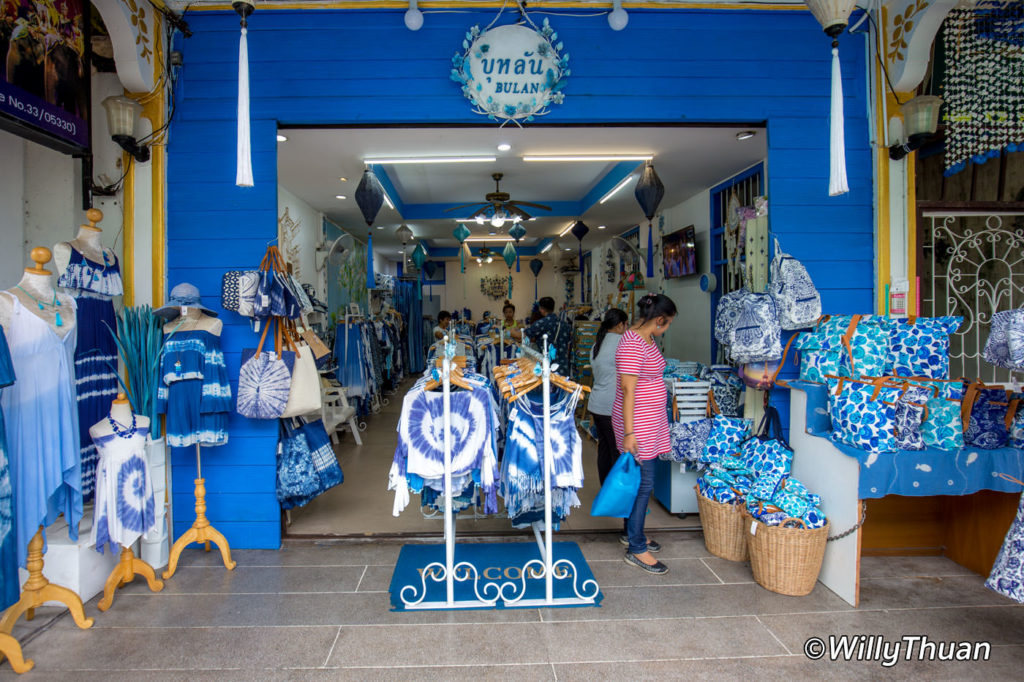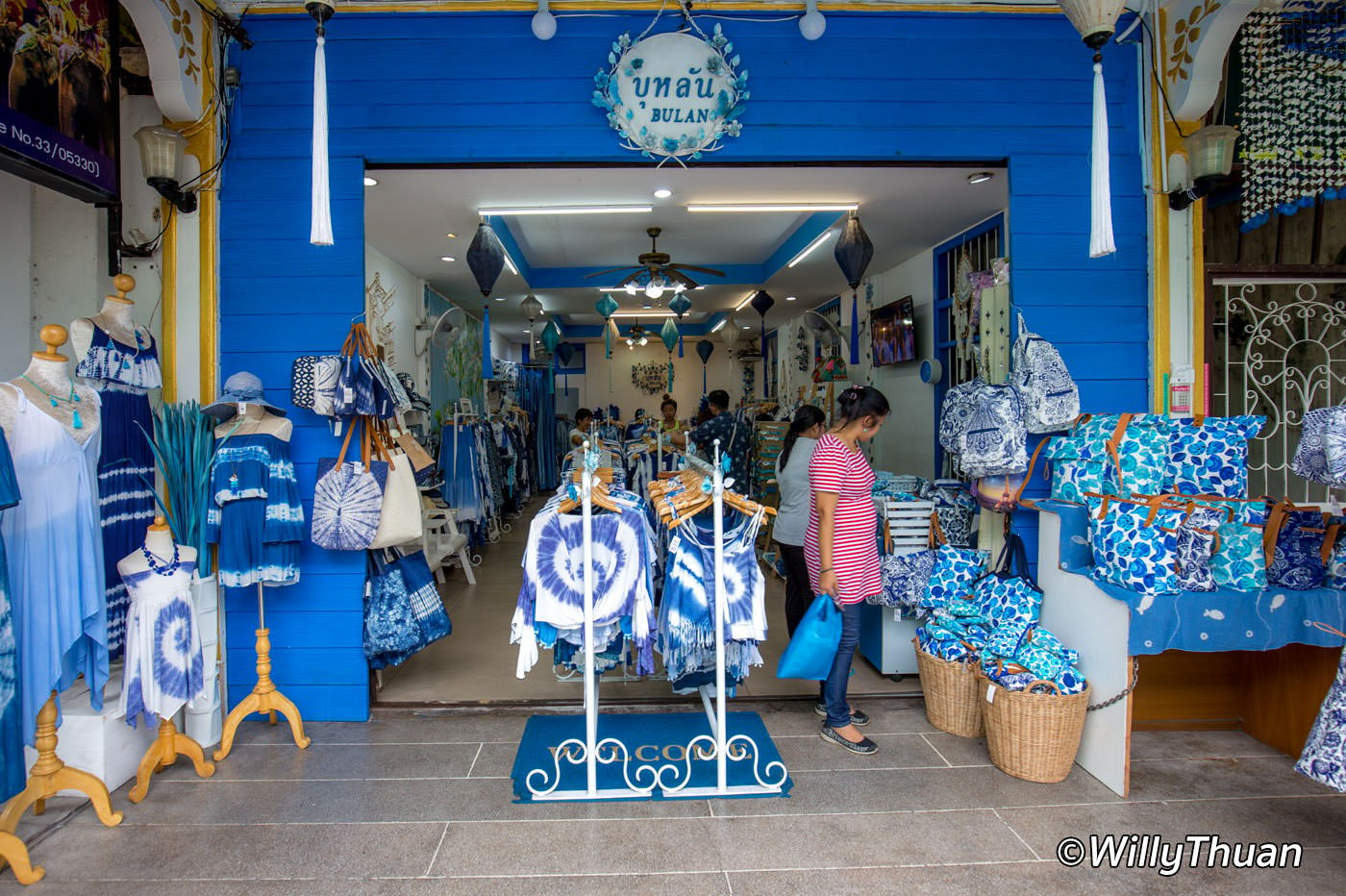 Enjoy some of the street performances, music or dancing but don't forget to give a little something to keep the place alive. We saw that many people enjoy some of the fun or even take photos and walk away, so be generous: what is small money for you but might mean a lot to the young artists 🙂
The Phuket Street Market is open every Sunday from 4 pm to 10 pm on Thalang Road, right in the middle of town. Have fun!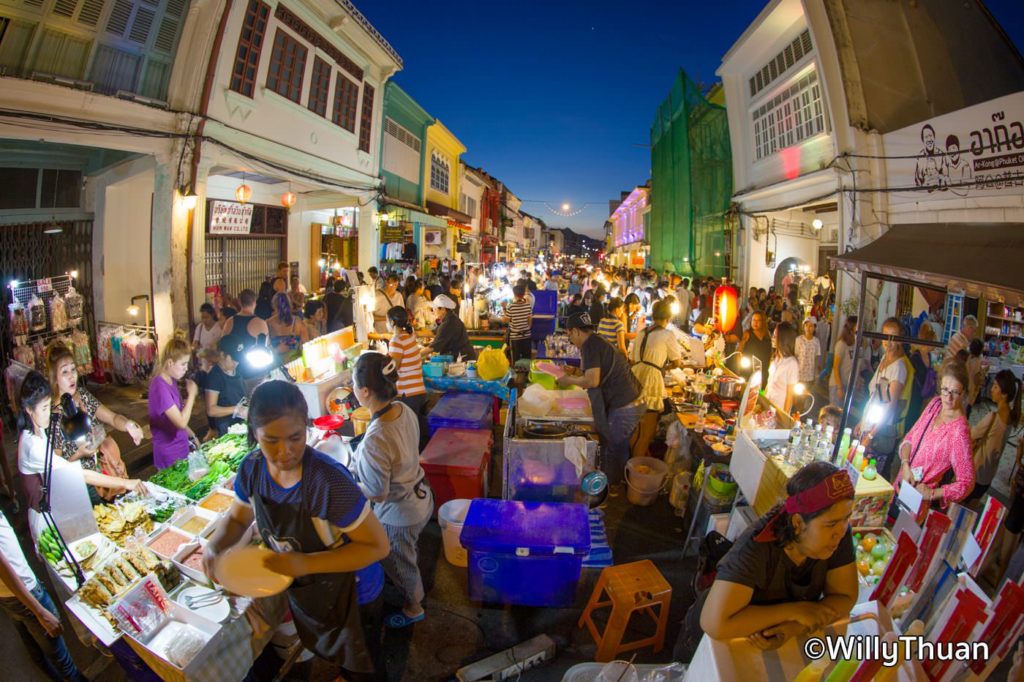 ---
Phuket Walking Street Photos
---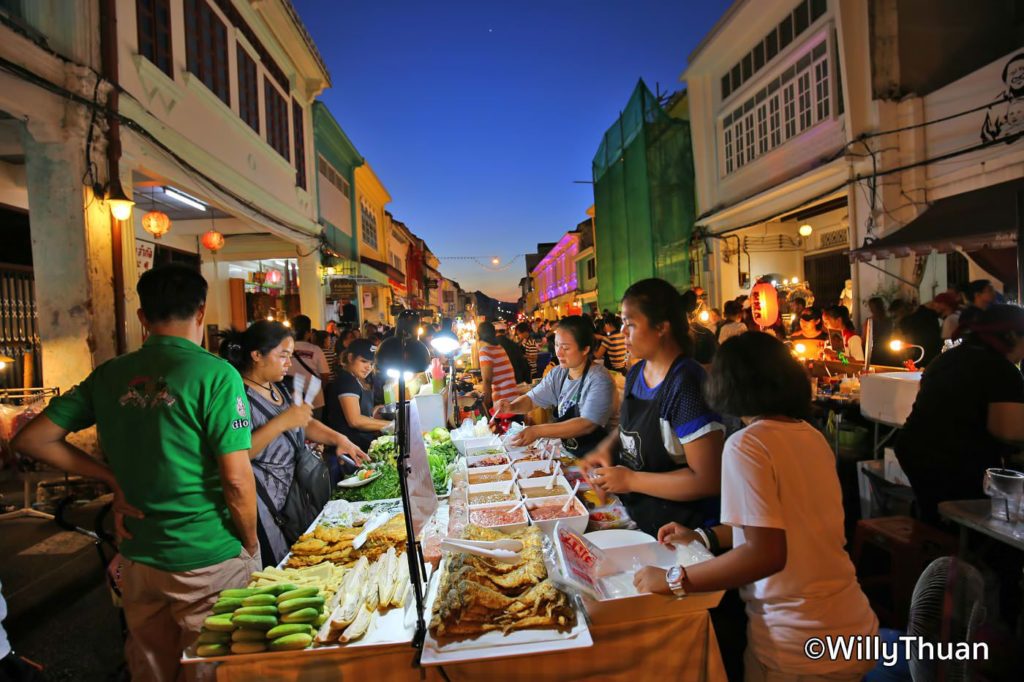 Phuket Walking Street Market Info
Location: Thalang Road, Phuket Town
Open: Sunday 4 pm – 9 pm
Phone: 081 677 9851
Price: Free

How to get to Phuket Walking Street Market?
You can easily go to the walking street market by local bus or smart bus, tuk-tuk, taxi or self-driving:
From Patong Beach to the street market: 14 km
From Kata Beach to the street market: 16 km
From Bangtao Beach to the street market: 22 km
From Phuket Airport to the street market: 32 km
---
Phuket Walking Street Market Map
Open this map on your phone ▷ https://goo.gl/maps/iHywJPXstsMomvey5