The art of driving in Phuket
Renting a car or a motorbike in Phuket seems one of the best ways to get around freely at a low cost. With so many things to see, you want to be able to go anywhere, anytime. But driving in Phuket comes with a few risks and dangers. Following these basic rules might help to avoid unnecessary trouble. It's not as bad as it seems, but it can be surprising.
The best is to rent from a well-known international brand, usually at Phuket Airport or from your hotel; easy, safe and worry-free. It might also be a good idea to get full insurance to cover all possible costs, and you can even rent a GPS for 100 baht to find your way around.
You'll need an international driving license, a credit card, and a passport. If you choose to rent from a private company, only use reputable companies, as scams are not unusual when the car gets scratched, not to mention an accident. Renting a car in Phuket seems to start at 1,000 baht daily for a Honda Jazz size.
Sponsored
Bikago Scooter Rentals in Phuket offers a diverse selection of impeccably maintained scooters and motorbikes. Bikago focuses on your convenience as its dedicated team delivers scooters right to your location anywhere in Phuket and streamlines the return process. Additionally, with Bikago, you can obtain your international driver's license online, and get damage and theft insurance with your rental scooter and they offer 24/7 Roadside Assistance and Customer Care. No passport is taken, nor a cash deposit is required. Becoming part of our ever-growing community of over 50,000 satisfied customers is quick and easy.
Book online through https://www.bikago.com or if you have any questions do not hesitate to contact us through:
WhatsApp: +6676606607
Facebook: /bikago.rental/
Instagram: /bikago.bikerental
Location: Bang Tao Beach - Map: click here
You'll find motorbike rentals everywhere, but none come with full insurance, and those on the streets are often poorly insured. Expect to pay 150 to 200 baht daily for the first model (automatic gear). If you rent it monthly, it can go as low as 95 baht a day, but you better practice your bargaining skills! You will need an international driving license and passport: police controls are quite frequent, and even though the usual and official 500 baht fine could be considered small, it's a frustration and a waste of time. You should never leave your passport at the shop, just a copy!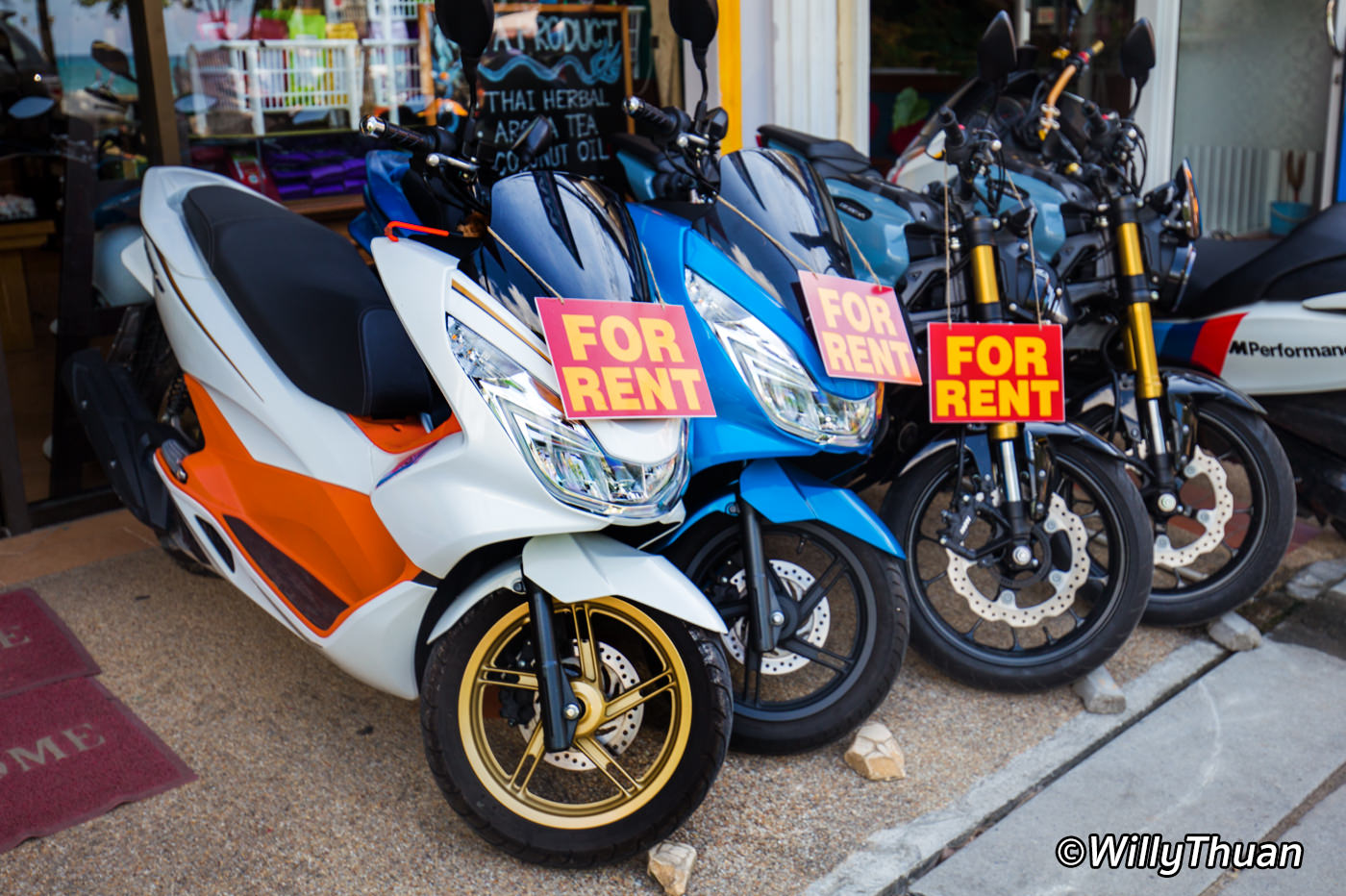 Rent only from your hotel or a recommended rental shop (see below), and you will also save yourself possible 'trouble' (someone might steal your bike). Large rental shops often rent bikes as well. Until recently, you could rent very big bikes as they didn't require a special motorbike driving license (Thais need 2: one for the car and one for the bike). Just remember, with bigger bikes come seriously bigger risks, and accidents are unfortunately very frequent.
Except that you'll have to drive on the left side of the road if you are unfamiliar with it, the rest seems quite normal at first, but be ready; you are in for a surprise (or two). Bikes often drive on the wrong side of the road as a shortcut and take over on the left as much as on the right, especially at traffic lights, so keep an eye on your three mirrors. This is not allowed in western countries, and you might get a bad surprise when turning left or right across a street.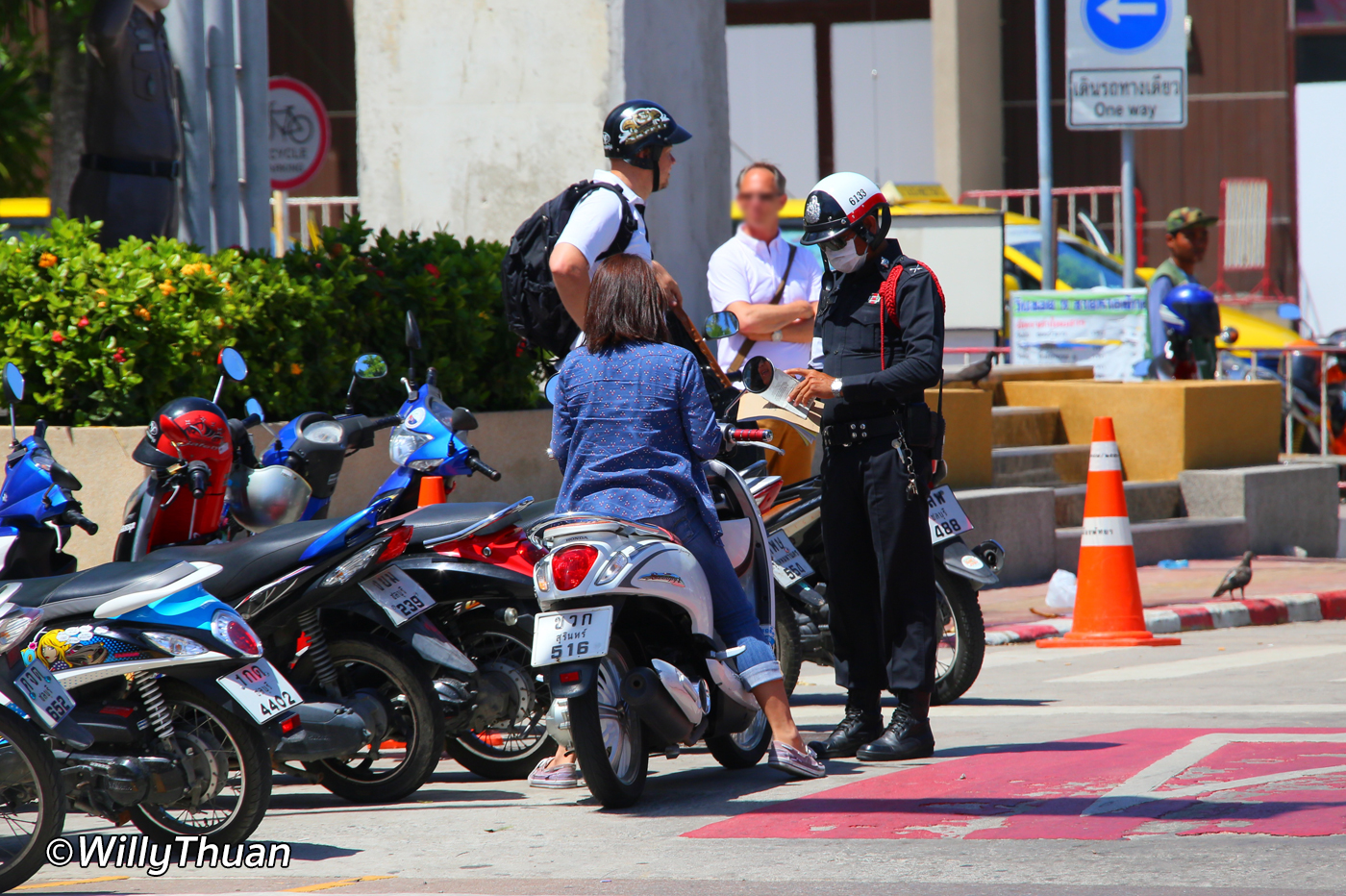 Beware of the slippery roads (water or sand), and never assume that someone will give way, even at a stop sign, until you make eye contact. Read more
4. Other Fun Facts
You will try to stop at the orange light, but everyone else speeds up in Phuket! You might even see an eighteen wheels truck crossing an intersection up to 3-4 seconds after the traffic light has turned red! Equally, when your traffic light turns green, do as the locals do: still, check on the right if an eighteen wheels truck is not coming through at full speed! I saw it!

A tree branch on the road means there is a car, a truck or a bus stopped somewhere on the road ahead with some engine trouble (You would normally use a reflecting triangle).
Helmets (and seat belts) are compulsory, but you will only see half of the riders using one; the rest just carry one in the front basket for eventual police checkpoints, in which case they'll pop the helmet onto their heads for two minutes and drop it back in the basket once… 'safe'. Backseat passenger is also required to wear a helmet. Phuket has been resistant to this law, and when you see four riders on the same bike, that will make many helmets to carry anyway! Remember, even though riding a bike on a tropical island is much more fun with your hair flying in the wind, the helmet is for your safety!
5. In Case of an accident in Phuket: Call 1155
Get someone to call 191 or better: 1155, the tourist police number and call an ambulance if necessary. For an Ambulance, call 1554. You might hear all kinds of stories, but you will stand better chances with an English-speaking police officer, even if just a little. Unfortunately, by definition, you are 'Farang' ('foreigner' or 'tourist') and, therefore, will be considered richer and will have to pay for the damage, even in blatant cases.
Other surprising facts: In the case of an accident between a car and a bike, the car will most of the time have to pay (A car is more expensive than a bike, therefore has more money). If you are a foreigner driving a car and hit a bike, then it's double trouble. Do not move any vehicle, even if you are causing a traffic jam. Call your insurance; they usually send someone to help with the paperwork or call your rental company. If you drink and drive, you are taking a higher chance; police controls are rare but exist, so sometimes it's better to take a Tuk-Tuk back to your hotel and pick up your bike the next day.
In conclusion, yes, it's fun, convenient and cheap, but be always aware and maybe get insurance before living to put all the chances on your side!
---
More Practical Info about Phuket