---
What are the most popular tours in Phuket?
---
There is a lot to explore in and around Phuket, and many places are easy to reach, so what are the Best Phuket Tours? Some other great places need a boat or a minibus ride and a bit of planning. We list here 10 of the most popular day trip tours you should consider. Of course, we know there are many more, and we will add them as we try them.
The best Phuket tours start with Phang Nga Bay and often include a few nearby islands, such as Phi Phi and Similan Islands. Tours on the island itself include the Big Buddha, the much revered Chalong temple and the exploration of the old streets of Phuket Town.
(With John Gray Hong by Starlight: 3,950 baht – 11:30 am 10:00 pm – Other tours 1,600 baht)
Phang Nga Bay is a fantastic wonder of the world and is an absolute must-do while in Phuket. As with any favourite Phuket tour, Phang Nga tends to become busy, but it's enormous, and some tours, like the famous John Gray SeaCanoe, know how to take you where and when other tourists don't go. The massive limestone formations rising above the water seem to come straight out of the movie Avatar (or it was possibly the other way around). The place was even featured as a background in one Star Wars episode (the bad one, I think). Phang Nga Bay is one of the best tours in Phuket. Read more
What we like
a) As mentioned above, it's just fantastic.
b) The sea is quiet all year round and even looks better with the big rain clouds!
c) It's not very far, and all tour agents will pick you up at your hotel — no stress.
What We Don't
a) Not every tour is Eco-friendly; some have no real experience and make lots of noise and shout, disturbing the magical peace.
(about 2,800 baht – full day)
Phi Phi seems to be the Phuket tour on everyone's list of islands to visit. It usually is for several reasons: The islands look fabulous, with two bays surrounded by vertical limestone cliffs. The beach parties are notorious and can last all night. Backpackers seem to have made Phi Phi their destination of choice. It also is an excellent snorkelling and diving destination for all levels, from beginners to wreck diving. There is an even more straightforward reason: they saw Maya Bay in the movie "The Beach" and wanted to know the place for themselves. Read more
---
A typical day trip to Phi Phi :
7.30: Pick up at your hotel
8.30: Meet and greet at Royal Phuket Marina, short briefing.
9.30: Departure by speedboat
10.30: Enjoy snorkelling and swimming at Camel Rock, Monkey Bay Sightseeing
11.45: Snorkeling near Phi Phi Don
12.30: Lunch in Tonsai Bay on Phi Phi Don
13.30: Head to Phi Phi Ley: pass by Viking Cave, swim at Piley Lagoon, and Sightseeing at Maya Bay.
15.30: Relax, swim and snorkel on Koh Khai Nai, a small island on the way back.
16.30: Arrive at the pier and depart to your hotel.
---
What's good:
a) It's still beautiful a beautiful island, despite being spoiled mainly by unstoppable construction.
b) It's not very far from Phuket and affordable if you go by ferry
c) The island being in a bay, it is accessible all year round (unlike Similan)
d) Maya Bay is open again!
What's Not:
a) Uncontrolled constructions have spoiled the island, and it keeps extending.
b) Phi Phi can get crowded with young backpackers coming here for a serious party, so it may not be your vision of relaxing beaches.
Usually, James Bond and Koh Panyi are part of any Phang Nga Bay tour. If you have time, we recommend dedicating one day to a Canoe in Phang Nga Bay, then another day to James Bond, Koh Panyi, the village on stilts and the reclining Buddha inside a cave. Read more
---
A typical day trip in Phang Nga Bay with James Bond Island and Koh Panyi Village:
9.00: Pick up at hotel lobby
10.00: Arrive at Royal Phuket Marina
10.30: Visit Phang Nga Bay (James Bond island)
12.00: Buffet Thai lunch at Koh Panyee village
13.00: Visit Khao Thalu to canoe inside a cave
15.30: Visit Naka island for swimming
17.30: Back at the Royal Phuket Marina and back to the hotel
---
What we like:
a) Going there offers amazing photo opportunities; the location and the cruise to get there are jaw-dropping.
b) The village on stilts is unique, unusual and fun to explore.
What we don't:
a) It's super touristic, so expect a lot of people at midday, which spoils a bit the exotic feeling
(about 1,300 baht for both islands – full day)
Often packaged as one Phuket tour day trip, those two beautiful islands have white sandy beaches and the typical atmosphere of small tropical islands. They offer excellent snorkelling opportunities with plenty of fish coming and swimming around you. Racha Island is excellent for diving, especially for first-timers. Read more
A typical Day trip to Coral and Racha Islands by speedboat
8.30: Pick up from your hotel lobby
09.00: Depart from Chalong Pier to Racha Island, and enjoy snorkelling and swimming
12.30: Depart from Racha Island to Coral island and have lunch at Kahung restaurant
14.30: Snorkeling, swimming and relaxing on the beach
16.30: Back to the pier and sent back to your hotel
---
What we like:
a) It's accessible all year round, and it doesn't take too long to reach
What we don't:
a) It can be bustling and touristic
(about 2,600 baht – full day)
Unique and beautiful, the Similans have the white sand and blue water you only see in postcards. It's so strikingly beautiful that your friends might believe you photoshopped your photos. But it is that blue even in photos taken with a mobile phone!
It used to be possible to spend the night in a tent or a basic bungalow with air-conditioning, but it seems that this option is not available at this time! Apart from snorkelling, sunning, and a small restaurant, there is not much to do, but it's a Robinson Crusoe experience you don't want to miss. Read more
---
A typical day trip to the Similans
6.00: Pick up from the hotel lobby
9.00: Depart to Similan island
10.20: Visit Miang Island (Koh 4) for swimming and snorkelling
11.30: Have a Thai lunch box on the island
12.00: Visit Payu Island (Koh 7 )for swimming and snorkelling
13.00: Visit Ba-ngu (Koh 9) for swimming and snorkelling
14.00: Visit Similan island (Koh 8) for swimming and snorkelling and climbing the viewpoint at Sailing rock
15.00: Back to the pier
16.30: Transfer back to your hotel
---
What we like:
a) Everything!
What we don't:
a) It's closed half-year during the low season, mostly because of the sea condition.
b) It's quite a long way from Phuket. Usually, a van takes you from Phuket to Takua Pa, then 1.30 hours by speedboat
(about 1,900 baht – Full day)
Tours usually go to Hong Island, a fantastic little bay that reminds a lot of Maya Bay from the movie The Beach, but is smaller and less crowded. It's pretty much how you could imagine Robinson Crusoe island. Stop also at the tiny Koh Khai island, found just a few kilometres off Phuket looks like a cartoon postcard of a tropical island. There is not much to do there apart from sunbathing, snorkelling or swimming with hundred fish and drinking fresh coconuts. It's so back to basics but isn't it why you came to Phuket in the first place?
What we like:
a) It's an easy, relaxing day out
b) Plenty of photo opportunities to post on your Facebook and drive your friends insane
What we don't:
a) Nothing actually
(about 900 baht – half day)
In recent years, Phuket town has become a charming city with several historic streets and many beautiful old Sino-Portuguese mansions, some renovated and some partly run down. You might get to see some local markets and even visit some Thai temple and their typical intricate gold, red and green roofs. Exploring the picturesque street now full of little cafes and shops is a popular photo opportunity, mostly since they buried those horrible electric cables. Read more
What we like:
a) It's a good exploration day, especially when the weather is not favourable to be on the beach
b) It's not such a big area, so it's easy to walk along the streets and between landmarks
What we don't:
a) It's relatively small, so don't put your expectations too high either
There are now many elephant sanctuaries around the island that allow you to interact with the elephants. You can feed them, walk with them and get unforgettable memories. The old fashion elephant trekking is over! Ask your hotel or travel agent for one of the sanctuaries but skip the trekking or elephant riding! Read more
What we like:
a) It's fun, unusual and the best way to see real elephants!
What we don't:
a) Some of the sanctuaries may feel a little too touristic (they probably switched from trekking to sanctuary to catch the wave)
(starts 700 baht – 2 hours – Patong beach)
Simon Cabaret is a long-running successful stage performance with beautiful sets and outstanding choreography. Of course, people go to Simon Cabaret for reasons other than the pretty costumes and the show. They want to see the surprisingly beautiful ladyboys with their own eyes! Photos are not allowed during the show, but the 'girls' will happily wait for you outside the theatre for a photo session. Read more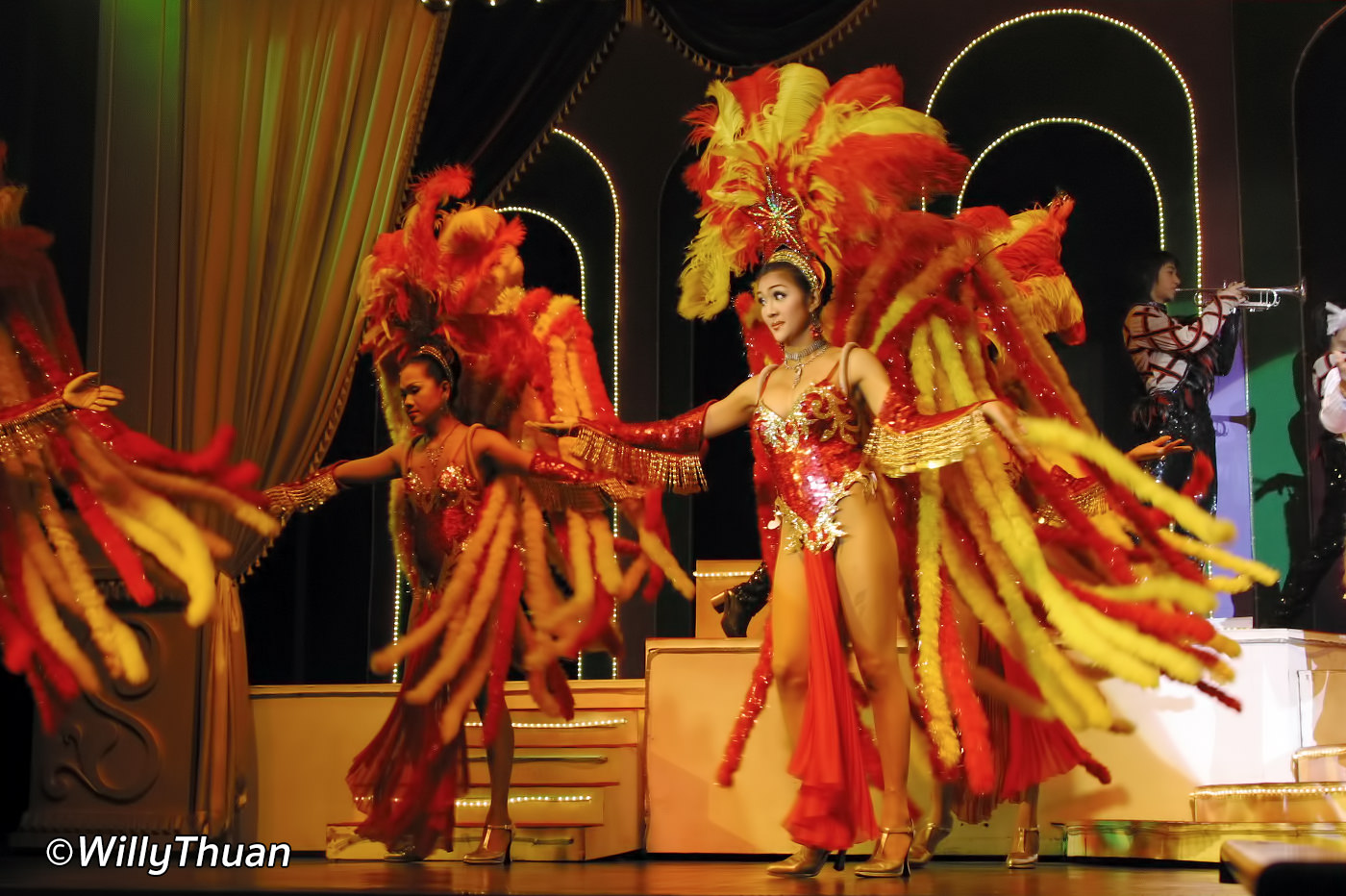 What we like:
a) Excellent stage performance.
b) It's literally in Patong Beach, so you can enjoy the show and still go out for a party after the show
What We Don't:
a) Ladyboys are known to be pushy for a tip if you take photos after the show. They might pick the money from your hand; thank you very much
(starts 1,800 baht – from 5 pm – Kamala Beach – closed on Thursday)
This longtime running show is still top-rated. It's a giant theme park and a professional stage performance with dancers, acrobats and real elephants walking through the audience and then onto the stage. The setting is awe-inspiring, and the exceptionally well-executed show narrates the legend of Kamala, where the park is. Read more
What we like:
a) It's professional and beautifully crafted, including the many buildings in the park.
b) There are a lot of fun photo opportunities outside the theatre.
What we don't:
a) With 2,500 seats, the buffet is too big to be enjoyable
b) The elephants performing in the show or giving tourists a short ride are a little controversial
c) You can't take photos inside, but we understand that it can be annoying
---
Local Tour Agents in Phuket
---
NOTE: We are not tour agents and do not sell Phuket tours; if you want to get in touch with local tour agents, you can use the directory below. You can also wait to be in Phuket and ask your hotel, they usually can arrange almost anything and often have their tour counter, but it might be a little more expensive. You can ask about it in the street. It's relatively safe.
---
More reading
Phang Nga Bay – The Many Ways to Explore Phang Nga