Exploring Thalang Road
Thalang Road is the most famous street in the historic part of Old Phuket Town. The municipality and owners managed to revive most of the old Sino-Portuguese shophouses and buried the ugly cables Thailand is so famous for. Thalang has become selfie heaven. The street is lined with small cafes, traditional or fashionable boutiques and a few restaurants. All have one thing in common: A few years back, they realized that the cutest cafe attracted more customers! They are now all decorated with memorabilia from the past of Phuket, offering even more selfie opportunities, and some are truly beautiful.
---
What to see and do on Thalang Road
---
All the shophouses along the street are built with the same design. A very long and narrow house with a tiny facade to keep the house cool by allowing a breeze flow through. The front is a door with a window on each side and 2 small windows above (eyes). The covered space in front of each shophouse creates a very long archway that offers shade and shelter, as well as space to displays items on sale.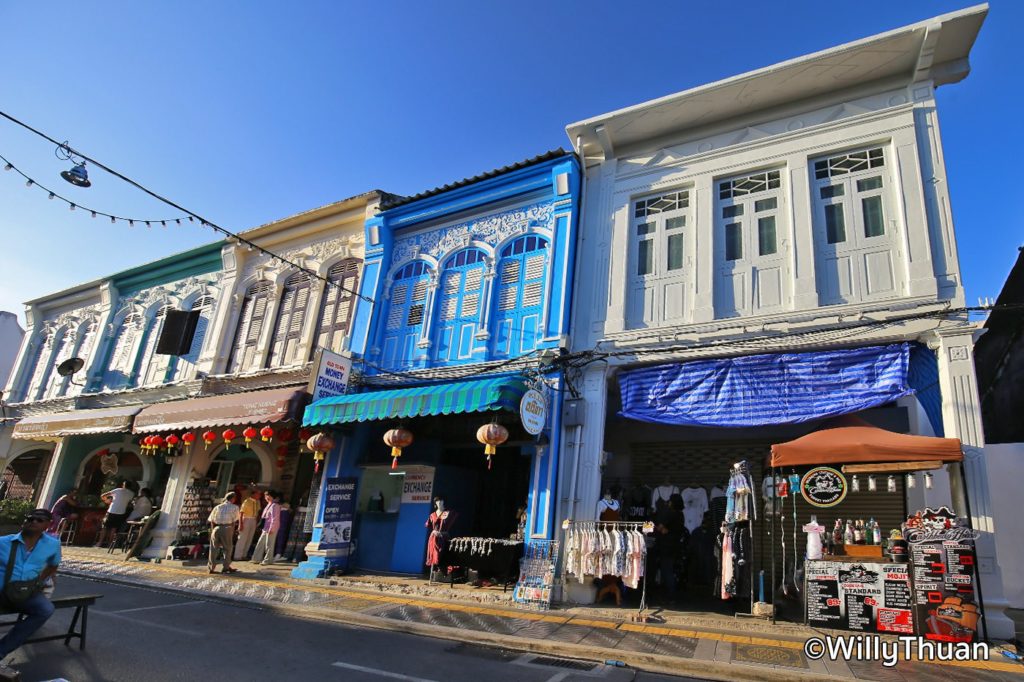 This long walkway has mostly been cleared, and it now has a lot of charm. Wherever you look during the day and even more during the weekend, you will see hordes of young people posing here and there. Even the parking signboard has become a favourite!
but somehow, even though I do appreciate the effort of renovation, I still prefer old houses in their state of old houses. You can feel their story, how many lives they witnessed and how many little secrets they are hiding.
The old Chinese pharmacies are surprisingly timeless, and hairdressers are coming straight out of a 60's movie. If you want to take photos in there, get ready to be told off, people here are running a business, and they are more photographers than buyers. Many shop-house along the street is privately owned, but little by little people move out of Thalang to escape tourist and the lack of parking.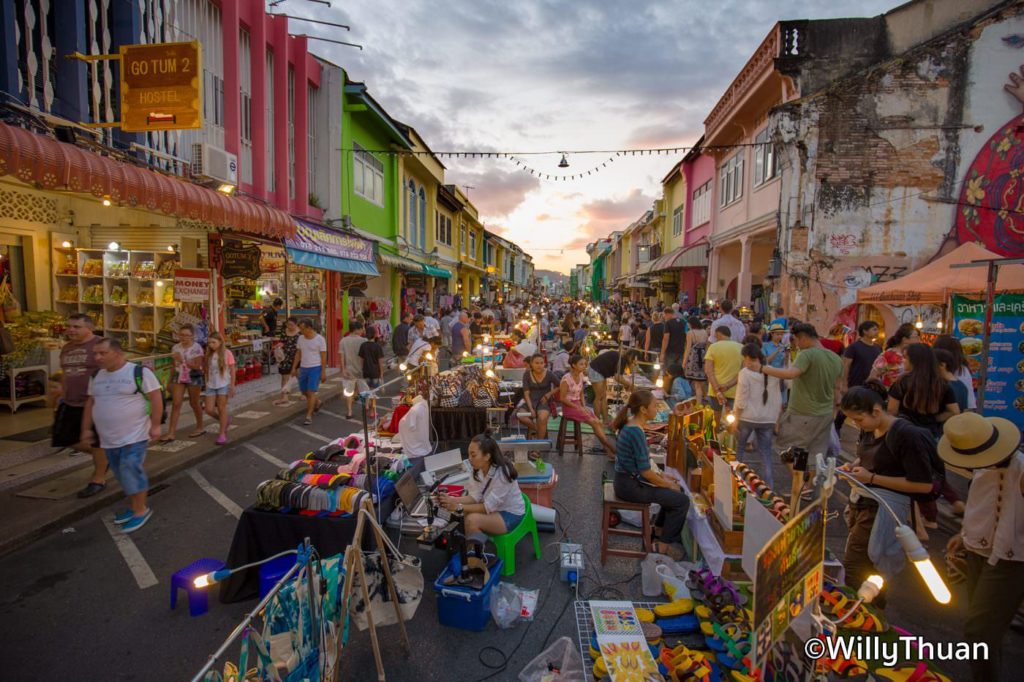 ---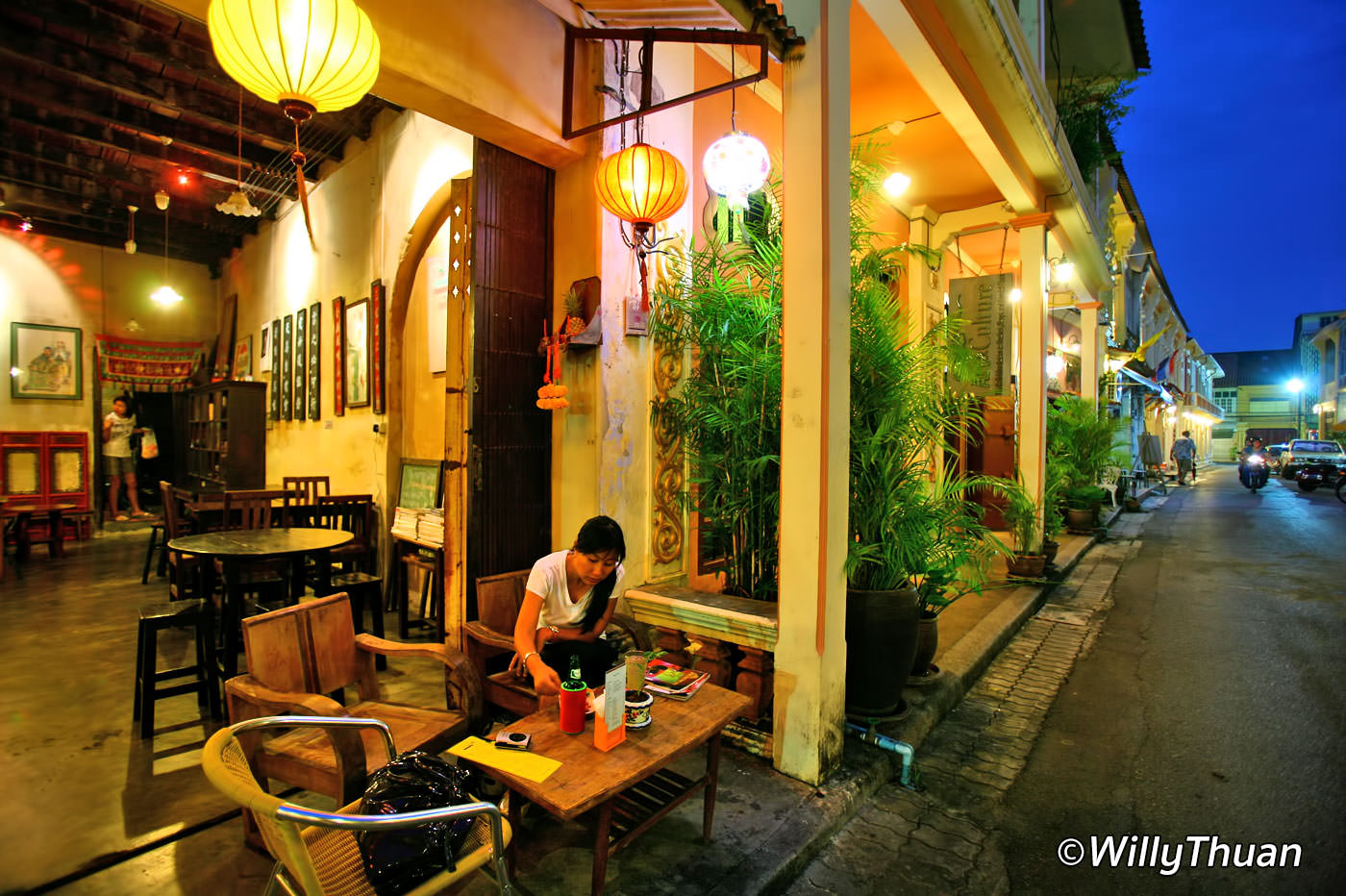 Soi Romanee is a short lane branching out from Thalang Road and taking you to Dibuk Road. This 125-meter long colourful street has a long history, as it was known to be the gambling and red district of Phuket! As its often the case, this once neglected and looked down lane became the most trendy street of old Phuket town, and is now home to classy coffee shops and guesthouses. Read more
---
Hainan Shrine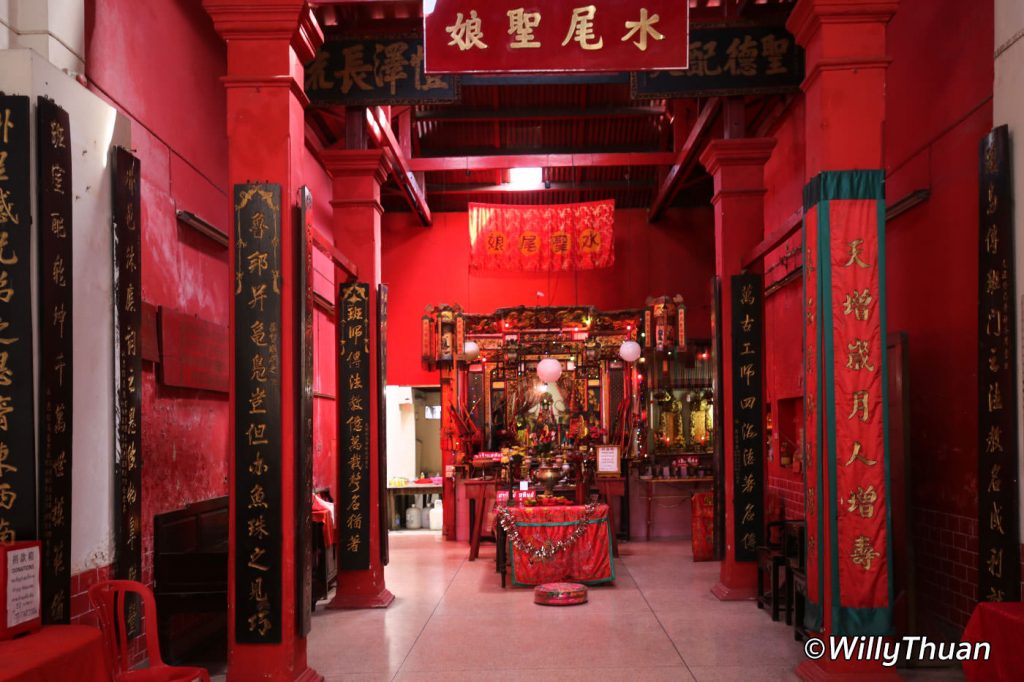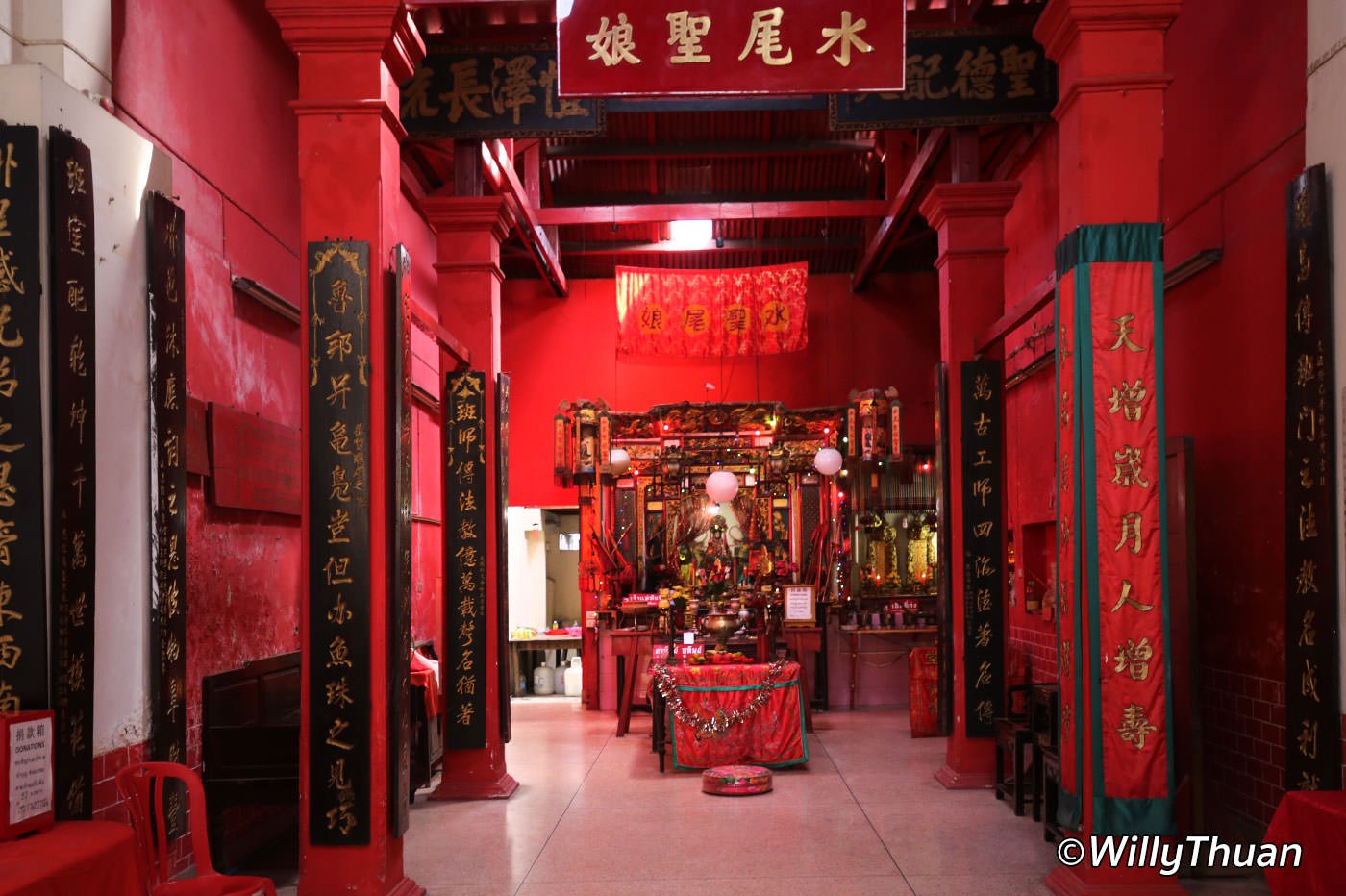 Hainan Shrine is a Chinese temple easy to miss if it was not for its bright red entrance. It is not wider than a shophouse, but it goes deep. Feel free to enter and have a look, just remember to behave respectfully, it is a religious place.
---
Shopping in Thalang
Long ago, tourists were only spending their holiday on the beach, and Phuket town was mostly dedicated to local trade. Thalang used to be quiet on weekdays, and totally deserted on the weekend. Thalang has evolved a lot in the past years, and a chain reaction started when tourists started to come and take photos of the newly renovated Soi Romanee. More tourists called for more renovation and attractive shops and so on.
---
Every Sunday, from 5 pm to 10 pm, Thalang Road is closed to traffic and turns itself into an immense walking street market. Phuket does have a lot of night markets, but this one is probably the most interesting and attractive. The street is lined by colourful Sino-Portuguese shophouses and vendors set their trade in the middle of the road, creating a beautiful perspective.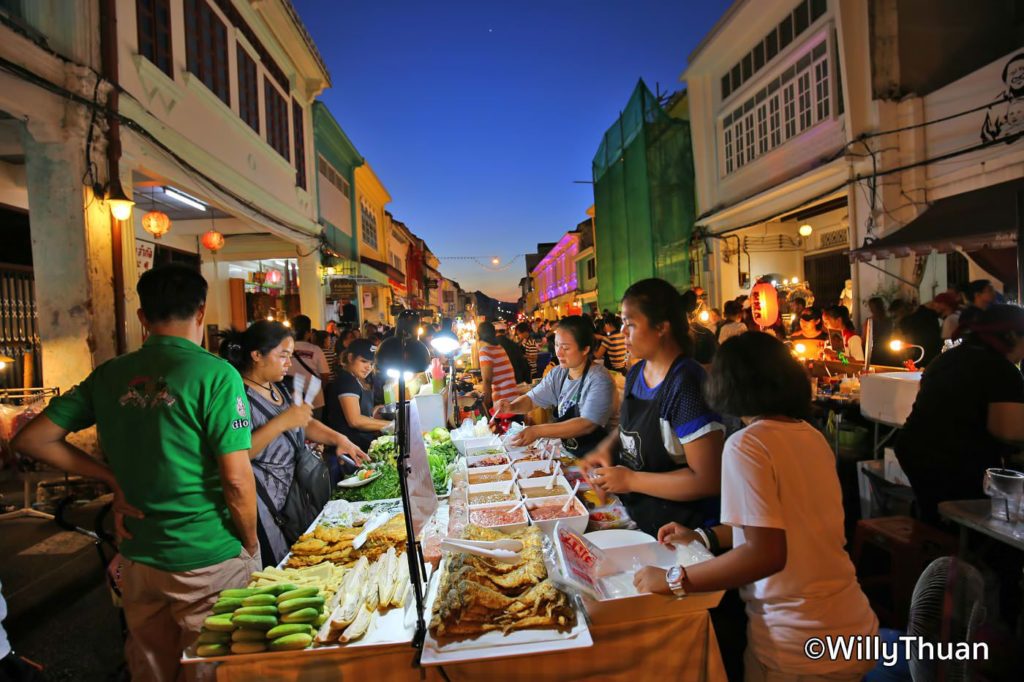 In addition, this is your chance to discover or even try a fun mix of delicious local food and sweets you can't usually find in one single place. Some will look familiar, and some others might range from strange, all the way to scary (ever tried Yum Kai Mangda Talay?) There are always some street performances and an incredible array of handicrafts, accessories and holiday wear to buy.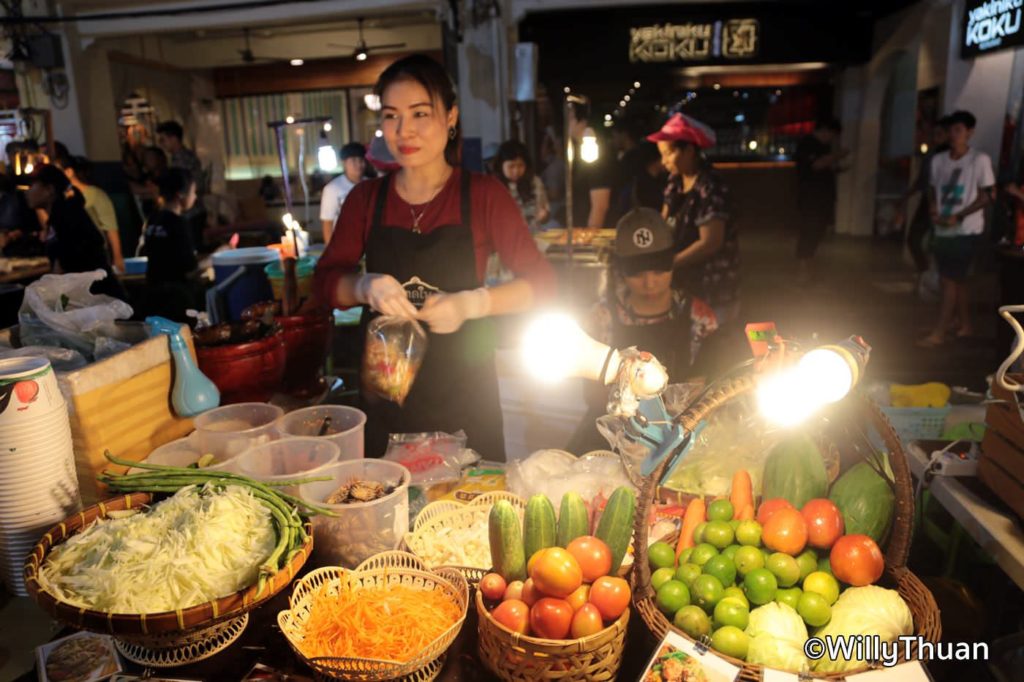 Once a week, thousands of people will join the Phuket town walking street. Every shop will open up to the street, selling all kinds of local foods and sweets. It's always fun to blend with the locals, but it can get severely crowded.
---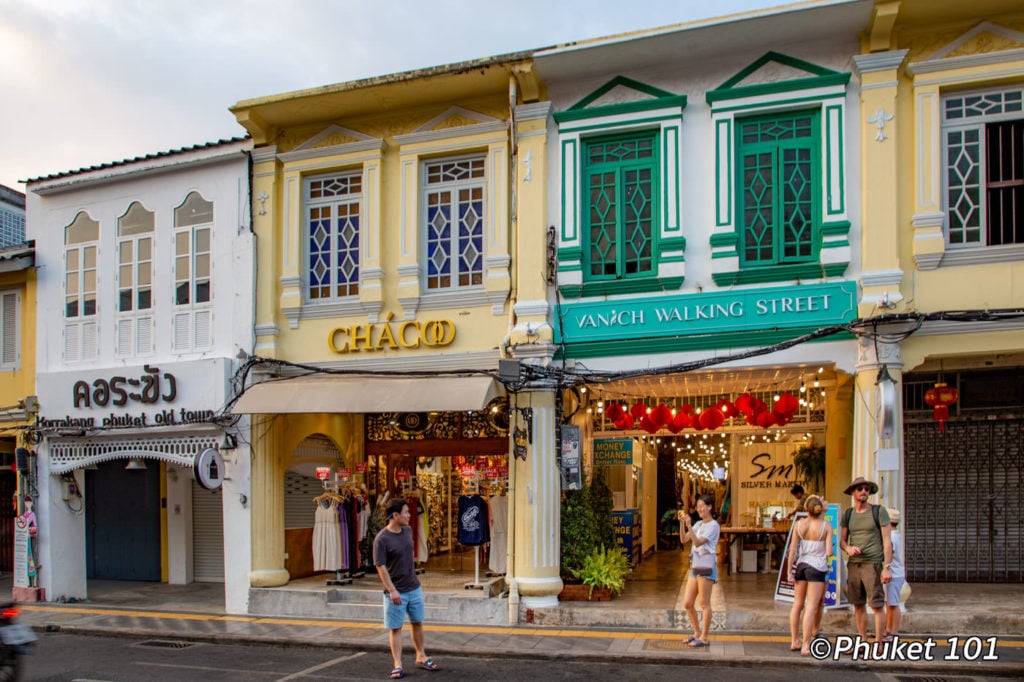 ChimJae Walking Street (Vanich Walking Street) is quite a recent addition to the Old Phuket Town scene (Vanich is a very common word in Thai meaning 'commerce'). It's a long and narrow covered passage that connects Thalang Road to Dibuk Road. All along are tiny stalls selling clothing, accessories, souvenirs and as always: food! As you can see in the photo below, the entrance is hard to spot because it looks like a small shop! Vanich Walking Street is a good hideaway if it starts raining. Read more
---
Bulan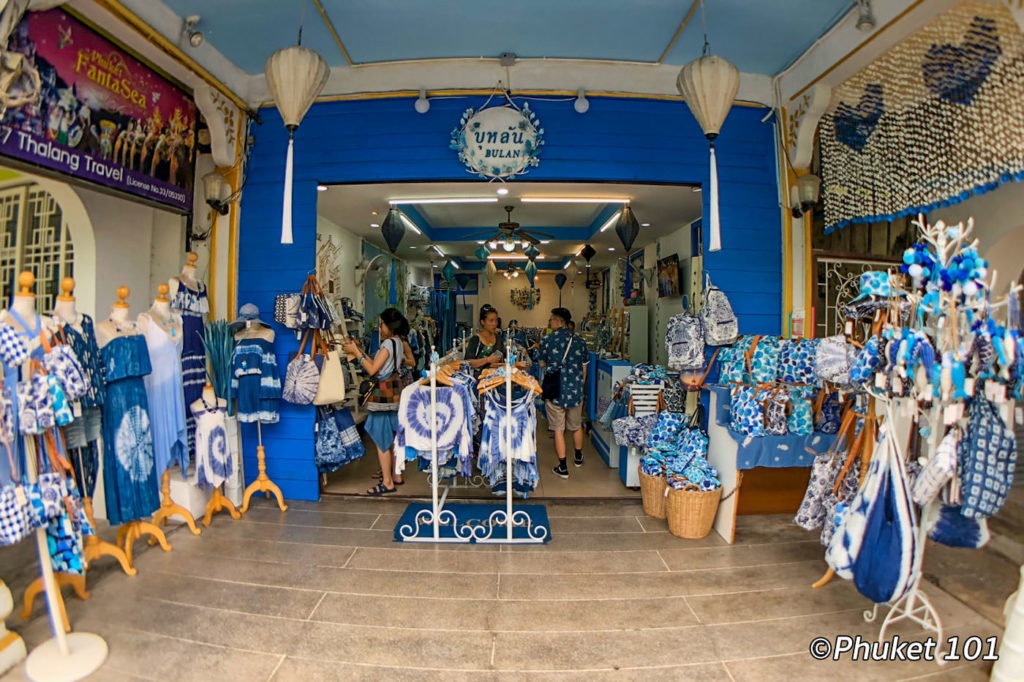 Bulan is a very popular local clothing store entirely dedicated to indigo batik.
---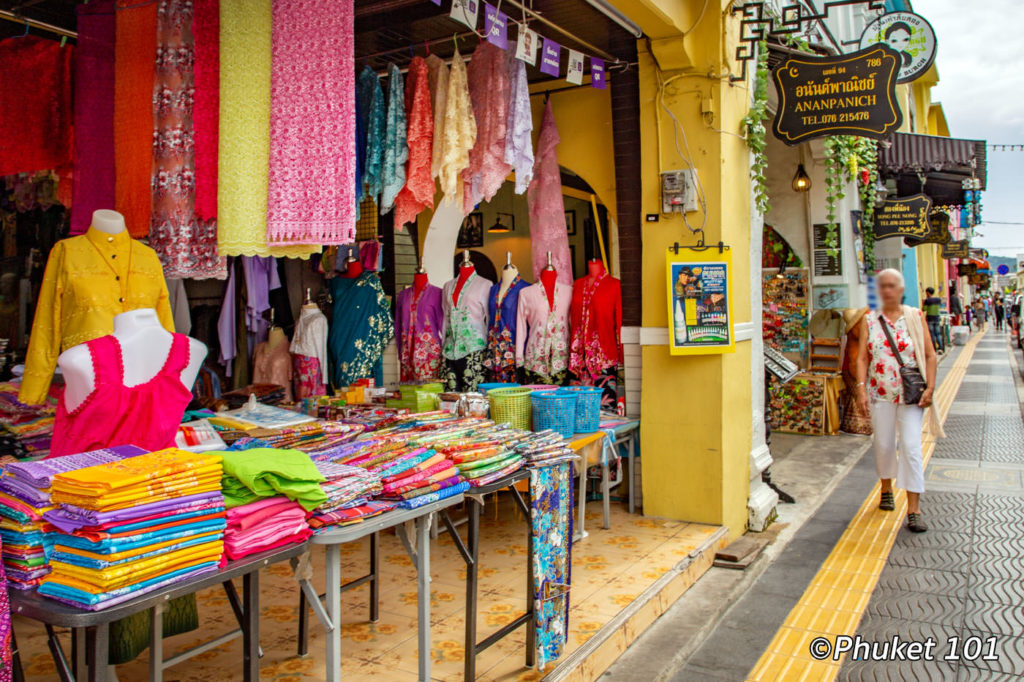 There are still a few local fabric shops at the beginning of Thalang. It's colourful and quite unique.
---
Where to Eat
You'll find plenty of small cafes and restaurants all along the street, China Inn, which is also a shop, is the most attractive one but it's a bit pricey, and seats are limited. "It costs a lot to make a nice new house from an old house, but it cost a lot more to make a nice old house out of an old house". China Inn is one of the only houses in Phuket to spend more money to keep its original soul intact. Almost anyone who walks in front of the China Inn will stop for a photo.
---
---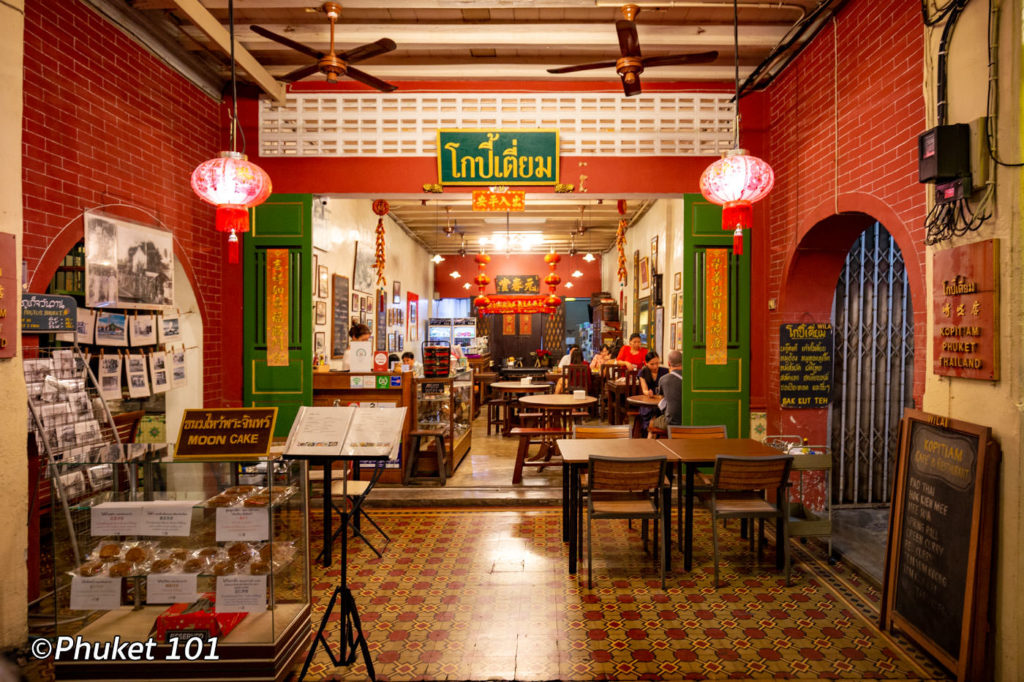 Next to are two local restaurants with a nice local atmosphere: Wilai, and its popular sister Kopitiam by Wilai serving their speciality: some excellent Hokkien fried noodle (among a lot of other dishes of course).
---
The Old Phuket Cafe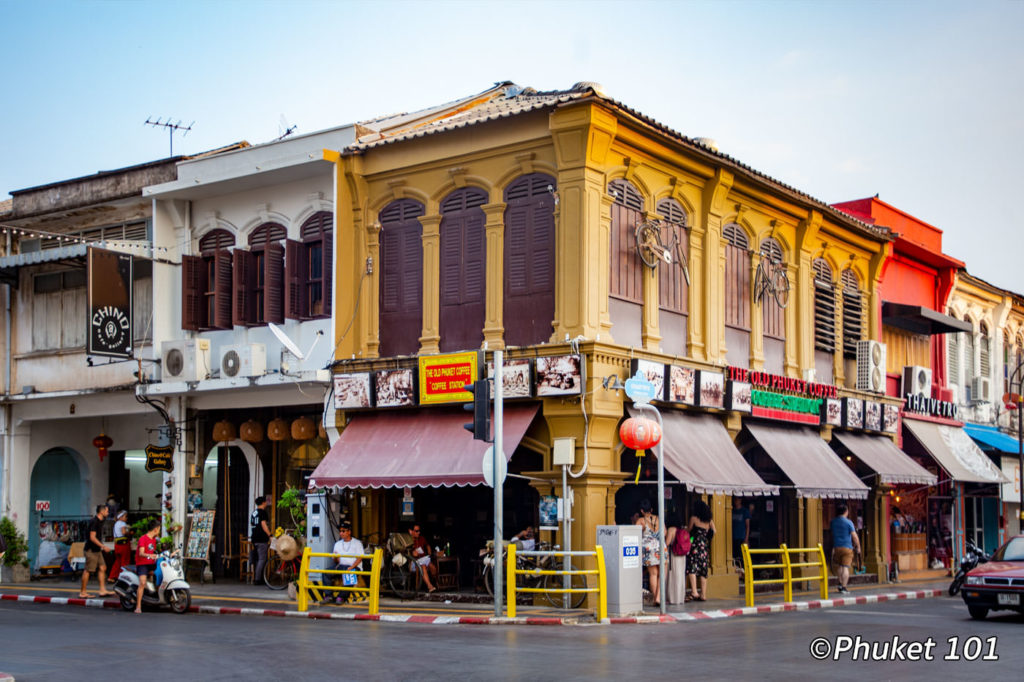 ---
Macchiato House and CakeBox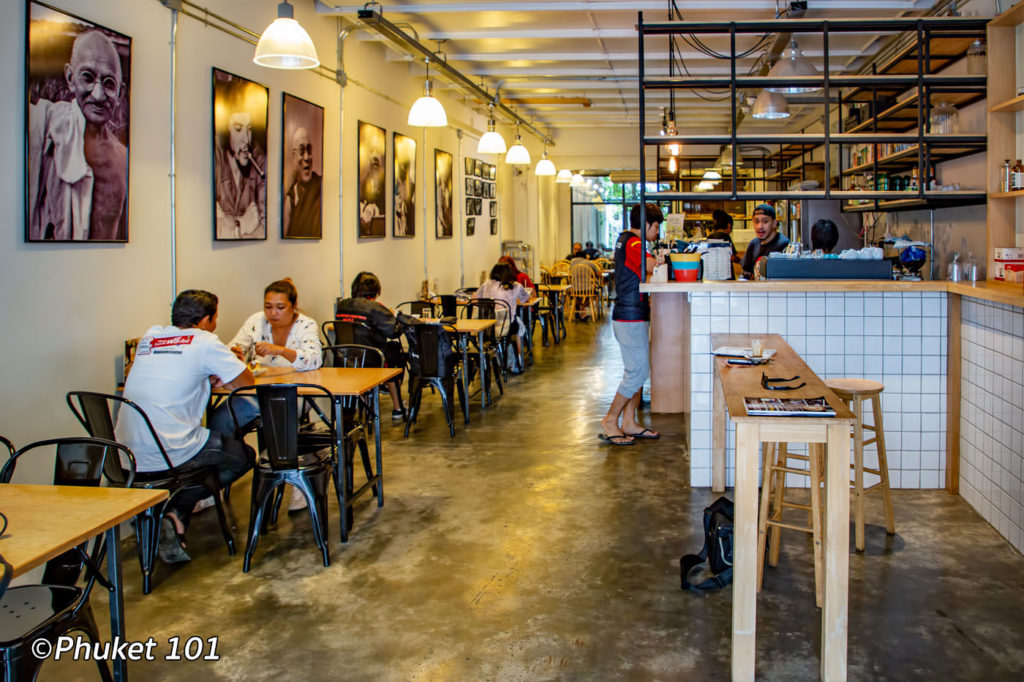 Macchiato House and CakeBox is a small coffee shop serving excellent cakes and snacks, but most importantly they prepare one of the best coffee in town.
---
Eleven and Two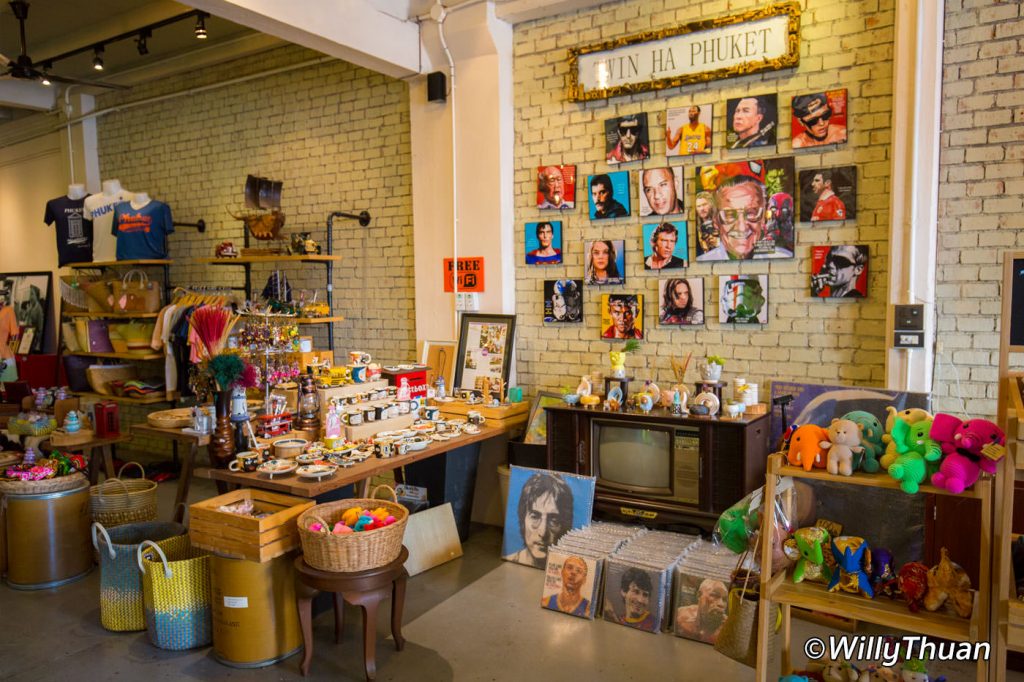 Eleven and Two is another favourite bar on Thalang road. This place has been opened for a couple of years and seems to have found the formula to be inviting. The front of the shop is widely open with a couple of inviting seats on the terrace. Inside, you can browse a bric-à-brac of souvenirs, so people tend to stop and have a look.
---
Koku Yakinuki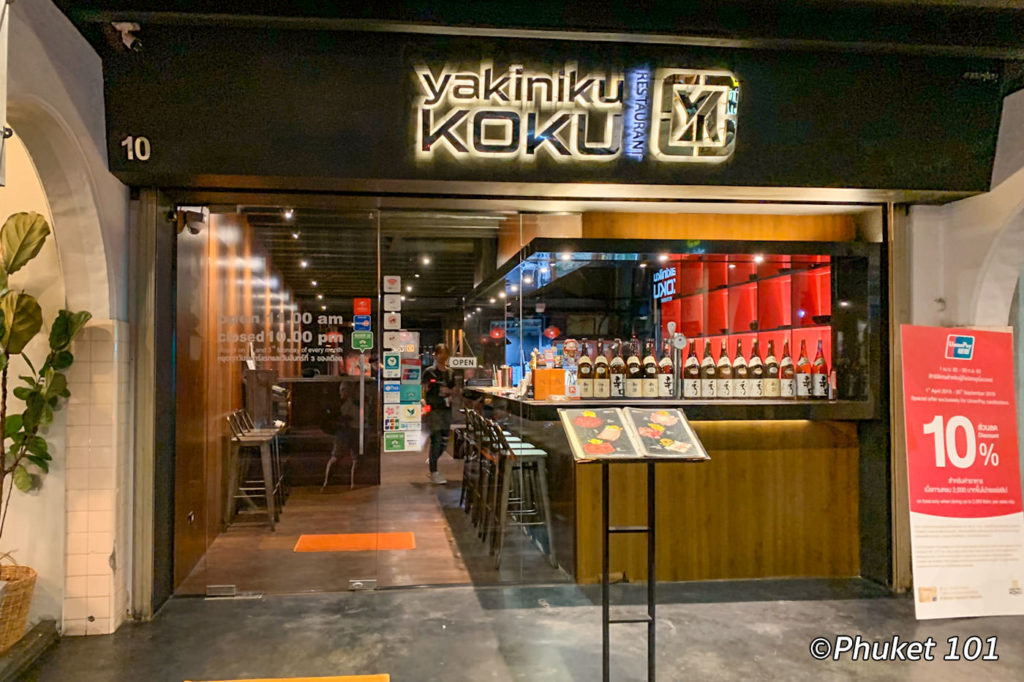 Koku Yakinuki is a popular Japanese Barbecue that has been around Phuket for almost 15 years, changing location frequently around Phuket town until it opened on this popular street. Grilled meats and seafood are extremely popular in Thailand, just read about Moo Kata Buffets to understand. We went to Koku Yakiniku dozens of times in the past, but lately, it has a lot of ups and downs.
---
Worth trying near Thalang Road
---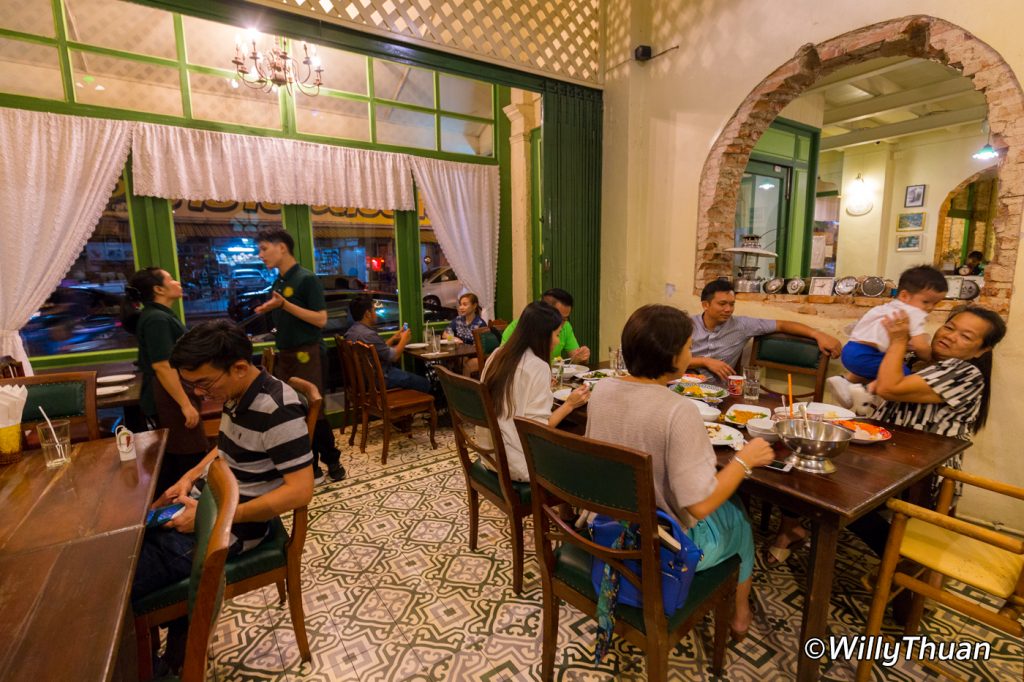 If you can't find what you are looking for, walk a little further and stop at One Chun, one of the great local restaurants in Phuket town, just next to the weekend walking street market. Read more
---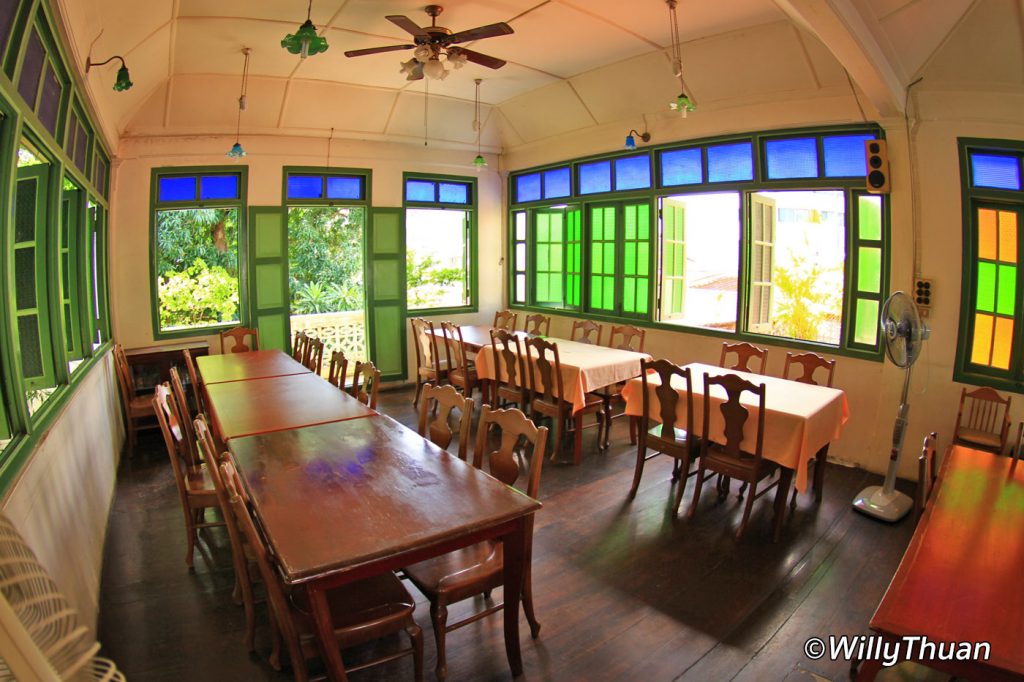 Raya House is also a restaurant you should try. It's an old house, run by two old ladies and serving excellent Thai food. What they did is even better than a good renovation: they didn't renovate at all. Try 'yellow curry crab with Kanom Jeen' (rice noodles)'. Read more
---
About Thalang Road shophouses architecture
The two-storied shophouses in Old Phuket Town generally have two purposes: commerce and residential. The building has a specific character with a narrow front and long depth. The front of the shophouses consists of a connected arch walkway or 'arcade' covering the length of the street known as "Ngor-Ka-Kee" from Chinese Hokkien.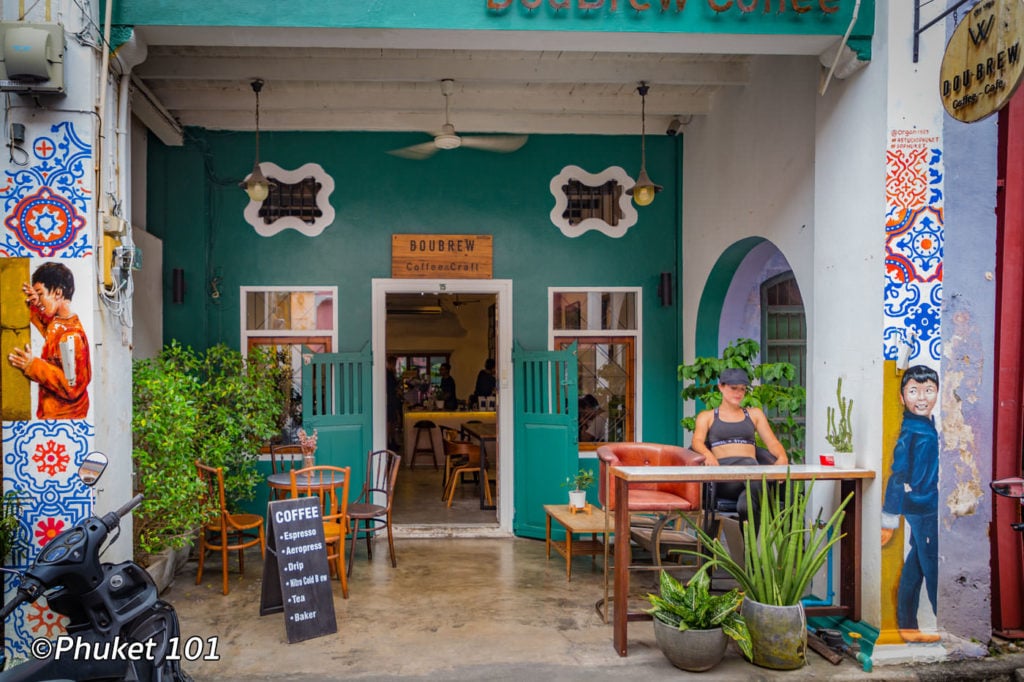 The ground floor's long depth arrangements comprised of five main sections:
– The first section of a shophouse is the shop front with doors and windows, including air void above the windows. The shop front resembles the face of a dragon with mouth doors, two eyes (two windows) and air void above windows (eyebrows).
– The second section is either a shop or welcome guest area.
– The third section is considered going into the body of the dragon. There is usually an area in the middle of the house for a water well called 'Chim-Jae'. This area is for washing. There is no roof to allow the sun to shine through as a source of light, and also to allow ventilation as the heat is confined by the width of the house.
– The fourth section, the dining area which is connected to the kitchen.
– The last part is the toilet and considered the tail of a dragon.
The second floor where the bedrooms are is called 'Lao-Teng', which means upstairs. The second floor at the front of the house protrudes above the ground floor's exterior and became a cover for the "arcade" walkway underneath. The covered walkway's purpose is to shelter people from Phuket's heavy rain.
(as described inside the Peranakan Phuket Museum)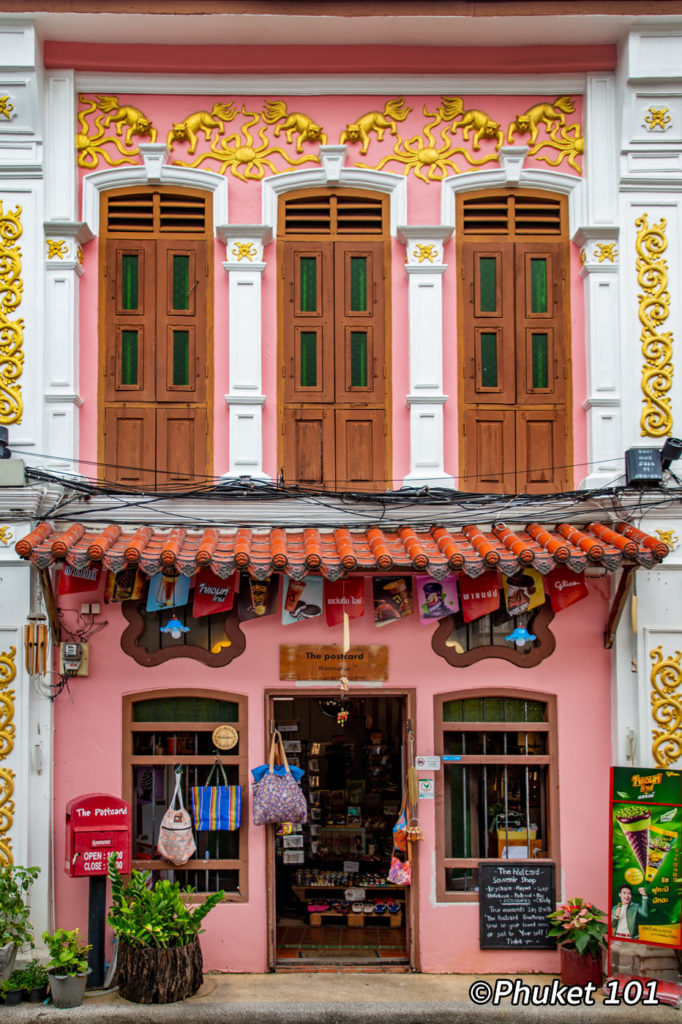 ---
Beyond Thalang Road
These old renovated streets still provide many angles and lights to satisfy any photographer's itchy finger. Among the well known Sino-Portuguese houses are the beautiful 'Thai Hua museum' and Endless Summer. Thalang, which was the first to bury its ugly electric cables underground, is built with the typical archway to protect the walkers from rain and sun. All the shop-houses are often built around the same layout: three floors with small windows in the front and the back to preserve the fresh air and with bars to protect from bad guys.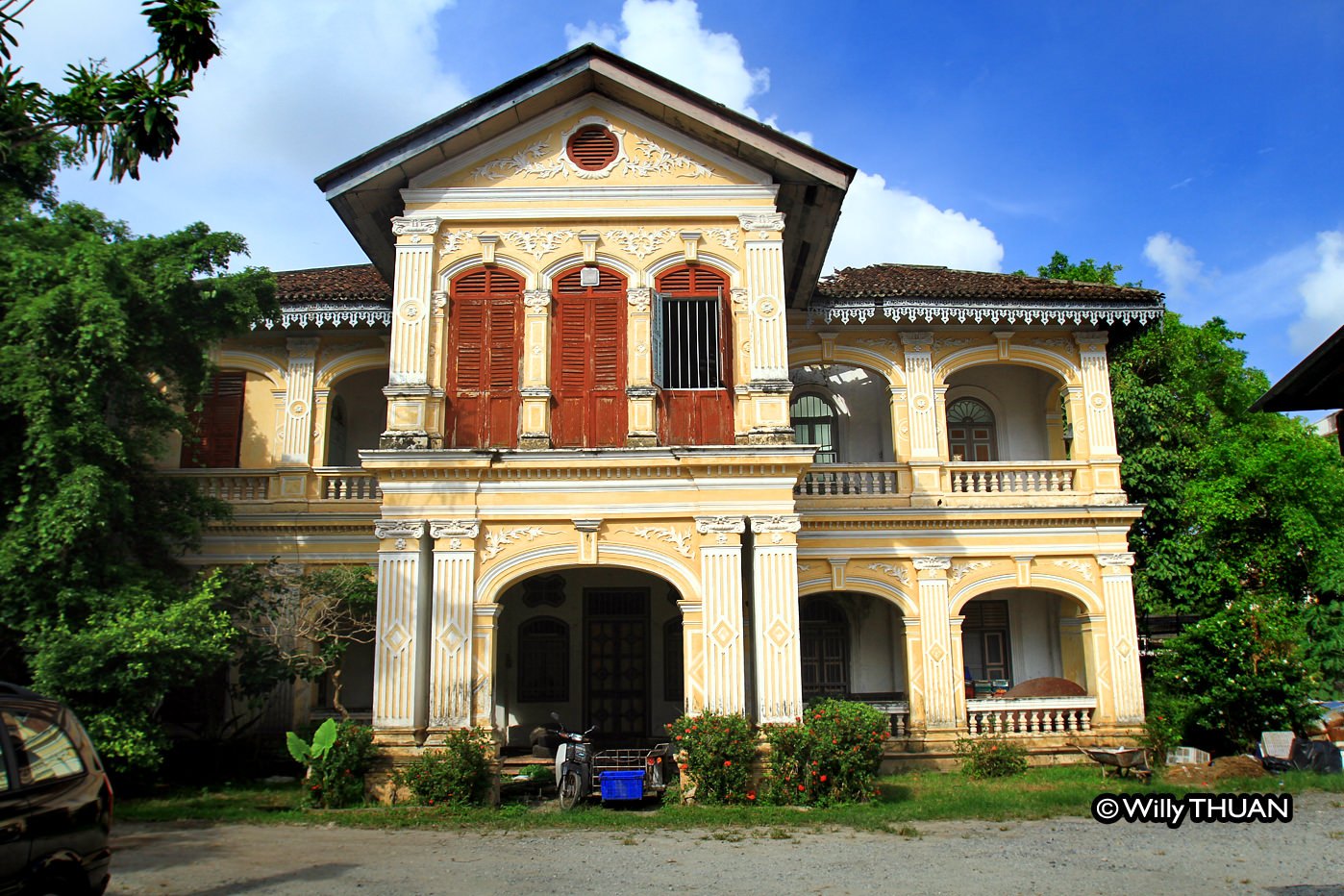 There are some fascinating 'not yet renovated' mansions in the streets around… Click here to see the "19 Amazing Mansions in Phuket Town."
---
Photo Gallery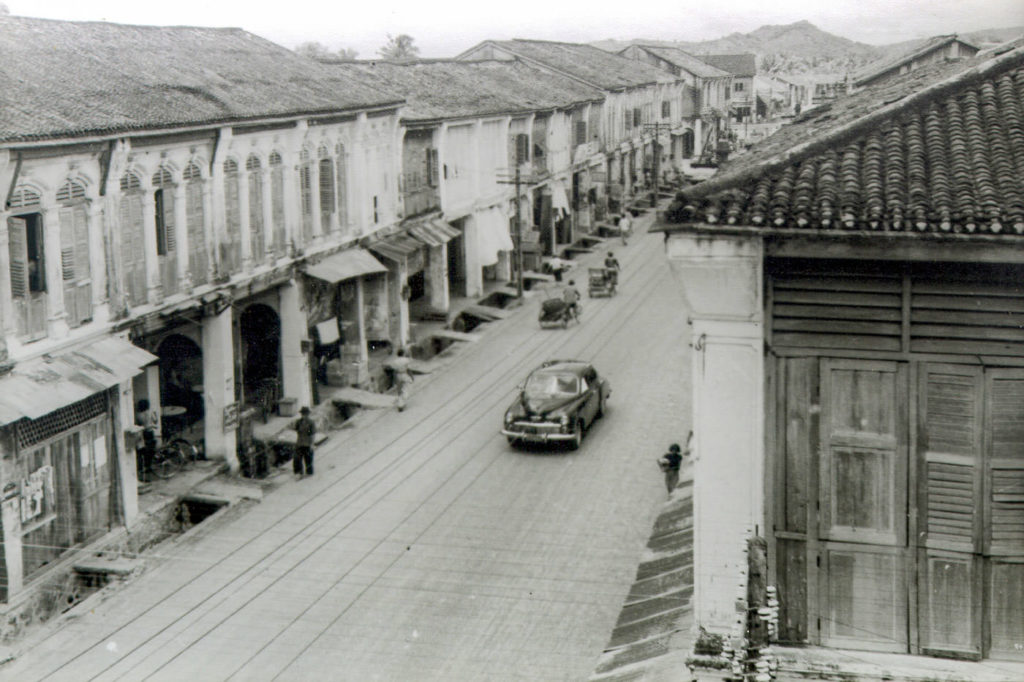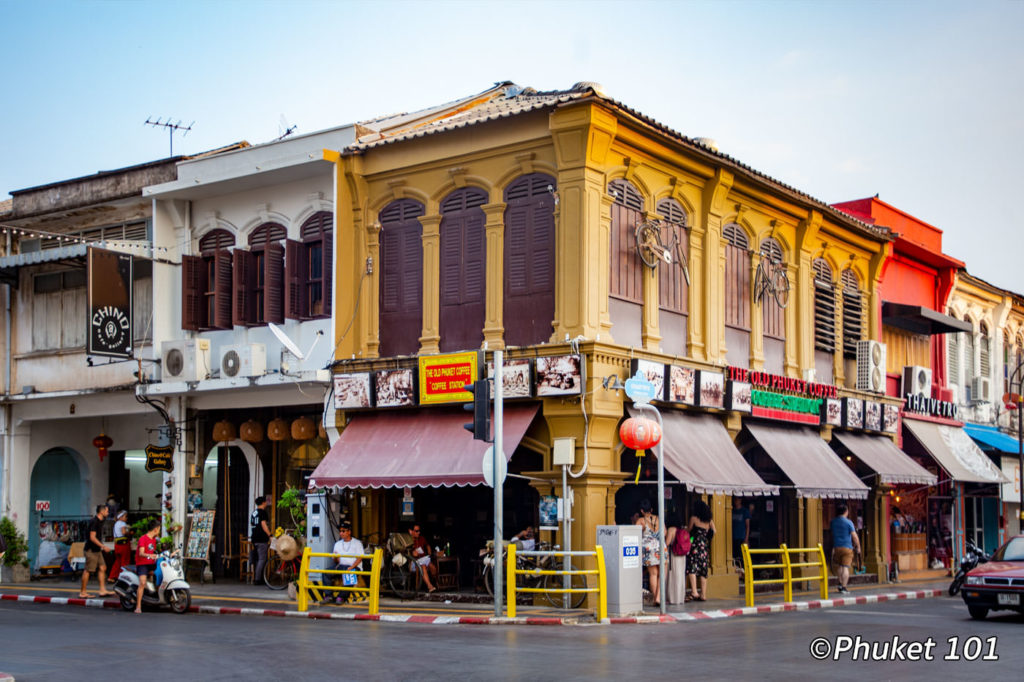 ---
Thalang Road Street View
---
Thalang Road Map
If you are on mobile, add the map here: https://goo.gl/maps/1fCGd7dsYjTgNn4N8
---
Nearby streets to explore