What is Mookata?
Mookata or Mu Kratha is an extremely popular and cheap buffet found in Phuket and all around Thailand. Here, you pick and cook yourself some raw ingredients displayed on a buffet-style at a low fixed price. If you are travelling to Phuket on a budget and want to experience the real Thai daily lifestyle, then you should try it at least once. It's fun, cheap and quite good, considering the low cost. Mookata restaurants can be enormous and yet, get so full that there can be a queue to get a table at the most popular ones.
Mookata is an unusual concept for foreigners, and you will not see them often is such restaurants. It doesn't always look clean as per foreign standards, but it;'s part of the fun of travelling! Mookata is extremely popular, and it is a fun experience.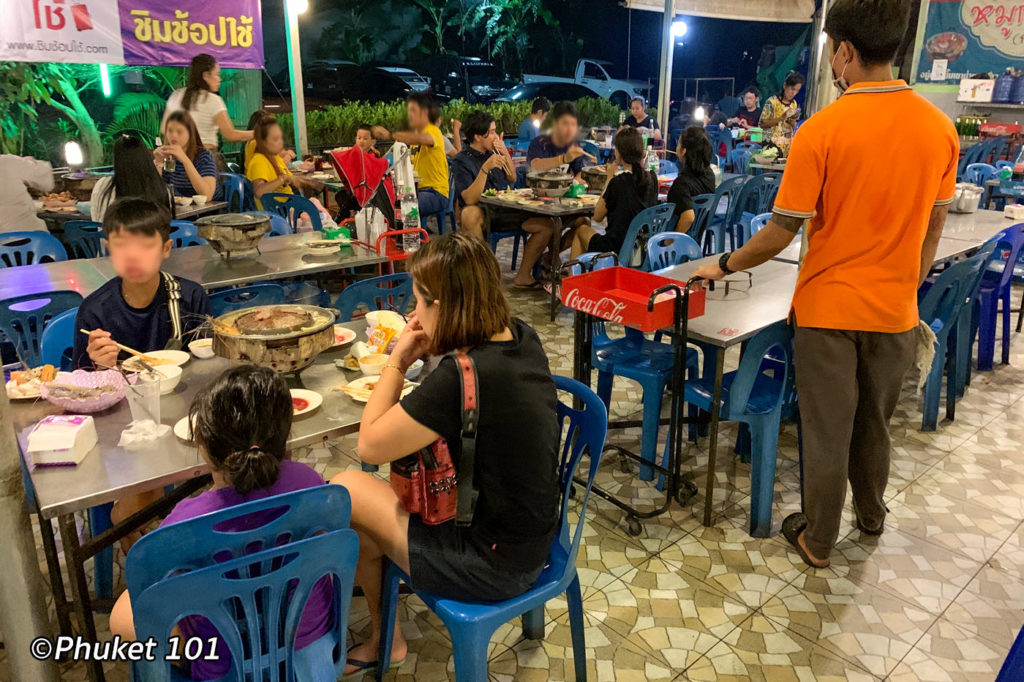 ---
How it works
The concept is simple. As you can see on the photo, Mookata combines Korean barbecue and Chinese hot pot. As you arrive, the staff will bring a clay pot to your table contains red hot charcoal and place the iconic aluminium pot on top it, then fill it with water. The centre dome is with you grill your elected ingredient and the soup around is where you will boil your veggies. How smart is that?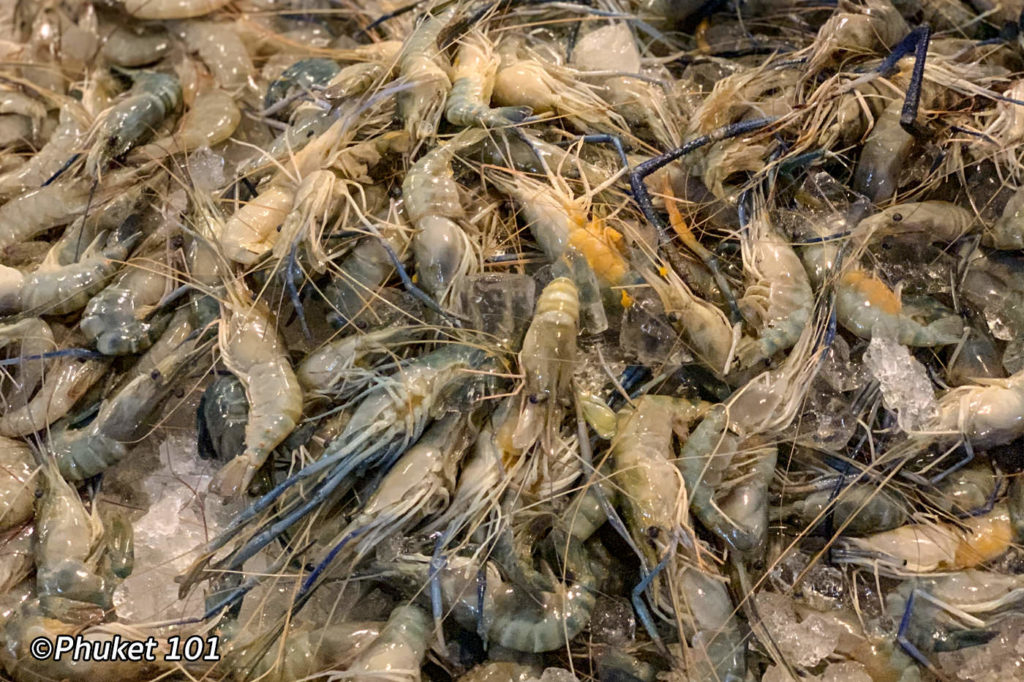 You then walk to the buffet and pick up anything you want, and as much as you want. The price will remain the same. Of course, you can't expect fancy meats or fish, but you can get as many prawns as you can eat! But keep in mind that while the price is low and fixed, you are not supposed to leave any uneaten food on your table! To avoid abuse and waste, the restaurant will charge extra for the food remaining on your table in addition to the buffet price.
A Mookata is usually a vast venue set under a large roof often resembling a warehouse or a garage, packed during dinner and crowded on the weekend. Youngsters and families love to hang there and eat for hours at their own pace without having to pay a fortune.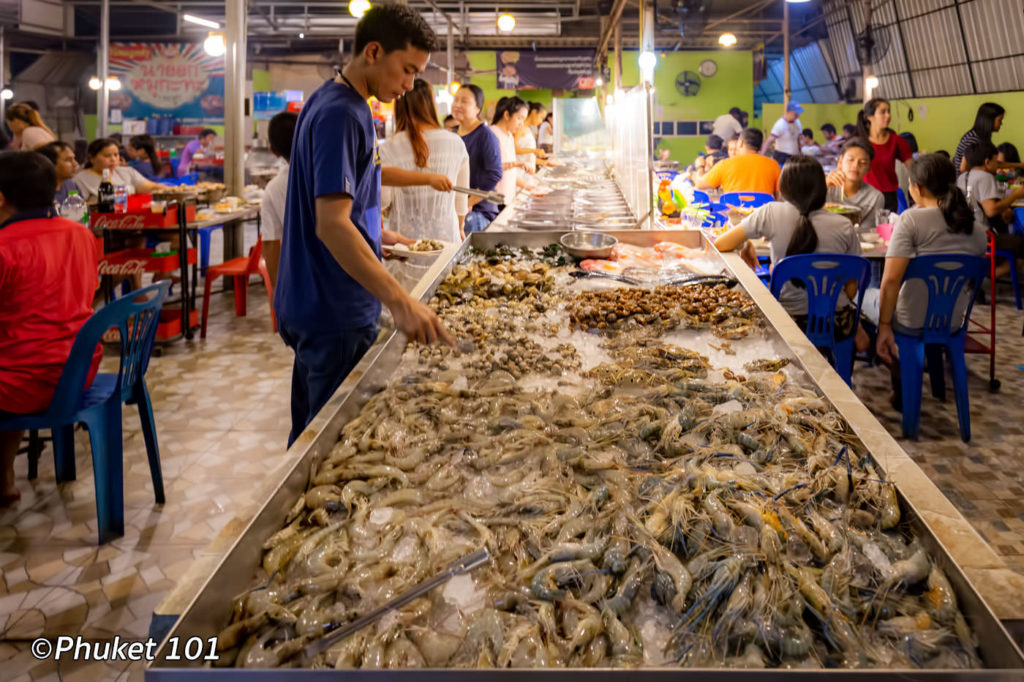 The buffet displays large amounts of raw or marinated meats, veggies, squids and fish balls, noodles and more, but usually nothing expensive. Funny enough, you can eat all you want, but any left-over would be charged! A smart way to avoid careless eaters and wasted food, and since I never met anyone who had to pay, I suppose it works.
We went there quite a few times, and it's not bad, kind of fun, but there are downsides: the heat, and the smoke! After dinner, wherever you go, anyone in a 3-meter radius will be able to tell you where you went for dinner!
---
What can you expect to eat?
Prawns, shrimps, mussels and pork are the most popular items on the buffet. Then, you have the less glorious items: cabbage, morning glory, fishballs, meatballs, unidentified balls, liver and other processed and marinated meats. Further are the unknown 'things', and the odd bits such as intestines, fake prawns (yes) and… jellyfish!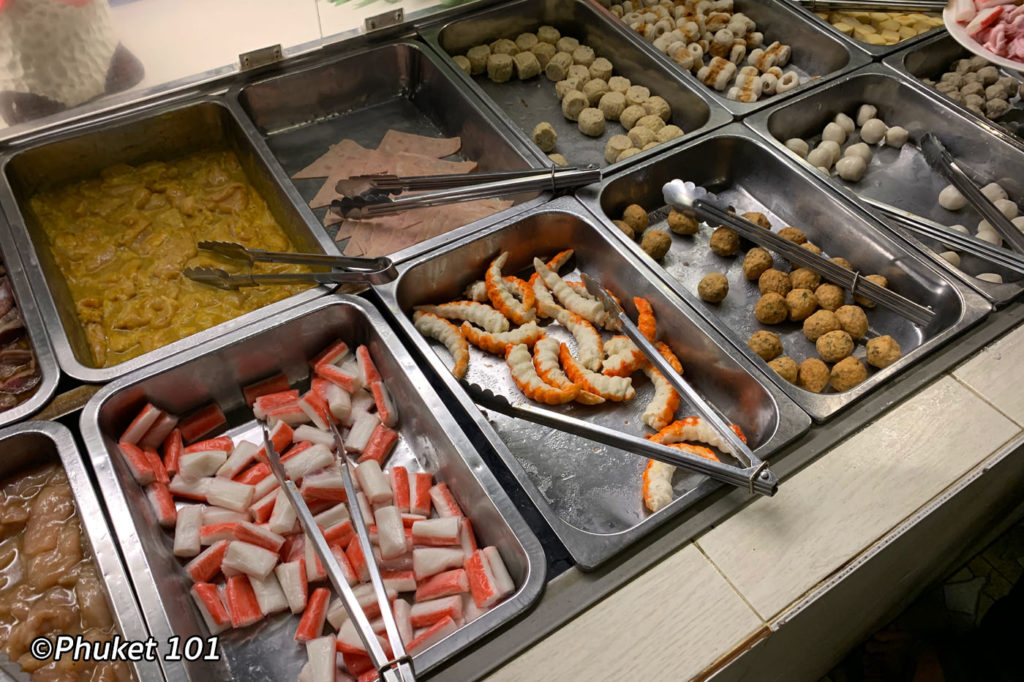 The different sauces served with Mookata is also key to the success of the restaurant. Not all Mookatas are born equal, and it is not unusual to see a queue at the popular ones, no matter how big they are. If you find a good one, it can be a fun experience, but keep in mind that as you are sitting in front of a charcoal barbecue for an hour or more, you clothes, your hair and your entire body will smell of smoke!
---
More photos
---
Map of Phuket Moo Kata
We only marked two Mookata restaurants on this map, but we will keep adding as we find them!