What to buy in Phuket for your friends?
What souvenirs should you buy in Phuket for your friends? Something that doesn't cost a fortune doesn't take much space in a suitcase, and, most of all: is something typical of Thailand.
Phuket is genuinely heaven for shopping. From street shopping and night markets to international shopping malls and department stores, the range of souvenirs you can buy in Phuket will, without a doubt, go beyond your expectations.
We wrote several pages about shopping in Phuket. One is about the silly things people buy but probably will never use, and one is about small real Thai objects Thai use in their daily lives. But what do travellers buy most for their friends and family? We asked them, and here are the ten most popular items to buy in Phuket.
1. Elephant Pants (fisherman pants)
Light, comfortable and cheap, those colourful cotton pants are convenient for the evening and a fun souvenir to take to your friends. They come in several materials (cotton, silk or batik) and can fit almost any size. They arrived in Thailand in the late 19th century and were mostly used by Thai fishermen and can be worn by both men and women.
Where to find them
Basically everywhere now! In street stalls, at night markets and bazaars, and in Jungceylon
Price
Usually 100 to 150 baht
2. Beach Sandals and Flip Flops
Beach sandals came on the list as the most bought items on the island; it makes perfect sense. They are incredibly cheap, very colourful, are available everywhere and fit every foot even if they are a little bigger than they should (how could you remember the shoe size of all your friends?!).
You can count on Thai people's creativity to find hundreds of fun designs, and they shout 'tropical holiday memories.'
They take up very little space in a suitcase, and even though they are not expensive, they somehow don't look like a cheap souvenir you picked at the last minute.
Where to buy them
We could almost say, "you won't have to find them; they will find you". They are available on every beach and every main street of beach towns. The price is written, but you can bargain a bit, especially when buying more than one pair.
3. Thai Silk
These superb sarongs, dresses and trousers are made with colourful Thai silk, made famous by the legendary Jim Thompson. They are easy to find around the island.
Where to buy them
Markets and Jungceylon for the cheaper versions, and Jim Thompson shops (Central Phuket) for the more sophisticated designs and higher quality.
4. T-Shirts and Singlets
T-shirts are even more omnipresent, cheap and very Thai when they carry one of the iconic beer brands, Singha or Chang (there seems always to be competition between those two brands). Some t-shirts displaying a fun message are also very popular: 'Same same but different, 'No I don't want a F*?k'n suit, tuk-tuk or massage'. They are cheap and very typical, maybe not very original, but that is the gesture of offering that counts, right?
Where to buy them: Very easy to find; they are everywhere in the streets, night markets and bazaars.
5. Elephant Plush and Souvenirs
Elephants are entirely part of Thai identity, and toy elephants come in an incredible array of shapes, colours and materials. They range from relatively cheap to more sophisticated when made of Thai silk.
Where to buy them
Night markets and Jungceylon
6. Cushion Covers
Cushion covers are beautifully designed and often made with this legendary Thai silk made famous by the legendary Jim Thompson. The shiny silk is unique to Thailand, and while it is relatively affordable, it does look expensive, making it a perfect gift for everyone (and everyone has cushions at home).
Where to buy them?
You will find them easily in the streets, night markets and even in one of the shopping malls around Phuket (especially at Jungceylon).
7. Coconut Bowls
These are handmade colourful coconut bowls made with coconut shells and then lacquered inside, often over a shell mosaic. They are unique and look more expensive than they are 🙂
Where to buy them?
Bazaars, souvenirs shops in Patong and Phuket Town and some night markets
8. Cashew Nuts
Once you know that one fruit only carries one nut, it's not surprising why it so expensive. Luckily, Phuket and south Thailand produce many of these delicious nuts, which are much cheaper here. Sri Bhurapa Orchid was one of the first on the island and is easy to sop on the road to Phuket airport. You can even taste some 'Cashewy', the cashew nut juice. It's a fun concept but doesn't have much taste.
Where to buy them
You can buy them at the supermarket or stop at one of the cashew nuts factories (see map).
9. Dried Fruits
With so many amazing fruits in Thailand, it is no surprise to find dry fruits everywhere on the island. It is cheap, tastes great, and many fruits are typical of tropical countries. Dry mangoes are fun, but if you want to surprise your friends, buy some dry durians too! (If the package is well sealed, obviously)
Where to buy them
Easy to find at supermarkets and those dedicated shops, easy to recognise along the road
10. Carved Soaps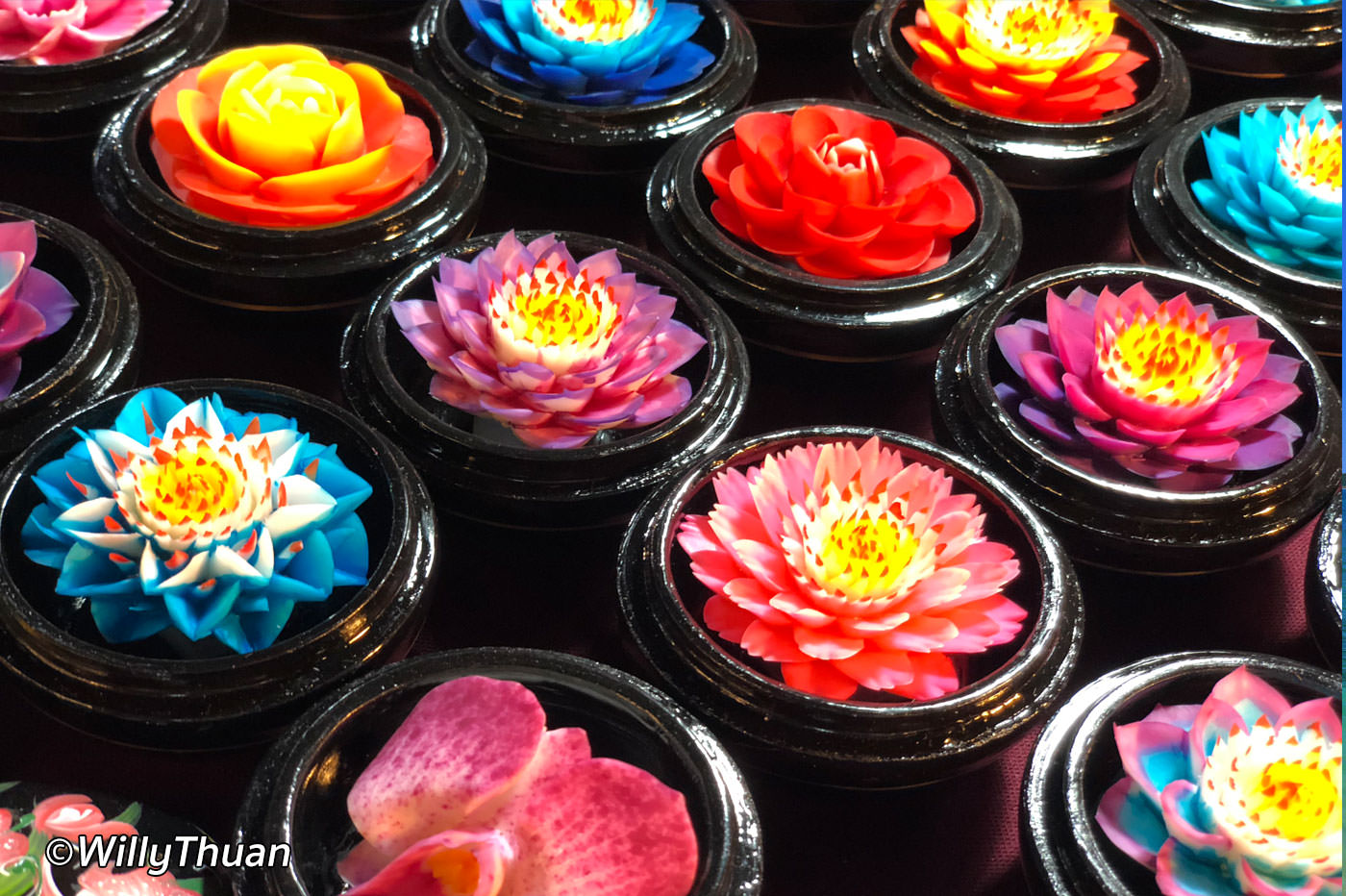 Carved soap can be surprisingly beautiful and require patience and skills to execute. They also smell good and can be kept in a closet. Since not all soaps are carved equally well, take the time to look at more than one stall to pick the most beautiful and best scented too!
Where to buy them
Easy to find everywhere in street stalls.
11. Phuket Pearls
Pearls have been produced in Phuket for more than 40 years and are surprisingly beautiful and affordable. Phuket Pearl Shop in Phuket town has been producing Mabe Pearls, Akoya Pearls and South Sea Pearls that are even used to ornate international beauty contests worldwide.
Where to find them:
You will find them in shopping malls and at Rawai Market, but they will not be as beautiful as those from Phuket Pearl Shops on the east coast near Phuket town or Phuket Pearl Art Factory on the way to Chalong (see map below)
---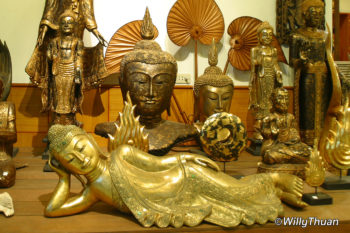 IMPORTANT NOTES: Please do not buy Buddha images to take out of the country. Not only it is disrespectful to Thai people, but it is also illegal, and you could get yourself in trouble at the airport. Shells and corals are also illegal to take out of the country. Read more
---
More Pages about Shopping in Phuket:
10 Silly Things People Buy in Phuket They Probably Didn't Need to Buy