Where are Phuket shopping malls?
Phuket shopping malls keep emerging here and there, a reminder of how much the island has changed in the past two decades. They might not please travellers who used to come last century, but they are an excellent way to escape the heat or the unavoidable rainy days.
In recent years shopping malls started to evolve and adapt to a fast-changing market and should not be entirely discarded. Yes, you will find all the usual clothing brands and all the cosmetics you need if you forgot your fancy lotion. All the big franchises are here too, as you can expect from globalisation: Starbucks, KFC, doughnuts and burgers.

With the online shopping phenomenon, small traditional shops started to close, replaced by local restaurants. Thai people love food, so shopping malls did the math: if you can't attract customers with shops anymore, attract them with food, and they will also shop.
It worked perfectly well, and you would be surprised how good Thai food can be in a mall! Most of them are on the lower floor, and can be a good clean experience if you wish to try real Thai food but are worried about cleanliness in street food.
Here, we only list shopping malls and a few shopping villages. Places like Lotus, Big C and Makro, are classified as giant supermarkets, and there are now so many of them, we will only add them to the map.
---
Patong Beach
Jungceylon Phuket is the first and still the most successful shopping mall in Phuket. It covers a large area in a central strategic location in Patong Beach, just at the end of the famous Bangla Road. It features a massive range of shopping, food, entertainment and even a pretty good hotel called Millennium Resort Patong. Chances are, if you are in Patong Beach, you will be attracted there like a magnet. Read more about Jungceylon
What to expect at Jungceylon:
Cinemas
Bowling Lanes
A surprisingly good food court
Huge Big C supermarket
Department store selling brands
Cheap electronics accessories on the upper floor
Plenty of decent restaurants, Thai food, Irish Pubs, European food, Churrasco
---
Phuket Town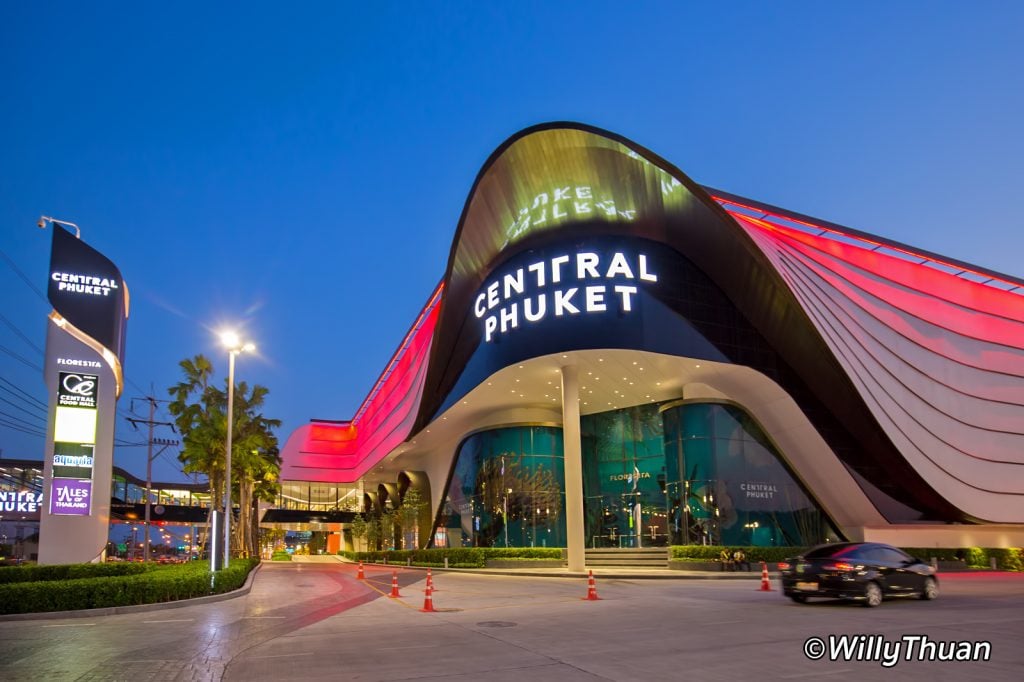 Central Festival addresses more to Thai people living on the island (but not only of course). This already huge shopping mall just doubled in size with the addition of a new wing called Central Floresta, located just across the street. Read more about Central Festival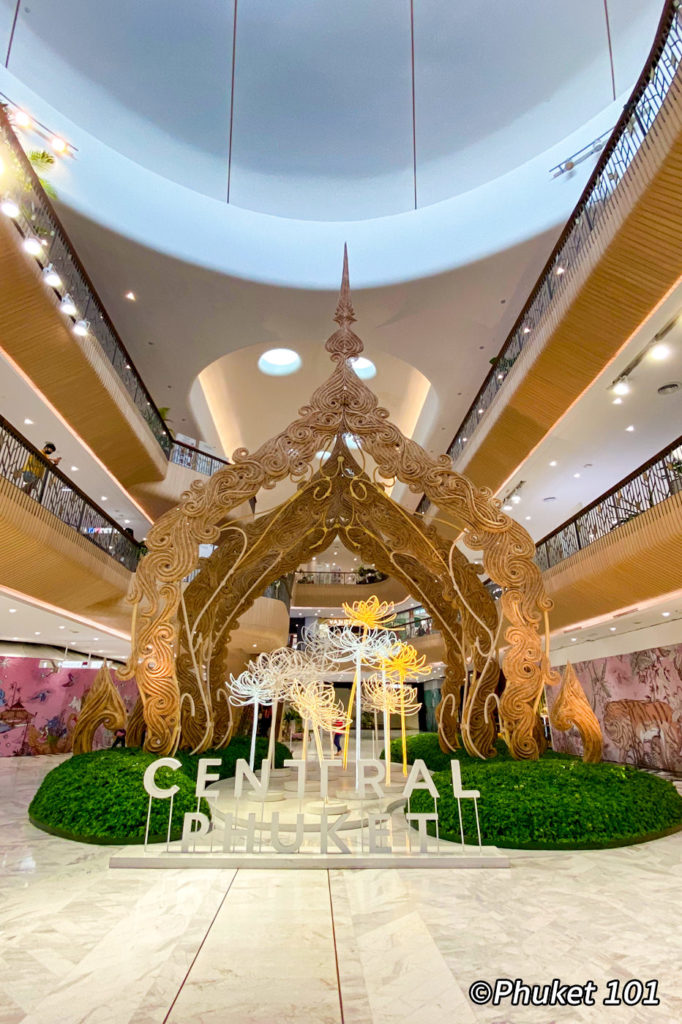 What to expect at Central Festival:
A department store with all the famous clothing brands and cosmetics
An excellent supermarket
A cinema, including a VIP room where you can watch your movie in a flatbed
Lots and lots of restaurants
A food court
---
Patong Beach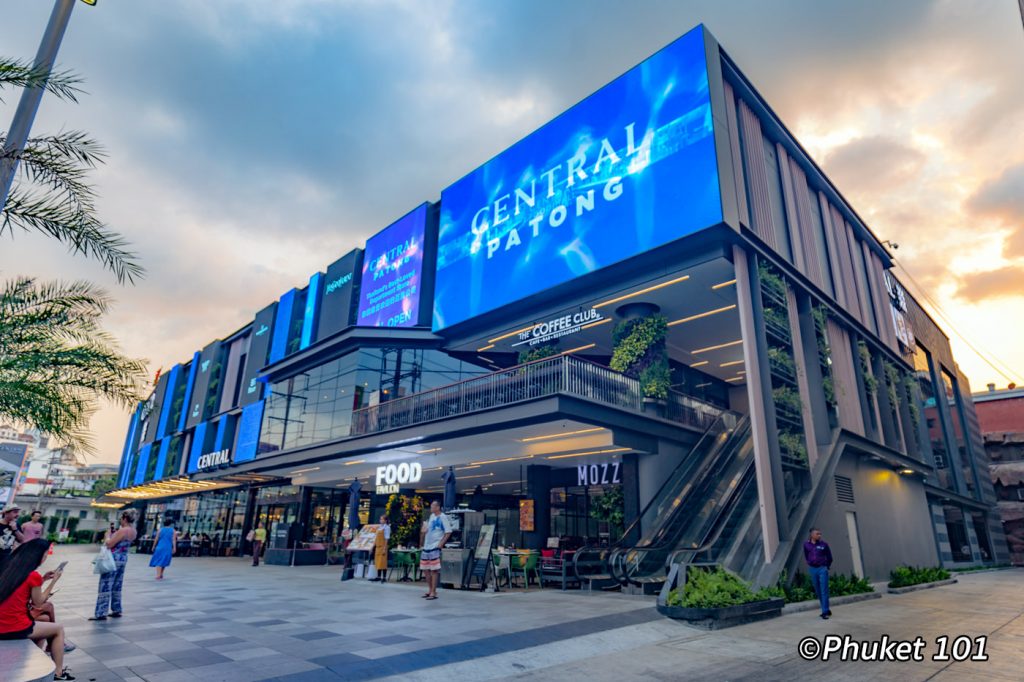 Central Patong is the latest mall in Phuket (not for long), and it's just across the street from the famous Jungceylon shopping mall. While the location is also very strategic, the concept is a lot more traditional, which might not be as attractive since travellers staying in Patong seem to be more interested in night markets type of shopping. This four-storey building appears to attract tourists mostly because of the variety of food served. Read more about Central Patong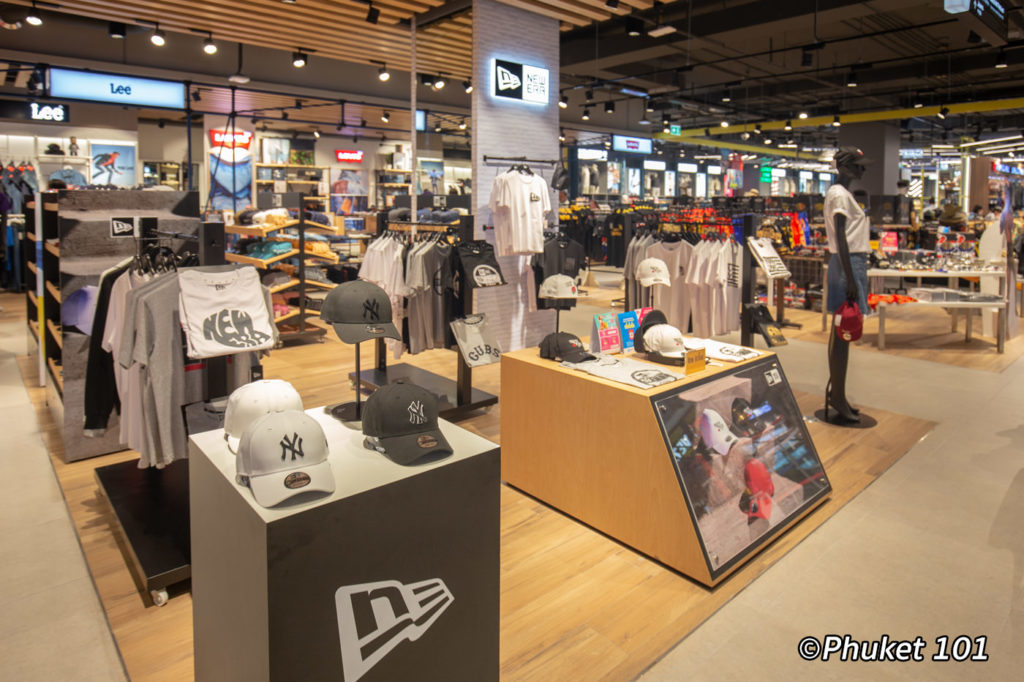 What to expect at Central Patong:
All the usual cosmetics
The usual brands found in department stores
Sport brands
Lots of luggage
A good food court on the lower floor
A small set of restaurants all around
---
Bangtao Beach
Boat Avenue is not exactly a shopping mall, but it is worth a mention if you are in the Bangtao area. With a lot of cool shops and restaurants plus a huge Villa Market supermarket, Boat Avenue is like an open-air shopping mall. It's lively and popular, especially on Friday evenings when the Fun Friday Avenue Night Market in on. Read more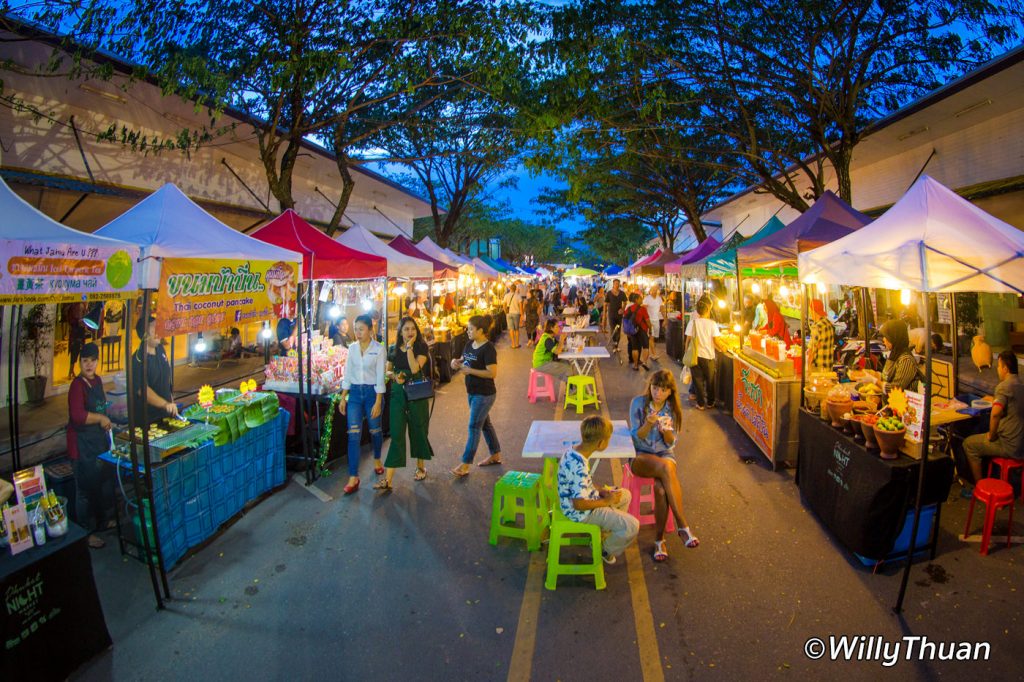 What to expect at Boat Avenue:
Villa Market Supermarket
Restaurants, including some of the best in Phuket
Shops
Furniture
Excellent bars and coffee shops
---
Bangtao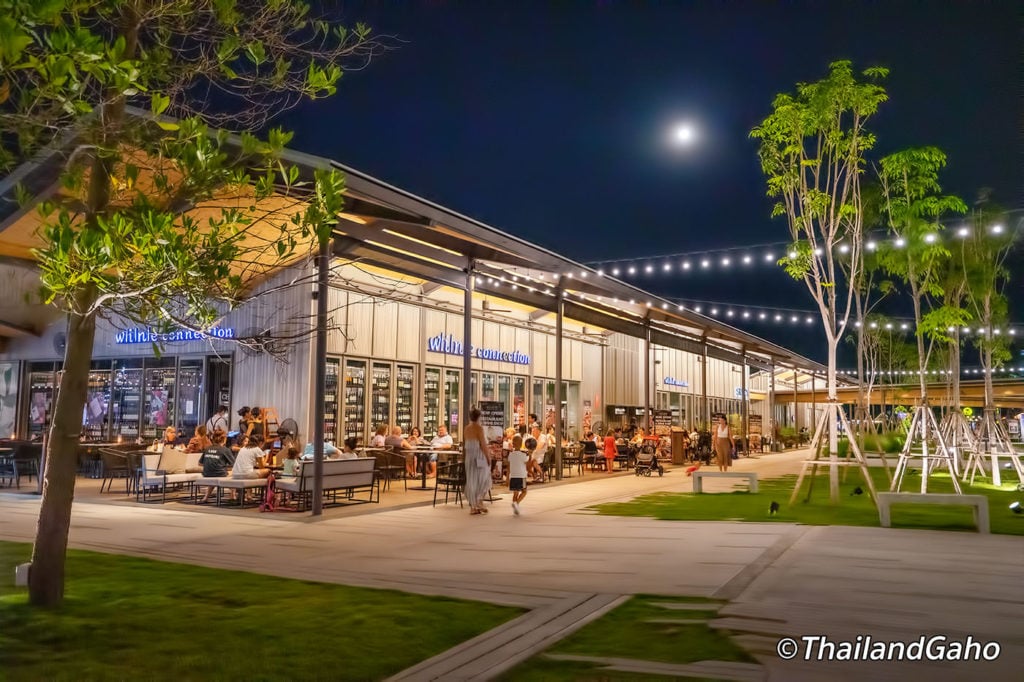 Porto de Phuket is the latest addition to the Phuket shopping scene, and it complements very well the very successful and adjacent Boat Avenue. Porto de Phuket is more a living mall than it's counterpart 'Central Phuket' as shops are not in one immense building but spread across a large land. Read more
What to expect at Home Pro Village
Central Food Hall supermarket
Suay Thai restaurant
Wine Connection
Mango Moments
Spice House restaurant
Little Roma Italian restaurant
Let's Relax spa
B2S Books and stationary
SuperSports
---
6. Home Pro Village
Chalong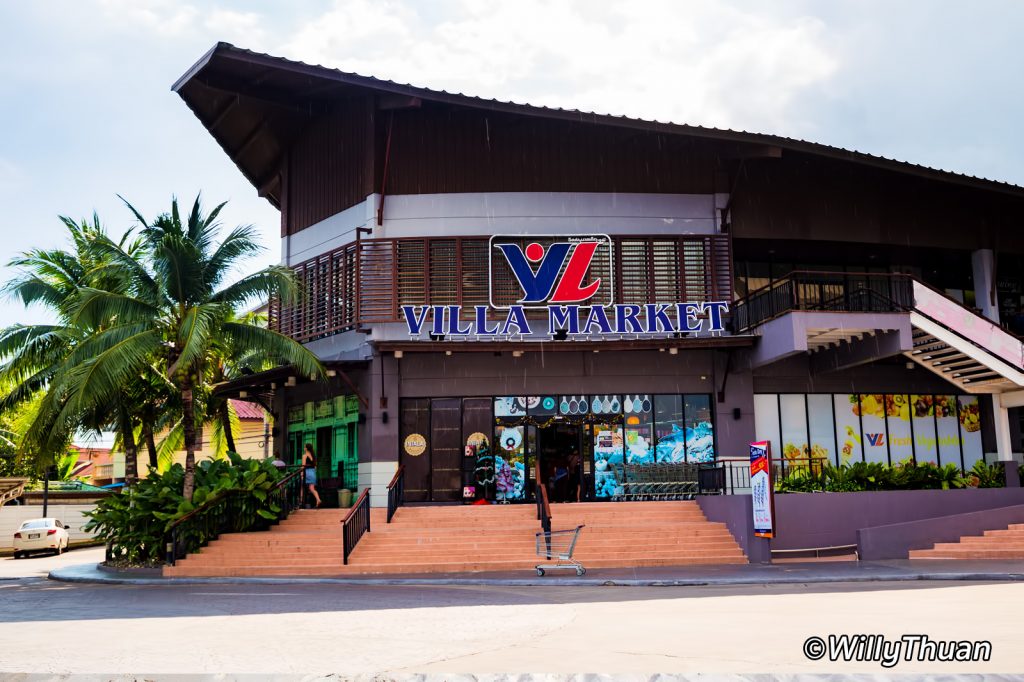 Home Pro is quite modest but has a lot to offer if you are in the Chalong area. It addresses more to the expats than to tourist, but the Villa Market has a vast range of groceries, wines, fresh products and imported goods on sale. The adjacent Home Pro next to Villa Market is immense has everything you need to improve your house (which might not be a great interest to our readers, but it's worth mentioning)
What to expect at Home Pro Village
Home Pro obviously
Starbucks and other international food franchises.
---
Phuket Town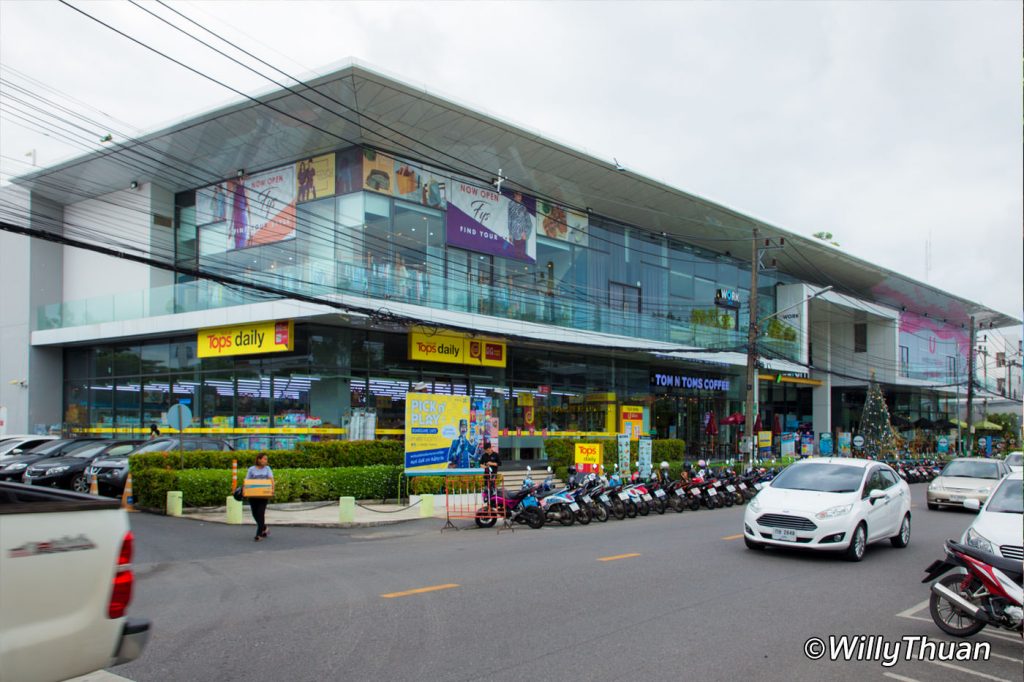 Limelight Avenue is a modest and relatively recent mall in Phuket town. With a few franchise restaurants and some fun shop spread on two floors, it seems to be mostly addressing to young customers. On Wednesdays, Thursdays and Fridays you can also enjoy the Indy Night Market set in the street in front of the mall. It's not as big as it used to be but still fun if you are in Phuket Town on a weekday (the main night markets are only on Saturday's and Sundays)
What to Expect at Limelight Avenue:
Coffee Shops
Tops Supermarket
---
Near Phuket Town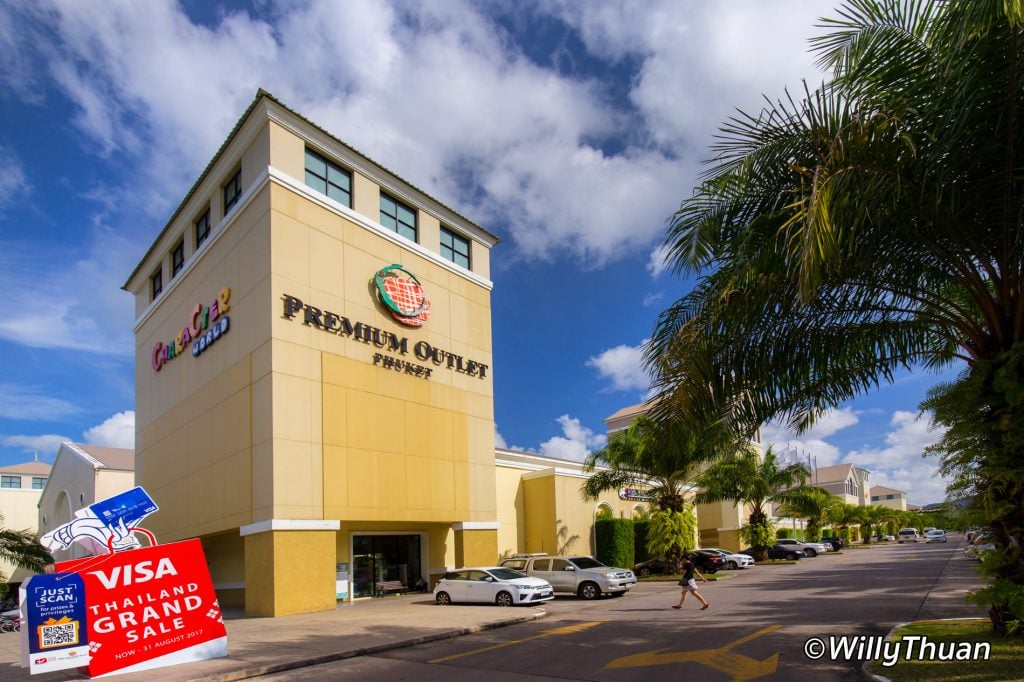 Premium Outlet is a large shopping village at the intersection of Thepkrasatree road and the ByPass road, outside Phuket town. Seen from outside it's rather neat and impressive, but what's on sale is modest and may disappoint. Premium Outlet was designed to accommodate a lot of shops, but it wasn't as successful as expected and is now only half occupied with sports and cloth stores. Read more about Phuket Premium Outlet
What to expect at Premium Outlet
Adidas (the only really large shop)
Wrangler
The North Face
Puma
Reebok
Timberland
etc…
---
Map of Phuket Shopping Malls
---
See also