What to Do in the Similans?
The Similan Islands form a fabulous archipelago in the Andaman Sea, just 100 km north from Phuket island. These small islands are so strikingly beautiful; you don't even need to be an excellent photographer to come back with amazing photos.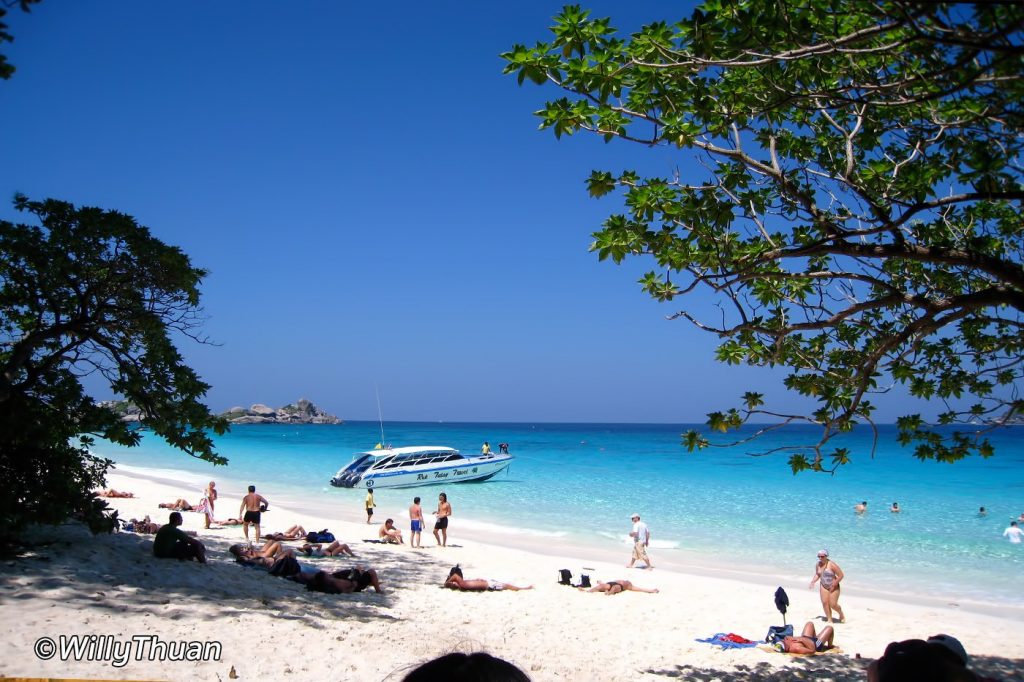 Most people go there on a day trip tour, but the best way to enjoy the Similan islands is to stay for two days. It's a little far from Phuket and can be tiring to get there on a speedboat. This way, you'll have some fabulous beaches almost for yourself in the morning, and this is priceless.
To get there, you should consider booking a tour that takes you around for some snorkelling first, then drop you on the main island where a restaurant and basic accommodation are available. Try not to go for the cheapest speedboat unless you are on a strict budget. You don't want to travel like a sardine in a tin can. Of course, if you are a diver, you'll have dozens of dive centres offering this destination as a day trip from Khaolak or even better: as a live-aboard cruise.
The Similans are open from October 15 to May 15. Time varies each year so always check before planning a day out there.
The archipelago consists of 9 islands, but you will only have time to visit 2 or 3. The first is very well known for its iconic landmark: giant boulders perched at the top of a hill overlooking a bright bay. You'll arrive in the morning and will have just a bit of time to explore, maybe one hour.
Climbing the boulders isn't too hard since steps and ladders have been installed all the way to the top. This will give you a beautiful bird view of the entire bay. The shadow of the boats floating above white sand will give you an idea of how clear water is.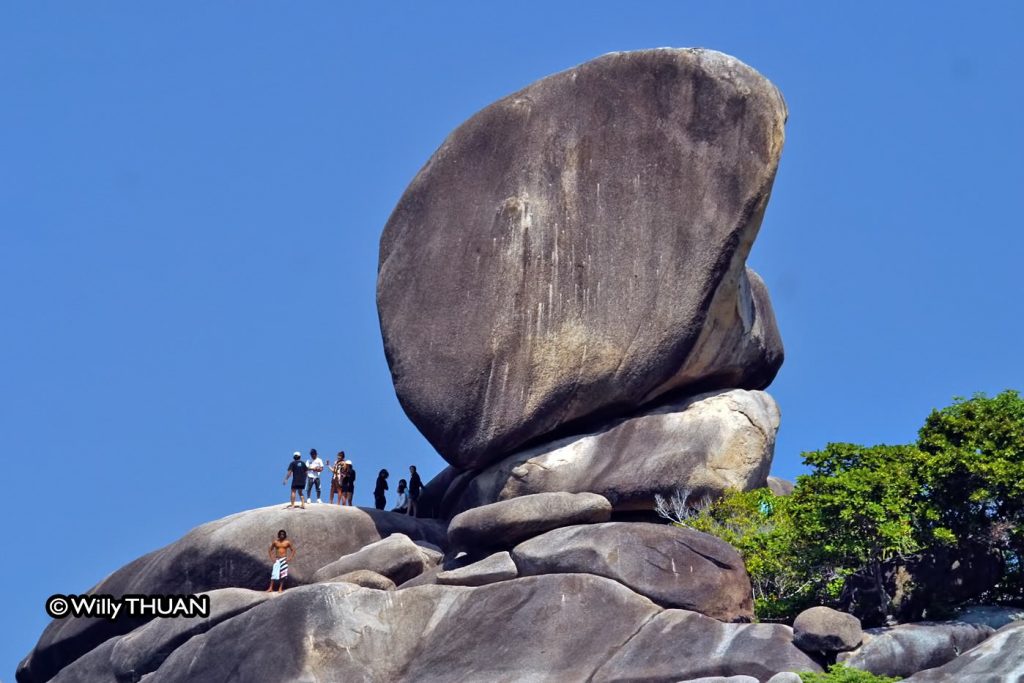 You probably will get a second stop near another island where you can try some great snorkelling. Water is warm and incredibly bright. It feels like flying above coral formations and thousand colourful fishes. It is very common to see sea turtles swimming around the boat, and I suppose they used to get themselves a free lunch.
---
3 Facts to remember not to get in trouble
Do not feed the fish, even if they swarm around you and beg for some.
Do not pick up any coral or sea life.
Do not walk on the coral, swim!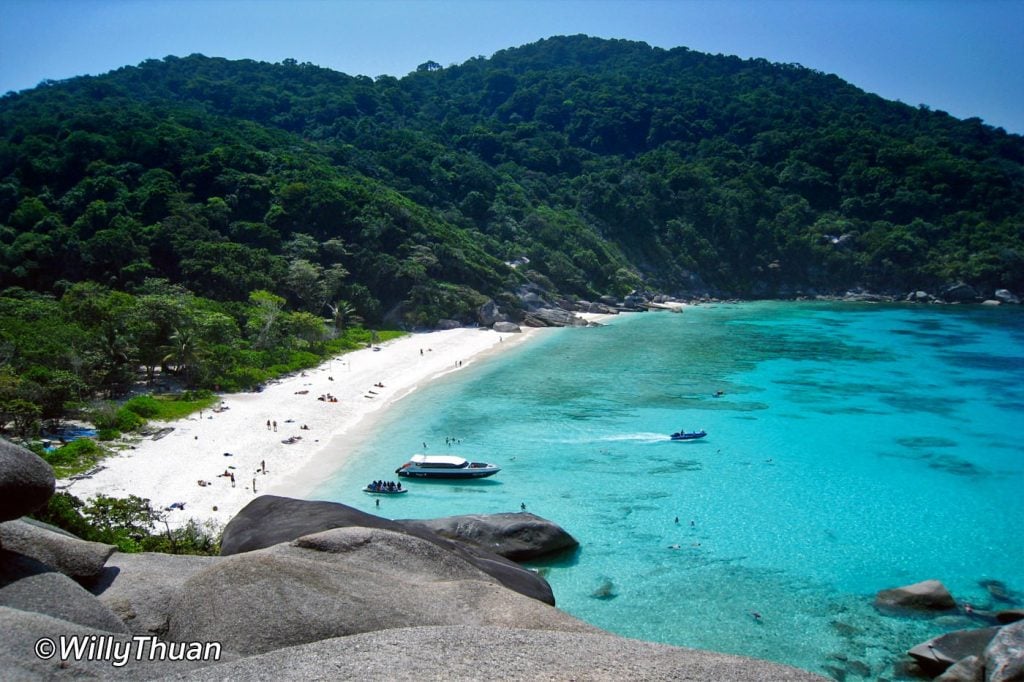 ---
Staying over in the Similans
Update: Staying overnight in the Similans is currently not possible
The last stop is 'Island #4' where you can spend the night in a small tent or an air-con bungalow. I don't know about you, but we picked the bungalow without hesitation. It's not that expensive, but it is quite hard to get. Nothing fancy, but you get your own (cold) shower and bathroom, a balcony with a bit of sea view, and the luxury of cool air at the hottest time of the year (That's March to April.)
You can rent a tent, but I can't imagine what kind of sauna it would be. Please note that you have to book in advance for both tents and bungalows. It would be unwise not to. Last time we went there, it was 570 baht for a tent and 2,000 for a cottage, plus tax of course.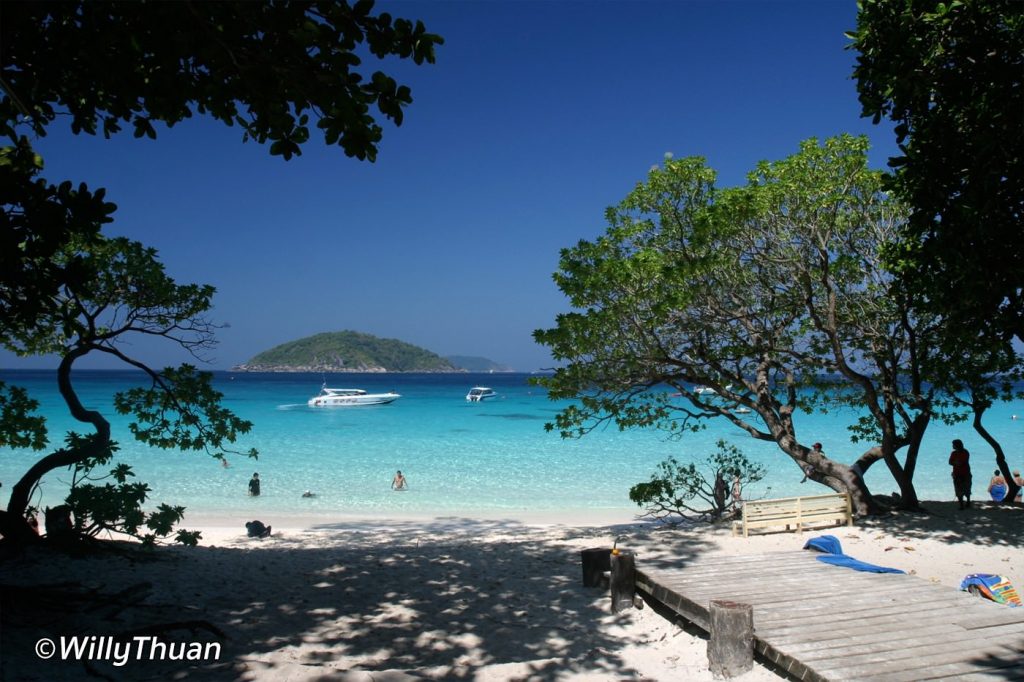 A thatched roof restaurant near the beach serves basic lunch and dinner, water and soft drinks. That's the only place to hang at the end of the day. Not sure if beers are still on sale since they were talking about banning alcohol in all national parks. So at this time, I don't even know if you'll be allowed to bring your own.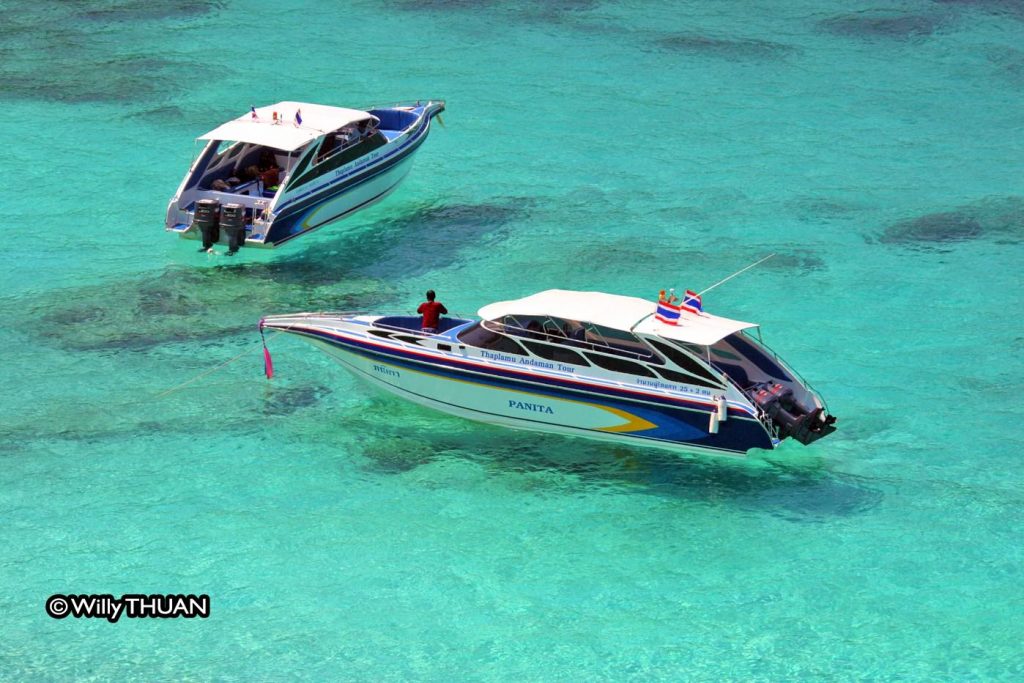 This island has two beaches connected by a path through a small 'forest'. The beach in front of the restaurant is large and incredibly white, well shaded for a nice rest, and water here too is clear and painfully blue. Don't forget sunglasses and sunscreen. Water is warm, and fishes once again are everywhere. The other beach is rockier and less attractive, but since you have plenty of time, it's fun to explore. Go to every corner of the island!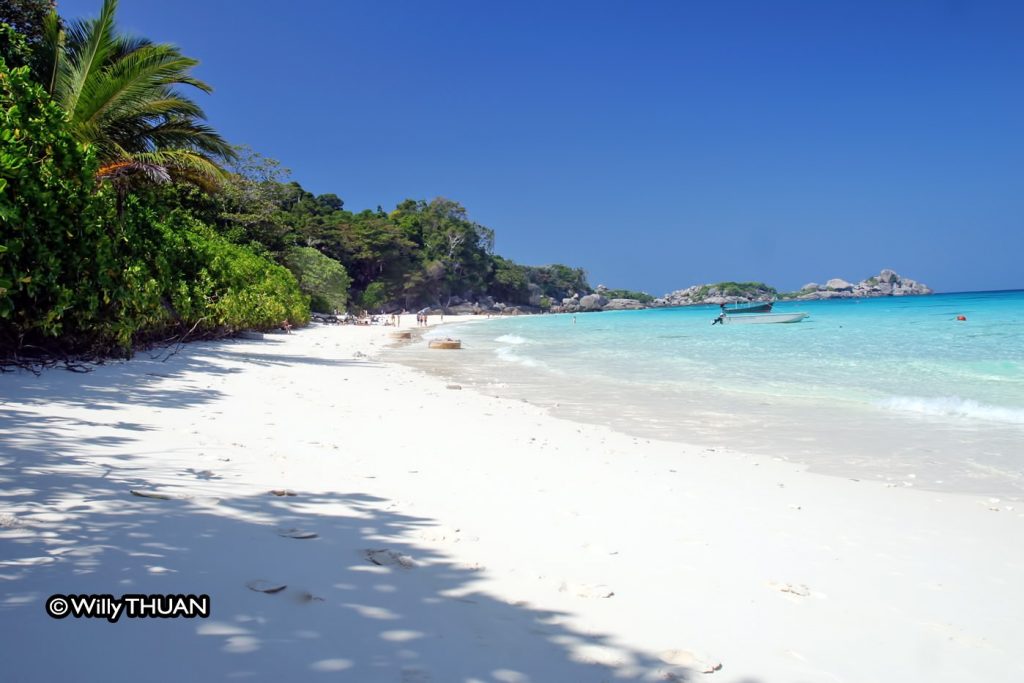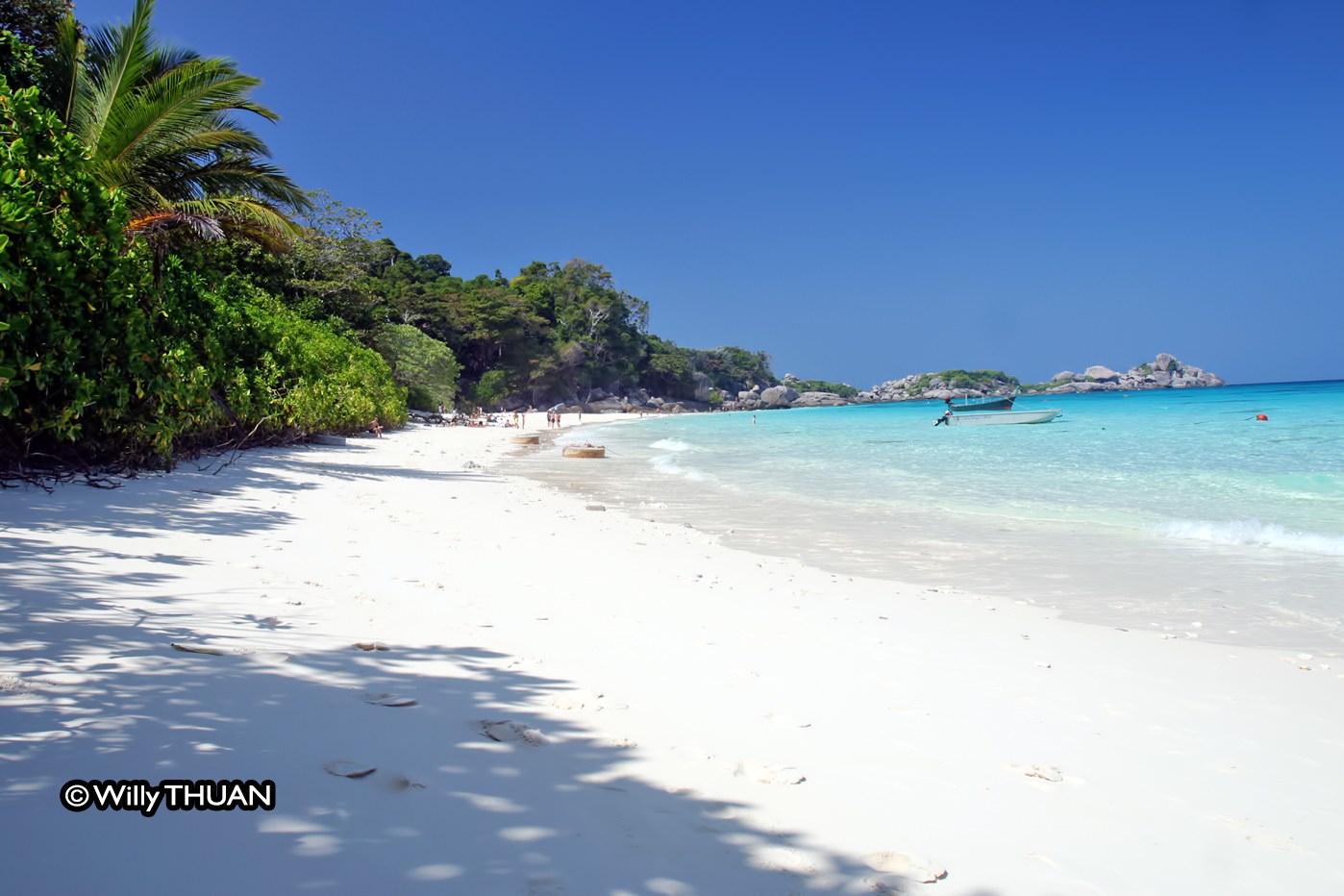 One of the highlights of our stay was a nightly encounter with a giant snake, maybe 3 meters long. That monster was having a nap at the bottom of the stairs leading to our bungalow. It looked like a python, but we were not sure. So we had the choice between sleeping on the beach or practising our best high jump. We chose to jump, but then I couldn't resist to go back and get some close up photo. The lady working at the restaurant told us the next day that such an encounter was very unusual. Considering how small the island is, I wonder how rare.
---
How to Book A Room in the Similans
It's not simple, and you should try as early as possible:
Similan National Park Accommodation
T: (02) 562 0760 (02) 561 0777 – [email protected]
http://nps.dnp.go.th//reservation.php?option=home (select Mu Koh Similan)
or http://nps.dnp.go.th/parksdetail.php?id=46&name=MuKoSimilanNationalPark
---
When are the Similan Islands open?
The Similan open from November 1st to May 15th. Time varies each year so always check before planning a day out there.
---
Useful tips:
Having a waterproof camera is worth it. Turtles are not shy, and you will effortlessly get a nice shot. The entire area is full of corals and tropical fish. It might not be a bad idea to buy one of those waterproof floating bags; they are cheap.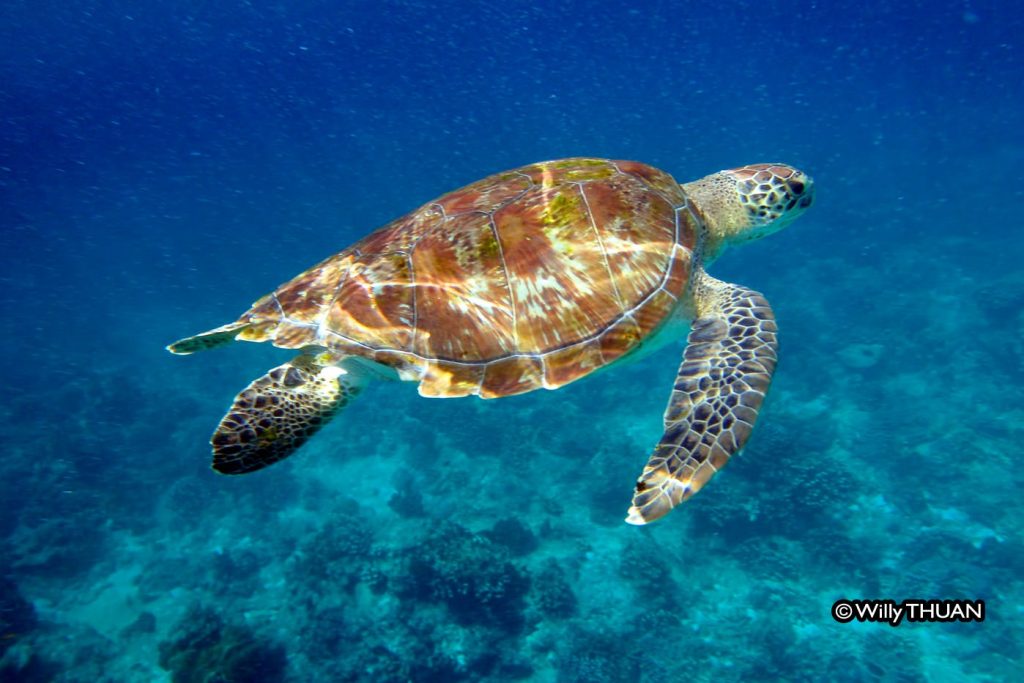 ---
On the not so fun side:
Buy some motion sickness pills. Most companies will provide some, but better be safe than sick, and it's a long trip, so unless you are a sailor: take it, once you start to feel sick, it is not easy to stop it.
Don't seat at the front of the speedboat, it's fun for 5 minutes while you are still in the calm waters, but it might become a real roller coaster ride, and your spine might never forget it. Don't forget sunscreen, sunglasses AND a cap! The rear end of the boat is the most stable place, but you'll be in the sun for more than two hours! Now if you like fantastic scenery, but you are worried about seasickness, consider a cruise in Phang Nga Bay instead.
---
Good to know about Similan Islands:
There is a National park fee to pay, but it usually is included in the speedboat fare. To book a tent or a bungalow, contact the National Parks at (+66) 25 62 0760 is the easiest way. You can contact your travel agent and get a pick up at your hotel or drive to Takua Pa and get a boat from there which is cheaper.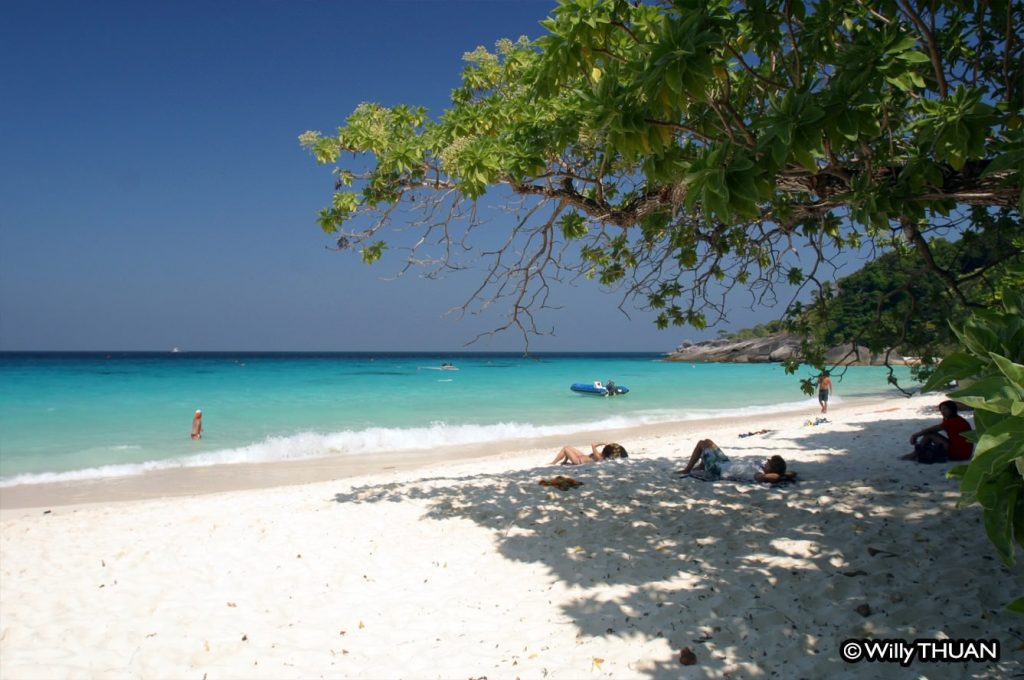 ---
More  Photos of the Similans
---
Download Similan Islands Map
If you are on mobile, add the map here: https://goo.gl/maps/13tq3FhkBL6k3EF68
---
Where are the Similan Islands?