What Are Phuket Best Restaurants?
The list of the Best Restaurants in Phuket list is growing fast, especially since the Michelin Guide has arrived on the island. Phuket culinary scene has evolved a lot in recent years, and the choice of restaurants has grown tremendously. Having amazing restaurants in Phuket happened naturally for a few reasons: 1) Thailand is naturally blessed with fantastic cuisine, able to offer something great for everyone, at any price. 2) Phuket has a beautiful choice of excellent very fresh seafood, 3) the island, the sea and the beaches are so beautiful, it was just a question of time for some great chefs from around the world to come and settled down, calling Phuket their new home.
After 25 years on the island, deciding which ones are the best is challenging since there are so many factors to consider: food, of course, then setting, service and price. Even great restaurants can have a bad day, so we usually give at least a second chance. In any case, we never inform in advance, so we are always treated like regular anonymous customers. No special treatments or free meals!
Some restaurants are fancy, and some are local. Not everyone will agree with us, but these are places we love to go and to go back. Note that there are quite a lot of restaurants to review in Phuket and while we did try a lot of them, we still haven't tried a few so this list might evolve during the year.
---
Bangtao Beach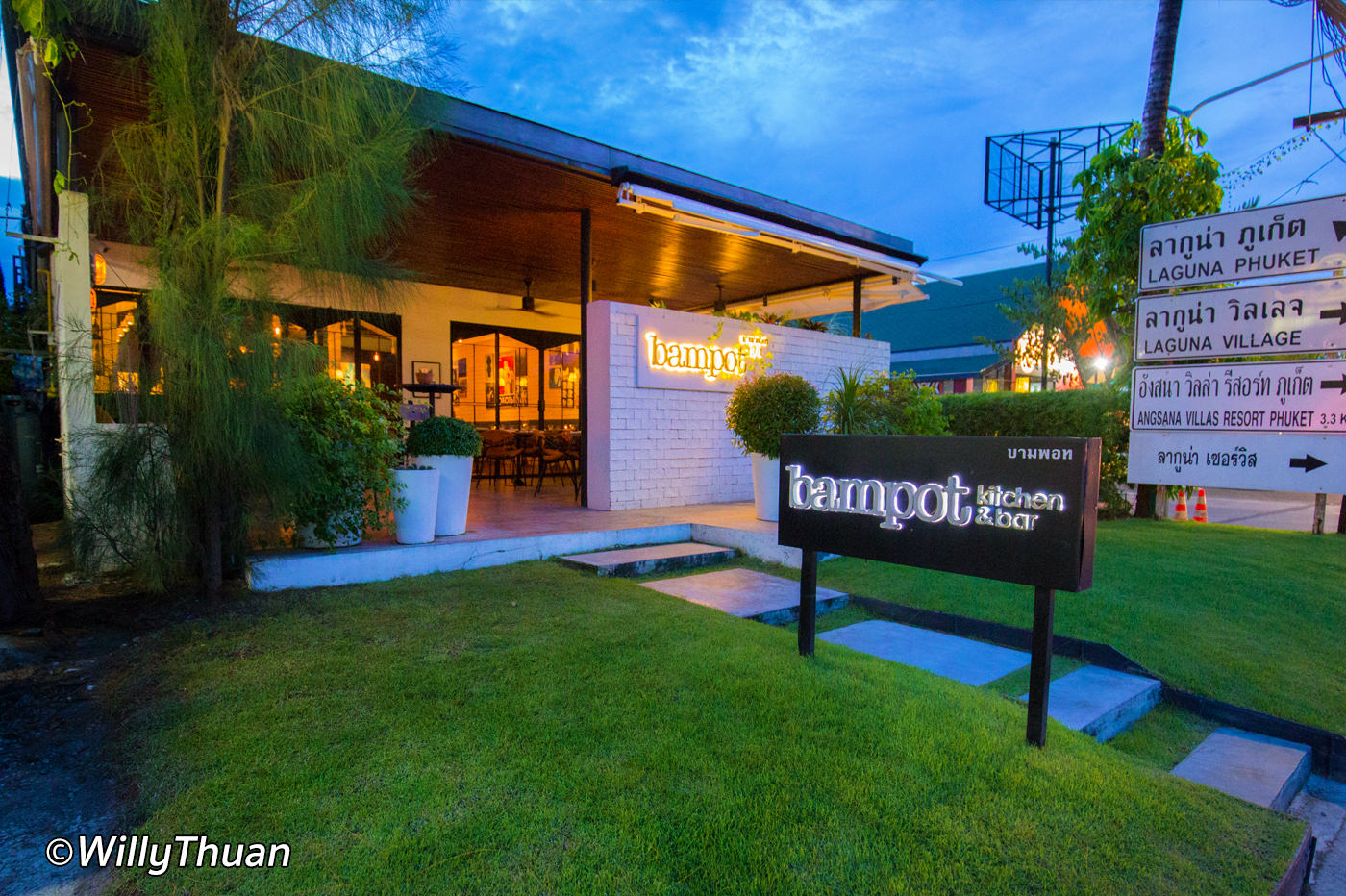 Bampot is a beautiful restaurant found at the entrance of the well-known Laguna Phuket, near the trendy 'Boat Avenue'. Chef Jamie serves a modern cuisine prepared with great care without being sophisticated. It is all about balance without fuss. This well-designed restaurant is great to meet with friends who share your passion for great food. And since it's not overly expensive, you don't have to wait for a special occasion to visit Bampot. Note that the place is popular, so while reservations are not compulsory, they are recommended. Read more
Location: 19/1 Moo 1, Lagoon Road (near Boat Avenue, Bangtao)
Open: 6:00 pm – 12:00 am (Saturday 12 noon – 3:00 pm)
Phone: 093 586 9828
Price: A bit high
---
Nai Yang Beach
Black Ginger is a beautiful and excellent Thai restaurant in the middle of a small lake inside the Slate Resort on Bangtao beach. The food is delicious, and the magical setting adds a surreal touch to the experience as a raft gently glides from the restaurant to pick you up at the deck, illuminated by real torches. Chef Piak prepares a unique and genuine Thai cuisine, including some Phuket specialities and fabulous desserts. You should try her Som Tam, Tom Yum, Panaeng curry and crispy prawns with battered cha-plu leaves. Read more
Location: 116, Moo 1, Sakhu, Thalang, Phuket 83110 (Nai Yang Beach)
Open: 6:00 pm – 11:00 pm
Phone: 076 327 006 (reservations strongly recommended)
Price: Expensive
---
Kata Noi Beach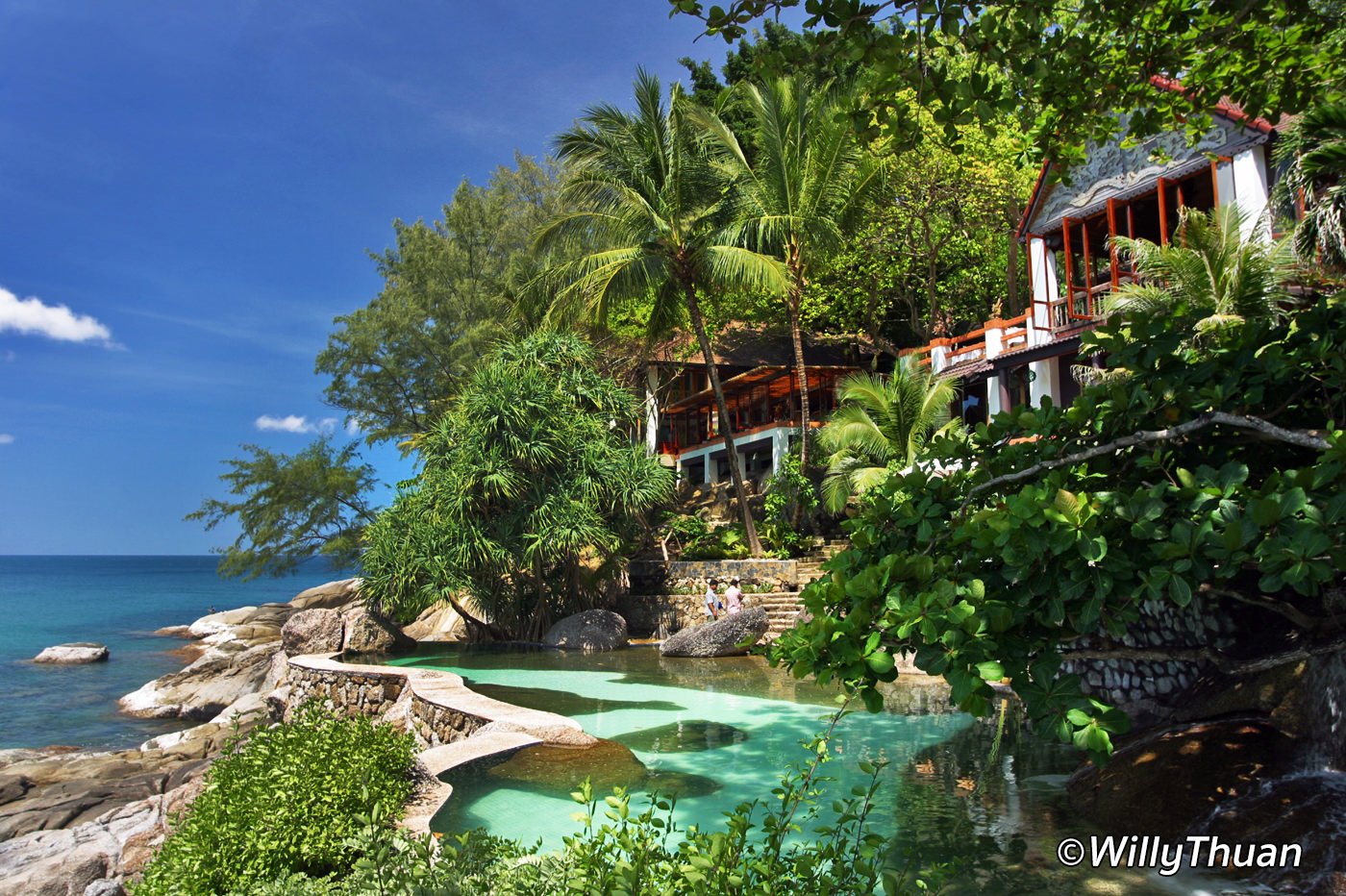 Mom Tri's Kitchen is one of the longest established restaurants in Phuket, one of the few places serving authentic cuisine when there was just a handful. Chef Darren and Chef Sura prepare an excellent Thai cuisine, including seafood and some real Phuket dishes. The restaurant is in a wooden Thai style house, on a small cliff with beautiful sea views. Mom Tri's Kitchen is also known to keep a superb wine cellar to go with your romantic dinner. Prices are on the high side and booking are strongly recommended. Read more
Location: 12 Kata Noi Road, Kata Noi Beach
Open: 7:00 am – 11.30 pm
Phone: 076 333 568
Price: Expensive
---
Phuket Town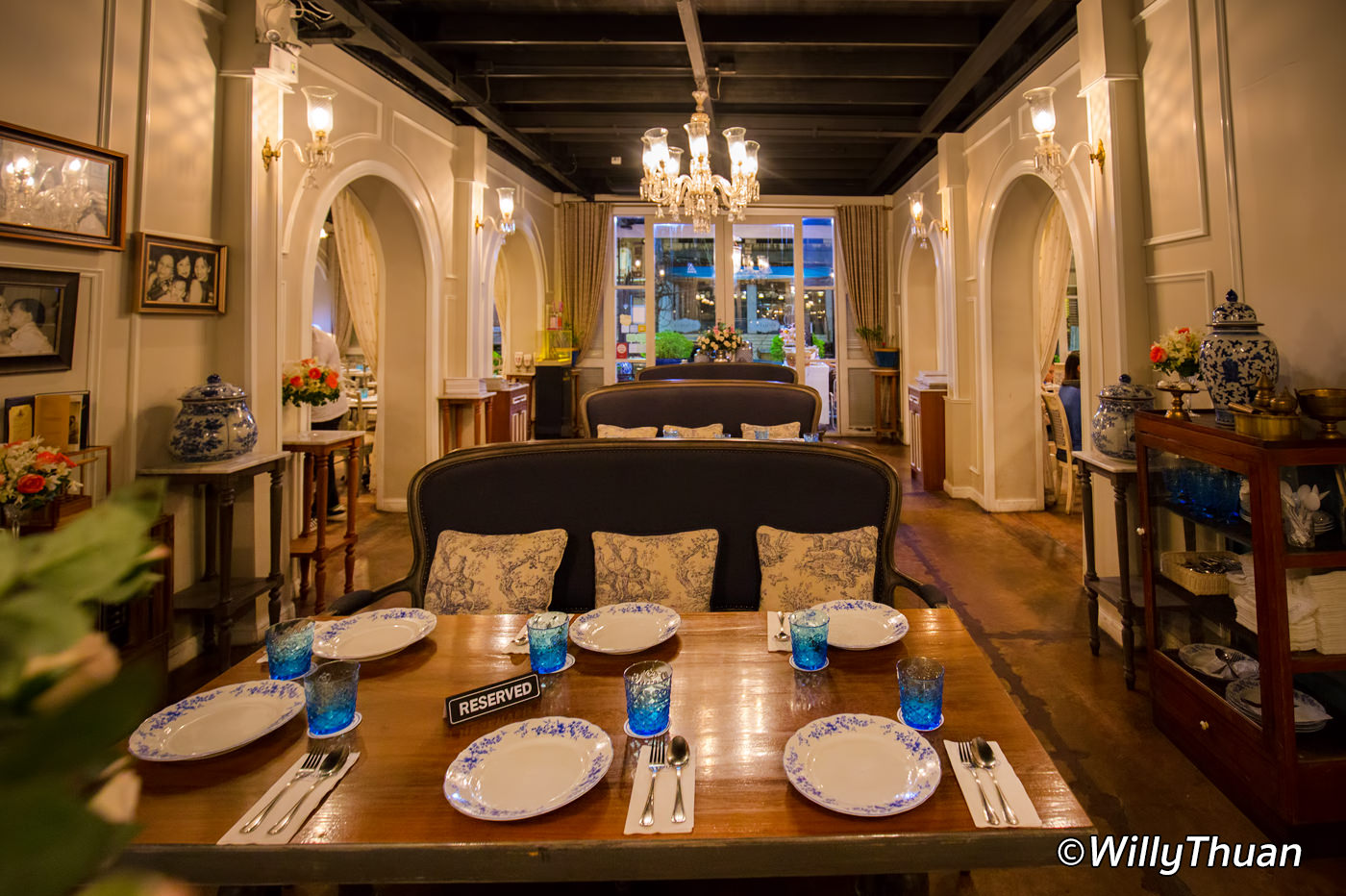 Tu Kab Khao is a favourite Thai restaurant in Phuket town serving great southern Thai food, a chance to try their selection of dishes typical from Phuket. Tu Kab Khao is the name given to a small closet every Thai house had a long time ago to keep the food safe from ants and flies for the next meal. The feet of that closet were placed in a bowl of water to keep the ants away. Read more
Location: 8 Phang Nga Road, Phuket Town (the restaurant with a giant lobster hanging on the side)
Open: Daily 11 am – 12 midnight
Phone: 076 608 888
Price: Affordable
---
Patong Beach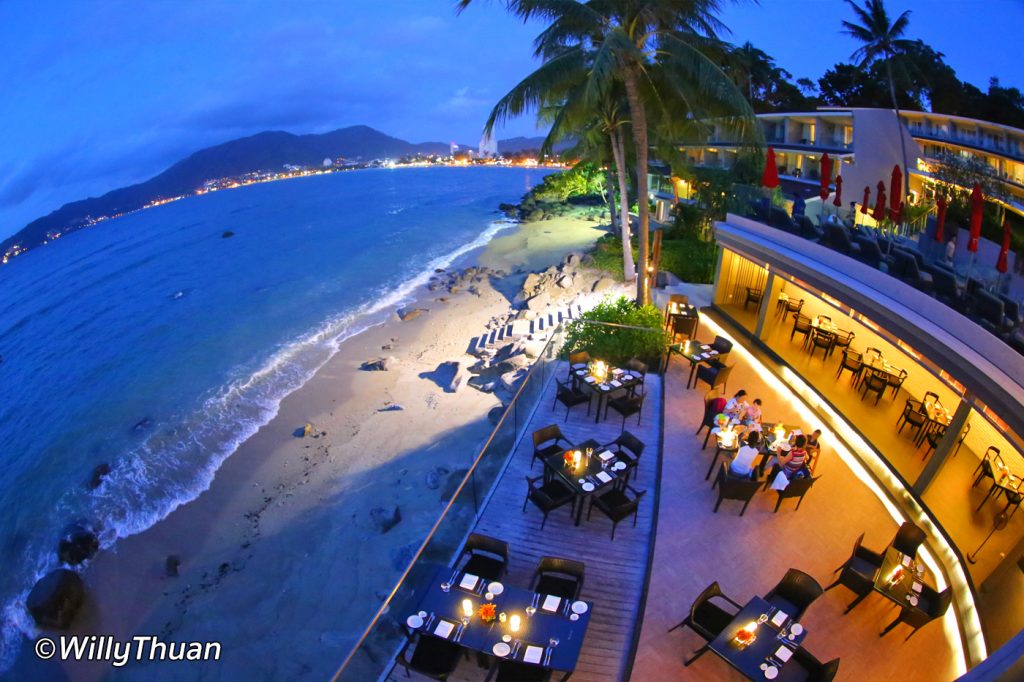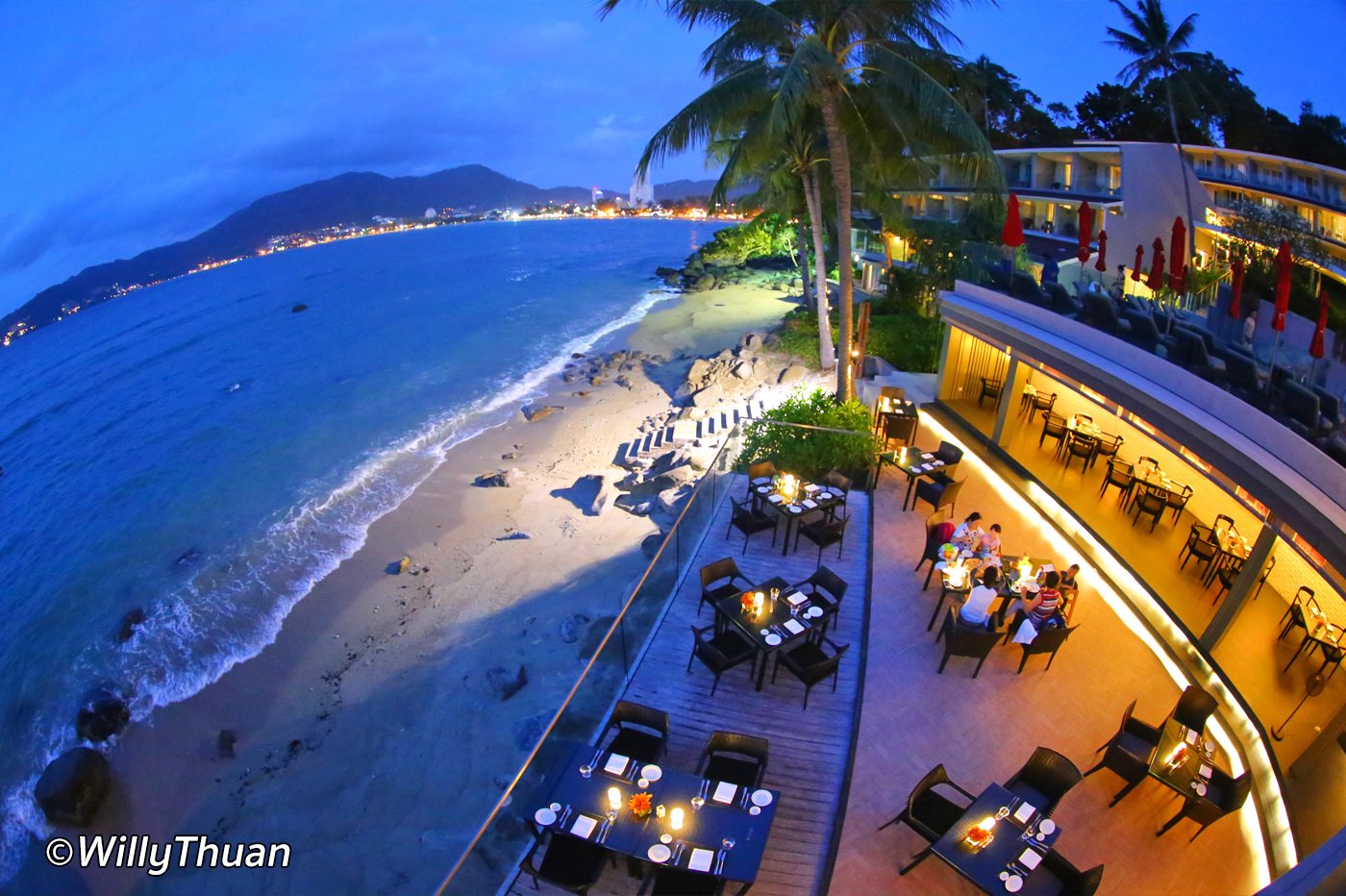 La Gritta at Amari Phuket at the southern end of Patong combines a great Italian cuisine with a unique view on the entire Patong bay and a spotless service at a good price. Book in advance and take your loved one to a great romantic evening you won't forget. [Read more]
Location: Amari Phuket Resort in Patong Beach
Open: 10:00 am – 12:00 am
Phone: 076 340 112
Price: a bit high
---
Chalong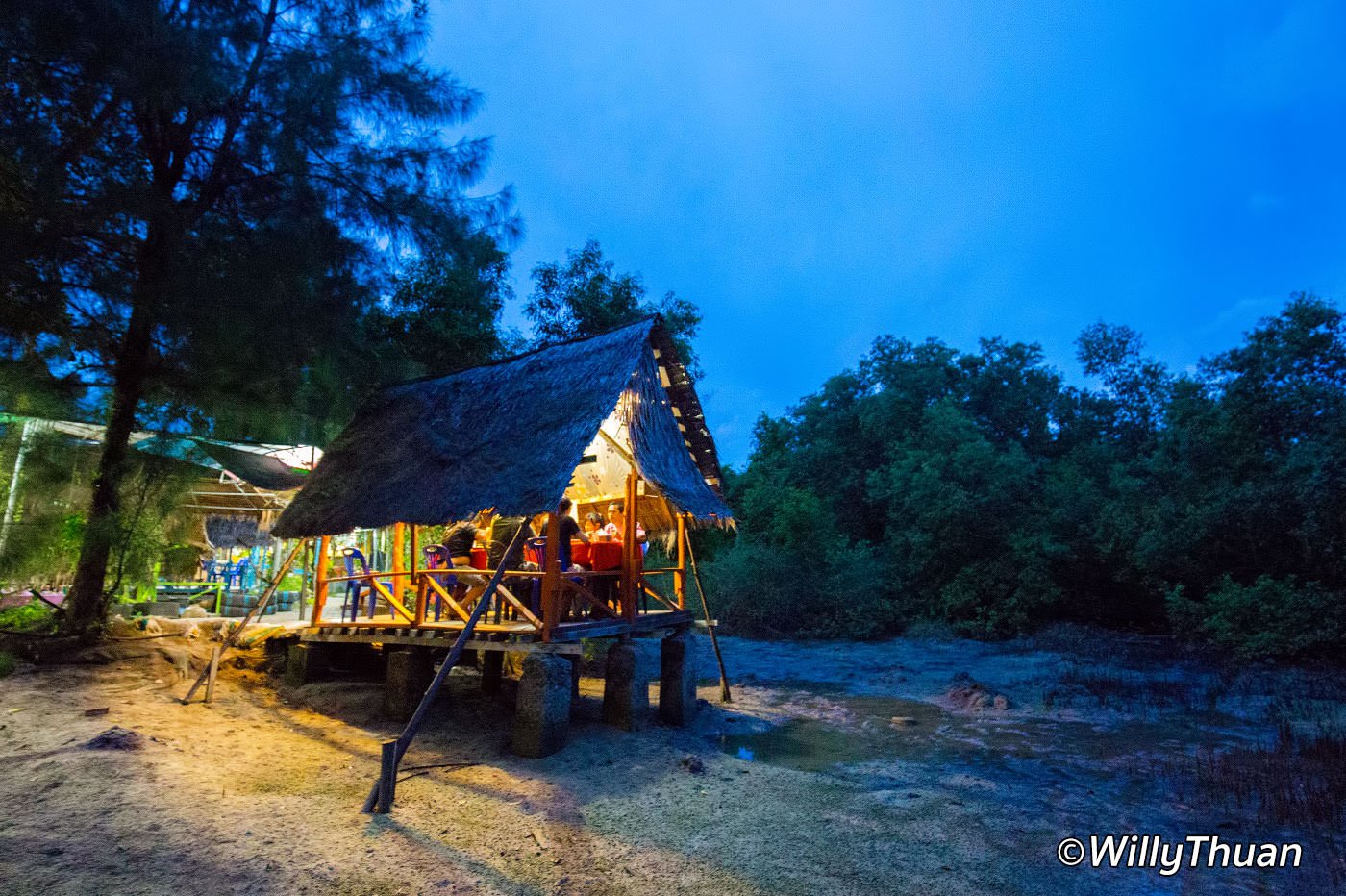 Mor Mu Dong has always been one of our all times favourites in Phuket. It's hidden in the mangrove somewhere in the south of the island, and you still eat on the floor of little huts with thatched roofs over the water. The food is great and as local as it gets. Best of all, it's not even expensive. If you travelled all the way to experience Thailand and Thai food, this is a real experience you won't forget. Their seafood is great, and some are local like the beloved 'Gaeng Som Pla' a delicious pungent and sour fish curry that is really spicy but so good… if you can take it! Note that if you can't eat on the floor, Mor Mu Dong also has normal sitting areas, but it's not as fun. Read more
Location: 32/9 Soi Mu Dong, Chao Fah East, Chalong (past the zoo)
Open: 10:00 am – 9:30 pm
Phone: 088 766 1634
Price: Affordable
---
Phuket Town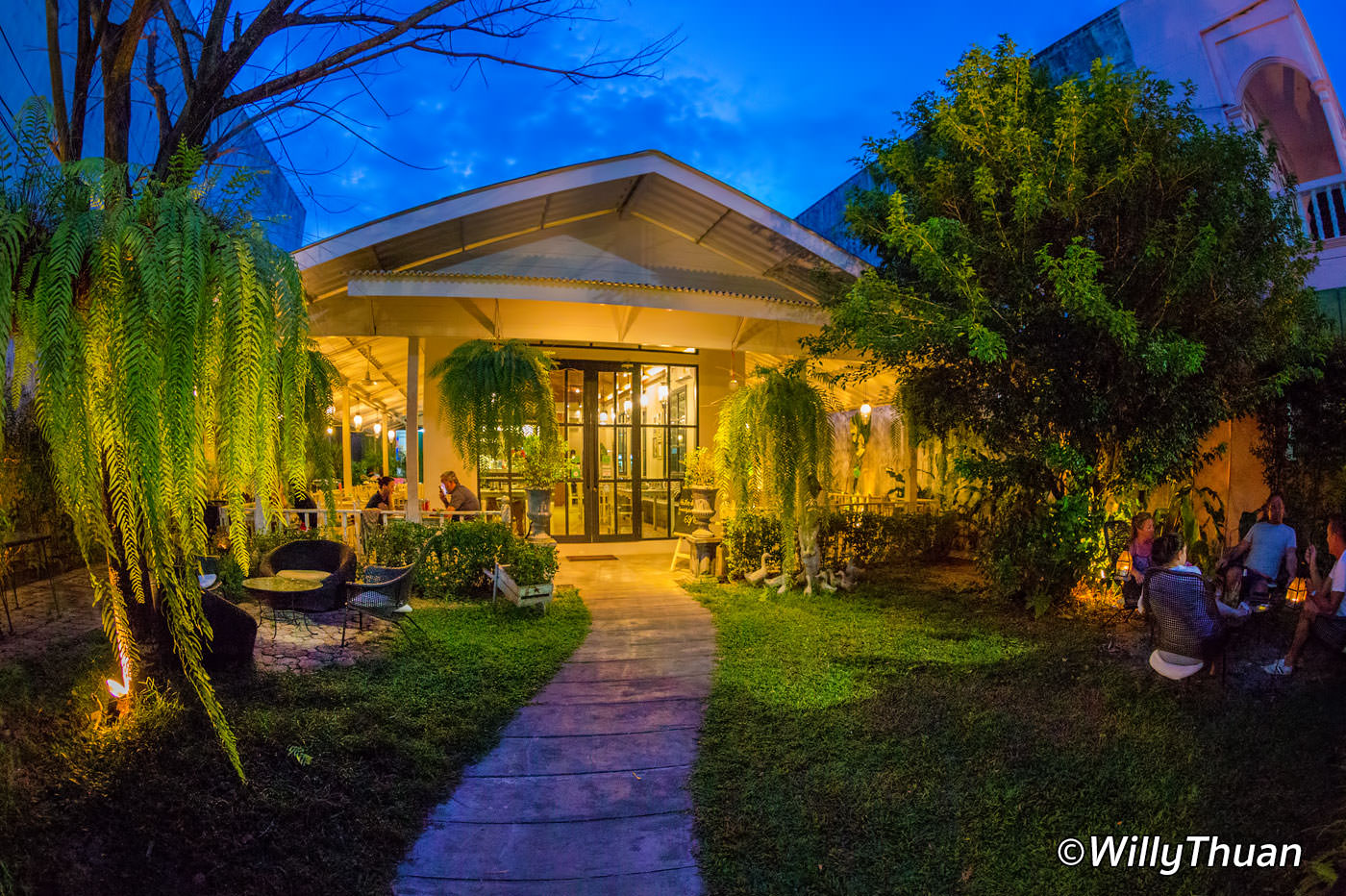 Suay started modestly in a little house a decade ago, hidden in a back street of Phuket town and became popular almost instantly. At the time, there was 2 kinds of Thai food in Phuket: traditional Thai food (which is excellent by the way) and overly complicated Thai food. Chef Tammasak came with a young, fresh and affordable approach that was much-needed. This little restaurant in a tiny garden is a great place to end your exploration of the old Phuket Town.
Location: 50/2 Takua Pa Road, Phuket Town
Open: 11:00 am – 4:00 pm, 6.00 pm – 10:00 pm (closed on Monday)
Phone: 087 888 6990
Price: Affordable
---
Patong Beach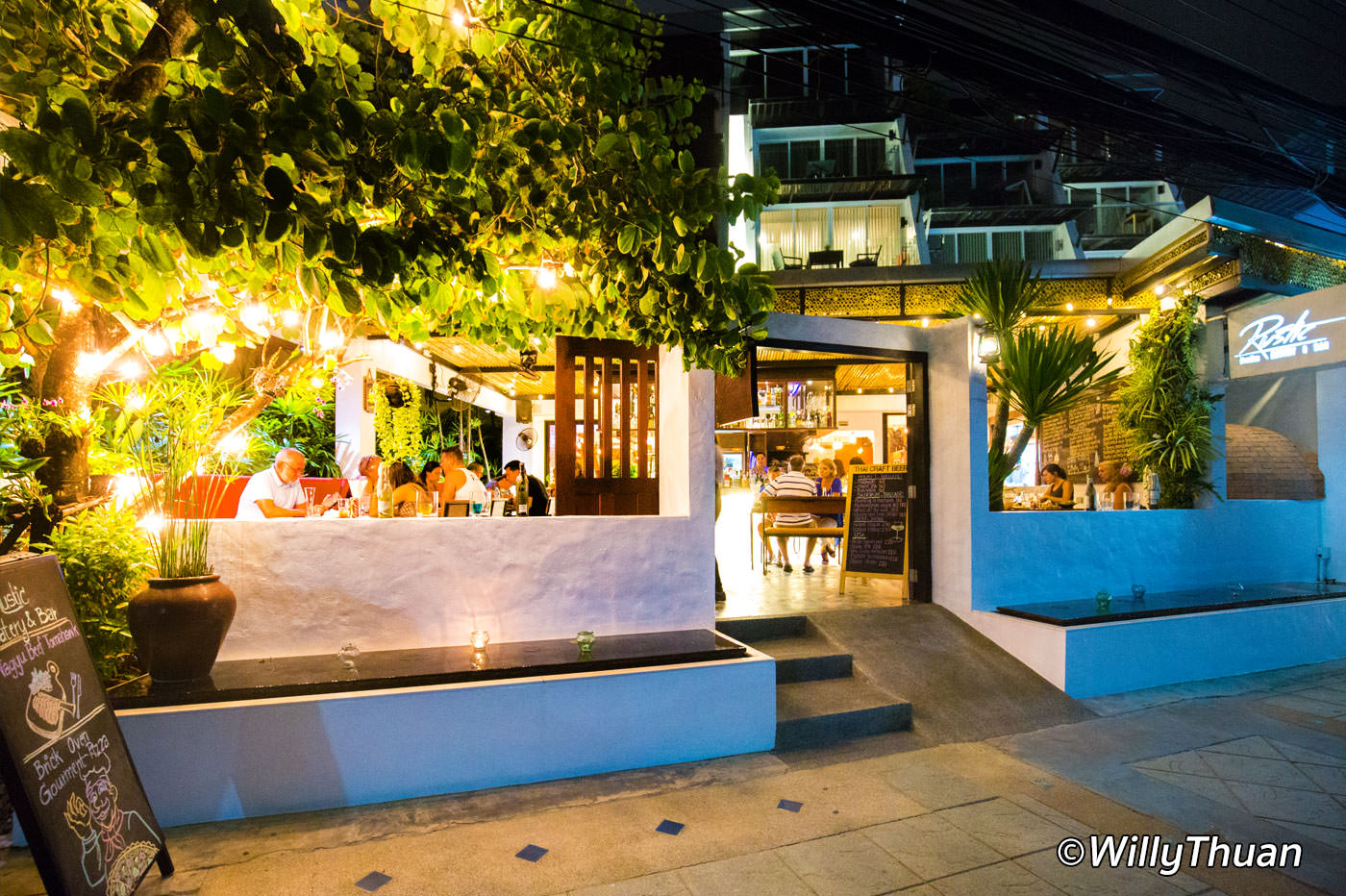 Rustic arrived in Patong Beach like a breeze of fresh air. For a long time, Patong was known not to have many culinary options, and the few available were expensive. In recent years, things, fortunately, started to change and Rustic is one of those excellent restaurants where you can enjoy something prepared with passion and not having to spend a fortune. Operated by Chef Nikola Lesar, MasterChef Croatia winner 2012, the restaurant is often recommended by in 5-star resorts so here too, you really should book in advance.
Location: 36, 38 Thaweewong Road, south end of Patong Beach
Open: 8:00 am – 10:00 pm (Monday closed)
Phone: 076 344 776
Price: Medium to high
---
Phuket Town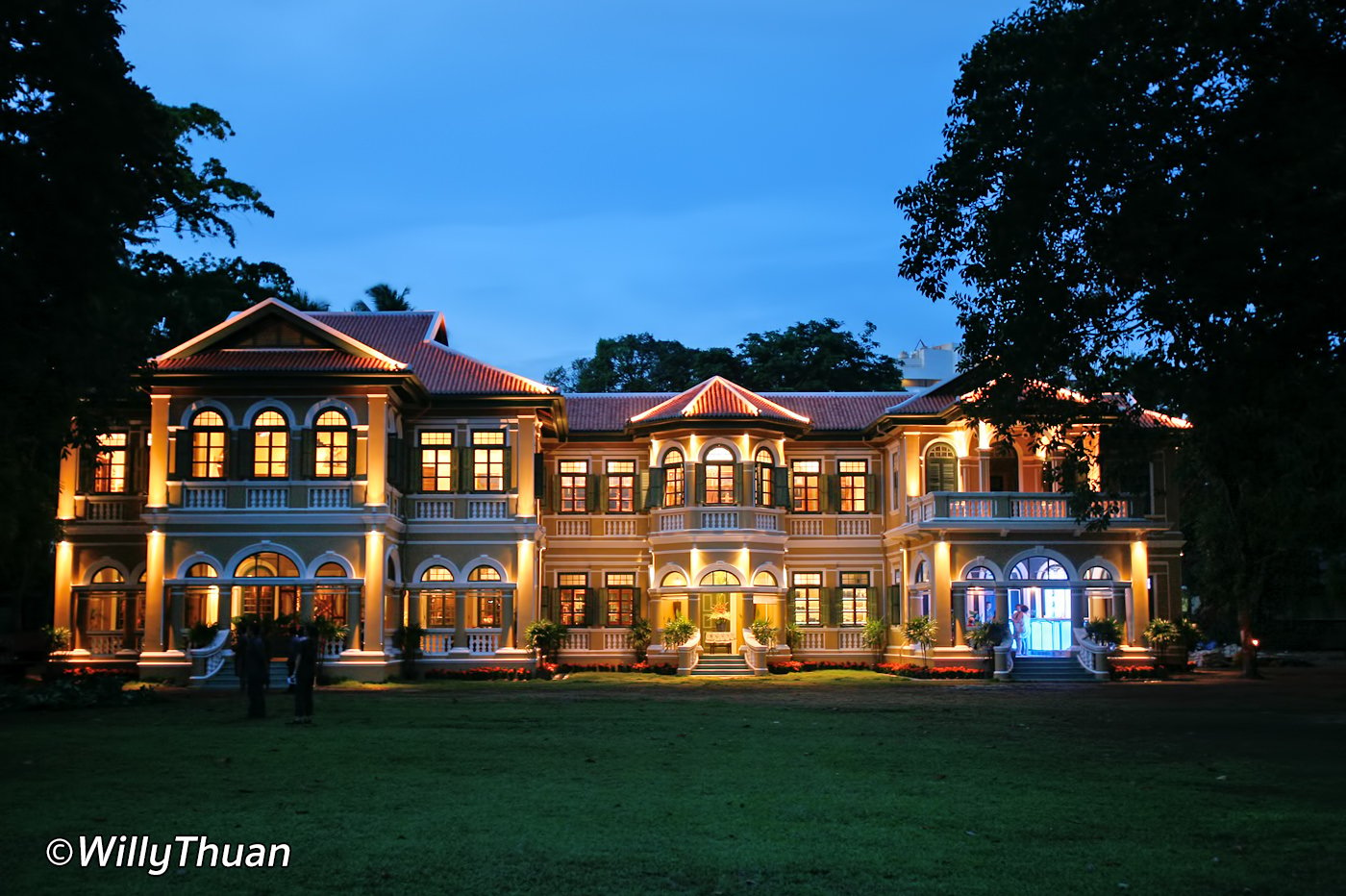 Blue Elephant is both a famous Thai restaurant and a cooking school. The food is as delicious and the presentation more elaborated than in most Thai restaurant on the island. What strikes most is the setting in the old and beautiful Phra Pitak Chinpracha Mansion that long ago used to belong to a governor. Food is excellent; the presentation is superb, service is as expected impeccable, the wine list is impressive, and of course, the house is fantastic — many good reasons to visit the Blue Elephant. Price is quite high, so keep it for a special occasion.
Location: 96, Krabi Road in Phuket Town
Open: 11.30 am – 10.30 pm
Phone: 076 354 355
Price: Expensive
---
Kan Eang is another excellent restaurant in Phuket, with decades of successful stories. The setting is superb, the food is delicious, and we love to go every time we can. Some might argue that it's more expensive than it should for seafood and that you can get cheaper seafood elsewhere. Well, yes and no. Crabs, squid, prawns and other seafood are bigger, fresher and sweeter than in your average Thai restaurant. Both seafood and Thai food are delicious, and the setting by the sea is perfect for a lazy lunch or dinner by the sea. We love to go there for a relaxing Sunday lunch.
Location: 44/1 Moo 5, Viset Road, Near the Chalong circle
Open: 10:30 am – 11:00 pm
Phone: 083 173 1187 (reservations not necessary)
Price: Medium to Expensive
---
Phuket Town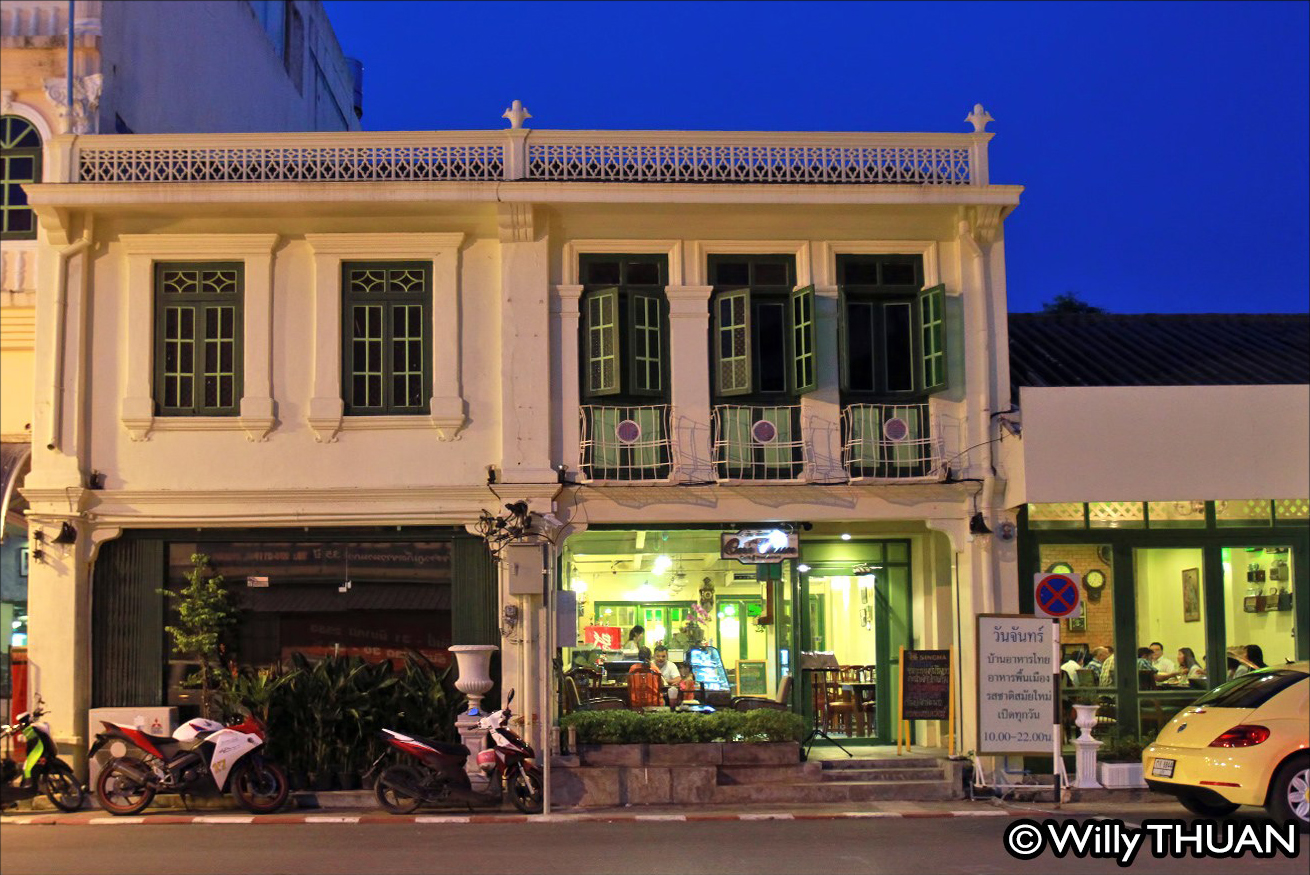 One Chun is very popular with locals, which usually is a pretty good clue about the food served. One Chun serves a great choice of Thai and Phuket dishes at a fair price, in a fun and casual restaurant. The location is the historical Phuket Town just next to the weekend street market makes it an excellent opportunity to end your exploration day with great Phuket food. Note that One Chun is cash-only. Read more
Address: 48/1 Thepkasatree Road
Open: 10 am – 10 pm daily
Tel: 076-355 909
Price: Affordable
---
Phuket Town
Raya House is an old classic restaurant that hasn't changed much since the day it opened, several decades ago. It's a beautiful old house serving excellent Thai food, mainly known for its crab curry with rice vermicelli. It started modestly and became so popular; it's not unusual to meet Thai celebrities from Bangkok stopping over to enjoy dinner here. It's not overly expensive and a perfect place to dine near the old town.
Location: Dibuk road, Mueang Phuket, Mueang Phuket District, Phuket 83000
Open: Daily: 10:00 am – 10:00 pm
Phone: 076 218 155
Price: Affordable