---
Where to eat in Kata Beach?
---
Kata Beach has many restaurants and places to eat, from modest street food to the most high-end dining experience in Phuket. You will be surprised by the level of cuisine and setting you can find in Kata. Beach dining is great for lunch or even breakfast, and a sunset dinner at one of the panoramic restaurants above kata Noi is a great way to end the day. For a fine dining experience with a fantastic sea view, Kata Rocks is one of a kind, and Villa Royale is one of the best Thai restaurants on the Island.
We have been residing in Thailand for 28 years and are very enthusiastic about Thai cuisine. We frequently visit new places and restaurants that are popular on social media. Here is our compilation of the top Thai and international eateries in Kata Beach. The list is constantly updated as we discover more restaurants.
---
Beach Dining
You will find a line of restaurants at the extreme south of Kata Beach for an affordable local lunch right on the sand. None are sophisticated: wooden shacks with thatched roofs, plastic chairs around basic tables, and good affordable Thai food with your feet in the sand. It's hard to beat this!
---
Greenheart Garden, located high on the hills above Kata Beach, offers breathtaking views of the Andaman Sea in a serene, peaceful atmosphere. The restaurant features spacious wooden terraces with bamboo furnishings, nestled amidst lush greenery. The staff is welcoming and the food, featuring traditional Thai cuisine, is highly rated. A true hidden gem in the area.
Address: 13 Patak Rd, Karon, Mueang Phuket District, Phuket 83100
Hours: 10 am – 7 pm
Phone: 087 627 3849
Facebook: click here
As the name indicates, Ska Bar and Kata Seafood consist of 2 places: the Ska Bar is best known for its unusual setting under a gigantic tree on the beach, and the Thai and seafood restaurant next to it. The restaurant is rather touristy, but It keeps a certain old-fashioned charm.
Address: 186/12 Patak Rd., Ban Kata, Phuket, Thailand 83100
Phone: 081 797 0559
Open: 8 AM – 10:30 PM
Price: Cheap
Kata Rocks serves superb Mediterranean and seafood cuisine with amazing sea views. The dining tables are set by their iconic infinity pool, so make sure you come a bit before sunset to enjoy some of Kata Rocks' famous cocktails. This is the perfect setting to enjoy a romantic evening.
Address: 186/22 Kok Tanode Road
Open: 11 am – 10 pm
Phone: 076 370 777
Price: High
The boathouse in Kata Beach has been a culinary landmark in Phuket for many years. The food and wine are good, but the restaurant's location is special.
Location: 182 Koktanode Road
Phone: 076 330 015
Open: 6.30 am – 12 am
Sugar & Spice is very popular for serving excellent Thai and international food at the right price. In case you have had too much Thai food, lately, they also serve Scandinavian and Russian food, BBQ ribs, sandwiches, burgers, fish, and chips! The location in the centre of the second street makes it very convenient (not far from the night market).
Address: 98/70 Kata Rd, Karon, Mueang Phuket District, Phuket 83100
Open: 8 am – 10 pm
Phone: 081 970 6503
Price: Good value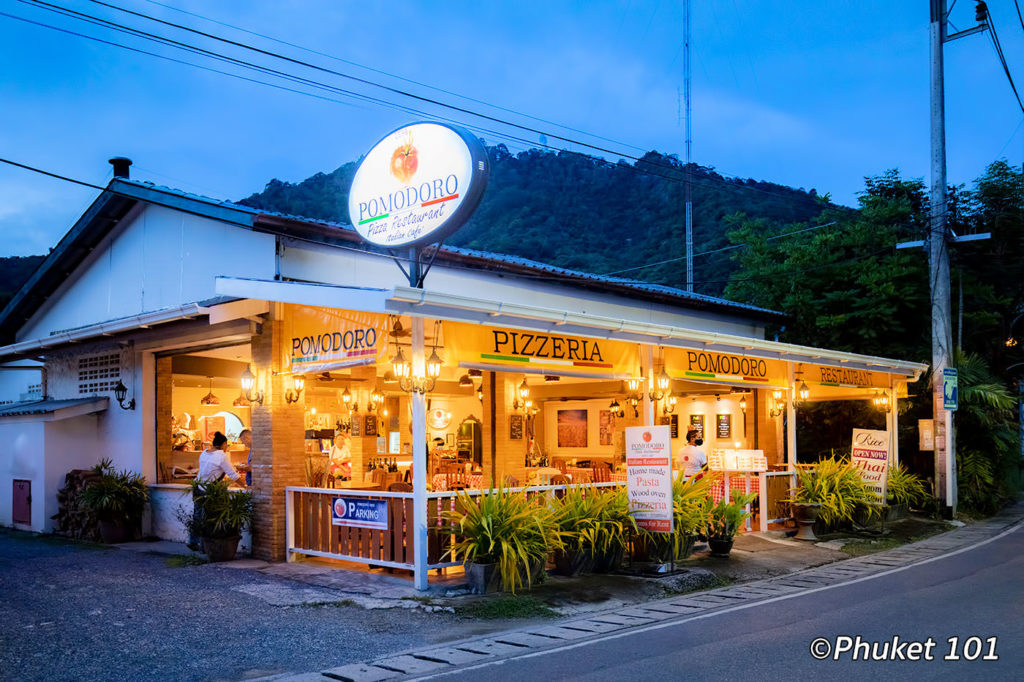 Pomodoro is an excellent Italian restaurant by the locally well-known check Mario Zavatta, located on the back street of Kata Beach. Pomodoro serves some great pizza and pasta but also Thai food.
Address: 32 Soi Khoktanod, Karon, Mueang Phuket District, Phuket 83100
Open: 12 pm – 9.30 pm
Phone: 076 330 539
Price: Affordable
Two Chefs Grill Kata Beach
Two Chefs restaurant is a very popular local brand in three locations around the island, including Kata Beach. Two Chefs serves excellent steaks, burgers and Thai food.
Address: Soi Koktanode
Open: 8 am – 12 am
Phone: 076 333 370
Price: Affordable
Kampong Kata Hill is probably one of the oldest restaurants in Kata Beach (it was already here in 1990!). Kampong Kata Hill serves Thai food and seafood in fancy Thai Chinese decor. It's beautiful and unusual for the location, but reviews have been mixed lately. Read more
Address: 12 Patak Road
Open: 12 noon – 11 pm
Phone: 085 478 4299
Price: a little high
---
Food Market and Street Dining
There are dozens of restaurants to choose from along the second street that stretches parallel to beach street. The majority serves Thai food and fresh seafood you can pick from an ice display in front of the restaurant. The food market behind Beyond Resort Kata is a fun place to eat on a budget. Walk around until you see something you like, order it, and they'll cook it for you on the spot. You then take your food with you to any table available.
---
Restaurants a little further
---
If you can drive or ride a tuk-tuk just a little further on the outskirts of Kata, you will find some more excellent restaurants.
After Beach Bar (and other panoramic terraces)
High above Kata Noi beach (the neighbouring beach) is a set of Thai restaurants worth stopping at for lunch, dinner or even a just a sunset drink. The food is decent without being exceptional, and the service has its ups and downs, but it is unique. Read more
Location: Kata Noi Beach
Address: 44 Thanon Kata
Open: 9 am – 10 pm
Phone: 084 745 9365
Price: Affordable
The Sundeck Phuket is a lounge bar and restaurant in a fantastic location above Kata Noi Beach. The location is such that people often drive in front of this stunning panoramic restaurant without noticing it. You can stop for just a drink with a view, as it is a perfect spot for a short break or a delicious dinner with a sea view and a sunset with good music.
Address: 228 Pasak Road, Tambon Karon, Amphoe Mueang, Chang Wat Phuket 83000
Open: 11 am – 10 pm
Phone: 064 062 3602
Price: High
Contact: https://www.facebook.com/thesundeckphuket/
Baan Chom View is a popular Thai restaurant situated on a hill above the picturesque Kata Noi beach in southern Phuket. Offering a wide variety of Thai cuisine as well as some Western dishes, the restaurant boasts a unique location with a panoramic view of the Andaman Sea from its large wooden terrace. Due to its prime location on the busy road connecting Kata Beach and Nai Harn Beach, it is particularly popular during sunset.
Address: 69/15 Kata Noi Road, Kata Noi Beach, Phuket 83100
Open: 9 am – 11 pm
Tel: 095 352 5836
Price: Affordable
Mom Tri's Kitchen Phuket at Villa Royale is one of the best Thai restaurants in Phuket. The setting by the ocean is superb and the food too. You may want to keep this kind of dining for a special occasion as the price tag is rather high.
Location: Kata Noi Beach
Address: 12 Kata Noi Road
Open: 11 am – 11 pm
Phone: 076 333 568
Price: High
Kata Food Market Video
---
Map of Kata Beach
---
More about Kata Beach