What to do at Kata Night Market?
Kata Night Market is not a very well-known market as it is rather hidden between a maze of buildings and small hotels in the middle of Kata Beach, roughly behind Club Med Hotel. This night market is surprisingly vast and already popular for serving all kinds of cheap food and dishes in a long line of tiny stalls. Kata Market works in a food court way: you browse the many shacks until you find what pleases you, order, pay, pick your food and sit at any of the many tables set in the middle of the market. The same thing goes for drinks.
Kata Food Market Video
Subscribe to our YouTube for more Phuket videos!
You will find a lot of grilled meat on skewers, seafood and simple Thai dishes such as Pad Thai and fried rice. The fruit stalls are the most popular, especially those doing the much-loved Khao Niaow Ma Muang, best known as Mango Sticky Rice. The next favourite sweet you'll find is what visitors often call Banana pancakes or roti as it is locally known since it's not made like a pancake at all. The ice cream booth often catches a lot of people's attention because of the loud staccato the preparation of this fun ice cream requires. It's cheap and a fun experience.
If you are brave enough, why not go for the most extreme experience and buy a few friend insects? It's unique and full of proteins. Grasshoppers, silkworms, crickets and other crawlies will be a story to tell and a photo to share with your friends for many years to come.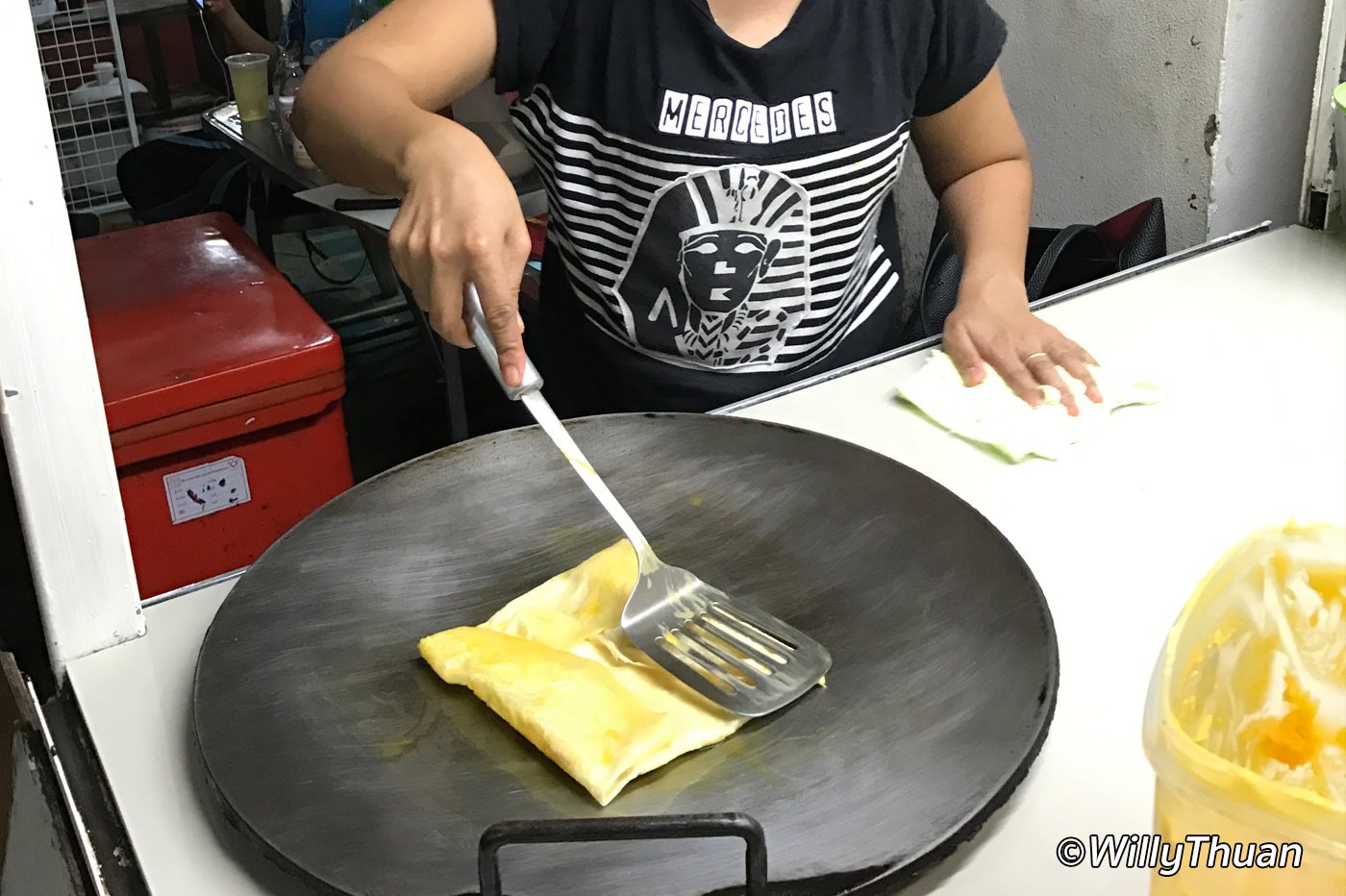 Note that you can't take photos of the fried insects without buying them. Insect shop owners all face this issue everywhere in Thailand because tourists tend to spend a lot of time blocking the shop without buying. If you want to only take a photo without buying, there is a small 'photo fee to pay'. It's fair enough.
Once you are done with the food, the night market also has a large bazaar selling t-shirts and those ever-popular elephant pants that are so light and comfortable, perfect for the hot weather of Phuket, usually sold at 100 to 150 baht only.
And of course, nowadays you can stop at one of the cannabis shops to try one of the buds or sweets on sale, a trend that literally exploded in Phuket in the past year. It's legal as long as you don't smoke in public and costs around 200 baht per gram.
---
Phuket 101 receives 250,000 monthly visitors on average (500,000 pageviews/month).
If you wish to advertise on this space or other options available on Phuket 101, just contact us.
---
Kata Night Market Info
Open: 2 pm -11 pm, daily
Address: Muang Patak Rd, Tambon Karon, Mueang Phuket District, Phuket 83100
---
Kata Night Market Map