Phuket Island Hopping
There are so many big and small islands around Phuket, it would take forever to visit them all. Most are not far, and you should consider a Phuket island hopping to your trip. These are just a few islands we had the chance to visit, and we will be adding more as we travel around.
---
(About 2,800 baht with transfer – 50 mn Speedboat – Full day)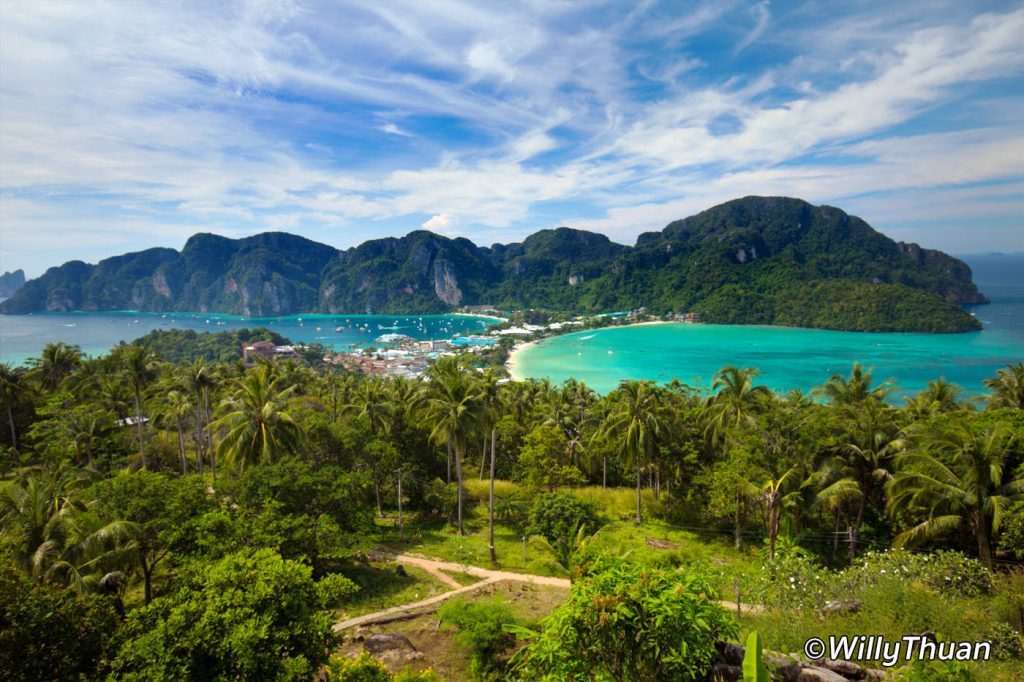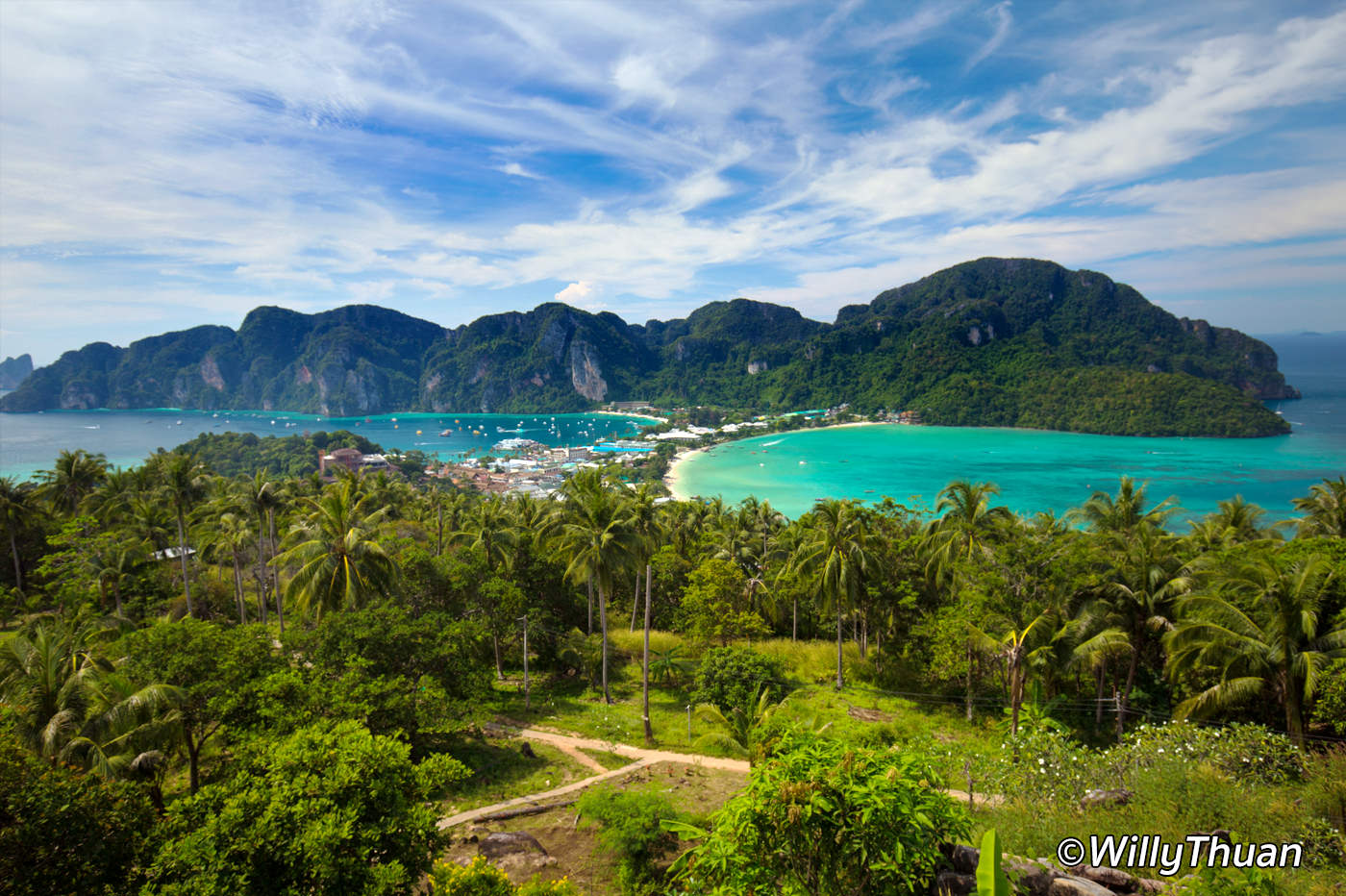 Phi Phi is the most visited islands departing Phuket or Krabi and it got even more popular after the movie 'The Beach'. With its beautiful beaches and bays, Phi Phi is mostly a destination for young travellers who feel like partying on a tropical island. Ideally, you should go for a two days trip to make the best of it, it's a little far and can be tiring to reach by speedboat, plus you'll have the best beach almost for yourself in the morning. Read more
---
(About 2,400 baht with hotel transfer  – 2 hours minibus + 1.30-hour speedboat – Full day)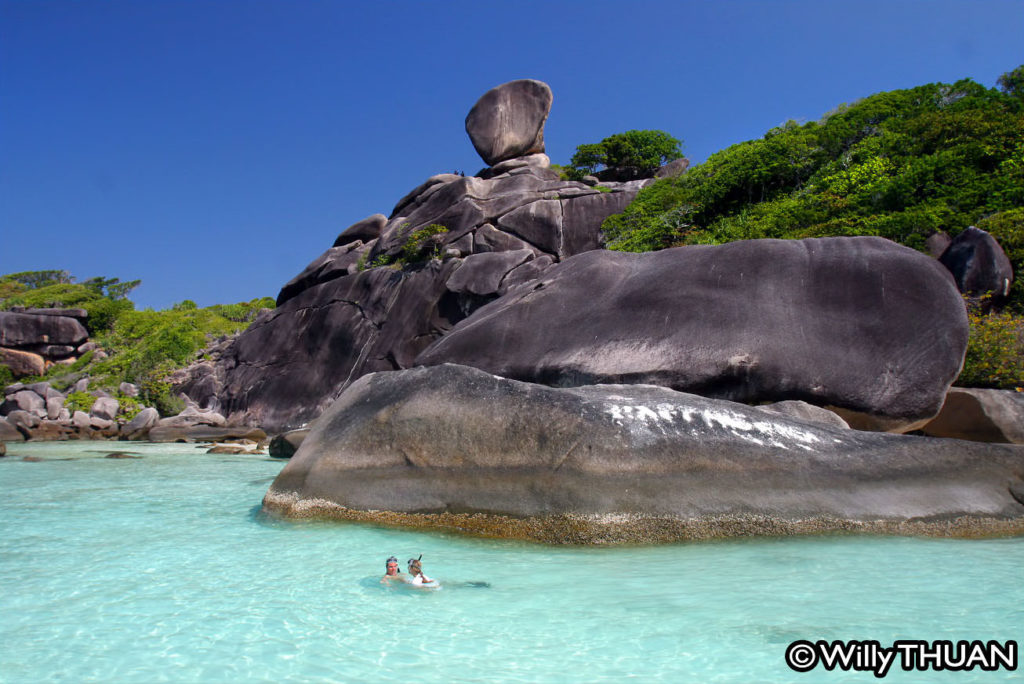 The Similan Islands are clear blue diamonds in the Andaman Sea. You don't even need to be a good photographer to get some striking photos. Ideally, you should go for a two days trip to make the best of it, it's far and can be tiring to reach by speedboat, plus you'll have the best beach almost for yourself in the morning. Read more
---
(About 1,200 baht – 30 mn by speedboat – Full day)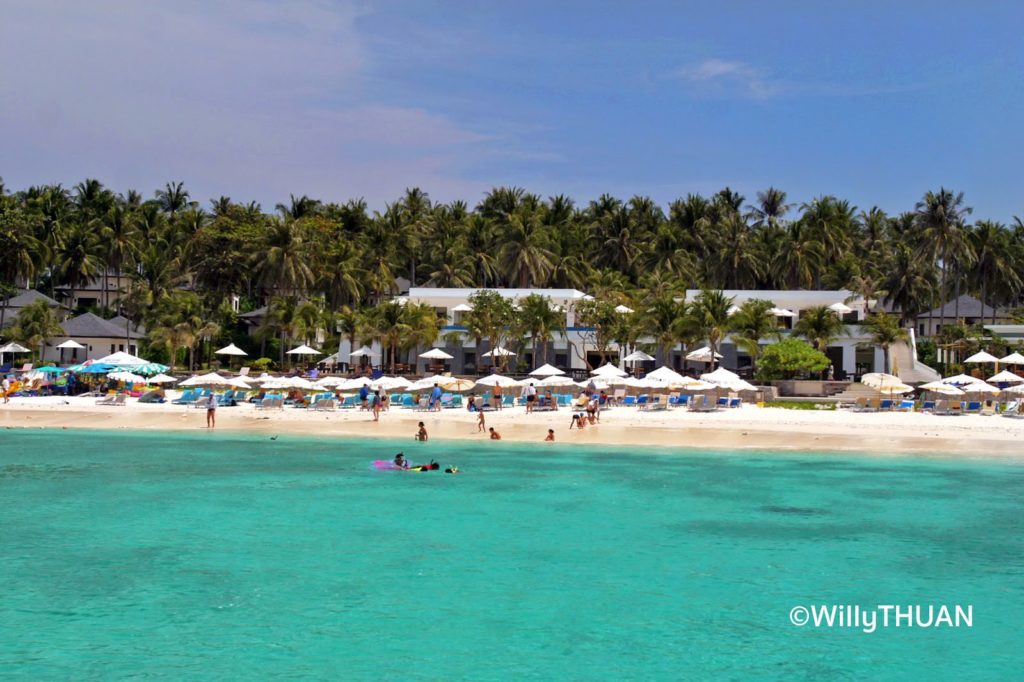 Racha Island is a small hideaway twelve miles south of Phuket, which is about two hours by boat or 30mn by speedboat. This lovely tiny island is very well-known from divers as a clear dive site and. Racha is also the home of three resorts, The Racha, a luxurious villa resort, the Rayaburi and Baan Raya Resort. The two beaches on the main island are beautiful, and the island id fun to explore. Read more
---
---
(about 1,000 baht for longtail to cross – 2 minutes ride)
Koh Bon is one of the closest islands from Phuket that be reached very easily from Rawai Beach by longtail boat. This small hideaway features two beaches; one used to be for to the guests of the now closed Evason Resort, and the other beach is home to Bon Restaurant, very friendly and has a trendy destination for lunch and for a lazy day on the beach or playing some water activities. Read more
---
(2,800 Baht – 15 minutes by speedboat – Full day tour)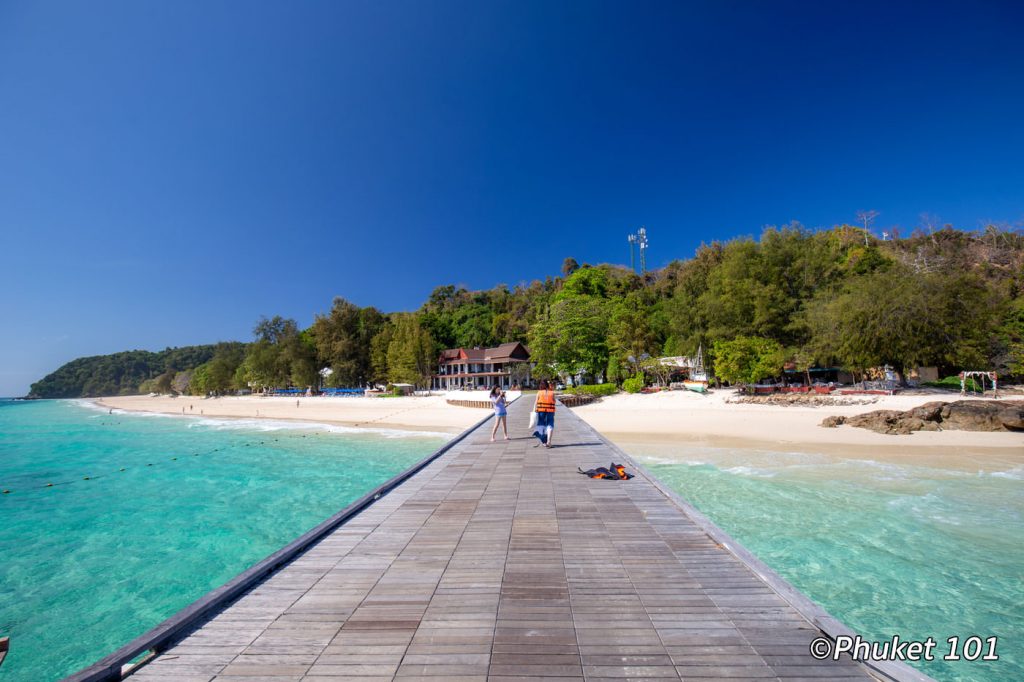 Maiton island is a small idyllic spot 15 minutes south of Phuket that used to be home to a luxury hotel. The hotel no longer operates, but the beach is still accessible and is a great day trip with a picnic and snorkelling among a thousand fish. Expect to pay 2,800 baht for a day (included lunch). Read more
---
(mostly a private island)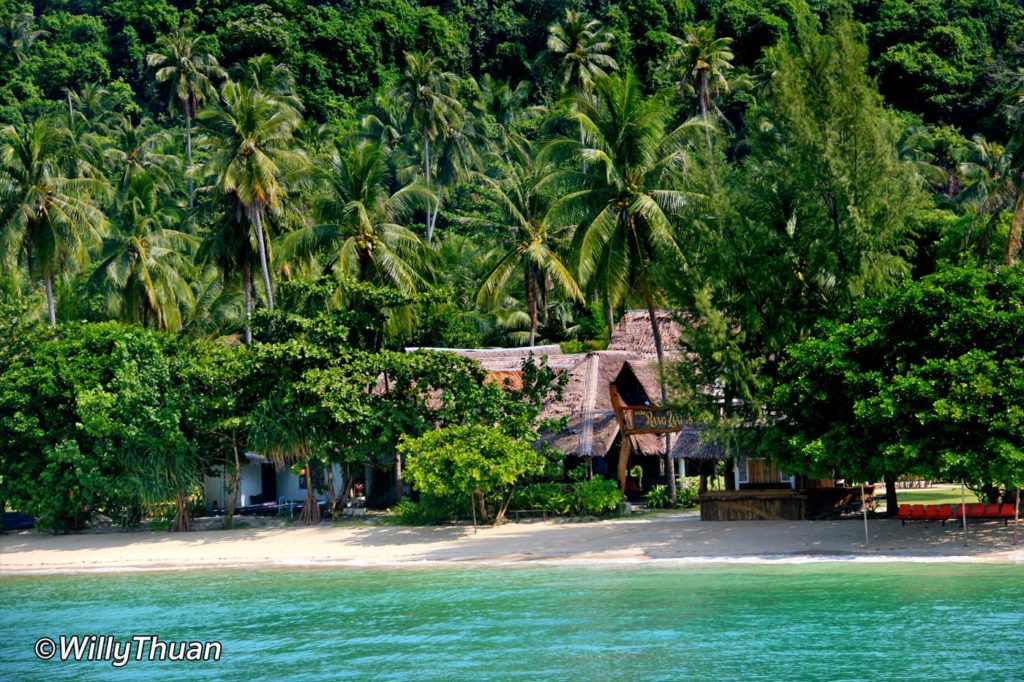 Rang Yai Island is a beautiful private island located about five kilometres east of Laem Hin Pier. If you want to experience a Robinson Crusoe lifestyle, Rang Yai is a great place to sped the day (they used to have bungalows for rent, but these don't exist anymore). You can spend some time swimming, eating and even visit a pearl farm. Reaching it by longtail boat from Laem Hin pier costs around 2,000 baht round trip. Read more
---
(1,000 baht – 20 mn speedboat – Half day)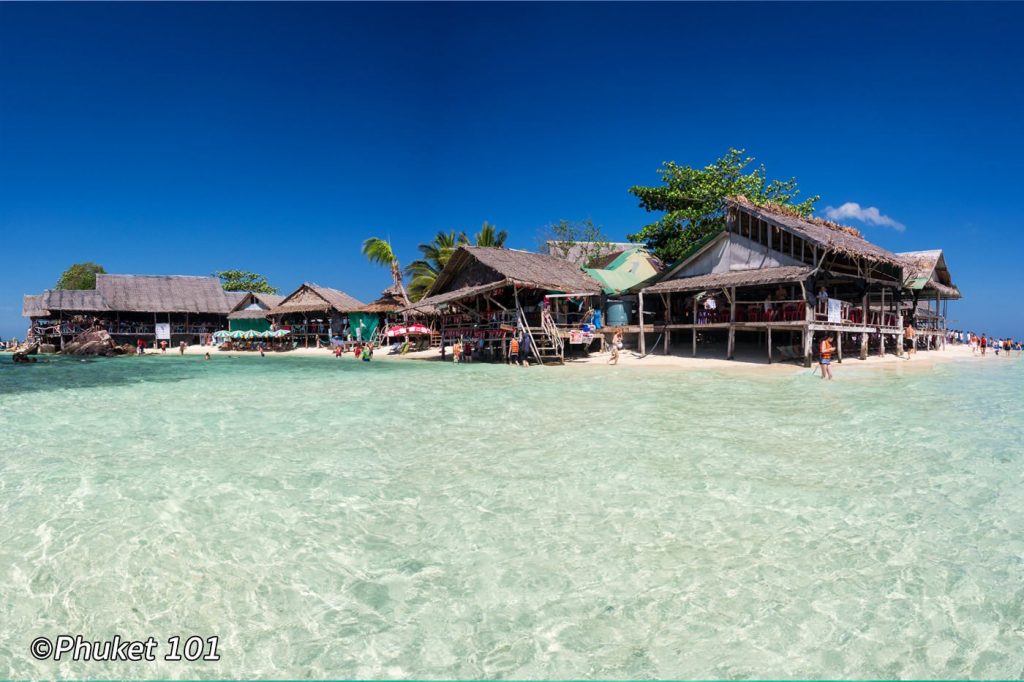 Three tiny but extremely popular islands just 15 minutes away from Phuket east coast. People go there to soak in the sun and play in the clear water for a few hours. Just remember that feeding the many hungry fish is illegal! Read more
---
(About 1,200 baht – 15 mn speedboat – Full day)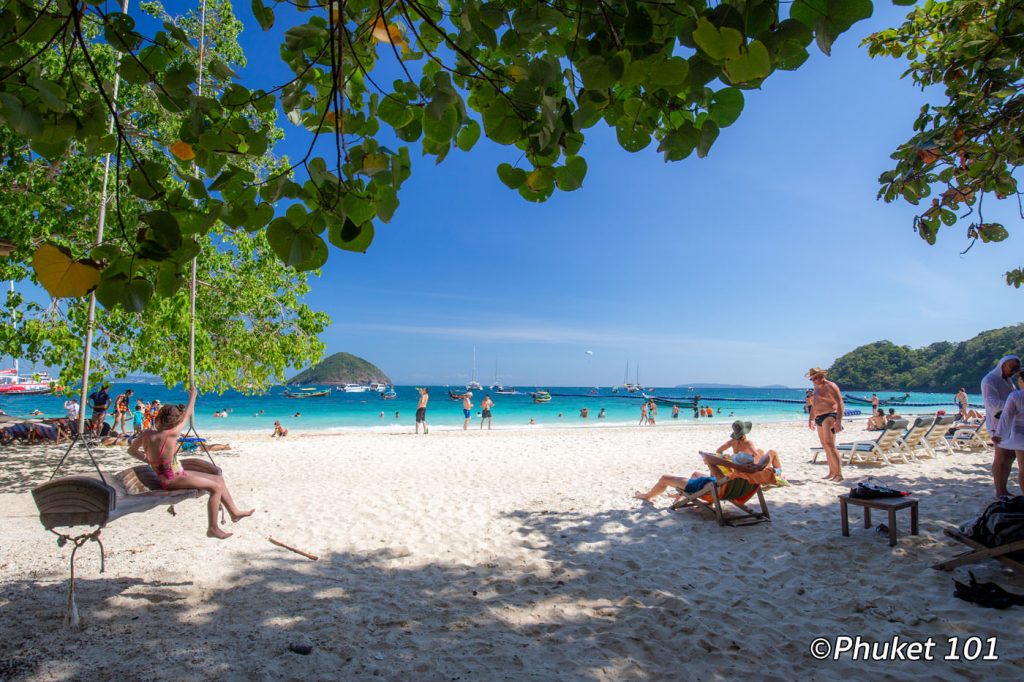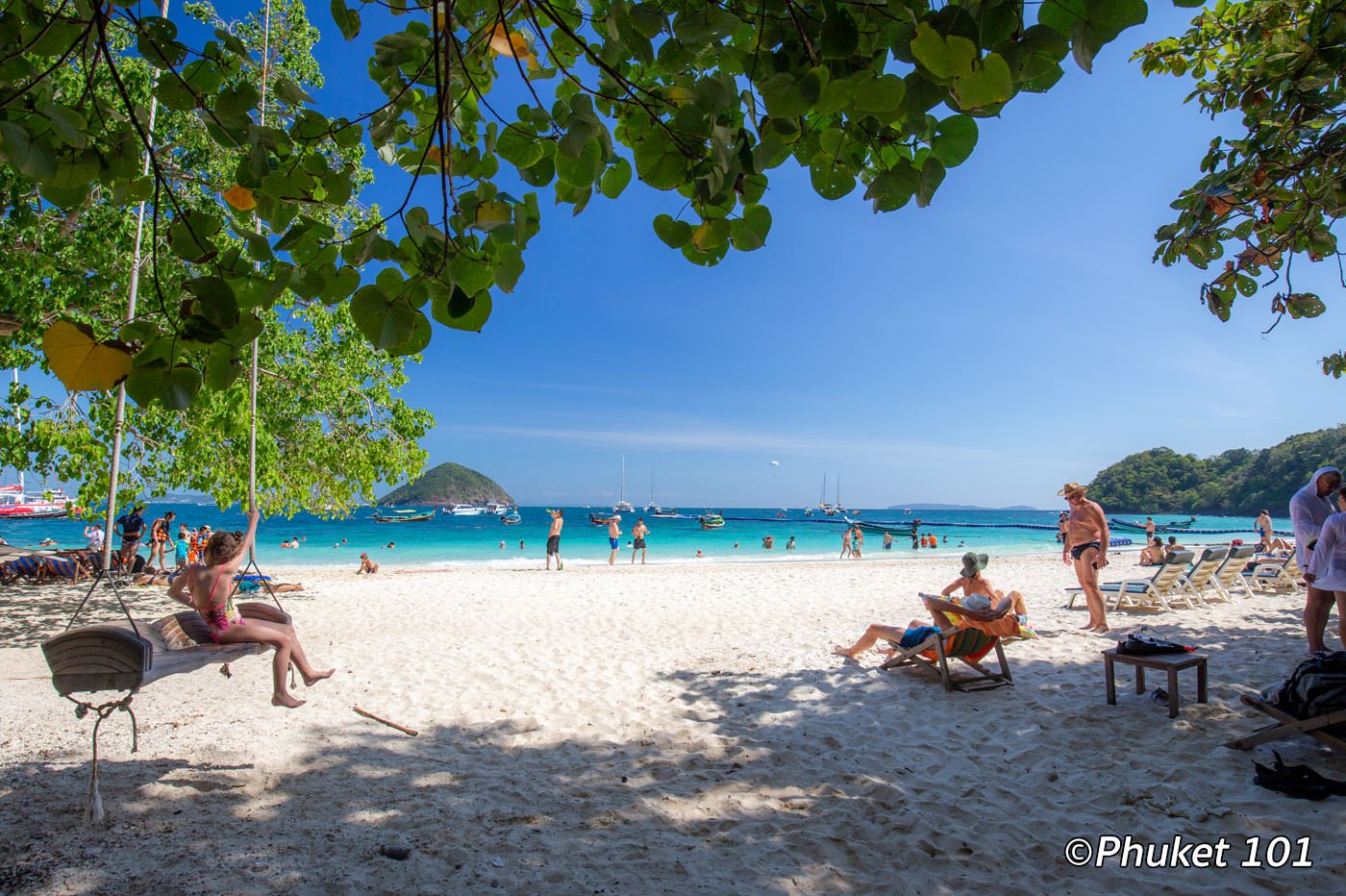 Coral Island, or Koh Hae, is one of the few islands you can reach within fifteen minutes by speedboat and spend the day playing on the beach, even during low season. With two beautiful beaches, the only accommodation is the small but nice Coral Island Resort offering small bungalows right on the beach. Read more
---
(1,600 baht with James Bond Island and Phang Nga Bay + hotel transfer – Full Day)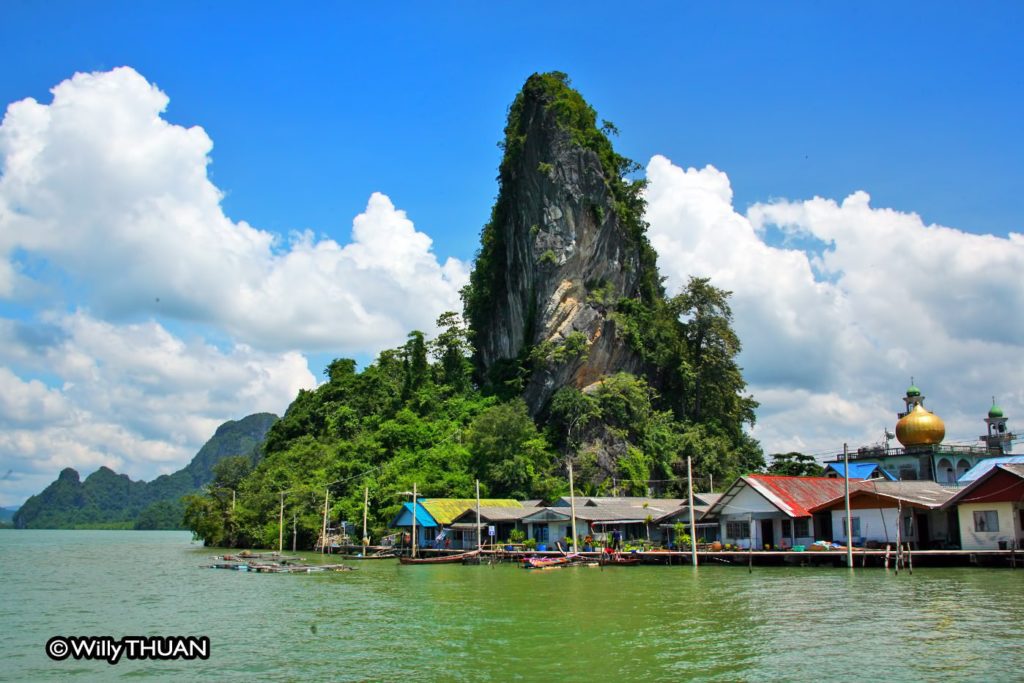 Koh Panyee in the bay of Phang Nga near Phuket is quite a touristic fishermen village almost entirely built on stilts. This village is still a very unusual and exciting place to visit, but the trick is to go there early to be the only visitor in town! Read more
---
(1,600 baht with Koh Panyee and Phang Nga Bay + hotel transfer – Full Day)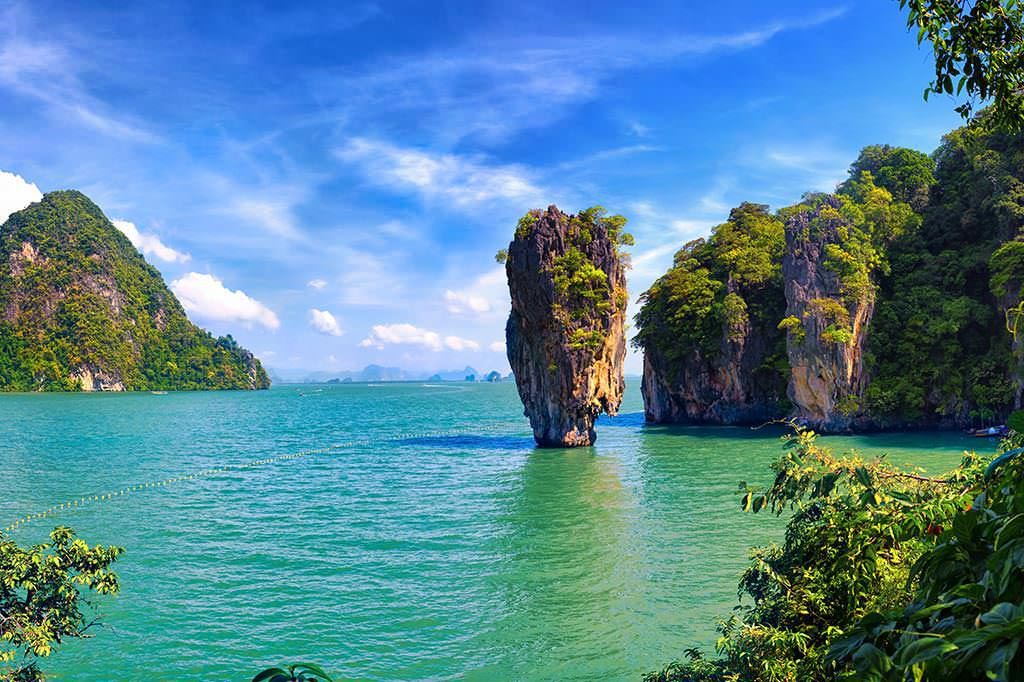 Not really an island as you imagine it, but definitely surprising and very popular since that old James Bond movie, usually people visit it together with Koh Panyi and Phang Nga Bay where it is located. Read more
---
11. Koh Hong
(Only available as a full day island hopping tour)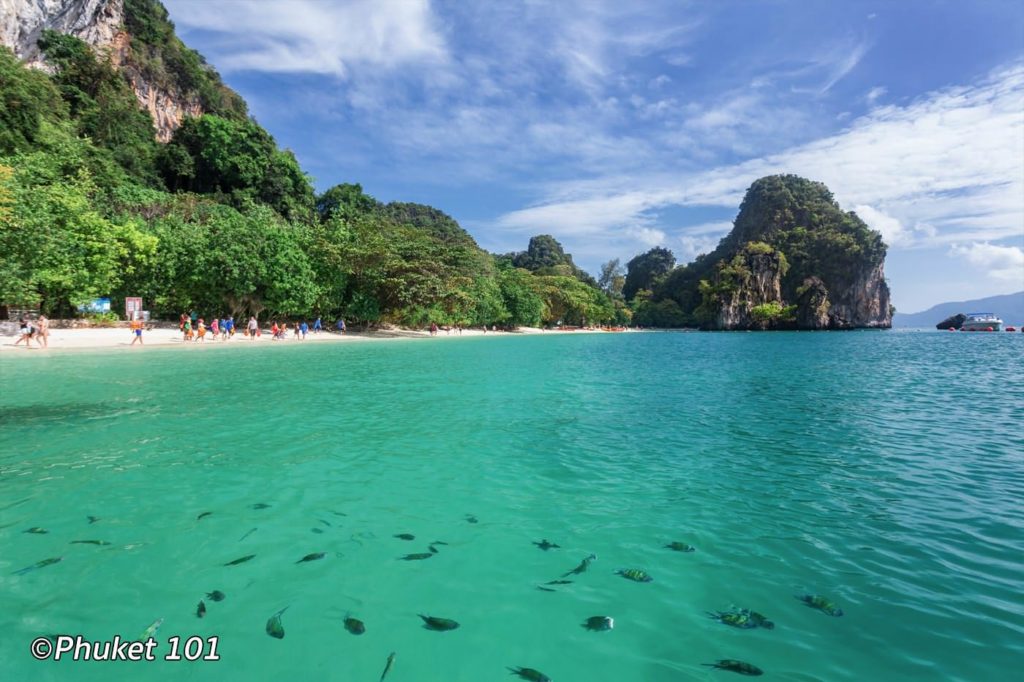 Koh Hong is one of the four tiny Hong islands in Phang Nga Bay belonging to the National Marine Park. Monkeys and birds can be spotted, but mainly the inside lagoon and its white sand and amazing blue water is the most attractive part with the many fishes playing around visitors.
---
12. Koh Yao
(1,700 Baht with hotel transfer – 30 minutes by longtail boat)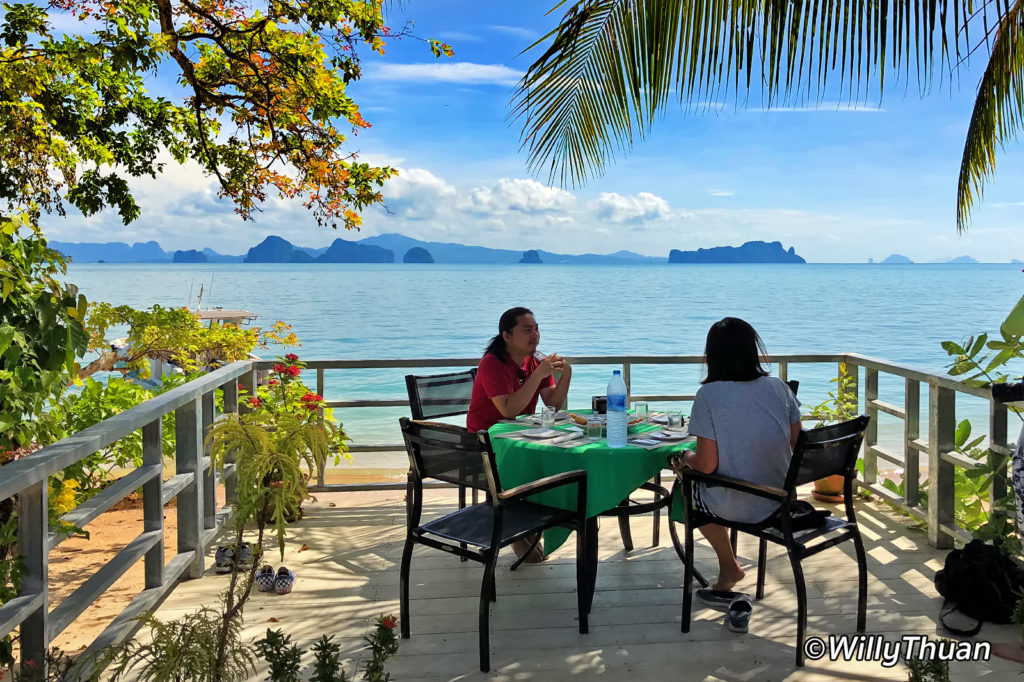 Koh Yao consists of two large islands located halfway between Phuket and Krabi. Koh Yao Noi, the smallest of the two has several hotels such as the beautiful Six Senses Hideaway Resort. Koh Yao can be reached from Bang Rong pier on the east coast of Phuket or Krabi. The island doesn't have any majestic sights but is a favorite mountain bike day trip. The east coast has rice fields, a small village on stilts and quite a few rubber plantations.
---
Other more modest islands nearby
---
13. Koh Kaeo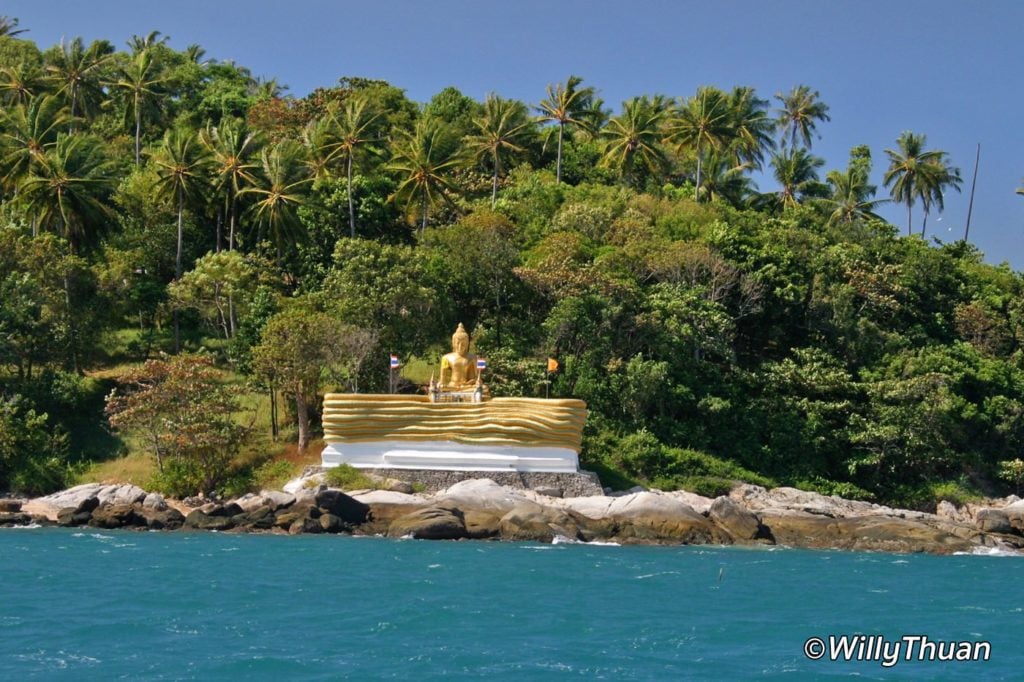 Koh Kaeo, facing the famous Promthep Cape, is just a tiny island you can visit by longtail boat from Rawai. Apart from a small beach, the only particular signs of this island are the two large golden Buddhas, one sitting and one standing as well as a small temple on top of the hill.
---
14. Koh Maphrao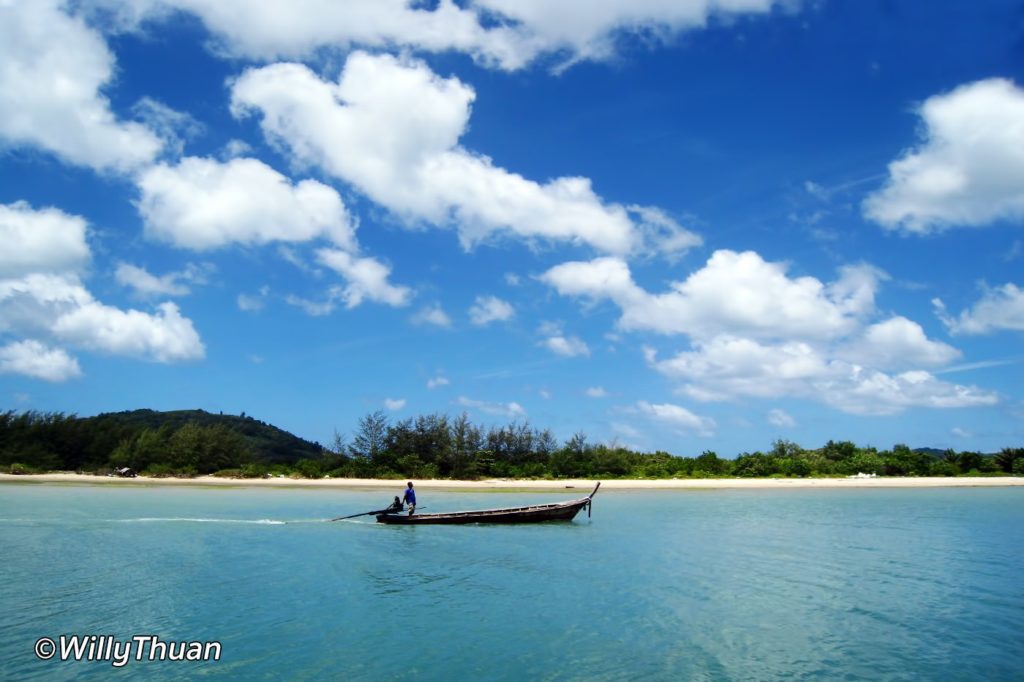 Koh Maphrao or Coconut Island is quite a large but rather an unknown island very close to Phuket. Built in recent years, the luxurious Coconut Village is almost the only reason to go there. If you happen to eat at Laem Hin or Kru Suwit Floating Restaurant, you will see the island on the other side of the bay.
---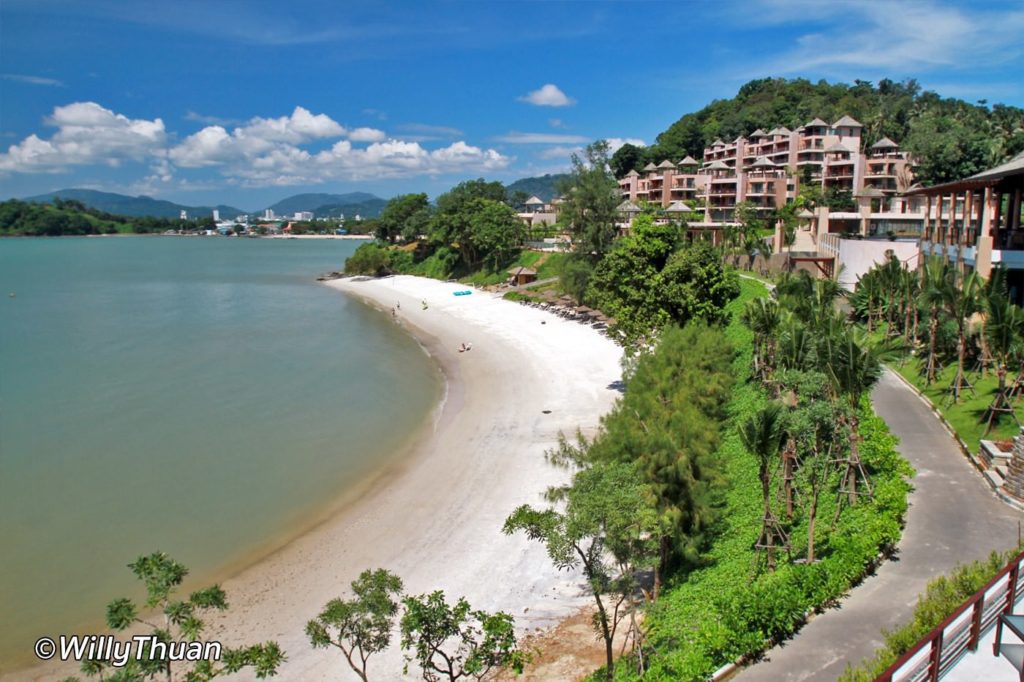 Koh Sirey is indeed an island, but you would never guess it from a map, and many probably have never heard of it. Connected to Phuket town by a very short bridge, this small piece of land doesn't have any particular signs, but this is where you will find the beautiful Westin Siray Bay Resort. Read more
---
Map of Islands Around Phuket
---
FAQs about islands near Phuket
Q. What are the most beautiful islands for a day trip?
a. The Similan islands are the most amazing islands you can visit on a day trip.
Q. What is the best way to reach the islands?
a. Nearby islands can easily be accessed by longtail boats from one of the east coats piers. Further island trips should be booked via a tour agent or your hotel reception.
Q. How can I do island hopping?
a. Island hopping can be arranged with a tour agent, but the best way is to ask a specialised travel agent to plan a custom private cruises.