Phang Nga Bay cruise on a private boat
Phang Nga Bay is such a fantastic place. A thousand islands and vertiginous cliffs standing above the sea is a scenery out of this world. No matter how often we visit Phang Nga Bay, it is always a jaw-dropping landscape. It should be on your Must-Do list in Phuket, and it is often at the top of many visitors' lists, and the most famous parts of Phang Nga Bay can become a little too busy to enjoy its natural beauty fully. So that day, we decided with a few friends to rent a private boat and discover Phang Nga more exclusively, allowing us to arrive at each place before anyone did.
We arrived at 6.40 am at the Royal Phuket Marina on the east coast of Phuket. Tours usually picks up guests from their hotel but had our cars. We were offered a light breakfast while the crew explained to us what the itinerary of the day would be, and soon we boarded our private, very cosy and very powerful 600-hp boat (a Silvercraft HT 36, in case that means something to you)
The boat was large and spotless, with plenty of comfortable sitting for up to 16 passengers. Since we were only 4, it was a real treat! The ship glided fast on a peaceful sea in the morning sun, the warm wind putting a big smile on everyone's face. No matter how many years we have lived here, the majestic cliffs reflecting on the sea and the blue sky always remind us why we live.'
---
Popular Island Hopping Tours with Simba Sea Trips
---
Koh Panak
Our first stop was Koh Panak, a small sandy cove just below an immense cliff with a cave on the side of it. Since there was no one but us, it felt like an adventure. Harry, our Thai captain, handed us yellow helmets equipped with headlights. We had no idea what was next, which, in a way, was great! We entered the cave and walked into the water, which soon became dark. Harry pointed at different shapes of rocks, explaining interesting facts about each formation. The shiny ones were pyrite (fools' gold), stalactites were hanging down from the ceiling, and some stalagmites pointed up, including one that looked like a giant; well, you get it.
Don't worry; you won't have time to be claustrophobic as the tunnel is only dark for less than a hundred meters, plus you have headlights. After hitting the low ceiling several times, we understood why we had helmets. We emerged in a surreal enclosed lagoon called 'hong', the Thai word for 'room'. Everywhere were mangrove trees and rocks with all kinds of animal shapes. Local guides enjoyed pointing at them: "Look! a dolphin! a dragon! a penis! a dog, a turtle! a monkey! a ghost! a penis!" True story. Definitely a surprising place, but it was a little dark as the sun was not reaching this hole in the rock yet. We walked back the way we entered and were happy to get back to the beach and the intense morning sun.
We boarded our boat back and were served an excellent little breakfast on the way to our next island, with lots of fruits, coffee or tea and a delicious banana cake. A private cruise is how you truly want to explore Phang Nga!
---
Cave Kayaking at Hong Island
Our next stop was at Hong Island (not to confuse with Koh Hong near Krabi), where we boarded a floating pontoon full of inflatable kayaks. This set of islands is a natural wonder, it can get crowded at midday, but as the cruise is designed to arrive quite early, there was no one but us! Two persons plus a guide can sit comfortably in a canoe, and it's very stable, so taking your camera is safe.
If you are still worried, our crew provided us with waterproof bags, which we didn't use. And you won't even have to do anything; your guide will gently paddle all around and tell you what is what, and of course, point at more animal shapes! The place is fantastic and because you are the first one around, it's very peaceful and inspiring. You will gently go through caves and tunnels and paddle under immense limestone cliffs. Just look at the photos, you will want to go too!
---
James Bond island is well-known. Too well-known. This island, famous for the 1974 movie 'The man with the golden gun', is visited by such a crowd each day that some travellers don't even want to put it on their to-do list. That's unfortunate since it's a superb and surprising place, with the iconic vertical rock standing up like a giant nail. By arriving early, you have it all for yourself; souvenir vendors don't even try to sell you anything. A very refreshing visit if you have seen it covered with tourists posing like it was the Pisa Tower! (which you may do too)
Our guide Harry told us a few anecdotes we didn't know about the island and the movie, even though we thought we knew it all before. We walked around the island, took all the needed photos, and boarded our boat back to the next destination.
---
Kudu Yai
The next island was Kudu Yai, a sandy creek surrounded by unusual sharp rock formations. There were just a few people enjoying the beach, and we had enough time to take some photos, followed by a lovely short swim in the warm water. It's relatively small, so it was soon time to move to Bond, James Bond.
---
After this busy and fun morning, it was time for a well-deserved lunch, and the timing was perfect. We didn't know what to expect, and landing on one of the small beaches of Koh Yao Noi was a pleasant surprise. There was a restaurant with a wooden terrace just over the beach, with coconut trees above us and karst islands in the background.
Our private boat added a little touch to our midday photos; it was perfect. They served some chicken in green curry, fried vegetables, prawns in tamarin and sweet and sour pork. (That asked us at booking time if we had any food allergies or restrictions). We took our time to enjoy our relaxed lunch with a warm breeze and walked around for more photos, then boarded back for some more fast cruising on the water.
---
Koh Nok
The tiny beach of Koh Nok is a nice little stop to relax after lunch. The beach is like a small peninsula with trees to provide shade. We sat and rested in the shadow of the trees, and the crew brought us a large tray of tropical fruits to enjoy. A pretty good time for a nap if you need one. If you feel active, you can try to climb the cliffs over the beach. There is a path with a rope to help you climb. Some did, but it's steep and high! None of us felt courageous enough to do it, but we could see some people up there standing on a boulder. It looked a little too scary.
We also had the visit of a giant lizard monitor. Its arrival created some buzz as foreigners are not used to seeing a 1.50-meter-long lizard. However, this was a 'small one' as they can grow up to 2 meters and are not unusual here. That one seemed used to visitors as it casually walked around people.
---
Laem Haad (Beach Peninsula)
Our last stop was at the beautiful Beach Peninsula (Laem Haad), that tiny white sand strip north of Koh Yao Yai (Yao Island). The place is so shallow you can walk far into the sea and take fun photos. The coconut trees on the sand make this place a perfect tropical postcard that will drive all your friends jealous!
Overall, we had a fantastic day, even better than we anticipated. The three crew was friendly, discreet and very efficient; the ship was super comfortable, fast, quiet and stable. And it came with toilets! We visited a lot of beautiful places but never felt rushed. Of course, it may seem a bit expensive, but you can share it with up to 16 passengers, and this is an unforgettable day, with photos you will look at and share for many years
---
---
Map of our Day Trip Cruise in Phang Nga
---
Sponsored
Join 5 Star Marine's private tropical speedboat tours, and experience island hopping from one idyllic sandy island to the next. For an experience that most people only dream of, allow our experienced crew to tailor the perfect itinerary for your adventure, island hopping in paradise. From snorkelling in Phi Phi, picturesque lunches at Racha, and capturing memories of James Bond Island; to sea canoeing in Phang Nga Bay or even dolphin spotting with a sunset BBQ. The choice is yours with 5 Star Marine.
Phuket rooftop bars are just a handful, but the trend has started and is here to stay, especially after the ...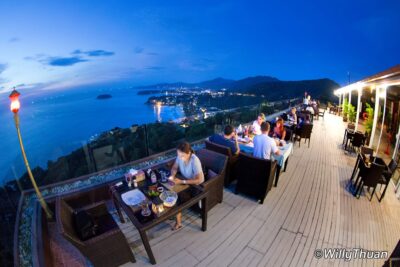 Where to stay in Patong Beach? Patong Beach hotels come at many prices, sizes, and locations, so finding a hotel ...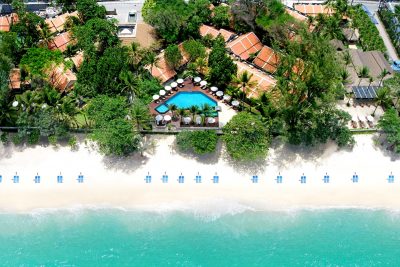 ---
More reading