What to Do in Phuket?
What are the best things to do in Phuket is by far the most frequently asked question on our blog (after "what is the weather in Phuket today?")! All the answers are on the net, but if you are as lazy as we are, you might not want to read 20 pages to find the few facts you need to know.
To make your travel planning a lot easier, we listed here our Must-See and Must-Do in Phuket. These are our all-time favourites, and if you can fit just a few of them during your busy holiday, you will have great memories of Phuket.
Our recommendation is to plan just a few of them in advance, then once in Phuket, and you can adjust your plan according to your mood (or the weather). We never plan too much in advance; we prefer to get the feel once arrived. Reading about a place you never saw is like trying to imagine the taste of a dish you never even saw before.
This most incredible scenery should undoubtedly be on top of your list of places to see absolutely. You can take a lazy sunset cruise on a Chinese Junk or closer to nature, explore Phang Nga by canoe through caves and fantastic enclosed lagoons. Similar to the famous Halong Bay in Vietnam, these landscapes will leave you with unforgettable memories. Read more
---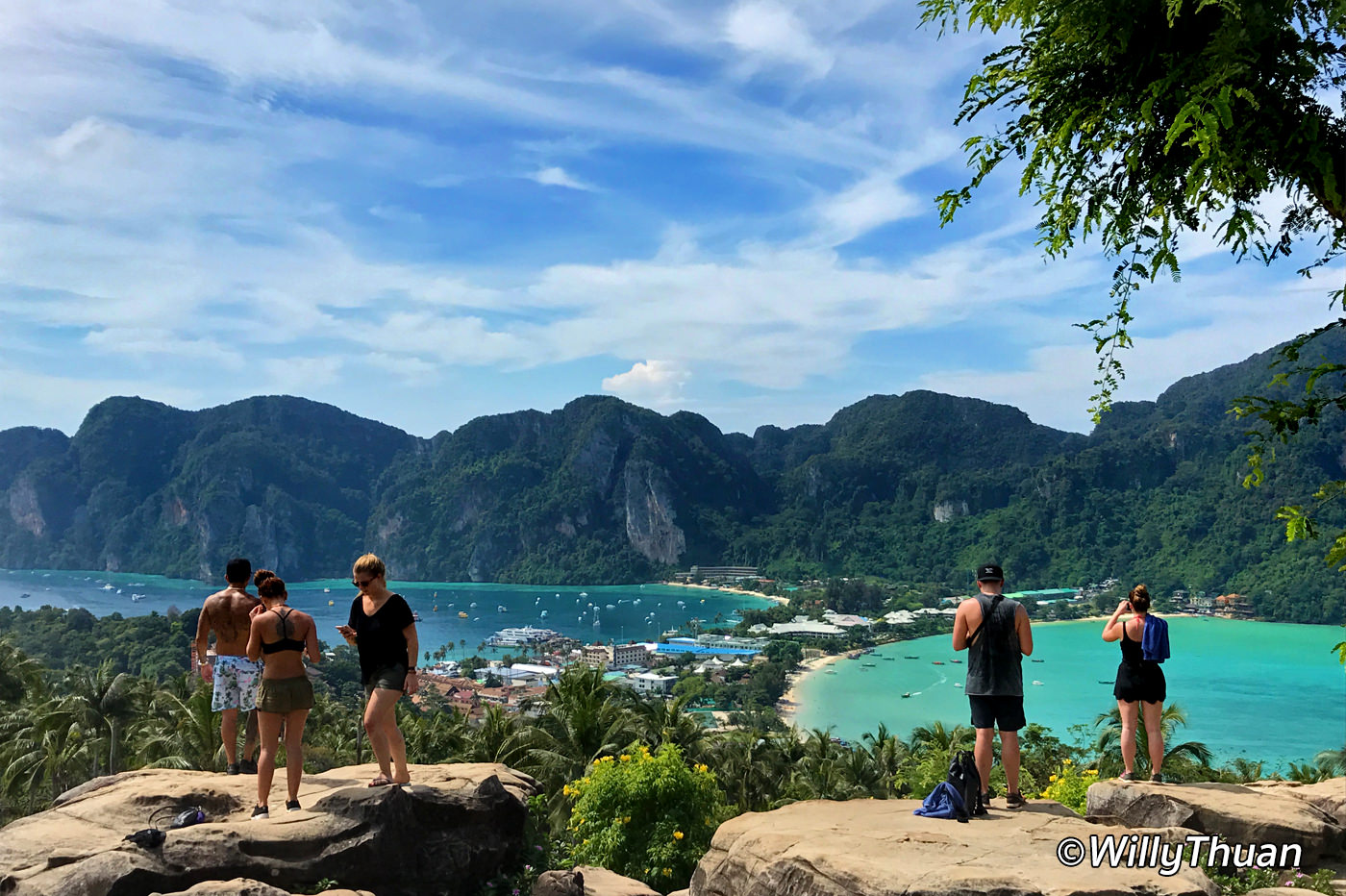 Phi Phi island is without a doubt beautiful, with fantastic beaches, immense cliffs over the famous two bays you can admire from the viewpoint. Phi Phi is also renowned for its young crowd enjoying those famous beach parties lasting all night long and reminding a bit of the Full Moon Parties on Koh Phangan. But this fame comes with a price and Phi Phi may have become too popular. The crowds, greed and developments have severely affected the island so don't go imagining yourself walking alone on a deserted beach.  Read more
---
The Big Buddha is an iconic 45-meter tall white marble statue sitting at the top of Nakkerd hill near Chalong, in the south of Phuket. The road to get up there is a little steep but well paved, and the panoramic views from up there are worth the climb. To the north, you can see the whole Chalong Bay, all the way to Phang Nga and in the south, you will see Kata Beach. On the way down stop at one of the many little panoramic bars to get a bird view of Karon Beach. The entrance is free. Read more
---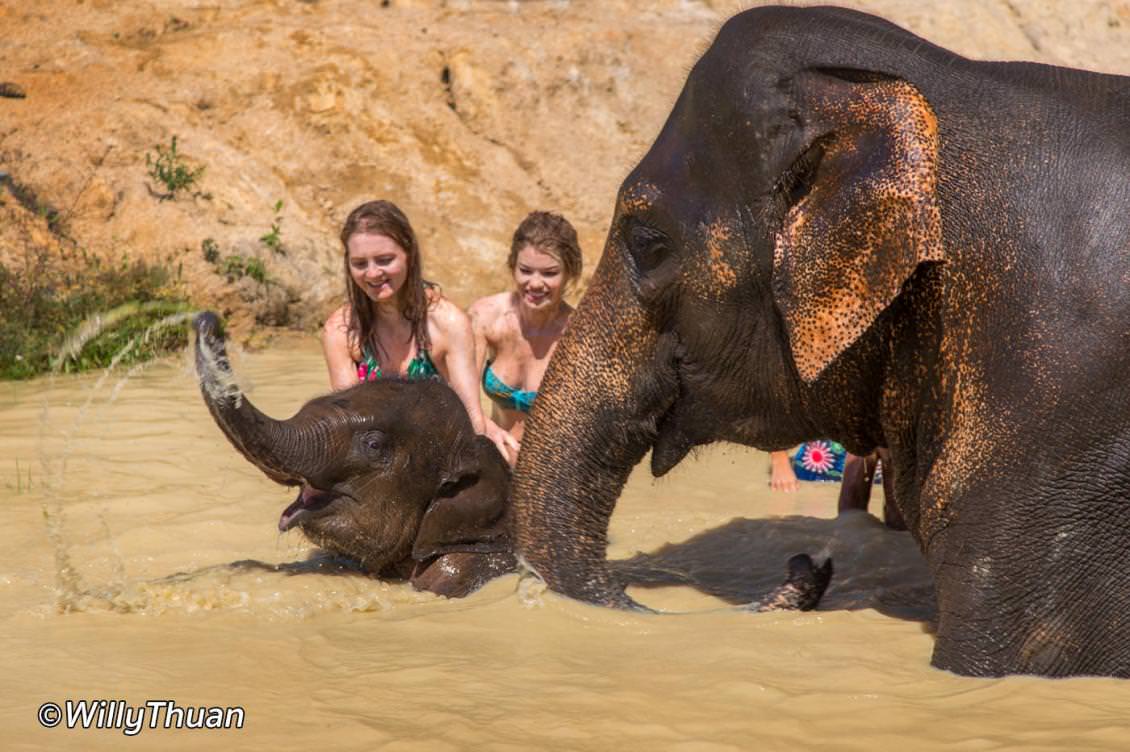 The Elephant Jungle Sanctuary Phuket is a great place to play with elephants in an ethical and fun way. At this sanctuary located in Nai Yang Beach, you will prepare some food for the animal, learn about them, bathe with them, and understand a little more why trekking has to stop. Read more
---
Everyone should see it at least once. And unlike what most people believe, Soi Bangla is not 'Sin City for Single Men'. It's more of a colourful street full of life, restaurants, shops and bars and of course, girls. Now if you want to know more, enter these famous Go-Go bars and see for yourself what is this all about. You will often see couples tourists having a drink, Patong is a lot easier going than Bangkok or Pattaya. Read more
---
The most impressive set of Island is without a doubt the Similan Island, but these are open at a particular time of the year and a bit far. If you get a chance, you must go. If you are not confident, go to Phi Phi Island, but it's crowded. Easier and closer is Racha Island or nearby is also Coral Island. Read more
---
From the now famous Karon Viewpoint, you really can see three magnificent bays. The closest and smallest one is Kata Noi Beach, then a bit further is the beautiful bay of Kata with its small iconic island 'Koh Poo' which means Crab Island, and in the far the very long Karon Beach. The place is trendy and busy, but since there is not much to do up there than a couple of photos, people don't stay long. Read more
---
Wat Chalong, built at the beginning of the 19th century, is the largest and the most visited Buddhist temple in Phuket. The most recent building on the grounds of Wat Chalong is a 60 meters tall stupa sheltering a fragment of bone from Buddha. Walls and ceilings are decorated with beautiful painting illustrating the life of Buddha, as well as many donated golden statues. As in any temple in Phuket, remember to dress appropriately and to remove shoes and caps when entering the temple itself. Read more
---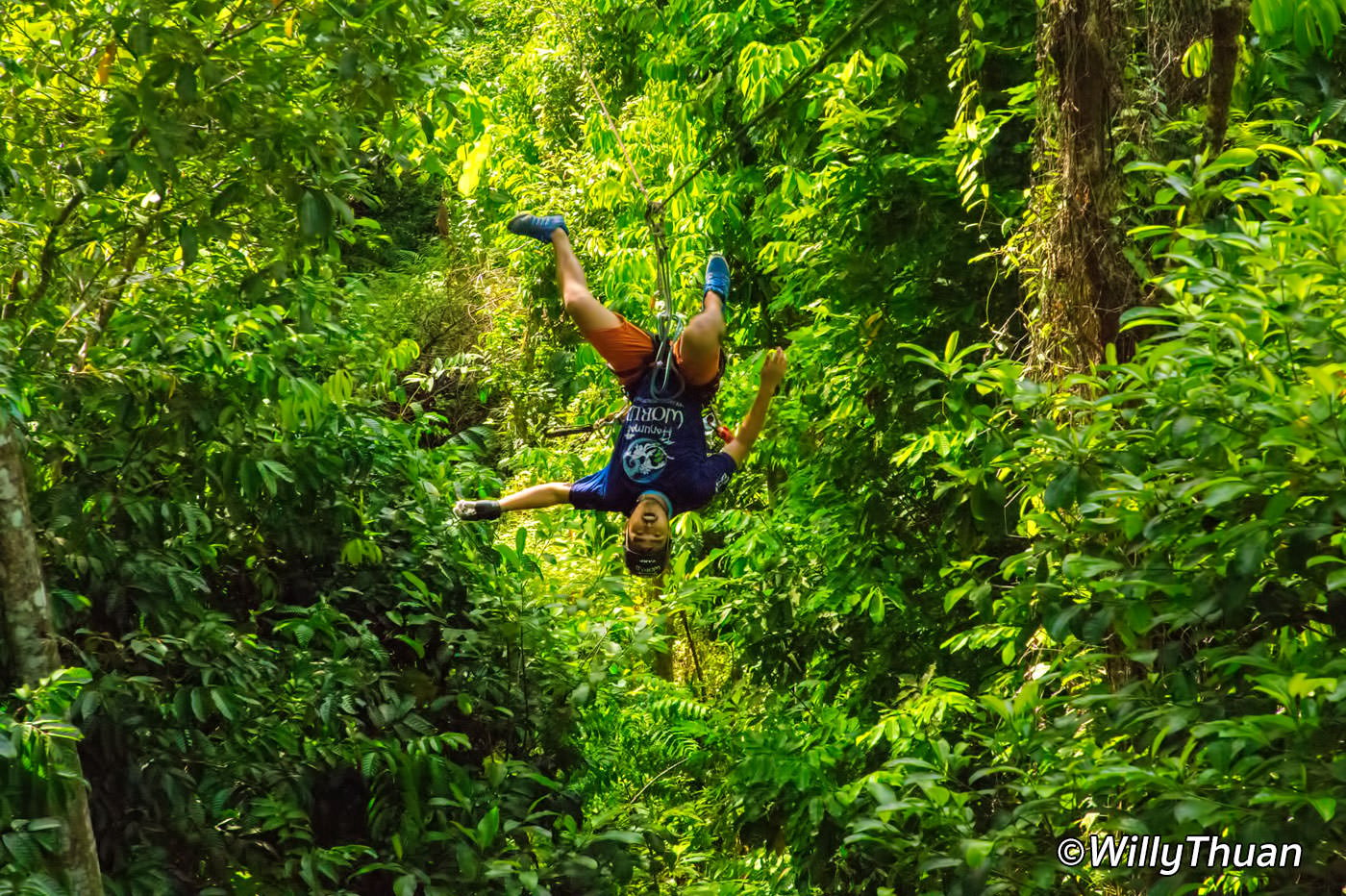 Flying Hanuman is a great way for friends and family do something active, fun and unforgettable in the forest near Patong Beach. It's huge, impressive and safe and anyone can do it, even your four years old kid! Read more

---
It took me a long time before stepping onto the vast grounds of this 'entertainment park' in Kamala Beach. It's bright and colourful, full of shops and fun fair games, but the main attraction is the stage performance given by Thai actors, dancers and acrobats accompanied by a dozen massive elephants. Read more
---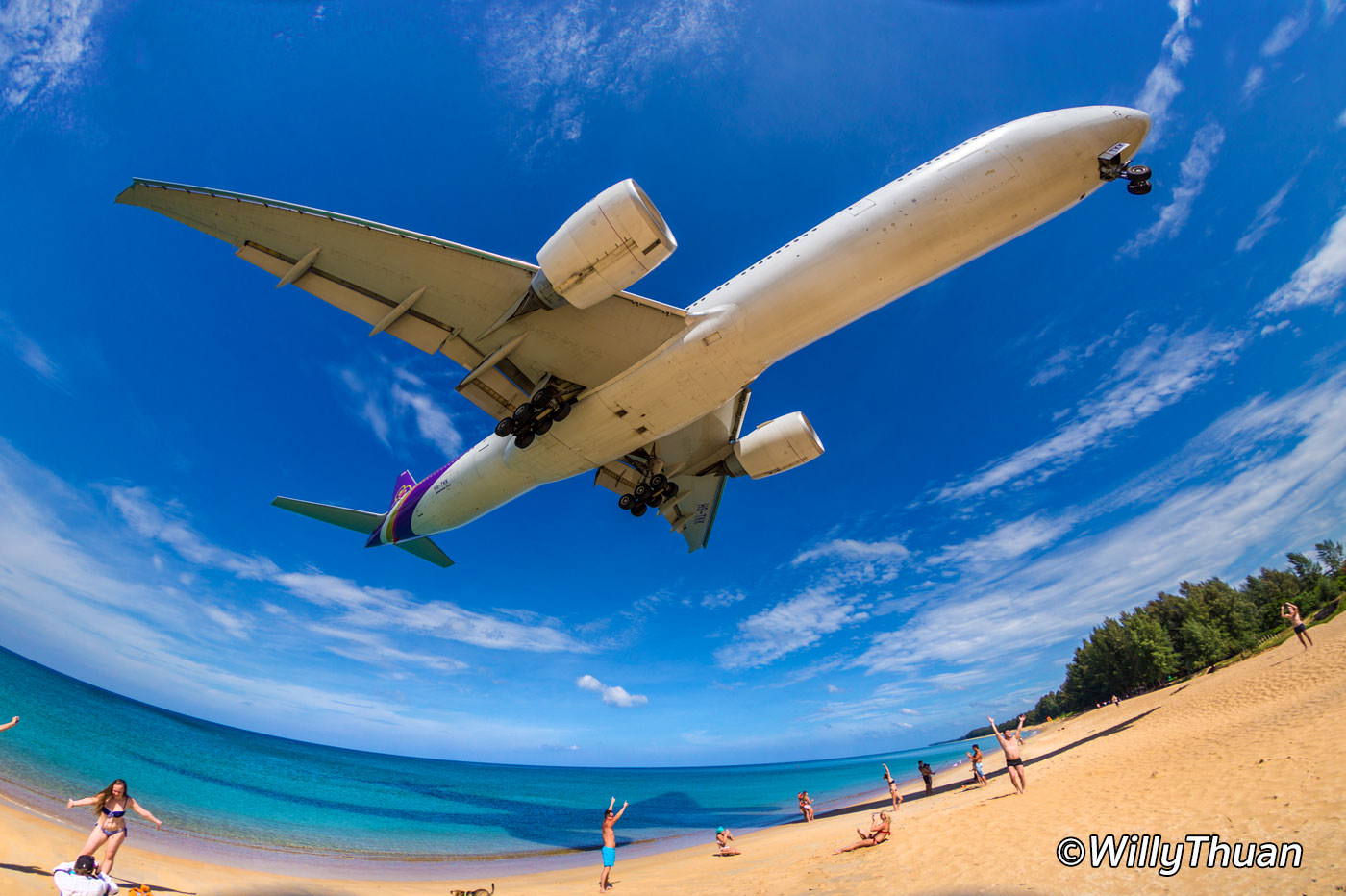 Plane Spotting in Phuket just moved to our list on 18 things to do in Phuket. Watching planes landing in Phuket has become a top-rated attraction in recent years. It's easy, fun, super impressive and with such a beautiful beach as a background, it is an excellent photo playground. So where is it? How do we go there? Is it allowed? Let's see if we can answer some of these questions REMEMBER: planes land over the beach on certain days only! Read the page to know when!
---
Promthep Cape is not as grand as you might expect, but it still draws a crowd of tourists every single evening at sunset time. The elevated location at the very south of the island offers beautiful views on the bays and the few islands around. If you decide to go there, remember to stop at the other nearby 'windmill viewpoint' and consider a Thai dinner at the local 'Promthep Restaurant'. Read more
---
It's hard to resist those old Sino-Portuguese streets with their beautiful shop houses and magnificent mansions. With many small cafes, bakeries and eateries along the way… Phuket town is perfect for a half day. You can reach there by tuk-tuk, or even with the local blue bus that stops at the city market, then walk from there to Thalang road, the most popular of the old streets of Phuket Town. Visit also the local markets near the bus station and explore the little streets here and there to discover some incredible abandoned mansions. Don't miss the  Phuket Walking Street on Sunday, a chance to try a lot of local food you cannot find easily! Read more
---
A small fishermen village built entirely on stilts in the middle of Phang Nga Bay. Take a longtail boat early to reach there before tourists arrive, and you get a completely different feel for the place. Continue to the James Bond Island if you feel like seeing the shooting set of this old movie 'The man with the golden gun'. Read more
---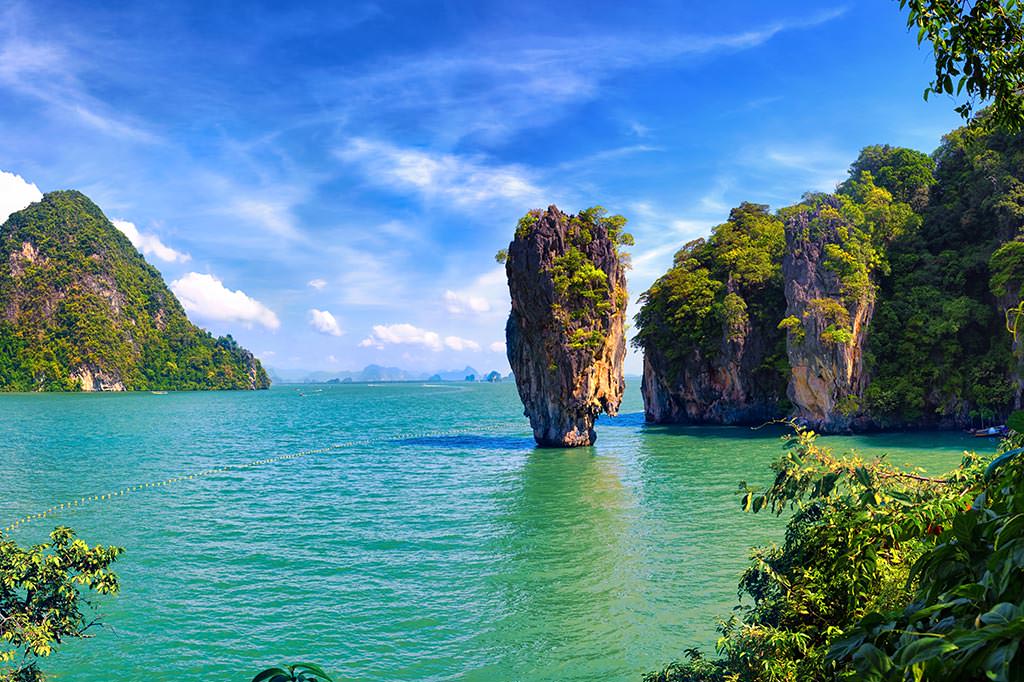 James Bond island is one of those bucket list items many people want to tick-off their list when in Phuket. There are many positive and negative opinions about James Bond Island, and most are justified. Before that old 1974 James Bond movie 'The Man With The Golden Gun' with Roger Moore and Christopher Lee (remember Count Dracula? Saruman in Lord of the Ring?) no one talked about this island. The movie wasn't even good (45% on Rotten Tomatoes). Read more
---
Simon Cabaret is another 'Las Vegas' kind of show, but a different nature. Here too, the stage in Patong beach is magnificent, the sets and costumes are glittering and colourful, but what people came to see are the amazingly pretty ladyboys! Perfect bodies with beautiful faces, most of them would fool you! Read more
---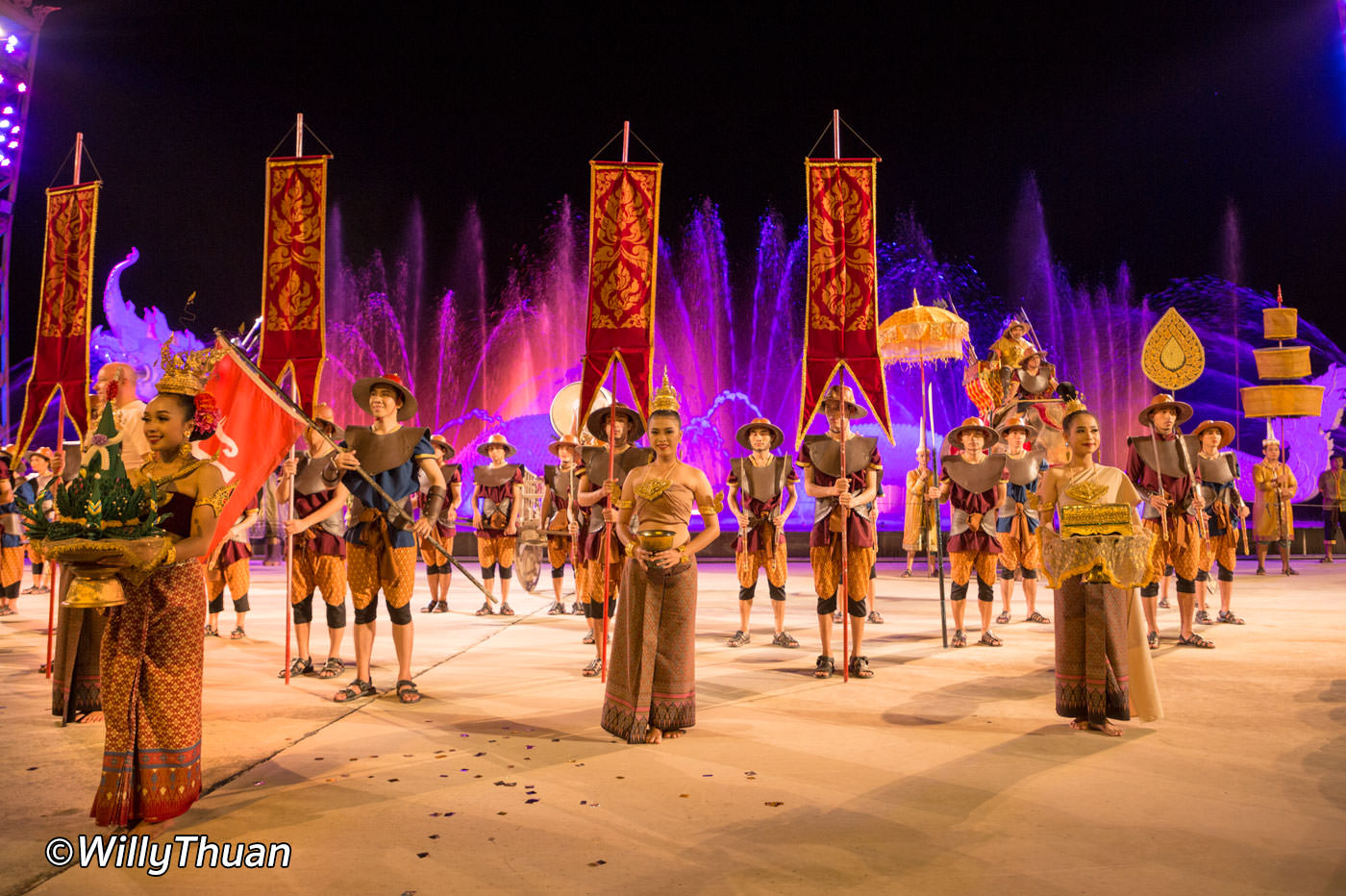 Siam Niramit Phuket is a fantastic stage performance about Thai history and mythology. The show involves hundred very skilled actors and dancers in a large theatre with a fantastic setting and sounds system. The show starts at 8, so this is a great way to spend an evening away from your room or Patong party! Read more
---
A beautiful viewpoint set above Phuket town. Great by day and by night with the city lights. If you happen to go there, by car and bike, stay for lunch or dinner at the beautiful and excellent Tunk Ka Cafe on the other side of the hill. If you drive down the other side of the mountain, stop for a photo at the giant golden sitting Buddha of Wat Kao Rang. Read more
---
Other Top 10s you might want to look at '10 Things to Do Off the Beaten Track', 10 Girly Things to do in Phuket, and 10 Things to Do in Phuket when it rains, and 10 Ways to Party Wild in Phuket (this one is not as bad as you think…. )