What to do in Phuket?
Wondering what the best things to do in Phuket are? The popularity of this amazing island comes from the incredibly vast range of activities and tours, from fantastic beaches and natural wonders to glittering temples and human-made attractions.
Phang Nga Bay is an absolute must-do, with jaw-dropping limestone cliffs and flooded caves. Phi Phi islands are everyone's second favourite even though it can be a little crowded. The 45 meters high Big Buddha of Phuket is also on everyone's list, and it is not difficult to reach. Taking a mud bath with elephants is the next big attraction and is growing fast in popularity!
Our recommendation is to plan just a few day trips in advance, then once in Phuket, and you can adjust your plan according to your mood (or the weather). You can book those day trips once here, they are usually cheaper and can be booked directly from your hotel, in the street or one of the many travel agencies. We added information on each item.
Note that some tours may look more expensive than others, but those usually offer a better experience: less crowded, better service and overall: a better experience.
With so much to choose from, it may be challenging to fit everything in once holiday. So to make your travel planning a lot easier, we listed here a list must-do in Phuket sorted by popularity. Some of them are on the island itself, some of them are around the island, but easily accessible in a day.
---
The incredible scenery of Phang Nga has always been at the top of our list of places to visit absolutely. There are many ways to explore it. You can take a lazy sunset cruise on a Chinese Junk or explore Phang Nga by canoe through caves and enclosed lagoons. If you can afford it, a full day on a customised private cruise around Phang Nga is the most relaxing and enjoyable experience. Similar to the famous Halong Bay in Vietnam, these landscapes will leave you with unforgettable memories. Read more
How to get there: Phang Nga can be effortlessly booked on location, at your hotel or in the street the day before. However, everyone agrees that the best way to do it is with John Gray Seacanoe which should be booked in advance online, especially during high season (December to May)
When to get there: Thanks to its sheltered geography, Phang Nga is accessible and beautiful all year round, even during the rainy season. The sea is never rough so you won't have to worry about being seasick
---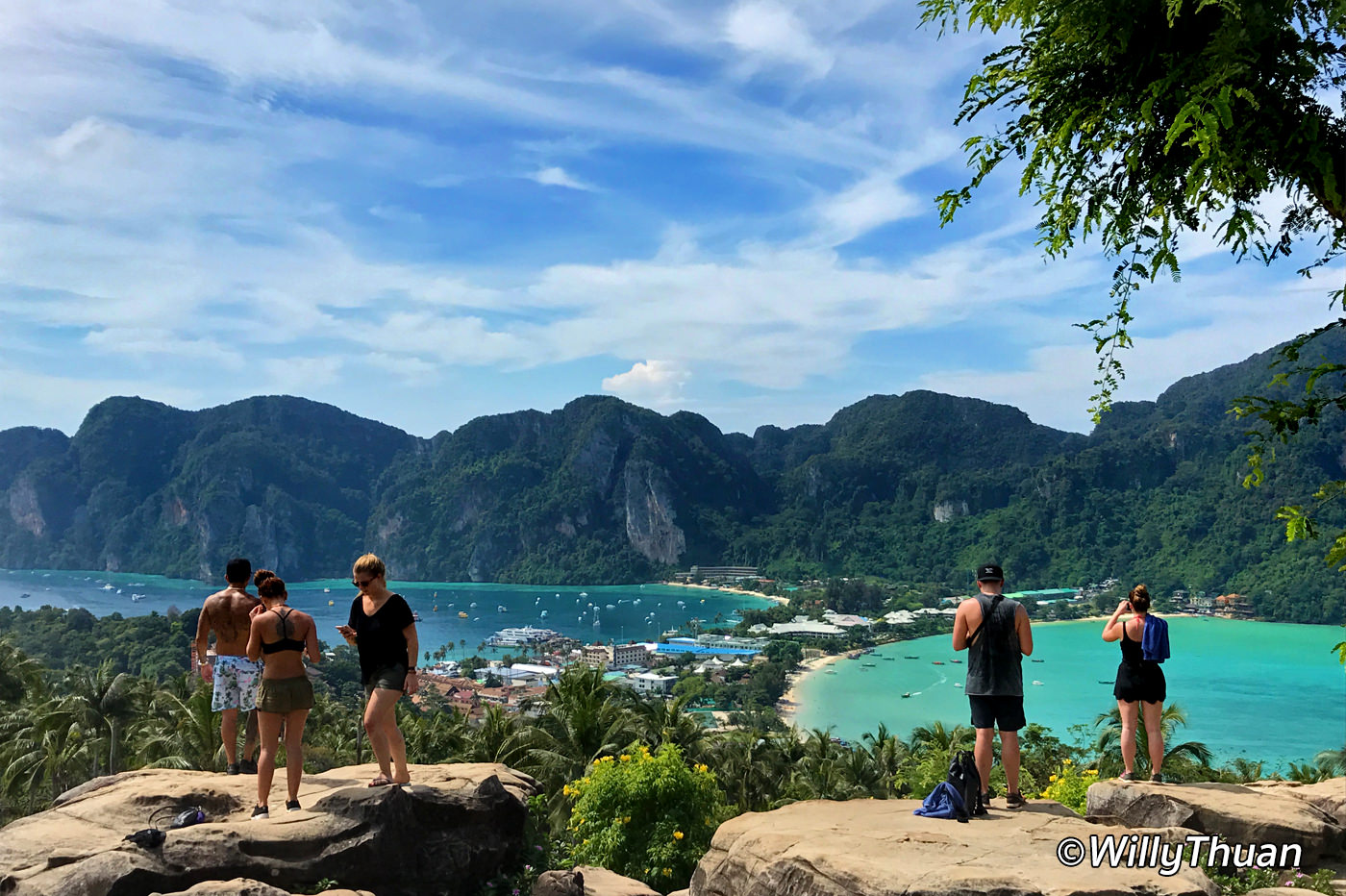 Phi Phi is a beautiful archipelago made of fantastic beaches and immense cliffs over two bays you can admire from the famous viewpoint. Phi Phi is also renowned among young crowds for those legendary beach parties lasting all night long, reminding a bit of the Full Moon Parties on Koh Phangan. But this fame comes with a price and Phi Phi may have become too popular. The crowds, greed and developments have severely affected the island so don't go imagining yourself walking alone on the deserted beach of the movie 'The Beach'. Read more
How to get there: Book it in advance if you plan to stay overnight. You can book a ferry or speedboat once in Phuket if you only want to go for the day, but day trips usually allow you such a short time on Phi Phi, you won't have much time for exploration. Price starts as cheap as 375 baht for a ferry ticket + hotel transfer.
When to go there: Phi Phi island is open all year round, but of course, it's more beautiful with blue sky during high season (December to May). Note that during low season, the ride can be bumpy so if you are prone to seasickness, take some pill.
Note: The famous Maya Bay remains closed for another couple of years, but the main island is open, and you can take a boat ride all around the archipelago.
---
Number 3 on our list of best things to do in Phuket is the Big Buddha, an iconic 45-meter tall white marble statue sitting at the top of Nakkerd hill in the south of the island. The construction of this statue started in 2002 and is entirely funded by donations. You can contribute too by sponsoring one small white marble tiles and sign your name on it. It's a generous thing to do, and your name will be there forever. Remember that Big Buddha is more than just a landmark; it is a religious place. You should respect it by dressing appropriately: if you wear shorts or skirts above the knee, you will be required to wear a sarong provided by the security at the entrance. You should also try to keep your voice down, which unfortunately is not very well understood by tourists.

The road to get up there is a little steep but well-paved, and the panoramic view from the top is worth the climb. To the north, you can see the whole Chalong Bay, all the way to Phang Nga and in the south, you will see Kata Beach. On the way down stop at one of the many little panoramic bars to get a bird view of Karon Beach. Read more
How to get there: you can easily reach the Big Buddha with your motorbike or car. Tuk-tuks will happily take you there too and wait for you once up there. Keep in mind that most tours include a visit to the Big Buddha.
When to get there: all year round
Price: free entrance but donations are appreciated
---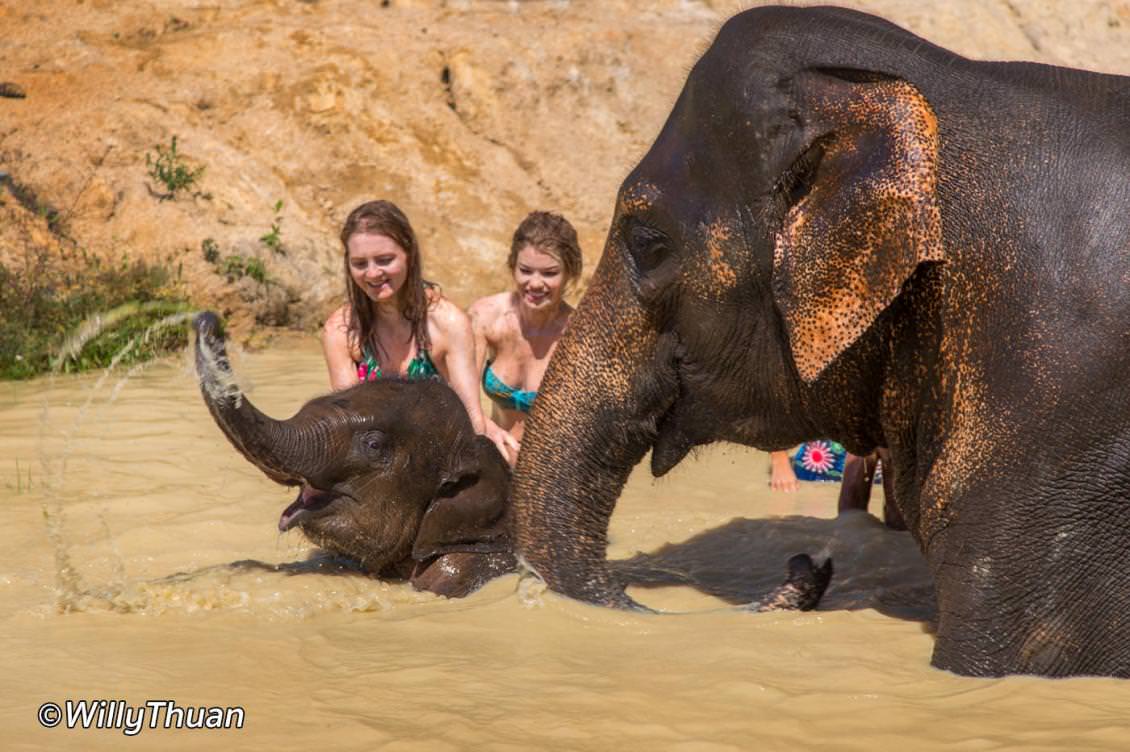 Phuket now has a lot of elephant sanctuaries and retirements camps. The island is finally shifting from the old fashioned trekking to this great new way to play with elephants in a more ethical and fun way. In those sanctuaries you will prepare food for the animals, learn about them, and understand a little more why trekking has to stop. The part everyone is looking forward the most is the bathing, where you scrub the elephants with mud. Kids love the experience, especially playing with baby elephants. Read more
How to get there: usually you can book once on the island via your hotel or ask an agency. You can book the day before (maybe two days before in the high season, Dec to May). The tour includes a pick up from your hotel.
When to go there: open all year round. It's an excellent activity to keep for a cloudy day
Price: not cheap. Expect to pay around 5,000 baht for adults and 3,500 baht for children
---
Bangla road might not be to everyone's taste, but judging by the enormous crowd walking up and down Patong walking street every night, Bangla is on many people's must-see list. Unlike what most people believe, Soi Bangla is not a 'Sin City for Single Men'. It's a colourful and vibrant street full of life, restaurants, shops and bars and of course, dancing girls. Now if you want to know more, enter these famous Go-Go bars and see for yourself what is this all about. You will often see couples tourists having a drink, Patong is a lot easier going than Bangkok or Pattaya. Read more
When to go there: Bangla is lively all year round. Nothing happens during the day, and the street closes to traffic around 7 pm. However, the party atmosphere kicks in past 9 pm or even 10 pm.
---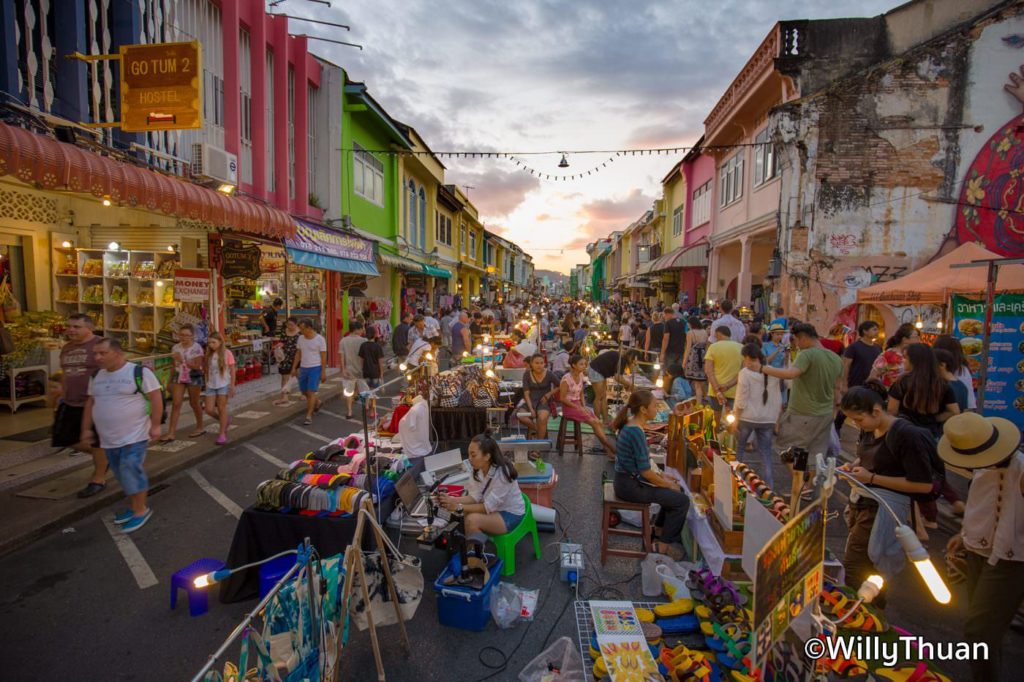 Phuket has a lot of night markets but at any day of the week and the line between a night market and a night bazaar is rather thin. Some only open during the weekend and some during the weekdays, so there should always be one open for you! The most famous and most creative is the Sunday Walking Street Market in the old Thalang road of Phuket Town. Read more
---
Similan Island is the most impressive set of Islands accessible from Phuket, blessed with incredible white sand and clear blue waters. But these are only open from November to May and a bit far, 100 km north-west of Phuket in the Andaman Sea. If you get a chance, you should go. If you are not confident, go to Phi Phi Island, but it's crowded. More accessible and closer is Racha Island or nearby is also Coral Island. Read more
How to get there: you can book this tour from your hotel or a local agent once in Phuket. In most cases, a van will pick you up from your hotel and drive to Tap Lamu pier outside the island. From there you will ride a speed boat.
When to get there: Similans are only open between October to May.
Price: starts around 2,350 baht. Just remember that cheap tickets may mean packed boats.
---
Next on our list of best things to do in Phuket is the famous Karon Viewpoint, where you can enjoy a panoramic view of three magnificent bays. The closest is Kata Noi Beach, further is the beautiful bay of Kata with its small iconic island, and in the far is Karon Beach. The place is well-known and therefore frequently busy, but people don't stay long. Apart from taking a couple of photos and maybe buying some drinks, snack and ice creams, there is not much to do up there. You will often see a Thai guy on his motorbike with a big eagle offering you to take a photo with the bird, for a small fee of course. Just remember that wildlife is protected and you should not encourage this practice, no matter how cool the photo will look on your Instagram. Read more
Price: free
---
Chalong Temple (locally called Wat Chalong), built at the beginning of the 19th century, is the largest and the most visited Buddhist temple in Phuket. The most iconic building on the temple grounds is a 60 meters tall stupa sheltering a fragment of bone from Buddha. Inside, walls and ceilings are decorated with beautiful paintings illustrating the life of Lord Buddha, and the floor is covered with the many donated golden statues. You can also climb stairs to reach a terrace and enjoy a panoramic view of the place. Just like in any temple in Thailand, remember to dress appropriately: no shorts or skirts above the knee, no sleeveless shirts. Remember to remove shoes and caps when entering the temple itself. Read more
How to get there: easy to reach by car or motorbike. Most tours will include Wat Chalong, usually combined with a visit to the Big Buddha.
When to get there: the temple is open from 7 am to 5 pm, but you can walk around the property anytime
Price: free entrance but donations are appreciated
---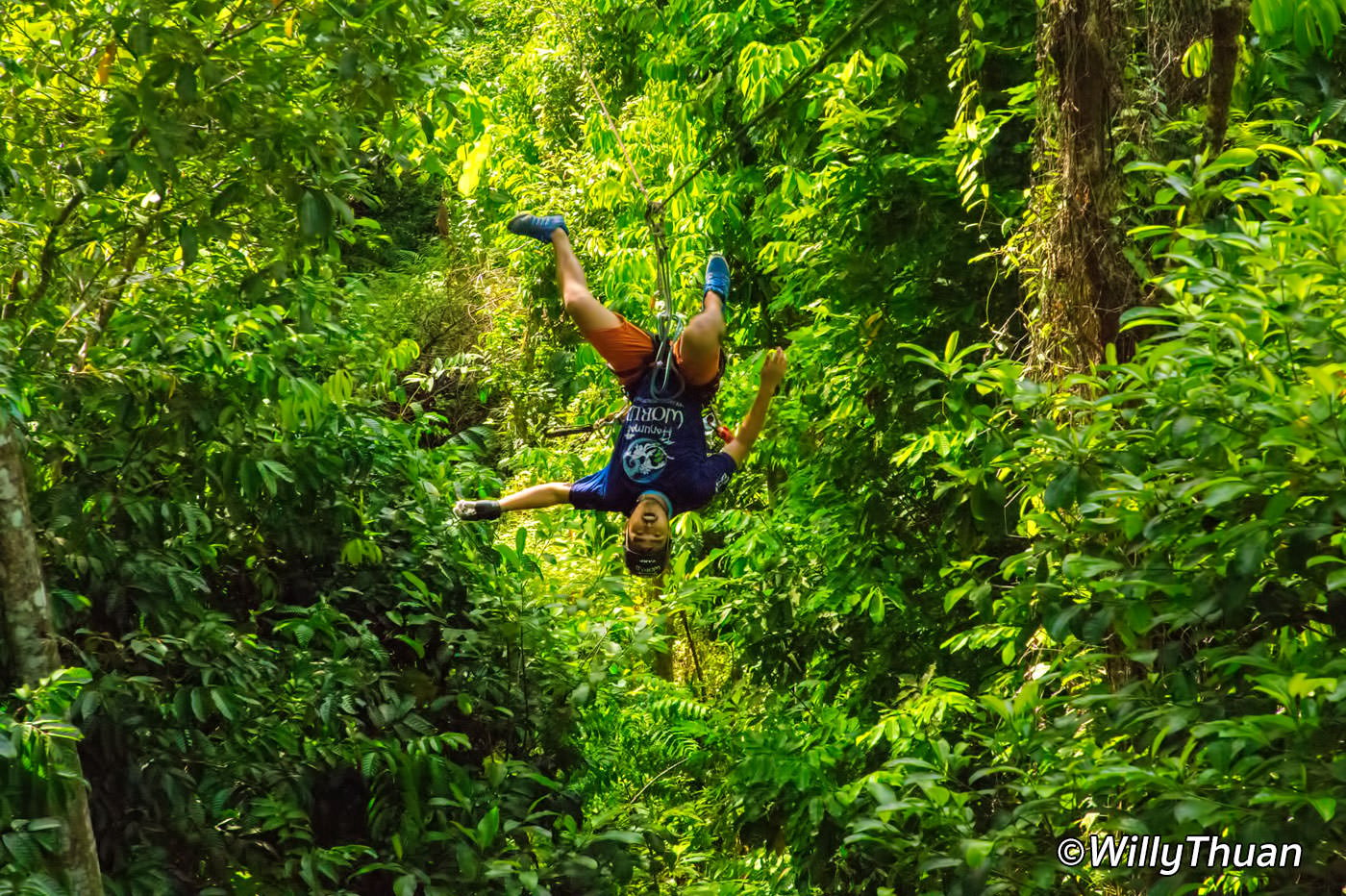 There are 3 or 4 Ziplines around the island, and we tried Flying Hanuman, in the forest near Patong Beach. Zipline is a great way to do something fun and exciting with friends and even family. You can do something active, fun and unforgettable in the dense forest near Patong Beach. It's enormous, impressive and safe and anyone can do it, even a four years old kid! Read more
How to get there: book directly with them or check a local travel agent
Price: starts at 2,300 baht (16 platform) and 3,250 baht (28 platforms).
---
Phuket Fantasea is a massive stage performance and a theme park in Kamala Beach. The architecture is beautiful, inspired by ancient Thai temples and castles. The park is bright and colourful, full of shops and funfair games to play with before the show. The main attraction is, of course, the show performed by talented Thai dancers and acrobats, accompanied by a dozen massive elephants. Phuket Fantasea also features a gigantic restaurant serving a buffet dinner. Read more
How to get there: you could book show and transportation directly on their website, but local agents offer better prices. You can book at the last minute; the place is so huge, it never gets full.
Price: Normal seats start at 1,800 baht, Gold seats 2,150 baht (closer to the stage). Hotel transfer: + 350 baht
---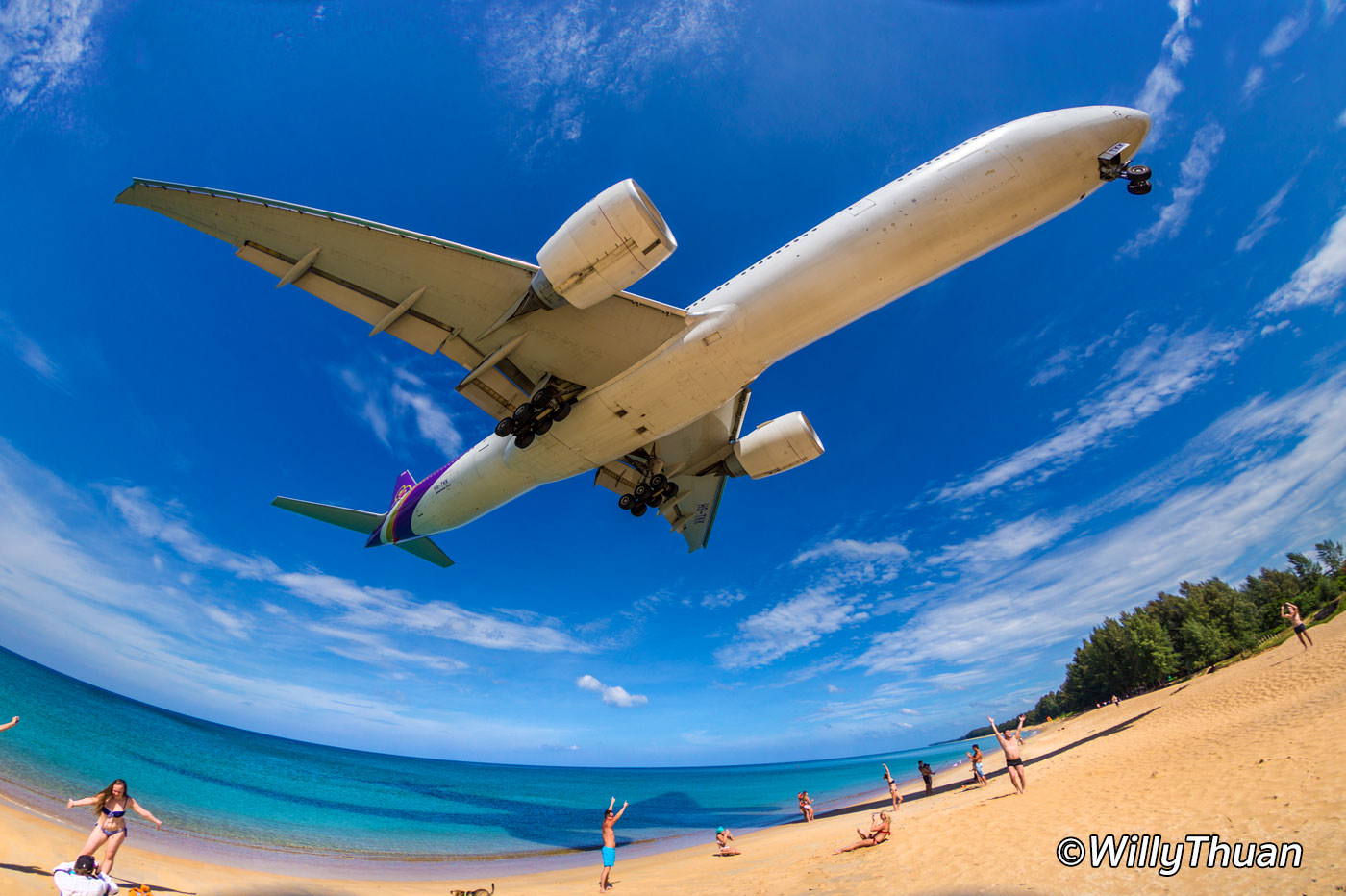 Plane Spotting in Phuket has become a viral phenomenon the day it became forbidden. The more it's forbidden, the more people go there, and this once deserted beach had become an Instagram mad playground. And why not? Seeing these enormous flying machines approaching from far and getting closer to you in a roar is jaw-dropping. As they are about to land, they fly so low above the turquoise water; you could almost touch their wheels!
How to get there: most people use their car or bikes to get to Maikhao beach. It seems that some local agencies offer a ride there. Read the page to know how to go there yourself
When to go there: Please remember that planes land over the beach only during high season (November to May) when the wind blows east to west! During low season planes will land from the other side, over the main road. And this is just an indication; wind can change according to weather.
Can you go?: Technically, it is not allowed to be under the path of the plane, but no one seems to care.
---
Promthep Cape is not as grand as you might expect, but it still attracts busloads of tourists every evening at sunset time. The elevated location at the very south of the island offers beautiful views on the bay and the few nearby islands. You can do a bit of local shopping around and even an excellent Thai dinner at the local 'Promthep Restaurant'. Read more
How to get there: usually people ride their car or motorbikes
When to go there: sunsets are a lot more impressive during low season (June to November) but some days might be cloudy. Need to know when to arrive to see the sunset? Check the time on Google!
Price: free
---
It's hard to resist those old Sino-Portuguese streets with their beautiful shop houses and magnificent mansions. With many small cafes, bakeries and eateries along the way. Phuket old town is perfect for a half-day. You can reach there by tuk-tuk, or even with the local blue bus that stops at the city market, then walk from there to Thalang road, the most popular of the old streets of Phuket Town. Visit also the local markets near the bus station and explore the little streets here and there to discover some incredible abandoned mansions. Don't miss the Phuket Walking Street on Sunday, a chance to try a lot of local food you cannot find easily! Read more
How to get there: Tuk-Tuk or Grab taxi are the common options. Then the cheapest way apart from driving there yourself is to ride the local blue bus.
---
Koh Panyi is a surprising small fishermen village built entirely on stilts in the middle of Phang Nga Bay. What used to be a remote place is now more of a tourist attraction, but it is still a real village with a large Muslim community, a mosque and a school. You can explore the narrow 'streets' and see the water through the interstices of the floor, do some local shopping and enjoy a tasty seafood lunch. Take a longtail boat early to reach there before tourists arrive, and you get a completely different feel for the place. Continue to the James Bond Island if you feel like seeing the shooting set of this old movie 'The man with the golden gun'. Read more
How to get there: almost every tour agent in Phuket offer this tour, together with James Bond island. You could also drive to one of the many Phang Nga piers, then ride a longtail boat from there.
When to get there: all year round, as Phang Nga is a bay, there are no waves at all.
---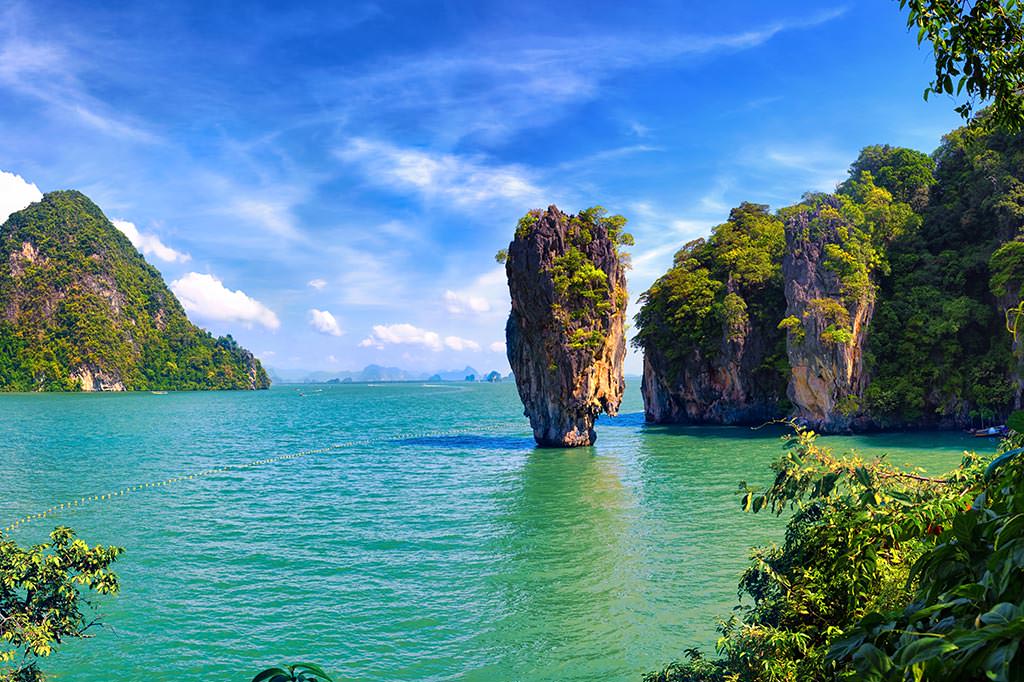 James Bond island is one of those bucket list items many people want to tick-off their list when in Phuket. There are many positive and negative opinions about James Bond Island, and most are justified. Before that old 1974, James Bond movie 'The Man With The Golden Gun' with Roger Moore and Christopher Lee (remember Count Dracula? Saruman in Lord of the Ring?) no one talked about this island. The movie wasn't even good (45% on Rotten Tomatoes). Read more
How to get there: Check with your hotel or a local agent. Can usually be booked the day before.
When to get there: all year round
---
Simon Cabaret is a 'Las Vegas' kind of show on Patong beach, but of a different nature. The stage is magnificent, the sets and costumes are glittering and colourful, but what people came to see are the amazingly beautiful ladyboys! Perfect bodies with cute faces, most of them would fool you! Read more
How to get there: Check with your hotel or a local agent. Can usually be booked late, even the same day.
Price: 800 baht for a VIP seat and 700 for a regular seat.
---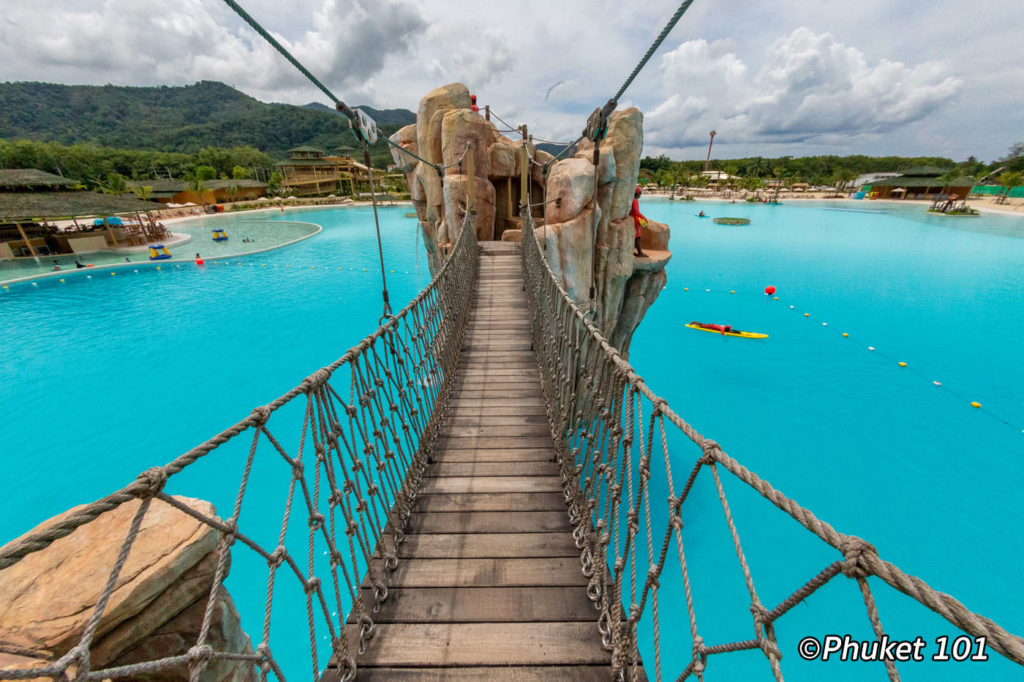 Phuket now has 3 water parks and  new one under construction. Of course you can have just as much fun on the beach but remember that the sea can be rough during the low season! When the sea is rough, those theme parks offer a great alternative, with slides, ziplines and paddleboards. Read more
---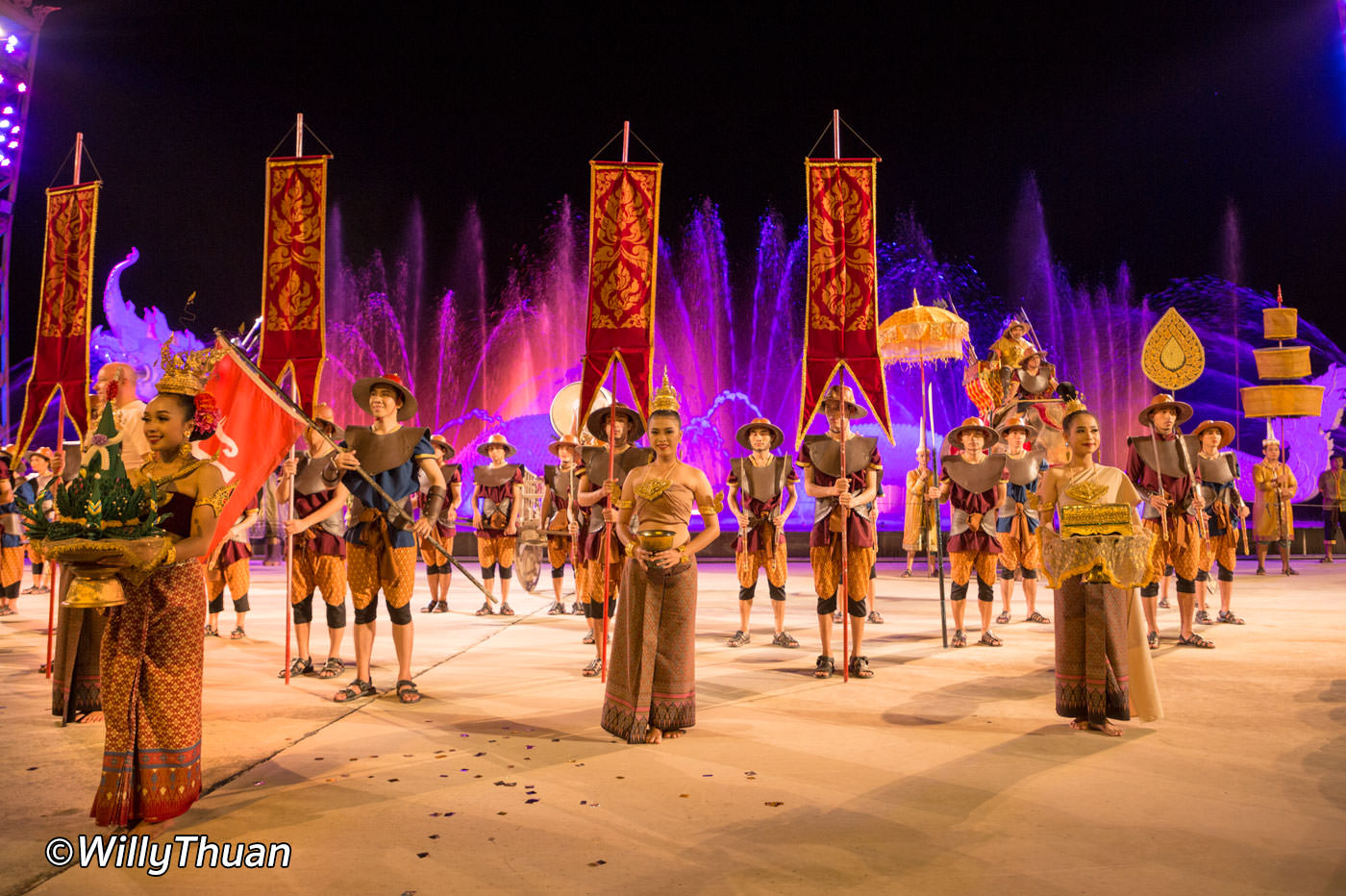 Siam Niramit is also a stage performance and a park recreating small local villages from around Thailand. The show about Thai history and mythology involves a hundred very skilled actors and dancers in a large theatre with a fantastic setting and sounds system. The show starts at 8 pm, so this is a great way to spend an evening out in Phuket Town, away from Patong party! Read more
How to get there: Check with your hotel or a local agent. Siam Niramit can usually be booked late, even the same day.
Price: starts at 1,500 baht, gold seats: 1,700 baht
---
Rang Hill is a beautiful viewpoint above Phuket town, with a good view both by day and by night with the city lights. Enjoy the view from the panoramic platform and stay for lunch or dinner at the beautiful Tunk Ka Cafe or at Khaorang Breeze Restaurant next to it. If you drive down the other side of the mountain, stop for a photo at the giant golden sitting Buddha of Wat Kao Rang. Read more
How to get there: you will need your own transportation or ride a tuk-tuk (or grab).
---
FAQs about Phuket Must-Do
Q. What are the most popular things to do on the island of Phuket?
a. The Giant Buddha, Chalong Temple and the Old Phuket Town are among the best things to do in Phuket.
Q. What are the most popular things to do around Phuket?
a. Phang Nga Bay, Phi Phi Island and the Similan Islands are among the best things to do in Phuket.
Q. What are the best islands to explore near Phuket?
a. Phi Phi Island, Coral Island, Koh Racha and the Similan Islands are the most popular island around.
Q. Should I book tour in advance or once in Phuket?
a. Most tours can be booked once in Phuket, but private cruises and John Gray Seacanoe should be booked in advance, especially during peak season (December and January)
---
Other Top 10s you might want to look at
20 Amazing Places People Always Miss in Phuket – Phuket Hidden Places
16 Best Things to Do in Phuket When it RAINS! Rainy Days Activities
Where to Party in Phuket? 11 Fun and Wild Ways to PARTY in Patong!