Where to Snorkel in Phuket?
What are the best snorkelling beaches in Phuket? Not all the beaches here are suitable to admire sea life, and as we were often asked which is best, we listed here beaches with nice rocky areas. None will ever be as beautiful as Coral Island or Similan Islands but they will have enough marine life to make your day. The best beaches are often the remote and hidden ones, not disturbed by boats and swimmers.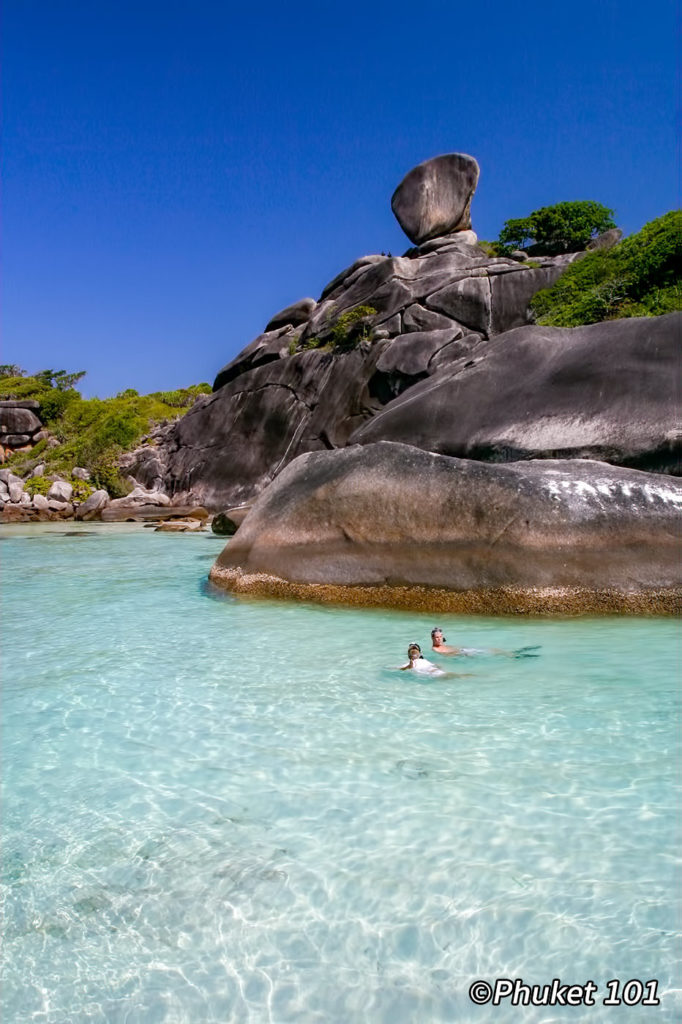 As a disclaimer, you have to be aware that swimming can be dangerous no the west coast during the low season. It is also best to bring your snorkelling gear as not all beaches can rent you one. See all the snorkelling beach on Phuket Map.
---
---
Without a doubt, the best snorkelling is in nearby islands. All you have to do is to put your head in the water and enjoy the show. Best we've seen so far was the famous Similan Islands, but you can have a great time on Phi Phi Island, Coral Island, Koh Khai nearby and Bon Island even closer. Read more
---
---
The small Ao Sane Beach consists of 3 tiny coves divided by rock formations and is ideal for underwater exploration. The beach even has a small restaurant and a dive centre where you can rent snorkelling gear for 150 Baht a day. Read more
✩ Snorkelling: great
✩ Beach condition: not very sandy
✩ Facilities: restaurant, diving and bungalows
---
---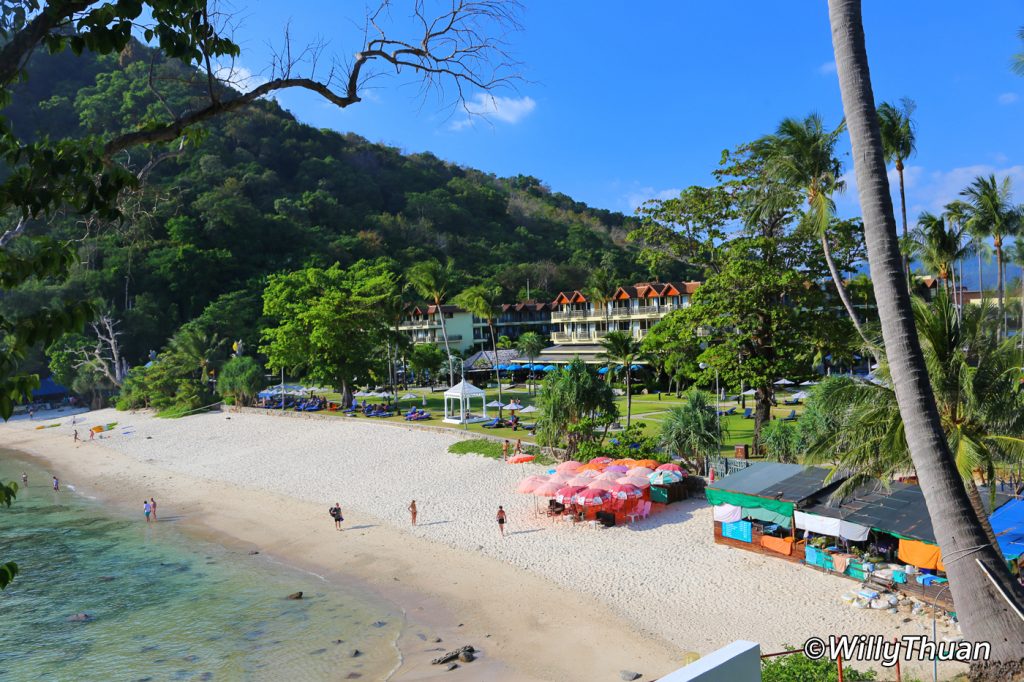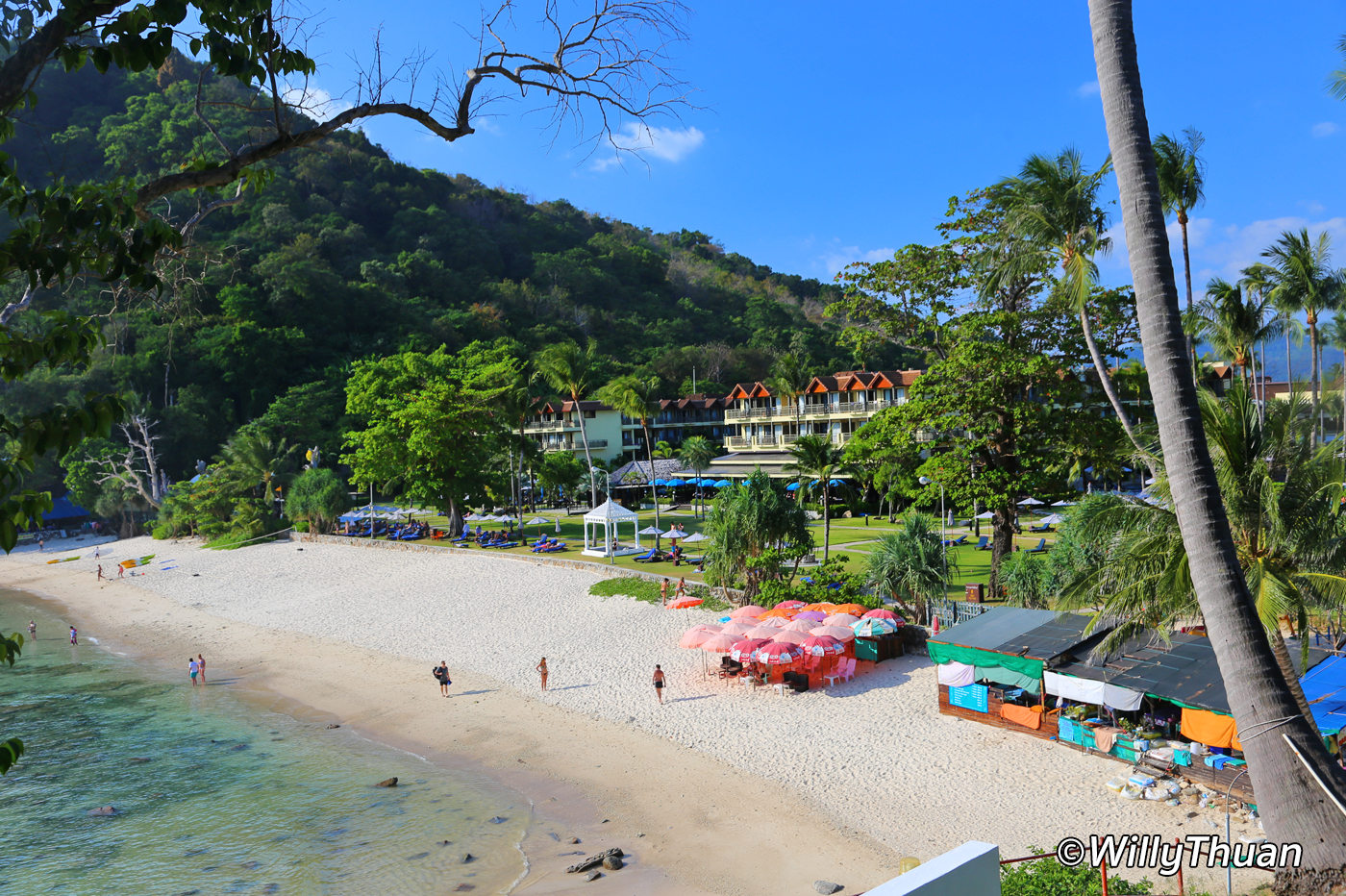 This little-hidden beach located in front of the Marriott Phuket Resort Merlin Beach is not well known but is the only beach having its natural reef. If you are a hotel guest, you can enjoy using the snorkelling reef program offered by the hotel, but if you are a visitor, there is a small road on the left of the hotel that will take you to that beach. You can also meet sea turtles on this beach. Read more
✩ Snorkelling: great
✩ Beach condition: good but not excellent for swimming, just snorkelling
✩ Facilities: massage and nice restaurant nearby
---
---
Ya Nui is tiny but has the charms of a small beach, tucked in a cove between the Windmill Viewpoint and famous Promthep Cape in the very south of Phuket Island. Coming from Nai Harn Beach, you would drive through, keeping your eyes on the curves, and miss it if it was not for the number of cars parked along the road of this hollow. Read more
✩ Snorkelling: good
✩ Beach condition: good but small beach
✩ Facilities: restaurants, bars and chairs
---
This hidden beach is one of the least known of Phuket, and it takes a bit of effort to find, but you will be rewarded by the pleasure of having seen a secret beach with very clear waters. Located near Phuket Airport, it is only 800 metres long. Read more
✩ Snorkelling: good
✩ Beach condition: great hidden beach
✩ Facilities: restaurant and longtail
---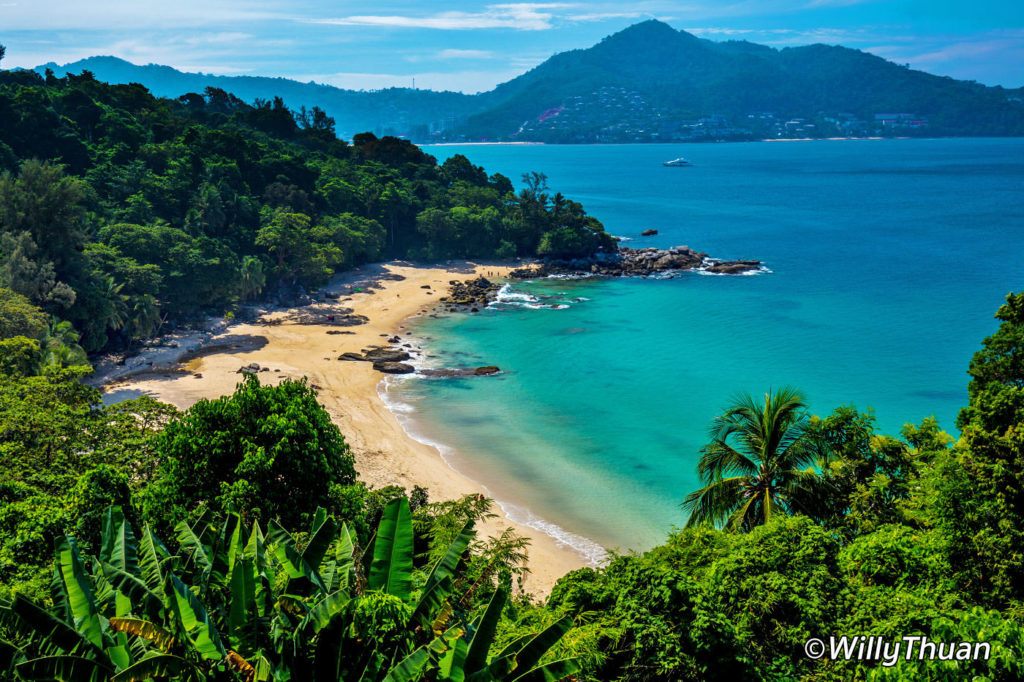 Laem Singh, located just between Kamala Beach and Surin Beach, used to be a bustling and top-rated beach. In recent years, access was closed, and Laem Singh became a deserted beach, and still is today. But there is still an easy way yo get there if you know how to! Read here how to access this deserted beach
✩ Snorkelling: great
✩ Beach condition: a beautiful beach with no one on it!
✩ Facilities: only one restaurant left
---
Naithon Beach is one of these little-known beaches on the west coast of Phuket, mostly because it is far from central areas. Here again, the southern end is conducive to marine life. Read more
✩ Snorkelling: acceptable
✩ Beach condition: great beach
✩ Facilities: restaurants, massage and chairs
---
Kata Beach north end is rocky enough to shelter a lot of marine life. The beach is excellent and easy to reach. Read More
✩ Snorkelling: good
✩ Beach condition: great beach
✩ Facilities: chairs, restaurants, massage
---
Not an easy beach to reach. The easiest way is by longtail boat from the south end of Patong, but it costs a bit, and the beach is only open during high season. There is now a road, but you need to be fit to walk down and up the slope leading to the beach. During high season only, you'll find restaurants and bars. Read More
✩ Snorkelling: good
✩ Beach condition: great beach in high season
✩ Facilities: restaurants, chairs and massage
---
Despite its fancy name, Paradise Beach is a bit disappointing at some times of the year, especially during peak season as it gets crowded. However, at other times, it's a beautiful little double beach with plenty of rocks to explore. Read more
✩ Snorkelling: good
✩ Beach condition: beautiful beach but paying fee
✩ Facilities: restaurants, bars, massage, chairs
---
Laem Ka Beach, in the very south of Phuket near Rawai, is a little gem hidden from view, only the ones in the know might find it. Plenty of rock formation and calm water makes it a fun place to wander. Read more
✩ Snorkelling: good
✩ Beach condition: hidden small beach
✩ Facilities: chairs and basic food and drinks
---
Map of Phuket Snorkeling Beaches
---
---
See Also