Where to surf in Phuket?
Phuket surfing mostly happens along the west coast, where you can get decent wave action. Waves are not huge but are great for beginners, and competitions are frequent during the low season. You will easily find board rental shops, and surf lessons are widely available at busier beaches.
When to surf in Phuket?
Phuket surfing is best from May to October, which is the low season. Unfortunately, it's also the wettest time of year, so don't be surprised to see some rainy days! But aside from catching waves during these months, you'll also enjoy less crowded beaches and discounted hotel rates.
Suppose you visit Phuket during the calmer months of November through April. In that case, some good alternatives to surfing include flowboarding at Surf House in Kata and Patong, standup paddle-boarding (SUP), kayaking and wakeboarding.
Here are the best surfing spots in Phuket, from south to north:
Nai Harn attracts small groups of mostly local surfers, with decent waves ranging from a half-metre to 3-metre swells at each beach end. There's a beach and reef break at the northern end near The Nai Harn resort, while at the opposite end near the lagoon, a permanent sandbar helps create waves for long and fast rides.
Surf conditions at Nai Harn beach are best suited for beginner to intermediate surfers. You will need to bring your boards here, as no surfboard rentals or lessons are available.
Phuket 101 receives 250,000 monthly visitors on average (500,000 pageviews/month).
If you wish to advertise on this space or other options available on Phuket 101, just contact us.
Kata Beach is the best-known surfing beach in Phuket, with the most wave-riding action at its southern end near The Boathouse resort. Surfers should find decent waves at any tide level, but conditions are best mid-tide.
Beginner to advanced surfers will enjoy surfing here, and while Kata can get busy, it's rarely overcrowded. Board rental is available from a few shops at the beach, and those looking to learn or improve their skills can sign up for lessons at one of the surf schools.
Kata Noi is a tiny bay separated from Kata Beach by a headland with good surfing action at its northern end. The waves here can be quite fast and are usually more powerful than those at the more popular Kata Beach. Katathani Resort takes up most of the land fringing Kata Noi's beautiful soft white sands, but there's public access from the road. Unfortunately, there's no surf school here, but you can easily find surf lessons and board rentals nearby.
This small beach on a rocky headland just north of Patong Beach is a great little spot for surfing, with waves up to 3 metres. A shallow coral right-hand reef break offers long rides of 50 to 100 metres. However, it's best to go at high or mid tide as exposed rocks at low tide could make your ride hazardous.
Kalim is more suitable for intermediate to advanced surfers. There are no board rental places directly on Kalim, but you'll find some along the beach in Patong.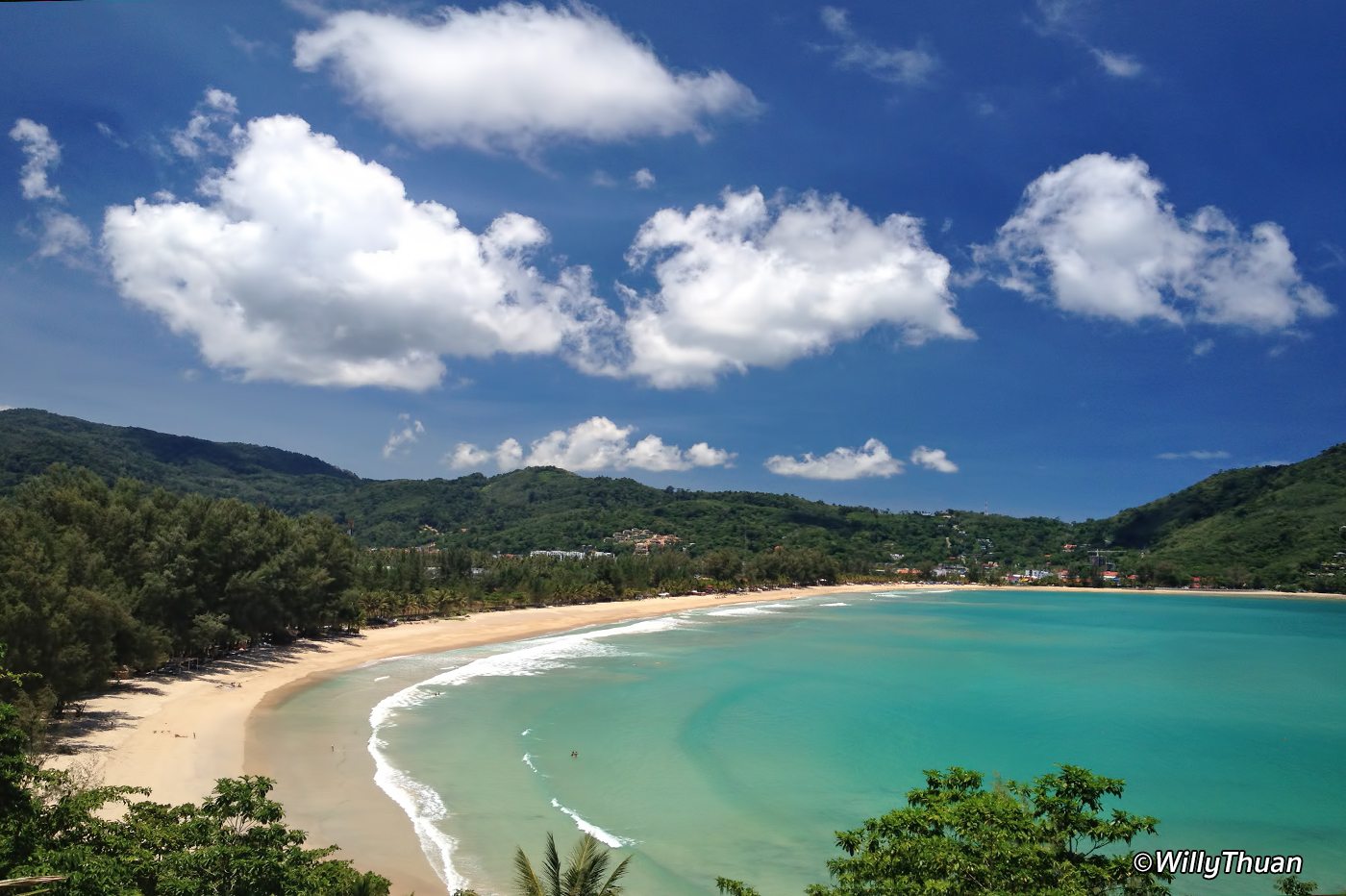 Kamala Beach offers consistent breaks and a sheltered bay good for surfers of all experience levels. There are surfable waves at various points along the beach, with some of the best at the northern end near the Novotel Phuket Kamala Beach resort. More advanced surfers like to head to the point break near the southern end.
Surfboard rental is available at a few shops along the beach. Kamala is also great for surfers who want to break up their day riding the waves to enjoy some dining and drinks on the beachfront, with Café del Mar beach club and several restaurants lining the sands.
Those searching for some barrel waves have the best chance of finding them at Surin Beach. Surfing in this small bay best suits experienced surfers with heavier wave action and strong currents. The best surfing spots are near the rocky headlands at each end of Surin's 800-metre length.
All the shops along Surin Beach cleared out some years ago so that you won't find any surf schools here, and you'll need to source your surfboard elsewhere before hitting the waves.
Bangtao Beach is a long stretch of soft sand north of Surin Beach that appeals to beginner surfers with calmer wave conditions. The southern end is sheltered by the headland, churning up smaller waves perfect for those learning to surf.
A few surfing schools and board rental places are found at this southern end near Sunwing Hotel and Catch Beach Club. You'll find bigger waves north towards Layan Beach, but they can be hit or miss as they don't appear consistently.
Nai Yang Beach near Phuket airport has an offshore reef that can kick up some of Phuket's best surfing waves, but it's a notoriously unpredictable spot. A long paddle out to the reef and exposure to the winds make Nai Yang a place best left to more advanced riders. However, surfing closer to the beach is sometimes possible at low tide.
Nai Yang has no surf schools or board rental places, so you'll need to bring your surfboard out to play here. However, a kiteboarding shop (Kite Boarding Asia) offers lessons and rentals near the Slate Hotel if you'd like to try a wind-powered wave riding challenge instead.
---
More photos of surfing in Phuket
---
Map of Surfing Beaches in Phuket
---
More reading