How to visit Phang Nga Bay?
Phang Nga Bay is one of the most amazing places we had the chance to explore. We've been there countless times, by boat, car, bike, luxury yacht, longtail, kayak and even on a Chinese Junk. Each visit is a new experience. Sunny, cloudy or rainy: Phang Nga wears a different dress for each occasion. The bay is about 20 km north of Phuket Island and 40 km from the pier, where you will probably board a boat.
Getting There
Classic kayak day trips
The easiest way to discover Phang Nga is to book a typical tour with your hotel. You will always have a fantastic day, and you won't have to worry about anything since all tours include transfers from and to your hotel. Note that this is a basic tour so it can be a little busy and a little noisy. If you want a real eco-friendly experience, pick the one below.
---
Popular Ways to Discover Phang Nga Bay
Phuket 101 receives 250,000 monthly visitors on average (500,000 pageviews/month).
If you wish to advertise on this space or other options available on Phuket 101, just contact us.
Much better than the classic tours is the surreal Hong by Starlight kayak exploration with the famous John Gray Sea Canoe. The kayaks silently glide in narrow passages, with just the sounds of birds and cicadas over the soft noise of the paddlers. The guides are knowledgeable and respectful of their surroundings and truly take you into a magical landscape out of this world. Read more
Discover Sea Cave Kayaking and Loy Krathong Floating with John Gray's Hong by Starlight
One of the fanciest ways we explored Phang Nga was on a luxury cruise. It adds a surreal touch to an already jaw-dropping landscape as you drink chilled white wine on the deck and admire the majestic cliffs rising high above your head. Read more
Renting a van with a knowledgeable local driver is another stress-free way to explore Phang by road. The trip usually includes the amazing Samet Nangshee viewpoint, the Reclining Buddha Cave, and Lampi waterfall, then drop you at the pier where you can go to James Bond Island and Koh Panyee, the amazing village on stilts. The itinerary is flexible, and the driver usually knows the area well.
By longtail boat
Boat rides and day trip tours are effortless to book from your hotel, often including transfers from and to your hotel and lunch. However, it's much more exciting to do it yourself if you have a car. Drive to the Surakul Pier or Phang Nga Bay Harbour (sometimes cheaper), where you can join any longtail boat. You can even rent your own, which is best, but certainly not the cheapest.
Sunset Cruise on a Chinese junk
A weekend aboard the famous June Bahtra Chinese junk was definitely the most exotic, gazing at bright stars in a clear night sky above our heads, lying on comfortable cushions on the top deck. The most memorable moment was in the almost total darkness, quietly drifting by those gigantic dark limestone rocks of Phang Nga obscuring the starlit skies.
What to see in Phang Nga?
Phang Nga has some landmarks, more or less attractive, but places are famous for a reason. The immense limestone cliffs in the bay area are the main attraction. You saw them in movies, even in Star Wars and James Bond.
The best known is the intriguing James Bond Island, famous for a movie that most people nowadays haven't even seen, called The Man with the Golden Gun. The real name of this rock formation is Koh Tapu, which means 'Nail Island", well justified by the funny elongated and unbalanced shape. A tiny island next to it is where dozens of longtail boats permanently disembark hordes of tourists for the usual and unavoidable 'James bond Island' photo.
Not far from this is Koh Panyi, another top-rated stop on the boat trip. This surprising and quite large village entirely built on stilts lives mainly from fishing and tourism. At certain times, Koh Panyee gets as crowded as James Bond Island, but visit it outside the rush hour, and it's all yours!)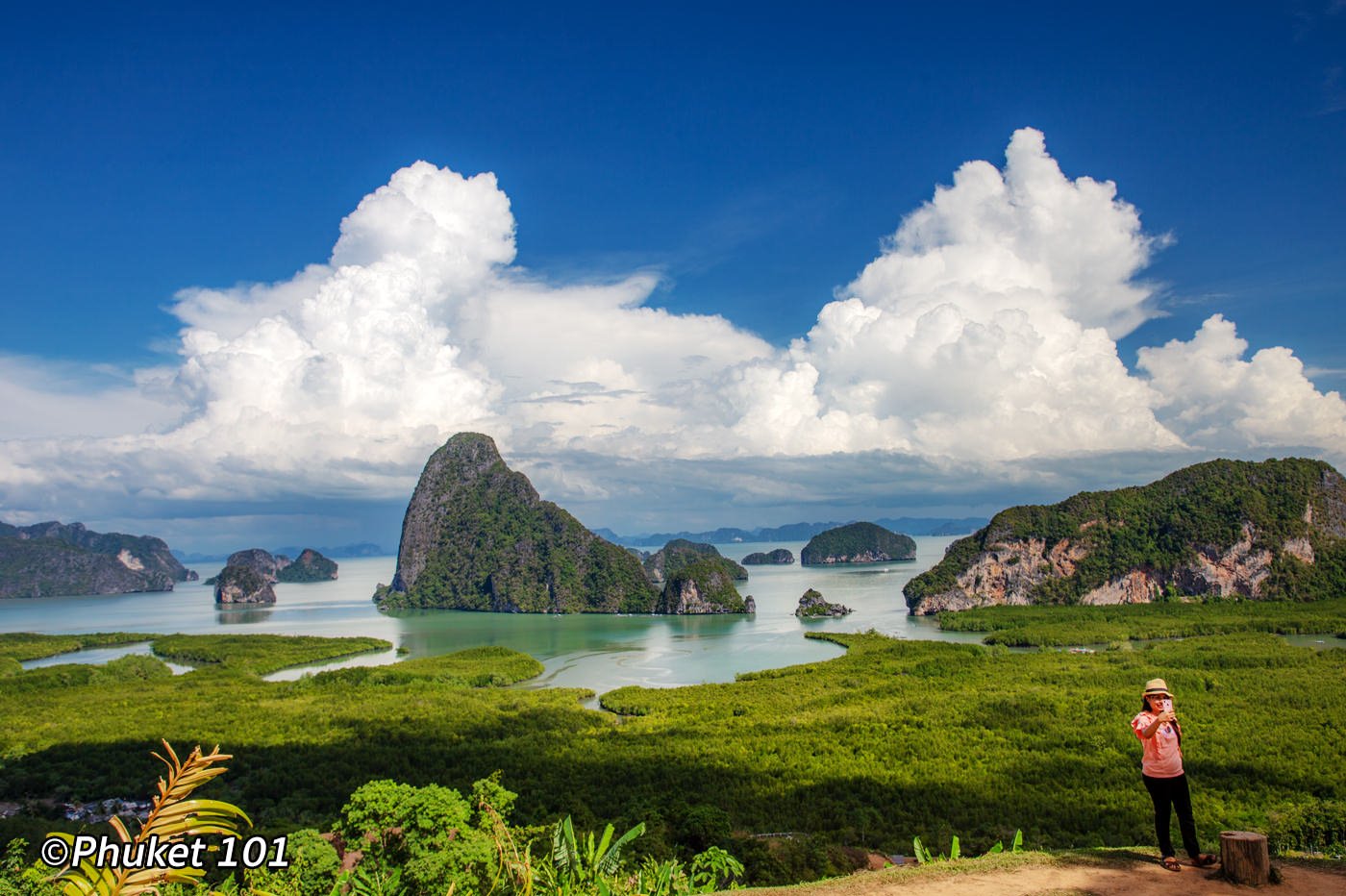 Samet Nangshe, situated in Phang Nga Bay, offers a breathtaking panoramic viewpoint. While it may be a bit distant from Phuket island, the drive is well worth it, especially if you have access to a car or a large motorcycle. Once you reach the top, you'll be able to marvel at the stunning limestone formations of Phang Nga Bay, although reaching the viewpoint requires some effort. To get there, you'll have to drive 25 kilometres beyond the Sarasin Bridge, which connects Phuket to the mainland. However, the journey through the scenic backcountry of Thailand is truly exceptional.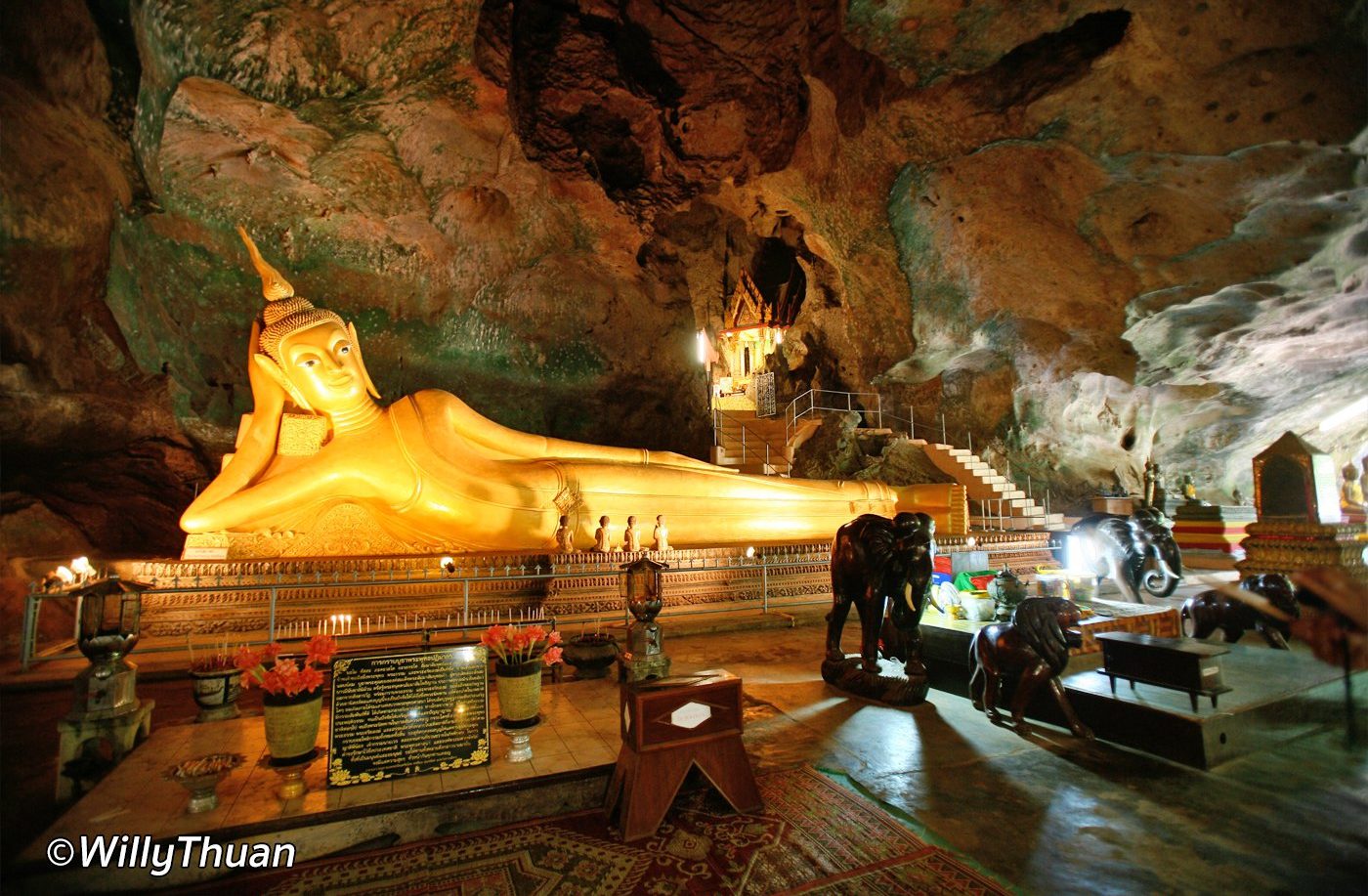 Whether you explore it on your own, by car or by boat, no trip to Phuket would be complete without visiting the fabulous Phang Nga Bay. Another notable landmark you should visit is Wat Suwan Khuha, with a huge golden reclining Buddha hidden inside a cave. Here too, beware of the naughty monkeys; they are known to pull rubber strips and antennas from cars.
Laem Haad Beach
Laem Haad Beach is a beautiful strip of sand at the very north of Koh Yao Yai. Most private cruises will stop here on the way back from Phang Nga Bay for a short time, allowing you to enjoy the soft sand, coconut trees and amazing views.
Other islands you will visit
Koh Panak
Koh Panak is a small sandy cove just below an immense cliff with a cave on its side to access an enclosed lagoon called 'hong', the Thai word for 'room'. Inside this lagoon are mangrove trees and rocks with surreal but naturally formed animal shapes.
Koh Hong
Kudu Yai
Kudu Yai is a superb and unusual creek surrounded by unusual sharp rock formations. The beach is tiny, usually with just a few people enjoying a swim and taking some photos.
Koh Yao consists of two Islands: Koh Yao Yai, the largest but the least populated, and Koh Yao Noi, home to many fishing communities and the most populated of the two. Koh Yao Noi is home to many hotels, from budget bungalows to fancy 5-star hotels with amazing private pool villas and even luxury glamping. Koh Yao doesn't have large fancy beaches like Phuket has, but it has the charm of a real Thai island atmosphere and the amazing background of Phang Nga limestone cliffs.
Koh Nok
Koh Nok is a small island where cruises stop for a short break or even a lunch on the small beach. If they are brave enough, visitors can climb the limestone cliff through the trees to reach the top, but that is quite challenging, even with the provided rope. If you are lucky, you might even see a giant monitor or two lazily walking around the beach.
---
Driving from Phuket to Phang Nga is fun. The road passing by Phang Nga town, more of a discreet small village, is lined by the same incredibly high cliffs covered with dense vegetation. At the intersection of Phang Nga Town and Krabi road, a beautiful park hidden from view reveals a small intricate maze of caves well paved and fun to explore.
The park is very popular with locals who enjoy a picnic near the cave, so you can expect to see food and drink vendors are all around the place… It's a nice little stop, but watch out the naughty little monkeys would be more than happy to eat your sausages.
Video of Phang Nga Bay
More Photos of Phang Nga
---
Map of Phang Nga Bay
---
Fast Facts about Phang Nga
| | |
| --- | --- |
| ⛱️ Most popular: | James Bond Island |
| 🏝️ Most surprising: | Koh Panyi |
| 🏝️ Best canoe tour: | John Gray Seacanoe |
| 🏝️ Most beautiful: | Koh Kudu |
| 🏝️ Most traditional: | Koh Yao Noi |
| 📷 On land: | Reclining Buddha Cave |
| 🛥️ Cheapest way to go: | Van + longtail boat |
---
More about Phang Nga Bay
John Gray Sea Canoe – Kayaking in Phuket and Phang Nga Bay
Island hopping around Phuket
---
FAQs about Phang Nga Bay