Phang Nga Bay
Phang Nga Bay is one of the most amazing places I had to chance to explore. I've been there countless times, by boat, car, on a bike, luxury yacht, longtail, kayak and even on a Chinese Junk and each time was a new experience… sunshine, cloudy or rain: Phang Nga wears a different dress for each occasion.
One of the fanciest way we explored Phang Nga was on a luxury cruise. It really added a surreal touch to to the day, drinking chilled white wine on the front deck and admiring the majestic cliffs rising high above our heads. Even better was the slow kayak exploration with the now famous John Gray Seacanoe, described with more details in our story "Hong by Starlight". Kayaks silently glide in narrow passages with just the sounds of birds and cicadas over the soft noise of the paddlers. It takes you into a magical landscape totally out of this world.
A week-end on-board the famous June Bathra Chinese junk was the definitely the most exotic of all, gazing at bright stars in a clear night sky above our heads, lying on comfortable cushions set on the top deck. My most memorable moment was to be in the almost total darkness, quietly drifting by those gigantic dark limestone rocks of Phnag Nga obscuring the star lit skies.
Of course Phang Nga has some landmarks, more or less attractive, but as I often say 'places are famous for a reason'. The best known is the intriguing 'James Bond Island' famous for a movie that most people nowadays haven't even seen, called 'The Man with the Golden Gun'.
The real name of this rock formation is Koh Tapu, which means 'Nail Island" well justified by its funny elongated and unbalanced shape. A tiny island next to it is where dozens of longtail boats permanently disembark hordes of tourists for the usual and unavoidable 'James bond Island' photo.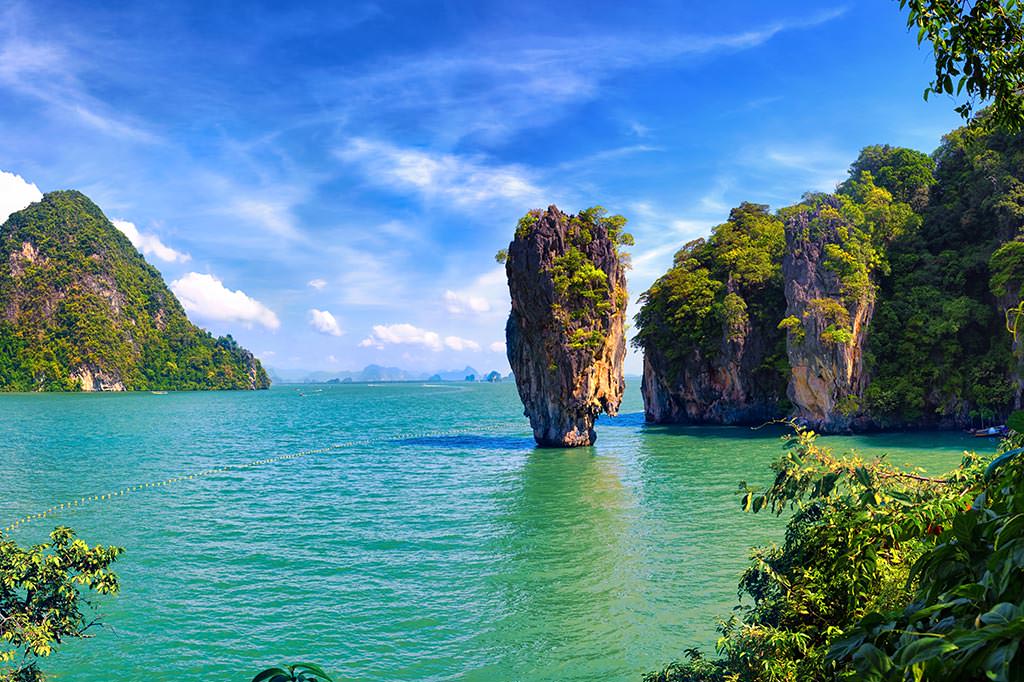 Not far from this is Koh Panyi, another very popular stop on the boat trip. This surprising and quite large village entirely built on stilts lives mainly from fishing and tourism. At certain times, it gets as crowded as the James Bond Island, but visit it outside the 'rush hour' and its all yours! You can read more on our page about Koh Panyee.
These boat rides and tours are very easy to book from your hotel, often including transfers and lunch, so I'm not going to list any. But it's a lot more exciting to do it on your own and drive to the Surakul pier in Phang Nga where you can join a longtail boat or even rent your own, best but certainly not the cheapest.
Driving from Phuket to Phang Nga is fun. The road passing by Phang Nga town, more of a discreet small village, it lined by the same incredibly high cliffs covered with dense vegetation. At the intersection of Phang Nga Town and Krabi road, a beautiful park hidden from view features an small intricate maze of caves well paved and fun to explore. The park is very popular with locals who enjoy spending time picnic near the cave and therefore food and drink vendors are all around the place… It's a nice little stop, but watch out the naughty little monkeys would be more than happy to eat your sausages.
Another notable landmark you should absolutely stop by is Wat Suwan Khuha and its huge golden reclining Buddha inside a cave… here too beware of the naughty monkeys, there are known to pull rubber strips and antennas for cars. So whether you choose to explore it on your own by car or boat, no trip to Phuket would be complete without a visit of the fabulous Phang Nga Bay.
Map of Phang Nga Bay