The Buddha Cave of Phang Nga
Wat Suwan Kuha is a surprising cave sheltering an immense reclining golden Buddha. If you feel like a little drive outside Phuket island, this is your chance to explore another side of Phang Nga! This region is not only famous for incredible limestone cliffs plunging straight down into the sea but also for some unexpected jewels. If you rent a car, driving along the majestic cliffs of Phang Nga will reveal impressive landscapes and the surprising Wat Suwan Kuha cave where this famous reclining Buddha is located.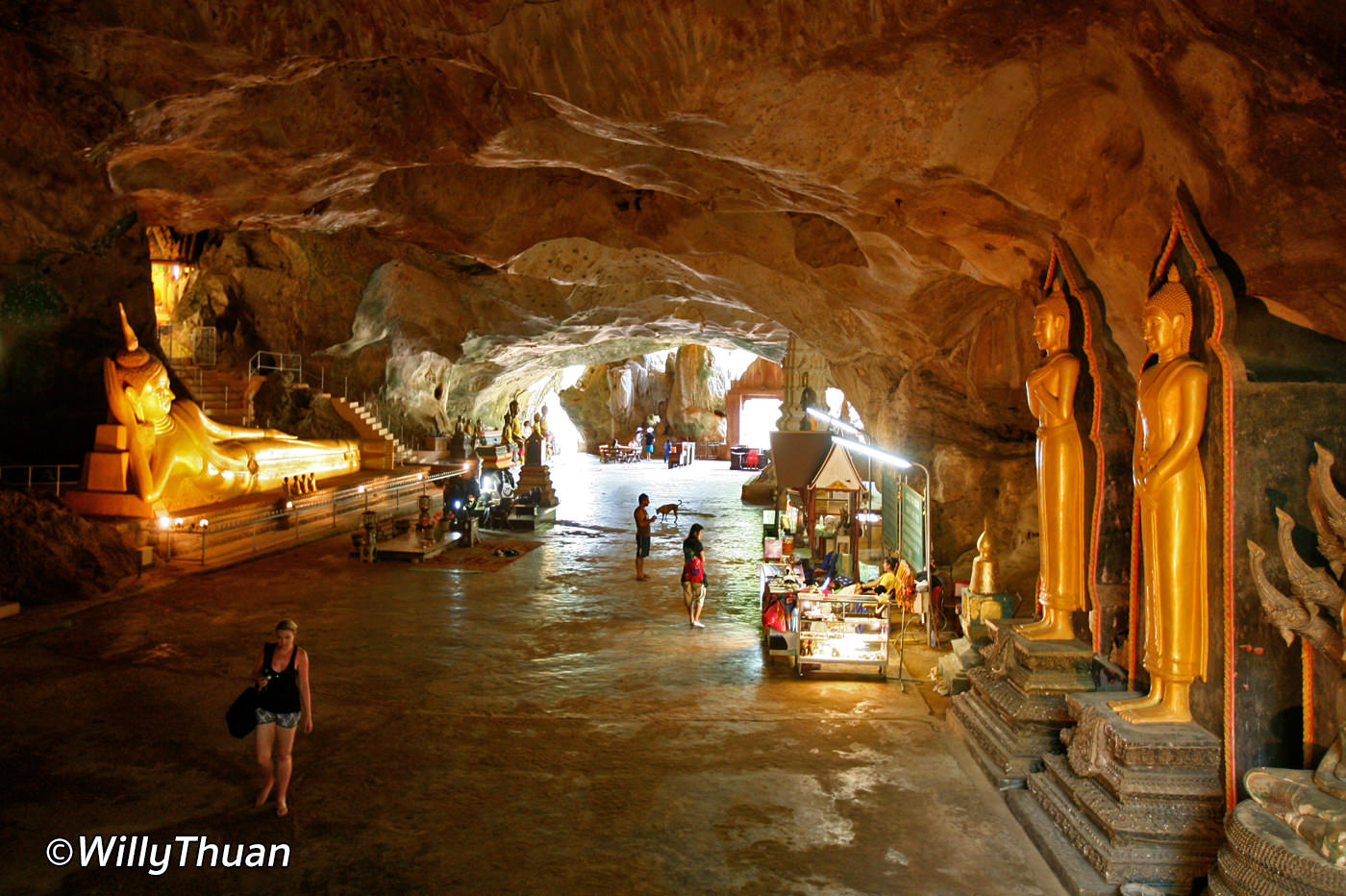 Phang Nga town itself hasn't been strongly affected by tourism yet. Long ago, there was a lot of expectation following the popularity of this silly James Bond movie that made 'Koh Tapu' (James Bond Island or the 'Nail rock') so famous and the whole area became a tourist magnet. (It still is). One of Phang Nga town highlights is the park at the entrance of the city, accessible through a hole in an immense cliff. When you reach the town, turn right to Krabi but stop only a few meters on your left.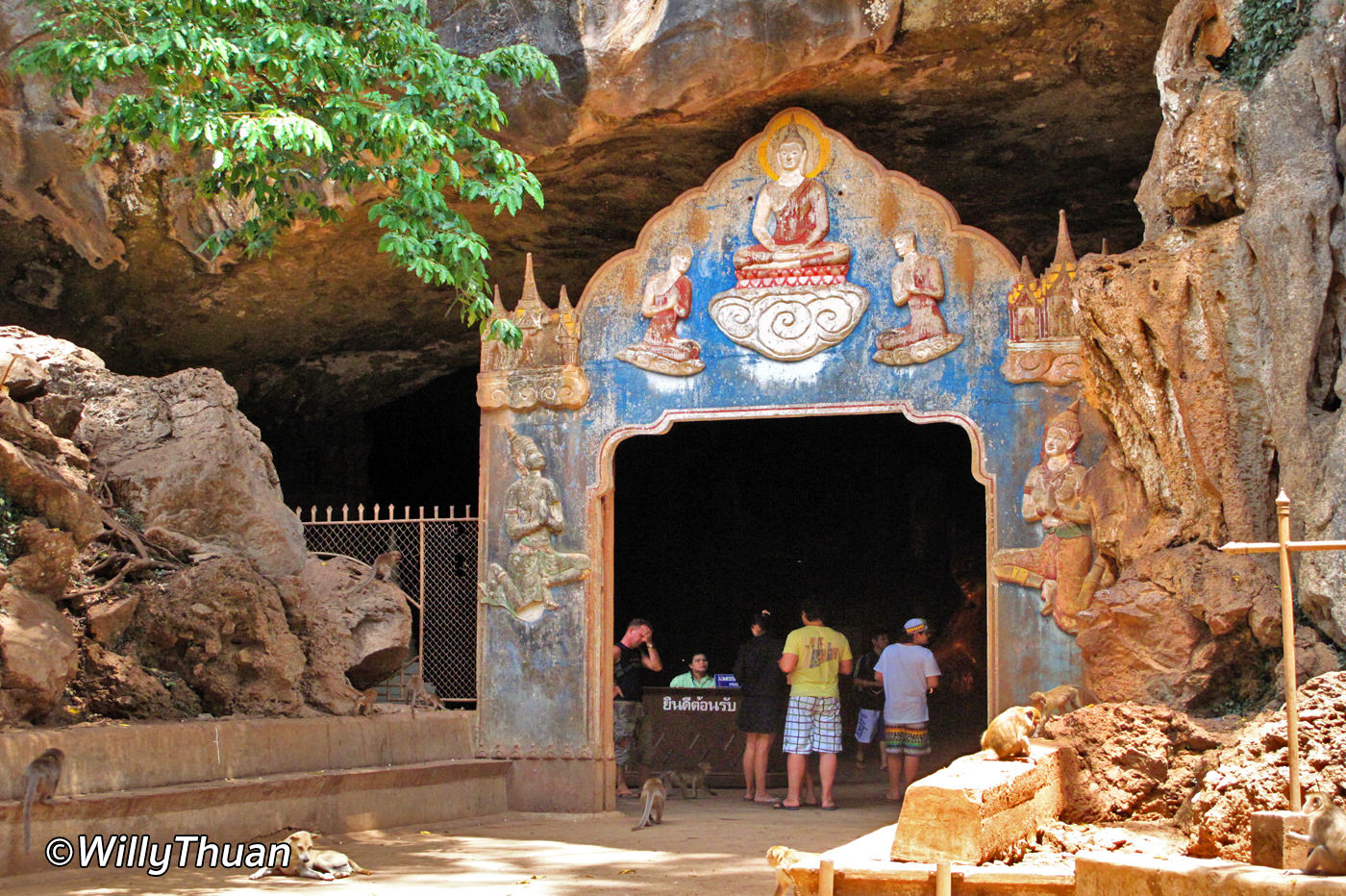 What you see looks like parking, but the road continues through that hole in the cliff. Passed this impressive 'gate', you will reach a large, well-maintained park surrounded by many caves and tunnels that are easy to explore and walkthrough. This park is a popular attraction for locals; you can tell by the number of food vendors standing everywhere. It's a fun stop, and you get to see quite a lot of monkeys.
Reaching the cave
10 km before reaching Phang Nga Town, the famous Wat Suwan Kuha cave (or Wat Tham) is indicated by the usual large temple gate. This small road leads to parking in front of the cave, but remember not to park too close to the cave entrance: Monkeys are notorious for pulling cars antennas, wipers or whatever they can strip out of your vehicle. Nasty surprise when you come out!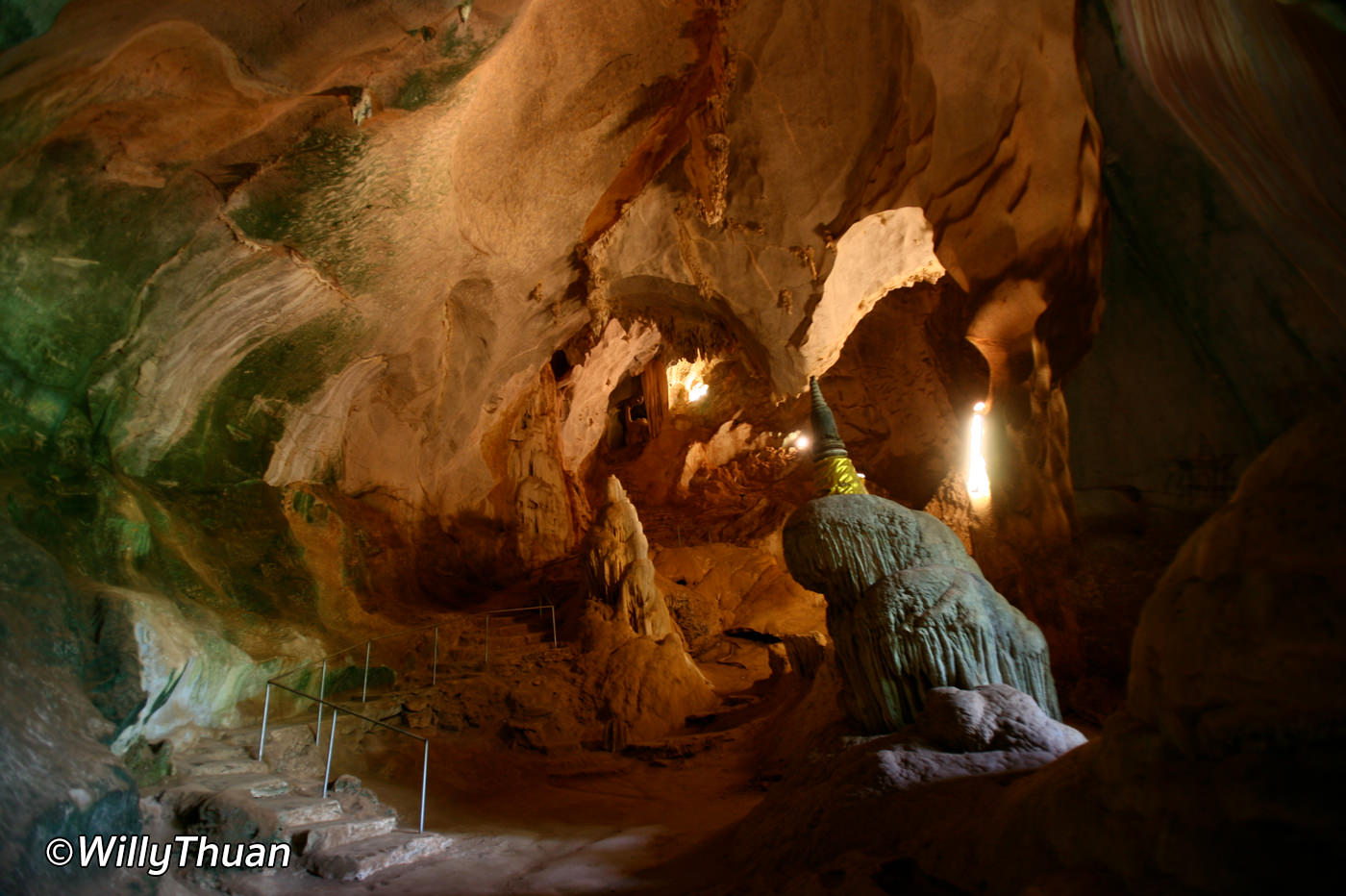 A faded decorated gate opens at the feet of a cliff onto a large cavern with high ceilings, about forty meters long and twenty meters wide. This original temple is home to an impressive fifteen-meter-long golden reclining Buddha and several other standing Buddha images. The whole place is also decorated with numerous religious items and worth a visit. A monk often meditates in front of the Buddha, surrounded by some lazy cats who seem to find the place spiritual enough to have a nap.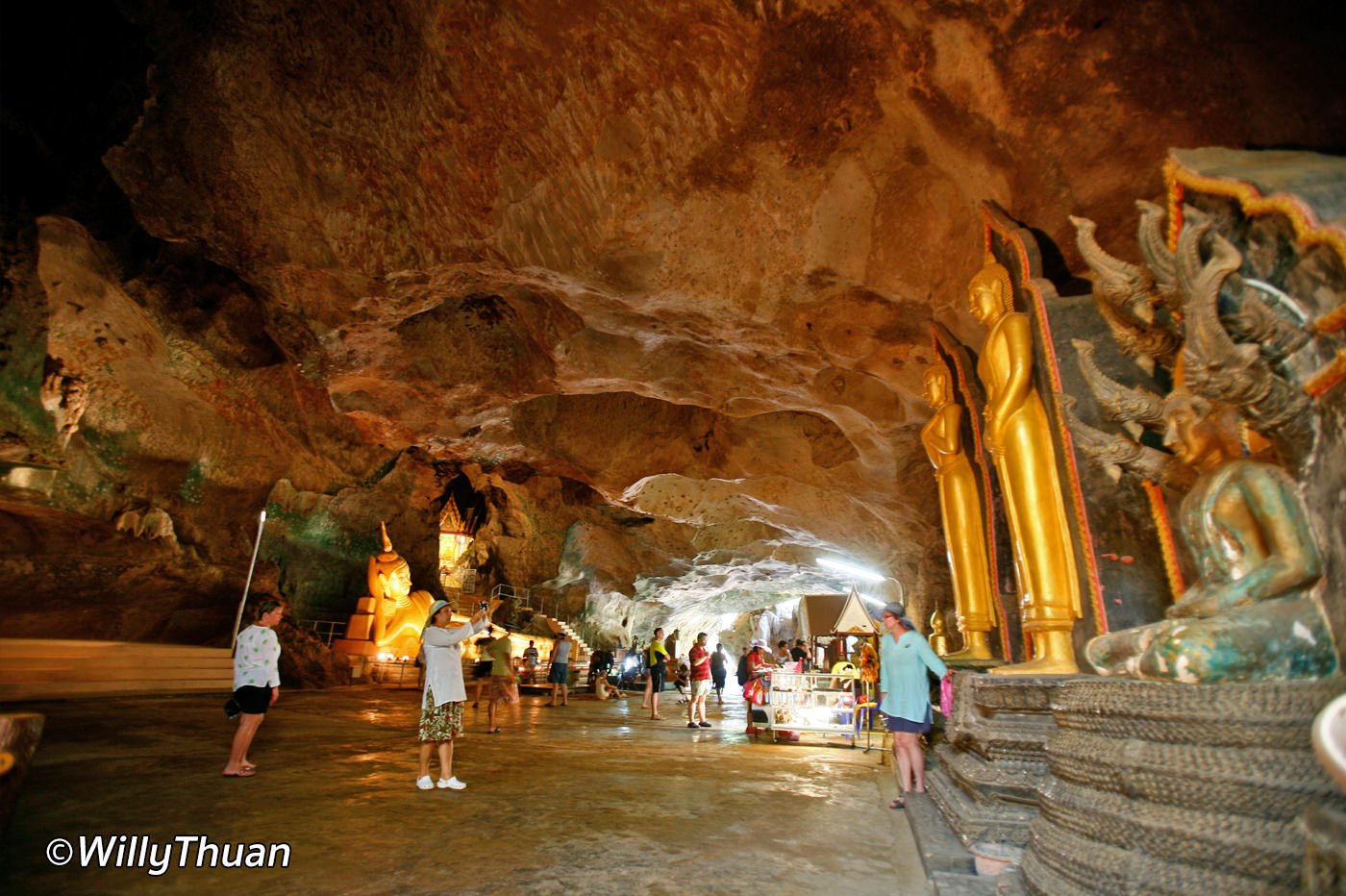 At the cave entrance, a stupa structure reminds you of the famous Wat Arun in Bangkok (temple of dawn), and some stairs next to the reclining Buddha take you up to another small cave with another golden stupa. At the very end of the cave, a fly of wide stairs opens to the forest outside and from there to smaller but less interesting caves. Don't forget to make a small donation while visiting; it is good for your karma too 🙂
What to do next?
You can go to James Bond Island from there, but I wouldn't recommend it. If you feel like riding a longtail boat to see something even more unusual, go to Koh Panyi, which has a bit more to offer. Alternatively, if you like temples, you can continue on the way to Krabi to admire the beautiful giant sitting Buddha of Wat Bang Rieng (photos) or have a great seafood lunch in one of the local restaurants but the Mangrove. A great way to spend a day driving out of the island!
Wat Suwan Kuha Photos
---
Wat Suwan Kuha Map
More places to visit in and around Phuket
Plan your trip