Where to stay in Phuket?
Deciding where to stay in Phuket and the right beach to book your hotel in Phuket can and will significantly impact your holiday. There are 44 beaches around the island, and they can be divided into four categories, plus Phuket Town, of course:
The main beach resorts where you can book a hotel: The beaches where most people book their hotels are Patong Beach, Kata Beach, Karon Beach, Bang Tao, and Kamala.

Quiet Beach Resorts: Mai Khao, Nai Harn Beach, Nai Yang and Naithon Beaches.
The beaches you mostly spend the day: While you still can find hotels nearby, these beaches have no town and very few facilities to keep you busy after your day on the beach: Surin, Freedom beach, Paradise Beach, Ya Nui.

Phuket Town: Phuket Town is a popular place to stay if you want to explore the old streets and experience local life and great southern food; just remember that Phuket Town is not near any beach.
4 Steps to finding the right hotel in Phuket:
| | | | |
| --- | --- | --- | --- |
| When is the best time to visit Phuket? When is the low season, the high season and the peak season? | Which beach is best for you? Busy or quiet? Close to party and shopping or long quiet stretches of sand? | Are you here to party? to explore? on honeymoon or with your kids and family? | If you travel with a small budget, this section has budget hotels, hostels and apartments. |
Best areas in Phuket to stay for your lifestyle
Note for first-timers: The large majority of the beautiful beaches of Phuket are on the island's west coast, with only 3 or 4 exceptions in the southeast (Ao Yon, Cape Panwa).
Best areas in Phuket for active first-timers: Kata, Karon, Patong
If this is your first time in Phuket and you want everything nearby and easy to access but don't mind busy beaches, then Patong is your first choice. The beach is vast and beautiful and less busy in the north. Next will be the Kata and Karon beaches; both have superb beaches but with fewer people. Dining and shopping are widely available, but the nightlife is much quieter than in Patong.
Best areas in Phuket for beach lovers: Nai Harn, Kata, and Surin
If you want to stay on the most beautiful beaches of Phuket, the choice is difficult because there are so many. Nai Harn is one of the most scenic beaches, with a wide crescent of white sand surrounded by green hills and nearby islands, and hotels have not invaded the beachfront. Surin beach is lovely, with no construction near the beach, just local restaurants under the trees and beach massage. Kata Beach is also very scenic but busier during the high season.
Best area in Phuket for spas and well-being retreats: Bang Tao Beach
Spas, massages, and well-being are widely available all around Phuket, even on every beach, but Bang Tao is home to many award-winning spas and retreats, often part of luxury hotels such as Banyan Tree.
Best area in Phuket for nightlife and parties: Patong
When it comes to nightlife, Patong is famous worldwide for its staggering choice of clubs, bars, excellent live music and even infamous go-go bars, all at a surprisingly low price.
Best areas in Phuket for food: Phuket Town, Rawai, and East Phuket
There are thousands of restaurants around Phuket island, and you will never have to go far to find something nice to eat, whether it is simple Thai food, street food or fine dining, but the real, local dining experience is not that easy to find. People who lived in Phuket long enough know that local food is in Phuket Town, mainly in small street restaurants serving true southern food. The east coast of Phuket, stretching all the way to Rawai in the very south, is peppered by excellent seafood restaurants serving the catch of the day from local fishermen.
Best area in Phuket for history, photography and Instagram: Phuket Town
The old Phuket town is surprisingly beautiful, with rows of Sino-Portuguese-style shophouses and superb historical mansions. Most of the time, travellers who book hotels by the beach dedicate one or even a half day to exploring the historical centre and take tons of selfies. Some others even book a guesthouse to stay around longer. Keep in mind that the closest beach is about 18 kilometres, which makes it easy to visit for a day, but far enough if you think you could enjoy both every day.
Best areas in Phuket for markets and shopping: Phuket Town, Patong Beach
Night markets are extremely popular because they offer so much for everyone to enjoy after a day at the beach. They add an exotic touch to your holiday at a time of the day when most countries do not have much to offer. Phuket Town has no less than 4 night markets, with the two largest open on weekends and two on weekdays. Patong Beach has two more modest night markets open every night.
Phuket is a very family-friendly island with many activities for kids to enjoy. Many families choose to stay in Patong for the convenience of restaurants and shopping (nightlife only occupies one street in Patong), but it can feel a bit too busy and the young crowd can be loud and make some families uncomfortable, especially during the high season. Kata and Kamala are a good compromise with affordable hotels and enough restaurants serving Western food. Bang Tao is popular with families because the large resorts have all the facilities to make your kids happy, from kids' clubs to kids' pools and kids' menus in restaurants.
If you want to stay away from the crowd to dedicate your entire holiday to your loved one, stay in the north of Phuket. The beaches are fantastic, and because they are part of national parks, there are few or no loungers or vendors on the beach. You can have long romantic walks and even dinner on the beach, enjoying sunsets with a cocktail.
Important note when deciding where to stay in Phuket and if you are worried about day trips:
If you want to spend a day trip to the nearby islands or Phang Nga Bay, don't worry! Tours agents always come to pick you up at your hotel, wherever you are on the island! So pick your hotel freely; even if you decide to stay north of Phuket, you can enjoy any tour or day trip just the same.
---
Beach locator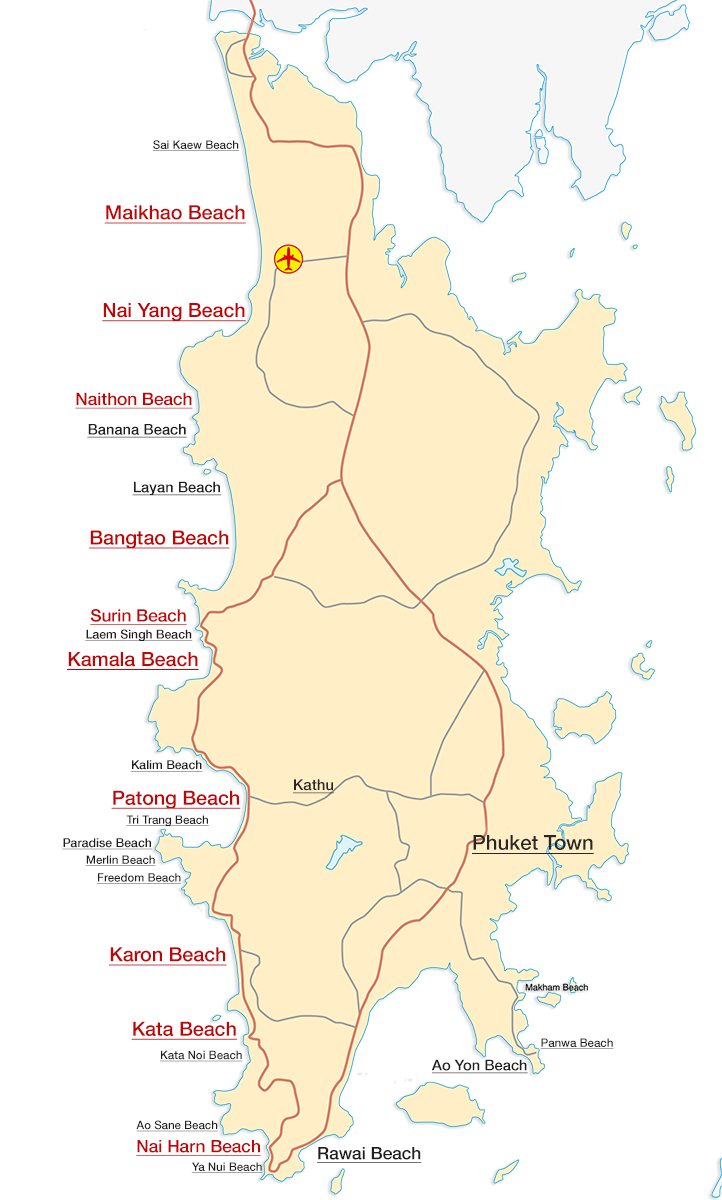 ---
Which beach resort is best to stay in Phuket?
---
Most people searching where to stay in Phuket will often start with Patong Beach. Patong was initially one of Phuket's most beautiful beaches and became popular with the younger crowd for its notorious party atmosphere. With easy access to many restaurants until very late at night, Patong is a convenient base to go in any direction and can be a lot of fun if fun is what you are after. Read more about Patong.
Who is Patong for?
Younger crowd
Party people
Travellers who want to have everything at hand and at all times.
What's Good?
Large beach with beach chairs, umbrellas, drinks, food and massage are available.
An incredible choice of nightlife options: clubs, bars, go-go bars: you can party most of the night
Easy access to shops, night markets, shopping malls, and international restaurants.
You'll have access to a massive choice of accommodation at all prices.
What's Not?
Patong is not truly Thailand, and the vast majority of people are not Thai>
The beach can get crowded
Streets are very, very busy
It's not a relaxing holiday at all
Parking can be challenging
Real Thai food is hard to find (it's often toned down and adjusted to tourists' taste)
Patong offers many hotels, mostly from cheap to mid-range budget, but very few luxury or romantic resorts. Quite a few hotels are along the beach road but with minimal sea views because of the trees and many ugly electric cables—lots of homestays, guesthouses, Airbnb and privately owned apartments.
Phuket 101 receives 250,000 monthly visitors on average (500,000 pageviews/month).
If you wish to advertise on this space or other options available on Phuket 101, just contact us.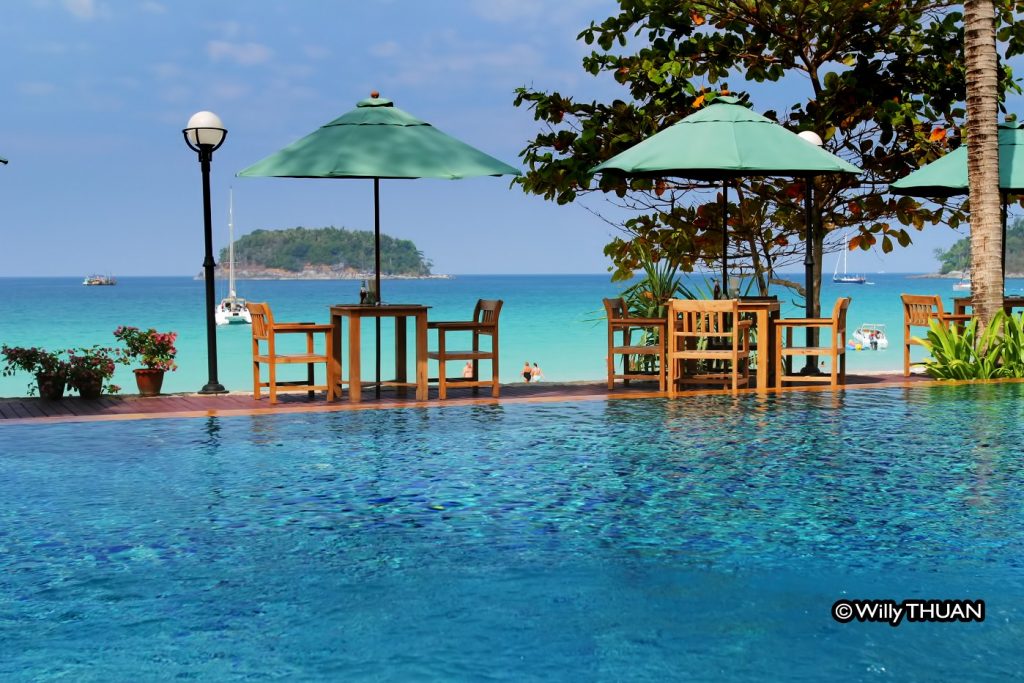 Kata is the second most popular beach in Phuket. It usually offers the right balance between being too crowded and quiet, but the beach can get busy during the high season. You can easily find cheap to mid-range restaurants serving all kinds of food, including decent Thai food. However, don't expect to enjoy much local Thai food as far as we know; it is a tourist town. The north end has a nice set of small beach restaurants where you can eat on the sand. Read more about Kata Beach.
Who is Kata Beach for?
Kata Beach is good for those who want to have everything nearby but find Patong too busy and overwhelming.
Ideal if you want to stay at a remote beach because you have no transportation.
Everything is more or less within walking distance (unless you booked your hotel on the back road!).
What's Good?
Superb beach with beach chairs with umbrellas, drinks, food and massage available
Good for first-timers
Amazing sunsets
Kata has a lot of restaurants, shops and hotels
Easy to go around without a car or motorbike
Lots of hotels in the cheap to mid-price range
What's not?
It can get hectic during the high season.
Narrow streets and permanent traffic make it pedestrian-unfriendly
Lack of parking
Only two hotels with beach views
There are only two hotels by the beach: Kata Beach Resort and "The Boathouse'. You will find an extensive choice of cheap to mid-range hotels at good prices in the back streets. In the middle part of Kata, it can mean a bit of a walk to reach the beach. Kata Beach is a trendy area, so don't wait until the last minute to book a hotel in high season; you might have to pay a lot more or even get no room. See some great hotels in Kata Beach.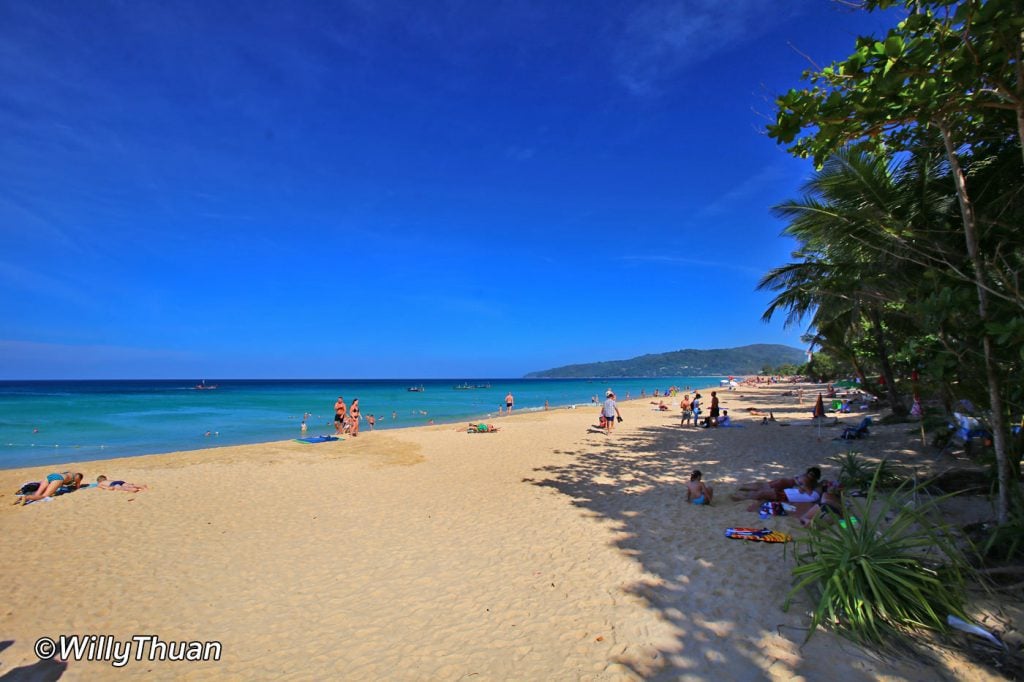 Karon is a very long and wide beach with a small town at each end where you will find many food and shops. The beach is beautiful and pleasant, never crowded, and with a decent amount of beach chairs, umbrellas, drink and snack vendors and beach massage. The north end is where the small town of Karon is, with a night bazaar and a famous temple market, some excellent seafood restaurants by the beach and even a beach club. Read more about Karon Beach.
Who is Karon for?
For those who want to have enough facilities accessible but a lot quieter than Patong
Those who like a vast and beautiful but not isolated beach with loungers and umbrellas, drinks and massage.
What's Good?
The beach is superb with beach chairs, umbrellas, drinks, food, and massage.
There is enough to eat and shop anytime
You can enjoy both towns of Kata or Karon
Good strategic location to be to explore the south of Phuket
What's Not?
If you are in the middle part of the beach, you might have to walk to reach any two villages.
There are only 2 or 3 hotels with real beach access: Centara Grand Beach Resort and Beyond Karon. There are many hotels along the beachfront; from those, you can reach the beach just by crossing the road; the best known are Movenpick Resort and Hilton Arcadia. If you stay in the centre, you might have to walk quite a bit to reach most restaurants and shops. See some great Hotels in Karon Beach.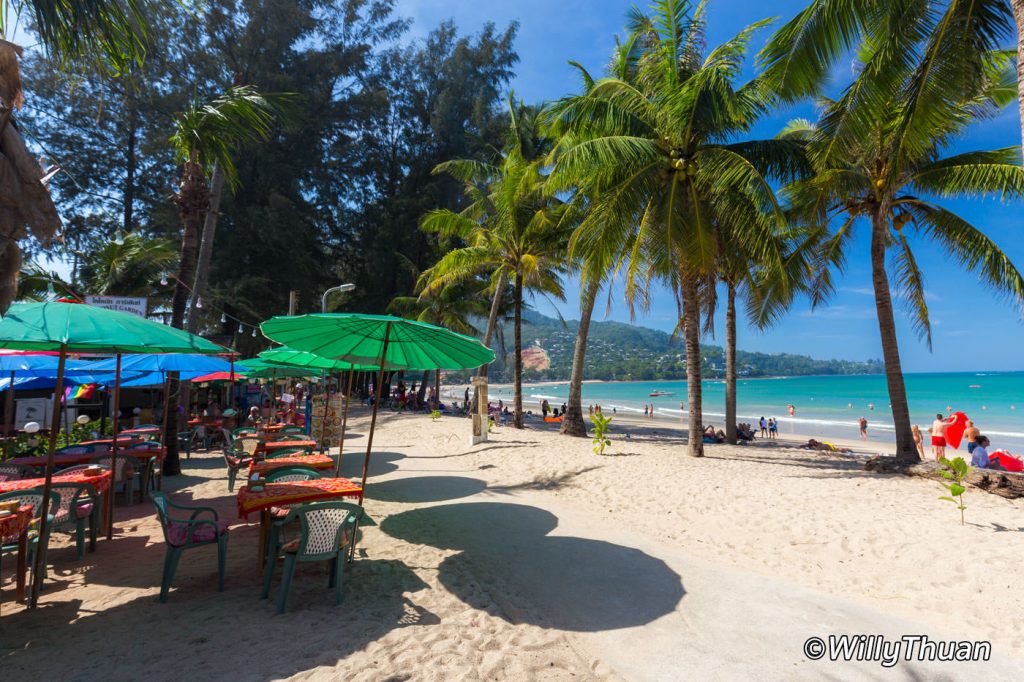 Kamala beach was an underrated beach for a long time, mostly loved by Scandinavians who would return year after year. The village atmosphere has disappeared with the opening of 2 beach clubs, but it is still very peaceful and relaxing. Kamala feels 'relatively' more Thai than Patong, Kata and Karon. Read more about Kamala Beach.
Who is Kamala for?
Those who prefer a more quiet neighbourhood
Good for relaxing and an easy-going holiday
What's Good?
You can eat on the beach at a good set of local restaurants
It's slow-paced and relaxing, especially outside peak season
Two cool beach clubs to enjoy during the day and night
Short driving distance to Patong if you feel like partying
What's Not?
The beach is less attractive than Kata or Karon but still beautiful in the northern part.
Kamala beach stretches across two beaches, the central Kamala Beach and a smaller one in the south called Rayee beach. Make sure you know on which beach the hotel you booked is.
Bangtao has evolved from an isolated luxury enclave to a fun and lively neighbourhood with plenty of choices for all budgets. Bangtao has become a very cool place to be if the madness of Patong is not on your list. Nightlife and dining are more sophisticated than anywhere on the Island but still affordable. Bangtao is excellent for families and couples who want to have everything in one place with many large resorts. The southern part of the beach (near Outrigger) is very young and lively, great for dining by the beach, while the north part (around Banyan Tree) has almost not changed with a peaceful beach and small restaurants in the shade of tall trees. Read more about Bangtao Beach.
Who is Bangtao Beach for?
Couples and families
Travellers not interested in Patong madness
What's Good?
Good overall atmosphere
Many hotels are by the beach
Wide choice of fun beach restaurants plus some of Phuket's best restaurants
Three cool beach clubs
Large beach, not too crowded
If you stay at one of the main resorts, you can freely enjoy the facilities of the other resorts.
What's Not?
The beach is less shallow than the main beaches
Sand is a little coarse
Places are not within walking distance from each other (but hotels often offer shuttle services)
The leading hotels are five huge resorts built by the beach, part of the Laguna Phuket Complex. They have large pools and a lot of outlets and facilities to choose from. Once you are a guest at one of them, you can enjoy the facilities of the other resorts for free. The Laguna Phuket Complex is well-organised and stress-free, with plenty of shuttles to take you around. Outside Laguna, hotels are a few more stand-alone hotels, such as the 'Anantara Layan'.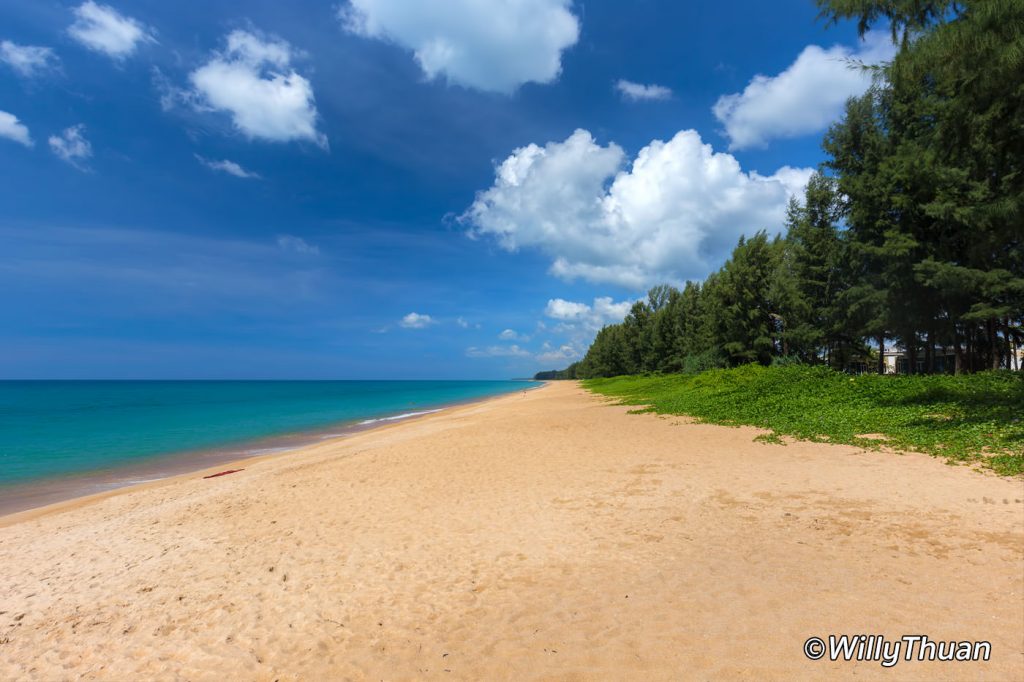 Maikhao is the longest and most peaceful beach in Phuket, part of a national park. It has remained mostly untouched and quiet, making it a perfect romantic weekend escape for those who prefer to stay away from tourist areas. Mai Khao is mostly home to luxurious hotels and villa resorts and doesn't offer much shopping or nightlife. The whole area is a little isolated, so renting a car to explore is a good option. Maikhao (and Sai Kaew beach in its continuity) has many real, local Thai, seafood to enjoy if you take the time to find them. Read more about Maikhao beach.
Who is Maikhao Beach for?
A romantic hideaway for those who want to find total peace<
Long walks on a deserted tropical beach (no coconut palm trees for your photos, though)
Those who plan to spend time enjoying the hotel itself
What's Good?
Immense deserted beach
Close to the airport (it's not disturbing, and you can see the planes landing)
Some local Thai>
What's Not?
Far from everything
Hotels can be expensive, and you will probably use their restaurants and bars often, and expenses can add up quickly.
Several luxury hotels are close to the beach, but not on the beach itself, as Mai Khao is a national park. You have to walk through a small garden to reach the sand. If you stay at one of these, you probably will spend most of your time in the hotel, using the hotel facilities (spa, bars and restaurants). Transportation provided by the hotel can be costly, so renting a car is a good option. You can also stay at one of the few mid-range resorts (Holiday Inn Maikhao).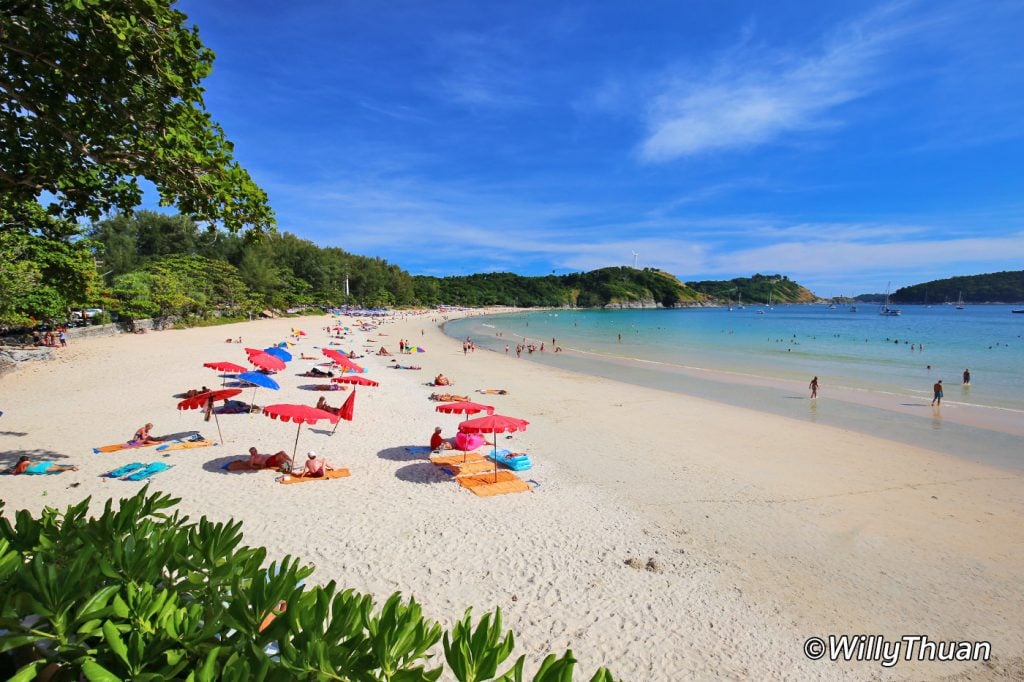 Nai Harn is a trendy and fabulous beach in the very south of Phuket. It is part of another national park and therefore was not invaded by hotels and remained relatively untouched, but it can get busy during the high season. You can enjoy a decent amount of cheap restaurants near the beach and a few luxury venues at The Nai Harn resort, including a superb rooftop. Read more about Nai Harn beach.
Who is it for?
Those who searched for a beautiful beach with soft sand and an easy-going tropical feel
What's Good?
Fantastic beach with powder sand and clear blue water (high season!)
A decent choice of small restaurants and fruit vendors
Not invaded by greedy businesses
Some hidden beaches nearby (Ao Sane)
What's Not?
A bit far from the main towns
Can be busy at peak season (January, February)
There are only a handful of hotels in this neighbourhood, but The Nai Harn is a fantastic resort to enjoy in this part of Phuket.
Rawai in the south of Phuket has long been home to expatriates, often ignored by tourists because Rawai itself has no swimming beaches. However, the superb Nai Harn beach is not very far. Maybe because of the many local seafood restaurants and markets, Rawai has become increasingly popular in recent years. Read more about Rawai Beach.
Who is it for?
Those who prefer a quaint neighbourhood and don't mind the lack of beaches
What's Good?
Lots of good local seafood restaurants
Nice views of the islands
Not too busy
Good access to nearby islands
What's Not?
No swimming beach
You should consider a car to explore the island quite far from everything.
There are many small privately-owned cheap hotels and bungalows in this area, but none with sea views or seafront.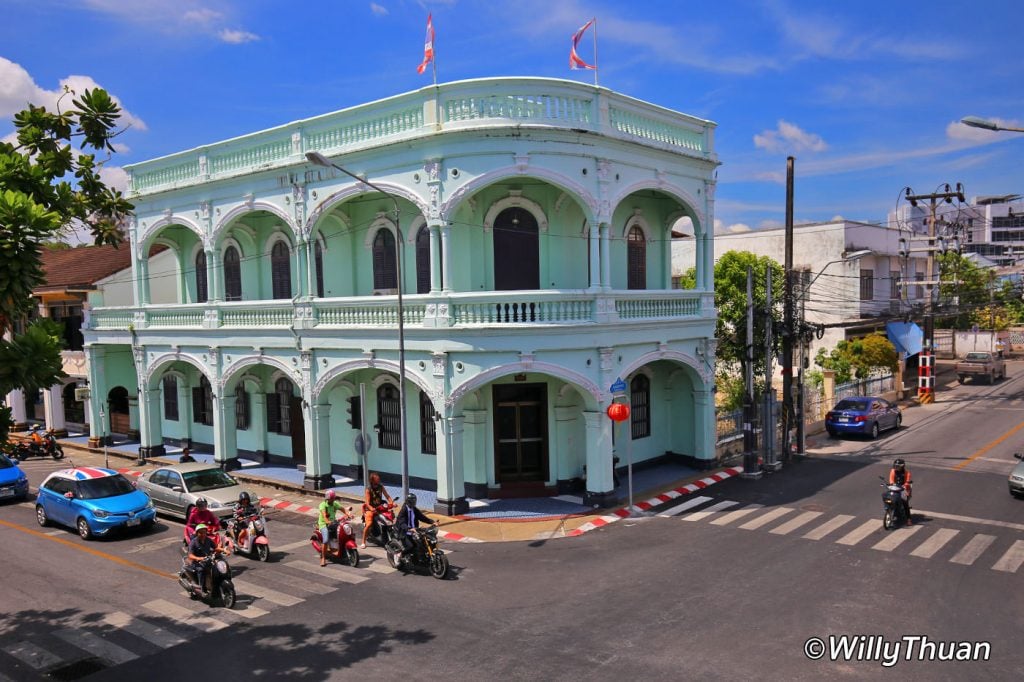 Phuket Town has a lot of charm and has grown in popularity since it was renovated. With magnificent Sino-Portuguese architecture, the heart of Phuket town is now a must-see attraction for visitors, and many fancy cafes, beautiful restaurants and hotels have opened.
It can be busy on weekends, especially with the Sunday walking street market.
Who is it for?
Those who like old streets and a great photo playground
Those who want to see more Thai people than tourists>
What's Good?
Great for a day of exploration in the old street
A lot of good local food
Several fun night markets
What's Not?
It's far from any beaches.
Many small and cheap hotels opened in recent years, taking advantage of the old Sino-Portuguese architecture. Remember that Phuket town is far from any beach and, therefore, not a strategic location if you expect a mix of city and beach.
---
Fast Facts about Where to Stay in Phuket
| | |
| --- | --- |
| Best for 1st time: | Kata Beach |
| 🏖️ Best for beach lovers: | Nai Harn Beach |
| 💆🏻‍♀️ Best for well-being: | Bang Tao Beach |
| 🎉 Best for party: | Patong Beach |
| 📷 Best for exploration: | Old Phuket Town |
| 🍽️ Best for food: | Phuket Town |
| 🛍️ Best for shopping: | Patong Beach |
| 🍸 Best for trendy food: | Bang Tao Beach |
| 🧸 Best for families: | Kamala Beach |
| ❤️ Best for romantic holiday: | Maikhao Beach |
---
You may also like
17 Tips to help you plan your trip to Phuket – First Time in Phuket!
FAQs about Phuket areas