---
Where to stay in Phuket: Kata or Kamala?
---
Phuket is a beach lover's paradise with over 40 stunning beaches to explore. Two of Phuket's more popular beaches, Kata Beach and Kamala Beach, are both known for their lovely stretches of soft sand and abundance of hotels, restaurants, and leisure activities. But while Kata and Kamala are both found along Phuket's west coast, each beach has its own unique ambience and highlights. Struggling to choose between the two? Let us help you discover the key differences between Kamala and Kata to make the most of your Phuket beach holiday.
---
The Beaches
---
The Beach of Kata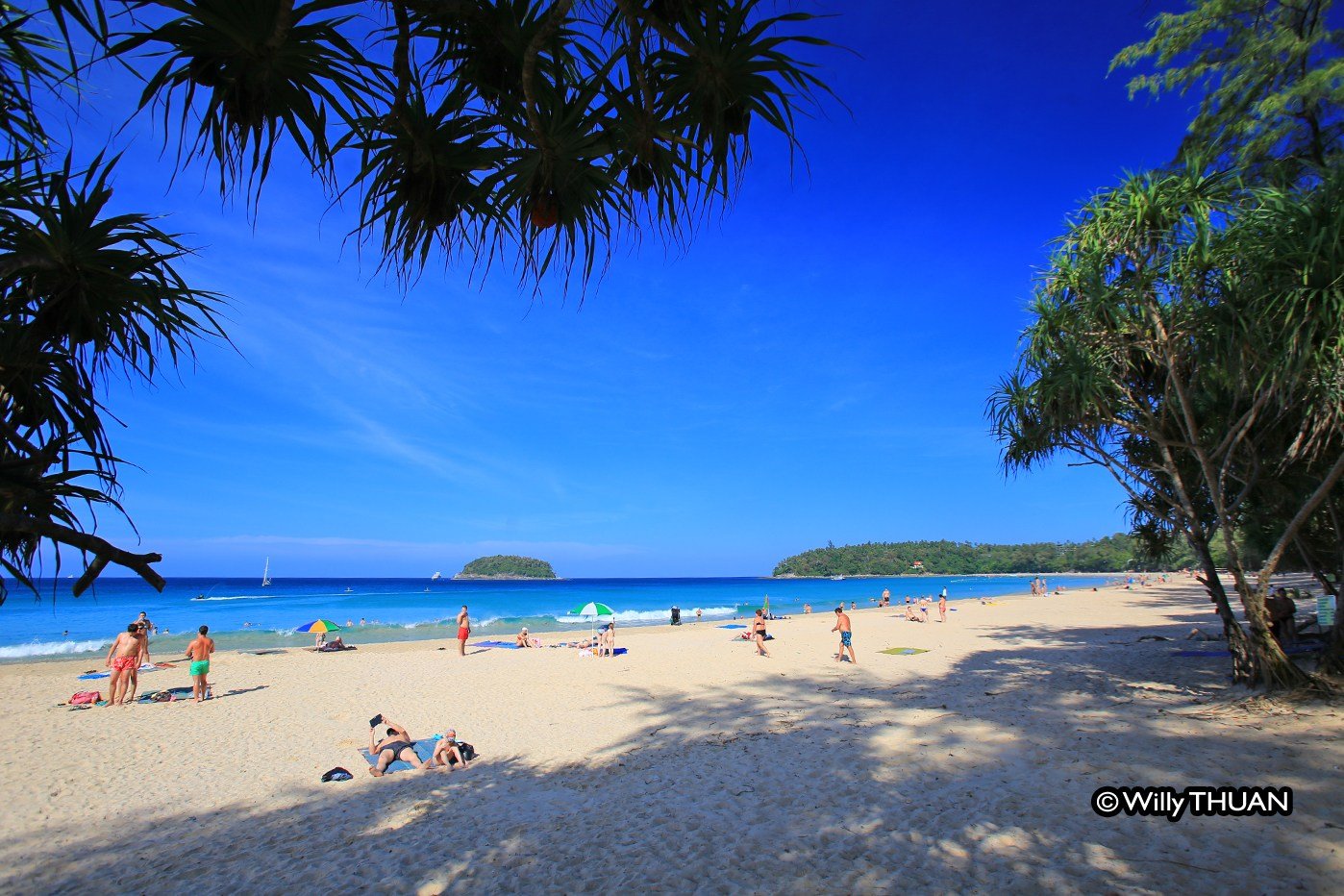 Kata Beach is one of Phuket's busiest beaches, with a picture-perfect 1.5km length of fine white sand lining a shallow bay at the south end of the island. Club Med Phuket occupies a big area of land approaching Kata Beach, but a road separates the large resort from the sands and allows for easy public access. Surfers can catch some good waves here in the low-season months of May through October, and board rental and lessons are available.
Kata Beach has beach loungers with umbrellas to rent along the sand, and several vendors offering drinks, snacks, beach toys, and souvenirs. A few restaurants and bars are found at the south end of the beach, found just past the only 2 hotels with direct beach access.
Phuket 101 receives 250,000 monthly visitors on average (500,000 pageviews/month).
If you wish to advertise on this space or other options available on Phuket 101, just contact us.
The Beach of Kamala
A Muslim fishing village turned tourist town, Kamala Beach is set along a shallow, sandy bay and is popular with families. There's plenty of accommodation in Kamala, mostly a mix of mid-range to 5-star hotels and several luxury villa developments in the headland south of the main beach. Those promoting said properties now like to call this area the 'Millionaires Mile'. All kinds of activities are on offer along Kamala's 2-kilometre stretch including surf and standup paddleboard rental and lessons, massage, and long-tail boat trips.
Kamala Beach is lined with beach loungers and umbrellas that you can rent for the day, and it's easy to find food and drinks from either the roving sellers or little stands at the beach. A string of casual open-air restaurants for breakfast, lunch and sunset dining are set along some 1km of the beach, while at the north end, you'll find upscale beach clubs like Café del Mar, Shimmer, and Pine Beach Bar.
---
The Hotels
---
Kata Beach offers a good range of hotels from budget hostels to 5-star, and it's found just down the road from Karon Beach where there are even more accommodation options. Club Med Phuket resort takes up a large, beautifully landscaped area just across the road from the beach, while The Boathouse and Beyond Resort Kata are the only 2 resorts here with a direct beachfront location. Kata also has a good variety of mid-range and budget hotels and hostels that are off the beach but still within walking distance or at least a quick tuk-tuk ride away.
Some luxury hotels and villas with superb views can be found on the headland at the south end of Kata Beach and at nearby Kata Noi Beach, including Kata Rocks, Mom Tri's Villa Royale, and the Shore at Katathani Resort.
Kamala Beach is home to some of Phuket's top luxury hotels and villas including Cape Sienna, Keemala, Twinpalms MontAzure, Paresa, Hyatt Regency, InterContinental Phuket Resort, Andara, and several private villas on the headland south of the beach.
Kamala is not just for the high-flying crowd though, as the resort town has a variety of guesthouses, small hotels, and mid-range hotels to suit travellers on a tighter budget. Most of the guesthouses are found on the south side of the beach, while 2 resorts offering direct beach access are Kamala Beach Resort in the centre and the Novotel Phuket at the north end.
---
Facilities
---
What to Do in Kata Beach?
Kata Beach is considered the best surfing beach in Phuket, with ideal conditions from April to October. Surf lessons and board rental are available right on the beach. This family-friendly beach offers a range of sights and activities to keep visitors entertained, including Dino Park, Super Surf Kata, and a small playground next to Club Med. The streets of Kata Beach are lined with shops, stalls, and restaurants that are busiest in the evening hours. Every weekend there's an open-air market set up along the sidewalk and a car parking area along the beach.
Kata Beach is close to Karon Viewpoint, one of Phuket's best lookout points, and there are some great spots in the hills around Kata to enjoy sunset dining and evening drinks with spectacular views, such as After Beach Bar and A Blanket & A Pillow. The nightlife in Kata is generally low-key with a few beer bars and live music venues, but no nightclubs.
What to Do in Kamala Beach
Kamala Beach has a wider range of nightlife and entertainment options than Kata, including the large extravaganza stage shows at Phuket FantaSea and the more recently opened Carnival Magic. Along the main road, there are some old-school beer bars like Kamala Biergarten still operating, though there's little in the way of nightclubs here.
Off the beach, visitors wandering the streets of Kamala will find a variety of cafes, souvenir and tour shops, massage and beauty shops, and there's a popular local night market open every Monday and Friday near Phuket FantaSea.
---
The Atmosphere
---
Kata Beach is a good base for families, groups, and couples looking for a lively and action-packed vacation. With its fine sands and scenic setting on the southwest coast of the island, Kata is the ultimate spot for surfing and beach activities. Kata Beach is better for those who just want to enjoy strolling along the shore or simply soaking up the sun, as beachfront dining choices are limited compared to Kamala. While there are no beach clubs on the sands here, visitors to Kata Beach could instead seek out bars and restaurants in the surrounding hillsides for amazing sunset views. Just be prepared for a bit more hustle and bustle compared to Kamala during peak season.
Kamala Beach is ideal for families, couples, and retirees looking for a more relaxed beach getaway and a wider choice of luxury accommodations. Kamala offers more beachfront dining options, as well as some chic beach clubs to party the night away in style. Despite its popularity, Kamala is still a relatively quiet destination compared to Kata, making it the ideal choice for those seeking a more laid-back vibe. And with a variety of rental houses and condos available, it's a favoured place for expats and long-term stays. Plus, with its closer proximity to the airport (25km away), Kamala is better for those who want to hit the beach in a hurry after arrival!
---
Kata and Kamala Maps
---
---
More guides to pick the right beach in Phuket
---