Prehistoric-themed mini golf in Kata Beach
Dino Park in Kata Beach has been open for many years and is still a favourite spot for families and friends for some casual fun and competition after dinner. The golf course is a mix of Jurassic Park and Flintstones designs and was an instant hit from day one. Dinosaurs never get out of fashion. Dino Park is just near Kata centre's main intersection, just opposite Starbucks.
Dino Park Design
Enter a primaeval lush jungle, and soon you encounter your first full-scale Triceratops, while a nasty-looking Brontosaurus keeps a calm eye on you from high above the trees. Playing the game in the middle of a beautiful rainforest with a massive volcano blasting clouds of smoke and erupting sounds in the background is a lot of fun. Some challenges include water, obstacles made of bones, and I suspect what looks like Dino poo and even a hole is played inside a (hot) volcano.
The design is just right, not too hard or easy so everyone can enjoy the game. The original setting keeps your eyes busy while you are waiting for your turn. The whole thing looks pretty real, even the jungle heat! Will you also recognise the Deinonysaurus, Stegosaurus, Eichynosuarus, Euoplocephalus, the handsome Dimetrodon and the very smart Troodon Formosus? (I think that was him, he didn't leave his name card).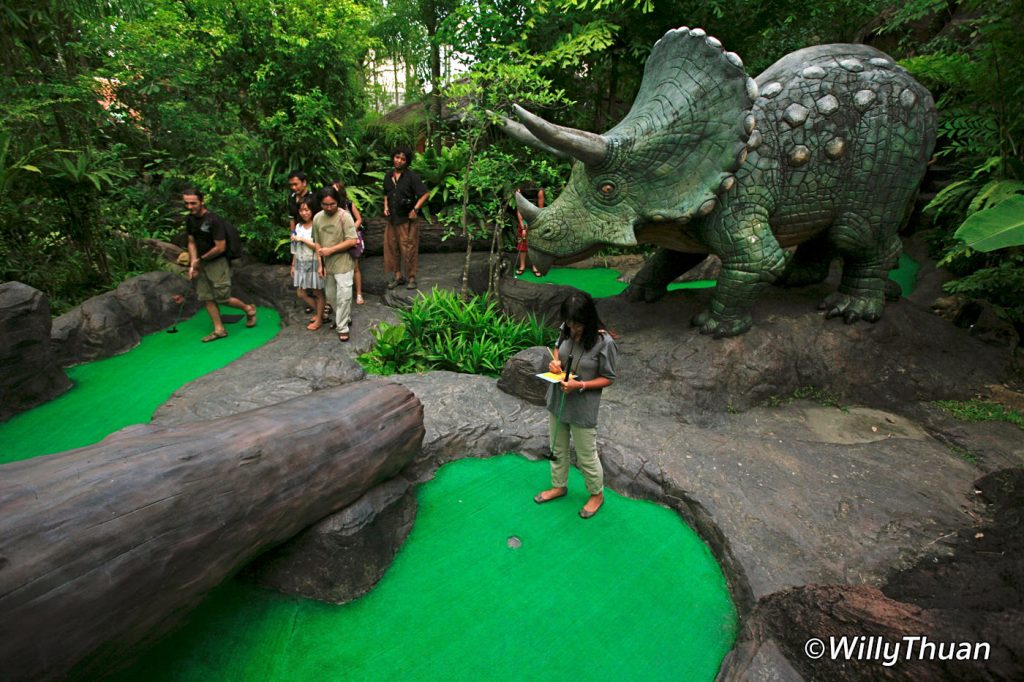 Dino Park is a fun way to end the day after the beach. A game can last between 30 to 40 minutes, but people tend to play the last part of the game pretty quickly as the area gets pretty hot towards the end. The best is to go after dinner; it's more colourful with the lighting and cooler. Some say it's even more fun in the rain.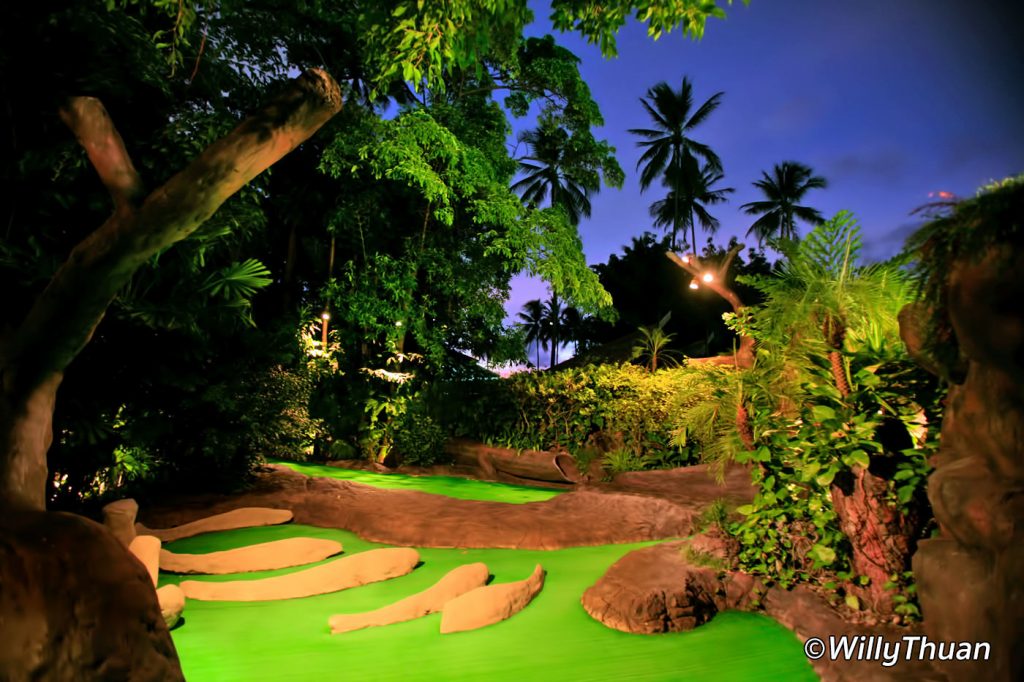 After the game, you can also enjoy 'Dino Bar', a favourite restaurant serving Dino Burgers in a prehistoric cave garden. I was disappointed when I discovered the burgers did not contain real Dinosaur meat. The bar serves excellent cocktails and iced coffees you will appreciate after the heat of the game. Dino Park is part of the Marina Phuket Resort, and on some evenings the resort's baby elephant comes and visit the mini-golf; some enjoy this, some don't.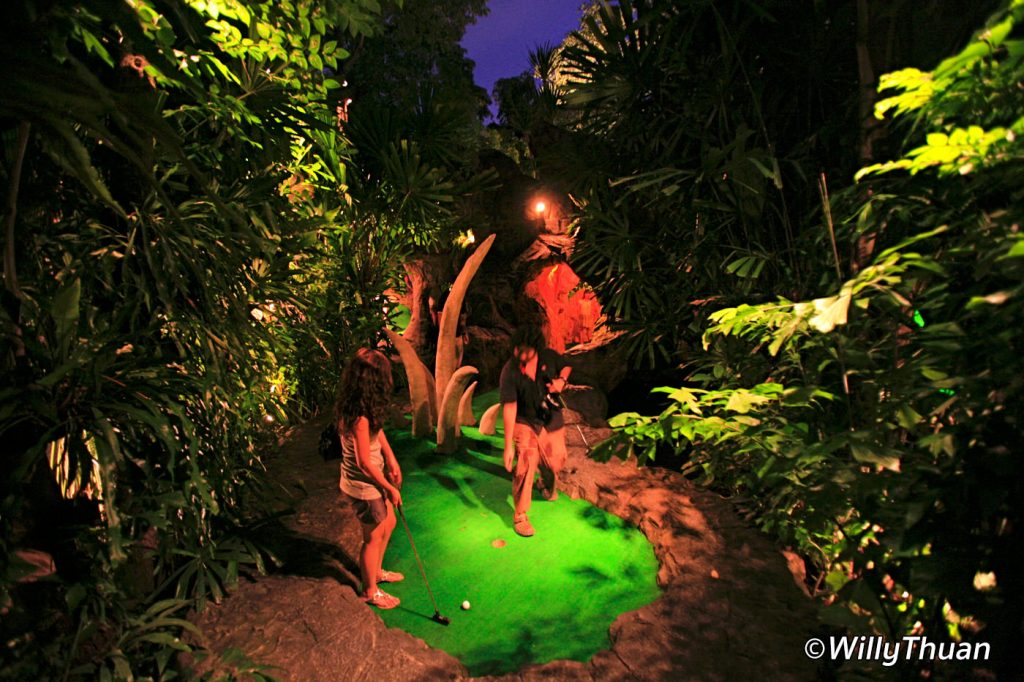 ---
Dino Park Photos
---
Dino Park Mini Golf Info
Location: Kata Beach
Address: Patak Soi 7, Karon, Muang, Phuket 83100, Near Marina Phuket Resort
Open: 12 pm – 11 pm
Phone: 076 330 625
Price: 490 baht for adults, 390 baht for children
Facebook: click here
---
Dino Park Mini Golf Map
Get the directions on your phone: https://goo.gl/maps/pwAWkrn43MDLD1um8
---
Your Kata Beach Travel Guide