Where to Eat Thai in Patong Beach?
There are so many restaurants in Patong Beach; you would think that finding great Thai food would be easy. But if you know Thailand, you soon will realise that too many of them serve a toned-down version of Thai cuisine or something that is very far from local food. We understand and respect the fact that many travellers are new to Thai food and might lack the experience to compare.
We lived in Thailand for 25 years and in Patong for 10, and we are very passionate about Thai food so we might sound a little harsh. We go out there as often as possible, trying new the places and restaurants people talk about on social media. So here is our list of Best Thai restaurants to try in Patong. Sorry if our favourite isn't in there 🙂
---
What are the best Thai restaurants in Patong Beach?
---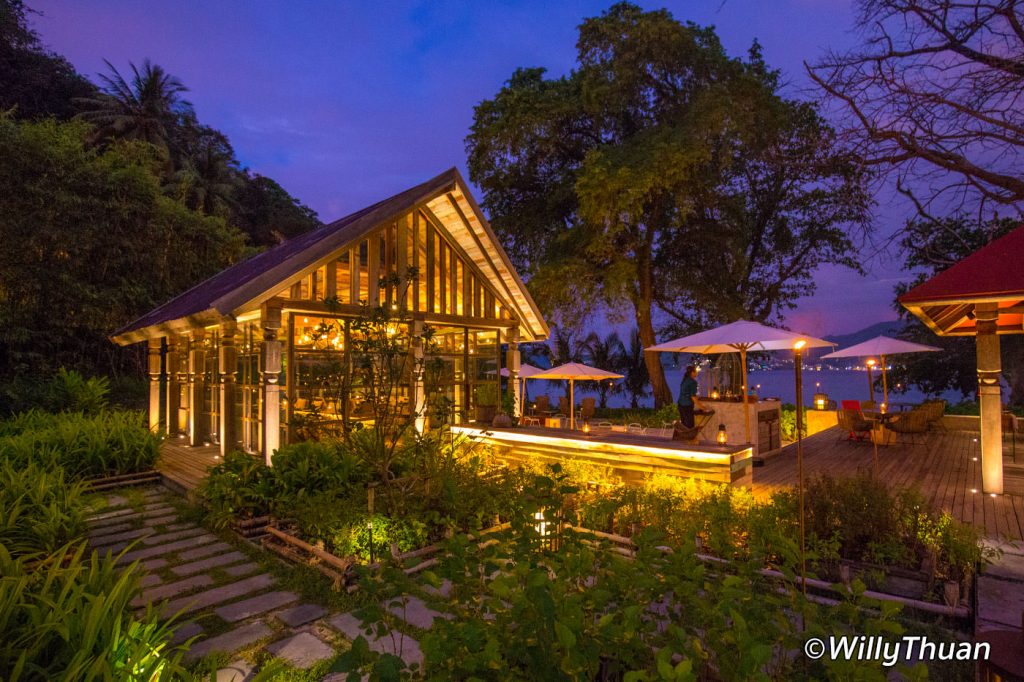 Ta Khai restaurant at Rosewood hotel Phuket serves a superb sustainable Thai cuisine in a rustic village style atmosphere. The restaurant is set in a garden by the sea, on the beautiful Tri Trang Beach. As the price is quite high, it's not your every day dinner so keep it for a special occasion. In addition, Ta Khai received a 'Michelin Plate' from the Michelin Guide for Phuket. Read more
Location: Rosewood Resort, 88/28 Muen-Ngern Road, Tri Trang Beach, Patong, Phuket 83150
Open:  6 pm – 10 pm
Tel: 76 356 888
Price: Expensive

---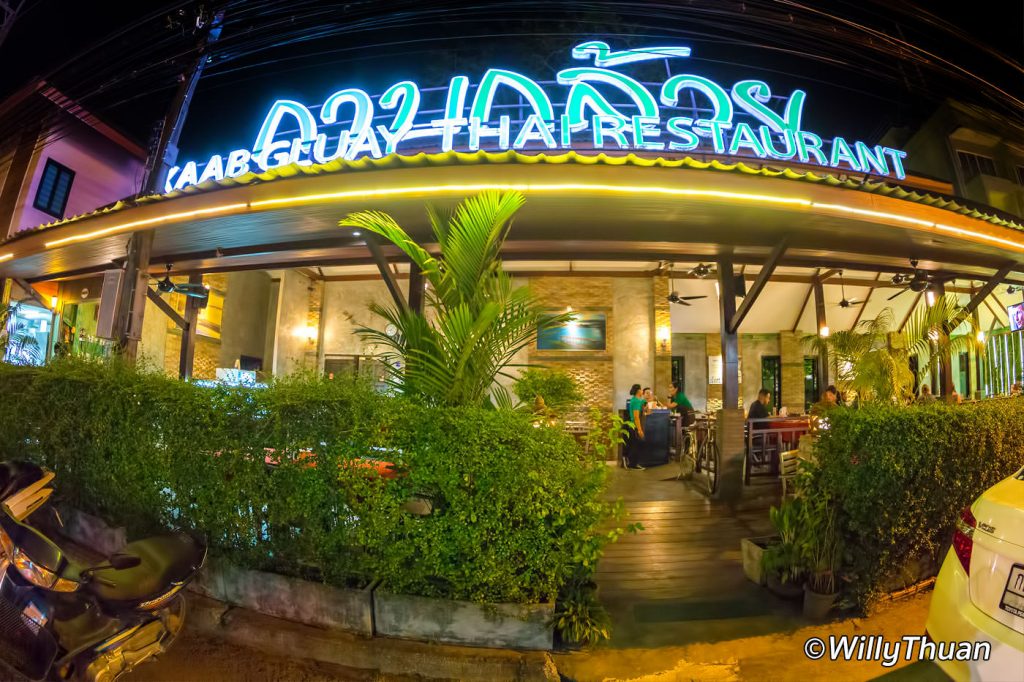 Kaab Kluay is an old times favourite, run by a local who's been serving excellent Thai food at the right price for decades. Expats living Patong know the place very well and often take their guests or customers there for a real Thai dinner. The restaurant is on the outskirt of town, just before the Thai temple you saw when entering Patong, so you probably need a short tuk-tuk ride to get there. The restaurant has both an indoor and an outdoor area and is quite big so you won't need a reservation. Note that it's by a busy road, so it's not exactly a romantic dinner. Read more
Location: 58/3 Phrabaramee Road, Patong Beach Phuket
Open: Daily 11 am – 2 am
Phone: 081 787 7830
Price: Affordable

---
Paan Yaah is a restaurant with a unique seaside location just outside Patong, passed Kalim Beach. It's a little more upmarket without being expensive (well, everyone has a different perception of what expensive means) and it's a  place for a romantic Thai dinner. The restaurant looks like an old house with dim lighting and candles on the table. It's now quite popular, so if you wish to get a table by the water, you should book as early as possible. Read more
Location: 249 Prabaramee Road, Kalim Bay, Patong Beach, Phuket
Tel: 076 290450
Open: daily from 11 am – 11 pm
Price: Affordable
---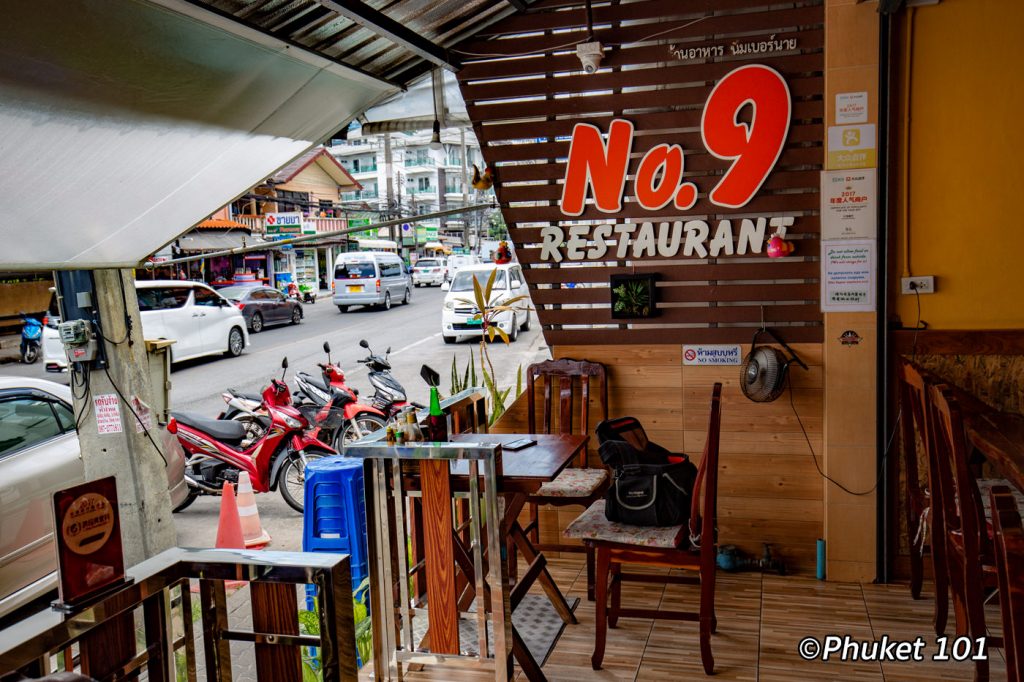 Number 9 is a modest Thai restaurant much talked about on social media. The design is not impressive, and the location by the street makes it somewhat anonymous. The menu is long, offering both Thai and European cuisine. We tried it a couple of times, and yes we did like the Thai food! It's not toned down unless you ask and it is tasty as Thai food should be. The sitting is comfortable, the restaurant is spotless and the staff very friendly. Read more
Location: 209 Phrabarami Rd, Tambon Patong, Phuket 83150
Open: 12 noon – 10 pm
Phone: 076 341 575
Price: Cheap
---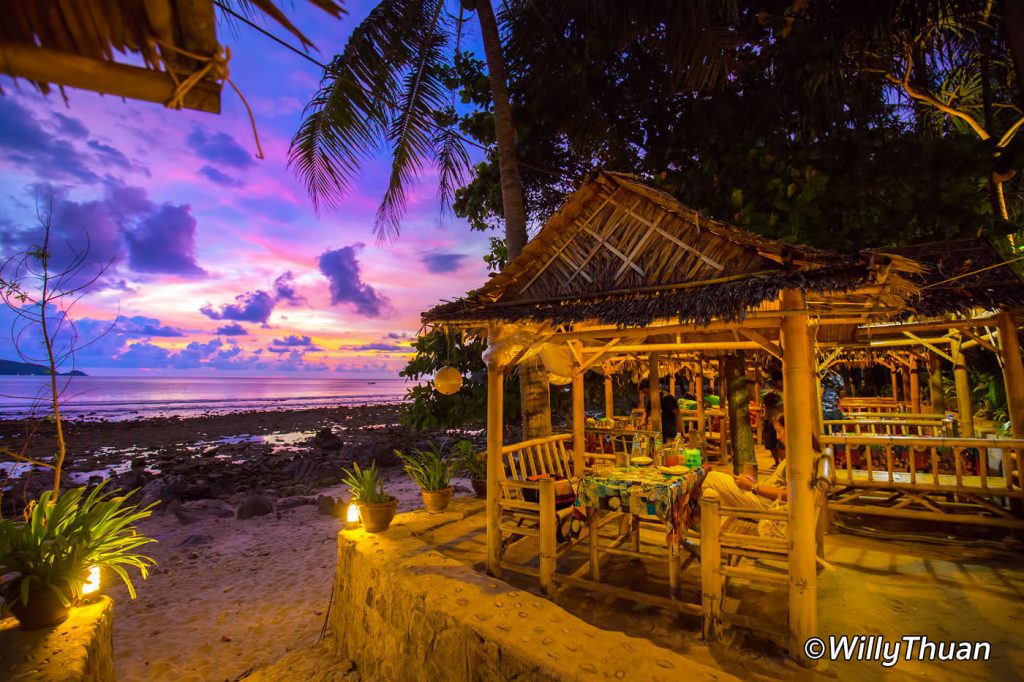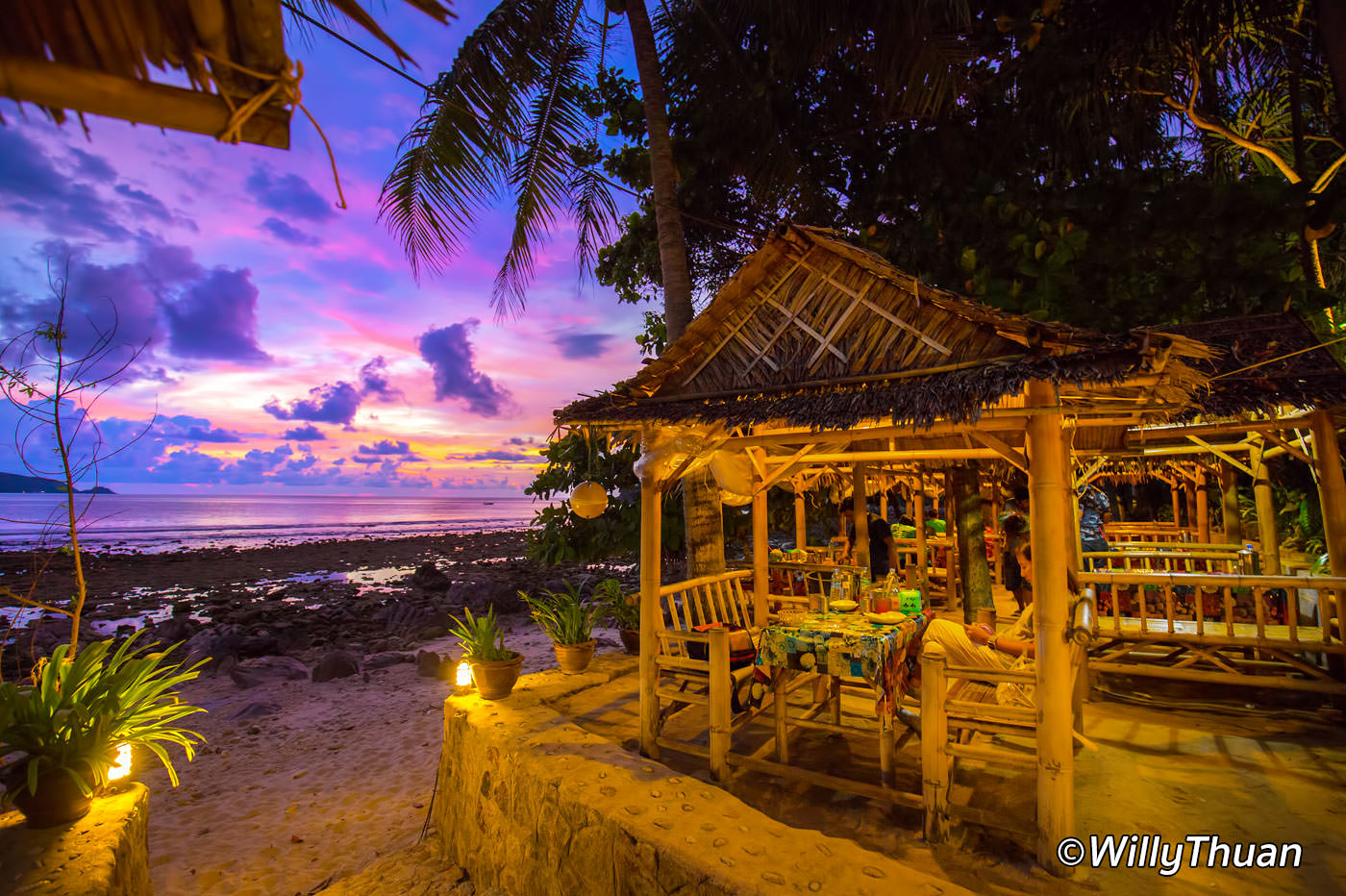 Kalim Rim Lay is a very local tiny restaurant hidden by the water just past Kalim Beach. You will need a short ride to get there, but it's not far. The food is 100% local and can be quit spicy (unless you ask for 'mai pet' which means 'not spicy'). The location is great and sitting in little bamboo huts is a unique experience, very common 20 years ago all around Phuket. Read more
Location: Phrabaramee road, past Kalim Beach, Patong, Phuket
Open: 9 am – 8.30 pm
Tel: 081 539 8873
Price: Cheap

---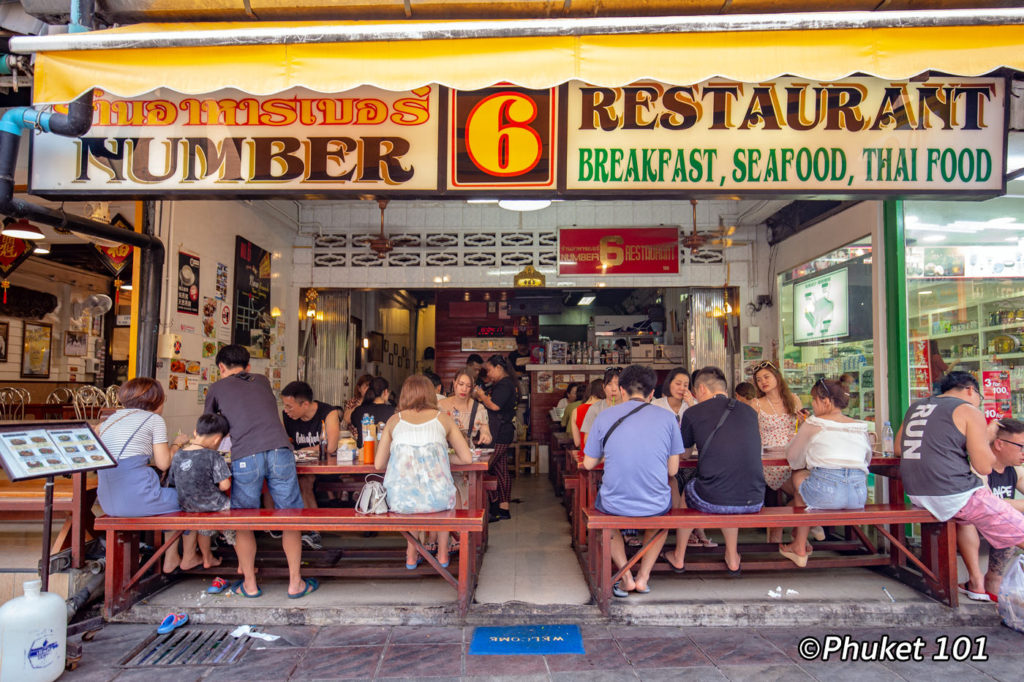 There are two restaurants called No.6, and they are sisters. The original one, simply called No6, is in the very centre of Patong. The second one is named 'Number6 up the hill' is as the names imply, on the south hill of Patong. The original one is a bit of a social phenomenon and a fun proof of the belief that 'if there is a queue, it must be delicious'. So we queued (when the queue wasn't too long) and had a try. Food is not bad, but the atmosphere and service are inexistent. You will sit shoulder to shoulder with your neighbour and staff have no time to be nice to you. So better take advantage of their free shuttle and get a fun ride up the hill. You will get a better view and better sitting. Read more about No.6 in Patong and No.6 on the Hill
Location: Ratuthit Songroipi Road, Patong Beach, Kathu, Phuket 83150
Open: 8.30 am – 12 am
Phone: 081 922 4084
Price: Cheap
---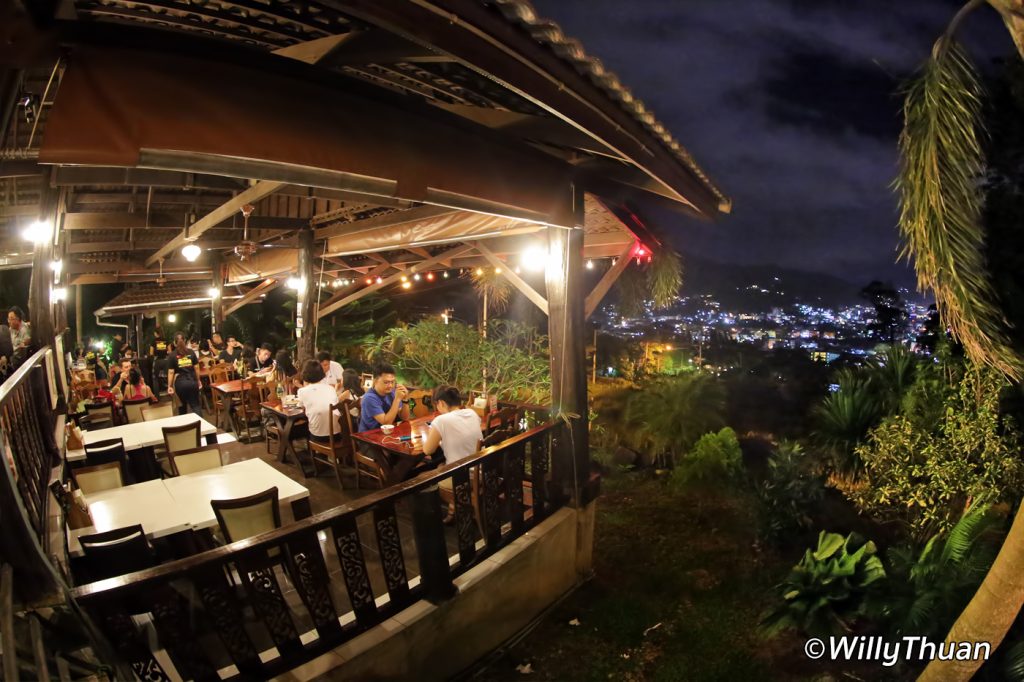 Number 6 Restaurant 'Up The Hill' is one of the most popular places in Patong Beach, we all know that. But did you know that there are two Number 6? The original and best known No.6 Restaurant is on Rat-U-Thit Road, not far from Bangla road, and it's surprisingly crowded if you consider that food is quite average. (Sorry if it hurts but once you know Thai food you will understand).
Location: 32 Soi Phrabarami 3, Patong Beach, Phuket
Open: 8:30 am – 12 pm
Phone: 081 922 4084
Price: Cheap
---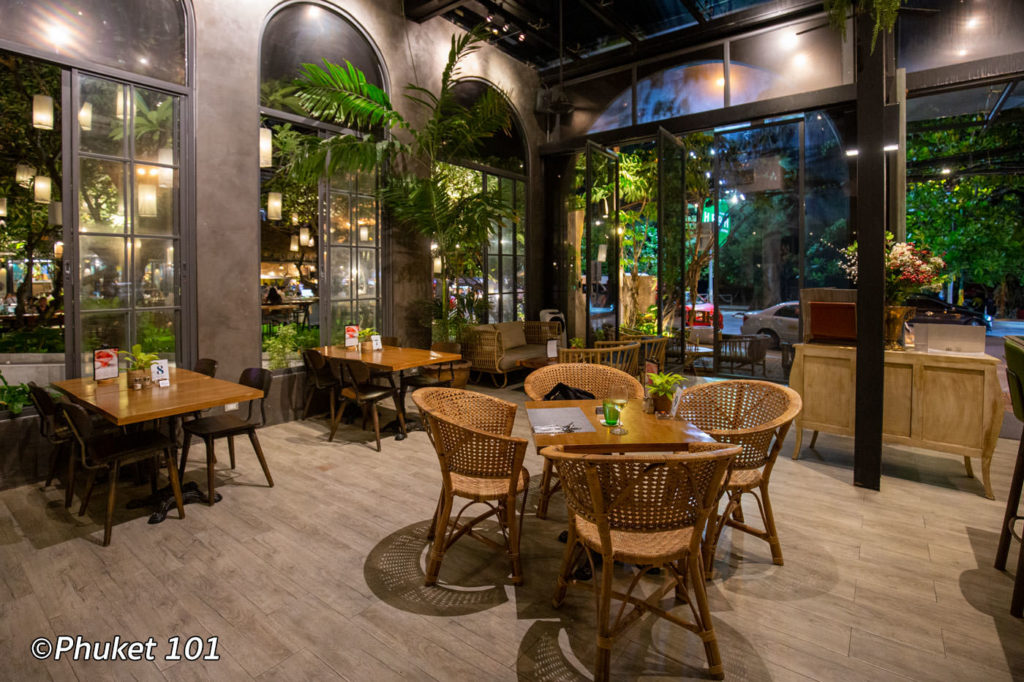 Hern Coffee and Bistro is a new cool and well designed Thai restaurant on the beachfront of Patong. The location in front of the well-known Baan Lamai hotel is very convenient, making it a great place to enjoy a dinner with a good atmosphere at walking distance from Bangla Walking Street. If you plan to party tonight, this is a good place to enjoy great food because everyone knows that party is better with a full and happy stomach.
Location: Patong Beach
Address: 66 Thaweewong Rd, Pa Tong, Kathu District, Phuket 83150
Hours: 8 am – 11 pm
Phone: 076 344 135
Price: a bit high
---