Phuket Most Romantic Restaurants
When Valentine's day approaches or for a great romantic dinner while in Phuket it is really recommended to book any of the restaurants listed below in advance, because yes, Phuket is a romantic destination! Here is the longest and most expensive page we ever wrote, we give you the '10 Best Romantic Restaurants in Phuket.' We tried them all, paid our bill like you would, never informed in advance, and never got any special treatment. The ten restaurants listed were among the best dining experiences we had in Phuket. To get ten but we had to try a lot more than ten. Some renown ones were a disappointment (we won't mention their names), some others almost made, it but a little something was just missing.
Other disclaimer: this is our restaurant selection, we know there are more amazing restaurants to try and worry not, we will try them and add as we discover more gems. You also need to understand that two experiences might differ, you might not enjoy a place as much as we did if your choice of food is different or if something in the air isn't quite right :). However, we are pretty confident that these ten restaurants are great places for a tete a tete. Enjoy!
---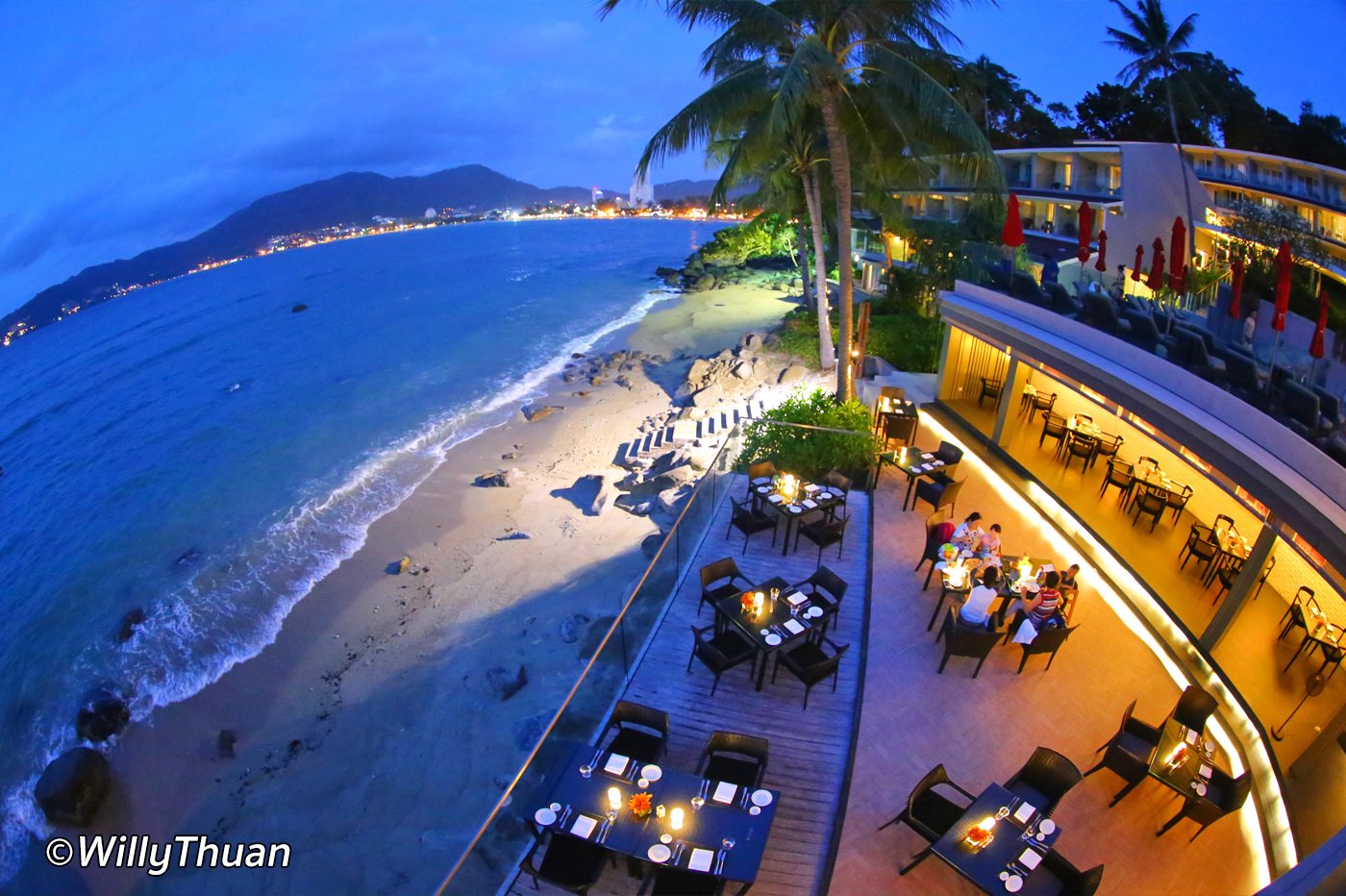 Who said there were no romantic restaurants in Patong Beach? La Gritta at Amari Phuket at the southern end of Patong has a unique view on the entire Patong bay. Add an excellent Italian cuisine at good price and you get yourself a great romantic evening. [Read more]
✩ Location: Patong Beach
✩ Price: Affordable
✩ Cuisine: Thai, European
---
Paresa Resort 'Diavolo' was one of the nicest experiences we had lately. Location and setting help a lot in the ranking, but if you happen to also have great food and good service, it is so perfect, you won't forget this night for long time. [Read more]
✩ Location: Kamala Beach
✩ Price: High
✩ Cuisine: Thai, European
---
The boathouse in Kata Beach has been a culinary landmark in Phuket for more than two decades. The location is fantastic, the food and wine exceptional, but the time had come to bring this restaurant to new fresh trendy life. [Read more]
✩ Location: Kata Beach
✩ Price: High
✩ Cuisine: Thai, European
---
Da Maurizio and its well known 'Italian dinner over the beach with a sunset' is not your everyday Italian restaurant, far from that. It is rather expensive, so keep it for a special occasion, but if like us you enjoy quality food in a great atmosphere, you should dine there at least once. [Read more]
✩ Location: Kalim Beach
✩ Price: Very High
✩ Cuisine: Italian
---
Unique and renown since decades, 'Villa Royale' main feature is the excellent restaurant, one of the most romantic places on the island. A bit pricey of course so keep it for a special occasion. We went there several times and were never been disappointed. [Read more]
✩ Location: Kata Noi Beach
✩ Price: High
✩ Cuisine: Thai, European
---
6) Joe Downstairs< – Kalim Beach (Close to Patong beach)
Located just below the Novotel Patong, Joe Downstairs has been around for years and benefits from an great seafront location and a great tropical white decor that makes it a perfect place for a date with a cocktail or a romantic dinner.
---
With so many restaurants in Phuket, picking a new romantic dining venue was challenging. But once again, Phuket hides little gems you need to take the time to discover, and Phuket Pavilions is one of them. The food is great but the 360 setting make the venue unusual and lovely. [Read more]
✩ Location: Layan Beach
✩ Price: High
✩ Cuisine: Thai, European
---
One of our favourite casual romantic restaurants in Phuket is Tunk Ka Cafe, a long established venue beautifully built on top of Khao Rang Hill in Phuket Town. Dine on a wooden terrace above town with the nice panorama of the city lights at this price is hard to beat. [Read more]
✩ Location: Phuket Town
✩ Price: Cheap
✩ Cuisine: Thai
---
Gaetana is one of the best and longest established Italian restaurants in Phuket, well known and recommended by long time residents and Thais. It's not about the view or the location, but it's all about Gaetana's excellent cuisine and very cozy atmosphere. [Read more]
✩ Location: Phuket Town
✩ Price: High
✩ Cuisine: Italian
---
Blue Elephant is not your usual casual Thai dining place. Save this for a one time special dinner and consider it as an experience. This amazing renovated old mansion has the majesty and the grandeur of a house with a long and mysterious history. [Read more]
✩ Location: Phuket Town
✩ Price: High
✩ Cuisine: Thai
---