Best Hotels for Honeymoon in Phuket
What are the most romantic hotels in Phuket? This is another frequent question we are happy to answer. Here are the best hotels we experienced in Phuket. We know there are more, but we only write about places we personally stayed at, so watch this page as it grows.
Phuket is a fantastic destination for couples and has so much to offer. You can stay in one of the most exclusive villas on the island, take a cruise to more idyllic islands, go party if you want to, have a candlelight dinner right on the beach, and the list goes on and on. We wrote a couple of pages about romance in Phuket and the most romantic restaurants in Phuket. But most of all, you need the right hotel and Phuket certainly has some fantastic villas to enjoy. We spent some weekends at all the hotels listed on this page, and will spend some more! Here is the list of our favourite romantic hotels in Phuket.
---
---
Secluded and luxurious, Trisara is known to be one of the ultimate romantic resorts in Phuket, one of the best ways to enjoy this tropical paradise island. All 39 villas at Trisara are designed to surround you with such comfort you will want to stay and enjoy every minute of your stay. Large rooms with oversized beds, bright and large bathrooms, expect to find all the features of a five-star resort and a lot more! Best of all, each villa comes with a fantastic infinity pool. Read more
Why we like it:
Huge villas with superb infinity pools and ocean views
Almost complete privacy (not 100% in all villas)
Incredible villa design, some even have an in-house spa table
Extremely well-trained staff
Excellent restaurants with superb sunset view
The atmosphere feels very exclusive
What you should know:
Trisara is quite isolated (45 minutes from the famous Patong/Kata/Karon beaches)
Beach is small
Price is very high
---
---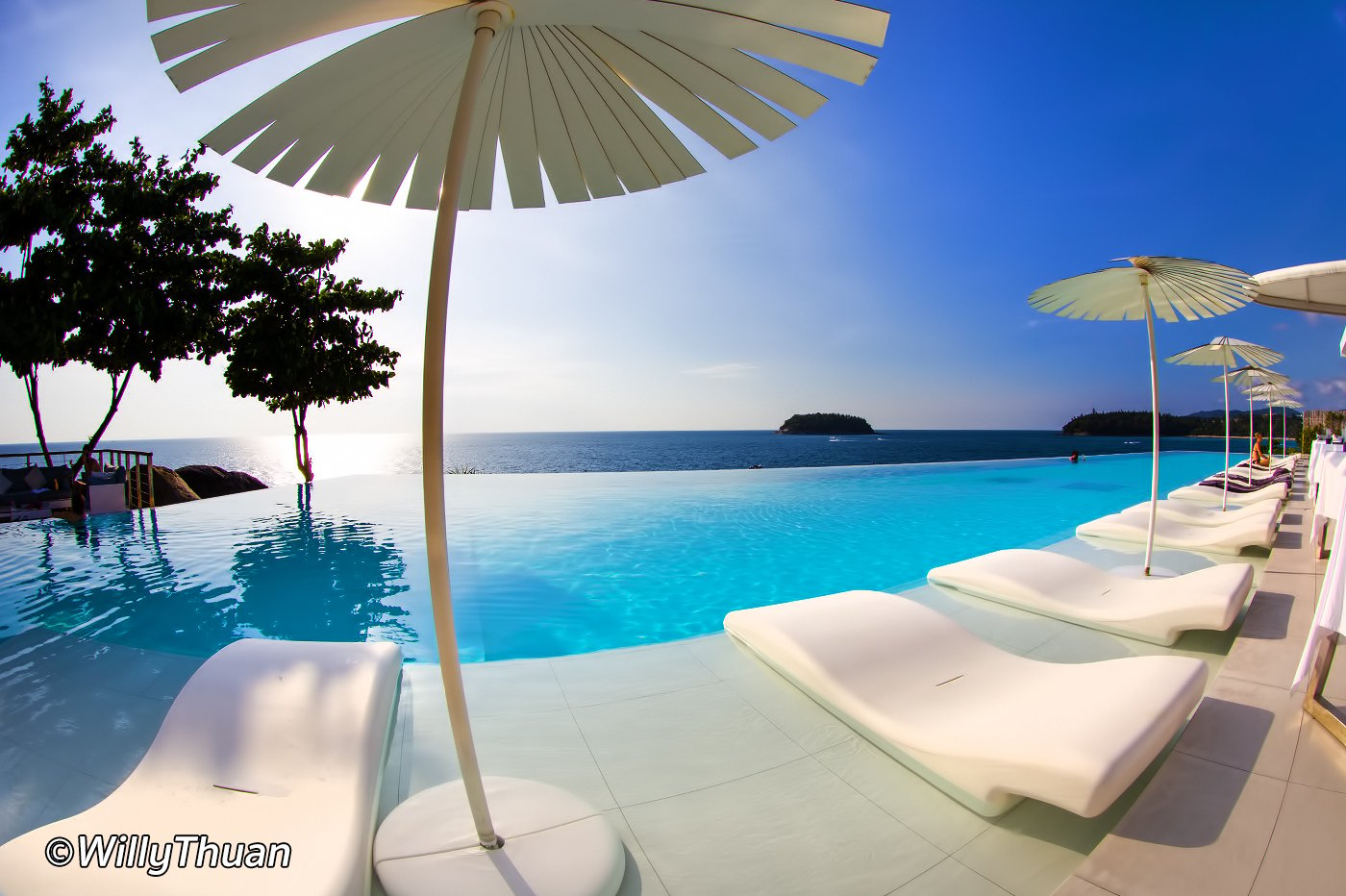 Kata Rocks is changing the face of luxury accommodation in Phuket: more than just a hotel stay, it's an unforgettable holiday experience. The hotel is on a hill at the south end of the superb Kata Beach, and from up there every Sky Villa offers impressive views on the Andaman Sea. Kata Rocks is so beautifully designed; it's a real photo playground, especially the famous umbrellas in the infinity pool. And because the resort has become so popular, we had to wait for a long time to experience it, but the day had finally arrived. Read more
What we loved
Pretty much everything:
Beautiful design
Attention to every single detail
Superb infinity pools
Service second to none
What we didn't like as much
The hillside makes it hard to go from your room to the main areas or to drive out to town. You pretty much need to call a buggy for any movement.
The price tag is very high
There is no beach, and Kata Beach is a little far
---
---
Cape Panwa
Sri Panwa is one of Phuket most exclusive hotels. Everyone we know heard of it, but not many actually stayed there, and we finally did. This resort is built on a hillside of the remote Cape Panwa and is best known for its incredible rooftop bar called Baba Nest. The pool villas are vast and with a large infinity pool in front of the bedroom. It is simply jaw-dropping. Read more
Why we like it:
The villas are fantastic! you will not want to leave them
The views are superb
The rooftop bar is amazing (but hard to book)
The staff is as good as it gets!
Five great restaurants are excellent
The hotel is on an isolated cape on the south-east of the island of Phuket, far from any crowd
What you should know:
The beach is tiny and almost disappears at high tide
The hotel is on an isolated cape on the south-east of the island of Phuket, far from everything
---
---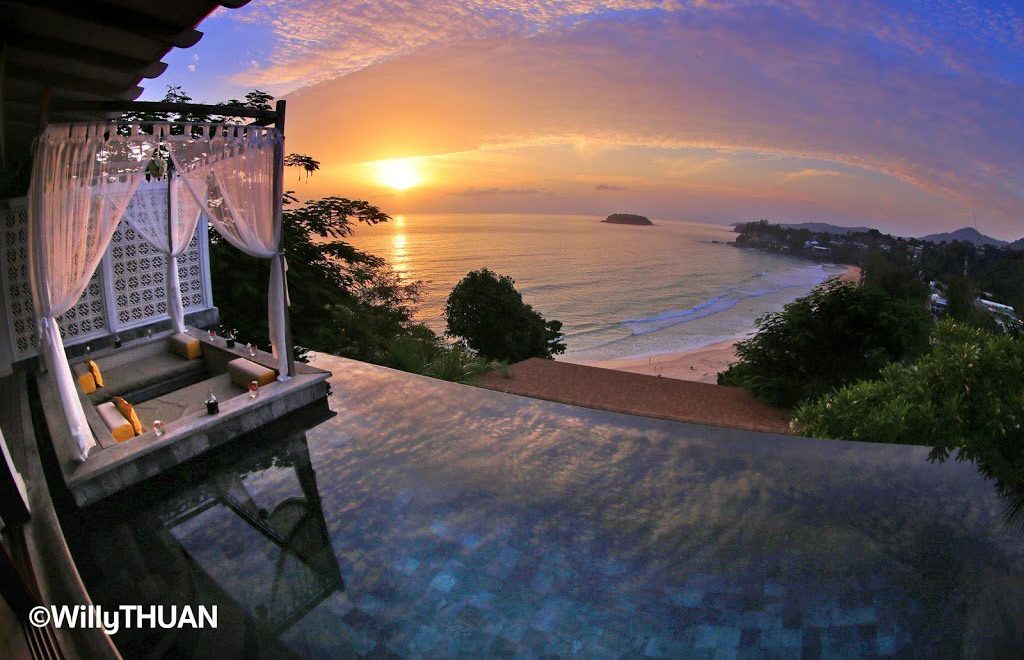 The Shore at Katathani is one of the most exclusive villas resort on Phuket. The hotel combines all the ingredients effortlessly for a perfect escape: a location right on a beach, villas with jaw-dropping views, genuinely caring staff, an excellent restaurant, a good spa and many small details that make the difference between just a regular 'hotel stay' and a truly unforgettable holiday. Read more
What we love:
Superb villa design with incredible views of Kata Noi Beach right from your bed!
Right size private infinity pool with embedded Sala and loungers. You can walk from your bed to the pool
Set above one of the most beautiful beaches of Phuket, great for swimming and snorkelling
Large shared pool and restaurant above the beach
Overall the hotel has a beautiful setting.
What you should know:
The private pools are not 100% private, so naked swimming is not recommended 😉
The villas are on a hillside, so if you are not fit, you will need to call a buggy (which is ok)
Plan long in advance; the resort is often fully booked
Sala Phuket Resort on Mai Khao Beach is one of our favourite escape on the island. It is a romantic resort entirely designed for couples. It does not come cheap but can be relatively affordable if you wait for special offers. Read more
What we love:
100 % privacy in your villa
Vast pool with own garden and sun loungers
Fancy outdoor bathroom with huge open-air bathtub and sofas.
Villa nicely designed with very high ceilings
The hotel is on a superb 11 km deserted beach
Vast shared pool and restaurant near the beach
What you should know:
The pool can be cold in low season!
High walls surround the villas for total privacy so don't expect any views
Mai Khao is a little far from everything (which can be a positive point when on a romantic break)
Koh Yao Noi
Six Senses Hideaway Yao Noi on Koh Yao Island is not your usual 'Phuket Resort'; it is a destination in itself. Designed for couples in search of an escape from the stress of the big city, this is a perfect hideaway for a romantic holiday.
What we loved
Unique setting on a remote luxuriant island with striking views of Phang Nga Bay
Villas are built entirely with natural materials
Beautifully designed rooms with large wooden terraces and private pool surrounded by foliage
Superb restaurants
Private transfers by boat from Phuket island are a cool way to immerse you into your romantic holiday
Very large and excellent spa
What you should know
No real beach, just a small sandy area
Not much to do around so you probably will spend most of your time in the resort
The photos used by the hotel to advertise are shot from the costly top floor suite. The view from your room will probably be a lot more limited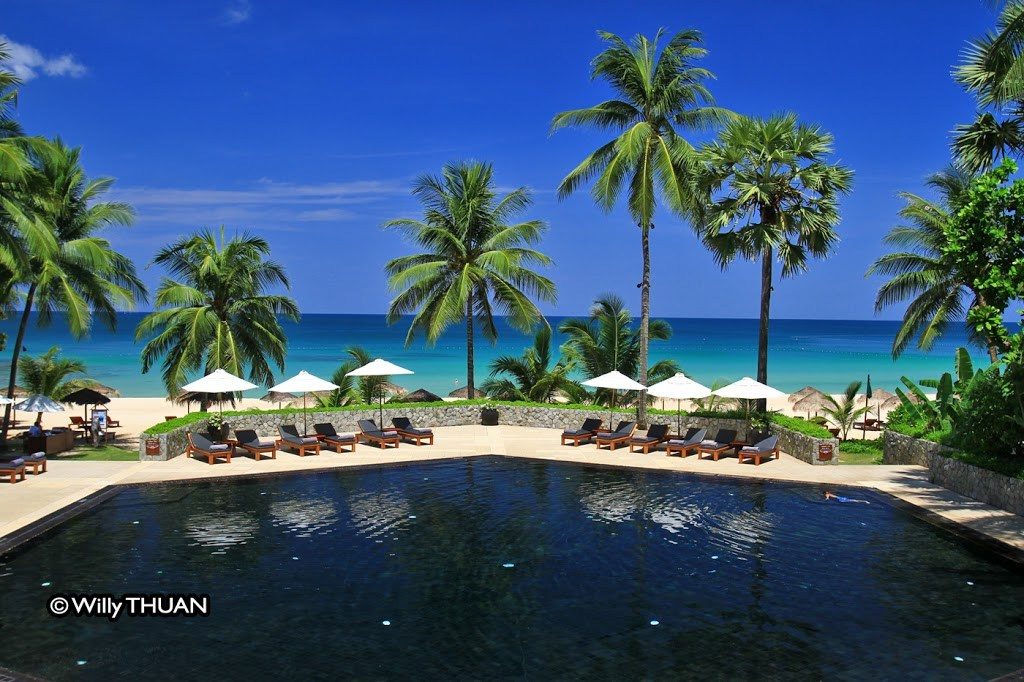 The Surin is a beautifully designed hotel with a long history and an amazing location on Pansea beach in Phuket. It's also one of the first luxury hotels on the island. The name of the resort is a little confusing: it's called 'The Surin' but is on the next beach called Pansea Beach'. I forgot to ask why, however, this is one of the best places in Phuket to escape your busy life!
Banyan Tree Phuket on Bangtao Beach is one the most luxurious of the five resorts in the Laguna Complex. Open for almost two decades; Banyan Tree is still recognised as one of the ultimate resort experience in Asia. Read more
What we loved
100% privacy in your villa
Great selection of villas to choose from, all with huge pools
Recognised to have the best spa on the island
Beautiful Thai architecture. If you came to experience Thailand, this is your place
Excellent restaurants
What you should know
Of course, it's not cheap!
No direct beach: the beach is on the other side on the road, and it can be quite a walk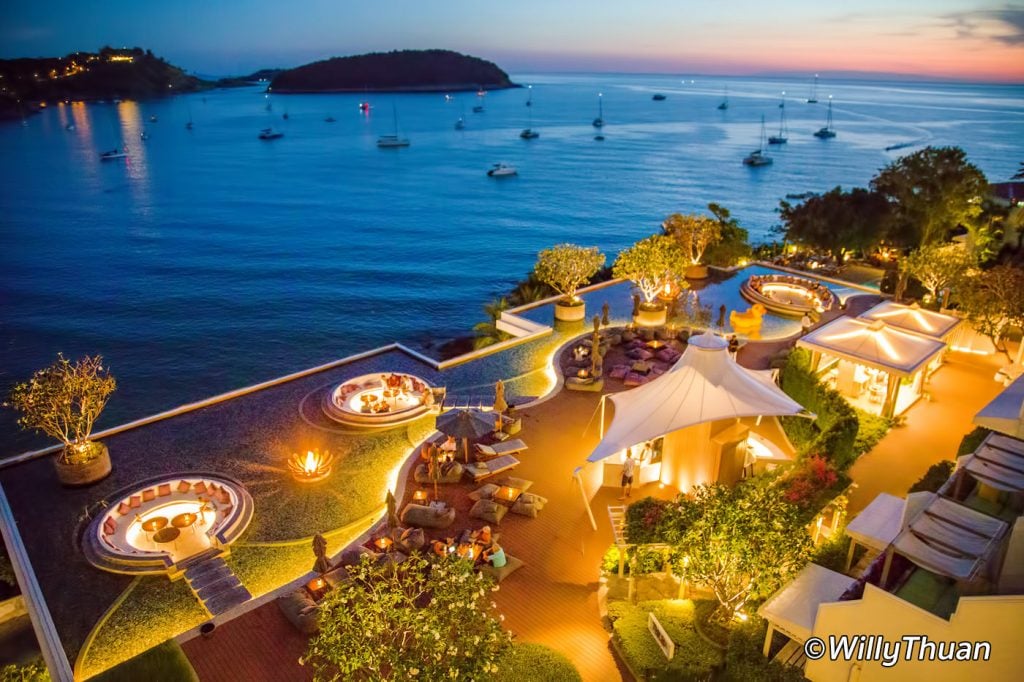 The Nai Harn Phuket is in such a unique location and a classic, timeless design; the resort is top-rated. Build on the hillside of Nai Harn Beach; it is the only resort having such a unique view on this fabulous bay. The hotel might not be precisely on the beach, but a short path will take you to it in just a minute, and what beach! A large strip of white and powdery sand ending in a turquoise-blue bay. Read more
What you will like:
Amazing views on Nai Harn Bay from every room
Rooms are well designed with a large terrace and an immense day bed
Several great restaurants to hang at any time of the day
Gigantic rooftop with striking views
One of the best beaches in Phuket with great snorkelling
What you should know
Rooms don't have private pools, and terraces don't offer much privacy
Pool and sun loungers area is quite small
The Racha is a small luxury hideaway on an island near another island, twelve miles south of Phuket to be exact. Once in a while, even people living in Phuket need to get away from it all and find another little piece of paradise. Read more
What we loved
Wonderful escape on a paradise island
Large minimalist rooms
Superb beach and great snorkelling
Good facilities
What you should know
Activities are limited (it's a tiny island)
The beach can get quite busy during the day as speedboats and dive boat anchor in the bay
---
---
You may also like