A Weekend at Sri Panwa
Sri Panwa is one of Phuket most amazing and most exclusive hotels. Everyone we know heard of it, but not many actually stayed there, and we finally did. This resort is built on a hillside of the remote Cape Panwa and is best known for its incredible rooftop bar called Baba Nest. We booked a weekend at Sri Panwa and even after so many years spent in Thailand and so many hotels reviews, they managed to impress us.
As usual we were not sponsored and paid in full for our stay. We came unannounced to experience the hotel the way anyone would experience it.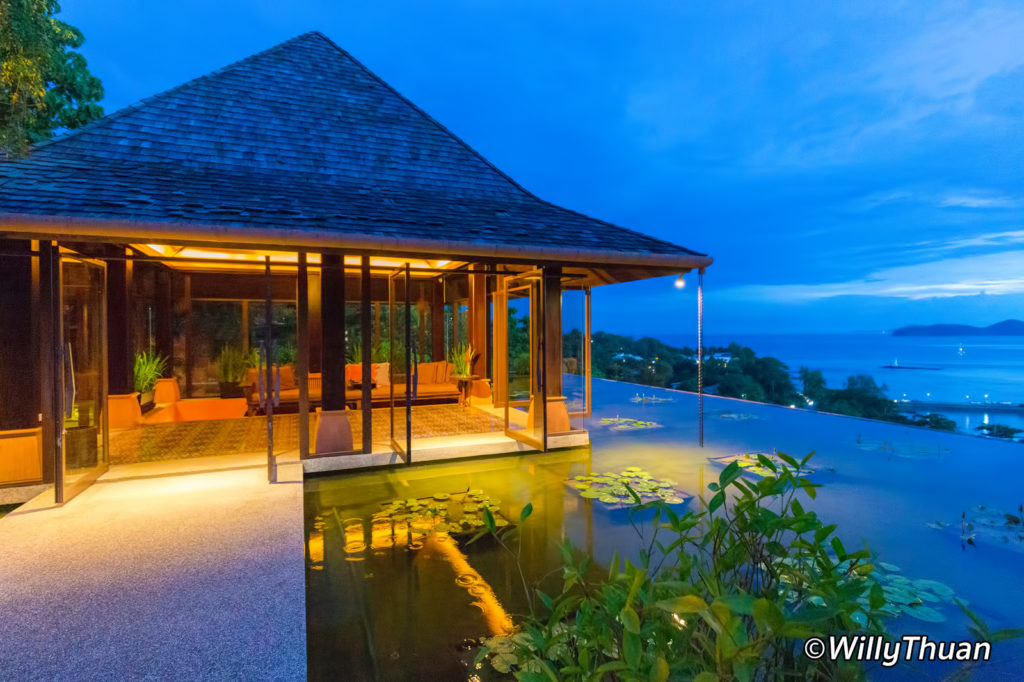 The exclusivity of Sri Panwa strikes you as soon as you reach the gates. Security staff is friendly and polite but serious, then you'll be be taken to the lobby through a road under manicured bamboo trees. The reception area where you check-in looks surprisingly ordinary, but it seems to be a purposely smart way to prepare you for what happens next.
Once the doors of our one bedroom villa opened for us, we couldn't hold our surprised and pleasure. Our villa was very large, divided in two room with a large infinity pool in the front part… and beyond the pool was a glorious sea view. We did stay at most 5 star resorts in Phuket and many more around the world, but this was simply perfect. Exactly what we needed for a weekend hideaway far from the crowd.
---
The Pool Villa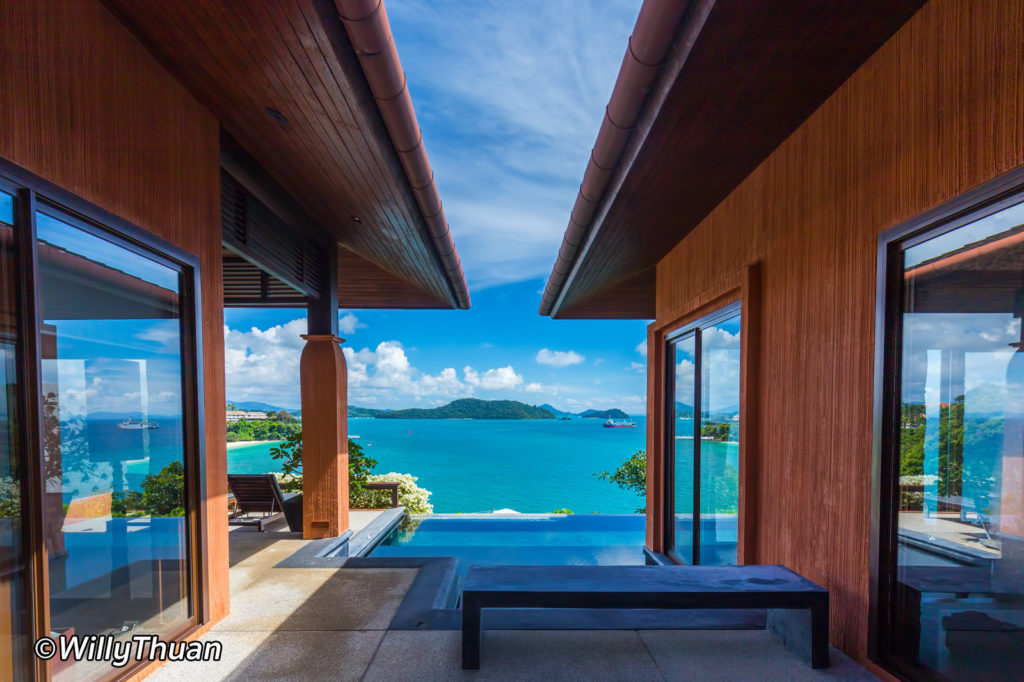 The villa are large and so well designed we spent a lot more time enjoy it than we thought we would. On the right is the bedroom and on the right is the living room we used for work(yes we did!).
The bedroom is vast with a comfortable living area between the bed and the pool, and the oversized bathroom. Both bed and the large sofa enjoy a panoramic sea view. Watching the first lights of the day over the ocean is such a wonderful way to wake up in the morning, and walk straight from your bed to the pool is simply perfect. (Then swim to the supplied espresso machine is also a nice touch).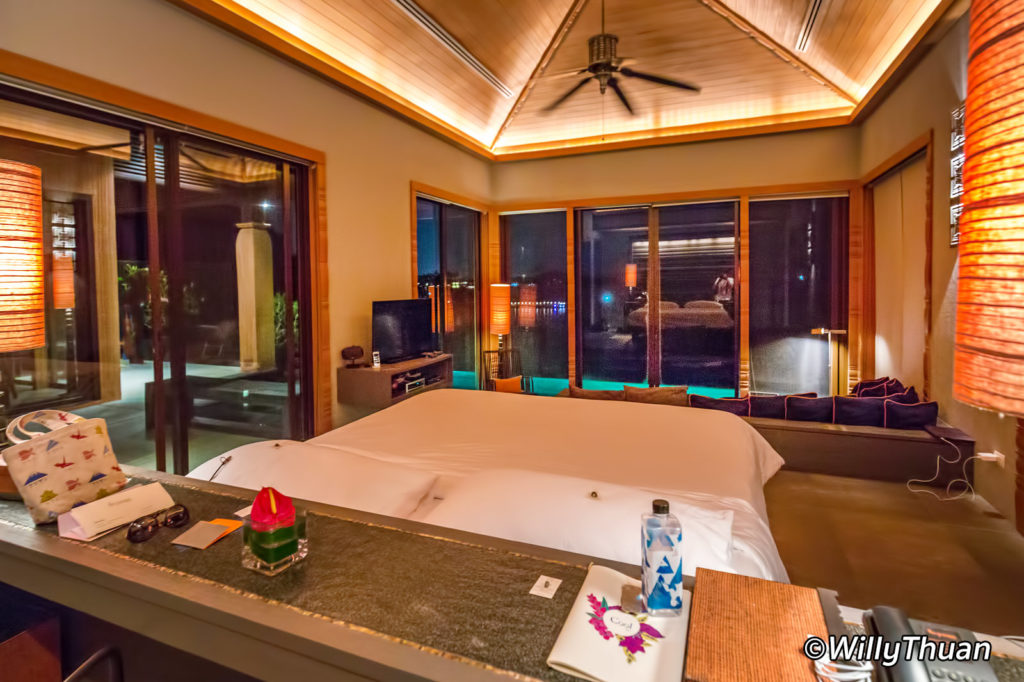 The bathroom is large with an indoor shower (with steam!) and an outdoor rain shower. The bathtub can accommodate 2 persons and is equipped with a Jacuzzi.
The Left villa comes with a table and day bed, a small attached kitchen with all you need to prepare your first breakfast or even cook if you don't feel like going anywhere. In front of these room is your outdoor living room and beach chairs. Your infinity swimming pool is large, surprisingly deep and very private. Your neighbors can't see you, but people on the boats anchored in the bay might, however they are probably too far to appreciate 'the details'.
---
Dining
Sri Panwa has no less than 6 restaurants, all surprisingly good. We started with Baba Iki, Japanese which served us a beautifully presented and very fresh choice of sashimi. The restaurant mostly consists of an immense single table, which was a little surprising at first and is designed to create a casual party atmosphere. The views from the floor to ceiling glass walls is superb.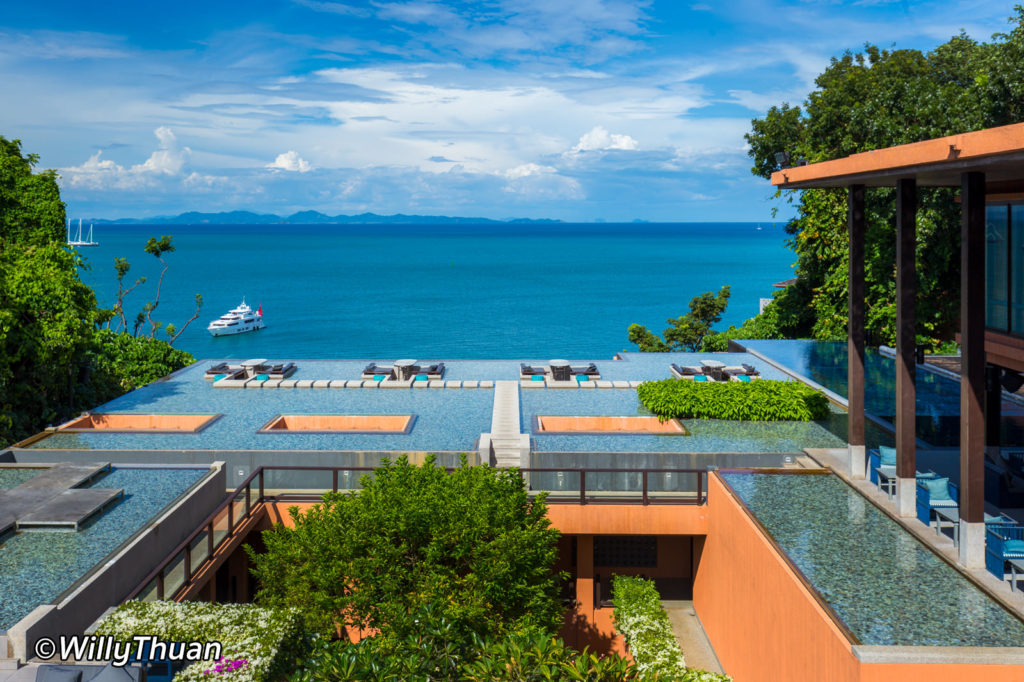 For our first dinner, we went to Baba Hot Box BBQ and Steak House and were pleasantly surprised. The quality of the meat, the cool equipment used to cook and smoke it to perfection (a Spanish Josper BBQ) and most importantly the skills of the chef made this evening a treat. Probably one of the best steak experience on the island. We probably will go back for the steak!
The Thai restaurant was maybe the least impressive maybe because it missed the views (you tend to get used to this luxury at Sri Panwa) but food was good and of course the service was spotless.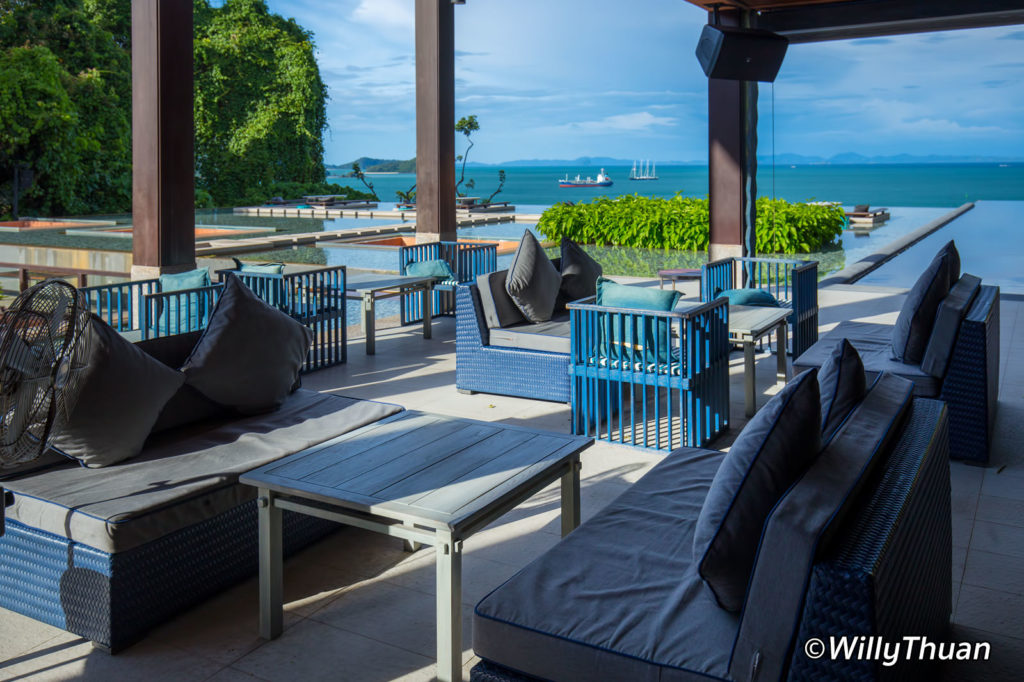 Breakfast is served at the beautiful seaside restaurant with a large buffet. Breakfast pretty much defines how your day starts and Sri Panwa makes sure your day is perfect from the moment it starts.
---
Baba Nest Rooftop Bar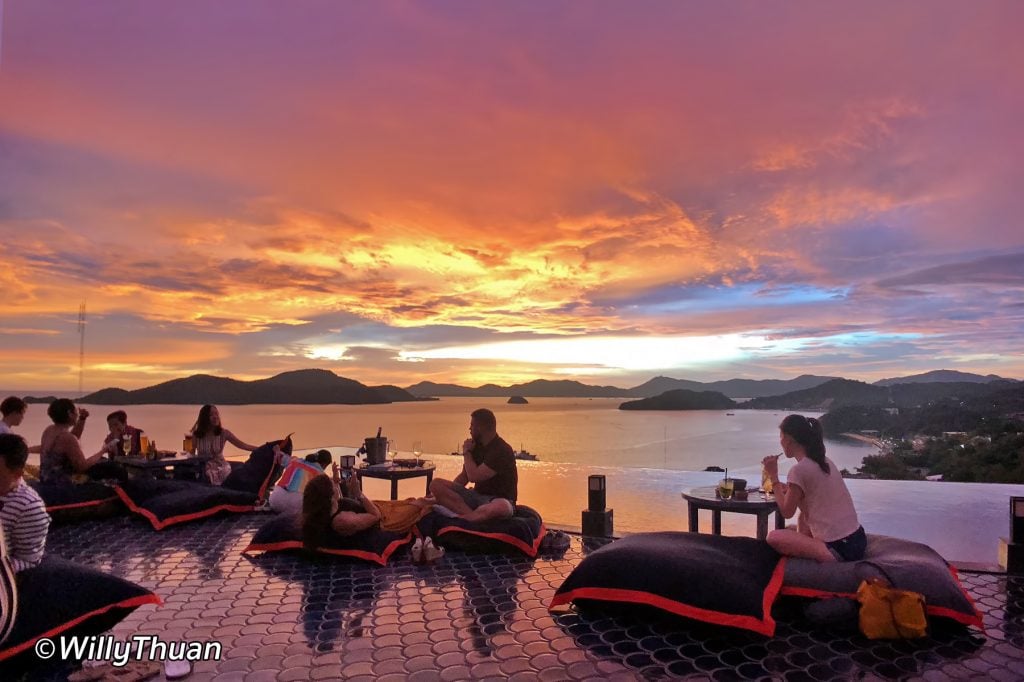 And what better way to end the day at Baba Nest rooftop bar? This now legendary rooftop bar offer such a 360 panoramic view on the bay of Panwa in the south of Phuket, it is literally fully booked weeks in advance! Just look at the photos and you will understand why. On the day we had the privilege to sit there, we had the most glorious sunset on the west, and a rainbow on the east side! How can you possible beat that. Outside guests are allowed but a minimum spending is requested and seriously, book long in advance! Don't just drive there the way we did the first time, it is a long way! Read more
---
Facilities
Sri Panwa only has a tiny beach but we loved it. It has this Robinson Crusoe feel with the jungle crawling on the hills all around and many coconut trees. The stairs leading to the beach are a little steep but that is a good exercise. On the beach a few water sports are available and the floating pier seems to be mostly used for selfies and photo shoots.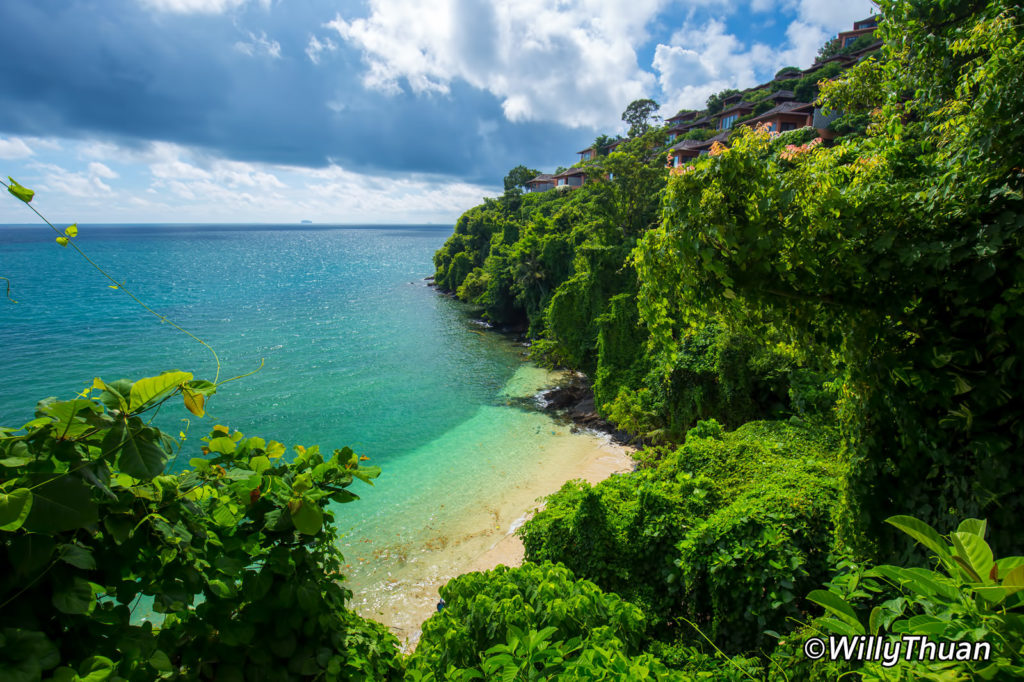 There are 3 swimming pools for you to enjoy if your private infinity pool isn't enough, or if you booked one of the few rooms without a pool.
'Cool Spa' is Sri Panwa's wellness centre, offering a long list of very relaxing treatments to choose from, including a special 'La Mer' package!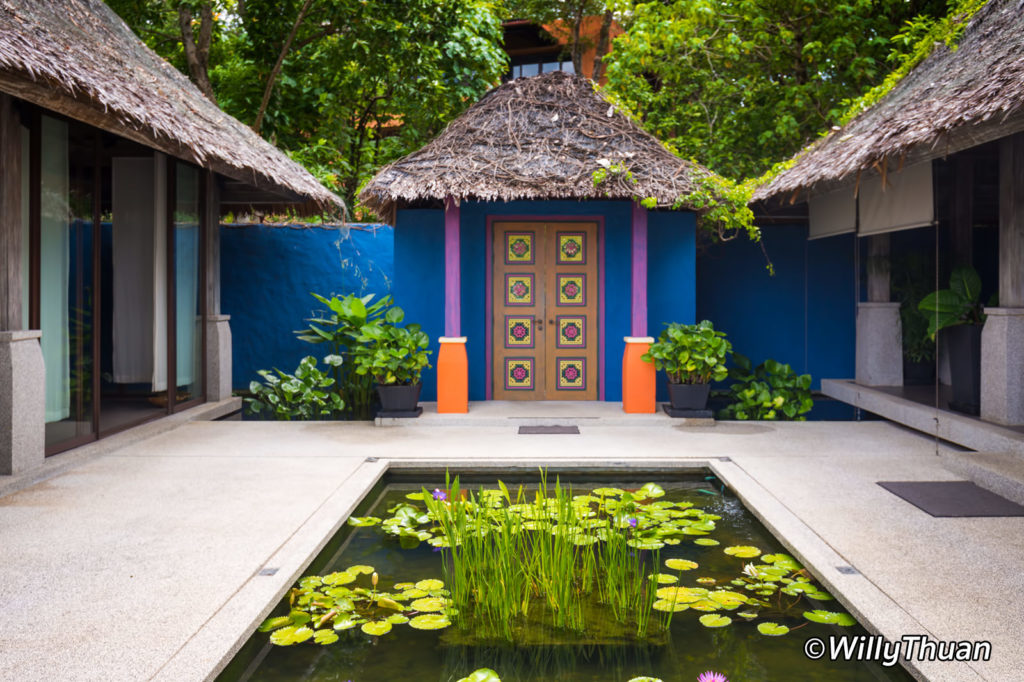 Sri Panwa is simple the greatest place to hide and release the stress from your busy life. The staff is friendly and attentive in a casual way that makes you feel cosy (not 'at home': better than at home!) It may not have an amazing beach but the location and the views are unbeatable. It really is designed to make your holiday as perfect and as relaxing as it can be.
---
Sri Panwa Info
Location: Cape Panwa
Address: 88 Sakdidej Rd, Vichit Muang Chang Wat Phuket 83000
Phone: 076 371 000
Bookings: See Rates for Sri Panwa
---
Sri Panwa Map