11 Best (VERY) Local Restaurants in Phuket Town
Beware! This is not the trendy section of Phuket Restaurants! This is all about the food, only the food and nothing but the food! Here are the Top 10 Most Popular (very) Local restaurants in Phuket. None are fancy and all are cheap: they don't care about the decor and they don't have time to smile, it's all about efficiency and taste! Some of them might appear dirty if you are not prepared, so if you don't like crowd, plastic plates, toilet paper as napkins and ice cubes in your beer (and sometimes MSG), you probably will not print this page to take it with you. But if you want to find out what makes people queue in Phuket… get ready for some experience!
This list is of course very subjective, we are sure there are other places that would make it to the Top 10 but here are the best known local shops since two decades. I also spent some time building a map at the end of the page to help you locating these fancy places.
---
1. KO BENZ
Serving great noodle soups using… Instant Noodles! as well as some amazing porridge. Half the restaurant is full before they even can take the first order, so get ready to wait, but it's worth it! Another strange thing: The shop opens according to the moon calendar! So it is for us hard to predict what are the chances to eat there… and yet we drive all the way to see 'if it's open'.
☺ Try: 'Mama Moo Sap' the famous noodle with mama instant noodle (photo), 'Woonsen Moo Sap' (with glass noodles) 'Khao Tom Haeg' (Porridge with pork chop plus crispy pork)
✩ At the intersection of Phatiphat Road and Ranong Road (not far from Blue Elephant – see map at the bottom). Note that there is a huge parking in the back: enter the tiny street just opposite of the chinese shrine.
⌚ 7 pm – 1 am
---
2. BRAKE TAEK (Noodle Soup)
Serves a delicious and renown 'Tom Yam Noodle Soup'. Here too, hard to get a table for lunch and you might have to wait quite a bit. So while waiting, order their excellent meat balls skewers to keep you busy, you won't regret it.
✩ Located on Phang Nga Road in a Soi across the Royal Phuket City Hotel, near the Bus Terminal.
☺How to order noodle soup in Phuket:
Choose your noodle from: Sen Yai (flat white noodle), Sen Lek (thin white noodle), Mee Hoon (white vermicelli), Woonsen (glass vermicelli), Ba-mee (egg noodle).
Next is the soup – Tom Yam (ordinary), or hang (no soup).
Then the meat: Moo (pork), Gai (Chicken) or Talay (Seafood). When you order pork, say 'Mai Nai' to make sure they won't add entrails in the soup.
Then combine all those vocabulary:
✓ 'Woonsen Tom Yam Moo Mai Nai' for glass vermicelli in Tom Yam soup with pork – no entrails.
✓ 'Ba Mee Hang Gai' for egg noodle with chicken (no soup)
✓ 'Sen Yai Nam Moo' for flat white noodle with pork (you might get entrails for this)
⌚ 7 am – 4 pm
---
3. MEE TON PHO (Bhodi Tree Noodle)
This is an old and famous Hokkien shop at Phuket clock circle. It's hot, smokey and crowded, but their yellow Hokkien noodles dishes are worth a stop, don't hesitate to order some Satay while waiting.
☺ 'Mee Hokkien Pad' is their famous stir-fried noodle with seafood. Say 'Pi-Set' for a larger bowl, and 'Sai Khai' to top the noodle with an egg. 'Laad Naa' is the fried noodle in slimy sauce. 'Moo Satay' (Pork Satay) are sold by stick but people usually order by 10 ('Sib Mai' is ten sticks)
✩ Exactly at the Phuket clock circle, next to the Chinese shrine
---
4. ANG SEAFOOD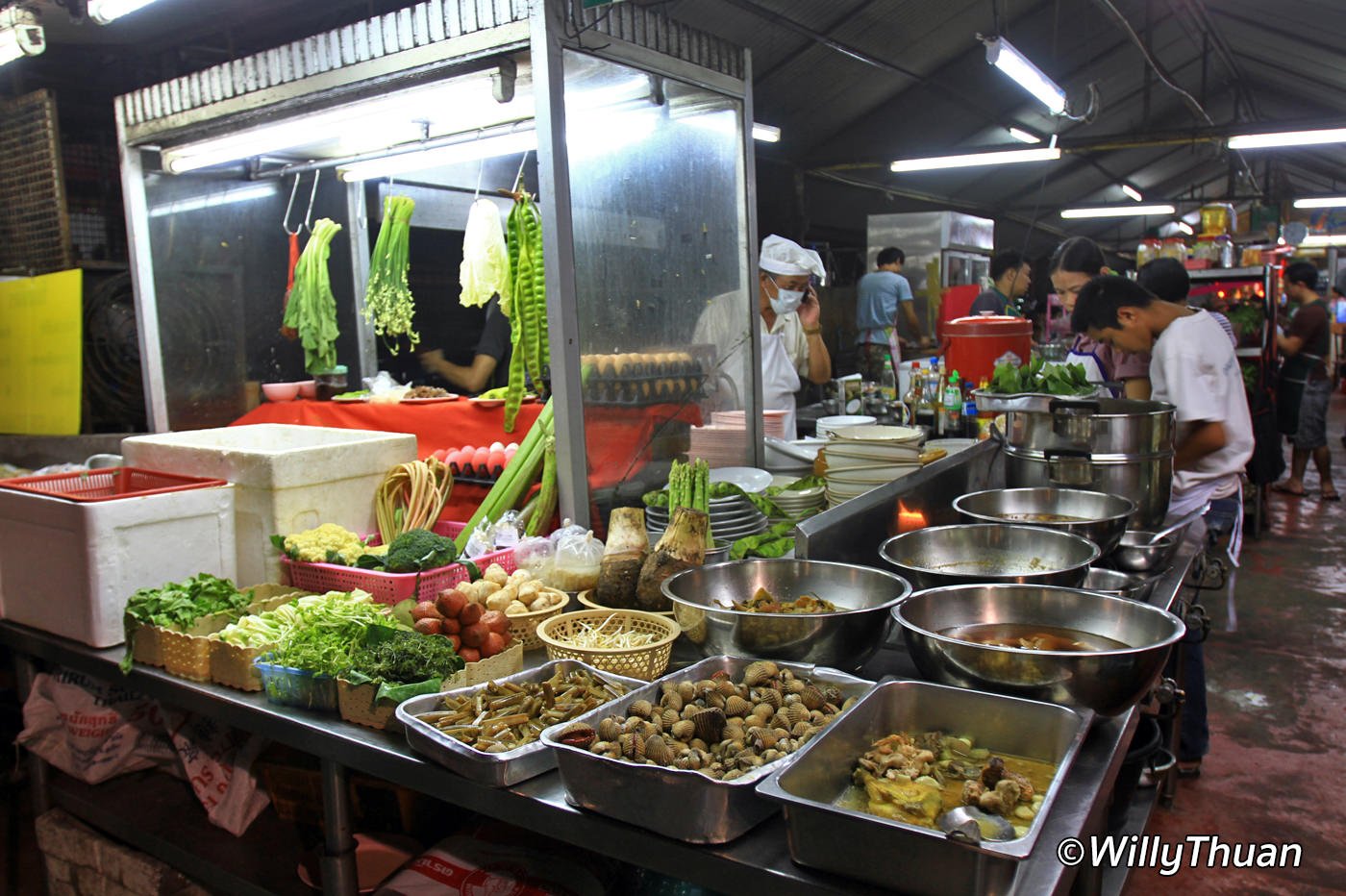 It looks small and narrow, but once inside it's much bigger than you think. Very popular among locals and always full (hard to get a parking). Serves great seafood in general, nice fish and lots of shells, some really hardcore stuff.
☺ Try their Tom Yam: very tasty, full of flavors 'Hoi Chak Tin', a great local shell, 'Razor clams', and 'Ant's eggs' if you are in adventurous mood.
✩ On Phuket Road, on the way to Saphan Hin (not far from Bang Niaw Chinese Temple, opposite side)
⌚ 5 pm – midnight
---
5.  MEE SIAM (aka LOKTIEN)
This very local food court was renovated not long ago and doesn't appears as 'old and dirty' as it used to be (I kind of miss that). But they still serve their great food.
☺'Mee Hoon Baa Chaang' is a local dish – simple stir-fried noodle with soya sauce topped with spring onion, served with pork ribs soup and here too 'Mee Hokkien Pad'. Don't miss 'Moo Satay', and 'Poh Pia': genuine Phuket style spring rolls with grated turnip, pork, greens and sweet sauce. also 'O-Eaw' a famous Phuket dessert: shaved ice and banana jelly.✩ At the corner of Yoawarat Road and Dibuk Road.
⌚ 11 am – 6.30 pm (closed tuesday)
---
6. SIANG CAN (E-Sarn Restaurant)
It is as big and as basic as a warehouse, but always full for dinner!
☺ Best dishes we know is Som Tam (Papaya Salad), Laab Het (Mushroom spicy hot salad) or Kai, Namtok Nua (Beef Salad) and Pladook Foo (Grilled Cat Fish). But the list is extensive… This place serves Esarn Food and therefore can be quite spicy (northern Thailand).
✩ On Mae Luan Road, almost opposite of Mitsubishi Showroom.
⌚ 11 am – 10 pm
---
7. MEE JIRAYUWAT (Noodle Soup)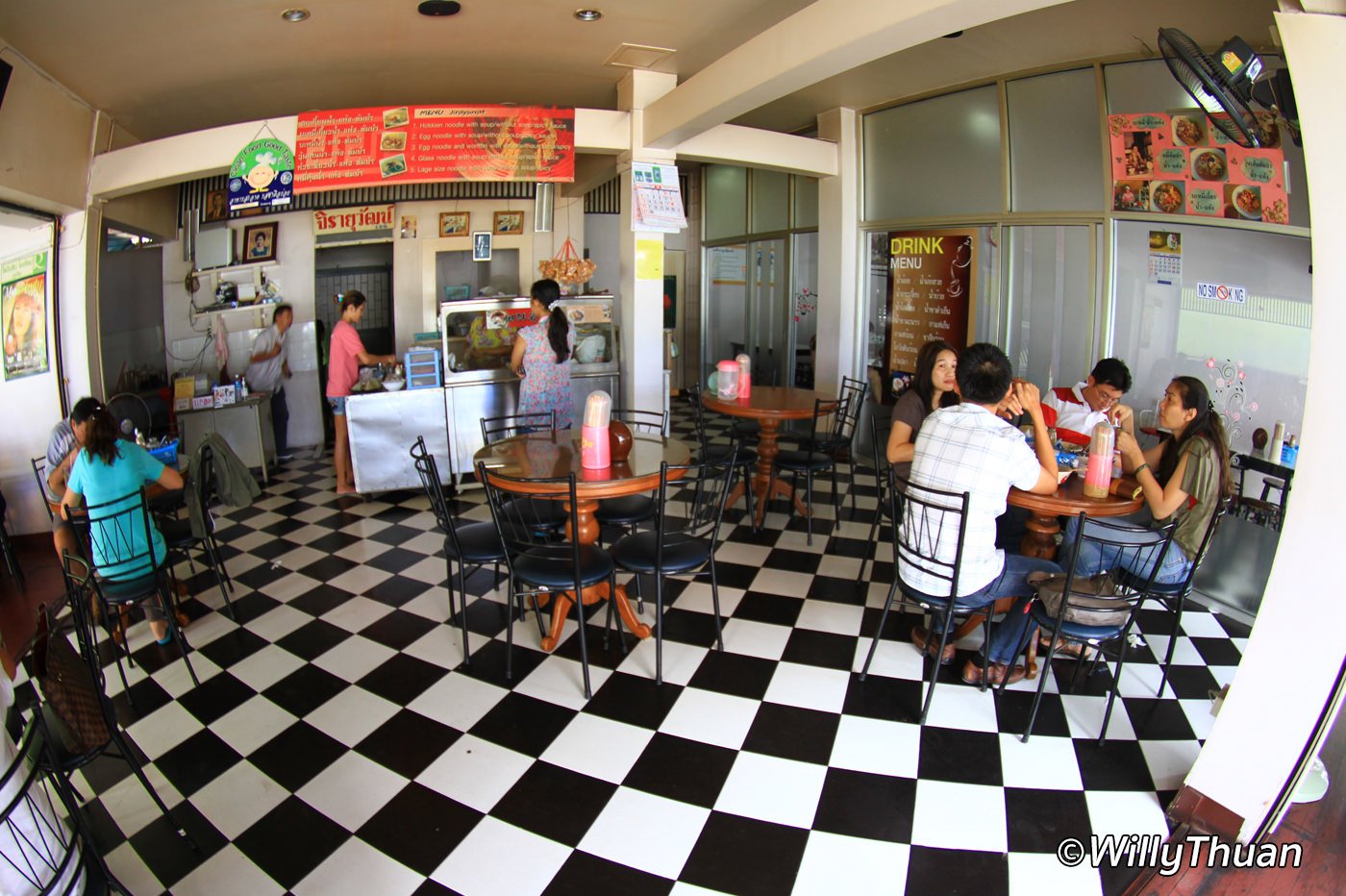 This restaurant was featured in a popular Korean Magazine, therefore many customers are now Korean. Their specialty is a Seafood Hokkien noodle soup. Order two, you won't regret it.
☺ Choose between 'Hokkien Mee' a fat round yellow noodle, or 'Ba Mee' a thin egg noodle. Gyo or Wantan can be added as extras. The noodle can be served dry or 'Hang' (soup on the side).
✩ Next to 'Fantasia Entertainment' in Phuket Town on Phang Nga Road
---
8. BOONRAT DIM SUM (Breakfast)
This popular place gets crowded from early morning serving some excellent Dim Sum from 6 am to 11 am, but if you choose to come late, there won't be much choice left.
✩ Opposite of Dao Ruang School on Chao Fa Road.
⌚ 6 am – 10 am
---
9. PA MAI (Kanom Jeen)
Small and crowded, it's an all time breakfast favourite, it is always full, no exceptions, you'll have to wait for someone to finish breakfast to jump on their 'not yet cleaned' table or you'll be missing it. Good news is that there is a less known but bigger one higher in the street! (Read more…)
☺How it works: Pick a plate of plain rice noodle and select from large pots of curry sauces, yellow or red, with beef, chicken or fish. Then add on top all kinds of fresh veggies and herbs without which you would be missing half the taste and texture pleasure.
✩ The original shop (Mae Ting) is at the intersection of Maeluang and Satun Road, and a newer one on the same Satun Road, near the Blue Elephant Mansion.
⌚ 5.30 am – 11 am
---
10. KRUA LA POON (Northern Restaurant)
This restaurant moved several times, but their customers keep on following them. A good sign, the new location in Sam Kong is nicer and larger, come with finally enough parking and northern woven table cloths!
☺ But all what matters is their delicious 'Nam Prik Ong' spicy mashed eggplant, 'Nam Prik Nam' pork with a tomato sauce, crispy pork ribs, northern sausage and the famous hard to find in Phuket 'Chiang Mai Khao Soi'
✩ In Sam Kong, Prachat Uthit 1 Road
---
The Pad Thai Shop is a super tiny restaurant on the side of a back road of Karon Beach. It's so small and modest, you would drive pass it without paying much attention if it wasn't for its growing reputation… and a large yellow signboard that says 'The Pad Thai Shop' of course.
Despite its success, the shop owner probably chose not to change anything about the shop. Plain wood and bricks walls, concrete roof, plastic chairs and plates and a black bare stove as old local shops usual are. Yes, you are here for an old-fashioned Pad Thai in a real local shop, not for a fancy meal.
Read more
.
---

View Phuket Town 10 Best Local Thai Restaurant in a larger map