Mor Mu Dong Restaurant
Mor Mu Dong received a 'Bib Gourmand' rating in the Phuket Michelin Guide. 'Bib Gourmand' means 'friendly establishments that serve good food at moderate prices.
Mor Mu Dong is quite an unusual restaurant in Phuket. If you enjoy eating off the beaten tracks where many locals go for a great lunch or dinner, Mor Mu Dong is your place. Every Phuket resident knows it, and you have to count the cars in the parking to know that something special is cooking here. People travel a long way to come to Mor Mu Dong. It's so local and good, even Andrew Zimmern from the famous TV show 'Bizarre Food' had lunch here and featured it in his Thailand episode.
Mor Mu Dong is down-to-earth and back-to-basics, with a lot of charm for a lazy Sunday lunch or even for dinner with friends or colleagues after work. It is simple and rustic, but the food is delicious. You can choose to eat in small private wooden 'Salas' built over the mangrove or simply under the trees. It sounds fancy, but in reality, it's not: concrete tables, plastic chairs, plastic plates, period.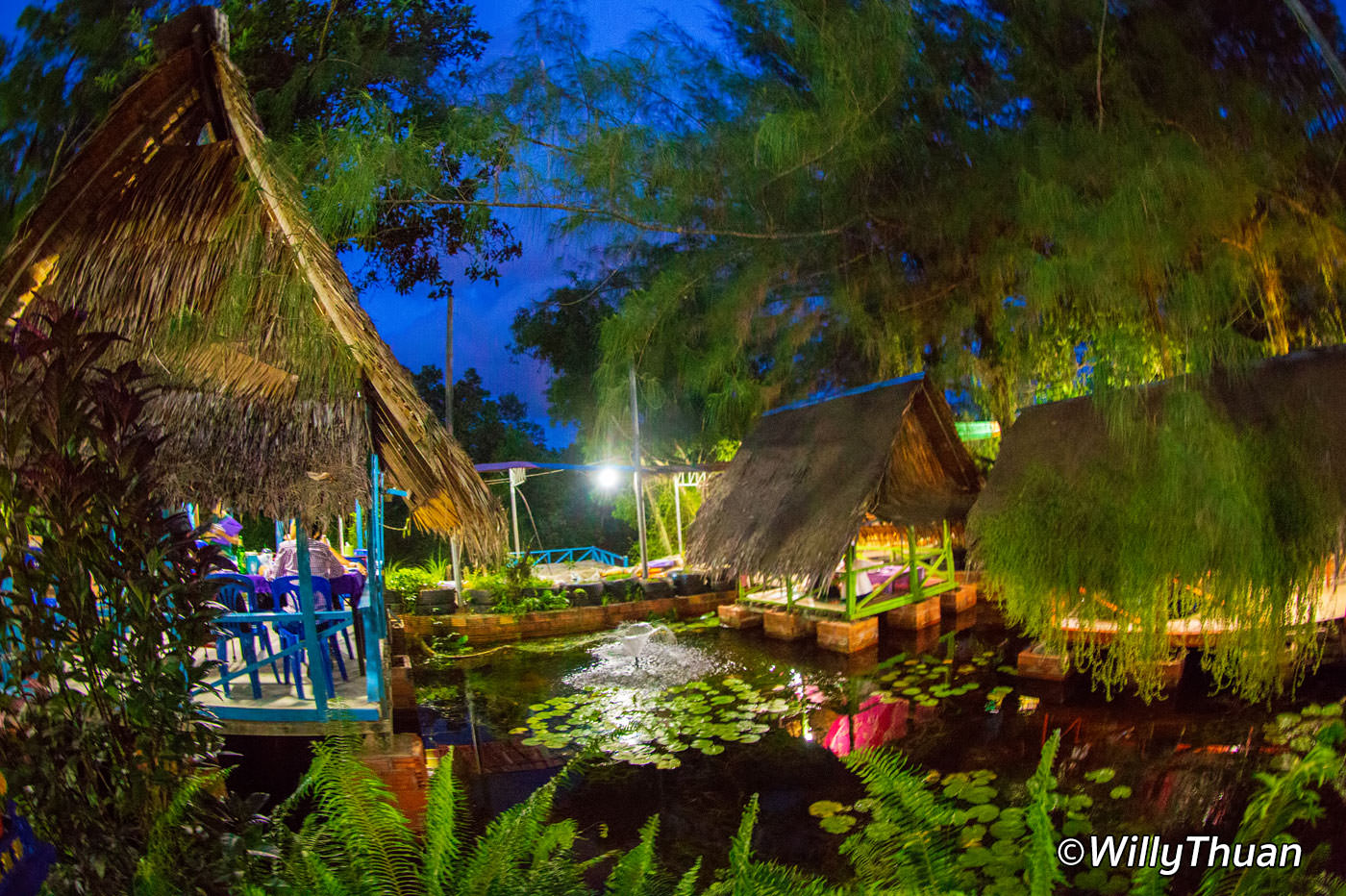 If you've never seen one, a sala is a little wooden pavilion without walls, with just a thatched roof. It's a fun experience if you haven't tried it yet. This is what travelling is all about. You and your friends sit around a low table placed on a rug, with a view of the mangrove, enjoying a gentle breeze. A sala can accommodate six to twelve people around a single low table.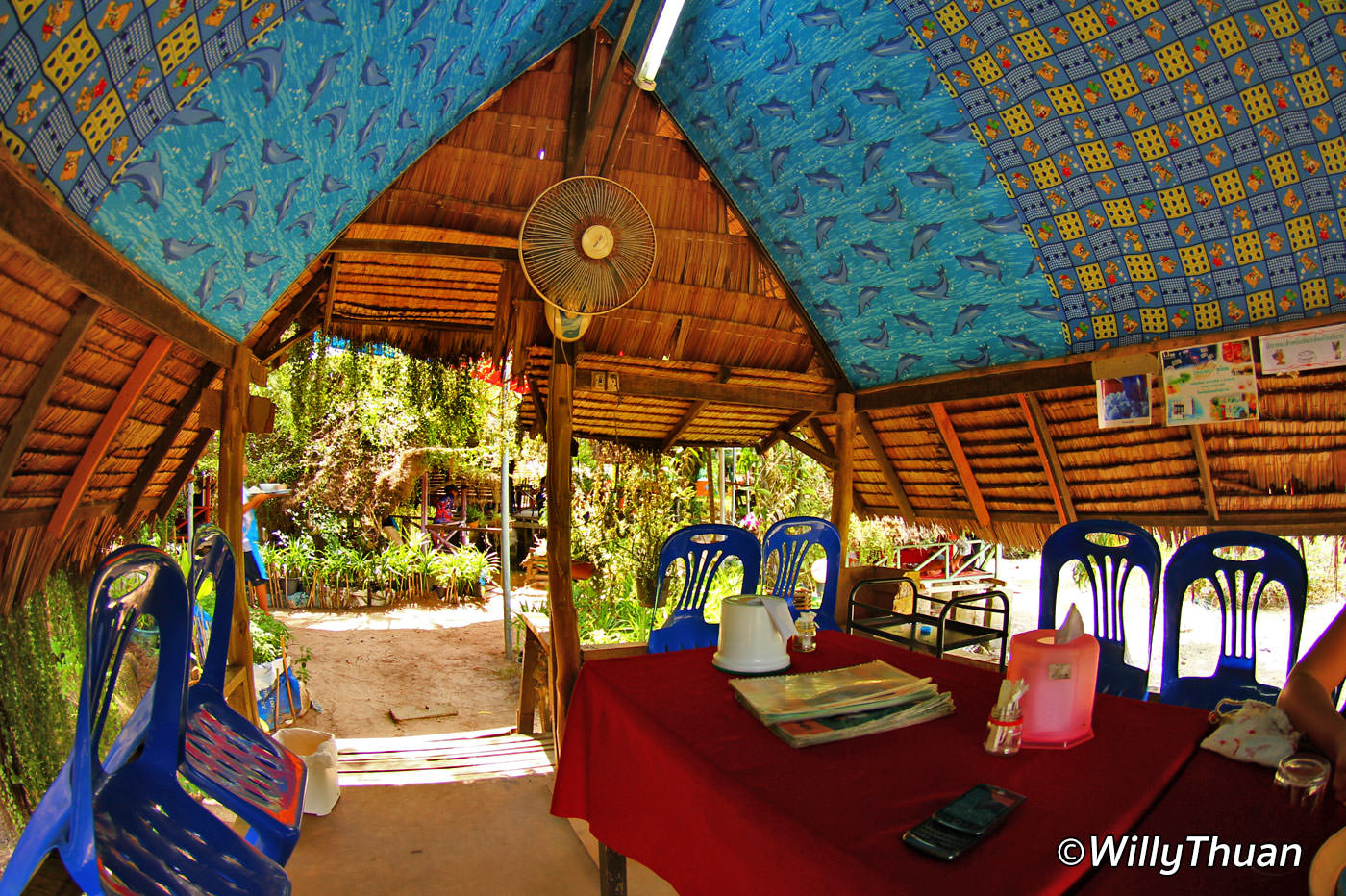 Of course, when the tide is low, you'll see more mud than water, but it still is fun for a very local dinner while watching hundreds of tiny little red crabs wandering around. If you are not ready for an entire meal sitting on the floor, some larger huts offer regular tables with normal chairs.
What to Eat at Mor Mu Dong?
The food is the reason people travel such a long way to reach Mor Mu Dong. The menu is extensive, serving a mix of Thai food and seafood. Many dishes are Phuket specialities, and they have a way to make them look delicious. While you are waiting, they will serve some slices of green fruits like guava and green mangoes plus a choice of fresh vegetables. That should get you into the mood. You'll get to enjoy a beer with ice in it, the way local do when it's hot out there, and that always surprise or even shock foreigners.
Hor Mok Talay is a fish mousse or custard typically made by mixing together a variety of seafood, such as fish, shrimp, squid, and mussels, with coconut milk, curry paste, and eggs. The mixture is then steamed in banana leaf cups, which give the dish its distinctive shape and aroma.
Our favourites are Moo Kua Klua (pork belly), Pak Miang Goong Siah (green leaves with dry shrimp), Pak Good Salad (fern salad with squid), and if you can take it: Kaeng Prik Kraddok Moo (a very spicy pork curry).
Finally, what we came for arrives. 'Pla Pao' is a steamed fish in a salt crust that takes no less than 30 minutes to cook. Something you usually don't find in such a local restaurant. It is genuinely delicious, soft and moist. We love its simple and delicate texture, and the taste of salt is just enough; no sauce is needed (but some will be served).
Mor Mu Dong Photos

---
Mor Mu Dong Information
Location: Chalong
Address: 32/9 Soi Mu Dong, Chao Fah East, Chalong (past the zoo), Phuket
Open: 10:00 am – 9:30 pm
Phone: 088 766 1634
Price: Affordable
---
How to get to Mor Mu Dong
It's not so easy to find. Take Chaofa Road east direction Chalong, and try to follow the signs to the zoo. Once you see the traffic light, turn left to the zoo and continue for several kilometres to 'Palai Seafood', another restaurant, but not as good. Just before reaching Palai Seafood, you will see plenty of signboards pointing to the left. Follow them almost to the end of the road to find the entrance of the parking. Anyway, with Google Maps, it's now very easy to find.
Distances from Patong: 19 km, from Phuket Town: 10 km, from Kata: 11 km, from Bang Tao: 31 km
---
Mor Mu Dong Map
If you are on mobile, add the map here: https://goo.gl/maps/JWhxwzvgwm2WNmAL6
---
More Restaurants in Chalong and Rawai
---
What's around?
---
More reading