Shopping in Phuket plays a good part in a great holiday. It's often more about entertainment and fun than real necessity, and most of the time, you don't even buy anything. Phuket has a lot to offer to everyone, and shopping in Phuket is often associated with food. You will mostly notice this in any night markets and shopping malls. It's also a great way to escape the rain or heat as malls and bazaars often come with air conditioning.
A few words about bargaining if this is our first trip to Thailand. It's not black and white, but usually, you don't bargain in convenience stores. You don't negotiate in shopping malls except at the souvenir and electronic stalls. You'll recognise instantly which are part of the mall or department store and which are rented to locals. You must bargain in night markets and street stalls as they will always start with a high price and expect you to counter offer by 30 to 50%. Don't be shy.
---
Where to go shopping in Phuket?
---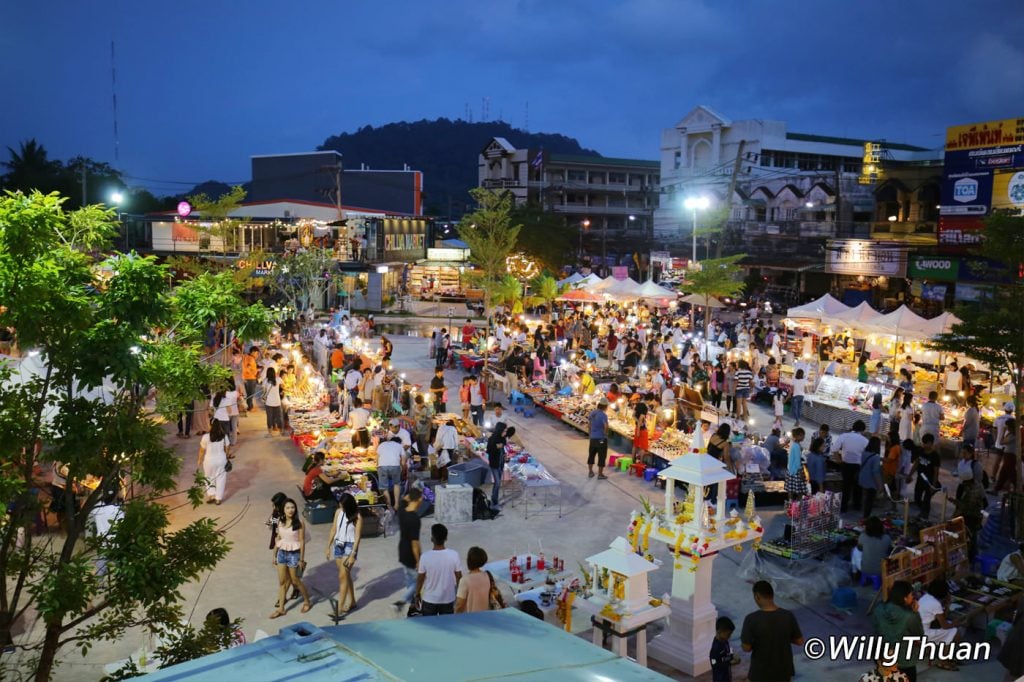 Night markets and weekend markets are travellers' favourite ways of shopping. They are fun, colourful and unique. There are quite a few in Phuket, but 3 of the night markets in Phuket town are very popular: Chillva Market, Sunday Walking Street and Phuket Weekend Market. Night markets are usually more local than bazaars or street stalls, very creative, often run by young people, and even locals like to shop there. Tuk Tuks and taxis will take you there and back quickly if you don't have a bike. If you drive a car, remember that parking near night markets can be challenging.
---
2. Street Stalls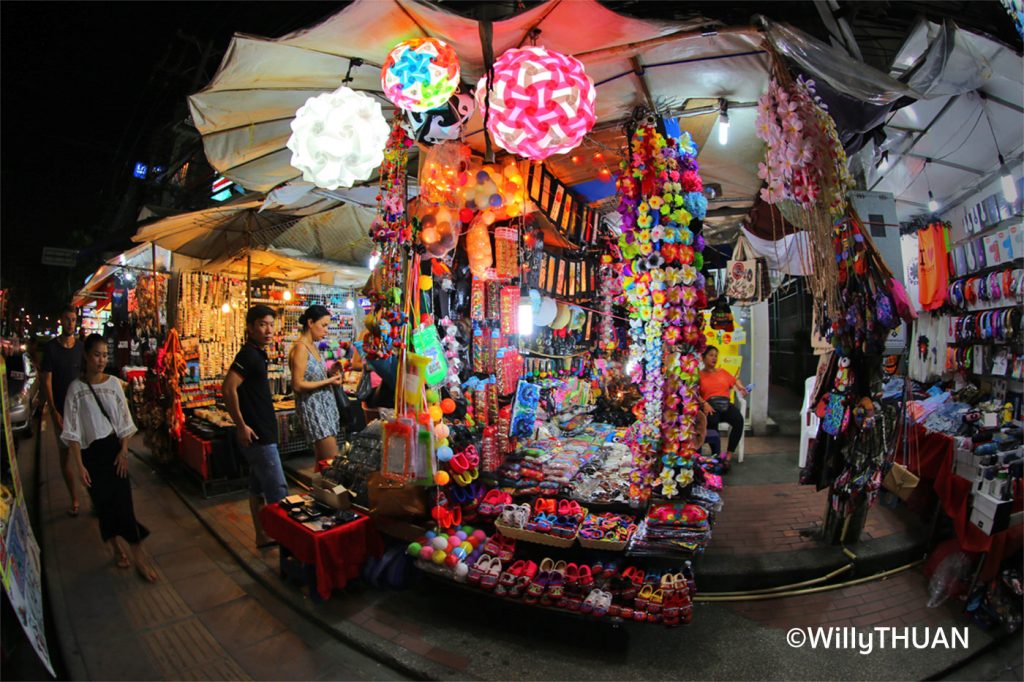 In any town of Phuket, you'll see people selling stuff on the street side. It can be in a small stall, or it can even be right on the floor. The list of what's on sale in the street is often 'Same Same but Different' — lots of T-shirts, lamps, shoes, bags and souvenirs you don't need. Usually the closer you are to the city centre and busy streets, the higher the price. So bargain hard if you are on a busy street, but take it easy if you are in a more quiet street where prices are usually is lower. Remember that small shops live from their daily sales, so it's ok to pay a little more if the vendor is nice and friendly.
---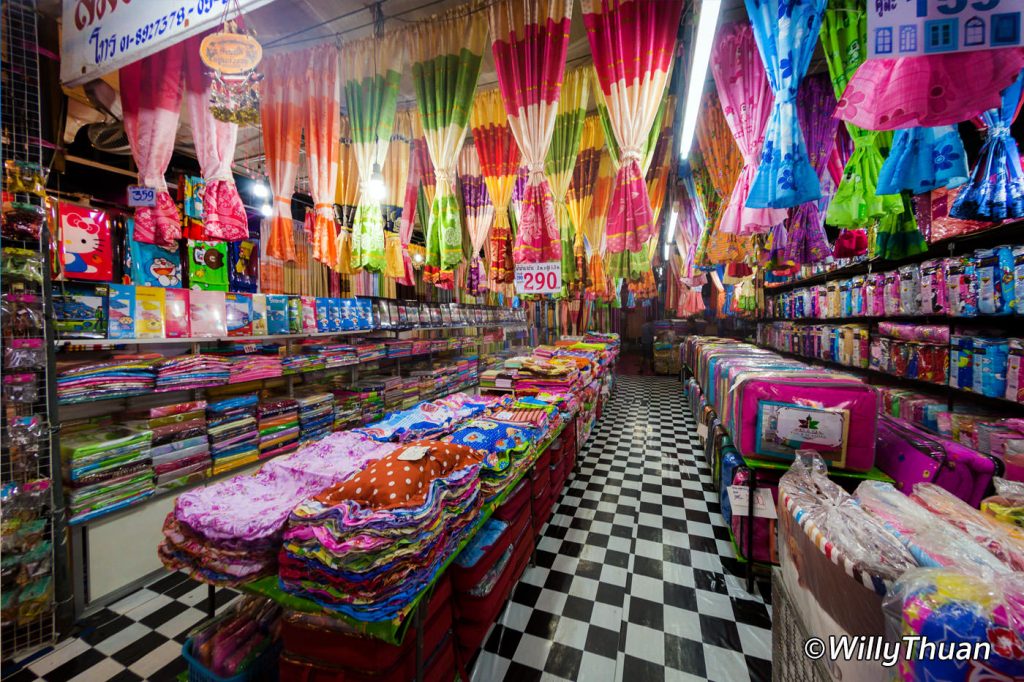 Bazaars are a little different from night markets. They are open all day and every day, usually permanent and under a roof. They sell Tee-shirts, jeans, bags and shoes again. If you walk in a bazaar, you will soon notice that vendors are not Thai, very easy to notice that from the way they address you. If you see something you like, bargain hard, very hard.
---
Shopping malls sell better quality products at higher prices. However, you will find different products on different floors. Dedicated brand shops and department stores sell real brands at higher prices. Sometimes it's not even cheaper than overseas, but you might spot something you won't find at home. Now every mall in Thailand has a 'local floor' where you can find cheaper local stuff, clothing and souvenirs. You will also find electronics counters selling mobile cases and hundreds of accessories. Once you are in these areas, you will know, remember to bargain! The two main malls in Phuket are Jungceylon in Patong and Central Festival in Phuket Town.
---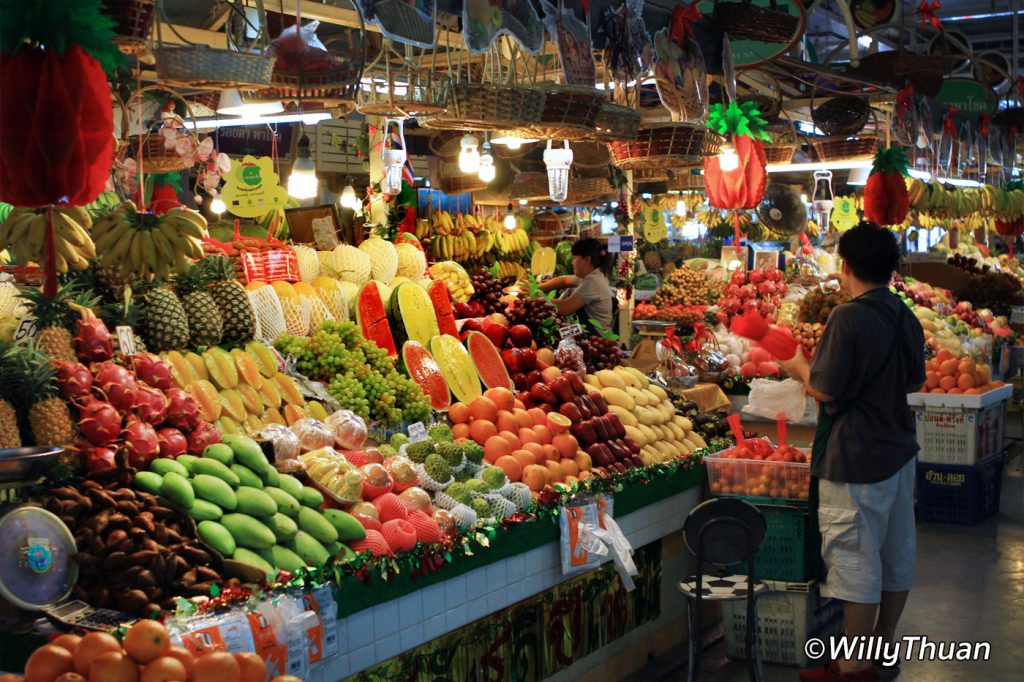 Fresh markets are a window into real Thai daily life. Even if you don't cook, the displays of fruits, fish and vegetables can be surprisingly entertaining. The spices and condiments areas are fascinating as most products are unknown to travellers. You can skip the meat corner if you are a little sensitive, and walk to the accessories and fashion section, always fun to look at what's on sale, even if you are not planning to buy anything. Everything is cheap, and you can bargain on top. Fresh markets often have an area where you can purchase local snacks and even sit at tables. It's a lot of fun, don't miss this chance! There are many fresh markets around the island, but some are better known, and some are easier to find. If you stay in Patong, Banzaan is a great place to start, just behind Jungceylon mall.
---
[the_ad id="30528″]
---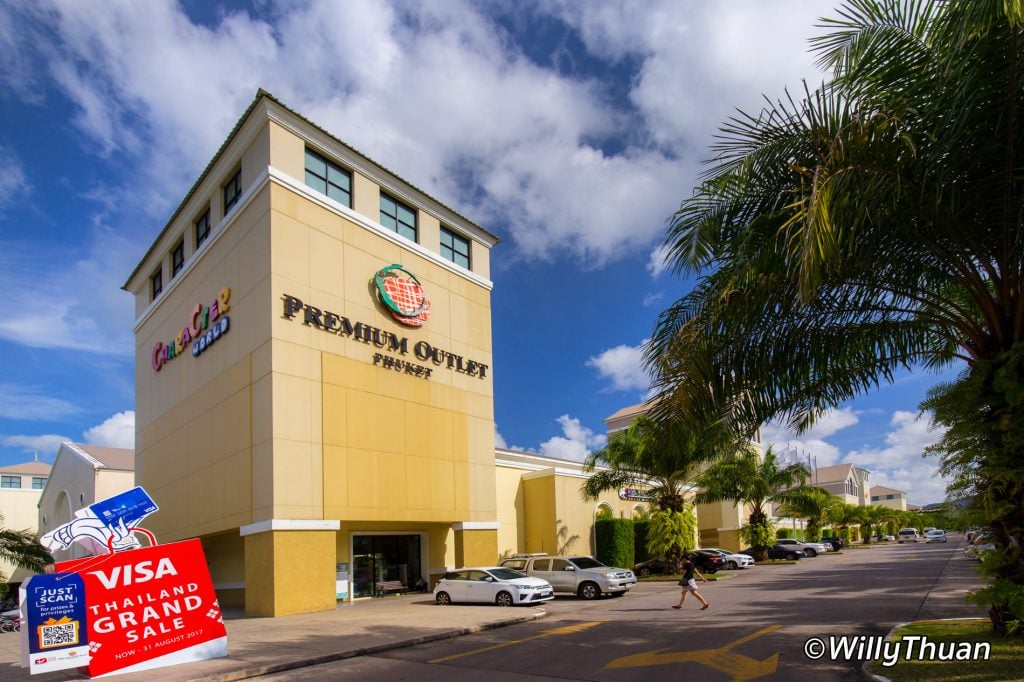 There is only one outlet store in Phuket called Premium Outlet Phuket, located on the by-pass road, near Phuket town. It's enormous, like a village, and it does have an attractive design, but overall, readers found that very little was on sale and not worth travelling all the way to it.
---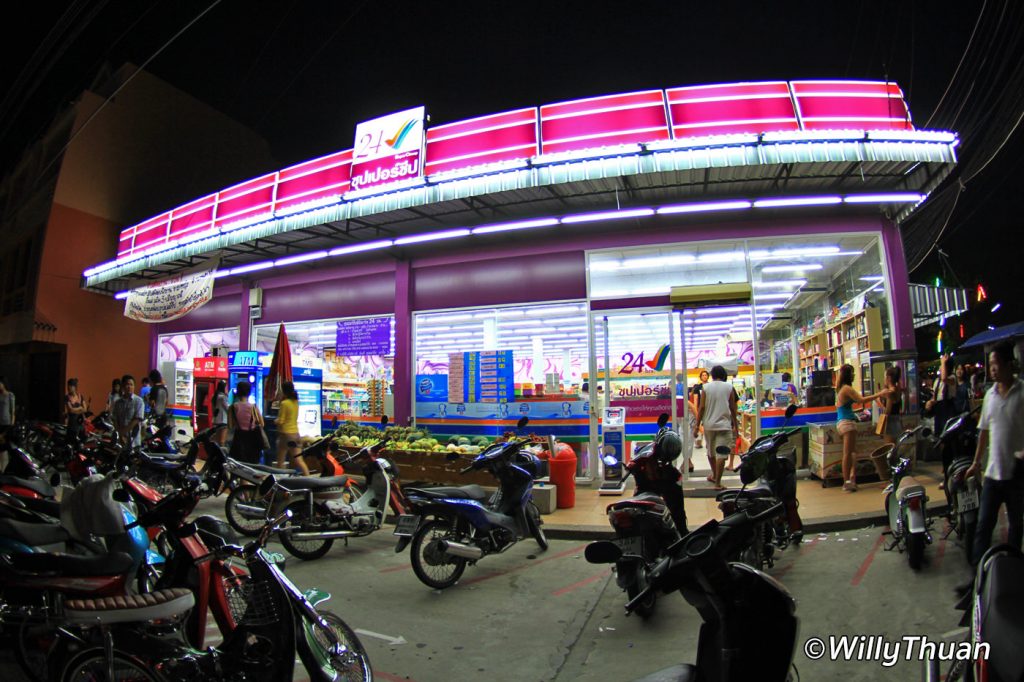 Convenience stores fulfil precisely their mission: They sell everything you might need daily, including food, whether you are travelling or living here. Nothing new here; there are convenience stores in every country of the world. But there are a few fun facts about convenience stores:
There is an incredible density of convenience stores in Phuket! You can have 2 Seven-Eleven almost next to each other, plus a Family Mart across the street. It looks like a Family Mart executive said: "I want to see a Family Mart for every 7-11 in Phuket!"
They are expensive, and you do pay a little for the convenience.
Not all convenience stores are born equal, and there is a definite price difference between brands. The cheapest of all? We did our homework, and you can see the winner here.
---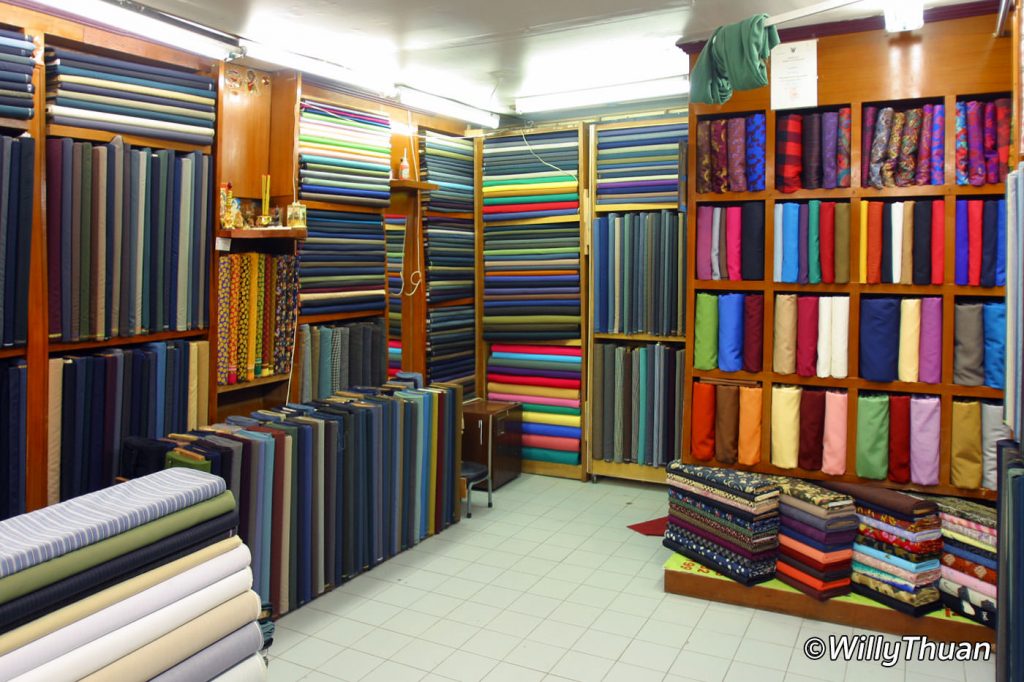 A page about shopping in Phuket wouldn't be complete without a few words about tailors. There are hundreds of tailors on the island, maybe thousands. You can't miss them because they won't miss you. All try to convince you to walk into their shop using all kinds of fun tactics, like guessing what country you are from and saying a few funny words in your language, often with the right accent. They all have great offers, like two pants + 2 shirts + 1 tie for a great price, and promise a 24 hours delivery. Usually, 24 hours isn't a good idea unless you are really in a rush. It's a lot better to measure at the order and come the next day for a fitting.
It is almost impossible to tell the best, and from what we heard, it's often a lucky draw. In many cases, people don't have a clear idea of what they want and fashion is so subjective; it is difficult to please everyone. Besides, Tripadvisor is full of tailors reviews but look closely: they often sound too good to be true.
---
FAQs about Shopping in Phuket
✳️ Where to shop in Phuket?
Shopping malls have a vast choice but of goods but are more expensive. a. Night markets and weekend markets are the most popular places to shop. Bazaars and street stalls are also everywhere.
✳️ What are the popular souvenirs to buy in Phuket?
a. Most people like to buy those easy to find souvenirs:
Thai silk
Batik
Elephant pants (fisherman pants)
Cushion covers
Handicrafts
Spa products
Phuket pearls
✳️ Should I bargain when shopping?
a. You should haggle at markets, bazaars and in the streets, but rarely in shopping malls and never in convenience stores.
✳️ Is Phuket more expensive than Bangkok?
a. Phuket is often considered more expensive than Bangkok, but it often comes down to your bargaining skills, and shop owners here are used to tourist hesitation to bargain. Shopping malls are about the same price.