What is the best way to go from Phuket airport to my hotel?
Phuket airport transfers are pretty much hassle-free, and there are many ways to get from the Airport to your hotel, wherever your hotel is.
We get daily questions about Phuket Airport Transfers on our Facebook page, and we try to answer them as well as we can. The most popular seems to be the shared mini-bus which is cheaper and the meter taxi. The airport limousine is the most comfortable and not as expensive as you might think. The local bus is by far the most economical way but expects to spend a long time on the road.
Renting a private van to pick you up is the best value for money and comfortable way, especially if you are more than two passengers.
Taxis in Phuket are known to be very expensive, but they will always be cheaper than the airport transfers provided by your hotel.
Grab app is available in Phuket, but they will not pick you up at the airport (some monopoly issue)
Uber does not exist in Phuket anymore.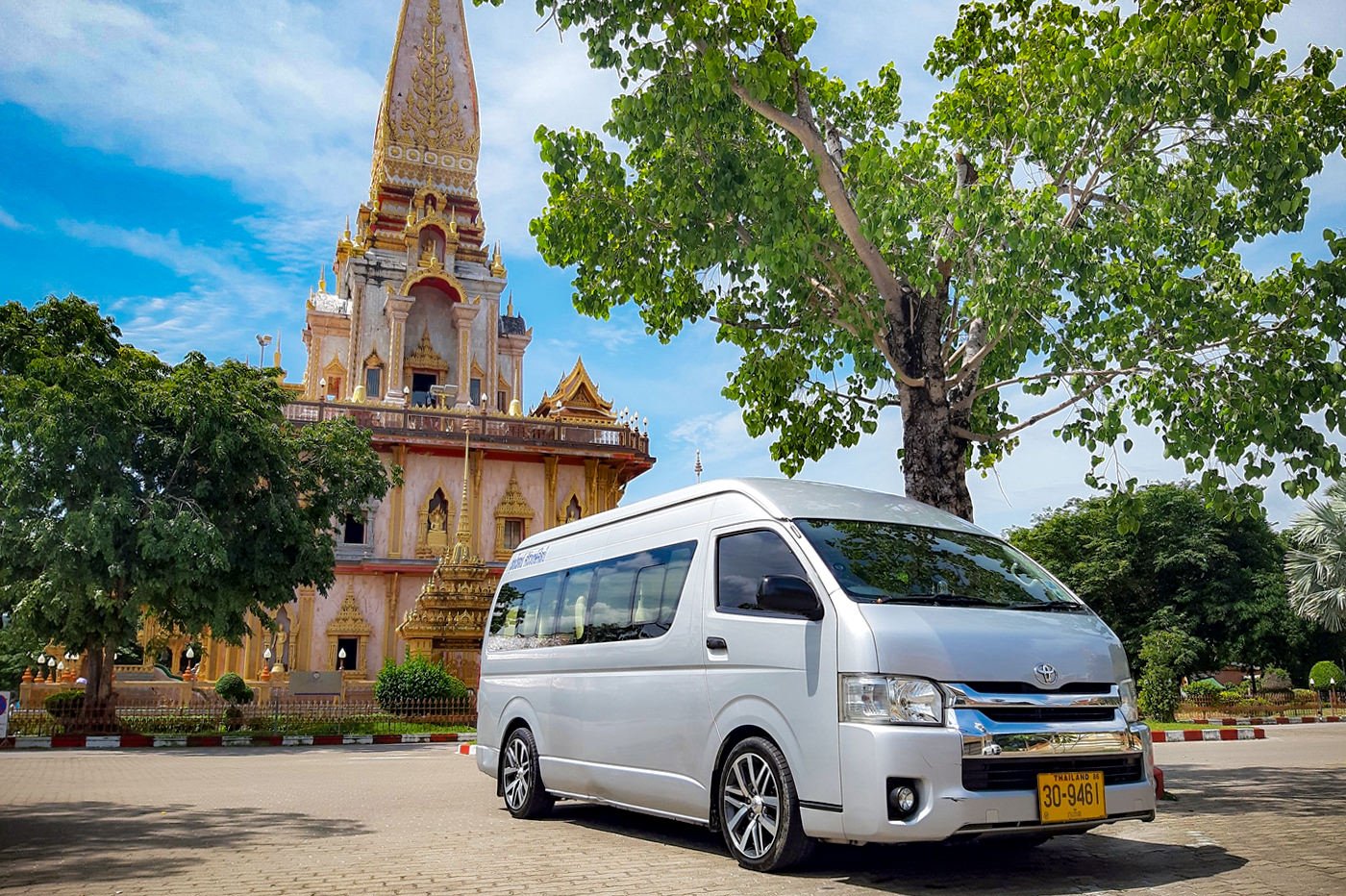 If you want a smooth transfer to your hotel, a private pick-up van is a good stress-free option. A driver waits for you at the airport holding a sign with your name on it, which goes like a breeze. It is even better if you are more than two people travelling together, especially when you all have luggage! Considering how convenient it is, it's surprisingly cheap compared to other options at the airport.
Phuket 101 receives 250,000 monthly visitors on average (500,000 pageviews/month).
If you wish to advertise on this space or other options available on Phuket 101, just contact us.
2. Taxi Meter at Phuket Airport
Where are Taxi-Meters located?
Taxi meters are just outside domestic or international terminals. The taxi-meter counter is easy to spot and is open until the last flight. It is a little cheaper than the airport limousine, but there is an airport surcharge of 100 baht to add to the meter. A taxi from Phuket airport to Patong beach costs about 600 baht + 100 baht airport fee. As usual in Thailand, ensure your taxi driver turns on the meter when leaving. It doesn't seem to happen anymore but better be sure to avoid endless bargains!
3. Phuket Airport Limousine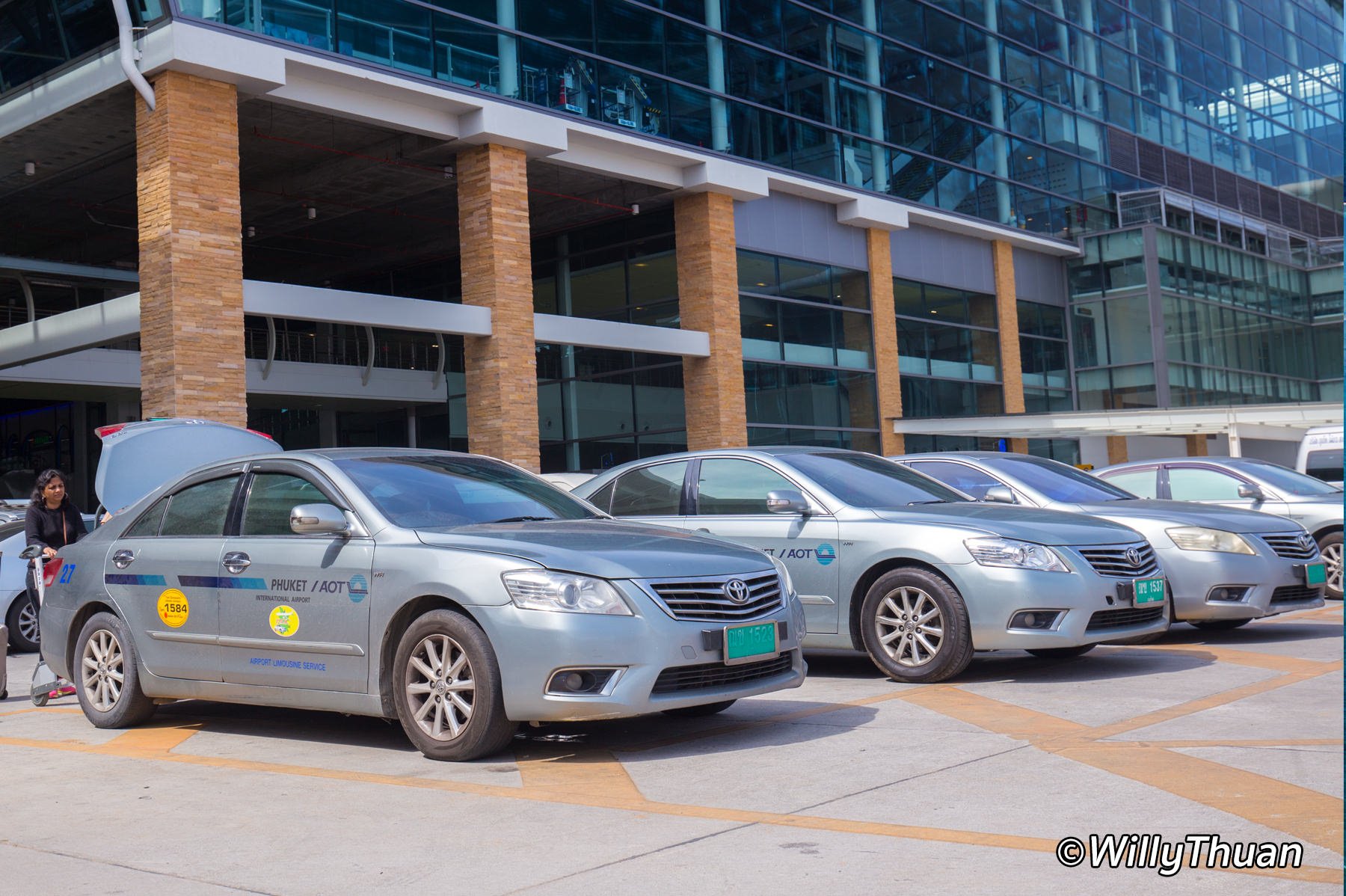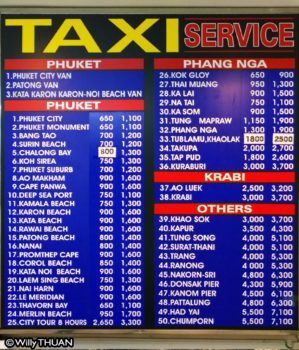 Airport limousines are newer, cleaner, and more comfortable cars. They 'usually' drive safer than taxi meters and are not that expensive since you don't have to add the airport fee. Drivers often speak decent English and will not try to sell you a tour or excursion on the way to your hotel. The Airport limousine counters are inside the terminals, usually just outside the baggage claims. You won't miss them since they will undoubtedly call you "Hello sir, you want a taxi?'. It sounds pushy, but they are legit.
Prices are displayed, but the board showing the fares is long and can be confusing. It seems more expensive than taxi meters, but you get to reach your hotel in a Camry that smells good. Note that the same counter also provides shared mini-vans at reasonable prices.
The image on the right shows the fare for transfers from the airport to your destination. 1st column is for a limousine; 2nd column is to rent an entire mini-van (not to confuse with the shared mini-bus in the next section)
A shared minibus is the best value for money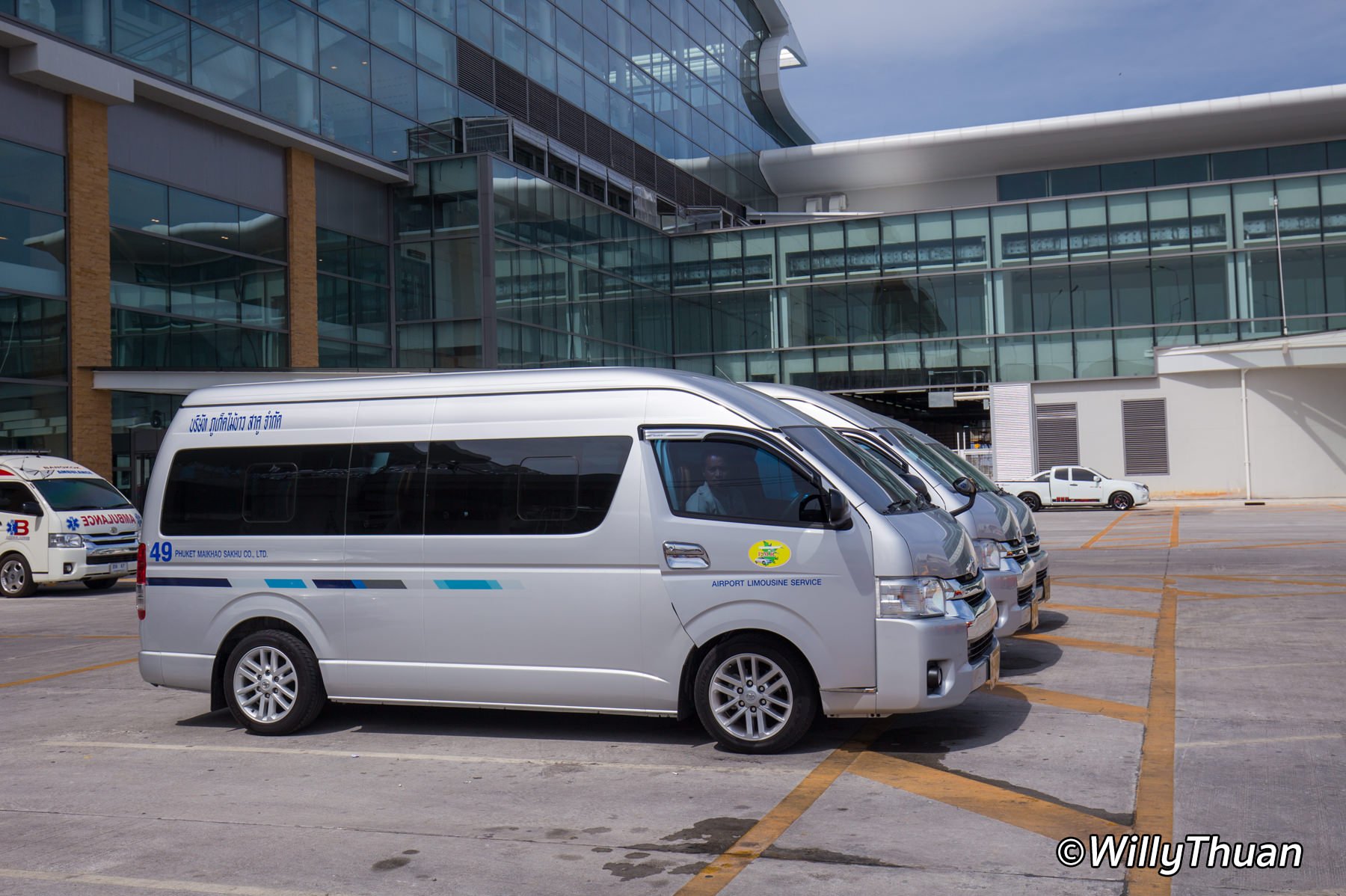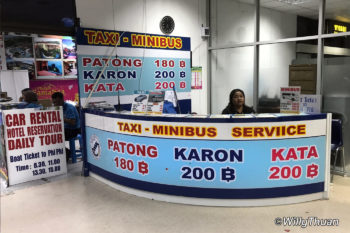 The shared minibus is the best value for money if you are travelling on a budget as the price is about 200 baht per person. On the downside, it can take much longer to reach your hotel: you need to wait for the van to be full, which can be up to 10 passengers, and if you are unlucky, your hotel will be the last on the list, and they will have to drop off every other passenger before you.
You could believe that those minivans also drive slower than cars, but that's not the case; they drive fast, often too quickly.
---
Distances between the airport and the main beaches
Airport to Mai Khao: 8 km, 18 minutes
to Bangtao: 21 km, 29 minutes
to Surin: 23.3 km, 29 minutes
to Kamala: 27.6 km, 36 minutes
to Patong: 39.2 km, 53 minutes
to Karon: 47.2 km, 1 hour
to Kata: 47.6 km, 1 hour
to Chalong: 40.8 km, 50 minutes
to Rawai: 48 km, 58 minutes
to Panwa: 43.9 km, 1 hour
to Phuket Town: 32.8 km, 40 minutes
Here too, note that time varies quite a lot because of the rush hour situation in Phuket! On the way from the airport to your hotel, it is just an inconvenience, but on the way back, as you have a plane to catch, allow plenty of extra time!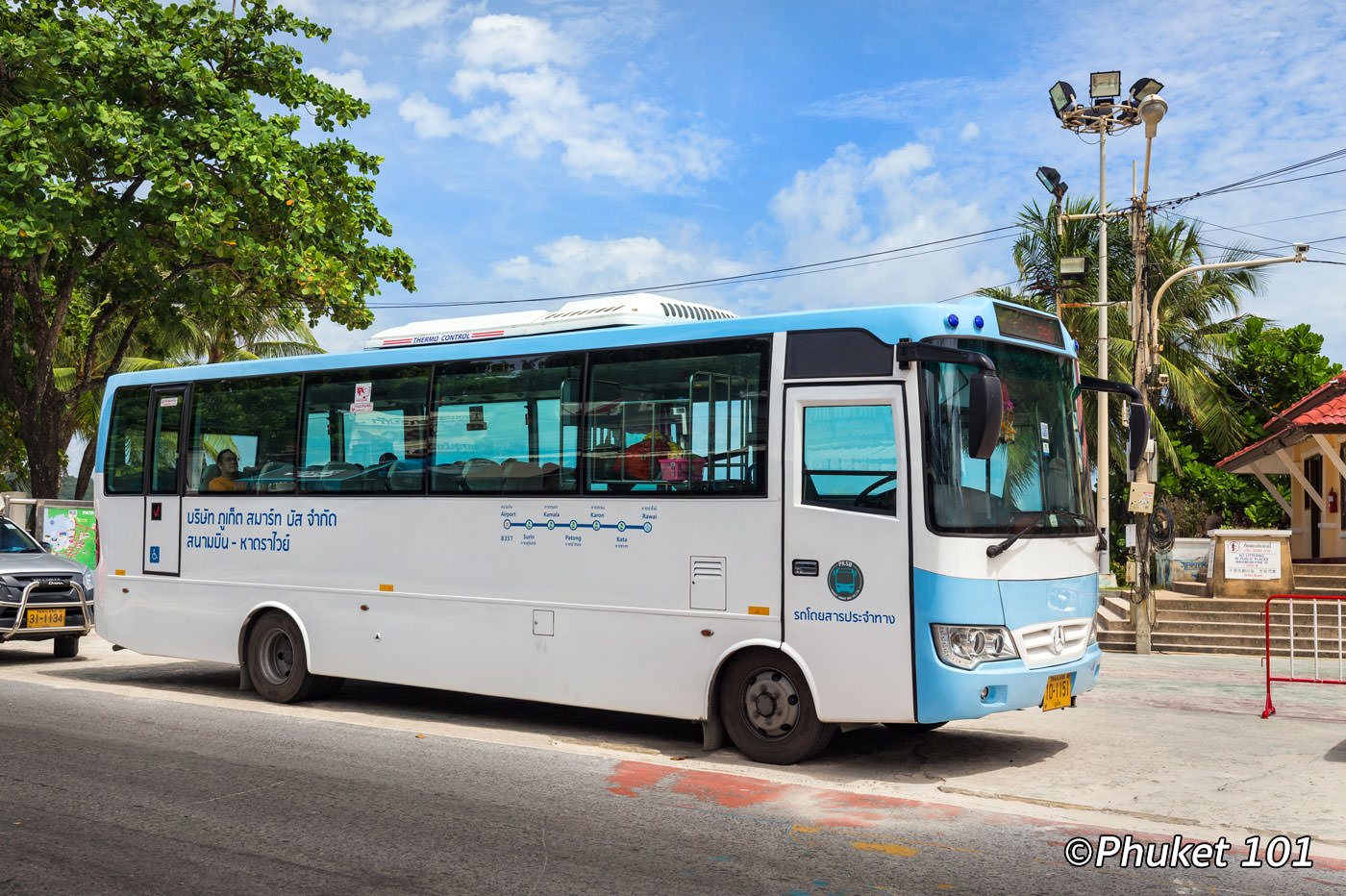 Phuket Smart Bus is cheap but very slow
The Smart Bus is a recent and welcome addition to the Phuket transportation scene. The Smart Bus starts at Phuket airport, both Domestic and International terminals, and drives down the west coast from beach to beach for a minimal fee. It's incredibly cheap but very slow. Read more and see a map of the Phuket Smart Bus route.
Smart Bus Prices and Time:
Airport to Bangtao: 100 baht – 46 minutes
Airport to Kamala: 150 baht – 1 hour
Airport to Patong: 150 baht – 1 hour 25 minutes
Airport to Karon: 150 baht – 1 hour 37 minutes
Airport to Kata: 170 baht – 1 hour 46 minutes
Airport to Rawai: 150 baht – 2 hours 16 minutes
These are estimated times provided by Smart Bus. Knowing the traffic in Phuket, we suspect they are somewhat optimistic!
(Only goes from Phuket Airport to Phuket Town)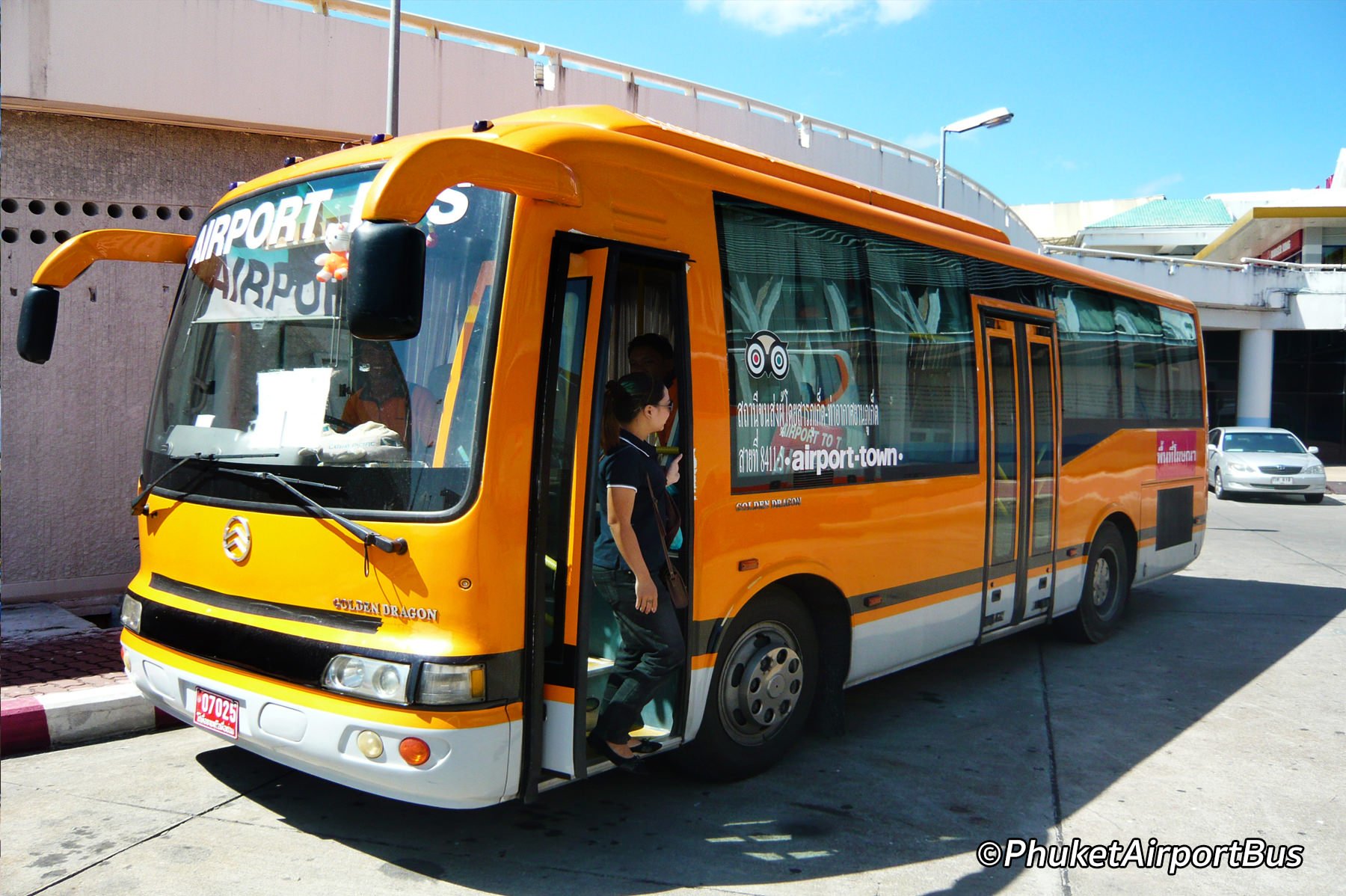 The Airport Bus Phuket has been quietly around for years, but not many travellers ride it as it doesn't go to any beach. It only goes from Phuket Airport to the old Phuket Town bus terminal. The ride costs 100 baht only and lasts 1h30 as the bus stops at eight stations along the way. The Airport bus departs every hour from 5 a.m. to 7 p.m. from Phuket's old bus terminal (not far from the Royal Phuket City hotel).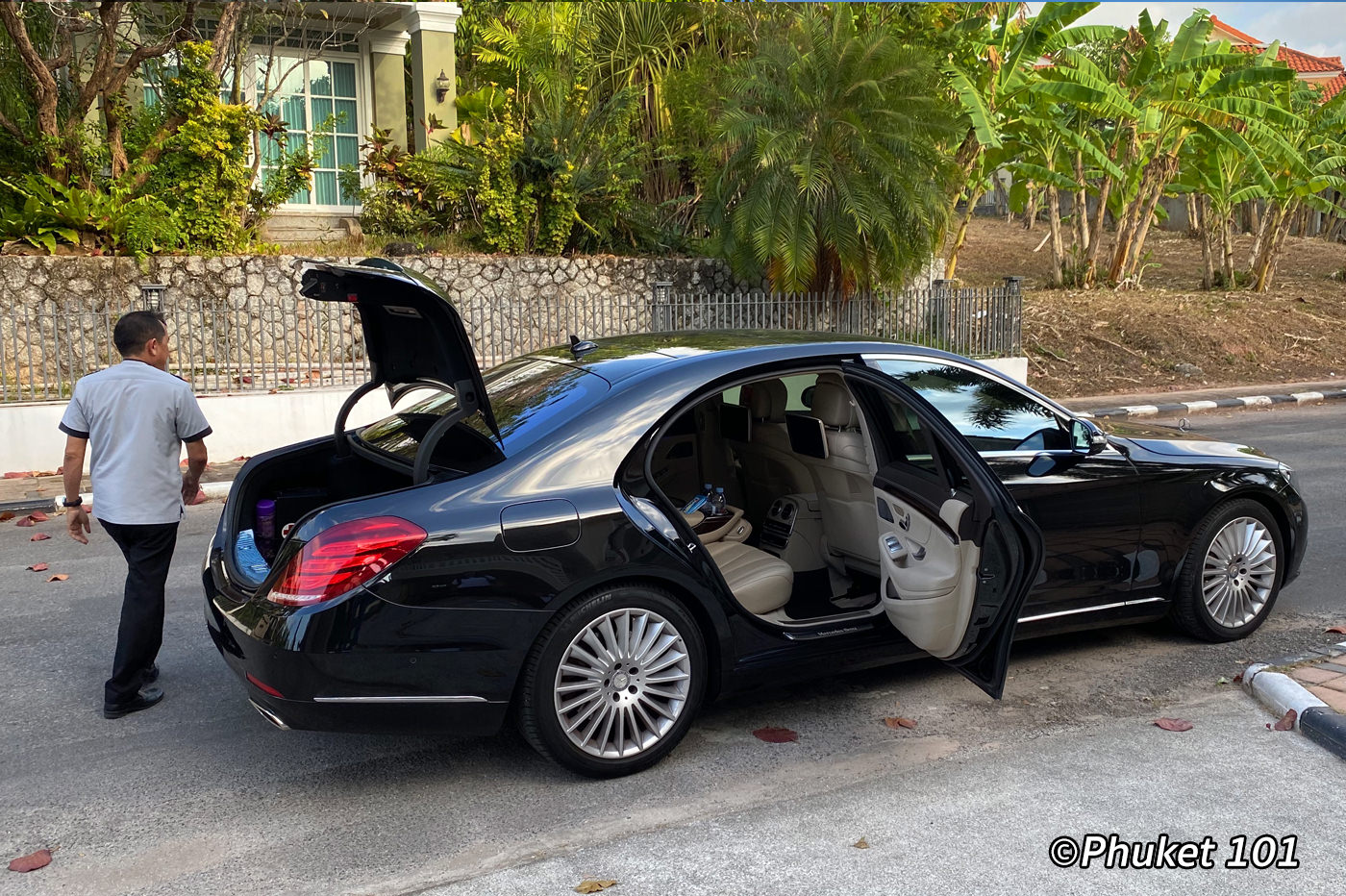 Why not treat yourself or surprise your loved one with a smooth luxury ride from or to the airport with a Mercedes-Benz S500e, Mercedes-Benz E220d, Ford Everest Titanium, or Toyota Alphard Hybrid? Once in a while, it's nice to make it memorable! (especially if you are planning to propose during the holiday). Check the rates at Phuket Luxury Transfers Limousine Service (not sponsored!)
Phuket Airport Map
---
---
More Practical Info about Phuket
---