How to chose the right hotel in Patong?
Patong Beach hotels come in many prices, sizes and locations so finding the hotel that will please both your budget and your need for the best place can be really tricky. Many readers ask for our suggestions but there is no such thing as 'One Patong Hotel Fits All'.
Basically everyone wants for the same things:
Please recommend a hotel in Patong Beach:
right on the beach
close to nightlife
and it must be a quiet
and romantic hotel
Oh, and it must be cheap!
Sorry to be the one to bring the bad news but that hotel doesn't really exist. However some hotels can come quite close, but these won't come cheap, unless you come during low season. To help you picking the right hotel in Patong beach, remember that the price of hotel decreases with the distance from the beach and from the centre. Patong consists on 4 roads parallel to the beach. Each road further back to the hill gets cheaper accommodation…
Once again, we stayed or personally visited all the hotels listed here and we would recommend them to our own friends
---
Hotels close to the beach, but not as close to Bangla:
Amari Phuket is one of these rare resorts in Phuket having a very unique location on Patong Beach. Blessed with its own small sandy cove and a unique view on the entire bay, all the rooms at Amari Phuket are facing the sea!This four star resort is located at the southern end on Patong, just past the large bridge… It is quite a large hotel and despite a slightly dated architecture, the renovated design, two large pools and one of the most romantic restaurants in Patong, makes Amari Coral Beach a long time winner. Read more…
---
Holiday Inn Phuket is a success story since a very long time, and their team makes sure it stays this way. Many might not associate the brand 'Holiday Inn' with 'Luxury Island Resort', so you might be in for a surprise. The location is great if you want to get the best of both faces of Patong: the beach and the city with its shopping and famous nightlife. And yet once in the resort, it is surprisingly quiet. But it takes more than a good location to get it right: many resorts along the beach road don't get that popular. So let me just list what's good and what's not. Read more…
---
Novotel Phuket Resort at the northern end of Patong Beach offers sea views not many hotels in Patong can afford. Designed with typical Thai roofs over an imposing lobby, palm trees and greenery everywhere around three huge cascading pools, the resort is a small Thai oasis in a frantic town. You can choose to laze around the pools or walk down to the beach just across the road. This part of the beach is less crowded and often nicer than other parts, and you can enjoy beach activities or beach massage. Read more…
---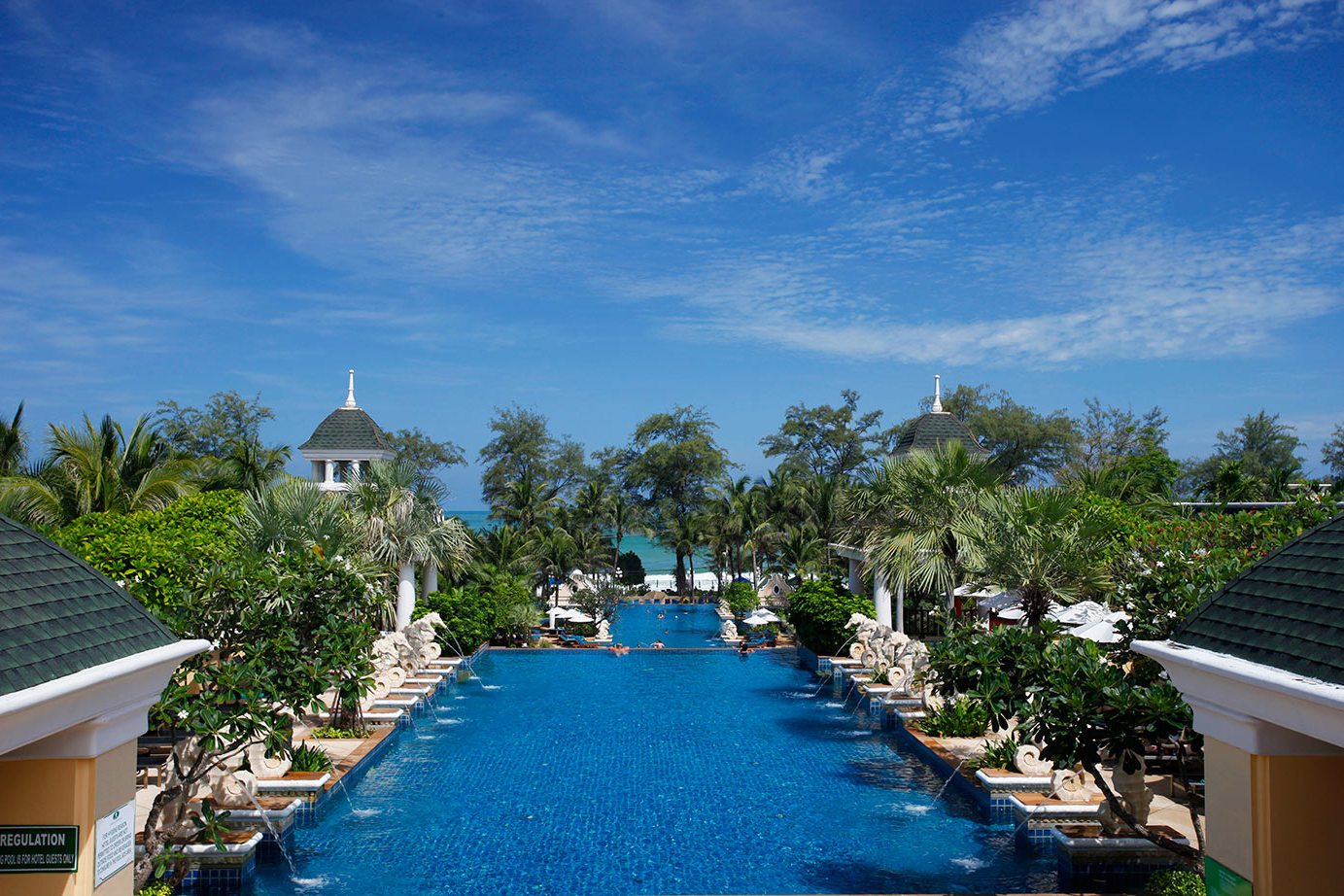 Phuket Graceland Resort is a large hotel located 1km from Bangla and just across the street from one of the best part of the beach in Patong. Graceland features large pools, pool bars and even a popular kids club and a ten pin bowling! This is a 600 rooms with 3 restaurants, large fitness and of course, a spa. Well priced with very good reviews, Phuket Graceland is a good choice for long stays. Read more…
---
Patong Hotels on the beach + close to Bangla road: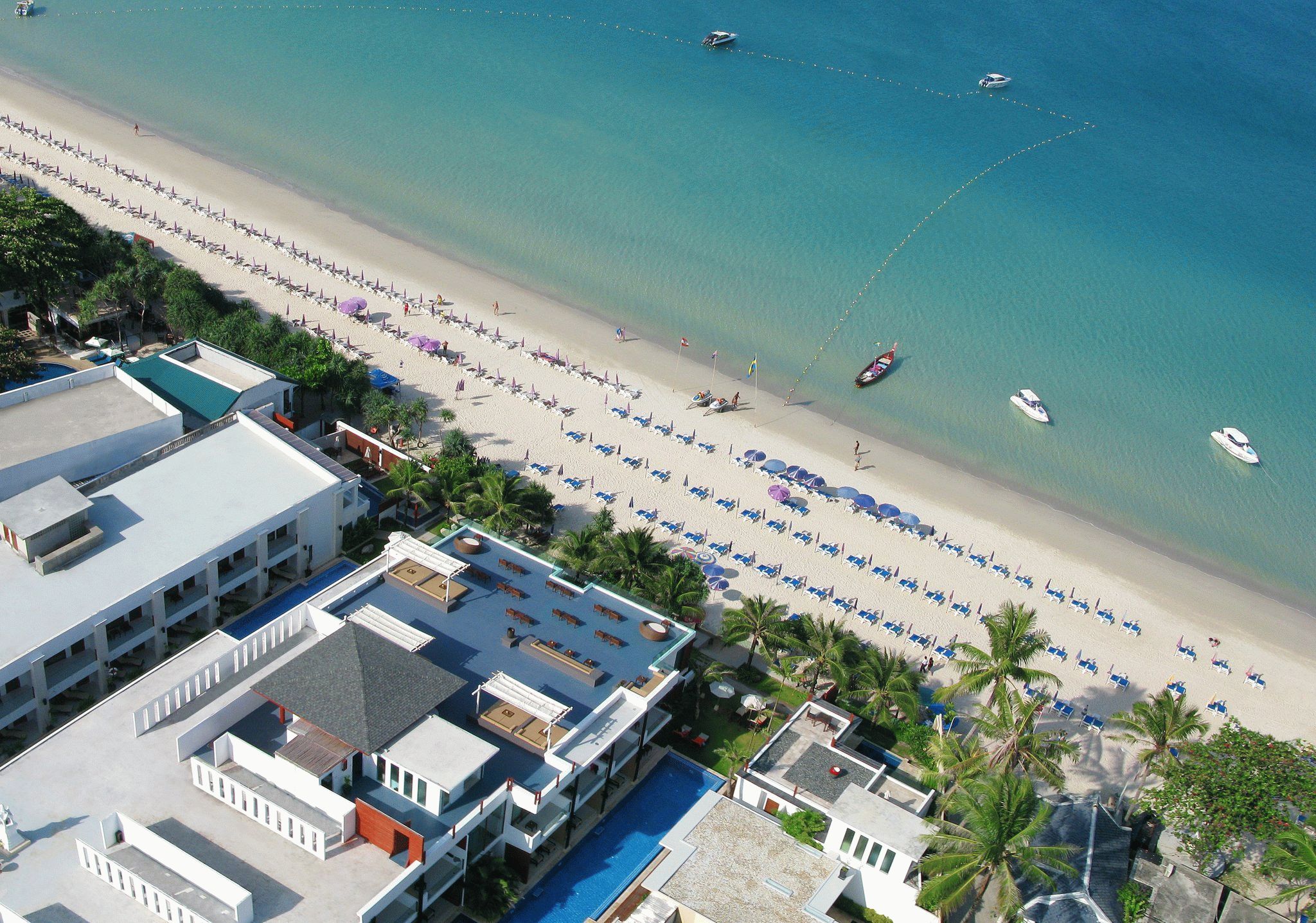 La Flora Patong is a modern resort built right on the beach with excellent guests reviews and it even come with pool room access and pool villa. Located really close to Bangla road. La Flora also featured a nice rooftop bar and restaurant called 'Surface' with a unique sunset view over Patong bay. It's not very high but very pleasant and it's open to outside guests if you want to enjoy a cocktail. Read more…
---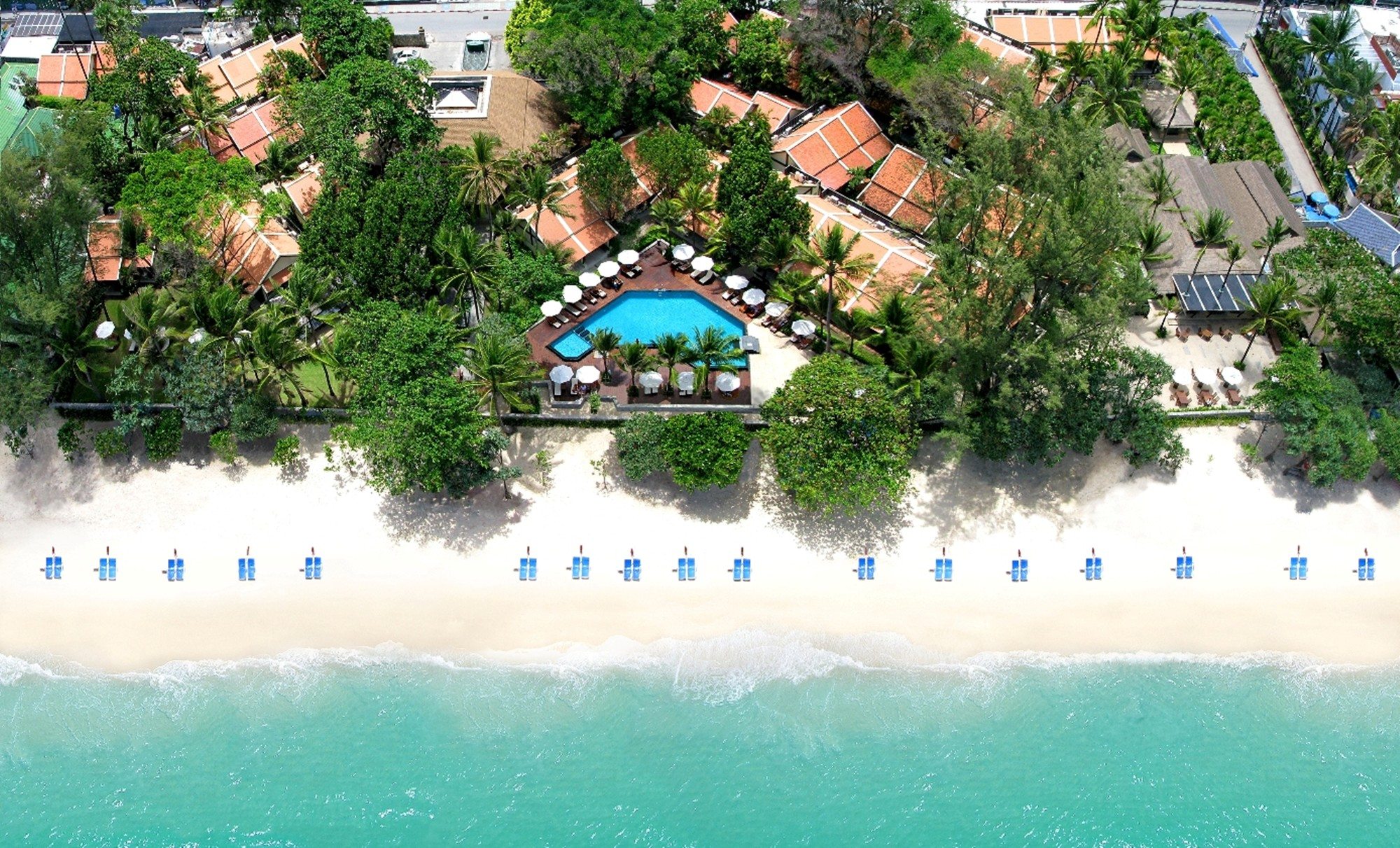 With a great location in the middle of the sandy Bay, Impiana Resort Patong is a 68 room hotel just a hundred meter from Bangla road. The rooms are not very large but the location is really unique. The resort comes with a spa and two restaurant: Sala Bua, a nice beachfront restaurant or 3 Spices on the road side of the resort. Read more…
---
Further outside Patong
Kalima Resort is a seafront hotel located a few kilometers of Patong but still close enough to go downtown within minutes. Built on a green hill near Kalim Beach, the hotel offers amazing panoramic views on the immense bay of Patong. With such unique location, guests can enjoy the views but also a strategic location within minutes to Patong without any of the traffic inconvenience or when driving north, reach the beautiful Kamala, Laem Singh and Surin Beach.
Most of the 190 rooms enjoy sweeping ocean view and waking up with a floor to ceiling sliding windows opening on such panorama is what an island holiday is all about! And the large balcony with chairs and table is perfect to enjoy Phuket sunsets with a cold drink. Read more…
---
Le Meridien Phuket has become an iconic hotel of Phuket, for it's amazing huge pool and most of all, one of the most beautiful beaches on the island. Part of the 'Best Beaches of Phuket' collection, 'Relax beach' or 'Karon Noi beach' is a only accessible by the guests of Le Meridien Phuket Beach Resort. Not well known from most tourists, it happens to have the nicest sand and most amazing blue sea on the island, and it is not far Patong Beach.
With no less than 470 rooms, Le Meridien might be one of the first and largest resorts open in Phuket but it has not lost its charm and never feels overwhelmingly big. The hotel features some excellent restaurants such as Ariake (Japanese), Portofino (Italian), Wang Warin (Thai) and several great beachfront dining, we even come here to treat visiting guests. The spa deserves a special mention and the fitness room is one if the largest we've seen in Phuket. Read more…
---
 Centrally located and still close to the Beach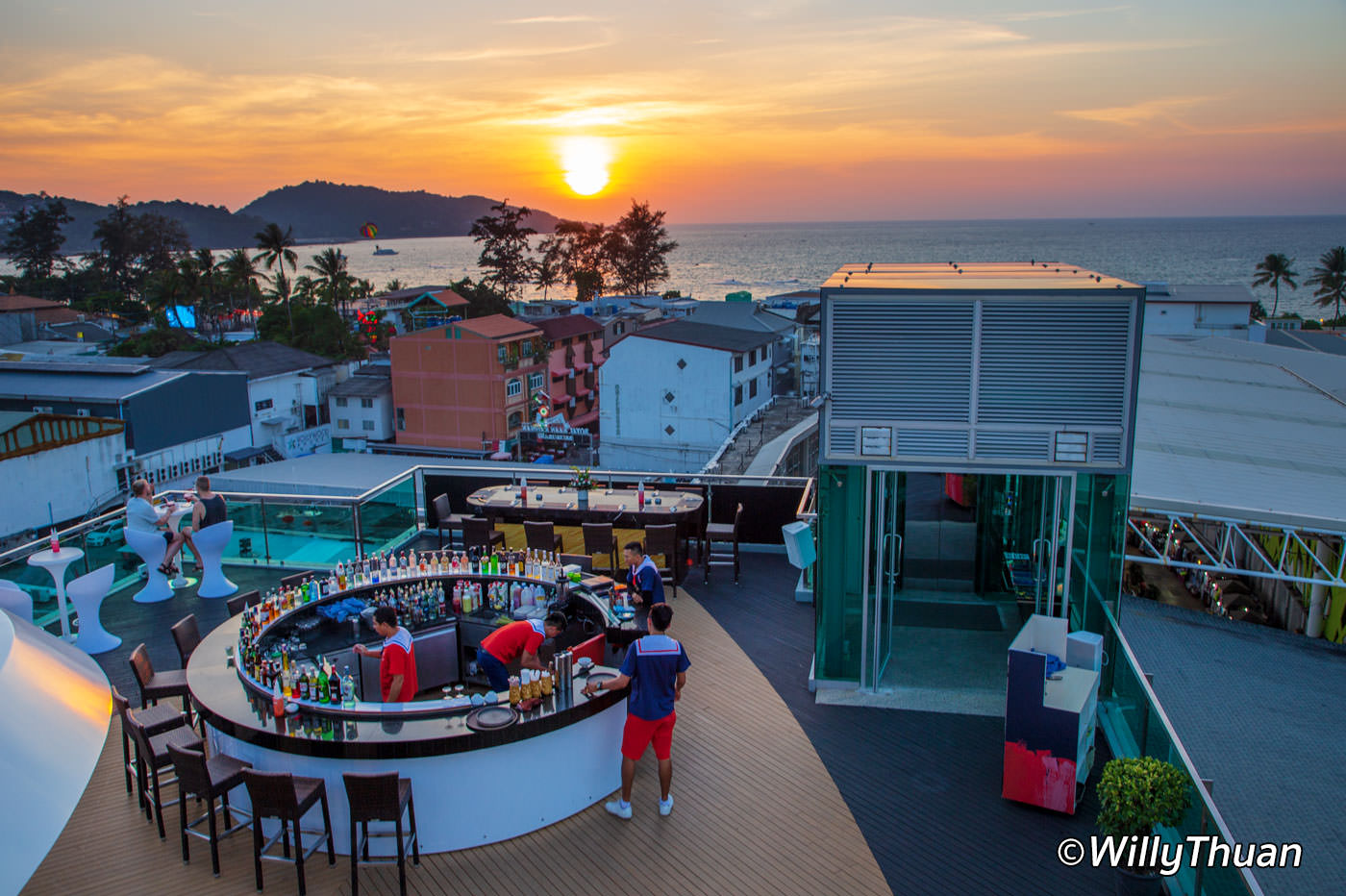 The Kee Resort is one of the best located hotel in Patong Beach for those of you who want to enjoy everything Patong is famous for: fun nightlife, very close to the beach, not far from shopping and not even expensive! Its unique location at the end of Soi Seadragon makes if the perfect place for guests who plan to party but also enjoy well designed hotels equipped with all the facilities you can expect from a 4 star hotel with a good and very friendly service. With 244 rooms and 6 room types, The Kee Resort is quite large but designed in a smart compact way with a modern style. Read more…
---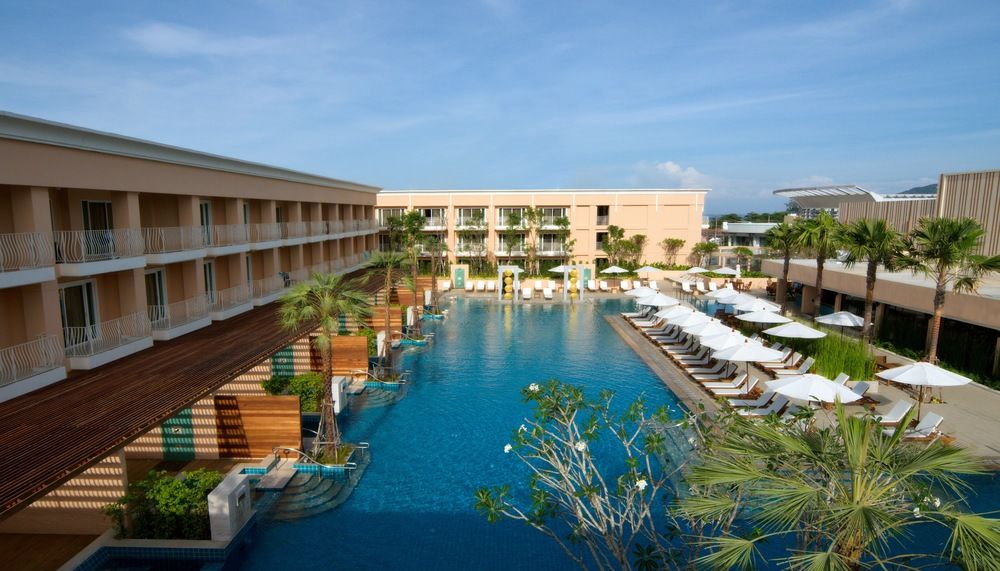 Millennium Resort is another large resort with a lot of qualities for those who want to get the best of Patong. Best of all it is located above the very popular Jungceylon shopping mall with dozens restaurants, shops, cinemas and other entertainment venues but it is just across the street from Bangla Road (Patong beach 'Party Central'). In addition, the beach is at walking distance. Millennium Resort features 2 large pools but they can get busy at some time of the day. Rooms are well design and price is really good for so much convenience. Read more…
---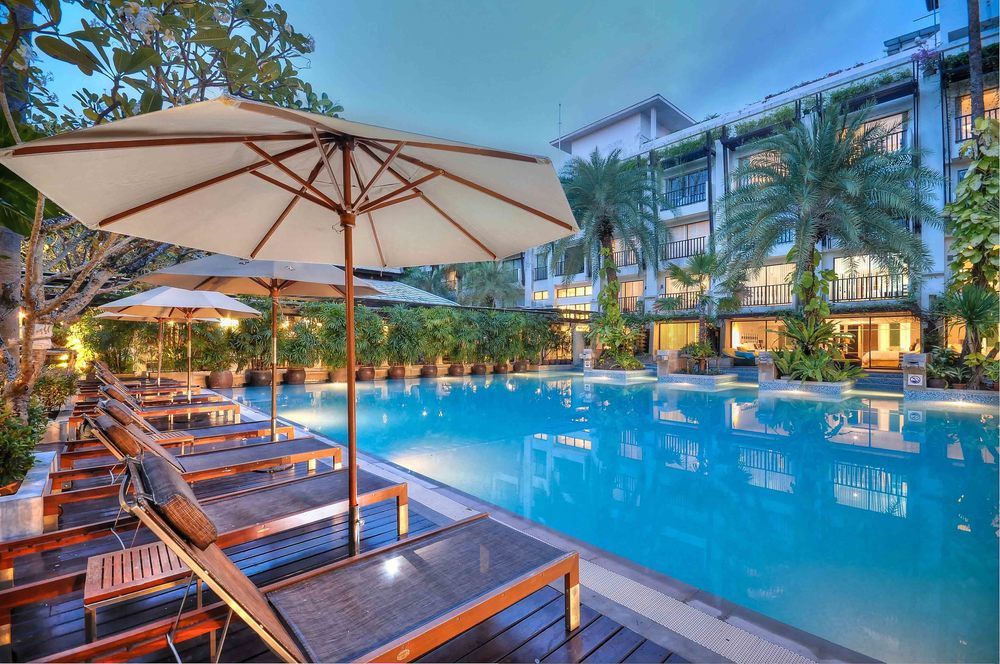 Burasari resort is not exactly on the beach but not far at all and still benefit from an excellent location with a lot of restaurants and shop all around, just 10 mn walk from the famous Bangla Road. This 184 rooms hotel located just opposite the famous Holiday Inn Resort is really well designed and has been success since its opening.
Burasari features a Thai restaurant called Kantok, a bar (Misty Bar) and most important a pool bar. The hotel also has a spa with a lot of fancy treatments (which resort doesn't have a spa in Phuket nowadays). The hotel rooms are of a good size, well designed and with balconies. The swimming pool area is very popular with a lot of greenery but what made the success of the Burasari is the staff kindness and efficiency. Read more…
---
Then there are tons of other hotels worth checking, but we didn't personally stay in these hotels but we inspected them and reviews are very positive.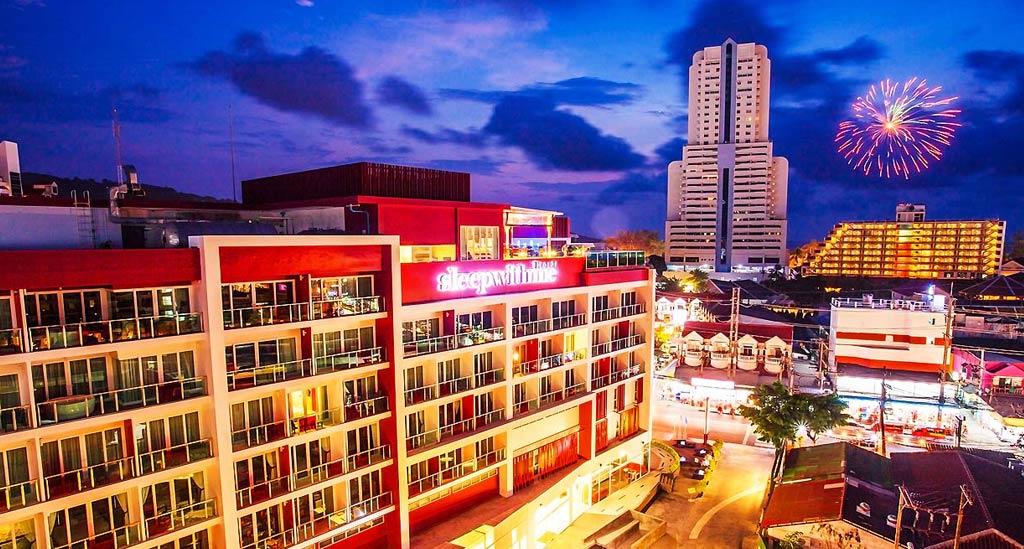 Sleep with me is a well priced hotel in a good strategic location if you want to be close to the nightlife, the shopping, not too far from the beach AND you don't want to pay a fortune for it. Simple but with a young modern design Sleep With Me is a name that you won't forget. We always wonder how much it contributed to the success of the hotel. One of the nice feature is the rooftop bar and swimming pool. They are not large but it's a nice place to hang at the end of the day. Read more…
---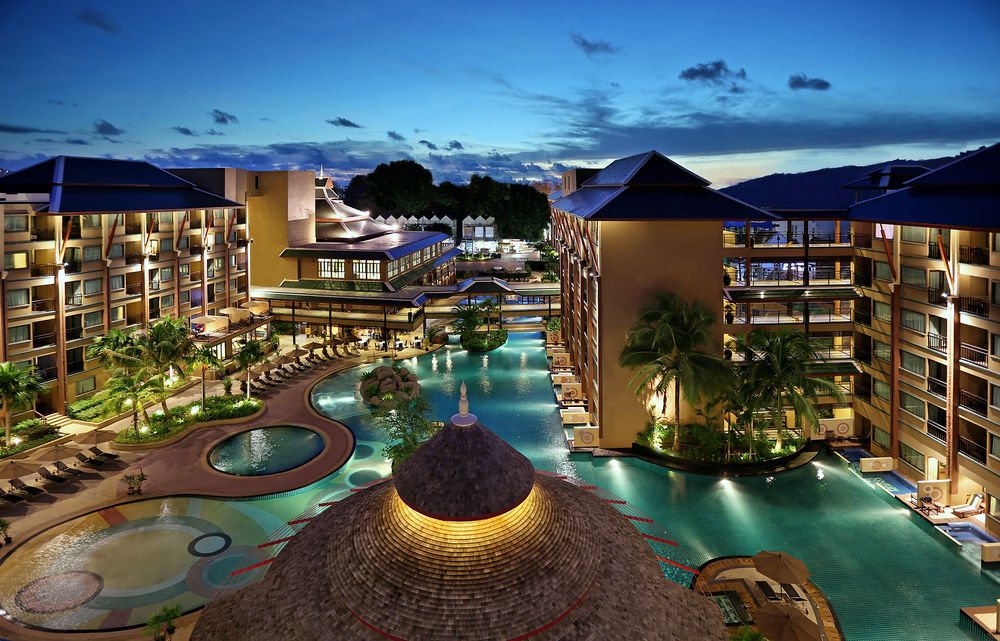 Great hotel for families with a very large pools and plenty of pool access rooms and a superb pool bar. Located on the second road of Patong, it's not far from the beach and at walking distance from Jungceylon shopping mall. The road in front is very busy but the resort is an oasis of peace. As the hotel is relatively recent, the rooms are large and well appointed, with rooms specially designed for kids. This 300 room hotels has excellent reviews and well trained staff. Read more…
---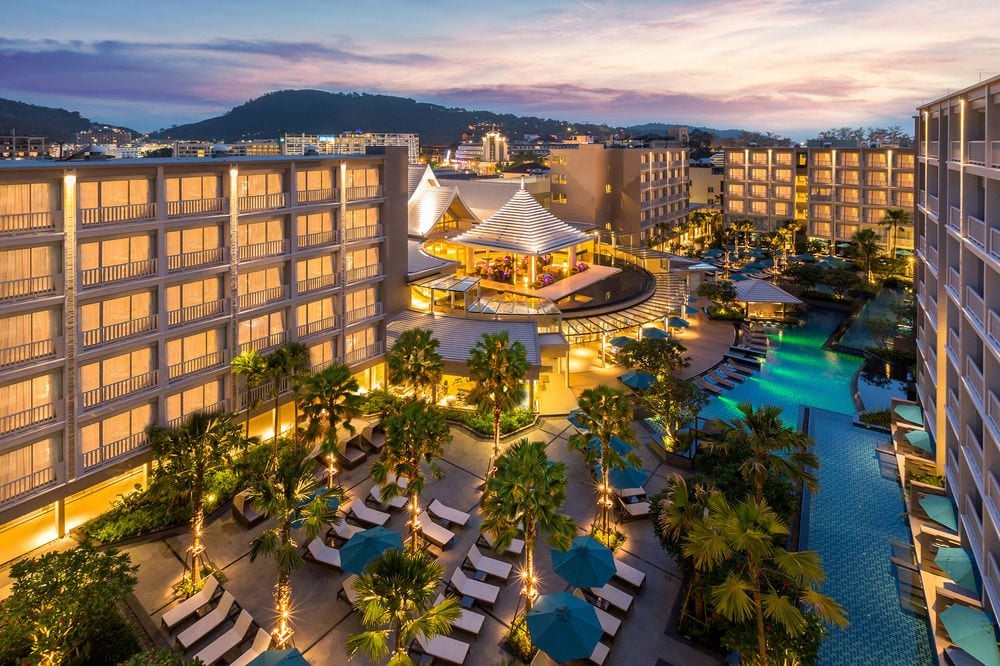 This large hotel offer all the comfort and features of an international chain hotel. In many countries 'Chain hotels' is often synonymous to 'soulless' but not here. Service and design is up to today's travellers high expectations. The hotel is at decent distance from the beach and from the heart of Patong beach. Read more…