Where to rent a car in Phuket?
Renting a car in Phuket is a great way to explore the island and its surroundings. Finding a car rental company is easy and hassle-free if you follow some basic rules. We recommend booking in advance with a reputable international brand to avoid any bad surprises. You can see the list below.
Driving in Phuket is known to be hectic and unpredictable, but if you focus on the road and the vehicles around you, it's not that difficult. Just read this page before you go, and you will be a little more prepared. Traffic in the southern part of Phuket can be hectic because underpasses and overpass constructions add to the usual rush hour.
Five Ways to Rent a Car in Phuket
---
Price comparison for major companies
We search for cars for the same dates, use Pay at Booking + pick up and return at Phuket Airport + automatic vehicles. Here is what we found (prices change all the time, and these are rather for you to compare the range of each company)
---
---
The sites below may not be functioning
---
2. Renting a car directly at Phuket Airport with international brands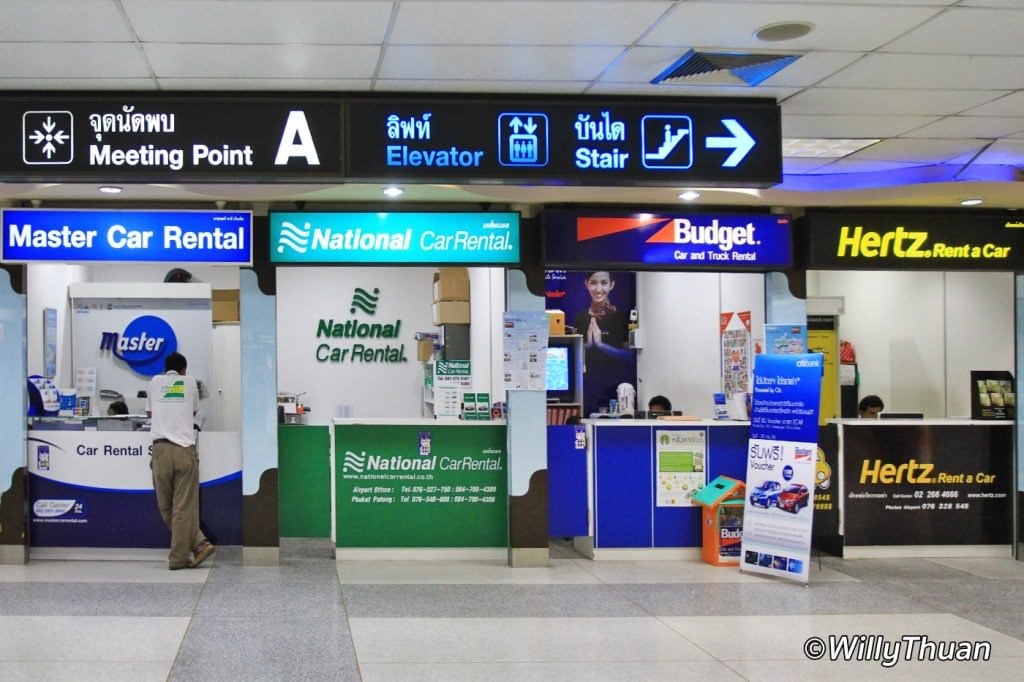 Ideally, you booked your car in advance, as advised above, and all you will have to do is pick it up upon arrival. The time it takes to collect the vehicle varies a lot, even if all the documents are in order. Just be patient; it never speeds up the process if you get angry 😉
If you didn't book, most companies would probably have a car for you, but your choice might be limited; the vehicle could be old or worse if you arrive at peak season: no more cars available!
Staff at car rental airport counters can appear moody, but you have to understand they often have to deal with grumpy people landing after a long uncomfortable trip and queuing at immigration for a long time.
(You can probably rent a car at your hotel, but you will end up with one of those international brands, and you will have to pay the hotel commission on top.)
---
Below are some of the companies you will find at the terminal; they are easy to find, and all are next to each other.
3. Rent a car With a local company
More Practical Info about Phuket