Where to Stay in Kata Beach?
Our Kata Beach hotels have the privilege to be located on one of the most beautiful beaches of Phuket, with just the right mix of restaurants, shopping and fun nightlife. Kata is a 2 km long bay of really superb white beach and blue water. Not many hotels have the privilege to be right on the beach so you should take advantage of it.
Of course, such a fantastic feature comes with a higher price tag but think about it: You really can walk from your room right onto the beach! (Note that this page combines both Kata Beach and its little sister Kata Noi Beach, as just a kilometre separate them.)
So here are our favourite Kata Beach Hotels, we tried them all, and we would recommend them to our friends anytime! Those Hotels are right on the beach!
---
[the_ad id="30528″]

The Shore at Katathani is one of the most exclusive hotels on Phuket, probably one of our best experience on the island. The hotel combines all the ingredients effortlessly for a perfect escape: a location right on a beach, villas with jaw-dropping views, genuinely caring staff, an excellent restaurant, a good spa and countless small details that make the difference between just a regular 'hotel stay' and a truly unforgettable holiday.
The location is always what impresses first, right on and above the secluded beach of Kata Noi, a superb white sandy bay that has remained unspoiled because it's not on any main road. Most villas offer views on this bay; you never get bored with it, so make sure you book a sea-view villa! The villas are magnificent, designed to take full advantage of these unique panoramas and with evident attention to small details. see today's rate for The Shore at Katathani
[the_ad id="30528″]
---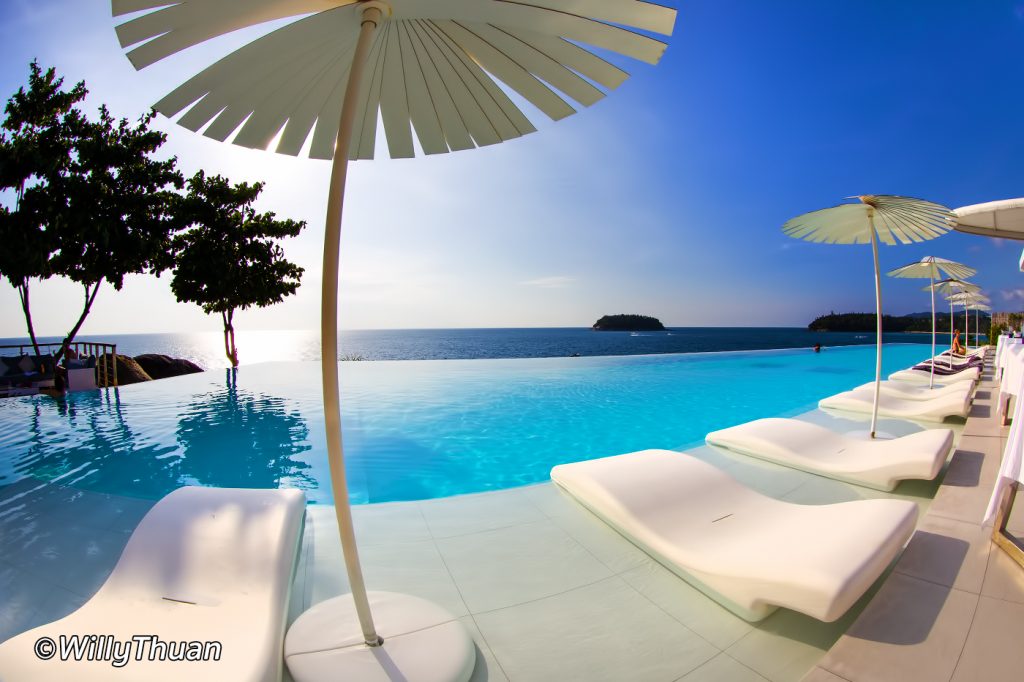 Kata Rocks is changing the face of luxury accommodation in Phuket: more than just a hotel stay, it's an unforgettable holiday experience. The hotel is on a hill at the south end of the superb Kata Beach, and from up there every Sky Villa offers fantastic views on the Andaman Sea. Kata Rocks design is beautiful and it's fun to go around to take photos, especially the iconic umbrellas in the infinity pool. We had to wait for a long time to experience this resort because of its growing popularity, but the day had finally arrived. see today's rate for Kata Rocks
[the_ad id="30528″]
---
Katathani Phuket Beach Resort is one of our favourite hotels on Kata Noi, one of the most beautiful beaches in the south of Phuket. Built along 450 meters of a perfect sandy beach, these well designed 479 rooms (all non-smoking) offer a large number of rooms with sea views. Katathani resort features a spa, six restaurants and 5 bars, some of which are right on the beach.
The resort consists of two wings: Katathani wing offers mostly Sea view Junior Suites and next to Katathani, Kata Bhuri Wing may not have sea views, but cheaper rooms and an immense pool. Katathani resort has no less than six swimming pools! see today's rates for Katathani Resort
[the_ad id="30528″]
---
Mom Tri's Villa Royale is not just your regular hotel; it was the private house of Mom Luang Tridhosyuth Devakul, a famous artist and architect better known in Thailand as 'Mom Tri', a descendant of a King Mongkut Rama IV. Almost two decades ago, Mom Tri converted his summer house into this surprising boutique hotel built on a rocky hillside overlooking the beautiful waters of Kata Noi Beach.
Mom Tri's Villa Royale consists of two wings. In the original house, each room has a different design, shape, size and decoration and flower name such as 'Dao-A-Dung', 'Fueng Fa' and 'Toey Talay'. We stayed several times at Villa Royale and each time was a different room and a different experience. One of the suites even comes with its en-suite wine cellar built inside the rocky cliff and was initially filled with a large selection of excellent crus. see today's rates for Mom Tri's Villa Royale
---
The Boathouse is one of the only two hotels in Kata Beach having direct access to the beach. And what a beach! This long-established hotel is relatively modest in size but offers eight different room types, all facing the sea. The Boathouse is also home to 'The Boathouse Wine and Grill' one of the best restaurants on the island with an award-winning wine cellar (we tried the wine dinner) and to add to the fun; the hotel also has 'Re Ka Ta' a cool beach bar with amazing sunsets. See today's rates for The Boathouse
---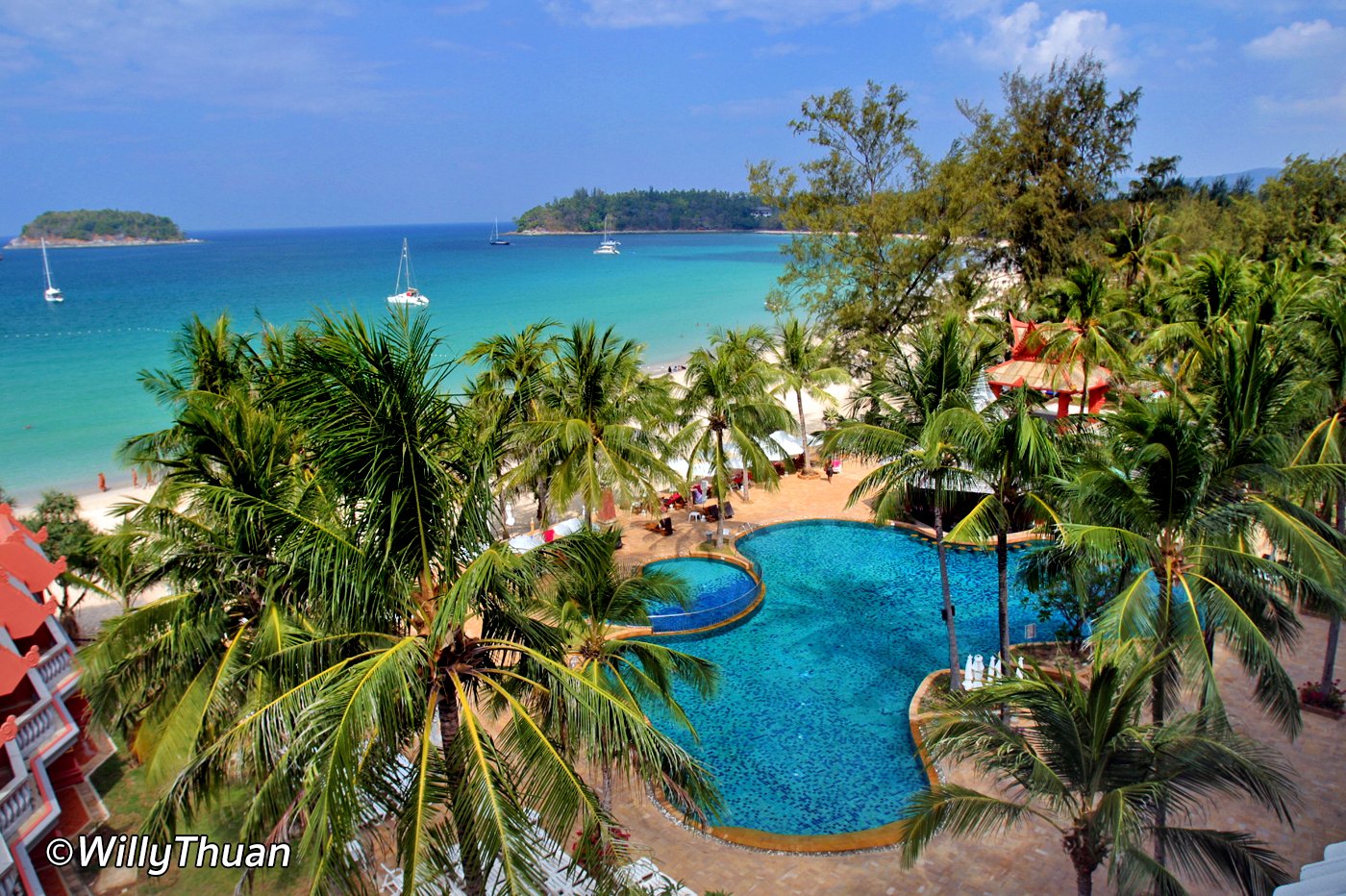 Beyond Resort Kata is a long-established hotel in Phuket. The location right on the beach in south Kata is fantastic. With 275 rooms, this is not a small hotel, but the situation is unique if you want to get the best of everything. On one side is a fantastic beach, on the other, plenty of restaurants and shops to have fun after the sun. Kata Beach Resort has two pools, two restaurants and of course, a spa (which hotel doesn't have a spa in Thailand?). See today's rates for Kata Beach Resort
---
More popular hotels to be added soon
Chanalai Romantica Resort, Kata Beach, Phuket (long walk around club med)
Chanalai Flora Resort, Kata Beach, Phuket #5 Novotel Phuket Kata Avista Resort and Spa
Orchidacea Resort – Kata Beach, Phuket
OZO Phuket
The Sis Kata
---
More about Kata Beach