Phuket Rooftop Bars Must-Do List!
Phuket rooftop bars are just a handful, but the trend has started and is here to stay, especially after the success of the many Phuket Beach Clubs, people are always attracted by bars with a little something on top.
There is a law in Phuket that says that construction within 200 m from the beach cannot be higher than a coconut tree (12m). This law was passed about 15 years ago, which explains the few exceptions such as the Royal Paradise Hotel, Patong Tower and Centara tower in Karon.
So don't expect some super high rooftops such as Vertigo or the famous Sky Bar in Bangkok. On the other hand, Phuket does have lovely hills, and a lot of small bars are taking advantage of the panoramic views from up there. Most of them won't cost you too much. The most famous hillside bars are Wassa Homemade Bar in Patong, After Beach bar on Kata Noi and Heaven Rooftop bar also near Kata Noi beach.

Cape Panwa

Baba Nest at Sri Panwa is the ultimate rooftop bar in Phuket. It's far, hard to find, hard to get, and there is usually a two weeks waiting list to get a table, but it's worth it. Once you managed to get a table, hold a cocktail or even better, a glass of Champagne, and witness a glorious sunset over the Panwa Bay, you will know why you went through this. Baba Nest is in Sri Panwa Hotel, on the remote Cape Panwa on the south-east of Phuket Island, high above Phuket Aquarium. Read more

Between Kata and Nai Harn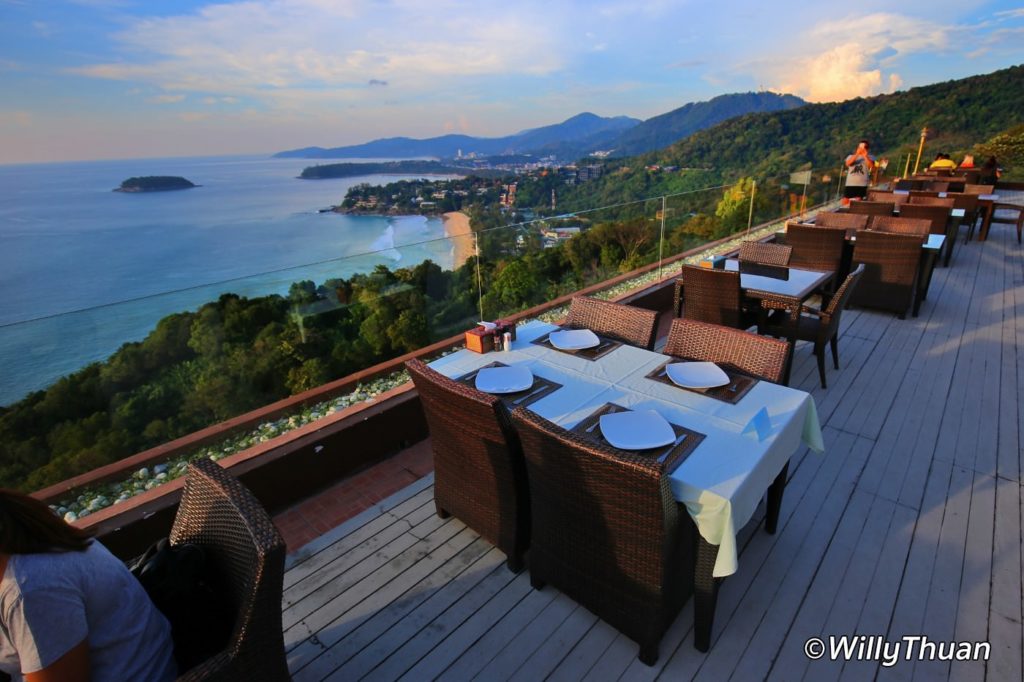 Heaven Rooftop Restaurant is a little know viewpoint terrace located just below the very famous Karon Viewpoint. Heaven bar is in the trendy style usually found on beach club and is a great place to end the day with a sunset. Most important, it offers some pretty amazing views over the three bays of Kata Noi Beach, Kata Beach and Karon Beach further in the back. The food is a mix of Thai, Italian and Russian as most guests were Russian. The place plays some lounge or house background music, not too loud that fits the atmosphere well. Read more

Kamala Beach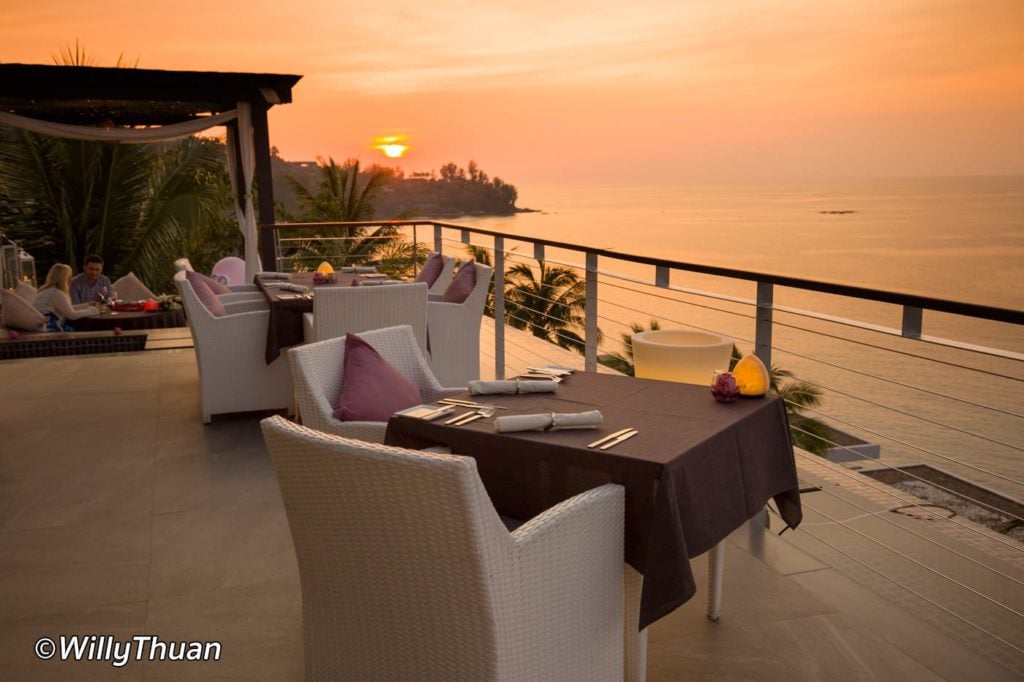 Vanilla Sky
offers a stunning and unobstructed 180-degree panorama above the bay, with Rayee Beach on the left and the main beach of Kamala on the right. The bar is large enough to accommodate everyone but of course, better come a little early to get the best seats. Sunsets are usually around 6.30 pm, but you can quickly check google for the exact time.
Read more

Patong Beach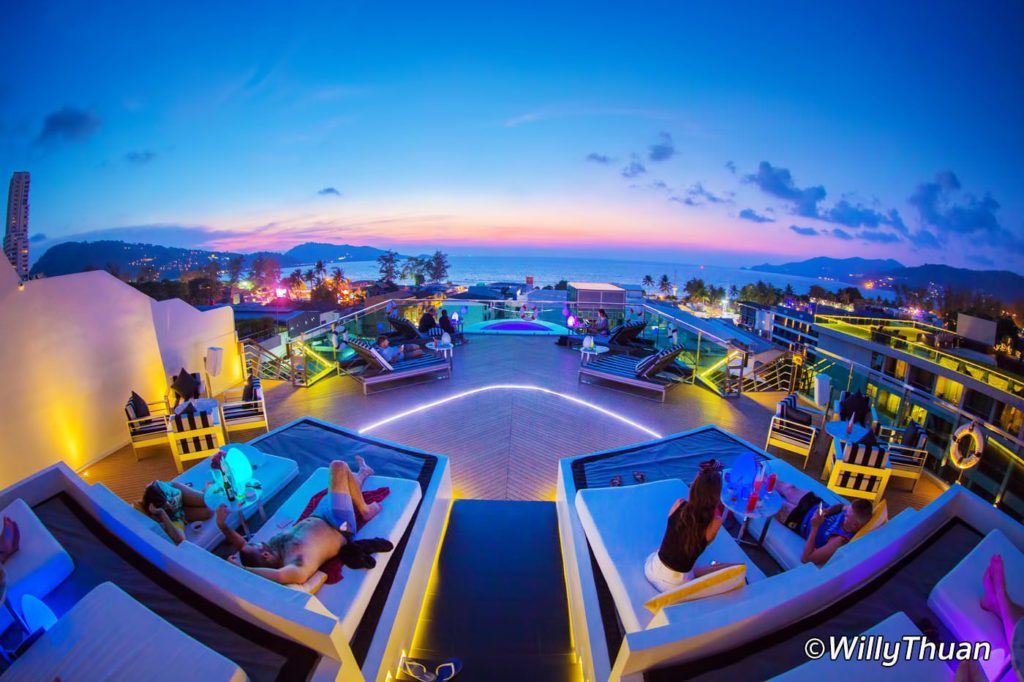 The amazing Kee Sky Lounge rooftop located on the 7th floor is a vast terrace built on two levels. The first one with a circular bar and great sofas to enjoy the music played by the DJ. Key Sky Lounge is an absolute must at the end of the day when the sun sets go up there, order a drink with some food from the menu and get a unique viewpoint of the bay of Patong on one side, and the city on the other. It might just be seven floors but the sunsets photos you get from the top are amazing! Read more

Patong Beach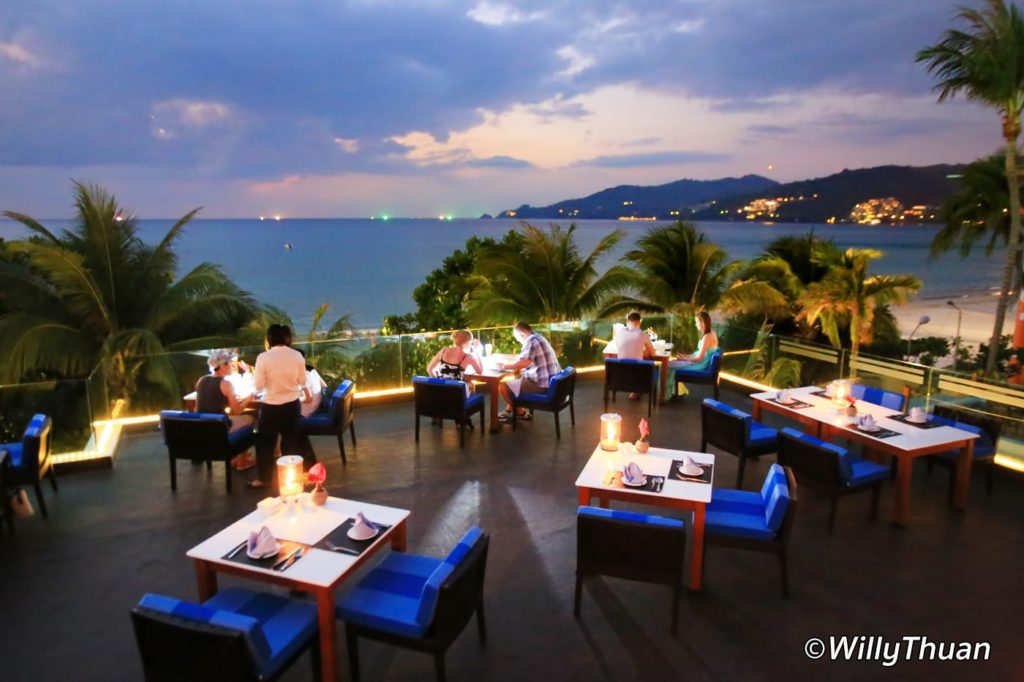 Surface rooftop bar at La Flora hotel in Patong is one of the few rooftops of Phuket, but as beach-clubs did, the number seems to be growing. Just like in Bangkok, people seem to be irresistibly attracted to rooftops as everything looks so much better from up there, and photos are so beautiful. Read more

Kamala Beach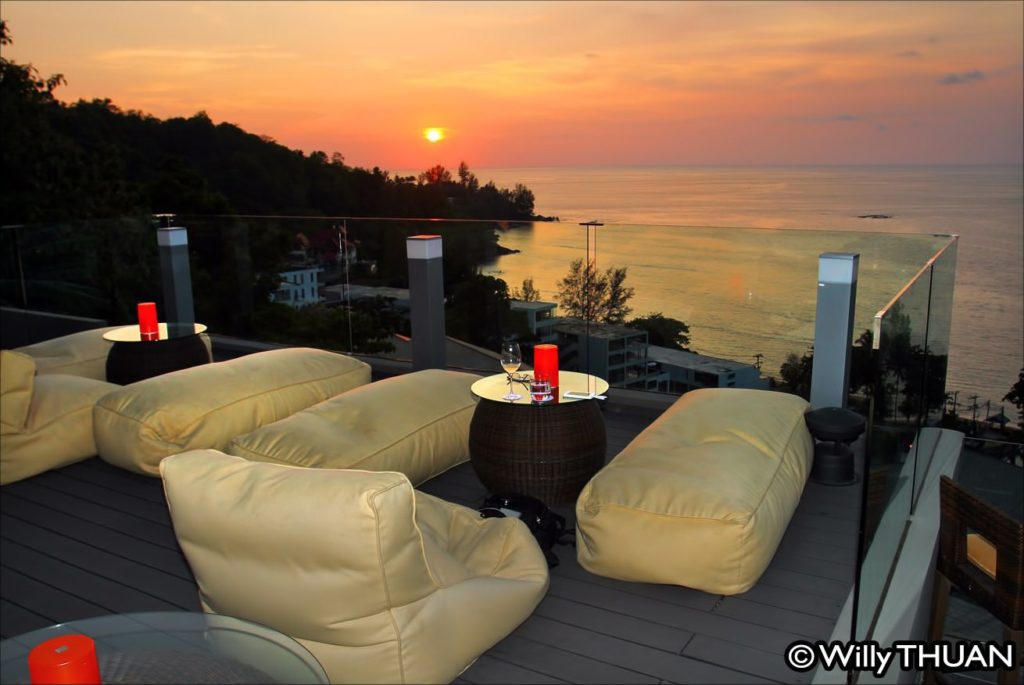 The Hyatt Regency Resort highlight is the Sunset Grill and the rooftop bar next to it. Phuket now starts to have rooftop bars too, and Phuket views can beat Bangkok rooftop bars anytime! I spent a good hour on large comfy bean bags with an excellent Monkey Bay Sauvignon Blanc, treating myself to a spectacular sunset above Kamala Cove, the greatest reward after a long travelling day. Read more

Kata Noi Beach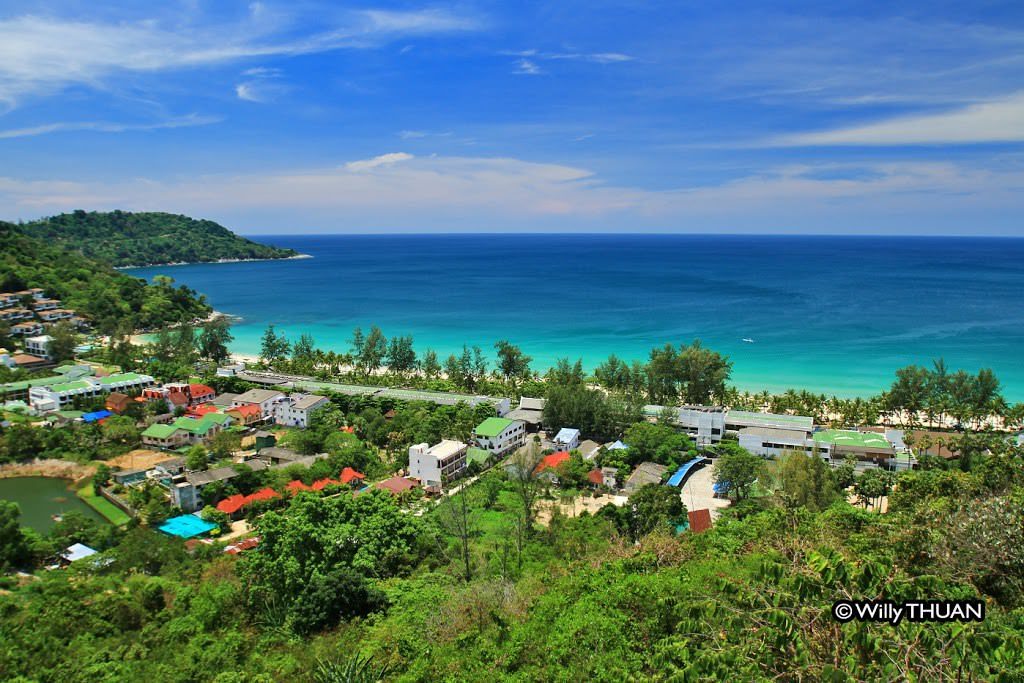 After Beach Bar is a modest looking place with a strong reggae identity found just passed Kata Noi Beach on the way to Nai Harn Beach. It's a simple looking bar with thatched roofs, but After Beach Bar is known to have one of the most amazing panoramas on the island, a superb bird's eye view on the pristine blue bay of Kata Noi Beach. Read more

Layan Beach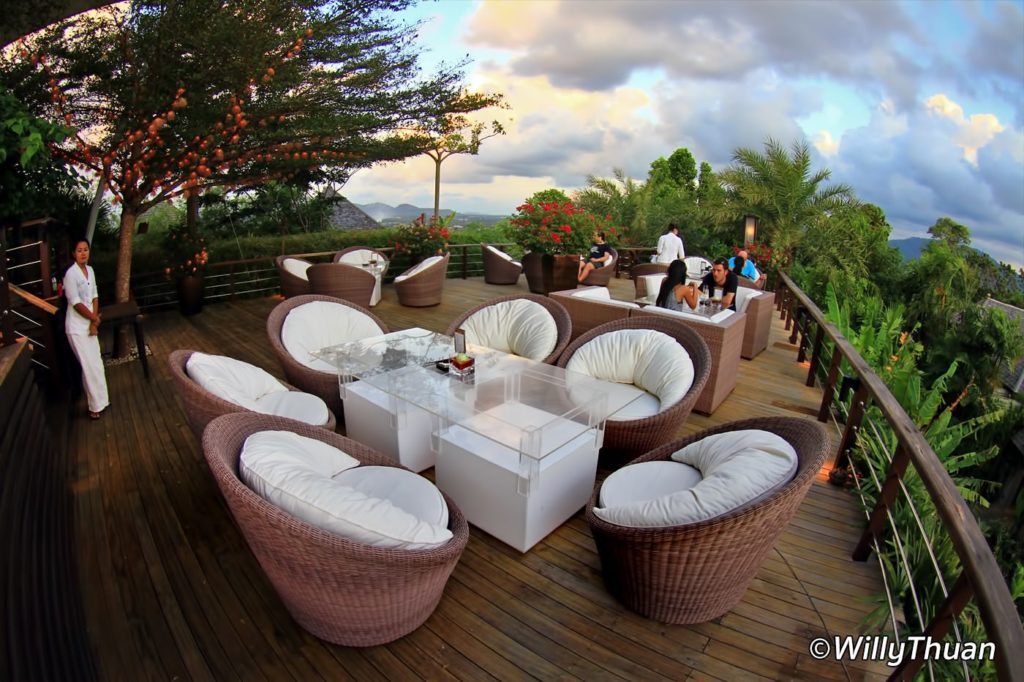 With so many restaurants in Phuket, picking a new romantic dining venue, we haven't yet tried was going to be challenging. But once again, Phuket hides little gems you need to take the time to discover, and Phuket Pavilions is one of them. Of course, we heard of it before, but it is so 'out of the way', you almost have to deserve it. Read more

Phuket Town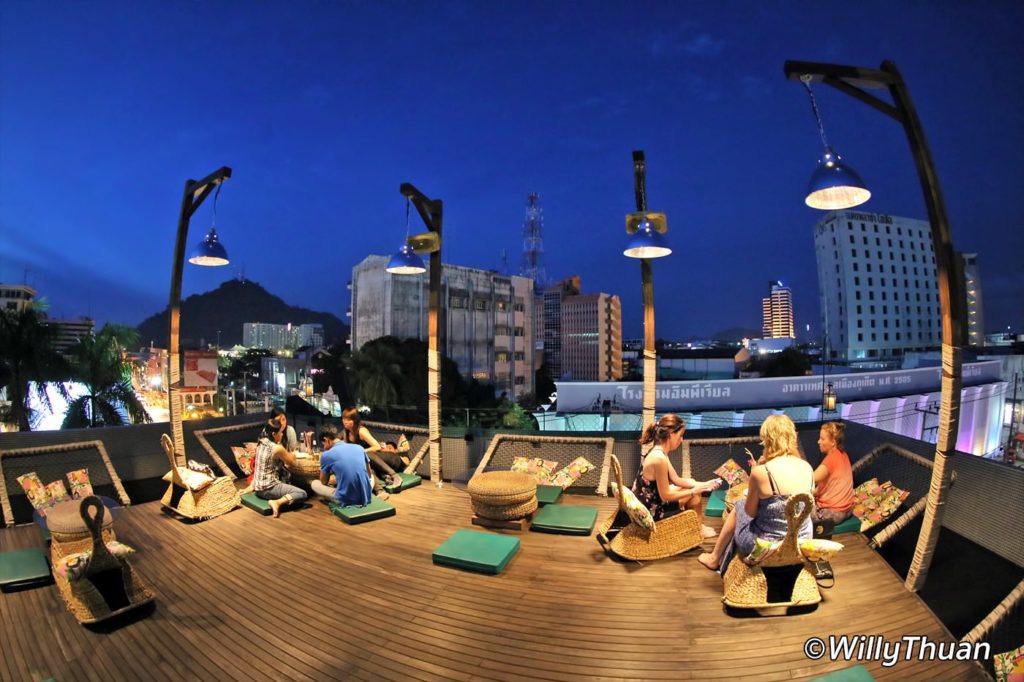 Quip Sky Bar is a lovely rooftop bar and restaurant at the top of Quip hotel in Phuket town. The hotel itself is original and fun to visit, with an old Austin car used as a reception counter. Since it is close to the historical streets of Phuket Town (Thalang road, Dibuk road and Phang Nga road), it makes it an excellent way to cool down with a drink in an unexpected location. Don't picture a sophisticated Bangkok rooftop bar here; it is a large wooden platform with incandescent lights hanging from wooden poles and comfy bean bags to crash in and look at the sky above. While the view from up there (and it's not high either) is not particularly impressive, the result works well. Read more
---
Patong Beach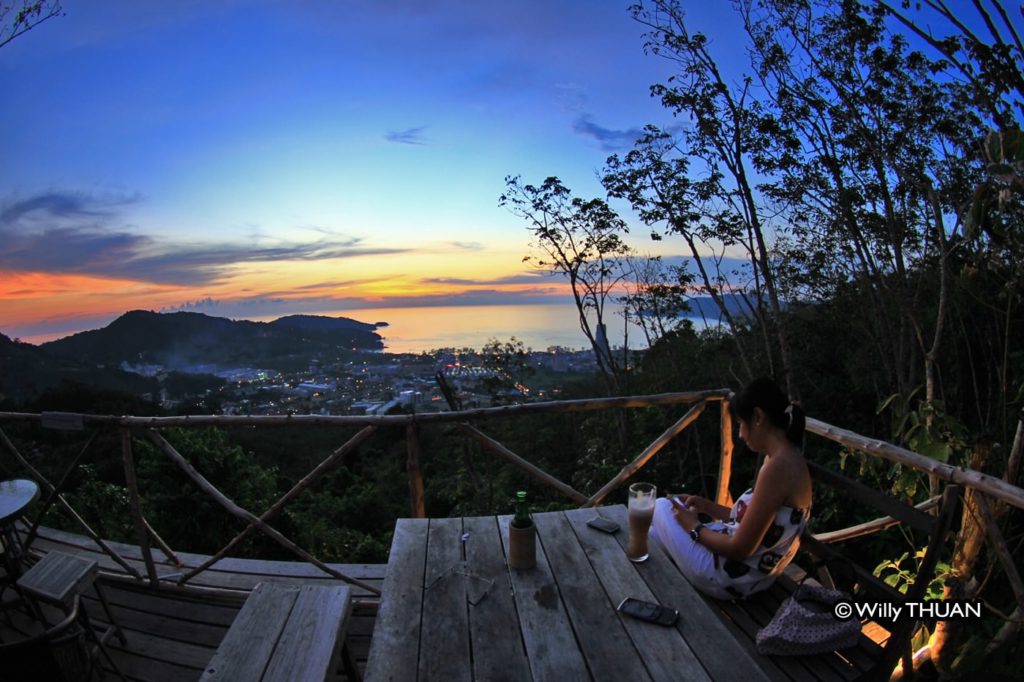 Wassa Homemade Bar, located high on the hills in the back of Patong, is a modest little bar worth mentioning. You can go there at the end of the day to watch a sunset over Patong. This small hut all made of wood and surrounded by dense greenery has one of the most stunning views on Patong Bay, but it's not always a friendly place. Read more
---
Map of Phuket Rooftops Bars