---
An affordable hotel right on the beach!
---
Novotel Phuket Kamala Beach manages to combine many of the features for a great holiday if you are searching for a reasonable mid-range accommodation in Phuket. The hotel is right on the beach of Kamala, a unique and much sought-after feature on the island. There are nine room types to choose from, including affordable pool rooms and even a cool rooftop bar! We had to go and check this for ourselves. The hotel is very compact, and the main pool is not very large, but it has a welcoming pool bar plus direct beach access.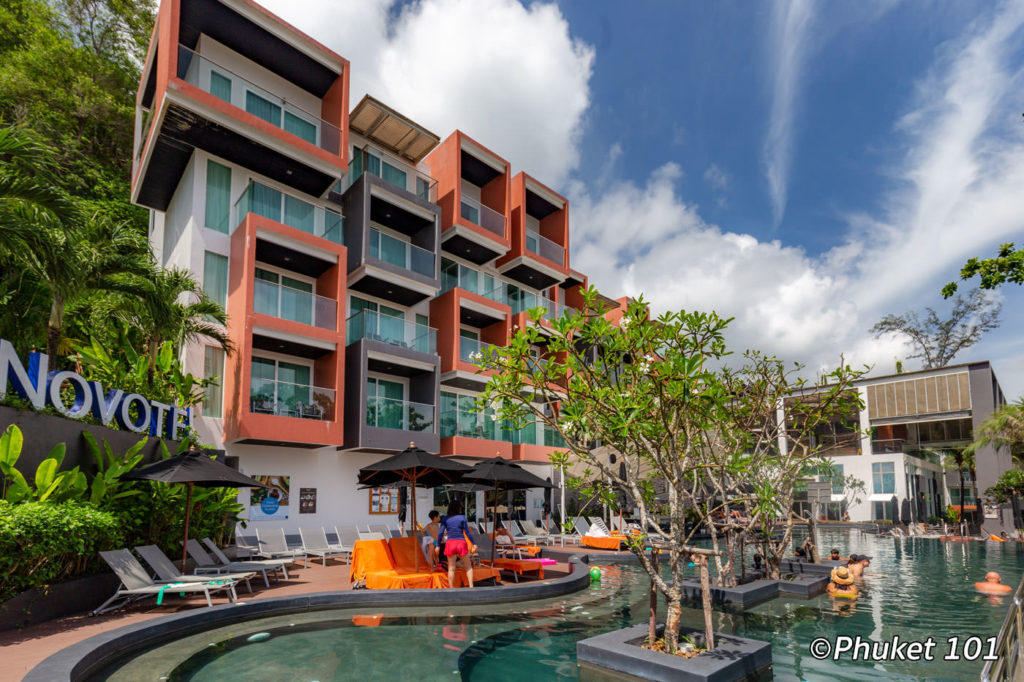 We booked a pool room with a sea view for 6,000 baht. That is quite a low price for having both! (We also added 450 baht per person for breakfast). As usual, we paid for our room and, by doing so, no one knew who we were. The staff welcomed us and treated us like regular guests. It's always more fun and feels a lot more 'real'!
---
The Location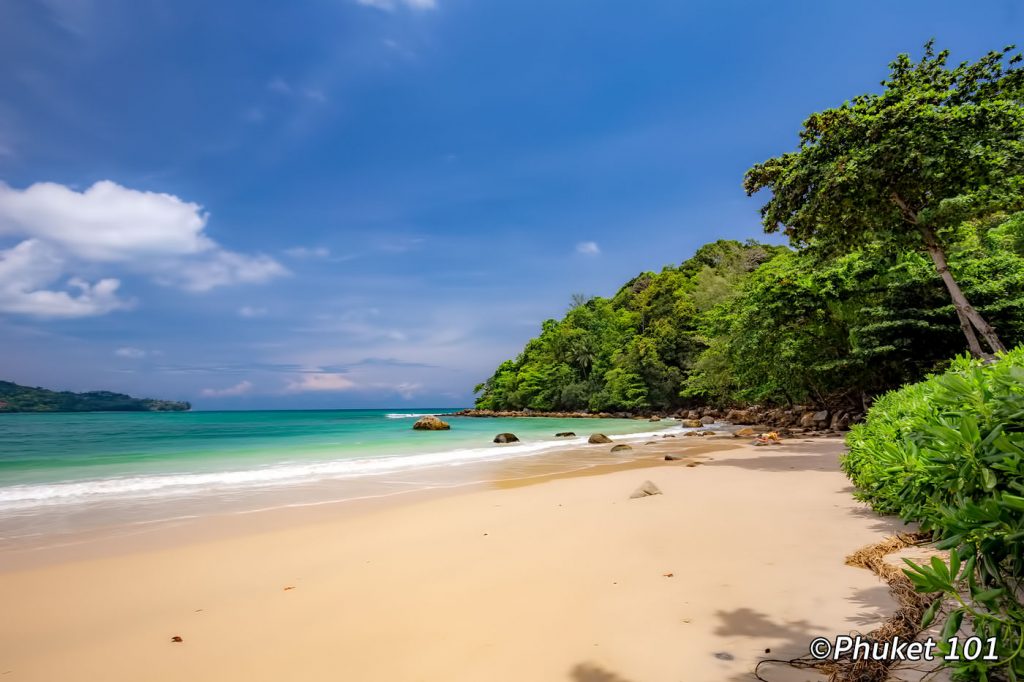 The location of Novotel Phuket Kamala Beach is, without a doubt the most beautiful part of the hotel. The resort is at the very south end of Kamala Beach, on a beautiful piece of soft sand with trees above it and it probably will remain this beautiful. The boulders and rocks end of the beach makes the place a fun snorkelling spot too!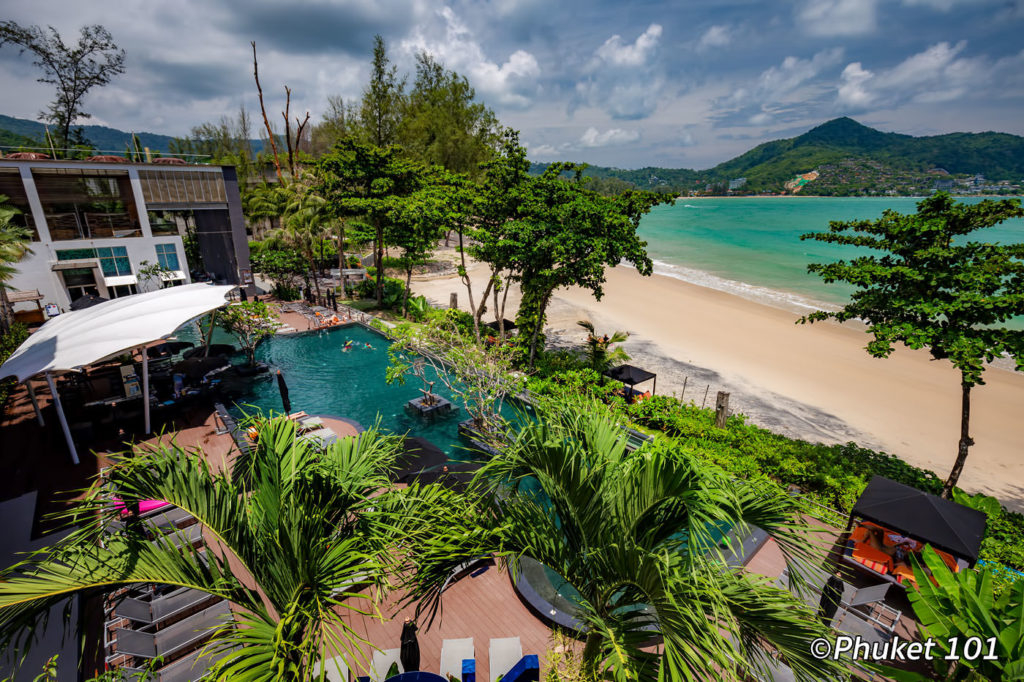 From the hotel, a short and casual beach walk will take you to no less than two great beach clubs, and one of them is the famous Cafe Del Mar. We know the beach clubs and their notorious parties were near the hotel, but we checked, and the music doesn't disturb the hotel guests. If you walk a little more, you will reach a line of small local restaurants set right on the beach, perfect for any meal, but we love a second slow breakfast there.
---
Arrival
As we checked in, the reception was excellent. The staff was genuinely smiling and very welcoming, offering all the necessary information in good English and made us feel in a holiday mood instantly (well, for us it was more of a weekend escape mood, obviously). The deposit system is a bit confusing since you need to make 2 of them: one for the room is you chose to pay at check out, and one that allows you to sign at the outlets.
The hotel has minimal parking, so don't be surprised. Save your energy and ask the staff to park your car for you.
---
The Room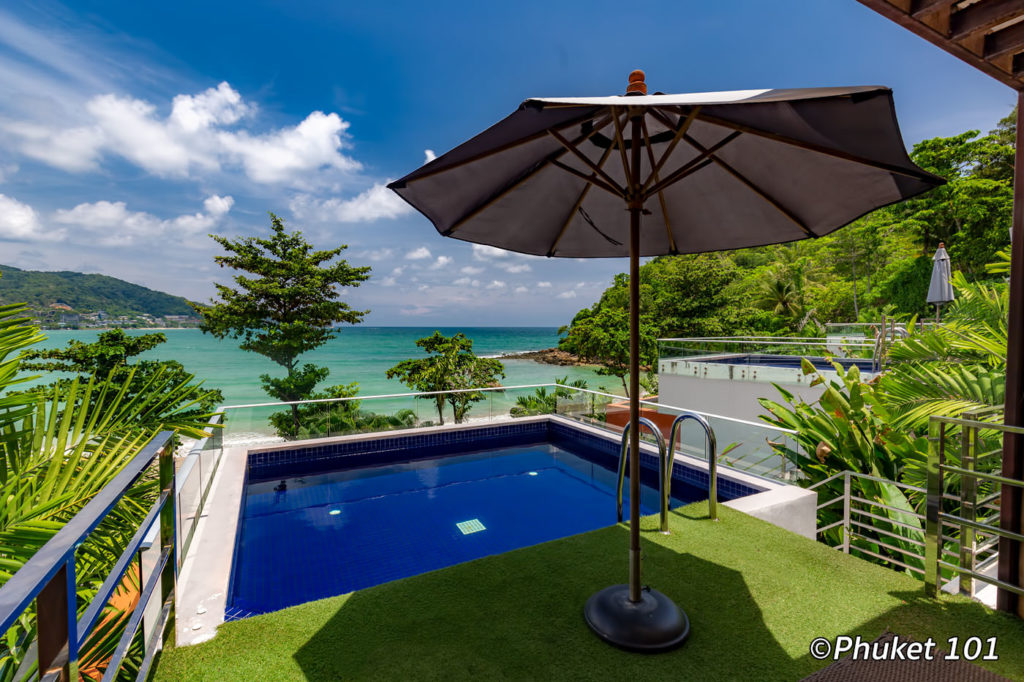 The room is not very large (65 sqm) but has a good design with a functional space distribution, a 12 square metre balcony and ample storing space. Most importantly, like most of the rooms at Novotel Kamala, it faces the sea and the beautiful beach! The shower and toilets are separate in the back area but have no bathtub. Amenities include a coffee machine and water heater, safe deposit box, hairdryer, iron and iron table, bathrobes and slipper — all the amenities you can expect from such an international brand hotel.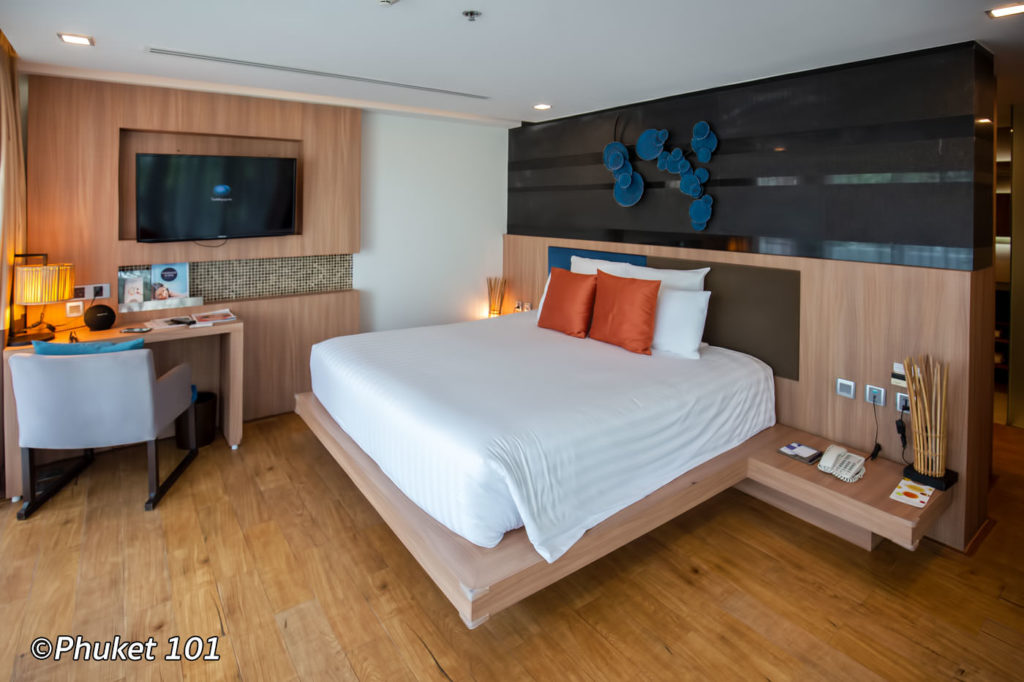 In the room itself, you will find a lot of electric plugs, including two very convenient USB plugs at the desk. The bed is large and comfortable, facing a large TV with plenty of channels)
The swimming pool is above the room, which is a little surprising. It's of decent size, not a lap pool but more than the plunge pools on the lower floor. Most importantly, you can enjoy a fantastic view from your infinity pool at a reasonable price. On the downside, there is absolutely no privacy in that pool. Your neighbours can see you and even people walking back to their room can see you too. The furniture is a little run down, and it lacks tables to be entirely comfortable up there.
---
The rooftop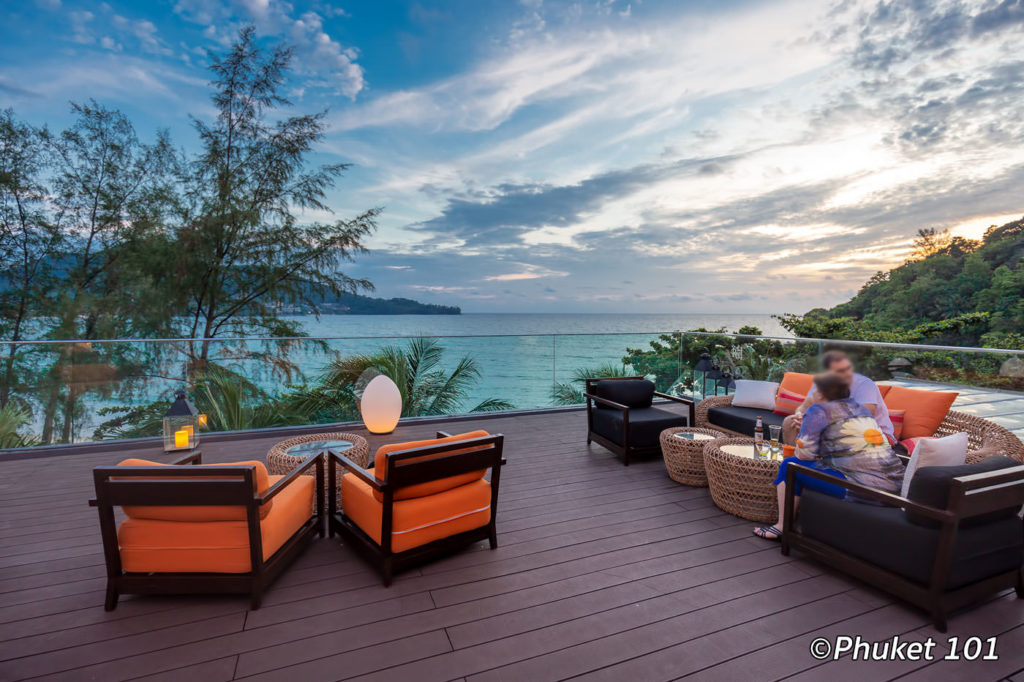 'On The Roof' is a vast and breezy rooftop with plenty of comfortable seating with views of the beach view. You can have a drink or even eat there. Don't miss the happy hour from 5.30 pm to 7.30 pm, two glasses for the price of one; it's a bargain!
---
The Spa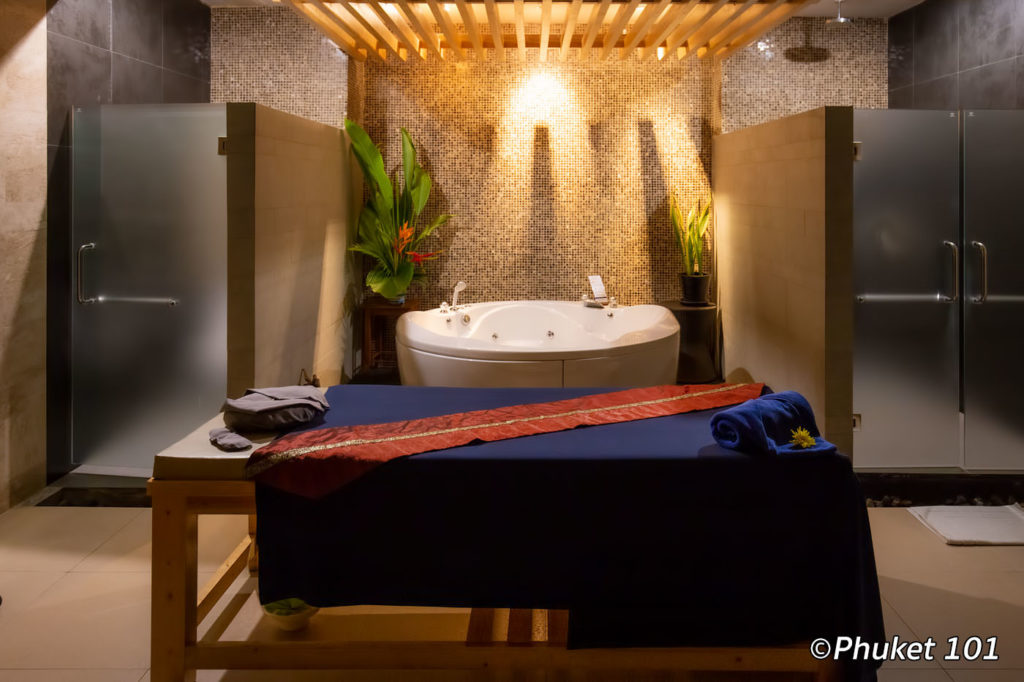 InBalance was another pleasant surprise. Every hotel in Phuket has a spa, but not all are great for this price. We had one-hour aromatherapy in a beautiful treatment room for 1,100 baht, and it was just what we needed to release the stress of a hard working week (yes we do work, people believe that living in Phuket means hanging on the beach all day)
1-hour massages range between 900 to 1,100 baht per hour and facial treatments from 900 to 1,500 baht. Then you can pamper yourself to some reasonable value packages starting at 1,500 baht. The most extreme is a 420 minutes package with a lunch set menu for 6,500 baht. That's 7 hours.
Just remember to book early, especially on a rainy day!
---
The Restaurant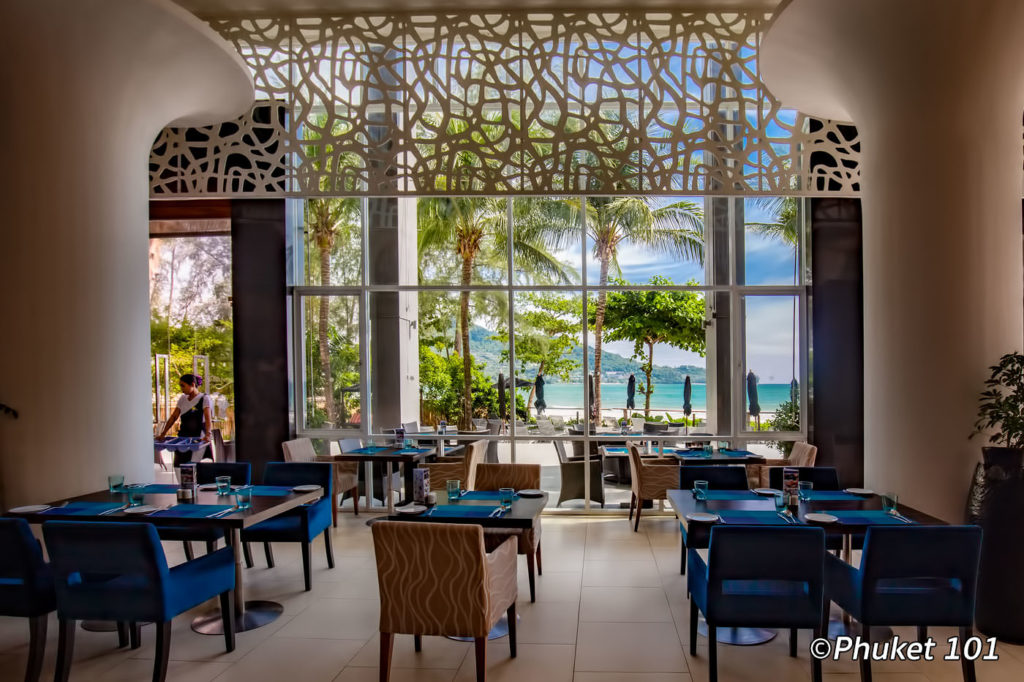 Soul Kitchen, the main restaurant, is vast and not very intimate but the outside sitting is attractive if the weather is not too hot. It frequently serves a BBQ buffet for dinner and even Thai cooking classes for four courses at 1699++ Baht per person. We tried it for a small lunch, and it was good.
It's designed to accommodate their vast breakfast buffet, and because of the size and very high ceilings, the restaurant never feels crowded. There is plenty of different food, and everyone should find something to start the day well prepared. Breakfast costs 350 baht if you include with your online booking and 450 baht if you take it once at the hotel.
---
Verdict
Just as we expected Novotel Phuket Kamala Beach had everything we expected and more. A well-designed room with an infinity pool above one of the most beautiful beaches of Phuket, a rooftop bar, an excellent spa and great staff. It's a walking distance of beach clubs and plenty of local restaurants. Of course, you can't compare it to luxury hotels, but at this price, it is an excellent hotel at the right price.
---
Novotel Phuket Kamala Info
Location: Kamala Beach
Address: 118/16 Moo 3, Kamala Beach, Phuket 83150
Phone: 076 303 700
Open: 24 hours
Check-in: 2 pm – Check-out: 12 noon
Bookings: see the rates
---
Factsheet
Category: 4-star
Rooms: 166
Swimming Pool: 1
Restaurants: 2
Nearest Attraction: Phuket Fantasea
Distance to city centre: 1.4 km
Distance to Phuket Town: 22 km
Distance to airport: 24 km
---
Novotel Phuket Kamala Beach Map
If you are on mobile, add the map here: https://goo.gl/maps/TTYfKh3oXeSDYZuC6
---
What's Around?