Perfect hotels for the rainy season in Phuket
When travelling to such a beautiful tropical island with so many white sandy beaches, one could wonder why would you care about a hotel with a swimming pool. There are a few reasons for that, and one of them is very important to remember: during the low season, which usually is between May to November, the sea can be really rough and even dangerous. On those days, you will thank yourself for having picked a hotel with such a beautiful swimming pool!
Hotels in Phuket with great swimming pools
Le Meridien probably has the largest swimming pool on Phuket island, as well as one of the most beautiful beaches! The resort is immense and the two rectangular pools are in the central area of the U-shaped resort. Read more
Location: Karon Noi Beach (between Patong and Karon Beach)
Range: 5-star
Swimming pools: 2 pools (4,700 sqm)
Restaurants and bars: 8
Distance to the Beach: on the beach!
Distance from Phuket International Airport: 39 km
Distance to Patong Beach: 3 km
Distance to Karon Beach: 3 km
Distance to Phuket Town: 18 km
Address: 29 Soi Karon Nui Tambon Karon, Amphur Muang, Karon, Phuket, 83100
Phone: 076 370 100
Bookings: See the rates
---
Check the rates with your favourite websites
Phuket 101 receives 250,000 monthly visitors on average (500,000 pageviews/month).
If you wish to advertise on this space or other options available on Phuket 101, just contact us.
Thavorn Beach Village Resort is a vast resort with its own beach, near Kamala. The beach is not a swimming beach and therefore the immense pool was a must. The water meanders around the buildings, with islands, Thai sculptures, coconuts trees and a lot of greenery everywhere. Read more
Location: between Patong and Kamala
Range: 4-star
Swimming pools: 1 pool (4,000 Sqm)
Restaurants and bars: 4
Distance to the Beach: on the beach
Distance from Phuket International Airport: 30 km
Distance to Patong Beach: 4.5 km
Distance to Phuket Town: 18 km
Address: 6/2, Kamala, Kathu District, Phuket 83150
Phone: 076 618 217
Bookings: See the rates
---
Check the rates with your favourite websites
Phuket Marriott Resort Merlin Beach is a 5-star hotel with a unique location on Merlin Beach in Phuket, just a few kilometres from the busy Patong and yet in superb and quiet surroundings. Read more
Location: Merlin Beach
Range: 5-star
Swimming pools: 3 pools (3,603 sqm)
Restaurants and bars: 8
Distance to the Beach: on the beach
Distance from Phuket International Airport: 41 km
Distance to Patong Beach: 3 km
Distance to Phuket Town: 19 km
Address: 99 Muen-Ngoen Road Tri-Trang Beach, Patong Patong Phuket, Phuket 83150
Phone: 076 335 300
Bookings: See the rates
---
Check the rates with your favourite websites
Location: Maikhao Beach
Range: 5-star
Swimming pools: 3 pools (2,810 sqm)
Restaurants and bars: 10
Distance to the Beach: on the beach
Distance from Phuket International Airport: 14 km
Distance to Phuket Town: 41 km
Distance to Patong Beach: 42 km
Address: 231 Mai Khao, Thalang District, Phuket 83110
Phone: 076 338 000
Bookings: See the rates
Facebook: https://www.facebook.com/jwmarriottphuket/
---
Check the rates with your favourite websites
SAii Laguna Phuket is a large luxury resort set right on the sand of Bangtao Beach, on the west coast of Phuket Island. The hotel was recently renovated, and the new design, which mostly is visible around the pool area, takes advantage of the amazing 300-meter-long direct beach access. With this new look and such a unique location, combined with the legendary Thai hospitality, a stay at SAii Laguna Phuket is a real treat. Read more
Location: Bang Tao Beach
Range: 5-star
Swimming pools: 2 pools
Restaurants and bars: 4
Distance to the Beach: on the beach!
Distance from Phuket International Airport: 20 km
Distance to Patong Beach: 17 km
Distance to Phuket Town: 23 km
Address: 323, Moo 2, Srisoonthorn Road Bangtao Beach Cherngtalay, Thalang District, Phuket 83110
Phone: 076 360 600
Range: 5-star
Bookings: See the rates
---
Check the rates with your favourite websites
Holiday Inn Resort Phuket is an excellent hotel to get the best of many sides of Patong Beach: easy access to the beach across the street, shopping, dining and of course, the famous nightlife. And even though you are very close to the hectic life of Patong, the resort is surprisingly quiet. Read more
Range: 4-star
Swimming pools: 3 (960 sqm)
Restaurants and bars: 4
Distance to the Beach: across the street
Distance from Phuket International Airport: 36 km
Distance to Phuket Town: 14 km
Distance to Patong Center: 1.6 km
Location: Patong Beach
Address: 52 Thawewong Rd, Tambon Patong, Amphoe Kathu, Chang Wat Phuket 83150
Phone: 076 370 200
Range: 4-star
Bookings: See the rates
---
Check the rates with your favourite websites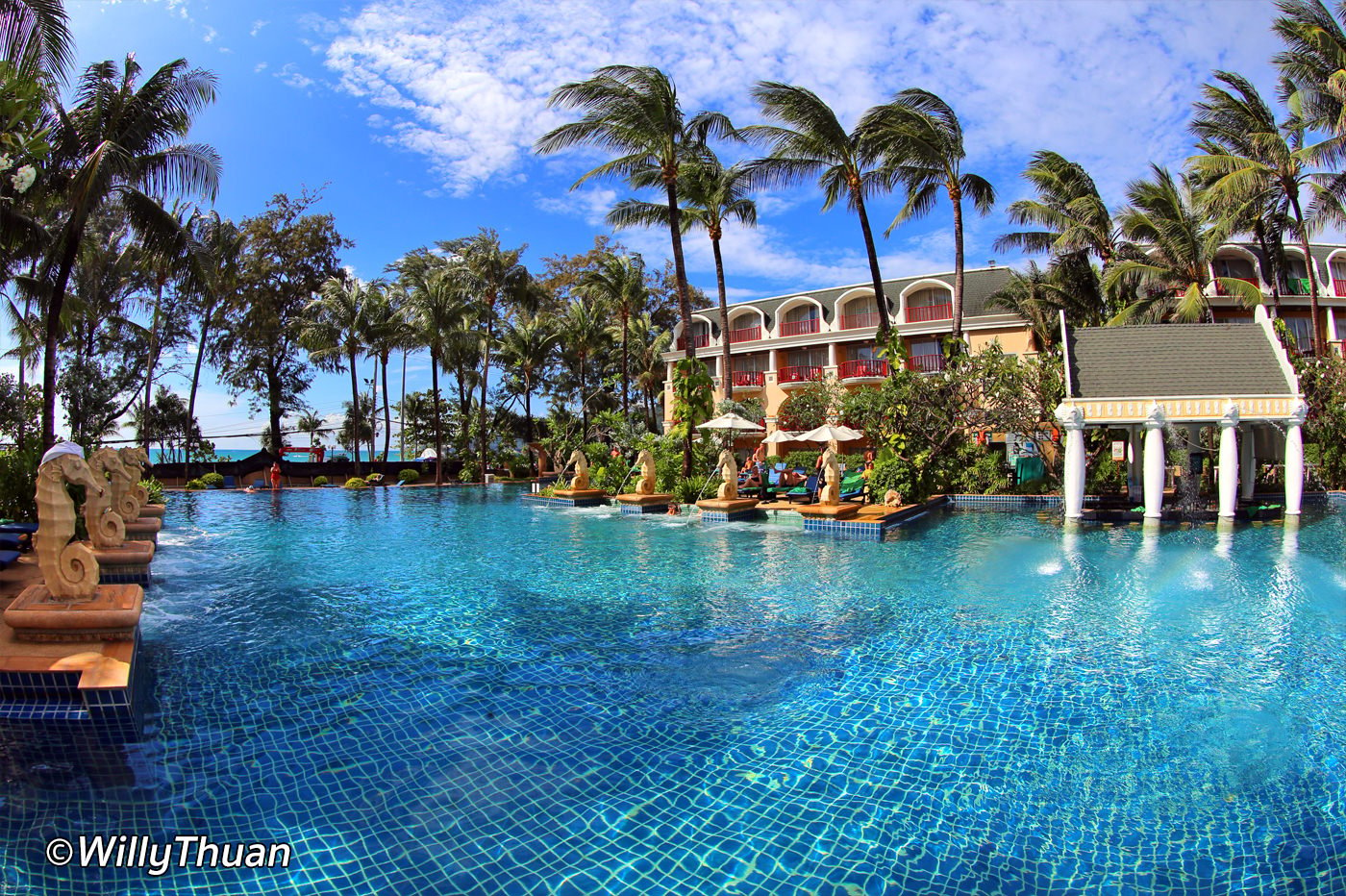 Phuket Graceland Resort is one of the largest hotels on the island with a staggering 600 rooms. The hotel location is unique as not many hotels in Patong Beach have the privilege to be so close to the beach. Read more
Range: 4-star
Swimming pools: 2 pools
Restaurants and bars: 6
Distance to the beach: across the street
Distance from Phuket International Airport: 37 km
Distance to Phuket Town: 14 km
Distance to Patong City Center: 1 km
Location: Patong Beach
Address: 190 Thawewong Rd, Patong, Kathu District, Phuket 83150
Phone: 076 370 500
Bookings: See the rates
---
Check the rates with your favourite websites
Patong Merlin Hotel is a long-established popular hotel by the beach road on Patong Beach. The hotel is very big but spacious, with large rooms and vast swimming pools in large central areas, so it does not feel crowded. Read more
Range: 4-star
Swimming pools: 4 pools
Restaurants and bars: 6
Rooms: 448
Distance to the Beach: across the street
Distance from Phuket International Airport: 37 km
Distance to Phuket Town: 14 km
Distance to Patong Center: 1.6 km
Location: Patong Beach
Address: 44 Thawewong Rd, Patong, Kathu District, Phuket 83150
Phone: 076 349 888
Bookings: See the rates
---
Check the rates with your favourite websites
Hyatt Regency Phuket Resort is a superb 5-star resort built on a hillside of Kamala, overlooking Rayee Beach, which is just a little south of the main Kamala beach, far from any crowd. This luxurious 190 rooms resort on the west coast of Phuket, offers splendid sea views from almost every balcony. Obviously, the higher the room, the better the panorama. Read more
Range: 5-star
Swimming pools: 1
Restaurants and bars: 2
Distance to the beach: across the street
Distance from Phuket International Airport: 28 km
Distance to Phuket Town: 20 km
Distance to Kamala Center: 3.5 km
Location: Kamala Beach
Address: 16/12 Moo 6 Kamala, Amphur Kathu, Phuket 83150
Phone: 076 231 234
Range: 5-star
Bookings: See the rates
---
Check the rates with your favourite websites
Angsana Laguna Phuket is a vast resort on Bangtao Beach, a beautiful location on the west coast of Phuket. With more than 300 rooms, lofts and suites, the hotel is immense, and most of the bedrooms offer lake or pool views. There is beach access at the front but no rooms with beach views. Read more
Range: 5-star
Swimming pools: 2
Restaurants and bars: 4 restaurants and 2 bars
Distance to the closest beach: on the beach
Distance from Phuket International Airport: 17 km
Distance to Patong Beach: 20 km
Distance to Phuket Town: 24 km
Location: Bang Tao Beach
Address: 10 Moo 4, Srisoonthorn Road Cherng Talay, Muang, Phuket 83110
Phone: 076 324 101
Range: 5-star
Bookings: See the rates
---
Check the rates with your favourite websites
More reading
Best hotels on other beaches of Phuket