Hyatt Regency Phuket in Kamala Beach
Hyatt Regency Phuket is a superb 5 star resort built on a hillside of Kamala, overlooking Rayee Beach which is located just a little south of the main Kamala beach, far from any crowd. This exclusive 190 rooms resort offers splendid sea views from almost every balcony and obviously the higher the room, the better the view!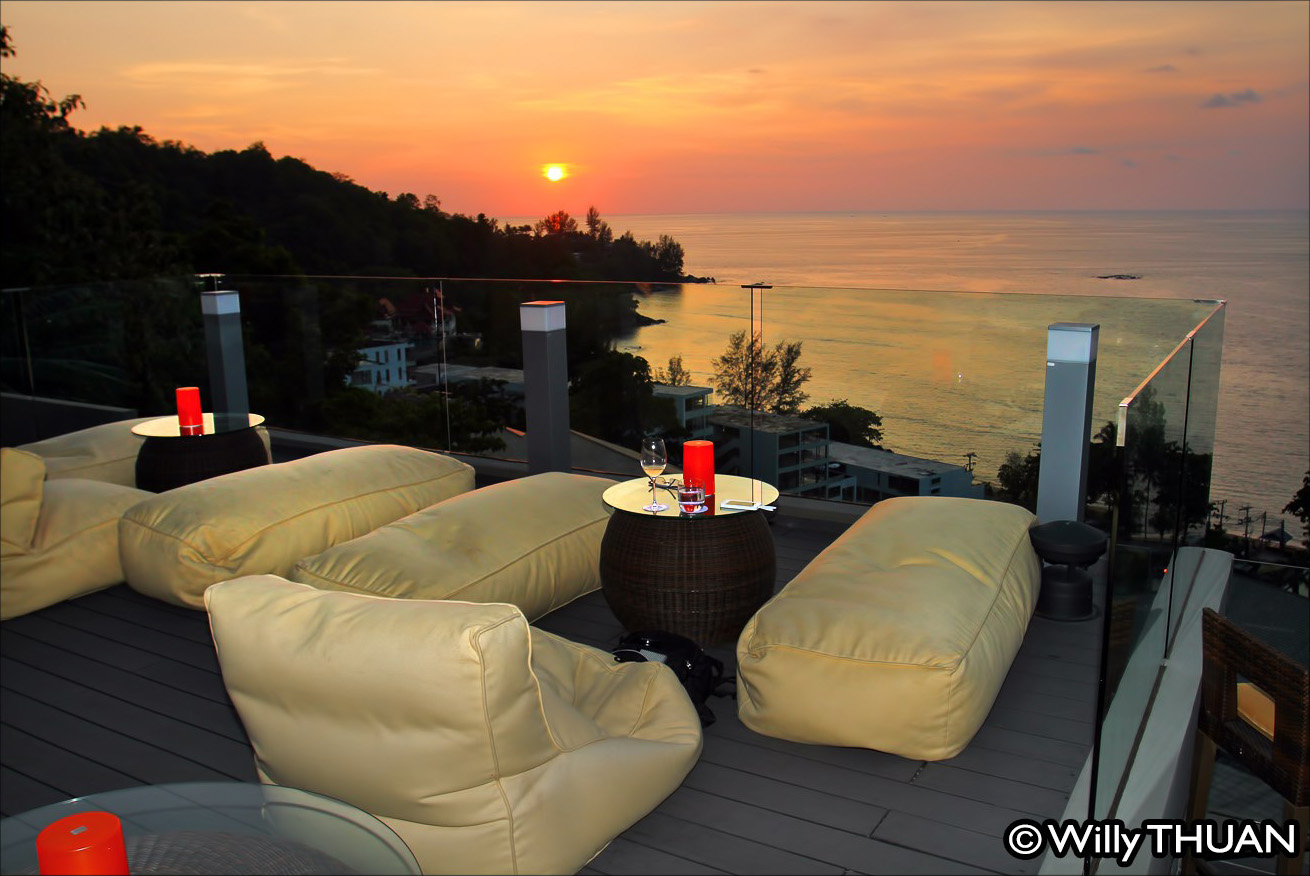 The first thing that strikes is a sense of space and minimalist lines across the entire resort. As soon as you arrive, your eyes are inevitably caught by the huge infinity pool occupying almost the entire front of the hotel. Measuring a good 50 by 30 meter the pool is surrounded by large king size canopy beds on one side and loungers on the other, all with plenty of space in between so you will never feel crowded. Beyond the pool is 'The Pool House', the main restaurant serving breakfast and all day dining with Thai and International cuisine to enjoy inside or outdoors. Next to the restaurant is a very attractive 'Pool Bar' with oversized sofas, perfect to spend some time in the cool breeze at the end of the day.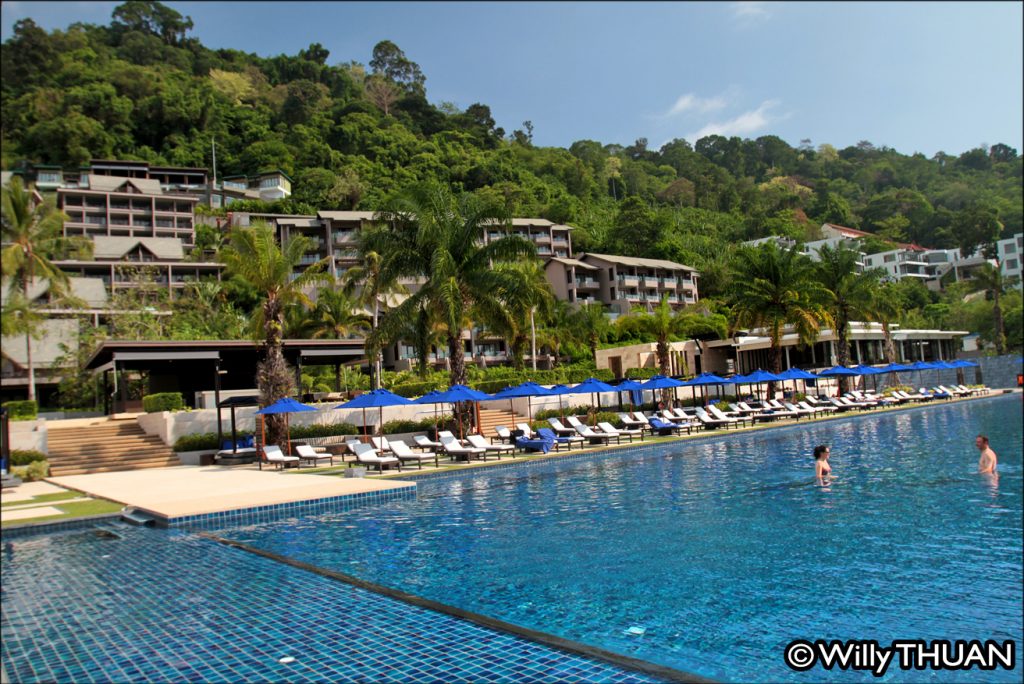 A buggy took me to my Club Ocean View Twin room which was surprisingly large and like every room included a well sized balcony offering a stunning sea view. I didn't have the highest floor but my place offered a large panorama on the Kamala cove, just remember not to close completely the glass door behind you if you don't want to lock yourself outside as did. The room had all the amenities you can expect from a 5 star resort and a lot more, a large circular woven sofa facing a huge flat screen TV (of course every hotel has flat TV, but this one is larger and very well integrated in the wall) and a quite fast Wi-Fi connection.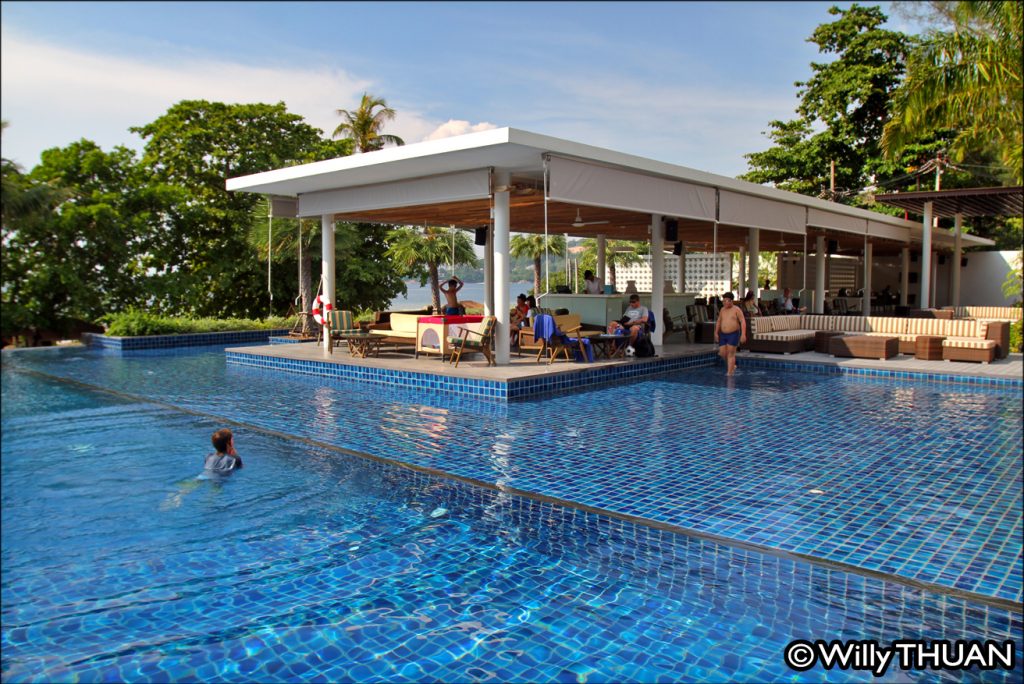 Two spacious and distinct rooms are dedicated to the bathroom area, one has separate shower and toilet plus a large bathtub, really welcome after long exploration days (too bad there was no bath salts). The other bathroom is equipped with the sink area, storage for bathrobes, safe box and mini bar. Bed is very wide and extremely comfortable with turn down service at the end of the afternoon. Some of the high floor suites come with plunge pools but that will be for my next stay.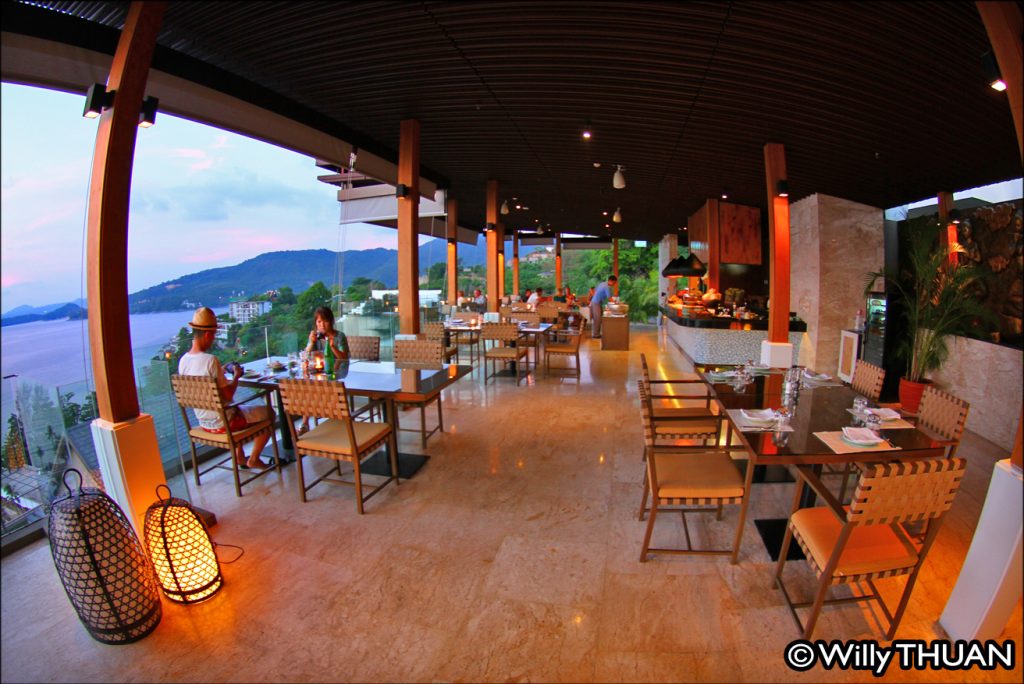 Hyatt Regency Phuket prides itself with several outlets. The exclusive 'Regency Club' serves food and drinks all day for the 'Regency Club members only', and the most attractive feature is certainly the 25 meters infinity pool with curvy pool chairs right in the water… a great place to hang with a drink above the world below. The resort come with a kids club and a really well equipped fitness but I didn't get a chance to use it this time. Next to it is the 'Nahm Spa' and everyone should try a spa treatment at least once, especially on those occasional rainy day!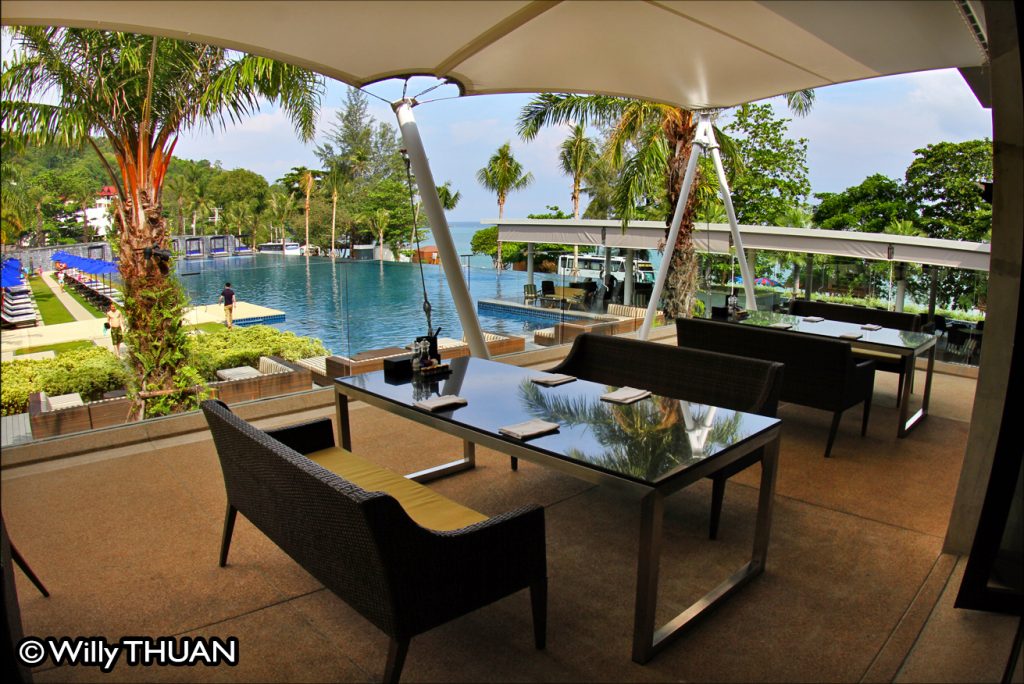 Now, the resort highlight, the place where I actually spent quite a bit of time: the Sunset Grill and the rooftop bar next to it… Phuket now starts to have amazing rooftop bars too, and Phuket views can beat Bangkok rooftop bars anytime! I spent a good hour on large comfy bean bags with an excellent Monkey Bay Sauvignon Blanc, treating myself to a spectacular sunset above Kamala Cove, the ultimate reward after a long travelling day.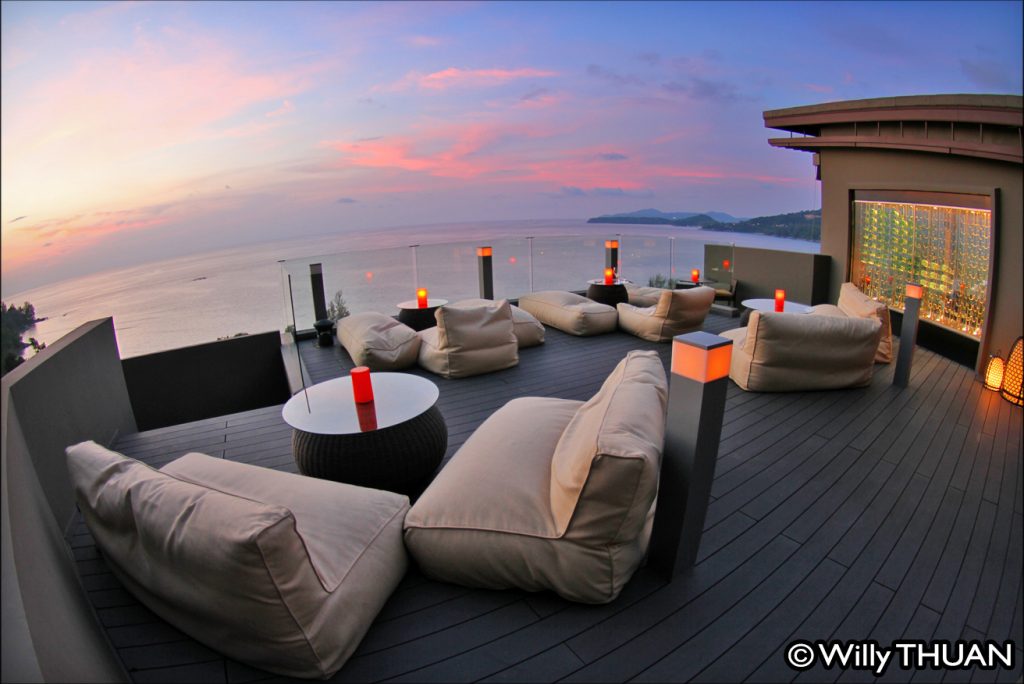 Once the sun has disappeared behind the horizon, the sky remains blue for a while and sets the perfect background for a romantic dinner at the Sunset Grill. As the name implies the food is mostly made of grilled meat, veggies, seafood plus the fresh fish brought at the last minute by local fishermen straight from the sea. With their nice selection of wines, this is definitely a dinner you should have once while at Hyatt Regency. Note that the Sunset Grill only opens at 6pm but you can go up there anytime just for the amazing views. After dinner get a buggy back to the pool side for some relaxing time by the pool side.Few things to know: The Hyatt Regency Phuket is built mostly on a vast hillside so going up and down can be challenging for people with mobility issues. Of course a buggy will take you up and down but it requires a bit of time to every move.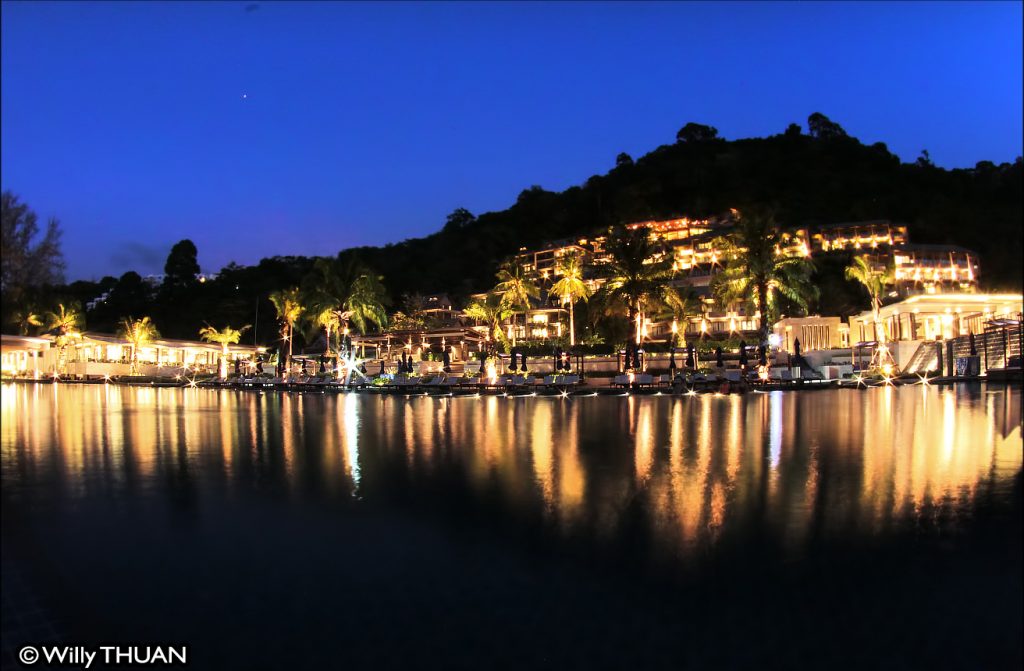 The beach in front of the hotel is not a swimming beach as under the water it is mostly rocky, however it's a very peaceful beach with few very charming local restaurants to get a taste of local life. The hotel provides regular free shuttles to go to the main Kamala beach a kilometre away and there are always taxis waiting outside to take you to other parts of the island if you choose not to use the hotel own limo.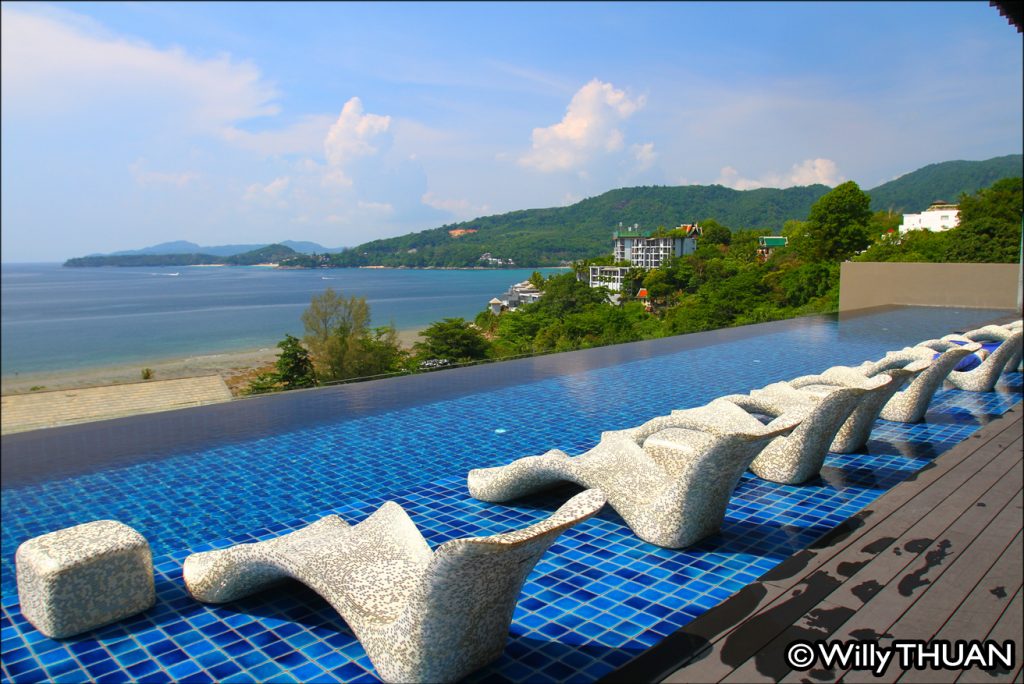 With a fresh trendy design Hyatt Regency Phuket offers all the facilities of a great self contained five star resort. Staff is very attentive, friendly and helpful; don't be surprised if some even remember your name! Overall Hyatt Regency Phuket is a good base to enjoy the best of Phuket while remaining in a quiet but not isolated area.
---
Click here to see the discounted rates for Hyatt Regency Phuket
---
---
Hyatt Regency Phuket
Location: Kamala Beach
Address: 16/12 Moo 6 Tambon Kamala, Amphur Kathu Phuket Chang Wat Phuket 83150
Open: 6 pm – 10 pm
Phone: 076 231 234
Rates: Click here to see the rates for Hyatt Regency Phuket
---
Hyatt Regency Phuket Map
---
What's around?
---
Also interesting