Where to Eat in Kamala?
There is a vast choice of restaurants in Kamala Beach and travellers will have no problem finding one for lunch, dinner or even breakfast. Geographically, Kamala is divided into three areas: the beachfront is the most attractive, with many affordable restaurants lined under coconut trees and facing the sea. The first road that runs parallel to the beach offers a few restaurants as well, and the large main road that passes in the back of Kamala has a lot of restaurants and long-established bars. A fourth area would be on the road that connects the main beach of Kamala to the nearby Rayee Beach, where you'll find Cape Sienna and Hyatt Regency.
Restaurants Right on the Beach
Smile Bar has been a popular beachfront restaurant for a very long time and got renovated several times. The food is good and well-priced and the team is very friendly. The menu proposes a mix of Thai food and western dishes. Smile Bar is well known for its grilled chicken, roasted every day in front of the restaurant, and the smell will catch your nose's attention every time!
Speciality: Thai and International
Address: 97/85 Kamala Beach Road Soi Kamala Police Station Kamala, Kathu District, Phuket 83150
Hours: 10 am – 12 am
Phone: 089 677 4851
Phuket 101 receives 250,000 monthly visitors on average (500,000 pageviews/month).
If you wish to advertise on this space or other options available on Phuket 101, just contact us.
Boat Bar is another very popular restaurant on the beach, right next to Smile Bar. We like to start the day at Boat Bar with one of the many breakfasts on their menu. For lunch and dinner, they serve a great range of Thai food, western food and Pizza at good prices. The location is perfect for sunset drinks with friends and family too!
Speciality: Thai and International
Address: Kamala Road, Soi 16 Kamala, Kathu District, Phuket 83120
Open: 11 am – 10.30 pm
Phone: 083 175 7664
Price: Cheap
Bella Vista Kamala
Bella Vista is a new Italian Restaurant with an indoor dining room and an outdoor terrace right on the beach. The decor is modern and mostly white, which adds a new touch to the line of classic restaurants on this walkway. The food is excellent and the wine list is very attractive.
Speciality: Italian
Address: 97/82-84 Moo 3, Kamala, Kathu District, Phuket 83120
Hours: 9 am – 10 pm
Phone: 083 199 9922
Price: Affordable
Restaurants in Hotels
Jaras is an exclusive restaurant serving superbly presented modern Thai Cuisine near the beach at the Intercontinental Phuket Resort in Kamala Beach. The restaurant is listed in the Michelin Guide, and our dining experience confirmed that the listing is fully justified. The food is delicious, well balanced and beautifully presented. The wine list is extensive, and the sommelier's recommendation for each wine is clear and spot on.
Location: Intercontinental Phuket Resort
Address: 333, 333/3, Moo 3, Kamala Sub-district, Kathu District, Phuket 83150
Hours: 8 am – 12 am
Phone: 076 629 999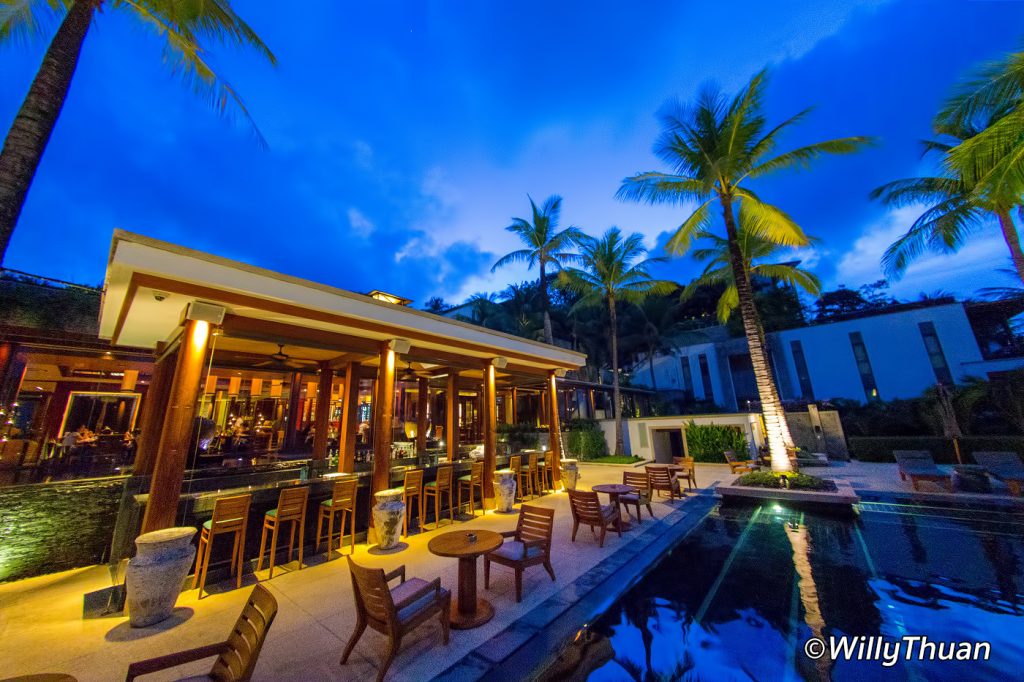 Silk Restaurant at Andara Resort Phuket is an upscale, much-talked Thai restaurant set in a beautiful and elegant design overlooking Kamala Beach. Silk Restaurant is instantly pleasing to the eyes with polished wood, high ceilings, warm tones, and a sleek design with polished wood, high ceiling, warm tones, and an elegant design. Just walking through the hotel to reach the large wooden doors of the restaurant was a lot more impressive than we expected.
Location: Andara Resort in Kamala Beach
Address: 15 Moo 6, Layi Nakalay Road, Kamala sub-district, Kathu, Phuket 83150
Open: 07.00 – 24.00 (last order 22.30)
Phone: 076 271 702
Plum and Vanilla Sky at Cape Sienna Hotel are two restaurants with superb panoramic views of the Andaman Sea. located between the main beach of Kamala and the small Rayee Beach. Plum is a steakhouse serving prime cuts and fresh seafood cooked over a charcoal oven, with a superb wine list to go with it. The little outdoor alcoves surrounded by water are great for a romantic dinner with a sunset and a sea view.
Location: Cape Sienna
Address: 18/40 Moo 6, Layi-Nakalay Road, Kamala, Phuket 83150
Phone: 076 337 300
Casa Boho is a laid-back rooftop Mexican restaurant overlooking the lesser-known Rayee Beach, just south of Kamala Beach and part of the Hyatt Regency Resort. The restaurant offers an ocean view from its pool deck, offering both indoor seating and a terrace with daybeds that border an infinity pool. You can enjoy tapas and refreshing cocktails while enjoying enchanting sunsets over Kamala Bay. Moreover, during daytime hours, the pool is at your disposal, providing an ideal setting for a refreshing swim.
Location: Hyatt Regency Resort
Address: 16/12 Moo 6 Tambon Kamala, Amphur Kathu Phuket Chang Wat Phuket 83150
Phone: 076 231 234
Address: 49 Moo 6, Layi-Nakalay Road, Kamala Kathu, Phuket 83150
Phone: 076 302 000
Browse Restaurants in Kamala Beach
Your Kamala Beach Travel Guide
---