What to Do in Phuket with Kids?
There are quite a lot of fun things to do in Phuket with kids as this is a great tropical destination for families. You could, of course, spend your whole holiday on the beach and in the sea with children, but that would be a waste not to add some activities to your stay. These activities are great to enjoy as a family, and your kids will love finally sharing some fun and a good time with you!
Note that this is fun for boys or girl, but I might refer as 'he' or 'him' to keep it easier to read. And of course I know there is a lot more you can do, these are just some popular suggestions to have an unforgettable time with the family! All these tours can be organised efficiently from your hotel. Prices are only an indication to help you with planning.
---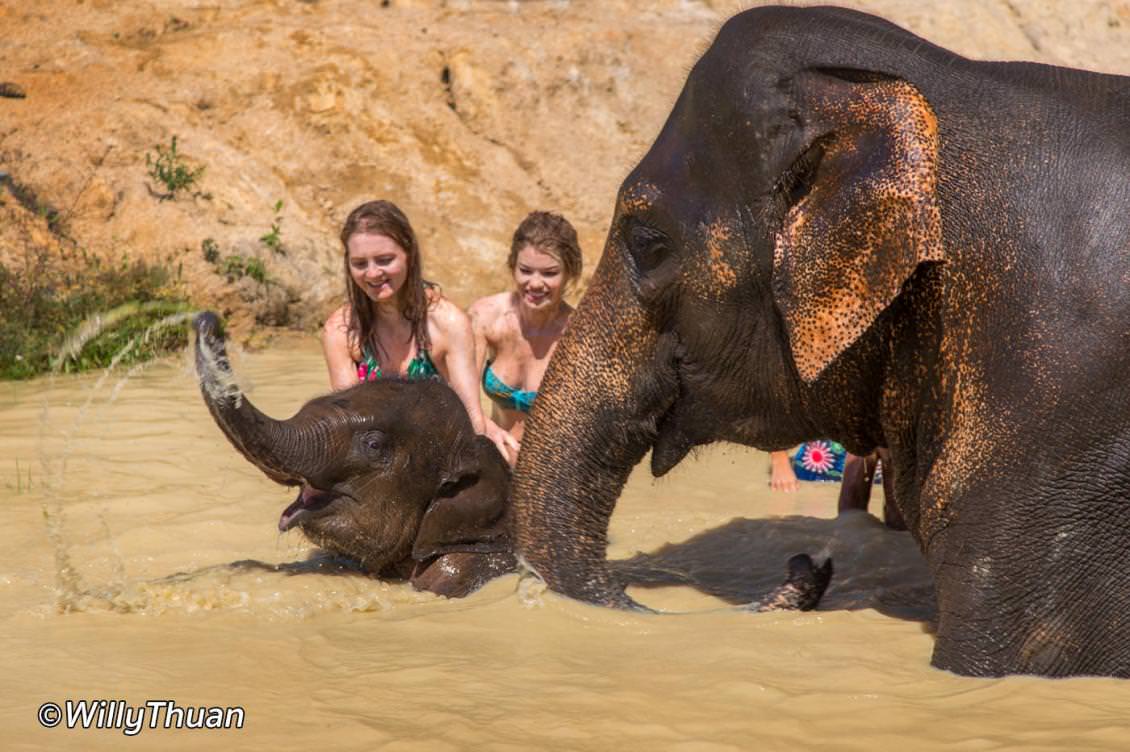 There are now 4 or 5 elephant sanctuaries in Phuket, and these new places are great to interact with elephants in an ethical and fun way. Usually, you and your kids will be able to feed baby elephants and play with them in the water, an unforgettable moment for children! You will prepare some food for the animals, learn about them, bathe with them, and understand a little more why trekking has to stop. We visited Elephant Jungle Sanctuary Phuket. Read more
---
Phuket Fantasea colourful shopping and amusement park with the elephant rides is just the preamble for an impressive stage performance involving a dozen adult elephants. Lots of easy games to play before dinner and show will delight your kids and probably you too. From 1,500 Baht (show only). Read more

Phuket Trickeye Museum is quite a new attraction in Phuket Town and is the perfect escape for a couple of hours on a rainy day. Located not far from the old Phuket Town, it is easy to reach and can be combined with some museums visits. The price is a bit high, but if you have kids you will not regret all the fun poses and hilarious photos you will be taking back home! Read more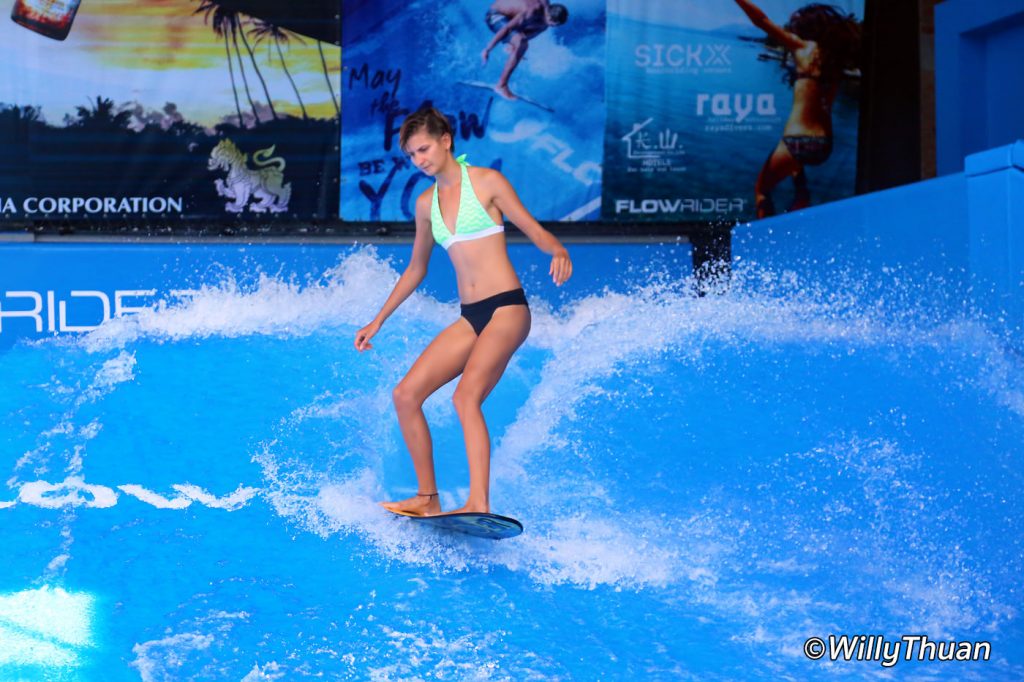 Surf House Phuket is a fun artificial wave sport in Phuket, the perfect way to learn the basics of surfing, wakeboarding or even kiteboarding without all the usual effort and often pain associated with. Here anyone can give it a try in just a couple of minutes and depending on your experience and natural balance, you will be surprised how fast you can stand on these little flowboards. There now two places in Phuket for you to have fun with the kids:  Surf House Patong and Surf House Kata. Read more

Splash Jungle is a medium size water park with water slides and a wave pool in Mai Khao Beach near Phuket Airport. The main attractions are the high slide and the spinning funnel that will make you dizzy. A large kids pool provides plenty of fun for the youngest with a mini slide. It's fun but rather expensive compared to water parks in most countries. Read more
Price: Adult: 1,495 Baht – Child (5-12 Years) : 750 Baht

The upside down house is exactly and amazingly what the name says. This incredible house stands inverted on the side of the Bypass road outside Phuket Town will challenge your senses and offer plenty of photo opportunities. Each of the three floors of Baan Teelanka (meaning upside down house in Thai) is the replica of a real house but inverted. Living room, kitchen, bed and even a Tuk Tuk appear to be hanging from the ceiling until your brain realises that you might be the one at the wrong place! Lots of fun! Read more

It is a lot easier than you might think, even the youngest can give it a try with a 'kneeboard' as on the photos. It is safe and exhilarating; they will ask for more. You can share the fun with them and talk about it for days! If you fall, you fall in the water, and with the life jacket, it's easy to reach the nearby edge where a bike will pick you up. 750 Baht for 1 hour, 1,000 Baht for 2 hours. Read more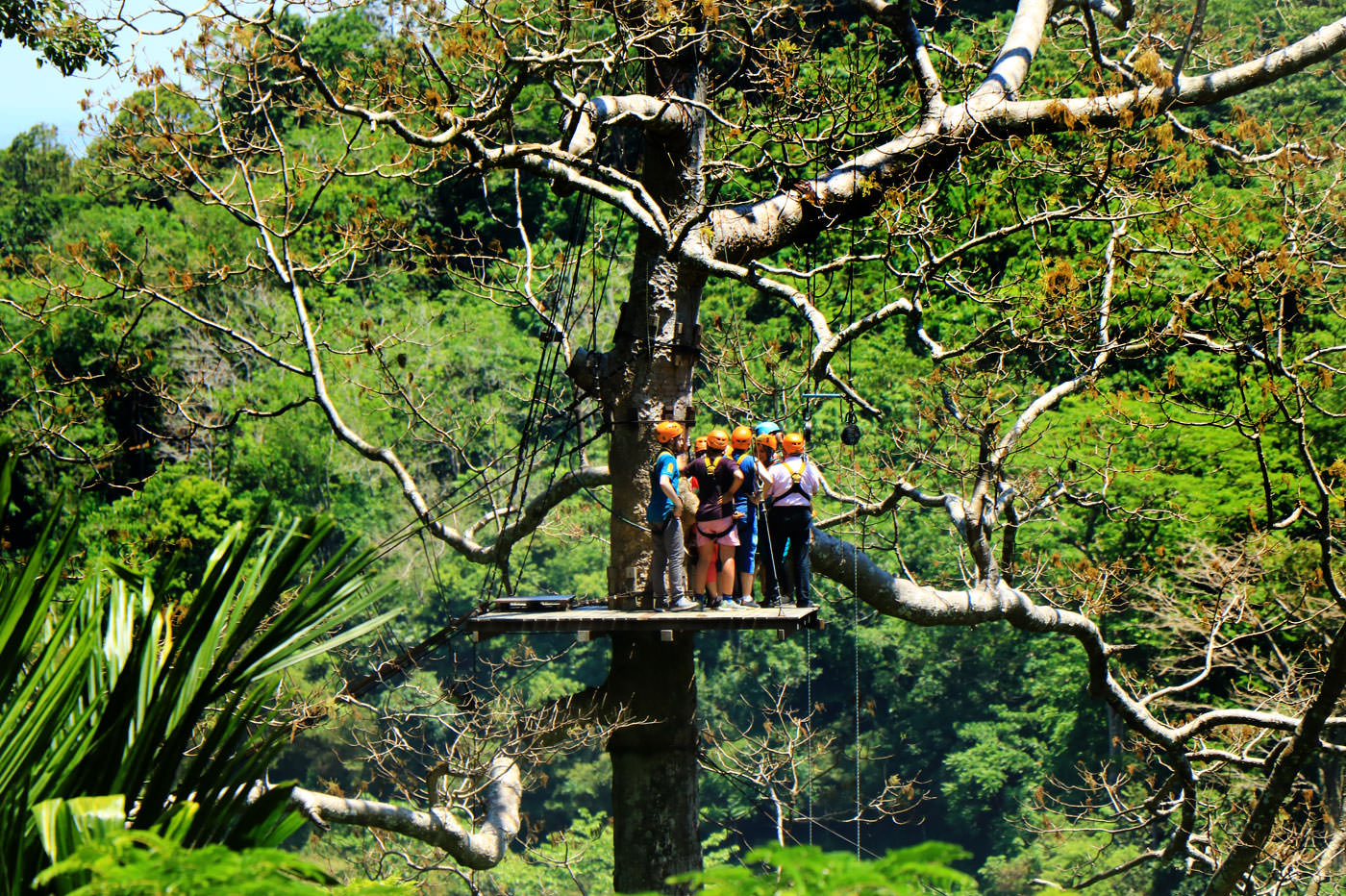 Flying Hanuman Phuket is an immense zip line adventure in the jungle above Kathu village, somewhere between Phuket town and Patong. If you need a break from your lazy day on the beach and if you travel with friends, this is an unforgettable adventure. It's a perfect way to spend a cloudy day with a good laugh and some fantastic stories and photos to take home. Read more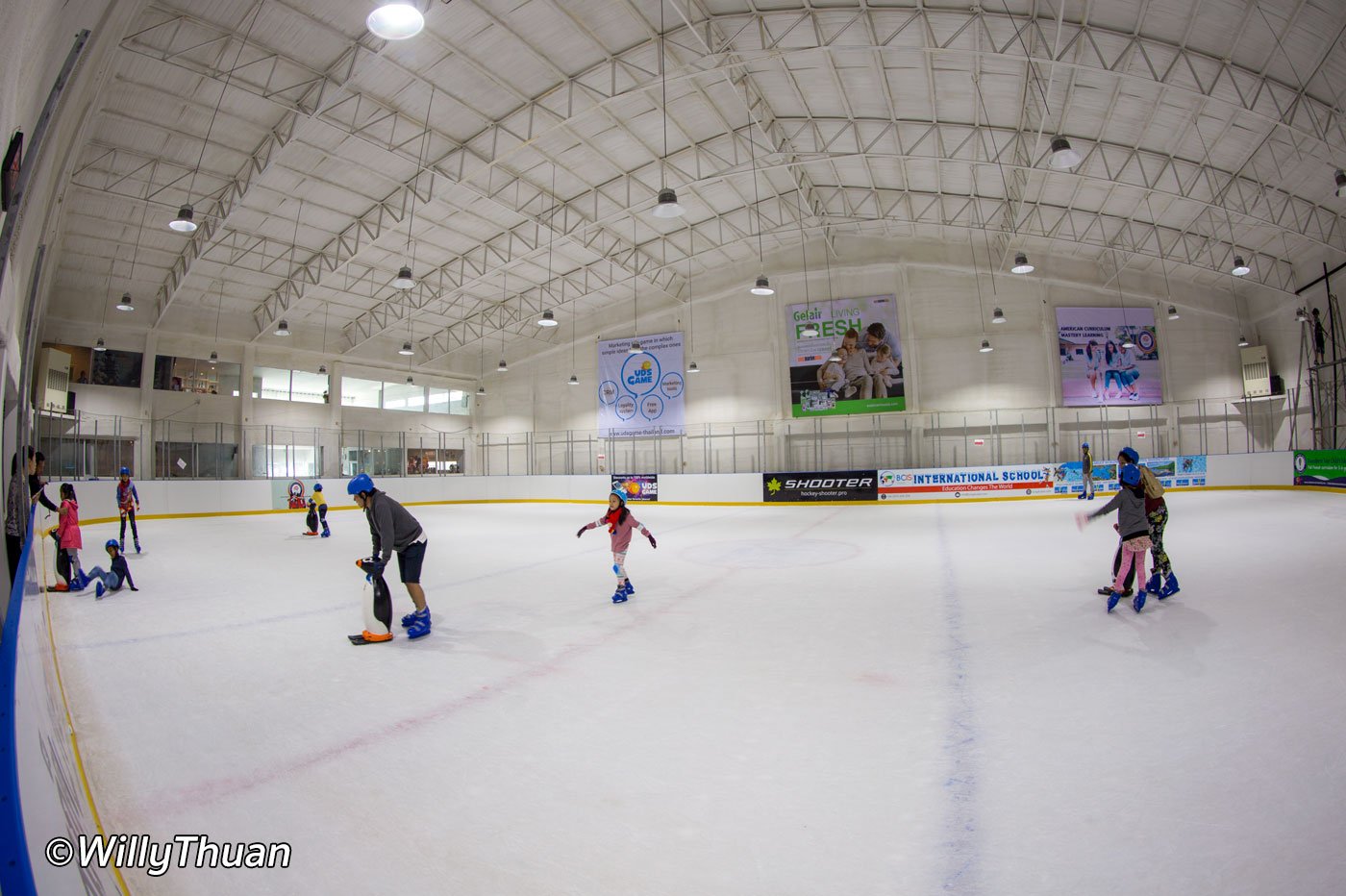 Ice Arena is a place to take the kids a few hours of fun at the Boat Lagoon not too far from Phuket Town. Price is 590 baht per hour and person, including skates. The practice 'penguin' comes with an additional cost of 250 baht per hour, so you better learn fast!  Ice Arena is open from 9 am to 10 pm with short breaks during the day to clean the ice. Read more
---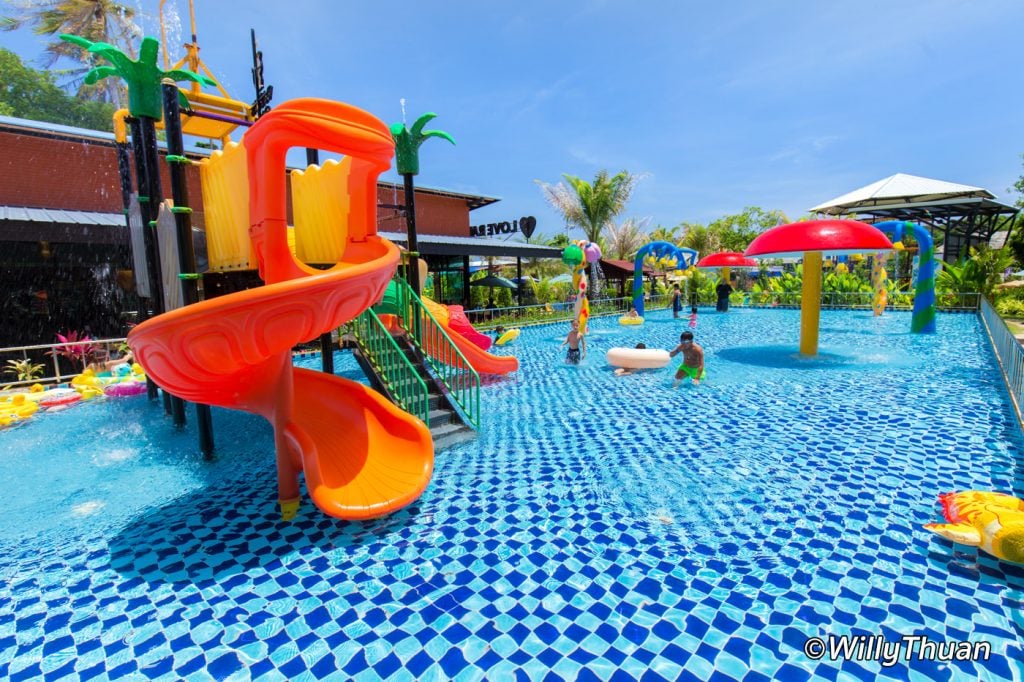 Rawai Park Kids Club is a colourful playground in Rawai beach in the south of the island and is particularly suitable for the youngest children. The main attraction is a large shallow pool equipped with water slides, fountains and waterfalls where both kids and parents can have fun. You can also play with the kids in a vast indoor area with a fantastic amount of toys or an outdoor playground or a safe climbing area for the bigger kids. Read more

11. Zorbing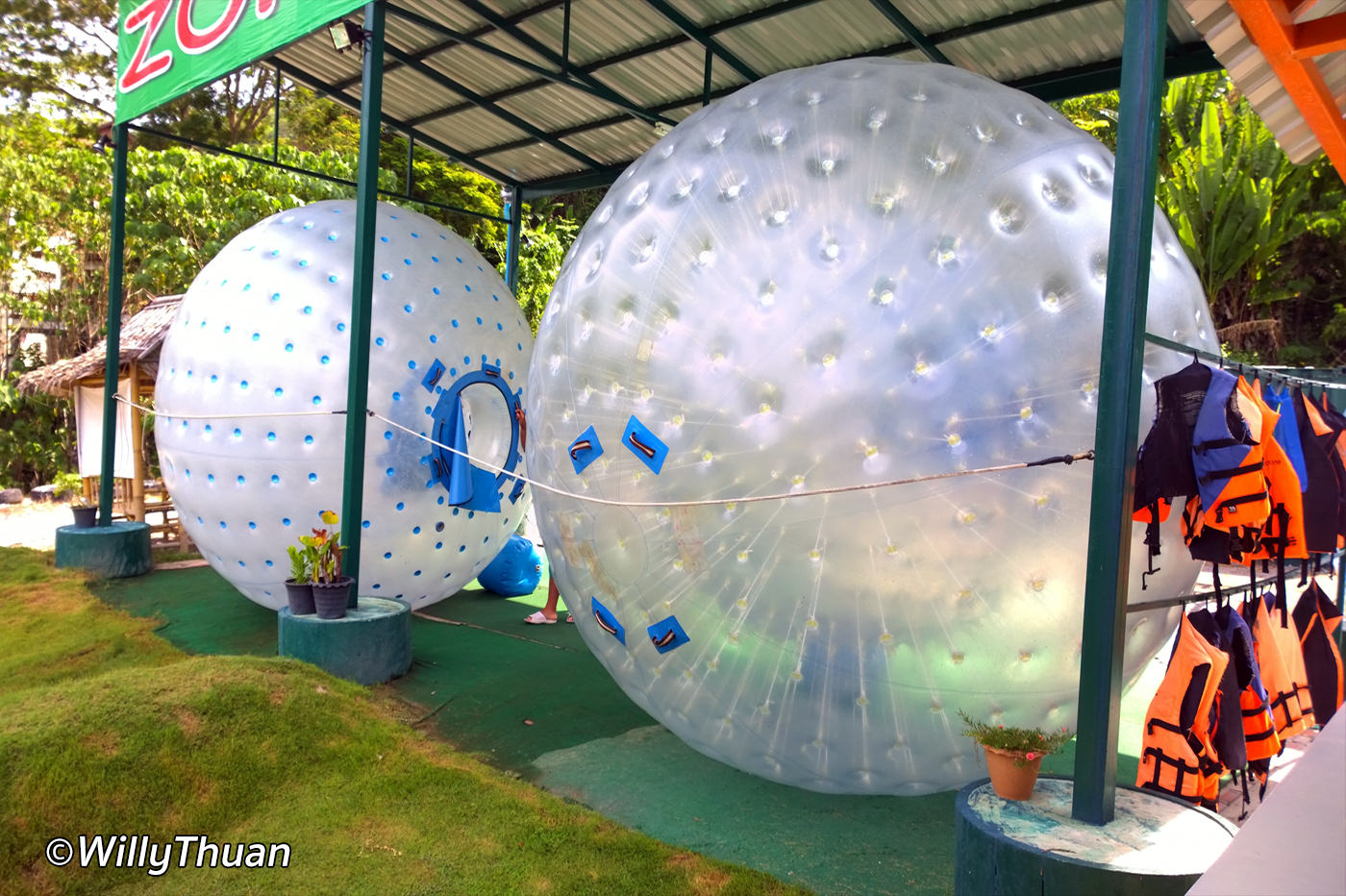 Get into a giant inflatable (semi) transparent ball filled with a bit of water and roll down a 190-meter long grassy hill. Silly fun but everyone loves it! 2 people can fit inside which makes it even crazier.  Price: 950 Baht for two rounds – Location: in the back of Kalim Beach (near Patong).

Dino Park, in the centre of Kata Beach, is still fun and easy entertainment for the family. With a pretty realistic prehistoric jungle haunted with full-size dinosaurs with an active volcano, it's halfway between Jurassic Park and the Flintstones. The 18 holes course is fun, not too hard nor too easy but the area is rather hot. Once you finished a game, move to the Flintstones bar for a drink and one of their Dino burgers. Read more

The Phuket Aquarium in Cape Panwa is not to be compared with the massive Siam Ocean World of Siam Paragon in Bangkok as the tunnel itself it only few metres long, but it is still a great place to entertain you and your kids on a rainy day, and it might even be your chance to see baby turtles. Read more

Which kids hasn't dreamed of driving dad's car? If he is 16 years old, give him this chance and let him ride a kart! If younger, take him in the back seat of double karts as long as they are at least 1,25 cm tall. It feels a lot faster than it is as you are sitting low on the road and car are well protected. Race with him it will be such a thrill, you will make his day if you are cool enough to let them win! From 650 Baht – 15 mn. Read more…

15. Ride a Horse
A stroll along Chalong Beach or Bangtao beach on a small horse is a pleasant surprise for the kids… Small horses are easy to ride. Phuket Riding Club in Chalong or Phuket International Horse Club Bang Tao (expect 1,000 baht/hour).

16. Ride an ATV in the Mangrove
Not only for the ATV ride but for the mangrove and the forest you will cross to reach a mangrove beach, inaccessible by car and not very well know. A bit of practice in the mud and enter the jungle to see some unique Phuket vegetation. It is located few km from the heroine monument on the way to Bangrong Pier.
Adult Riders: 1,600 Baht
Child Riders: 1,300 Baht (from 8 years)
Child Passenger 1,100 Baht (from 4 years)

Starting young is a great way to open new horizons and create a special connection with children. You don't have to go for the real full dive, but go for the discover scuba diving course in the hotel pool is plenty of fun and a possible eye-opener for a future passion. If your child is old enough, Phuket has some excellent dive site just nearby, without having to take tedious courses. (starts eight years old). Read more

This activity is for kids older than 12 years old. Khaosok, which is outside Phuket, is a popular location for rafting. After a short briefing, everyone gears up with helmets and life jackets, and down you go. Starting gently and progressively faster with several adrenaline-pumping moments… all very safe of course. From Adult 2,300, Children: 1,800. Read more