Family Things to Do in Phuket
There are so many fun things to do in Phuket with kids and the whole family. Of course, you could spend your entire holiday on the beach and in the sea with your children, but it would be such a waste not to add some activities to your stay. The family activities listed on this page are great to enjoy with your kids, and they will love sharing some fun with you!
Here are some favourite suggestions for an unforgettable time with the family. You can book most of these activities with your hotel, all you have to do is ask the reception. They are also widely available at street tour counters.

Phuket Trickeye Museum is a fun attraction not far from the old Phuket Town, and a perfect escape to spend a couple of hours on a rainy day with the family. It's called a museum, but it's more of an interactive exhibit where you must blend inside one of the many large paintings on display. (follow the link to see all the silly scene you can interact with! The price is a bit high, but if you have kids, you will not regret all the fun poses and funny photos, you will be able to post on your Facebook and Instagram! Read more
Location: 130/1 Phang Nga Road, Soi Phang Nga 1, Talad Yai, Phuket 83000
Open: Daily 9 am – 9 pm (last admission 8 pm)
Tel: 076 212 806
Price: 500 Baht for adults, 250 Baht for children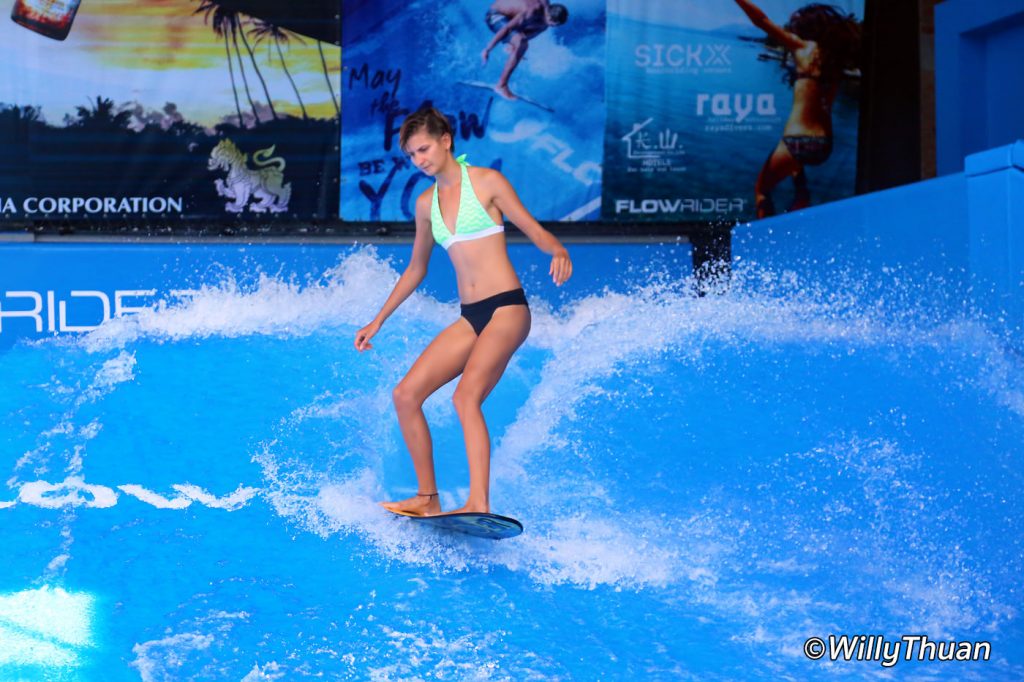 Surf House is an artificial wave flowing over a rubber floor, allowing anyone to get a first surfing experience in Phuket safely. It's easy, fun and painless when you fall (and you will). Also, you won't have to swim and wait for a wave to come, the wave is always here for you. Instructors help you and your kids to do their first steps, and soon, you' will be able to stand on your own. It's not cheap, and there might be a bit of wait to get your turn, but it's fun to have a sit with a drink while watching how other surfers survive. There are two Flow Riders in Phuket: Surf House Patong and Surf House Kata. Read more
Surf House Patong
Location: 150 Thaweewong Road, Patong Beach, near Bangla Road
Open: 9:30 am – 11 pm
Phone: 081 979 7737
Surf House Kata
Location: 4 Pakbang Road, Kata Beach
Open: 12 pm to 12 am
Phone: 081 979 773

Splash Jungle is a medium-size water park with water slides and a wave pool in Mai Khao Beach near Phuket Airport. The main attractions are the high slide and a mad spinning funnel that will make you dizzy. A large kids pool provides plenty of fun for the youngest with a mini slide. If you are not a fan of fast sliders, you can gently drift along the 335-meter Lazy River or sit at the large pool bar while the kids are having their blast. It's fun but rather expensive compared to water parks in most countries. Read more
Location: Soi Mai Khao 4, Mai Khao Beach (Next to Phuket Airport)
Open: Daily 10 am – 6 pm
Phone: 076 372 111
Price: Adult: 1,305 Baht – Child (5-12 Years) : 630 Baht

The upside-down house is precisely what the name implies. This incredible house stands inverted on the side of the Bypass road outside Phuket Town. It will challenge your senses and offer plenty of fun photo opportunities. Each of the three floors of Baan Teelanka (which means 'upside-down house' in Thai) is the replica of a real house but inverted. Living room, kitchen, bed and even a Tuk Tuk appear to be hanging from the ceiling until your brain realises that you might be the one at the wrong place! In the back of the house is a garden maze that will entertain the kids for a while. Lots of fun, guaranteed! Read more
Location: 51/11 Chalermprakiet Ratchakan Thi 9 Road  (known as By-Pass Road)
Open: 10:00 am – 6:00 pm
Phone: 076 376 245
Price for the House: Adult 350 Baht, Kids 190 Baht (4 to 11 years old).
---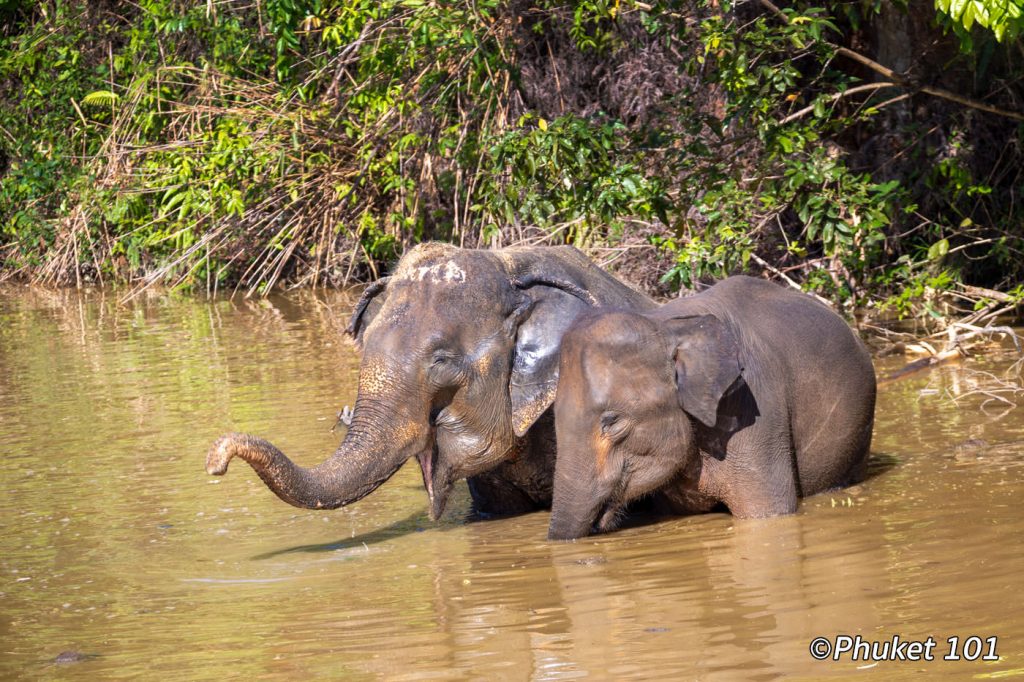 Tree Tops Elephant Reserve Phuket is a truly ethical elephant sanctuary. It might come to you as a surprise, but not all 'sanctuaries' are actually ethical. The growing number of travellers who love and respect elephants are wondering what is going on with all the sanctuaries in Phuket? Yes, the large majority agrees that trekking must stop, but… not all sanctuaries are ethical? It is very confusing! What should you do? Read more
---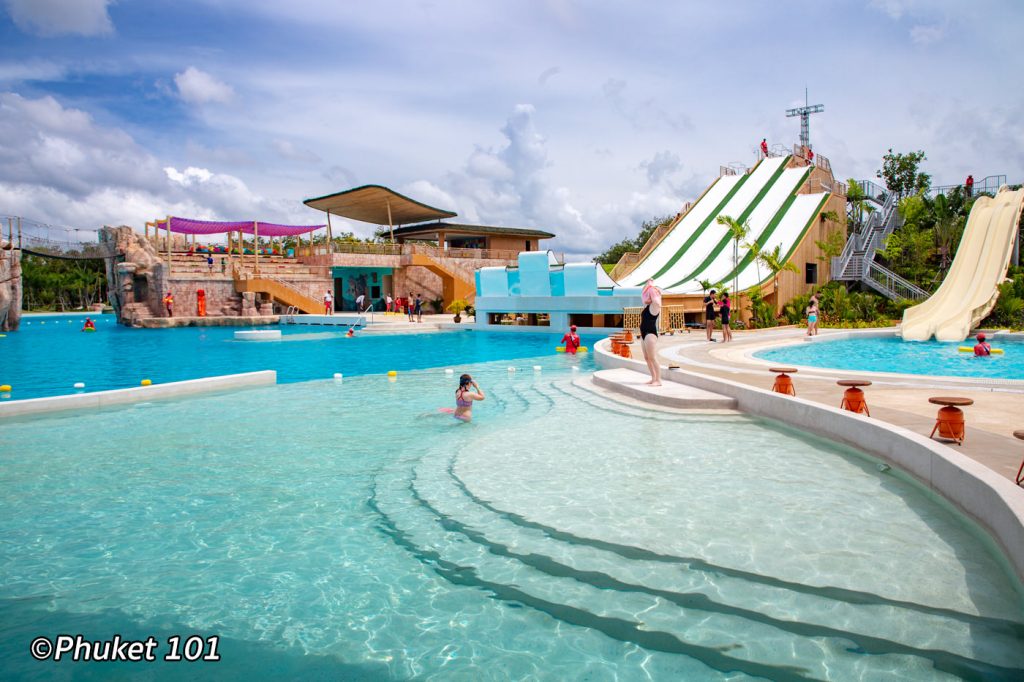 Blue Tree Phuket is an immense water park for adults and kids to spend a day of fun in the warm waters of a tropical island. With its multicolour and brightly decorated building, the park is easy to spot on the roadside of Cherngtalay, halfway between Bangtao beach and the well-known heroine's circle. This 17,000 square metres lagoon is gigantic, with an impressive restaurant building and a vast array of water activities, water slides, zip lines and paddleboards. Read more
Location: Cherngtalay
Address: 4/2 Srisoonthorn, Cherntalay, Phuket 83110
Open: 10 am – 6 pm
Phone: 076 602 435
Price:  950 baht for adult, 350 Baht for kids
---
Wakeboarding with cable ski is a lot easier than you might think. There are now three wake parks in Phuket, and even the youngest kids can give it a try with a kneeboard, which is a lot more stable but still gives you a good thrill. It is safe and so exhilarating; they will ask for more. You can share the fun with them and talk about it for days! If you fall, you only fall in the water, and with the life jacket, it's easy to reach the nearby edge where a bike will pick you up. 750 Baht for 1 hour, 1,000 Baht for 2 hours. Read about Phuket Wake Park in Kathu
Phuket Wake Park
Location: 86/3 Moo 6 Vichitsongkram Road, Kathu, Phuket, 83120 (on the way to Kathu Waterfalls)
Open: 7 am – 9 pm
Phone: 089 873 0187 – 076 510 151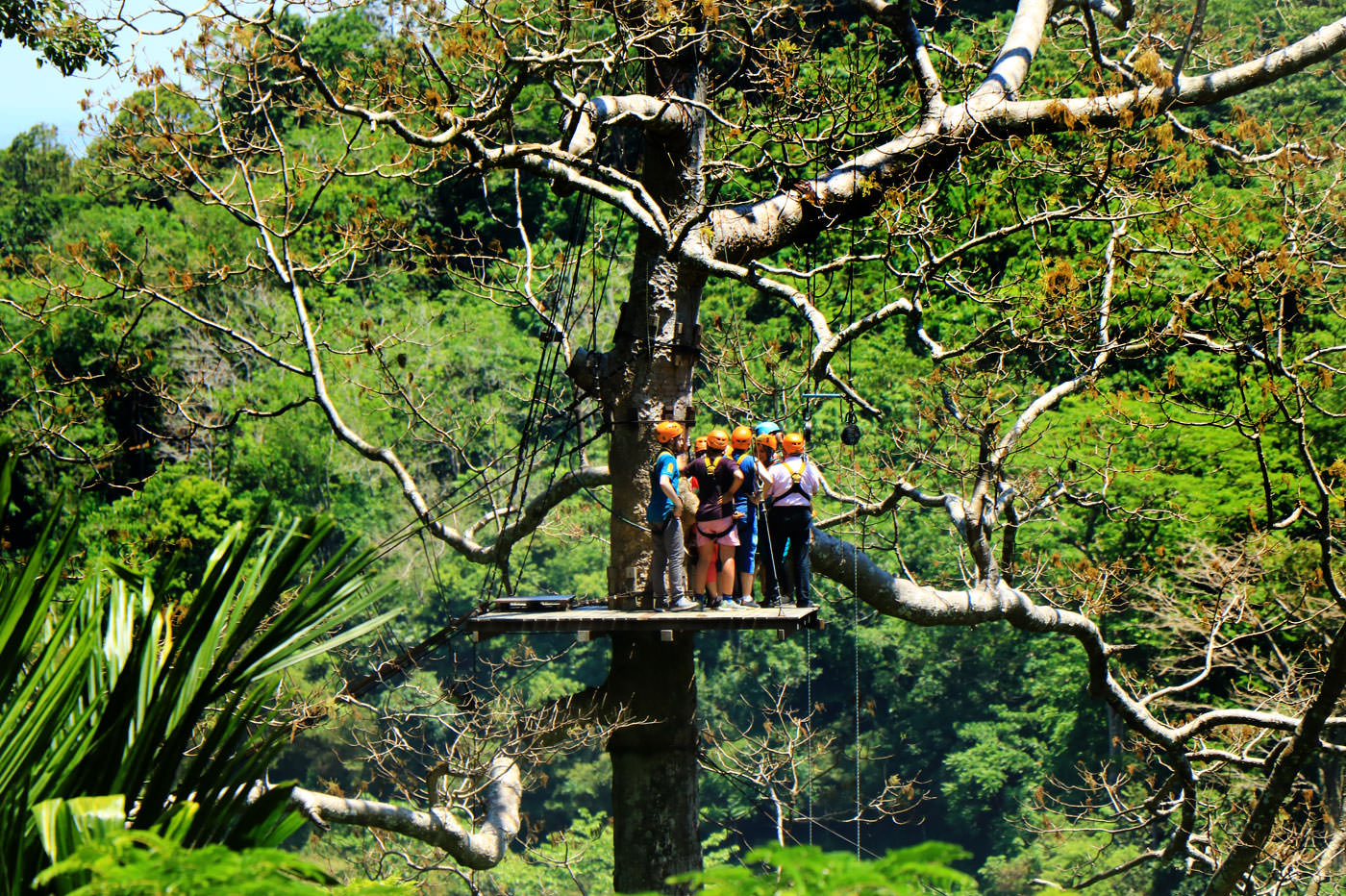 Gliding in the air between immense trees in the jungle of Phuket is an unforgettable experience for the whole family. Flying Hanuman is an immense zipline consisting of 28 platforms, some as high as 40 meters! There are several ziplines on the island and we tried the one in Kathu, not far from Patong Beach. The crew is very attentive and take safety very seriously. There are 4 courses per day and kids as young as 4 years old can join! Read more
Location: 89/16 Moo 6, Soi Namtok Kathu, Wichitsongkram Road, Kathu, Kathu, Phuket 83120
Open: 8 am – 5 pm
Courses: 8 am – 10 am – 1 pm – 3 pm
Phone: 076 323 264-5, 081 979 2332
---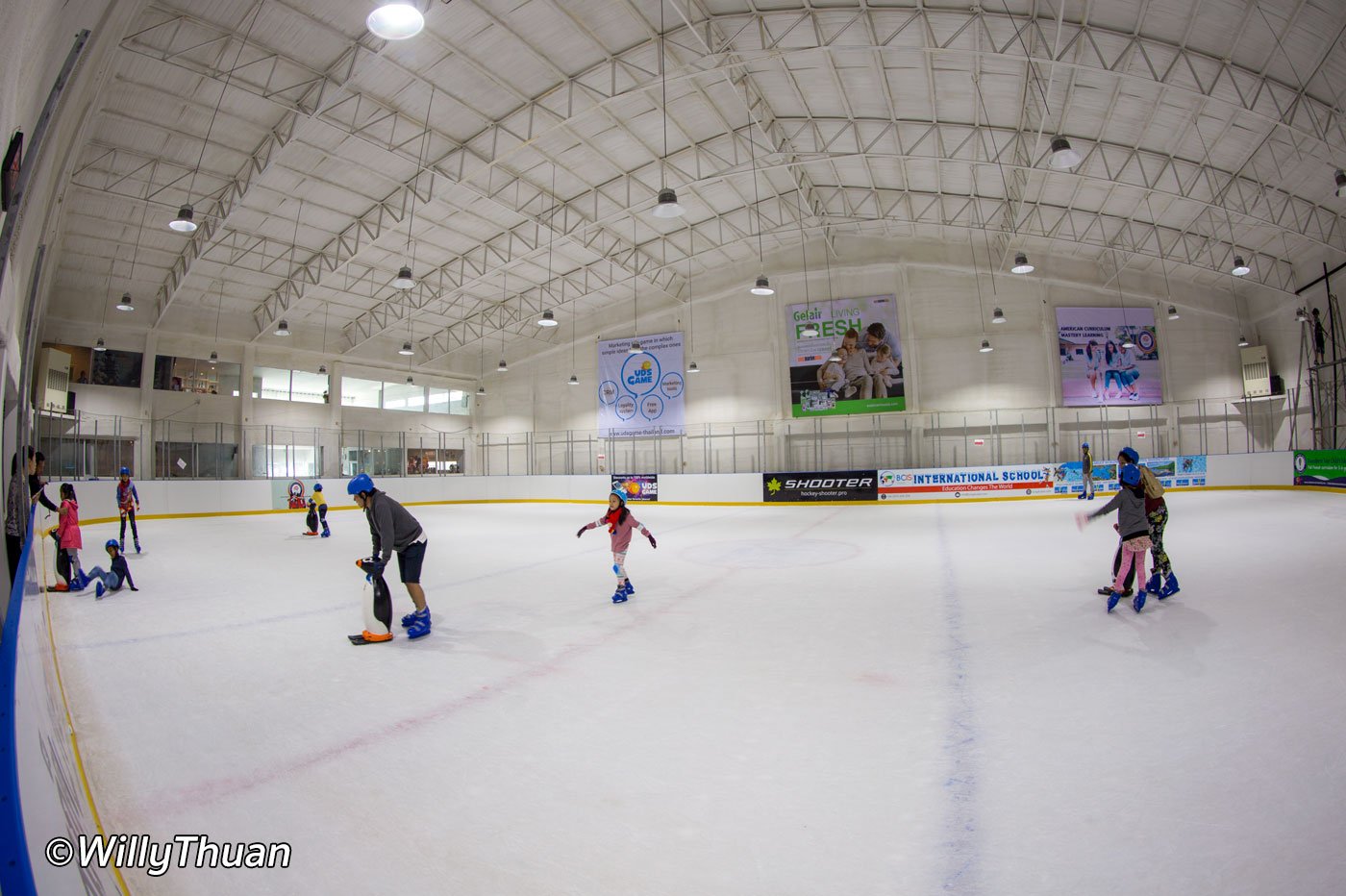 Ice Arena is a place to take the kids for a few hours of fun at the Boat Lagoon, not too far from Phuket Town. Price is 590 baht per hour and person, including skates. The practice 'penguin' comes with an additional cost of 250 baht per hour, so you better learn fast! Ice Arena is open from 9 am to 10 pm with short breaks during the day to clean the ice. Read more
Location: Boat Lagoon Amphoe Muang Phuket, Phuket, Thailand 83000
Open: 9 am – 10 pm
Phone: 094 591 5595
Price: 450 baht for adults and 350 baht for children
---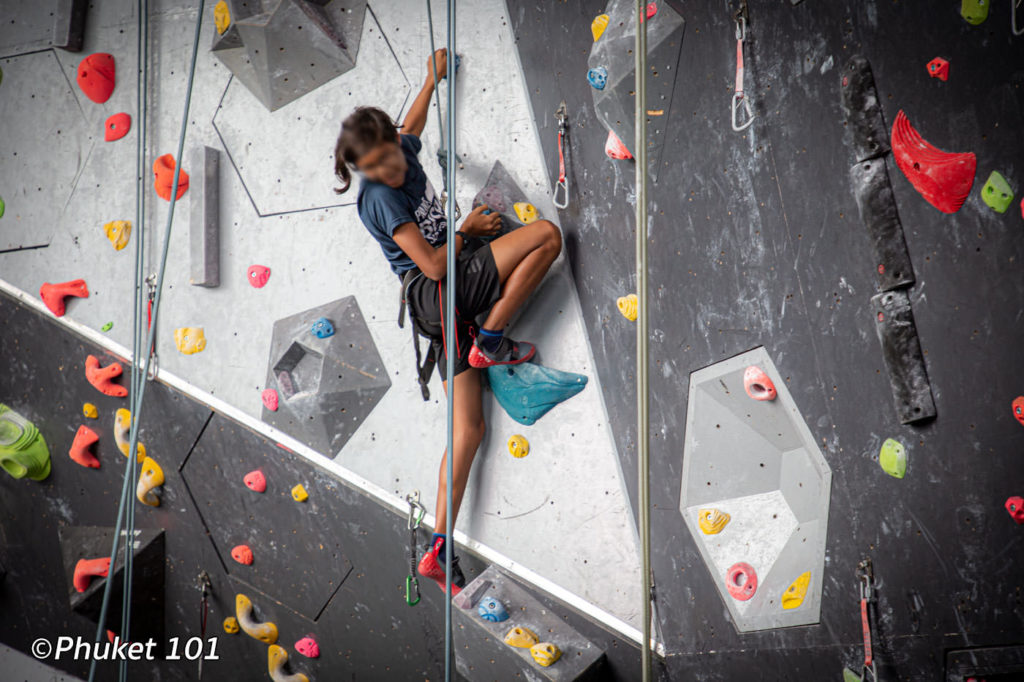 Adjacent to Anthem Wakepark restaurant is Rebel Rock Climbing, an impressive 3-story, 700 sqm indoor set of walls to ascend. Everyone from kids to adults, from beginners to very advanced can practice their skills on top-rope wall, boulder wall, lead climb wall, boulder cave and top-out boulder wall. It looks great for corporate events as well. Friendly staff are here to teach you and help you find the best route to the top. Safety is taken very seriously, perfect for adults and kids, especially on a rainy day! Read more
Location: 194/6 M.7 Srisoonthorn, Thalang, Phuket
Open: Tuesday – Sunday, 10 am – 8 pm (closed on Monday)
Phone: 076 608 734
2-Hour Pass: Adults: 700 Baht, Kids (under 12): 600 Baht
---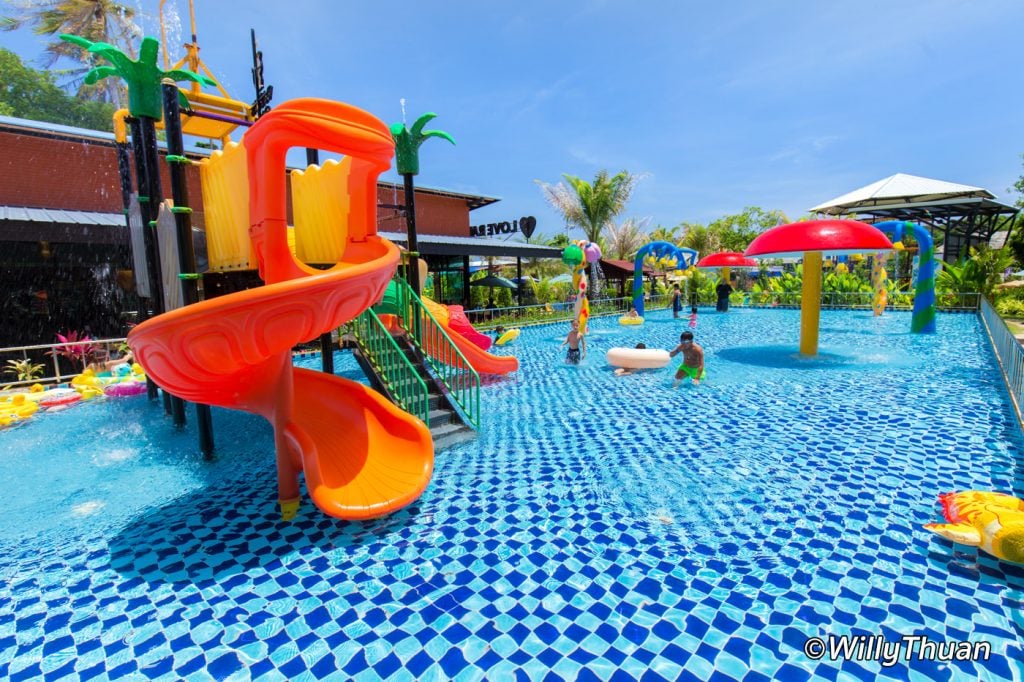 Rawai Park Kids Club is a colourful playground in Rawai beach in the south of the island and is particularly suitable for the youngest children. The main attraction is a large shallow pool equipped with water slides, fountains and waterfalls where both kids and parents can have fun. You can also play with the kids in a vast indoor area with a massive amount of toys or an outdoor playground or a safe climbing area for the bigger kids. Read more
Location: 58/88 Moo 6, Soi Rouyphad, Rawai, (Rawai Beach), Muang, Phuket, 83130
Open: 9 am – 8 pm
Phone: 098 396 5369
Price: Monday to Friday 200 baht, Saturday and Sunday 350 baht, Parents: 100 baht all week

12. Rollerball Zorbing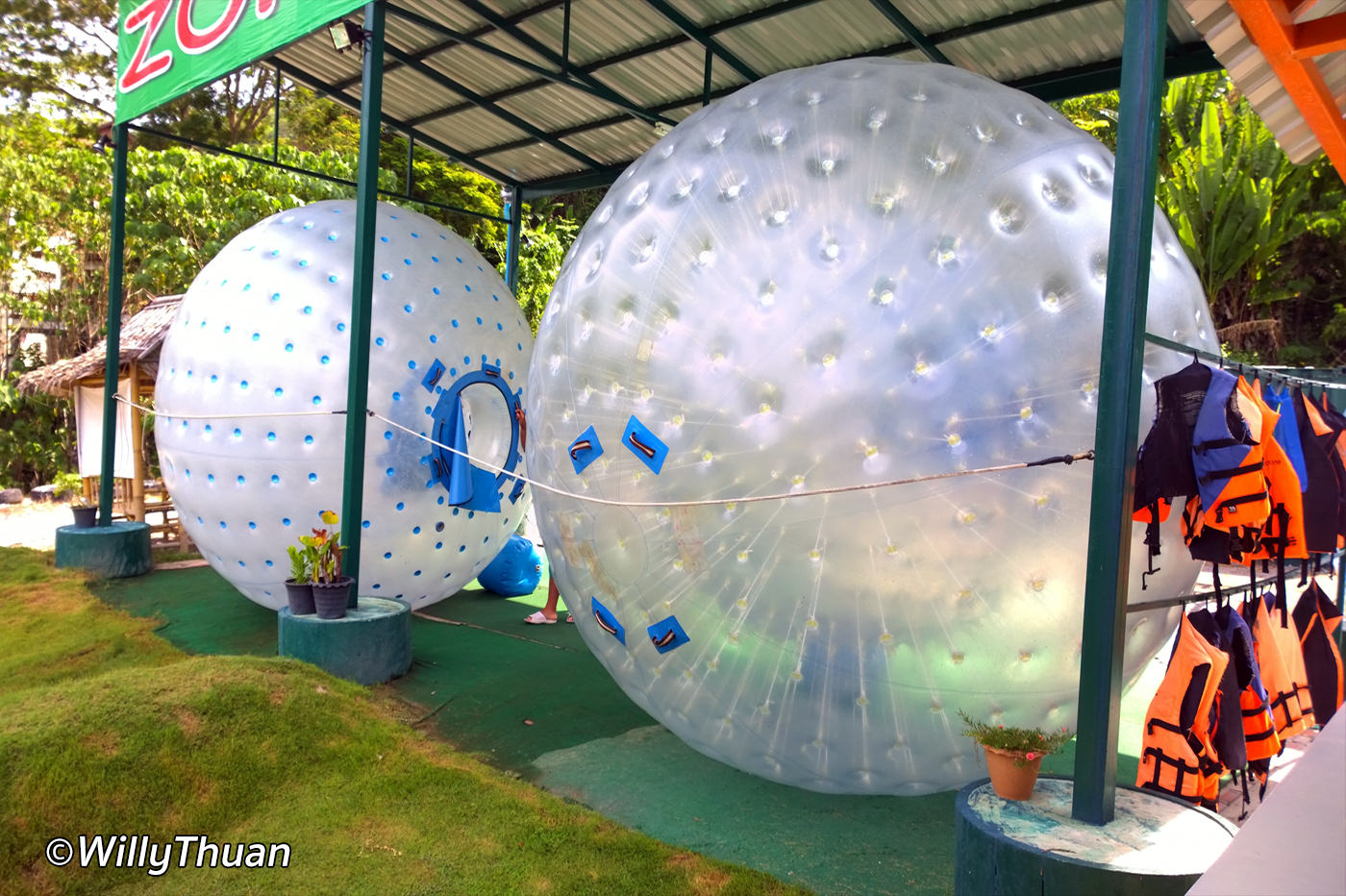 Get into a giant inflatable (semi) transparent ball filled with a bit of water and roll down a 190-meter long grassy hill in Kalim Beach, near Patong. Silly fun but everyone loves it! 2 people can fit inside which makes it even crazier.
Location: Kalim Beach, Patong, Kathu District, Phuket 83150
Open: 9 am – 6 pm
Phone: 089 872 6532
Price: Starts 950 Baht for 1 roll + a drink

Dino Park, in the centre of Kata Beach, is still fun and accessible entertainment for the family. With a pretty realistic prehistoric jungle haunted with full-size dinosaurs with an active volcano, it's halfway between Jurassic Park and The Flintstones. The 18 holes course is fun, not too hard nor too easy but the area is rather hot. Once you finished a game, move to the Flintstones bar for a drink and one of their Dino burgers. Read more
Location: Patak Soi 7, Karon, Muang, Phuket 83100, Near Marina Phuket Resort
Open: 10 am – 11 pm
Phone: 076 330 625
Price: 240 baht for adults, 180 baht for children
---
14. Scare yourself at Game Space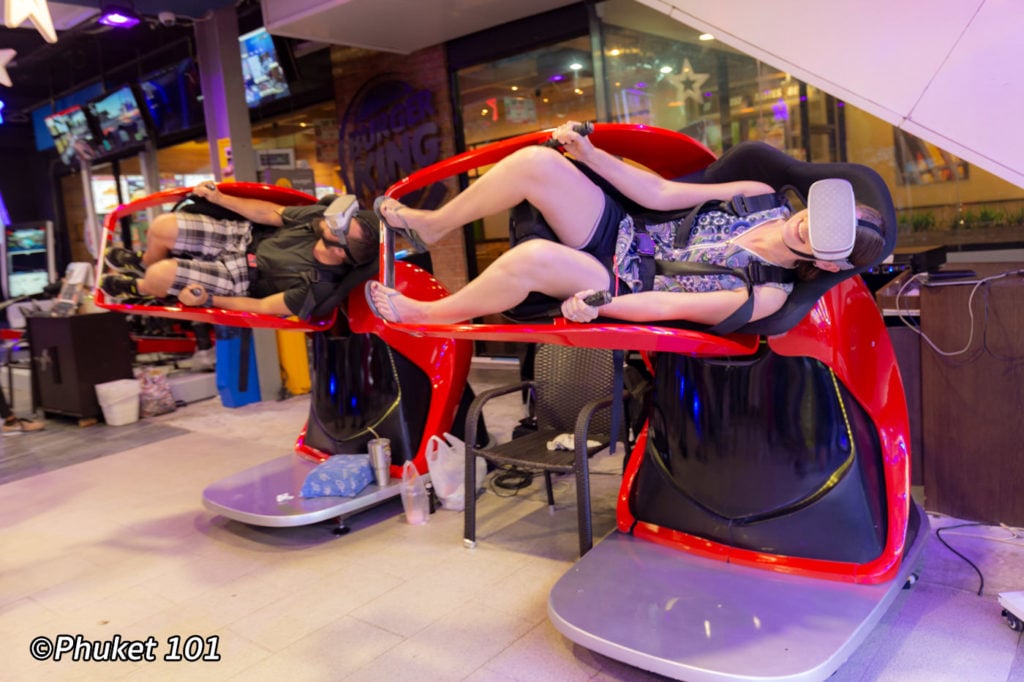 Open for a few years on Bangla Road in Patong Beach; Game Space has a lot of great games and virtual reality rides to enjoy for an hour or two. And just watching those who dare climbing in those spinning contraptions is fun too! It's very popular at night, but it's also a fun way to spend an occasional rainy day.
Location: 29/1 Bangla Road, Patong Beach, Phuket 83150
Open 12 noon – 2 am
Phone: 076 344 193

The Phuket Aquarium in Cape Panwa is quite modest and is not to be compared with the massive Aquaria at Central Floresta in Phuket Town but it is more educational and serves also as a Phuket Marine Biological Center (PMBC) rather than being an entertainment playground. If you are in this area, it's a great place to entertain you and your kids on a rainy day, and it might even be your chance to see baby turtles! It is also a lot more affordable than its new counterpart in Phuket town. Read more
Location: 51 Sakdidet Road, Cape Panwa
Open: Daily from 8.30 am – 4.30 pm
Phone: 076 391 126
Price: 180 Baht for adult and 100 Baht for kids.

Which kids hasn't dreamed of driving dad's car? If he is 16 years old, give him this chance and let him ride a kart! If younger, take him in the back seat of double karts as long as they are at least 1,25 cm tall. It feels a lot faster than it is as you are sitting low on the road and car are well protected. Race with him it will be such a thrill, you will make his day if you are cool enough to let them win! From 650 Baht – 15 mn. Read more
Location: 118/5 Vichitsongkram Road. Kathu, Phuket, 83120
Open: 10 am – 7 pm
Phone: 076 321 949
Price:  Normal Karts: 15 mn rides 750 Baht – 2 Seater Kart: 10 mn 650 Baht – Race Kart: 10 minutes 1.000 Baht

17. Ride a Horse
A stroll along Chalong Beach or Bangtao beach on a small horse is a pleasant surprise for kids. Small horses are easy to ride. Phuket Riding Club in Chalong or Phuket International Horse Club Bang Tao (expect 1,000 baht/hour).

18. Ride an ATV in the Mangrove
Not only for the ATV ride but for the mangrove and the forest you will cross to reach a mangrove beach, inaccessible by car and not very well known. A bit of practice in the mud and enter the jungle to see some unique Phuket vegetation. It is just a few kilometres from the Heroine Monument, on the way to Bangrong Pier.
Prices:
Adult Riders: 1,600 Baht
Child Riders: 1,300 Baht (from 8 years)
Child Passenger 1,100 Baht (from 4 years)

Starting to dive young is a great way to open new horizons and create a special connection with children. You don't have to go for the real full dive, but go for the discover scuba diving course in the hotel pool is plenty of fun and a possible eye-opener for a future passion. If your child is old enough, Phuket has some excellent dive site just nearby, without having to take tedious courses. (starts 8 years old). Read more

This activity is for kids older than 12 years old. Khaosok, which is outside Phuket, is a popular location for rafting. After a short briefing, everyone gears up with helmets and life jackets, and down you go. Starting gently and progressively faster with several adrenaline-pumping moments, all very safe, of course. Read more
Prices: Adult 2,300 baht, Children: 1,800 Baht
---
Related page