Where to go for wakeboarding in Phuket?
Update: Anthem Wakepark is permanently closed since March 1st, 2020
Anthem Wakepark is one of the three wakeboard lakes on Phuket Island. This 650-meter long cable track runs clockwise at 29 km/h and features 11 obstacles and jumping platforms. If you are in the Bangtao area and are looking for some extreme sport, Anthem Wakepark is an excellent option.
Beginners and kids as young as 4 years old can learn, and it's a lot easier than you think! Advanced wakeboarders can also improve their skills with qualified instructors. Note that if you fall, you will have to walk back to the starting dock, but the circumference of the lake makes it an easy walk.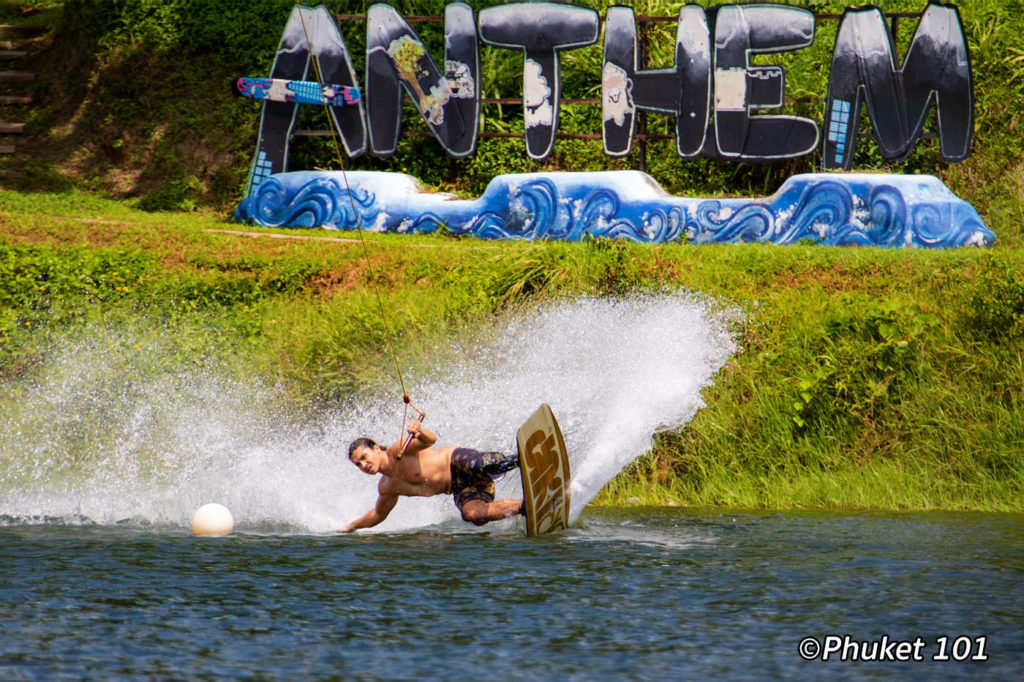 Wakeboard is easy to enjoy, but at a higher level, it can become physically intense. If you are new to this extreme sport, you will need a rest between rounds. The terrace of Anthem Kitchen is an excellent place for a rest. The restaurant serves Thai and western cuisine on a breezy open-air terrace offering great views of the lake. A lunch or a snack is a chance to observe how other wakeboarders perform their jaw-dropping air tricks!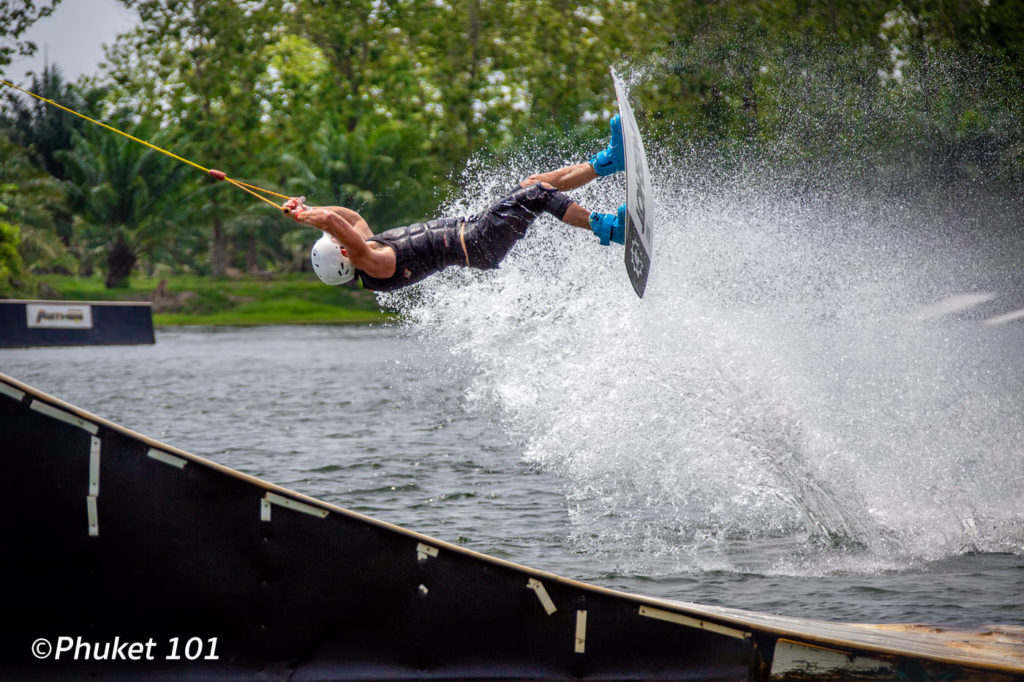 You can rent all the needed equipment, but you can also buy wakeboards, wakeskates, bindings, helmets, life jackets and board bags at Anthem Pro-shop.
---
Anthem Wakepark Prices:
2 hours: Adults 800 Baht, Kids (below 12) 400 Baht
Rental board: 250 Baht
4 hours: Adults 1,200 Baht, Kids (below 12) 600 Baht
Rental board: 400 Baht
Full day: Adults 1,500 Baht, Kids (below 12) 750 Baht
Rental board: 600 Baht
---
More Photos
---
Rebel Rock Climbing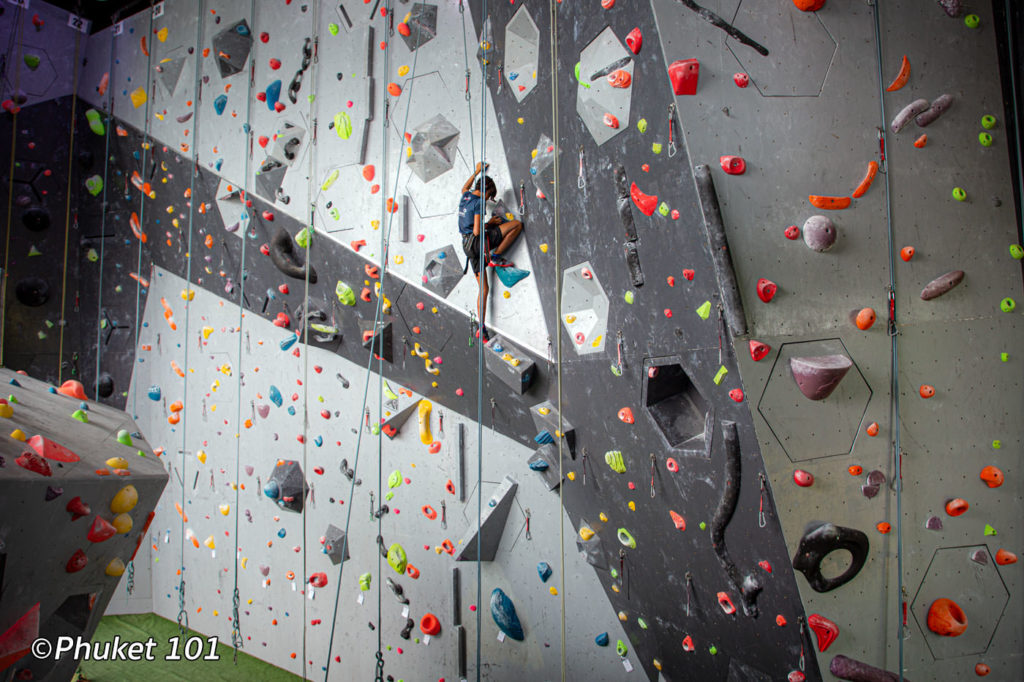 Adjacent to Anthem Wakepark restaurant is Rebel Rock Climbing, an impressive 3-story, 700 sqm indoor set of walls to ascend. Everyone from kids to adults, from beginners to very advanced can practice their skills on top-rope wall, boulder wall, lead climb wall, boulder cave and top-out boulder wall. It looks great for corporate events as well. Friendly staff are here to teach you and help you find the best route to the top. Safety is taken very seriously, perfect for adults and kids, especially on a rainy day!
Location: 194/6 M.7 Srisoonthorn, Thalang, Phuket
Open: Tuesday – Sunday, 10 am – 8 pm (closed on Monday)
Phone: 076 608 734
---
Rebel Rock Climbing Price
2-Hour Pass: Adults: 700 Baht, Kids (under 12): 600 Baht
Full-Day Pass: Adults: 900 Baht, Kids (under 12): 800 Baht
A day pass includes equipment (harness and shoes), basic instructions and orientation of roped-wall climbing, bouldering-wall climbing and belay assistant.
Beginner Top-Rope Course: 1,800 Baht
2-hours course teaching all the basic of rock climbing, equipment, safety, knots, belay and climbing technique for top-rope climbing, includes of all equipment.
---
Street View
---
Anthem Wakepark Info
Location: Cherngtalay
Address: 194/6 M.7 Srisunthorn Road, Talang, Phuket 83110
Open: 9 am – 6:30 pm
Phone: 076 620 034
Cable length: 650 meters
Direction: Clockwise
---
Anthem Wakepark Map
If you are on mobile, add the map here: https://goo.gl/maps/nCimg3rNSdFjYbeRA
---
You May Also Like