What To Do in Kata Beach?
Kata Beach, on the west coast of Phuket island, is one of the most visited beaches after Patong Beach. Kata enjoys a superb sandy bay with an incredibly blue sea and an iconic island standing in the middle of the sea, making excellent sunset photos. The town stretches for 2 kilometres along the back road, but keep in mind that because Club Med resort occupies 90% of the 1.5 kilometre beachfront, the large majority of the restaurants, hotels, and shops are not on the beach, but on that second road.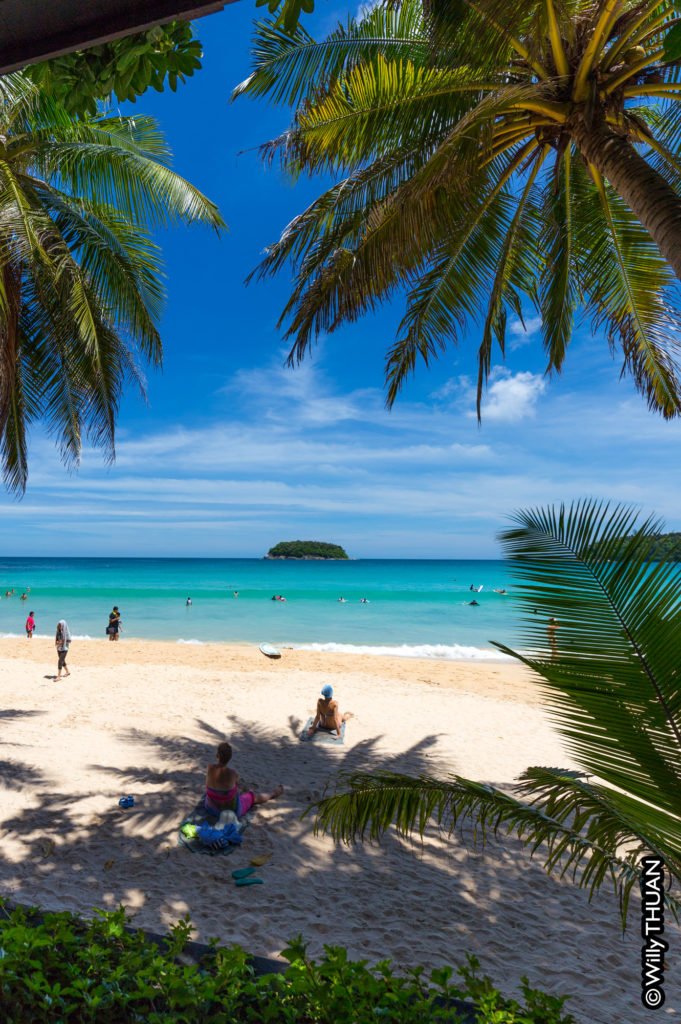 While it can be bustling in high season, Kata is less crowded than Patong and still offers a good and growing choice of dining venues, shopping, nightlife, and hotels. This beach is also known to be a great family destination.
---
What to Do in Kata Beach?
Fantastic place in high season, Kata is sometimes unsafe to swim during the low season (June to November). However, because of the waves it then becomes popular among surfers and even hosts a surf competition once a year. Nothing unusual, but it's a great place to learn. Few surf shops rent surfboards here and there and can teach you the basics.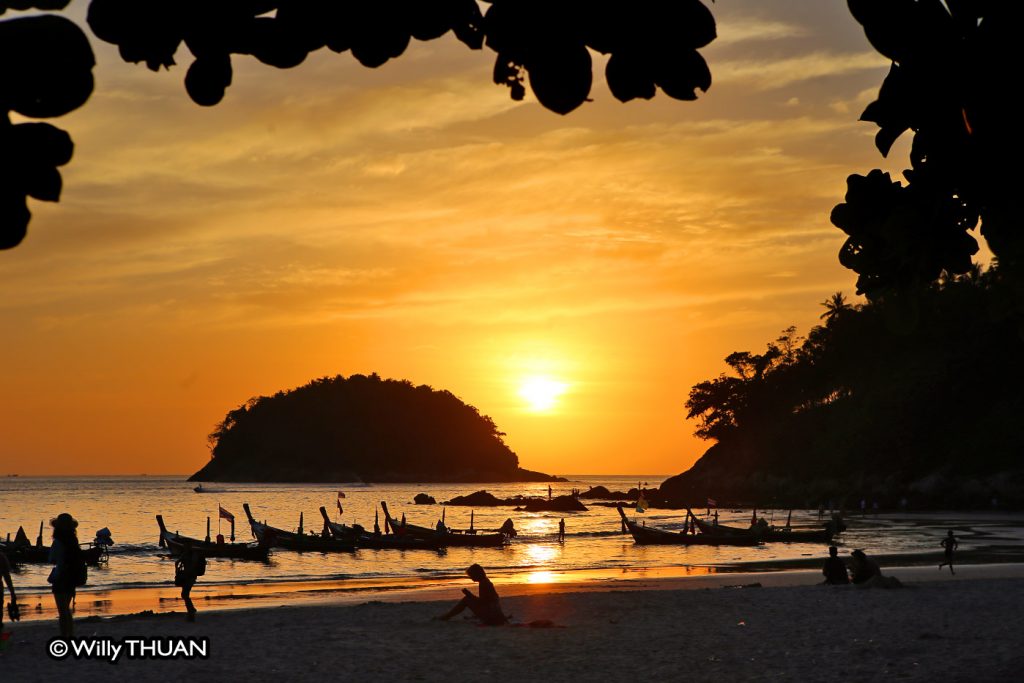 ---
The Beach
The beach is, of course, the main reason why people travel all the way to be here and choose to stay on this part of the island. The beach is immense (1.5 kilometres), the sand clear and very soft, and the water has a beautiful blue colour during the high season (December to April). The entire bay is lined with trees that provide plenty of shade and where you will find drink vendors, beach massage, and a few small but good Thai restaurants.
---
Kata Noi Beach (meaning 'Small Kata') is a stretch of sand so beautiful, and it was once in the '10 best beaches in the world' in Tripadvisor. The sand is soft, and the sea clear and blue during the low season. There are only three hotels on Kata Noi: Mom Tri's Villa Royale, Katathani, and The Shore. You can enjoy a few bars, shops, and restaurants on the street that runs parallel to the beach.
---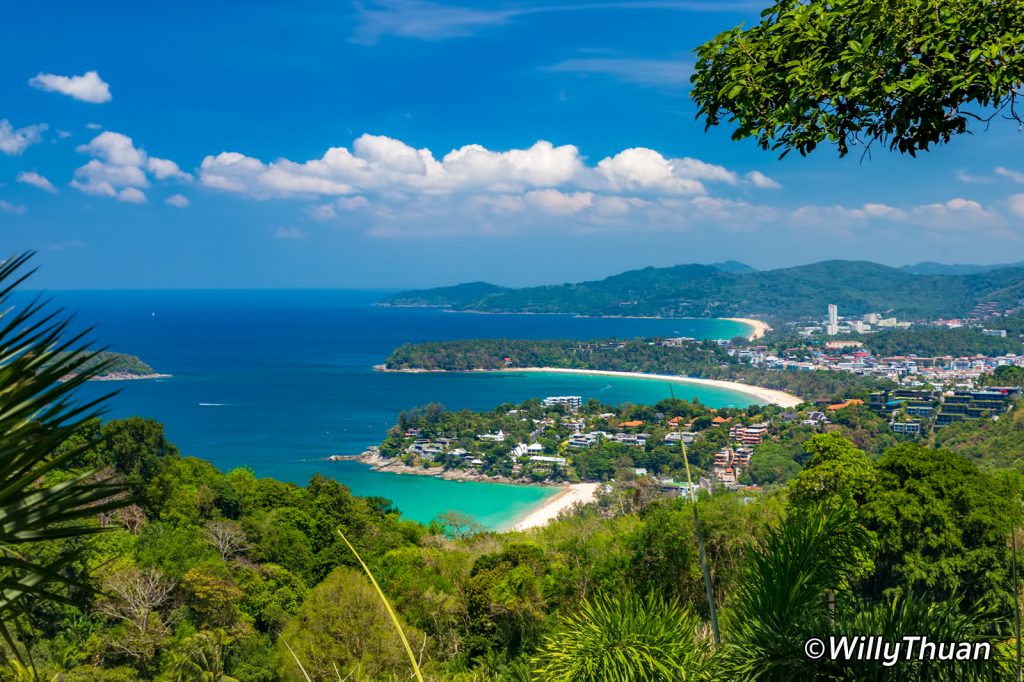 Karon viewpoint, a few kilometres south of Kata Beach, offers a beautiful panoramic view on three bays: Kata Noi, Kata Beach and Karon in the far. This viewpoint, one of the most famous views of Phuket, is easy to access by the seaside road.
---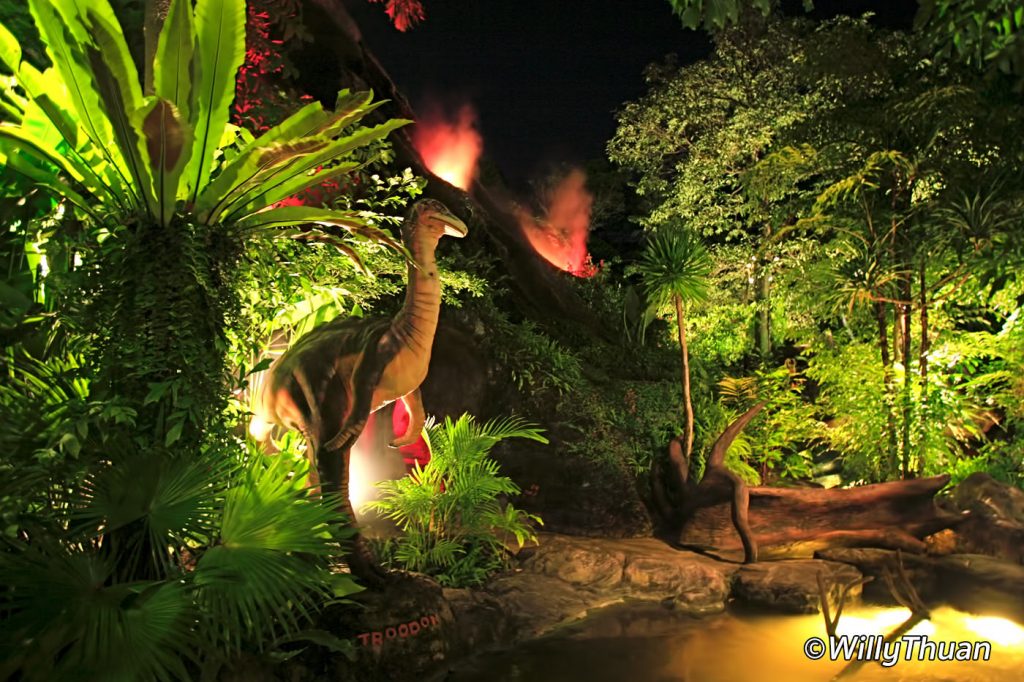 Dino Park is a well-designed dinosaur-themed mini-golf with its cool volcano! It is well designed and it's great fun to play with friends or family, but it can get hot in there.
---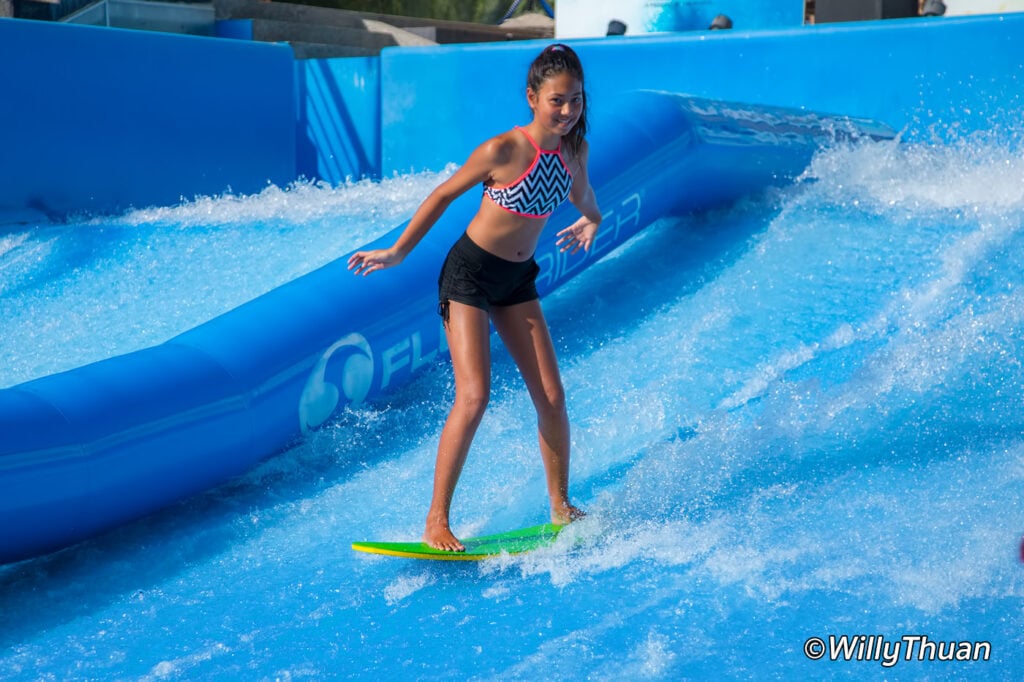 Surf House Phuket is a fun artificial wave flowing on a safe rubber slide, great for both adults and kids to play and even practice your balance. The bar and restaurant around the slide are trendy and often hosts parties at night.
---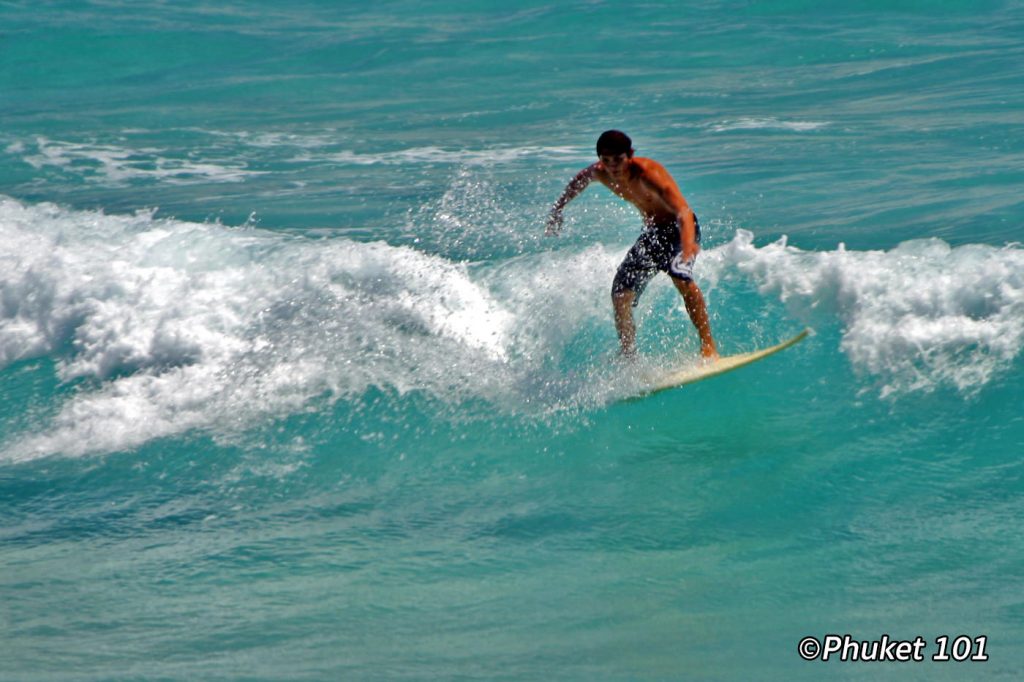 Surfing is popular during the low season, usually between June and November. Waves are not big, but the south end of the beach is a great spot to learn. You can easily rent all kinds of surfboards anywhere along the beach.
---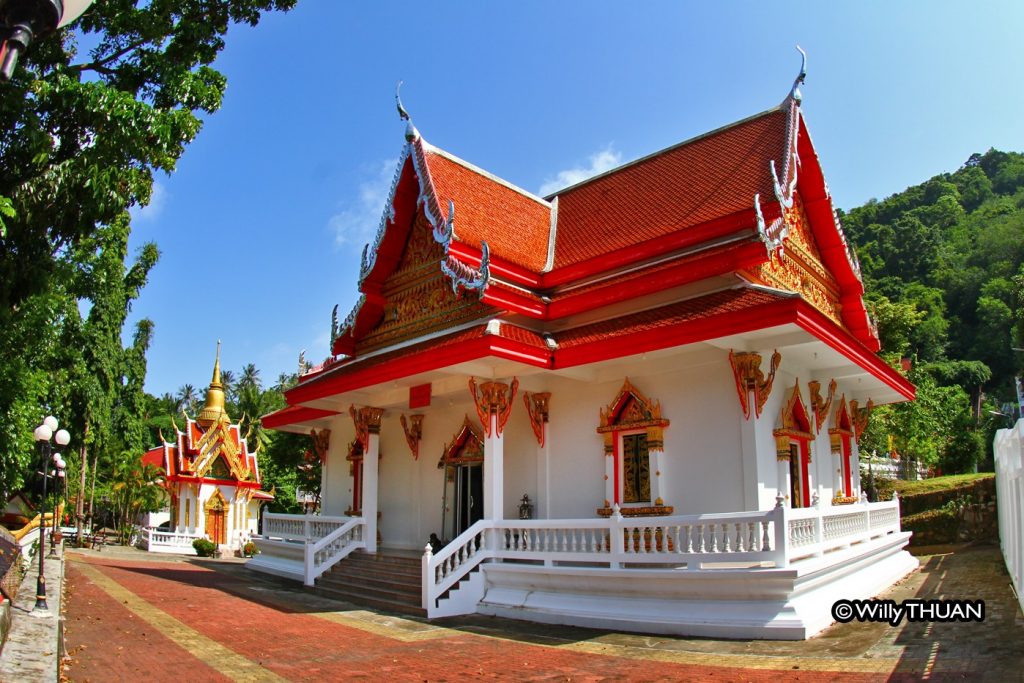 Wat Kitti Sangkharam is a modest but beautiful temple at the foot of a hill on Kata Beach back road.
---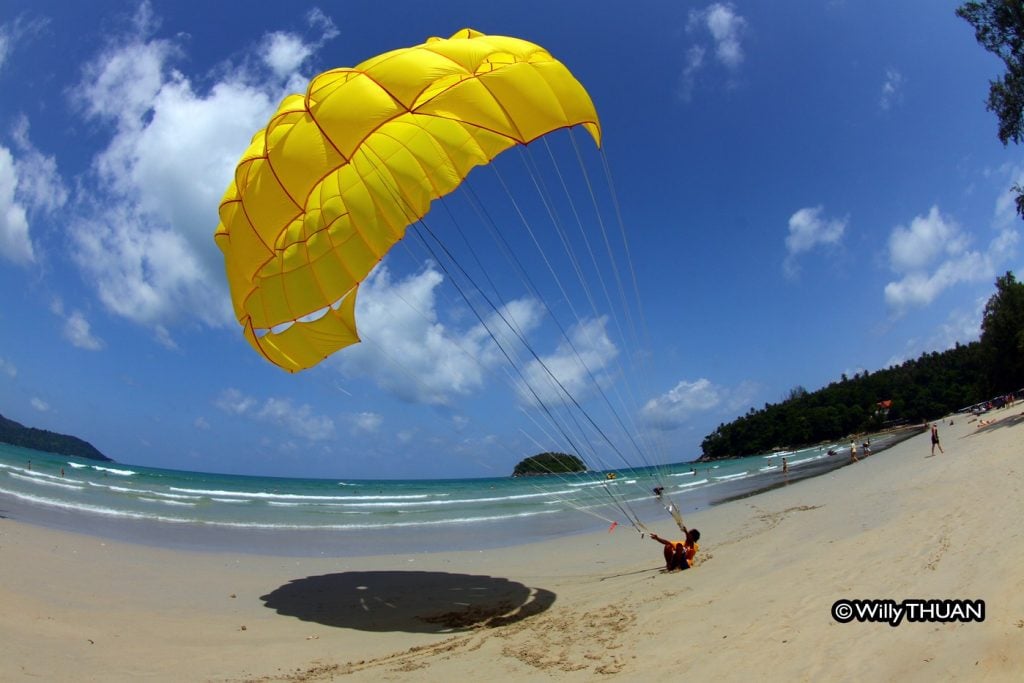 Parasailing and jet skiing are available but not recommended for safety reasons.
---
Kata Beach is blessed with a huge array of places to eat, from street food and food markets all the way to award-winning restaurants. Beach dining has always been a favourite during the day, while panoramic sunset terraces are perfect to end your day. On the high-end, you will be surprised by the level of cuisine and setting you can get in Kata Beach. The second road of Kata Beach is packed with places to eat for every budget. Click here to see some favourites ►
Beach restaurants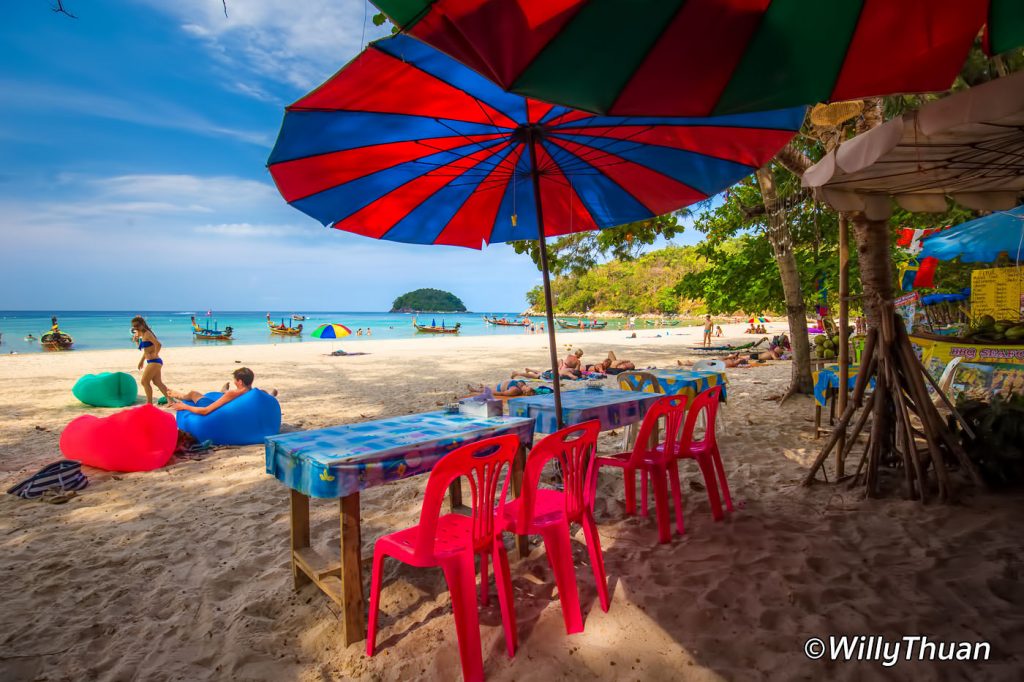 Eating cheap Thai food on the beach with your feet in the sand has become a rare luxury in Phuket. There is still a small cluster of modest-looking restaurants at the very north of the beach (the end with the island), and you should enjoy them while they last!
---
The Boathouse Phuket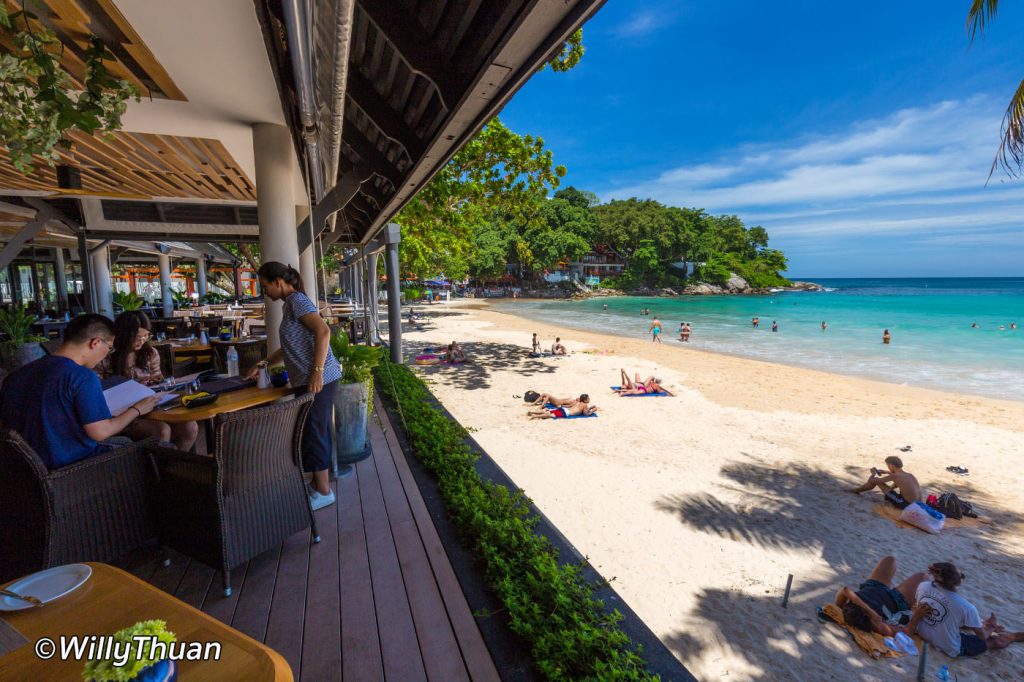 ---
Kata Seafood and Ska Bar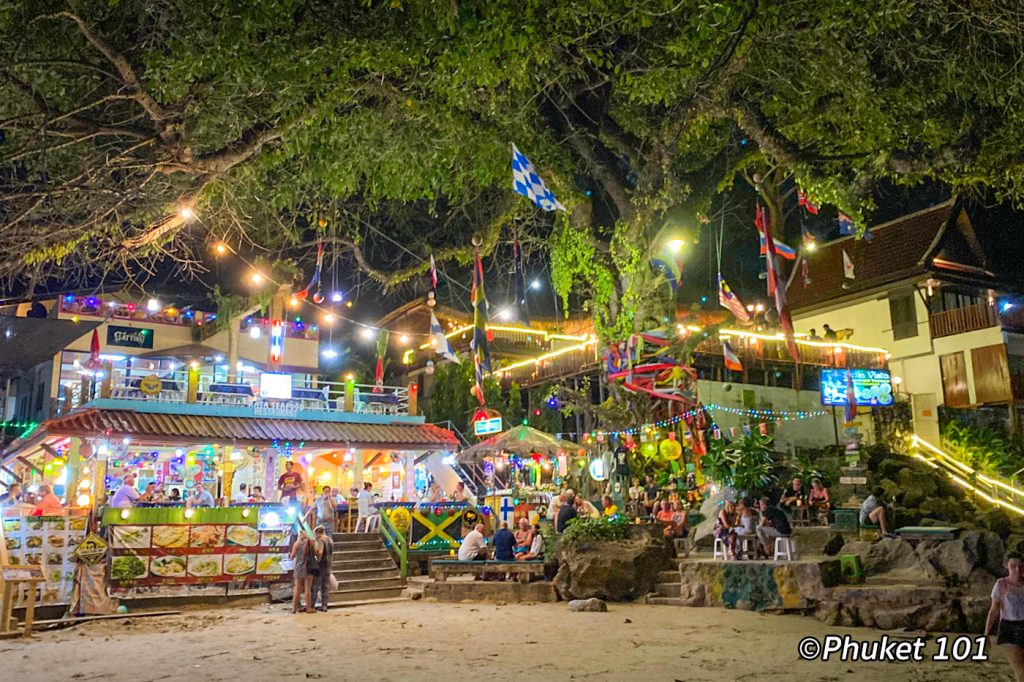 Kata Seafood is easy to spot because of its location right on the beach, next to a gigantic tree. The restaurant serving Thai and seafood is rather touristy, but It kept a certain old fashioned charm, and beachfront restaurants are rare in Kata!
---
Sugar and Spice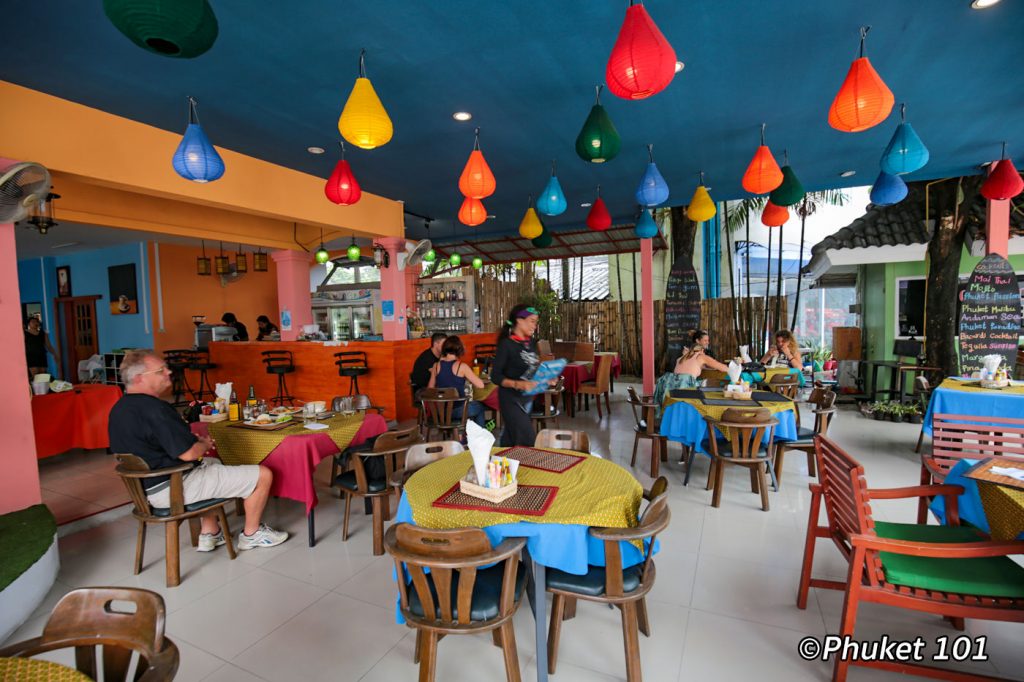 Sugar & Spice is very popular for serving excellent Thai food as well as International food at the right price. The location in the centre of the second street makes it very convenient (not far from the night market).
---
There are so many places all around Kata where you can enjoy breakfast, lunch, and dinner. From Thai food, seafood, street food to steak houses, and some excellent Italian ristorantes, finding a place to eat will never be a problem.
---
Kata being the second or third most popular beach after Patong, you can expect to find a massive choice of hotels and resorts. If you want a hotel with true beach access, only The Boathouse and Beyond Resort Kata have direct access.
---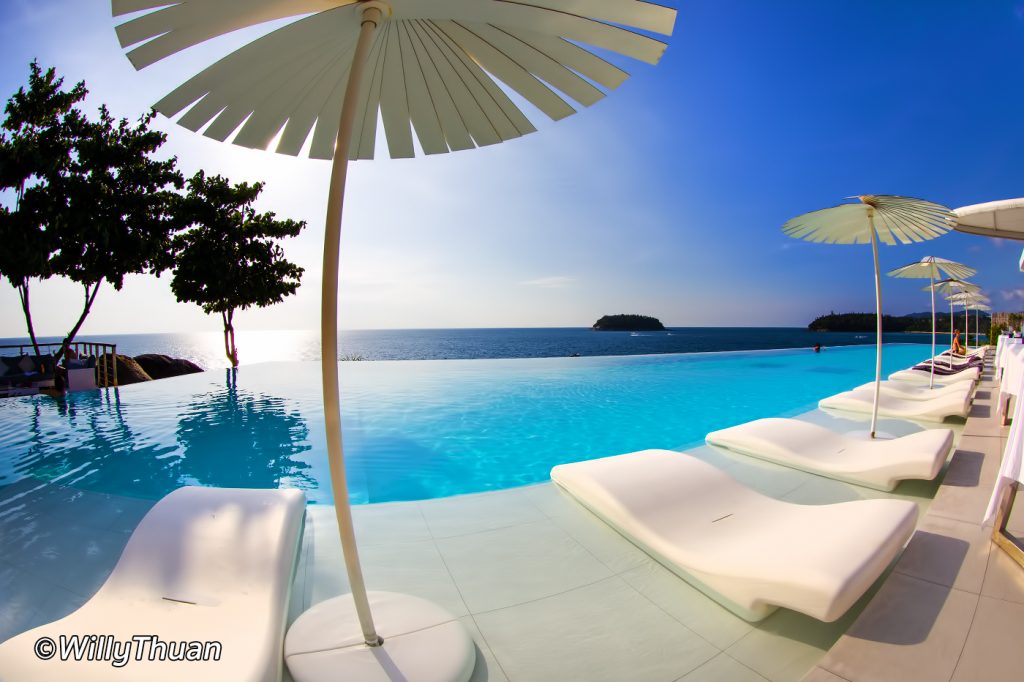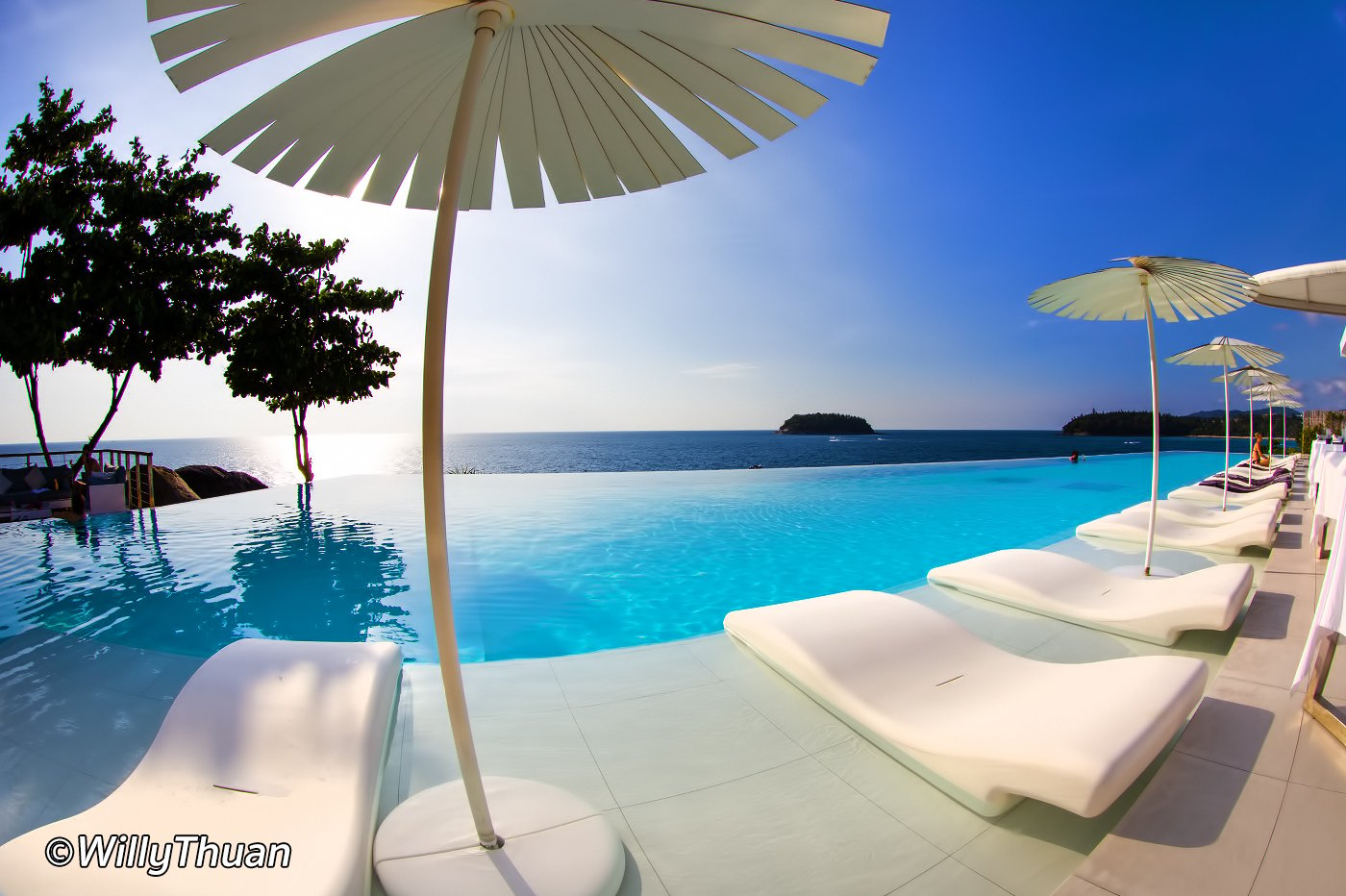 Kata Rocks is a luxurious and trendy collection of pool villas on a hill at the south end of Kata Beach. Every Sky Villa is immense with infinity pools, offering fantastic views on the Andaman Sea, even from your bed.
---
Beyond Resort Kata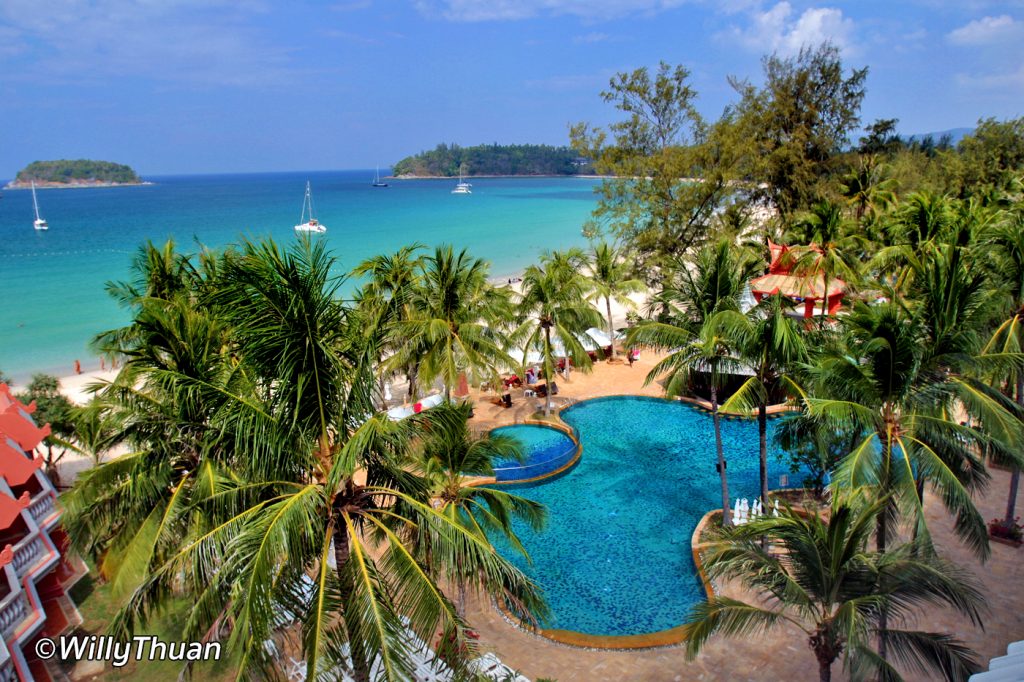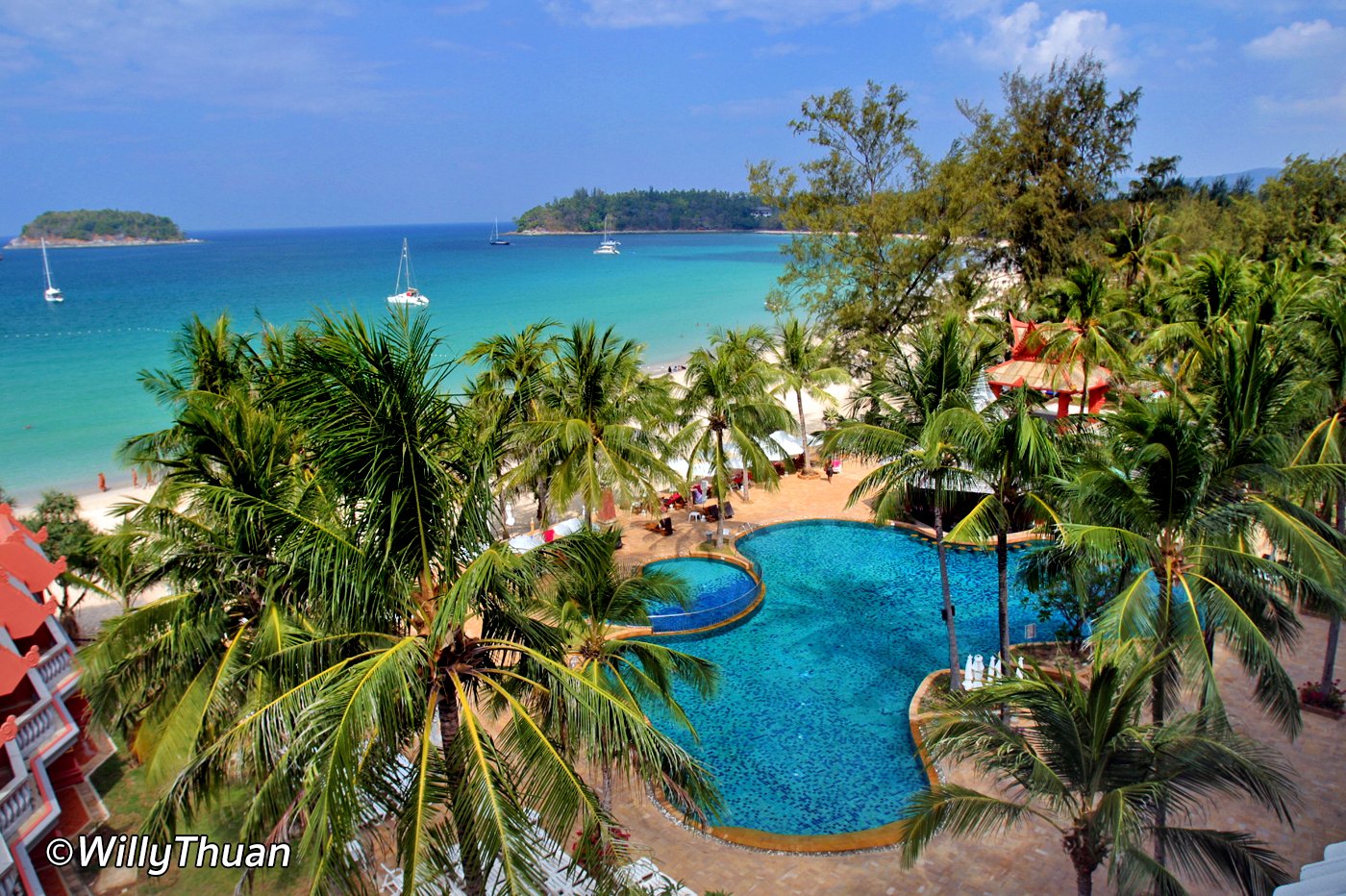 Beyond Resort Kata is a long-established hotel in Phuket. The location right on the beach in south Kata is fantastic. With 275 rooms, this is not a small hotel, but the situation is unique if you want to get the best of everything.
---
Some other resorts are new and trendy such as Kata Rocks and The SIS Kata. If you are on a tight budget, you will easily find good hotels in a convenient location with Chanalai Resorts, Orchidacea Resort, and Novotel Avista.
---
Kata Beach by Areas
---
Kata Beachfront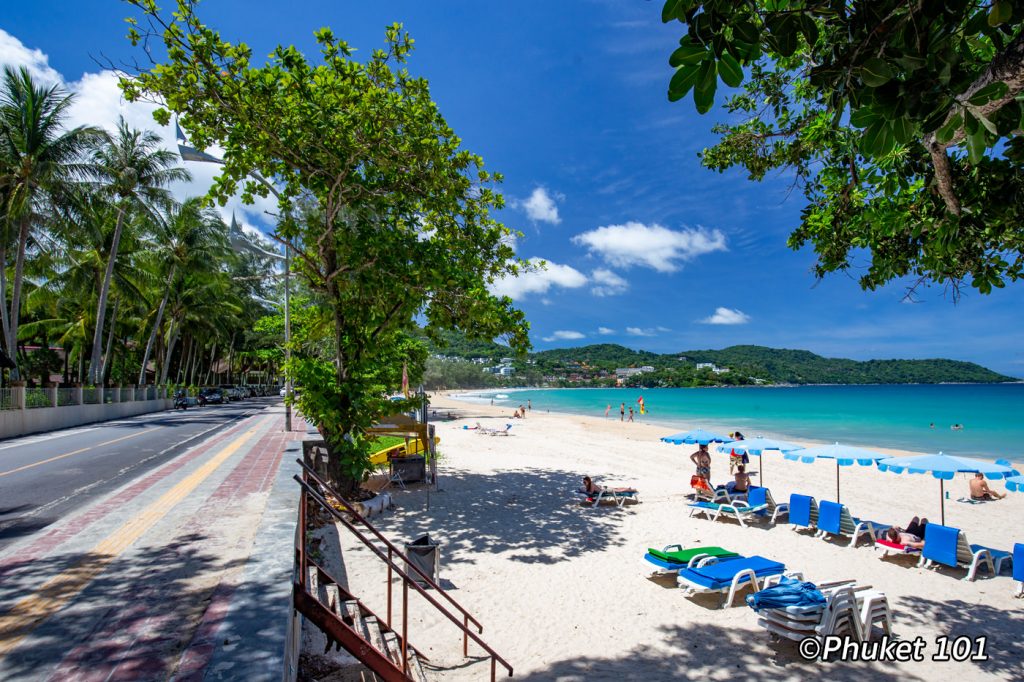 Kata Beachfront is a short scenic drive along the sea and on one side and entirely occupied by Club Med on the other. The road is quite narrow and offers very little parking. Apart from Club Med, the only noticeable landmarks are Surf House Kata, Beyond Resort Kata, and a few beach restaurants at each end. During high season, the road is often closed to host a small night market with stage performances.
---
Kata Centre
Kata Center is the oldest part and has grown around a busy intersection; not much has changed around there if you exclude Starbucks and At Peach restaurant. Nightlife is very active, and you'll find a lot of beer bars, but no gogo bars. If you drive at night, you can't miss all these small bars all loudly playing different music, the ones at Kata centre intersection being the brightest and most welcoming. Don't be shy to stop have a drink for the fun of it.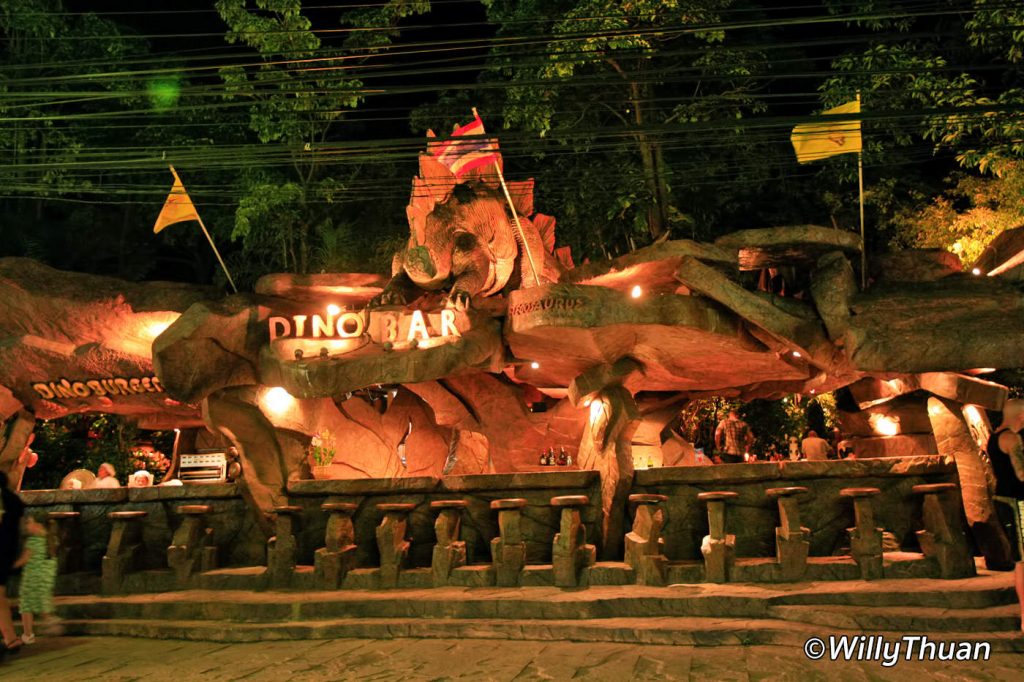 Dining options are plenty, but if you want a special dinner, try Kampong Kata Hill on top of the hill right behind Starbucks (opposite Dino Park). There used to be an apparent gap between Kata Center and Kata South, but both have now merged.
---
Kata South
Kata South has become the most active part of Kata, especially in the evening. The roadside is full of places to enjoy an affordable dinner: Thai, seafood, grills and international restaurants, food stalls, and even food markets.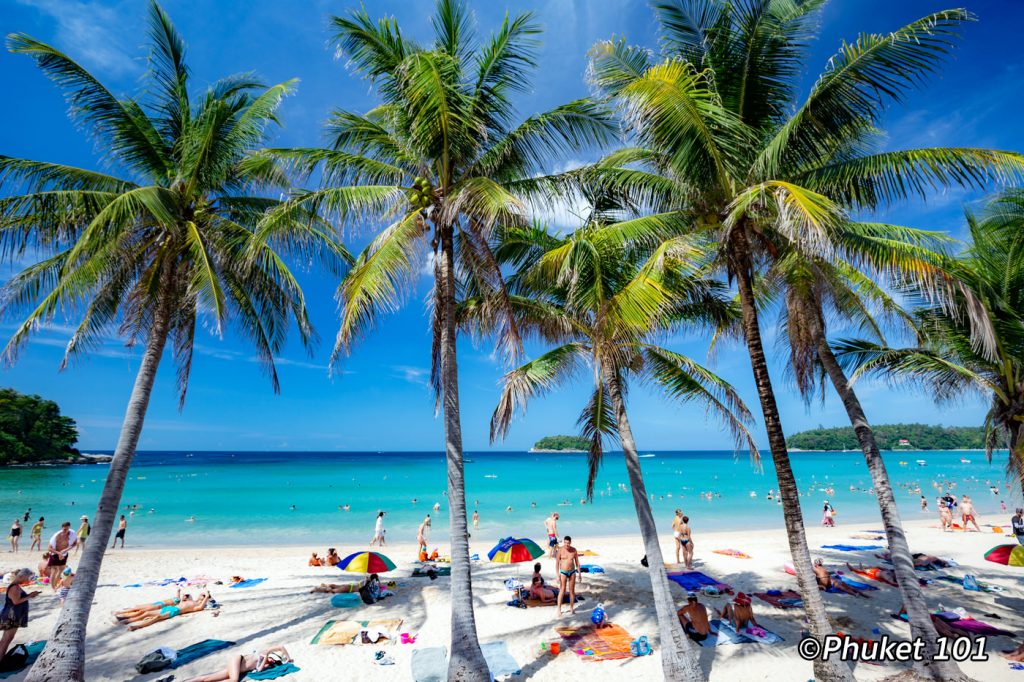 For something more fun, there are 4 or 5 restaurants with terraces over the sand at the very end of the beach. What would a holiday be without a bit of shopping?  There are convenience stores, pharmacies, and a lot of tiny shops selling souvenirs, summer clothing, beach toys, and luggage.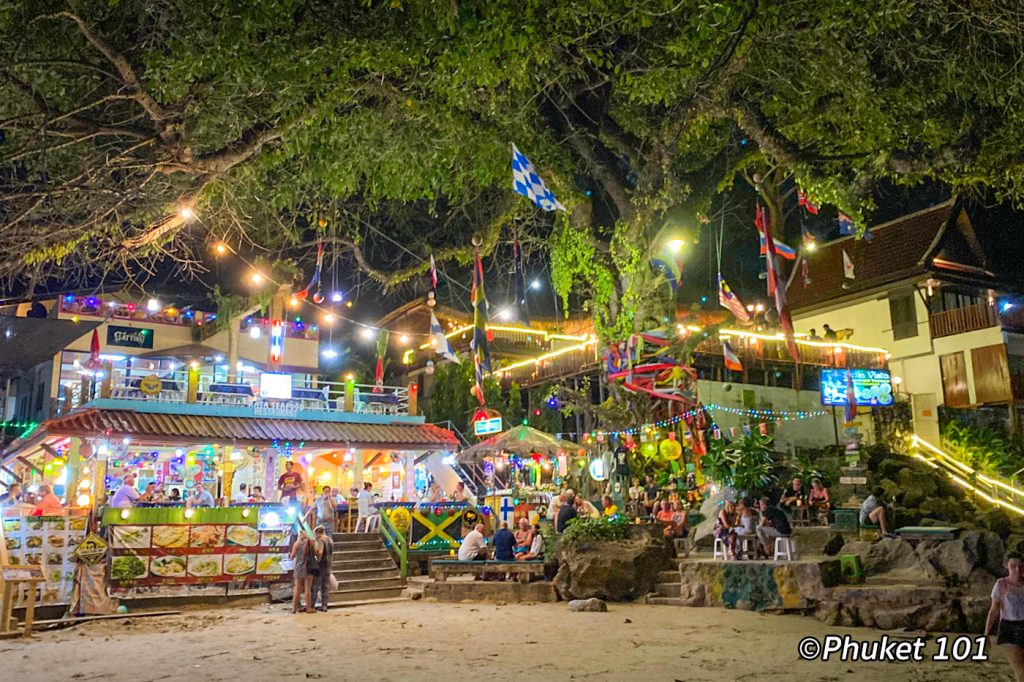 Accommodation mostly surrounds two long-established hotels: Beyond Resort Kata and the well-known Boathouse. Kata Rocks is another amazing hotel is worth mentioning.
---
Kata Road
Kata Road connects Kata Center to Kata South, with Club Med on one side and restaurants, bars, hotels, and shops on the other side. You'll even find a bazaar, night market, and a Chinese shrine.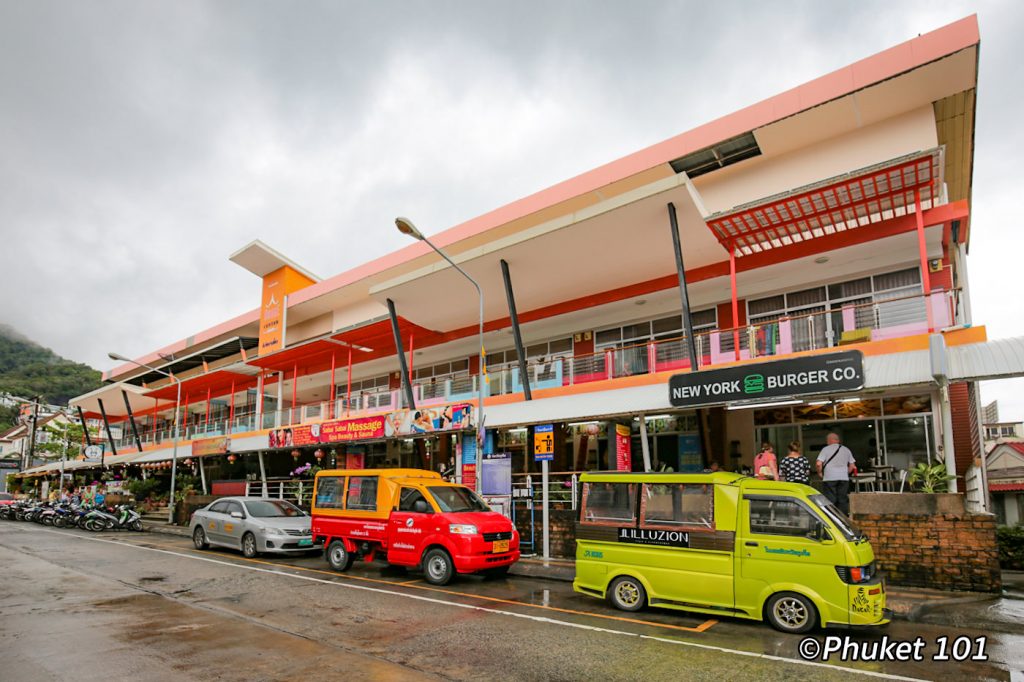 ---
Is Kata Beach safe?
Kata Beach is a very safe place to spend a holiday, just like the rest of Phuket in general. Even late at night, you will never feel worried about walking the streets that are busy until 2 am and even later sometimes. If you decide to party late, tuk-tuks are always available to take you back to your hotel as driving your motorcycle after drinking should be avoided.
The only real safety concerns are about driving and swimming in low season. The sea can be rough and the rip tides treacherous, so always swim where flags allow or avoid swimming when flags are red. If you travel during the low season, booking a hotel with a nice pool may be a good idea,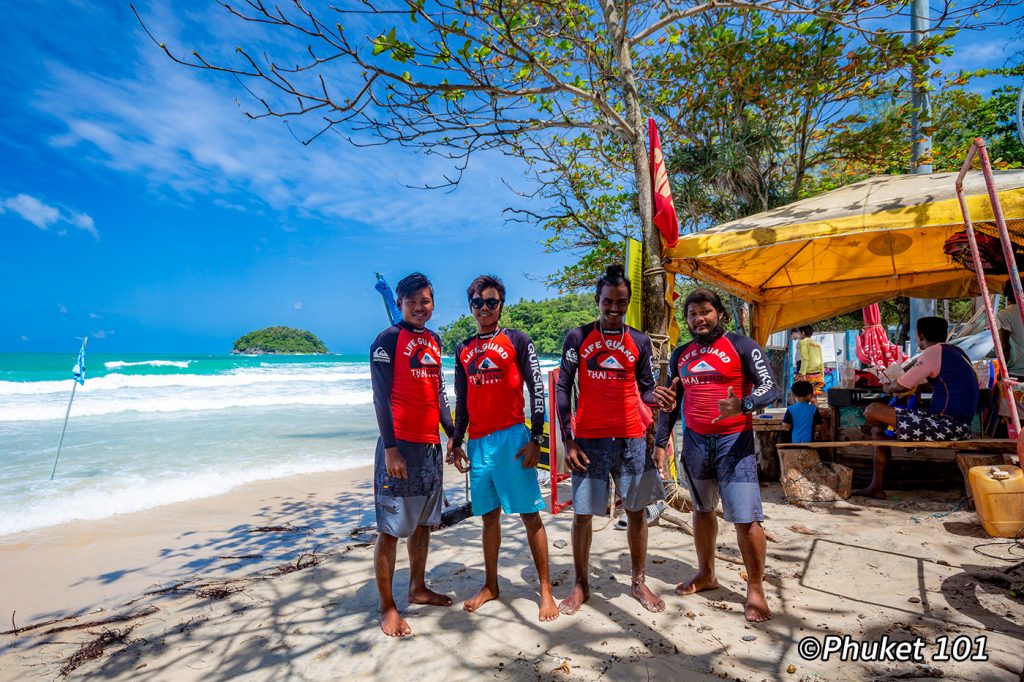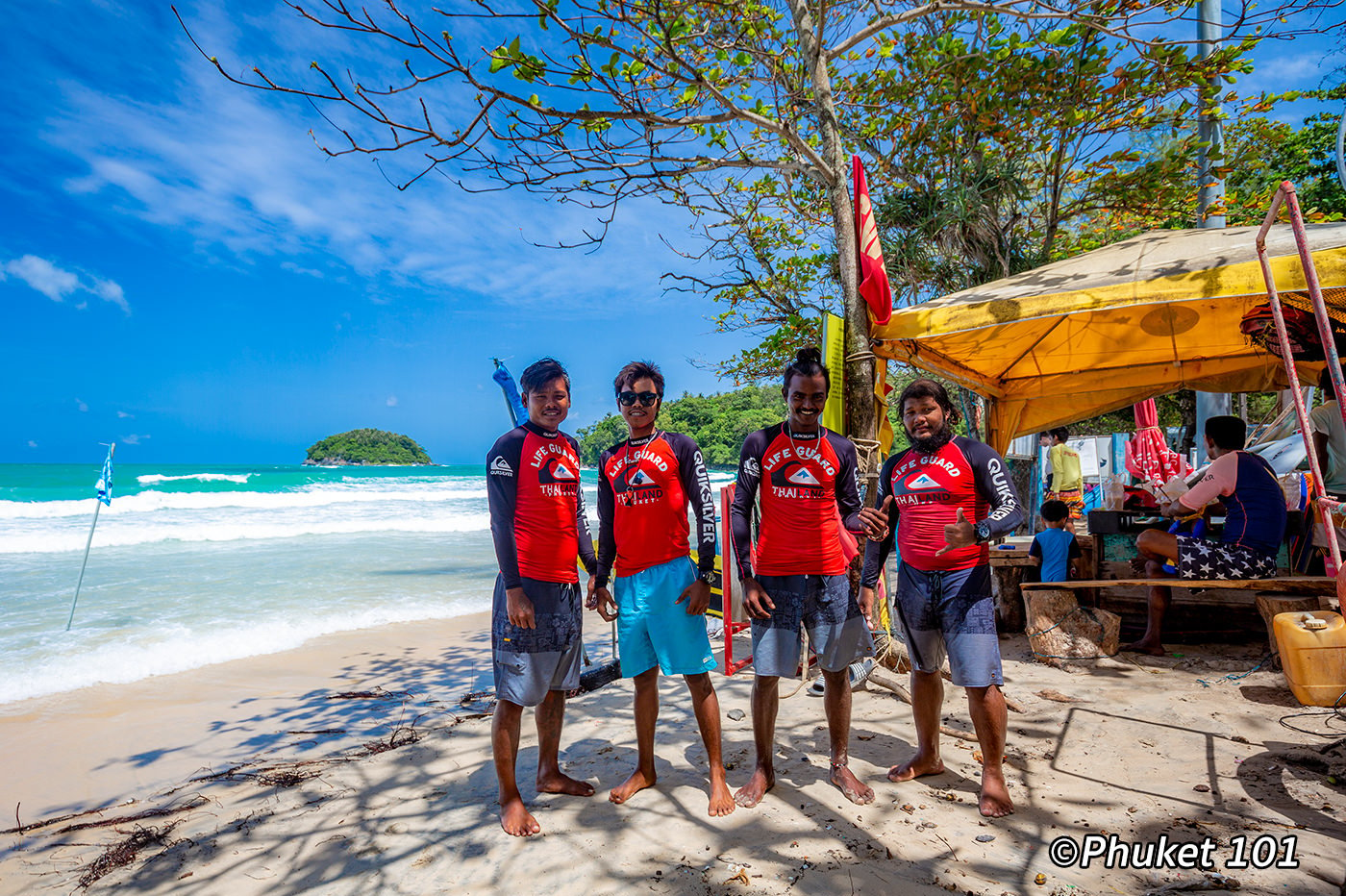 ---
---
Map of Kata Beach
---
FAQs about Kata Beach
✳️ What is there to do at in Kata Beach?
a. Kata has a lot of activities to offer:
✳️ Where to eat in Kata?
a. There are restaurants for all tastes and all budgets here:
✳️ What are the best hotels in Kata Beach?
a. There are hundreds of hotels to choose from, here are some favourites:
Beyond Kata Resort
The Boathouse
✳️ How far is Kata from the airport?
a. Kata Beach is 42 km from Phuket International Airport and 15 km from Phuket Town.
---
More about Kata Beach
Kata Beach Restaurants – Where to Eat in Kata Beach?
6 Best Hotels in Kata Beach ▷ Where to Stay in Kata Beach?
Kata Beach Photos – Kata Beach Photo Gallery