What To Do in Kata Beach
Kata Beach is the most popular beach in Phuket after Patong and just before Karon Beach. Kata enjoys a superb large sandy beach with an incredible blue sea and a nice island standing in the middle of the bay that makes great sunset photos.
With less crowd than Patong, a good and growing choice of dining venues, shopping, nightlife and hotels, Kata beach is a great family destination.
Kata Beach is divided in 3 areas: Kata Center, Kata South with Club Med in the middle and Kata back road.
See also our new gallery of Photos of Kata Beach
---
Kata Center
Kata Center is the oldest part and has grown around a busy intersection, not much has really changed around there if you exclude Starbucks and Peach, a trendy restaurant. Nightlife is very active and you'll find a lot of Beer Bars, but no Go Go Bars. If you drive at night you can't miss all these small bars all loudly playing a different music, the ones at Kata center intersection being the brightest and most welcoming. Don't be shy to stop have a drink for the fun of it.
Dining options are plenty, but if you want a special dinner, try Kampong Kata Hill on top of the hill right behind Starbucks (opposite Dino Park). There used to be a clear gap between Kata Center and Kata South, but both have now merged.
---
Kata South
Kata South seems to surround two long-established hotels: Kata Beach Resort and the well-known and the Boathouse and its amazing restaurant. This is also where the beach is the busiest. Kata Rocks is another amazing hotel is worth mentioning.
---
Where to Eat in Kata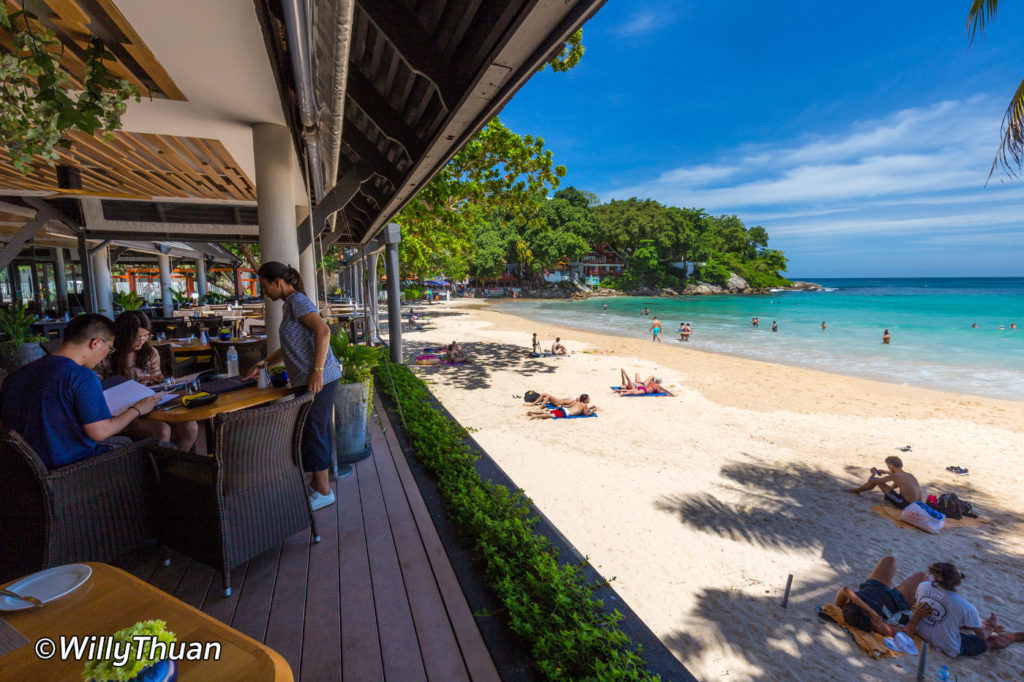 On the high-end, you will be surprised by the level of cuisine and setting you can get in Kata Beach. Kata Rocks is one of a kind experiences with a prime sea view. Villa Royale is one of the best restaurants on the Island, if not the best. Wok Pagoda on a nearby hill is also a beautiful place to enjoy some creative culinary experience.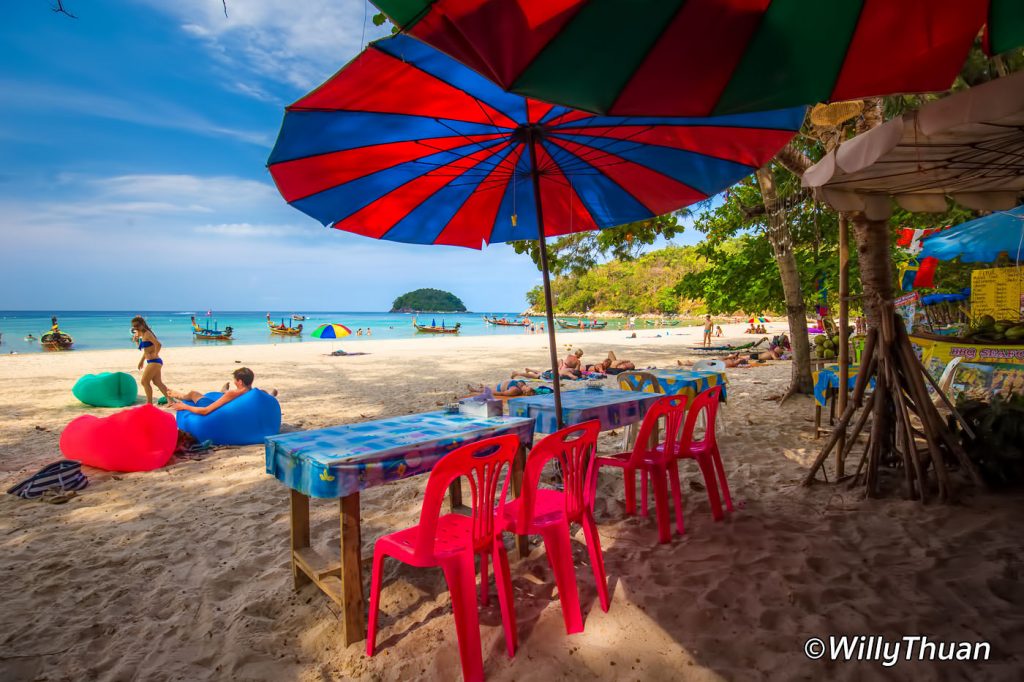 More mid range are the Italian 'Capannina' in a back lane and the very popular Two Chefs. A little further up the hill is a set of panoramic restaurants high above Kata Noi Beach: After Beach and Baan Chom View.
For a local lunch, right on the sand, you will find a couple of restaurants at the extreme south of the beach. Plastic chairs and tables on the beach!
---
What to Do in Kata Beach
Amazing place in high season, Kata is unsafe to swim in low season. However, because of the waves it then becomes popular among surfers and even hosts a surf competition once a year. Nothing really amazing, but it's a great place to learn. Few shops rent surf boards here and there, and can teach you the basics.
Dino Park – a well designed dinosaur themed mini golf with its own cool volcano! Nice but so hot you will forget to play well at the end, just to get out for a drink.
Surf House Phuket – a fun artificial wave surf park, great for both adults and kids.
Karon View Point, a few kilometers south of Kata Beach with a nice view on 3 bays.
Kata Temple, a rather humble temple on Kata Beach back road.
Parasailing is available but is not recommended for safety reasons
Surfing is popular in Kata beach during low season
---
Where to Stay in Kata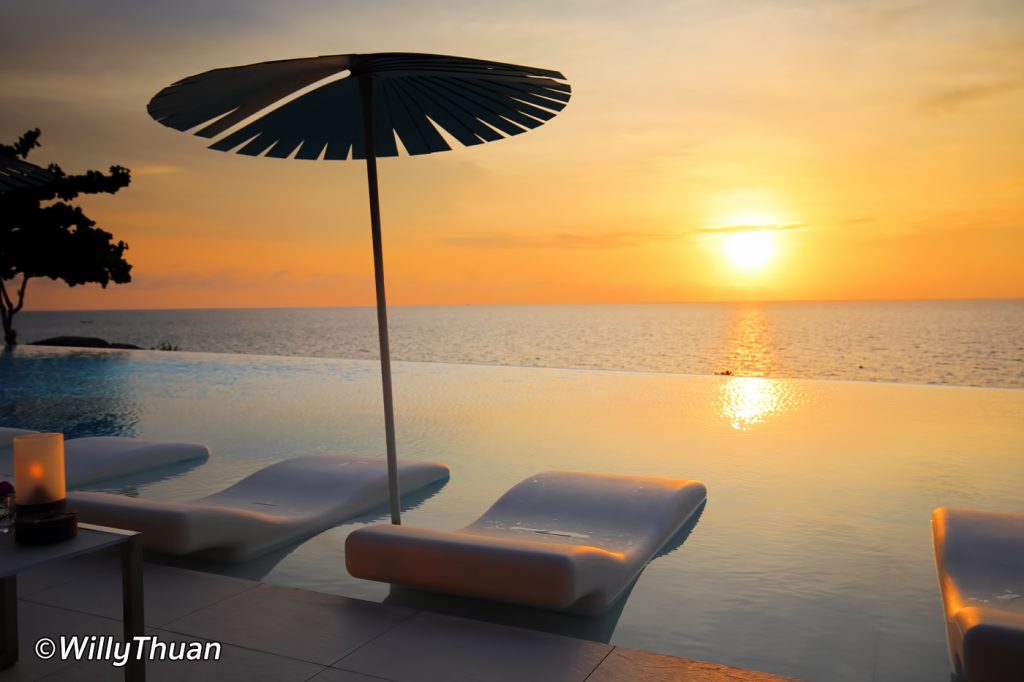 Some great hotels in Kata Beach:
---
Kata Beach Photos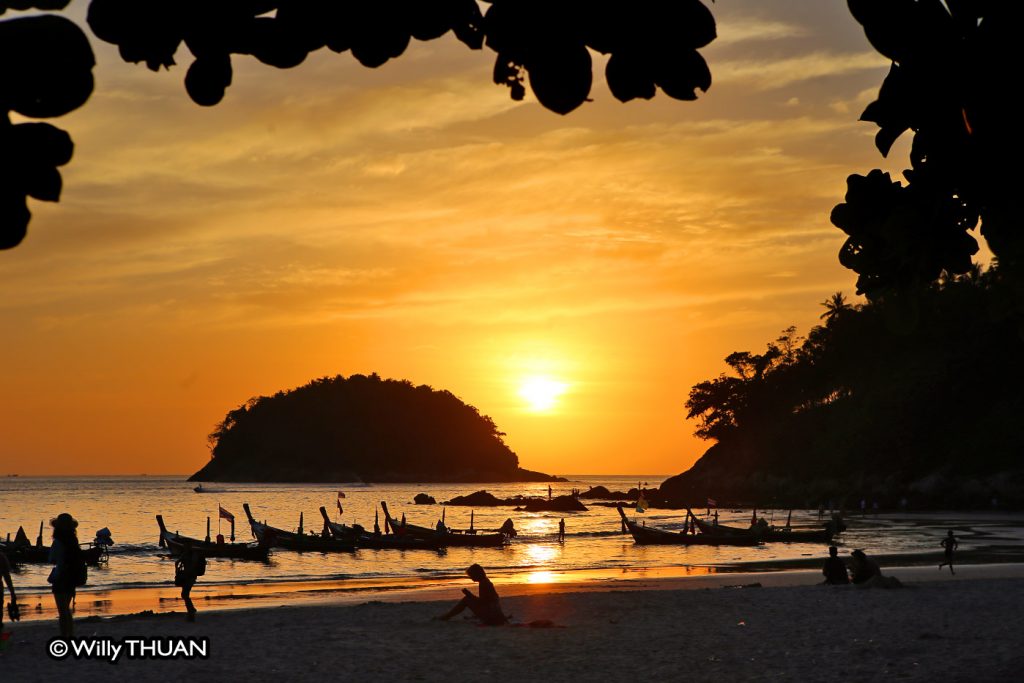 Map of Kata Beach