---
What to do in Kata Beach?
---
Kata Beach is a beautiful beach on the west coast of Phuket island and one of the most visited beaches in Phuket after Patong Beach. Kata enjoys a lovely sandy bay with an incredibly blue sea and an iconic island standing in the ocean, making excellent sunset photos. The town stretches for 2 kilometres along the back road, but keep in mind that because Club Med Resort occupies 90% of the 1.5-kilometre beachfront, most restaurants, hotels, and shops are not on the beach on that second road or the south end of the beach.
While it can be bustling in high season, Kata is less crowded than Patong and still offers a vast choice of dining venues, shopping, nightlife, and hotels. This beach is also known to be a great family destination.
---
---
Kata Beach Video
Subscribe to our YouTube for more Phuket videos!
---
1. What to do in Kata Beach?
---
A fantastic place in the high season, Kata is sometimes unsafe to swim during the low season (June to November). However, it has become popular among surfers and even hosts a surf competition yearly because of the waves. Nothing unusual, but it's a great place to learn. Few surf shops rent surfboards here and there and can teach you the basics.
---
---
Kata Beach has a vast array of places to eat and dine, from street food and food markets to award-winning restaurants. Beach dining has always been a favourite during the day, while panoramic sunset terraces are perfect to end your day. You will be surprised by the cuisine and setting you can get in Kata Beach on the high-end. The second road of Kata Beach is packed with places to eat for every budget. There are so many places around Kata where you can enjoy from Thai food, seafood, and street food to steak houses and some excellent Italian ristorantes; finding a place to eat will never be a problem.
There are many more restaurants to choose from in Kata Beach. Click below to see a longer (growing) list:
---
---
Kata being the second or third most popular beach after Patong, you can expect to find a massive choice of hotels and resorts. Only The Boathouse and Beyond Resort Kata have direct access if you want a hotel with beach access.
The SIS Kata (which means Stay In Style) is a 4-star hotel with 124 rooms and suites, an immense rooftop swimming pool, and a restaurant overlooking the south of Kata Beach on the west coast of Phuket Island. The hotel is very popular with modern rooms and well-designed facilities at a very affordable rate.
---
4. The geography of Kata Beach
---
Kata Beach is 2 km long, and the beach is 1.5 km long. There are two city centres: the original one is in the north, near Dino Park, and the new and more lively one is in the south, where The Boathouse and Beyond Resort Kata are. There are 3 main roads parallel to the beach: the beachroad is very quiet because Club Med hotel occupies most of the beachfront, and therefore there are no shops or restaurants. The second road connecting the two city centres is lively in the evening, with many dining options and shopping. The largest road in the back is quieter but has cheaper hotels and some good restaurants.
---
---
---
---
5. Kata Beach Info
---
Is Kata Beach safe?
Kata Beach is a very safe place to spend a holiday, just like the rest of Phuket. Even late at night, you will never feel worried about walking the busy streets until 2 am and even later. If you decide to party late, tuk-tuks are always available to take you back to your hotel, as driving your motorcycle after drinking should be avoided.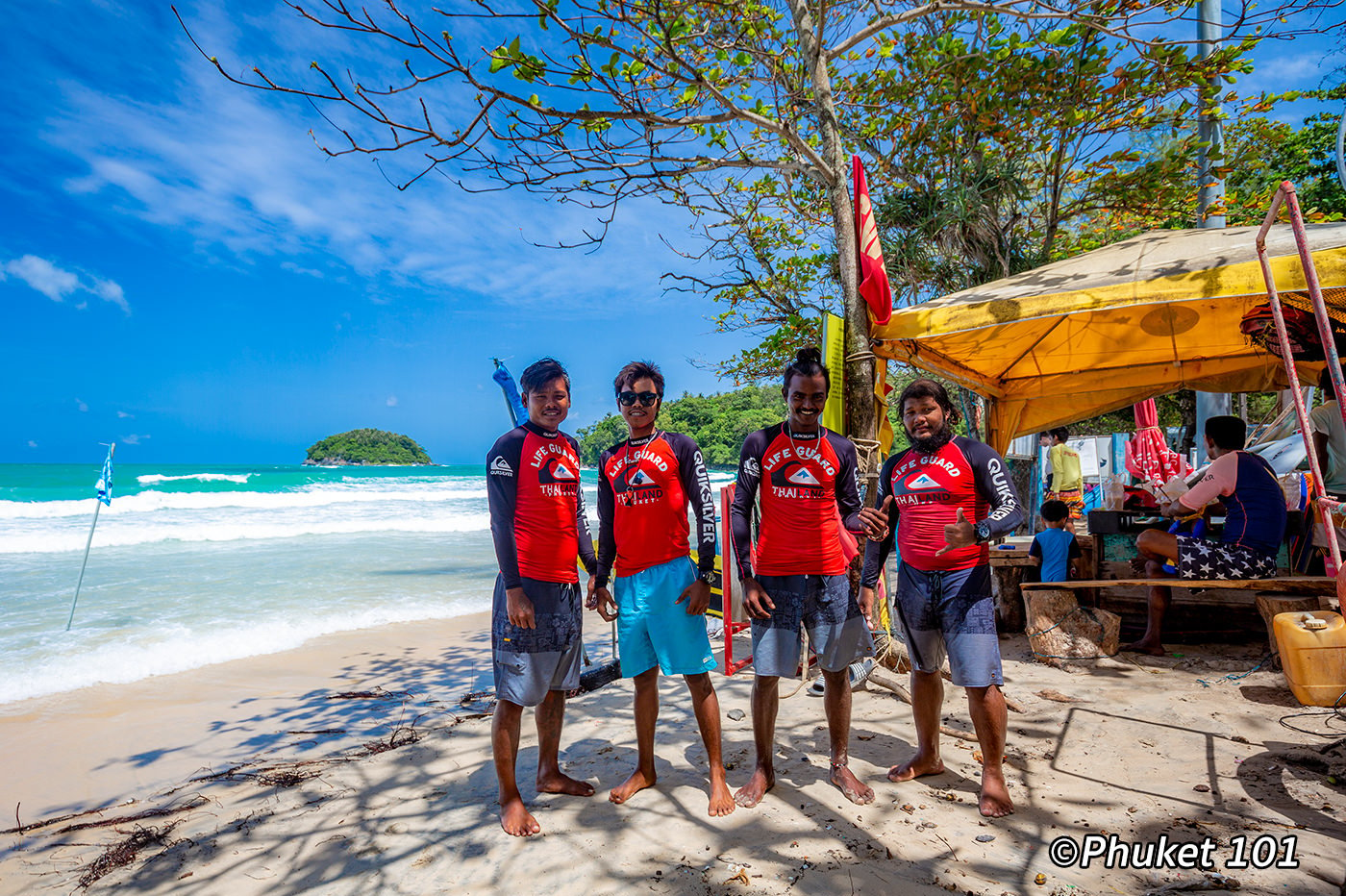 The only real safety concerns are driving and swimming in the low season. The sea can be rough, and the rip tides treacherous, so always swim where flags allow or avoid swimming when flags are red. If you travel during the low season, booking a hotel with a lovely pool may be a good idea,
---
Information
How long is the beach of Kata: 1.5 km
How to go to Kata Beach: you can easily go to Kata by local bus or smart bus, tuk-tuk, taxi or self-driving:
How far is Kata from Patong Beach: 13 km
How far is Kata from Phuket International Airport: 48 km
How far is Kata from Phuket Town: 17 km
Can you swim at Kata Beach? it is safe to swim in high season but can be dangerous on some days during monsoon season; always respect the flags!
---
Map of Kata Beach
Get the directions on your phone: https://goo.gl/maps/hW6dLWPC7wsaMkiH9
---
---
---
FAQs about Kata Beach